This easy cake with plums is like a buttery pound cake topped with fresh plums, which become soft and sour-sweet as they bake. Fresh plums are the perfect flavour contrast for this cake!
This post is sponsored by Fruits from Chile. Chile exports more than 2.6 million tons of fruit annually to more than 100 countries across the globe and we are lucky to have access to plums from Chile so we can bake with plums year round!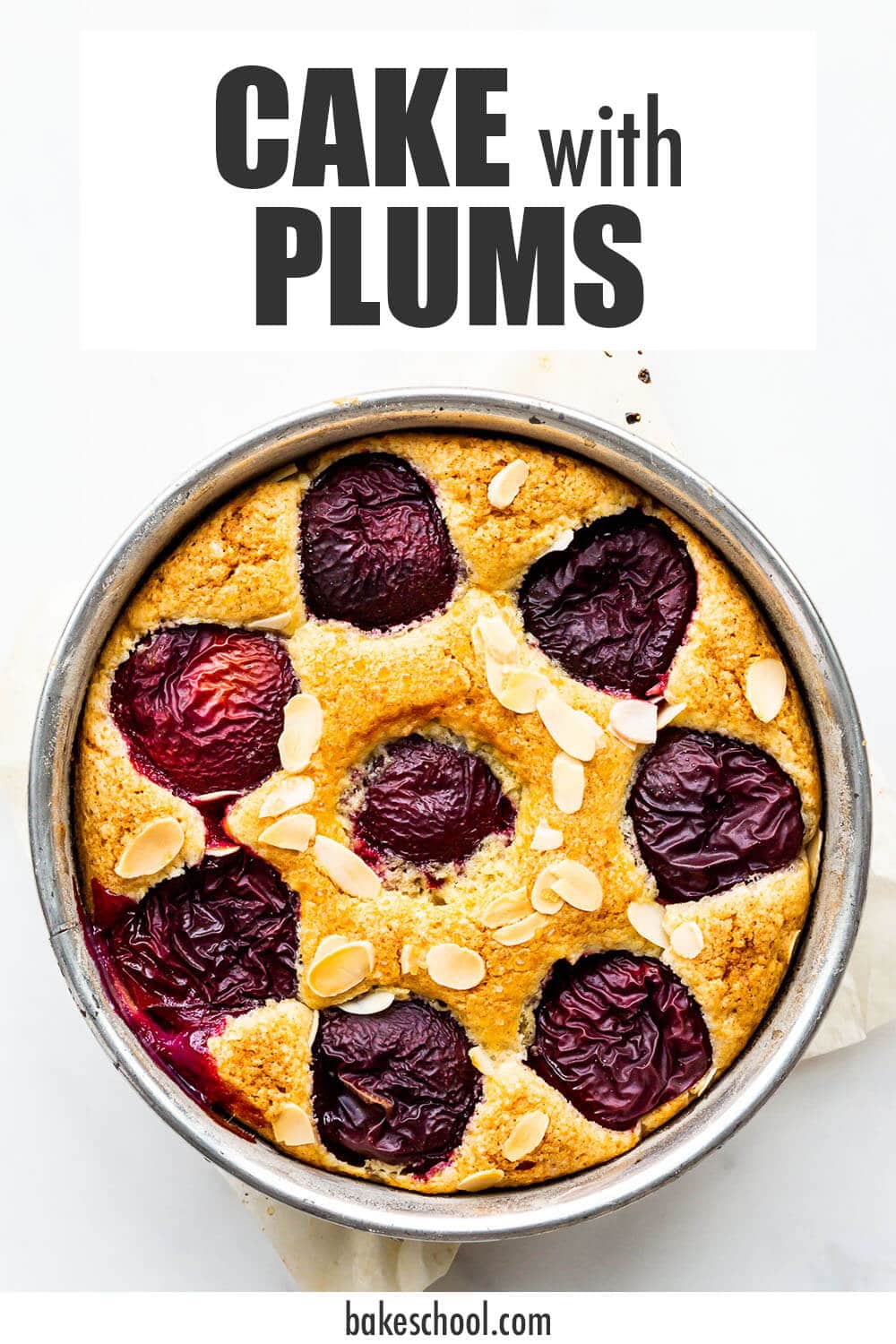 Disclosure: As an Amazon Associate, I earn from qualifying purchases.
Plum cakes tend to be a more rustic bake, popular in many cultures, especially in European countries, like Germany and Italy. A cake with plums can be referred to as a plum torte because it's a single layer cake, a little on the denser side and closer to a pound cake, baked with fresh plums on top, usually plum halves as opposed to slices. It's a simple, rustic, yet deeply satisfying cake that is a real treat served as a snack in the afternoon.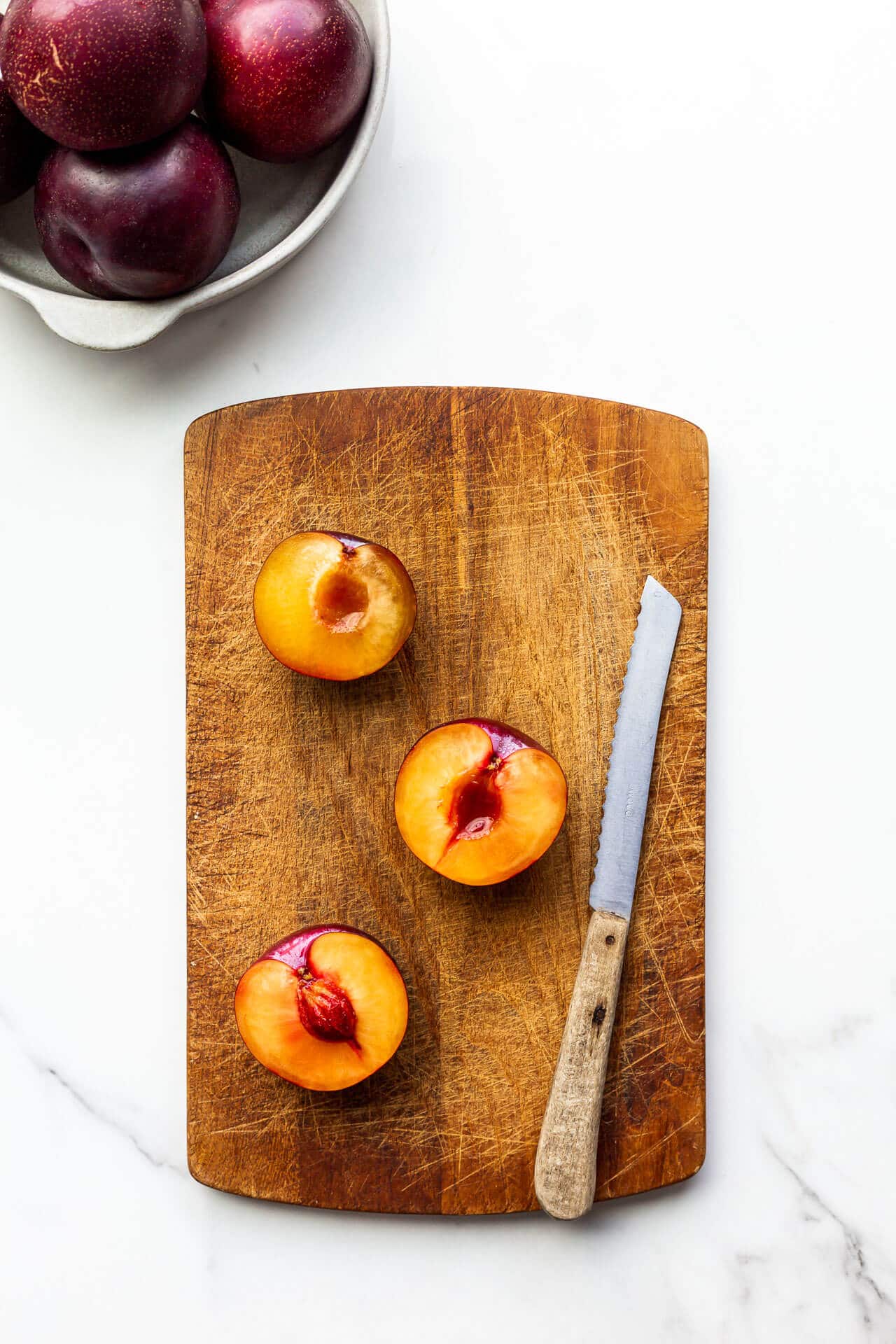 Plum varieties
Plums come in all shapes and sizes. One of the most common varieties sold in grocery stores has a dark purple/blue skin with bright orange or pink flesh. The pit of Chilean plums is usually quite small compared to other types as you can see.
You can bake with any variety of plums that you can get your hand on, really, as long as they are ripe!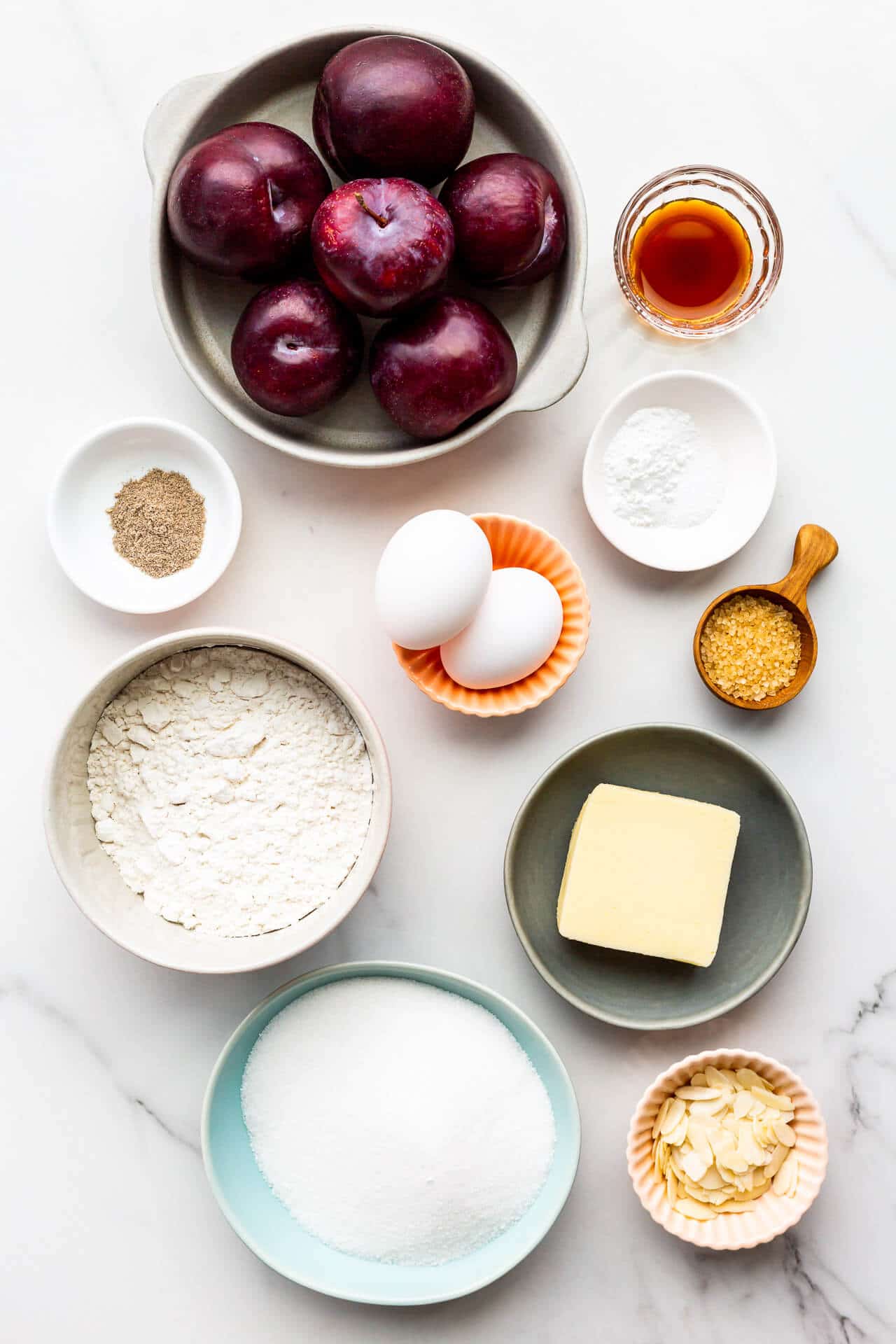 Shopping for plums
Plums from Chile are picked when they are quite firm. This is to facilitate transportation so that the fruit arrive at your local grocery stores without any damage.
If you buy plums that are firm and that are not quite ready to eat, place them in a brown paper bag for 1-2 days and store at room temperature.
You don't want the plums to be super soft. A slightly firmer Chilean plum will give you the best texture and will slice open beautifully so you can bake with them easily. The fruit will soften as it bakes and become even more juicy!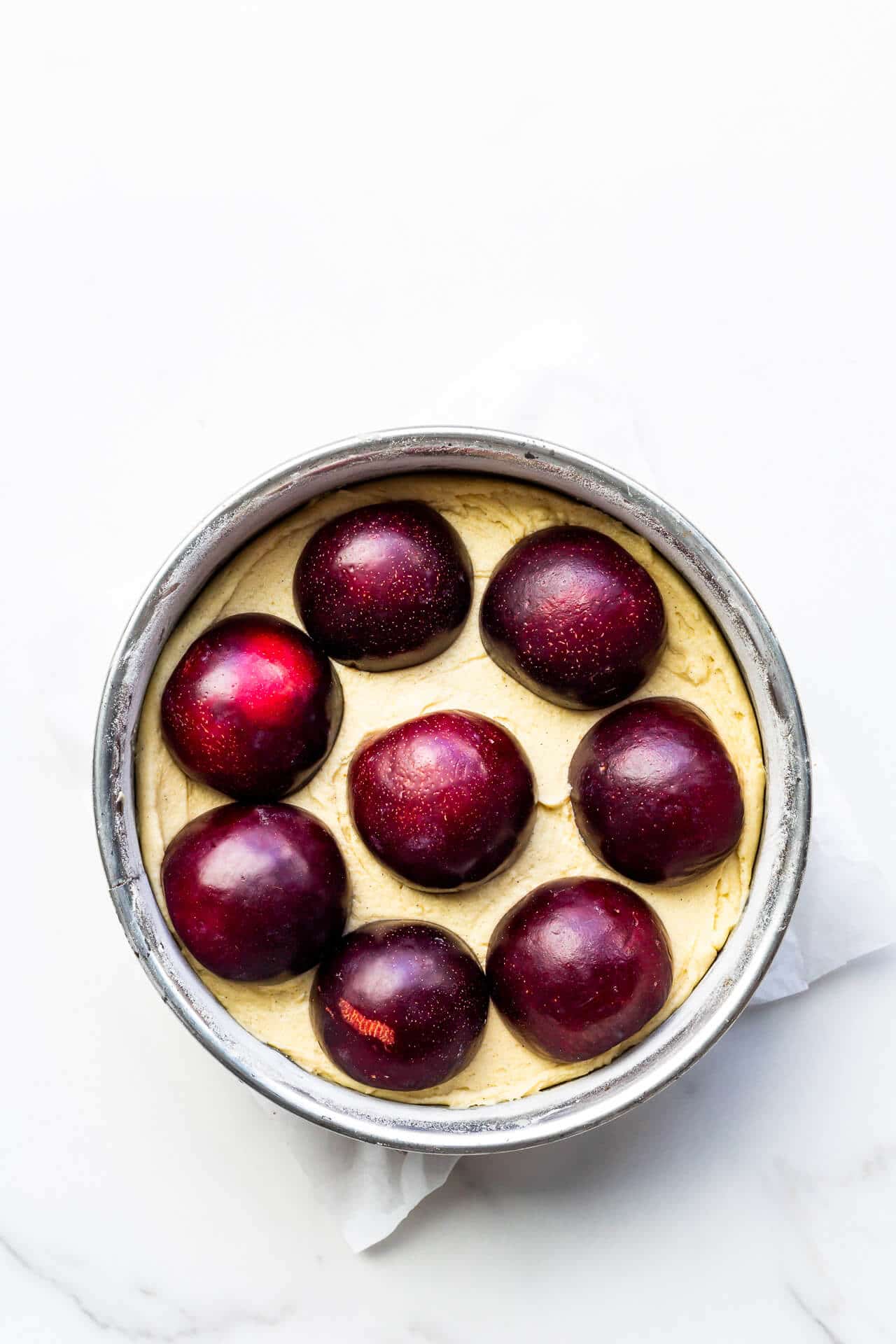 Remember that if you store plums on the counter, they will continue to ripen and mature. Storing them in the refrigerator will slow down the ripening process, which is helpful if you think your plums are perfectly ripe. Chilean plum season ends in May.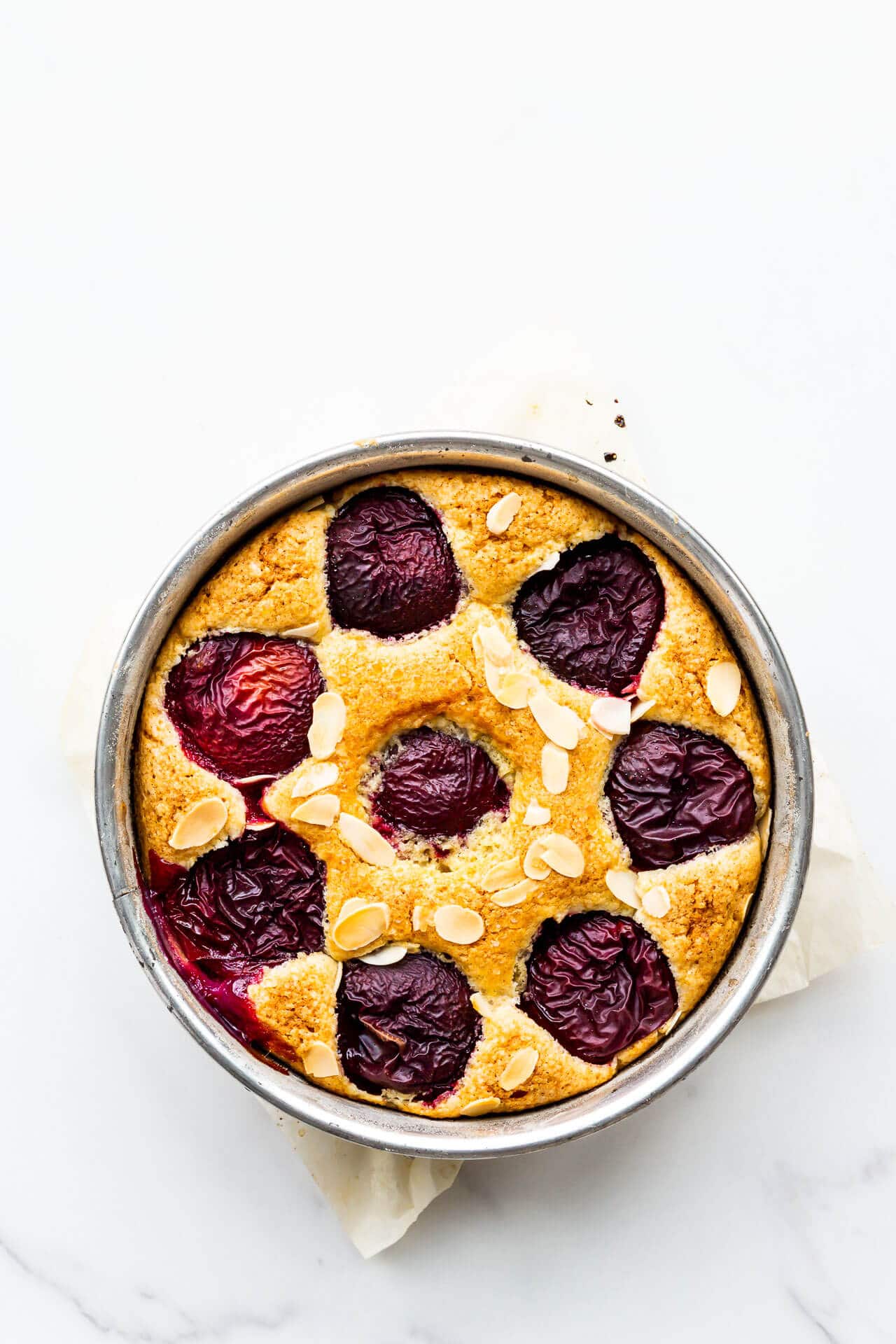 What to make with plums
Plums are so versatile because they have a tart skin surrounding the sweet fruit. If you have a lot of plums to work with, you can make this cake with plums, obviously. But here are some other ideas for baking with them:
plum jam that you can make with just plums and granulated sugar, or feel free to flavour it with vanilla bean, tea leaves, spices like cinnamon
plum muffins which are a coffee cake style muffin with a streusel topping
plum tart which is a fancy dessert: a pie crust with a plum filling that is sweetened with muscovado sugar, which gives the filling a deeper molasses flavour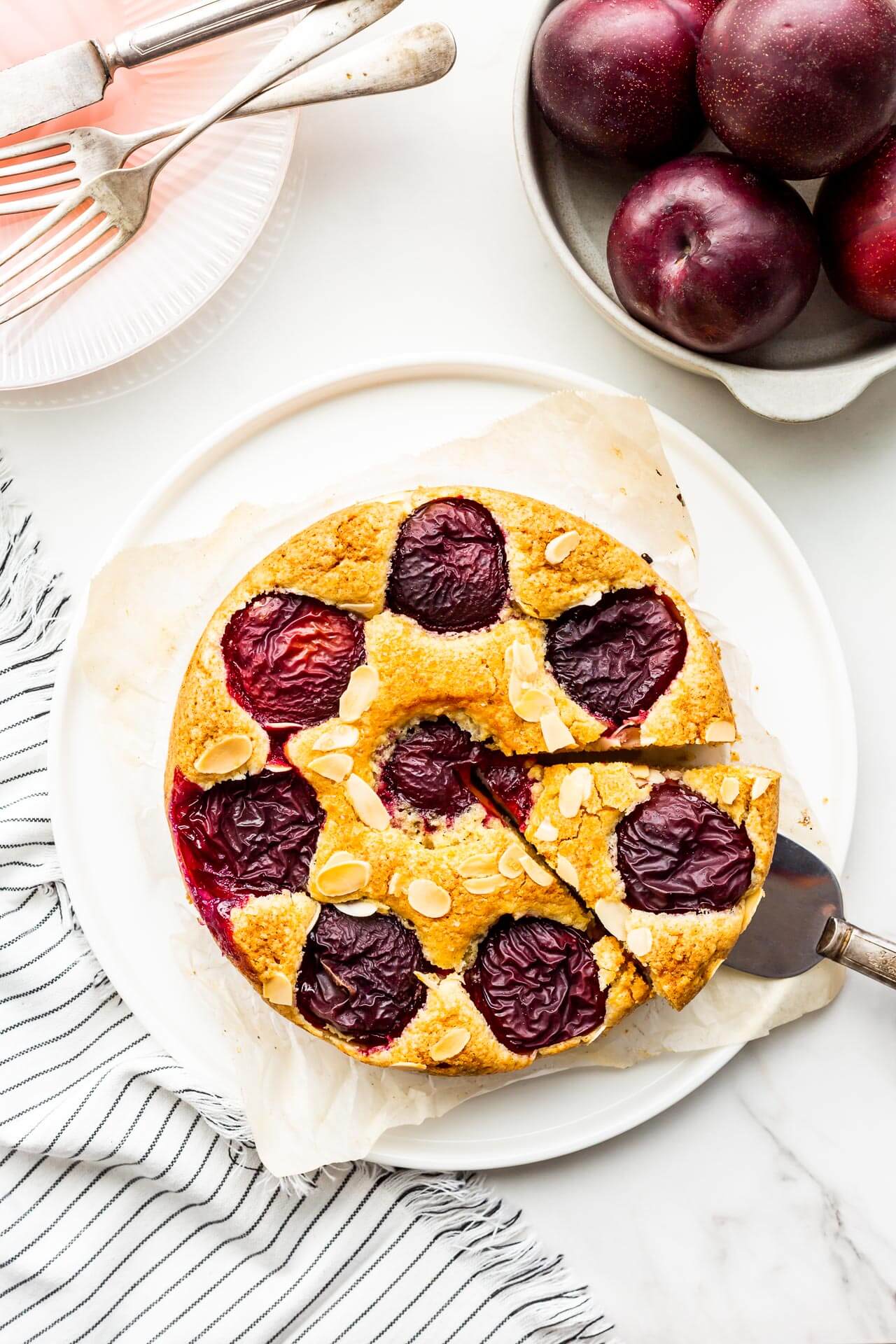 Adapting this recipe
This plum cake is highly adaptable and very versatile. I flavoured the cake batter with cardamom because I love the combination of cardamom and plums. I have also baked this recipe with ground anise, which might seem like an unusual pairing, but it works great!
Try this cake with plums with warm spices like cinnamon, ground ginger, or even allspice.
Another option would be to skip the spices and add a few drops of almond extract to the cake batter. You could also replace a small portion of the flour (30 grams or ¼ cup) with the same weight of ground almonds, which will create a more dense crumb with a mild almond flavour.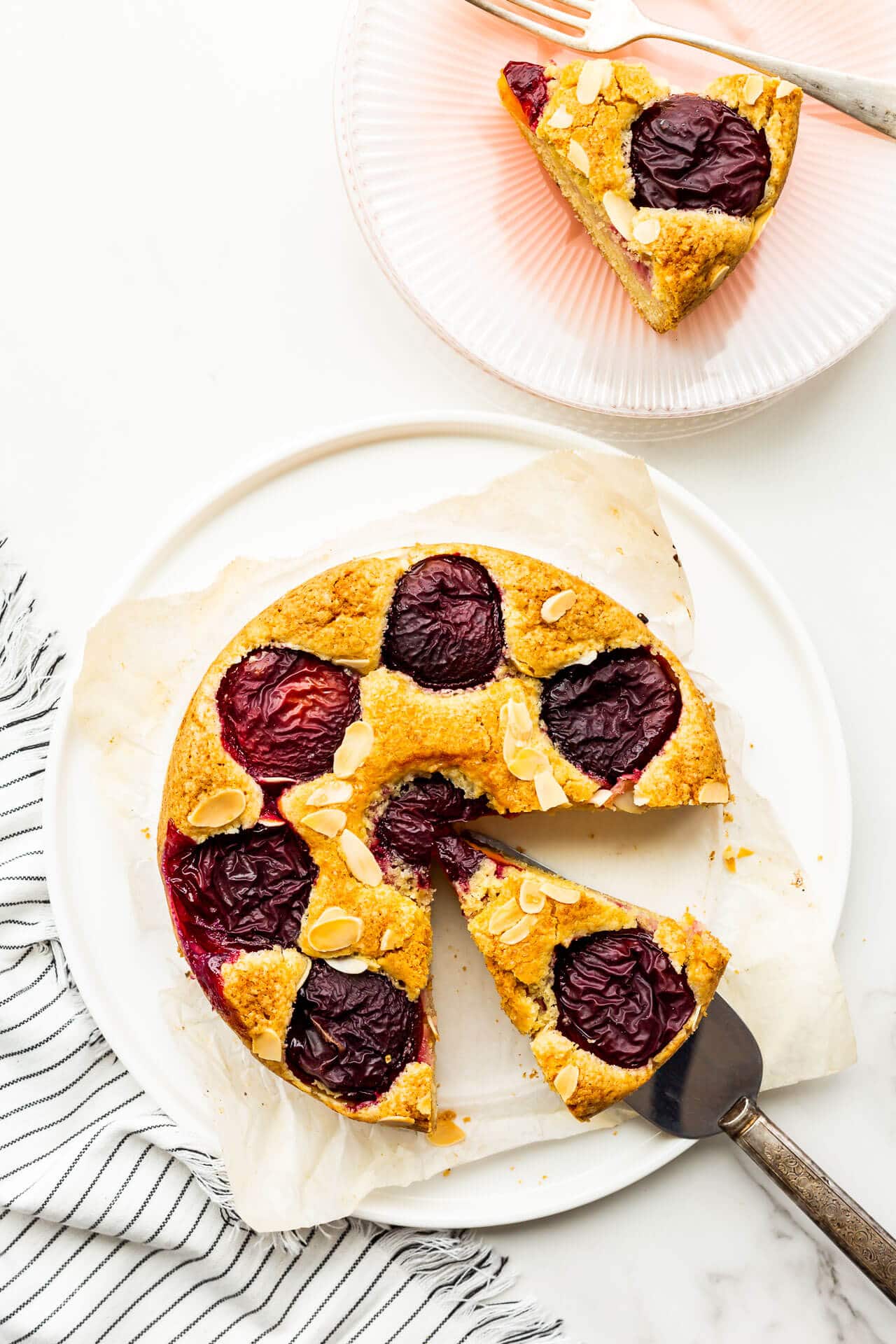 This cake with fresh plums is a variation of the 1-2-3-4 cake recipe that is so forgiving. The 1-2-3-4 baking ratio is by volume, which translates to 1 cup butter, 2 cups sugar, 3 cups flour, and 4 eggs. For an 8-inch springform, half of the 1-2-3-4 recipe fits the cake pan perfectly, so that's what you see in the recipe card below.
📖 Recipe
Cake with plums
This cake with plums is flavoured with a little vanilla and ground cardamom, giving this cake a sweet flavour that pairs so well with bright plums!
Ingredients
190

grams

(

1½

cups

)

bleached all-purpose flour

7.5

mL

(

1½

teaspoon

)

baking powder

3.75

mL

(

¾

teaspoon

)

ground cardamom

1.25

mL

(

¼

teaspoon

) Diamond Crystal fine kosher salt

115

grams

(

½

cup

)

unsalted butter

,

room temperature

200

grams

(

1

cup

)

granulated sugar

2

large egg(s)

,

room temperature

5

mL

(

1

teaspoon

) pure vanilla extract

4

plums

,

halved and pit removed

10

grams

(

1

tablespoon

) sliced almonds,

optional

10

grams

(

1

tablespoon

) Turbinado sugar,

optional
Instructions
Preheat the oven to 350 °F. Line the bottom of a springform pan with parchment, then butter and flour the sides. Set aside.

In a medium bowl, whisk together the flour, baking powder, cardamom, and salt. Set aside.

In the bowl of a stand mixer fitted with the paddle attachment, cream together the butter and the sugar for 2 to 3 minutes until it is light and fluffy. Scrape down the sides and the bottom of the bowl with a spatula as needed.

Add the eggs, one at a time, beating well between each addition. Add the vanilla and mix well. Beat the mixture for 2 minutes until it is aerated and very light in colour. Scrape down the sides of the bowl and make sure the batter is evenly mixed at this point. You can beat it a little more to make sure.

Stir in the flour mixture on low speed, just until the flour is completely incorporated.

Spread the batter in the prepared pan and smooth the top. Place the plum halves, cut side down (or up works too!), and pressing them slightly into batter. Scatter a few sliced almonds and some turbinado sugar on top (if using)

Bake the cake until the edges are golden brown and the plums are soft and releasing their juices. A cake tester comes out clean when inserted in the cake. This could take as much as 90 minutes, especially if you placed the plums cut side down on the cake batter.

Remove the pan from the oven, and let cool on a wire rack for 10 minutes, then release the cake from the springform pan.

Let the cake cool completely before slicing and serving.
Give back
If you enjoy the free content on this website, say thank you!
Notes
This is a very versatile cake and plums play really well with so many fun spices. Feel free to replace the cardamom with:
ground anise
ground cinnamon
ground ginger
ground allspice
Note that the baking time is quite long if you place the plums cut-side down on the cake batter and use an 8 inch springform pan. The baking time may be less (about 60 minutes) if you place the plums cut-side up so the juices evaporate or if you use a larger pan like a 9-inch cake pan.
Nutrition
Calories:
334
kcal
|
Carbohydrates:
49
g
|
Protein:
5
g
|
Fat:
14
g
|
Saturated Fat:
8
g
|
Trans Fat:
1
g
|
Cholesterol:
72
mg
|
Sodium:
80
mg
|
Potassium:
206
mg
|
Fiber:
1
g
|
Sugar:
30
g
|
Vitamin A:
532
IU
|
Vitamin C:
3
mg
|
Calcium:
61
mg
|
Iron:
2
mg
This post was sponsored by Fruits from Chile. For more information and recipes, visit fruitsfromchile.com
Facebook Canada: https://www.facebook.com/FruitsfromChileCanada/
Twitter: https://twitter.com/FruitsfromChile
Instagram: https://www.instagram.com/fruitsfromchile/