This easy plum jam recipe makes a small batch without pectin that you can easily can in a water bath on the stove. Feel free to make it plain, or you can flavour it with cinnamon or even Earl Grey tea leaves.
As an Amazon Associate I earn from qualifying purchases.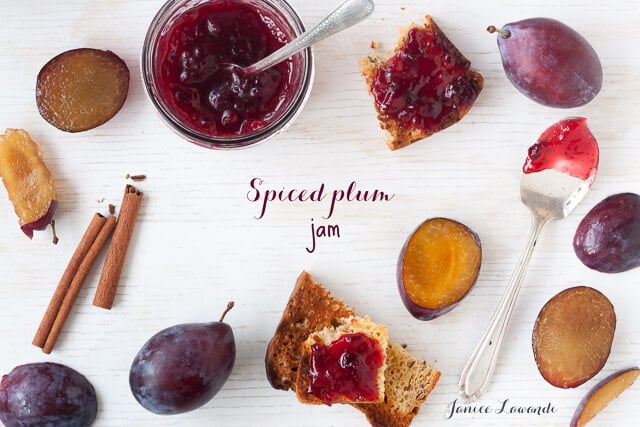 Disclosure: As an Amazon Associate, I earn from qualifying purchases.
Though I say that apricot jam is my favourite jam, I think plum jam ranks high on the list too. It has such a vibrant colour and flavour, and it makes a great filling for donuts. It's also very easy to make, and you don't need to add any commercial pectin to achieve the perfect set!
Jump to: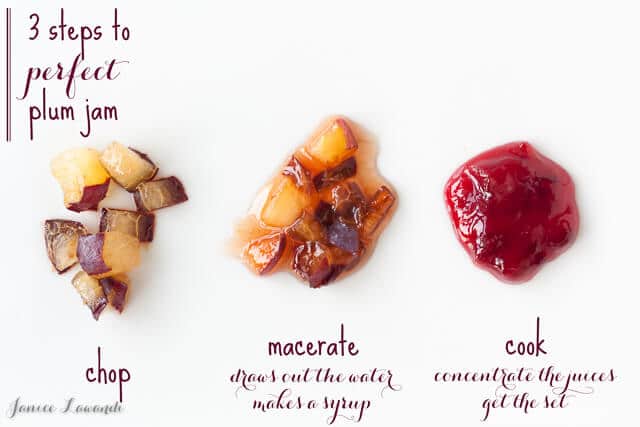 Steps for perfect plum jam
Plum jam is easy. Here's a breakdown of the steps:
Prepare the fruit, washing and drying it, then chopping it into small pieces.
Macerate the fruit, mixing it with sugar, which draws out the water and helps break down the fruit so that your jam will boil quickly and the sugar will be all dissolved.
Boil the jam until you reach the jam setting point. You can use a thermometer to help judge the set, but also a frozen plate test. It's just like determining the marmalade setting point so watch the jam as it boils: the bubbles will be more stable when you approach the perfect set.
Tip: you don't have to peel the plums to make jam, which makes this recipe even easier to do. Just wash and chop the fruit, discarding the stone and stems as you go.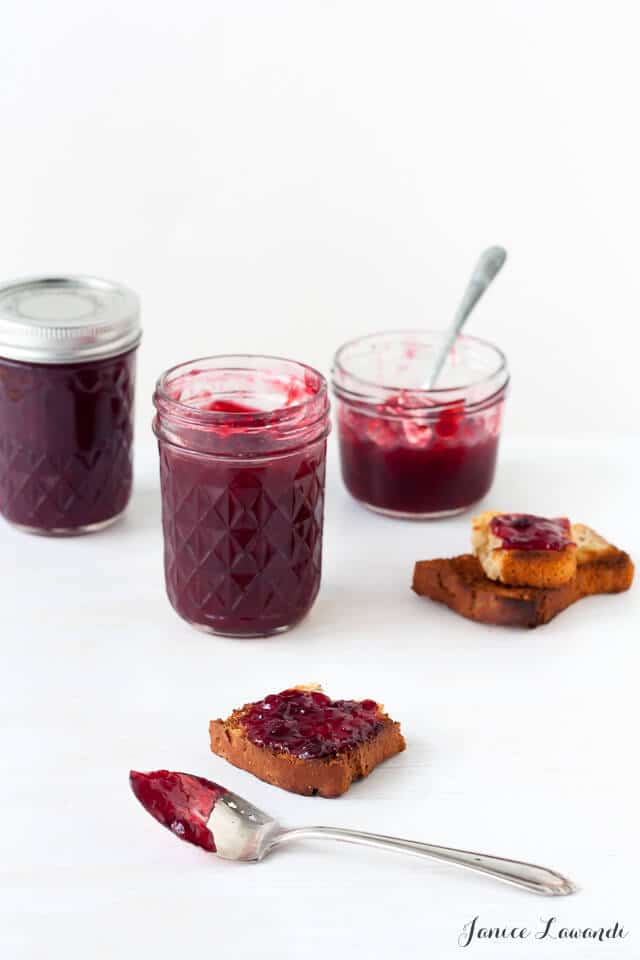 Ways to flavour plum jam
Plum jam is great plain, but why not try infusing it? You can infuse it with your favourite tea or spices, like cinnamon or cardamom.
Adding spices like cinnamon yields a plum jam that tastes like plum pie filling. It's amazing the flavour you can get out of just one cinnamon stick.
Canning tools to make your jam-making easier
Don't forget, if you are afraid of home canning, or if you don't have the proper tools, I have product reviews on the blog for a home canning starter kit that you can purchase from Amazon to get you going (tool kit on Amazon & starter kit from Bernardin on Amazon). Make sure to have a probe thermometer to take away the guessing of when the jam is cooked enough. I use a Thermapen which is very fast at registering temperatures and temperature changes, but the ChefAlarm is a great hands-free option!
The basic plum jam recipe is adapted from Camilla Wynne's book Preservation Society Home Preserves (available on Amazon).
I like to use a thermometer when I boil a batch of jam: the thermometer allows you to monitor the temperature of the jam, thus ensuring you achieve a high enough temperature so your jam will set when it cools. This is the jam setting point. You can also use the plate test (also known as wrinkle test) by dolloping jam on a frozen saucer.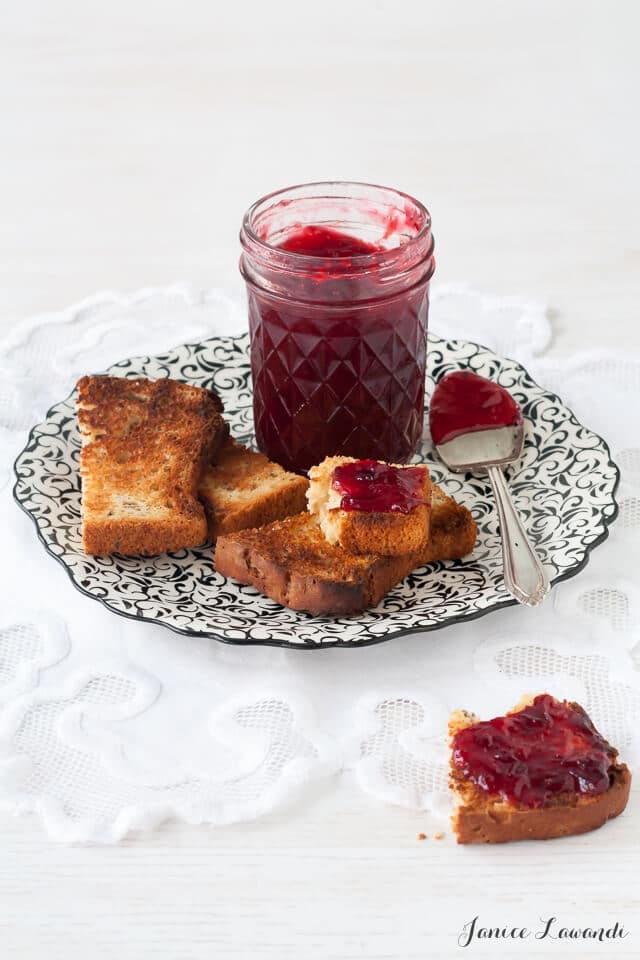 Storage
If you seal the jars properly and use clean sterilized jars, you should be able to keep this jam indefinitely in a cool, dry place, away from light.
I've tested both canning the jars by boiling the closed jars for 10 minutes to seal them or inverting the closed jars, then inverting again back to upright. Both methods work well.
If you don't seal the jars properly, or if you have a doubt, just keep the jars in the fridge.
When it's time to using your jam, always use a clean spoon or knife to take out a serving and don't double dip into the jar of jam because you will contaminate it. Once the jar is open, you must store it in the refrigerator. Otherwise, mold may develop. An open jar of jam will last up to one month if stored in the refrigerator.
Once common misconception is that you can reboil a jar of jam that has developed mold. I would not recommend this. I also would not recommend removing the layer of mold from the top and eating what's below. The mold you see is a fraction of what exists below and it's better to be safe: toss the contents of jar, wash and sterilize the jar, and reuse it to make a fresh batch of jam.
What to make and serve with plum jam
When you start making jam at home, you will inevitably wind up with many jars of it. It makes a great gift, but you should also keep some for yourself to enjoy and to bake with! Here are a few ideas of what you can bake with jam and what to serve with it:
Other jams to make in the summer
Summer calls for making preserves. Each month, focus on one fruit and by the end of the summer, you'll have a rainbow of jams to enjoy year-round:
📖 Recipe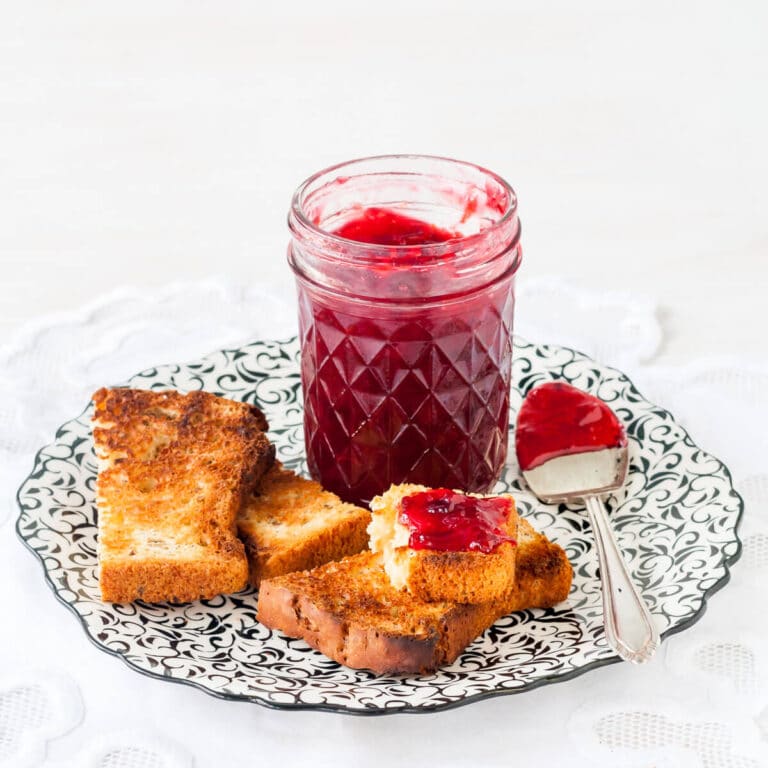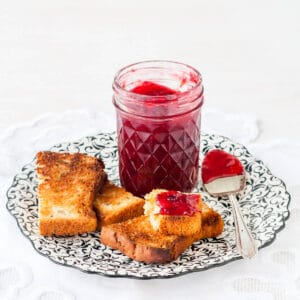 Plum Jam
Homemade plum jam is a a fabulous treat for breakfast. You can make it plain, or flavour it with cinnamon, or infuse it with Earl Grey tea flavour
Ingredients
1.25

kg

Italian plums

pitted and diced

450

g

granulated sugar

65

mL

fresh lemon juice
Flavour options (choose one or the other, or neither)
Instructions
In a medium bowl, combine the chopped plums, sugar, lemon juice and flavour (either a cinnamon stick OR the Earl Grey tea leaves wrapped in a cheesecloth to form a make-shift tea bag). Stir everything together and let rest on the counter for 6 to 8 hours, stirring every so often. The juices from the plums will form a syrup with the sugar as it dissolves.

At the end of the day, stir once more and then cover with plastic wrap and chill overnight.

The next day, transfer the macerated plum mixture to a large pot and heat on medium–high to bring it to a boil, stirring often.

Skim off any foam as needed and continue to boil/stir until the jam has thickened (I boiled one batch to 215ºF and the other to 217ºF). The jam is probably thick enough when it starts spitting at you.

Remove the cinnamon stick or the Earl Grey tea bag from the pot. Transfer the hot jam to hot, sterilized 250-mL mason jars using your handy canning tool kit available on Amazon, leaving ¼" headspace. Cover with clean, sterilized snap lids. If a jar isn't filled full, put it in the fridge to enjoy right away.

Process in a large boiling water batch for 5 minutes, then leave them another 5 minutes, still in the canning pot but off the heat before transferring the jars to a clean towel on the counter.

Let the jars rest overnight before labelling and storing them.
Notes
For the Earl Grey tea, use a good quality tea. I suggest Kusmi, for example, which you can buy on Amazon .
This recipe is adapted from the Preservation Society book on preserves, available on Amazon.
Remember that checking the temperature of your batch of jam as it cooks with a thermometer can help you determine if you have hit the jam setting point. Use a digital probe thermometer for faster readings, like the ChefAlarm which will register changes in temperature in 3 seconds or less!
Nutrition