This plum jam makes a small batch without pectin that you can easily can in a water bath on the stove. Feel free to make it plain, or you can flavour it with cinnamon or even Earl Grey tea leaves.
As an Amazon Associate I earn from qualifying purchases.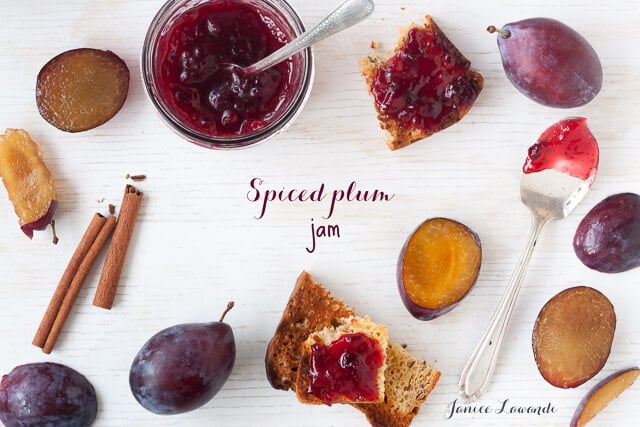 I love all jams. Who doesn't? My faves include a spiced apple jam and rhubarb jam (no pectin), but lately, I've been craving something else. I wanted plum jam. Of course, before now, I had eaten plum jam, maybe a handful of times over the years, and it was all store-bought and pretty "meh!" if you ask me.
Still, I just felt like plum jam.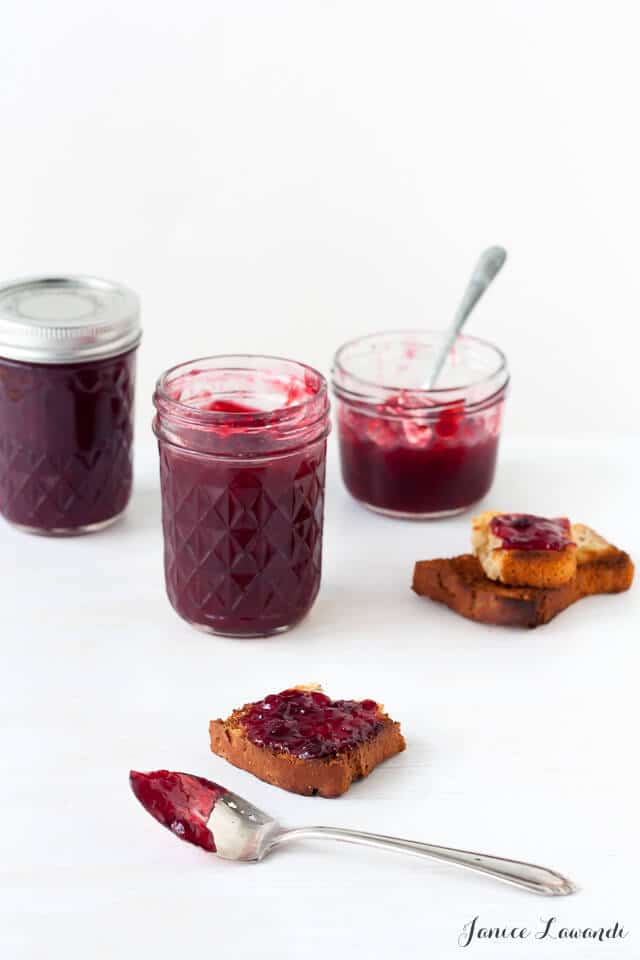 I wanted to make a plum jam that would wow me. I envisioned a jam that was bright and full of flavour. At first, I thought of plum pie, and specifically a spiced plum pie with crumble topping from the pie shop in my neighborhood, Rustique. So I channeled that pie as I made my first batch of plum jam. I flavoured it simply, with just one stick of cinnamon, and I ended up making exactly what was in my mind: a plum jam that tastes like plum pie filling. It's amazing the flavour you can get out of just one cinnamon stick.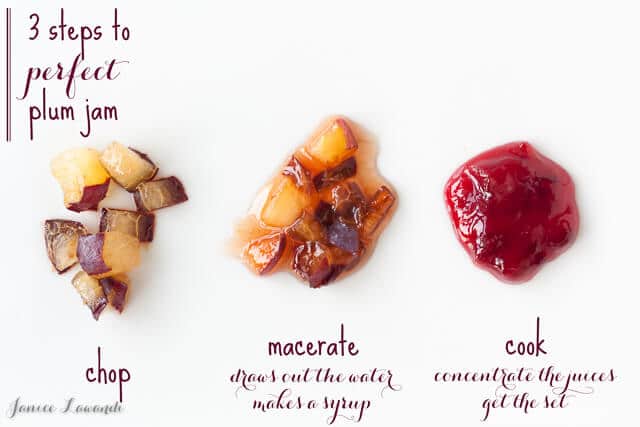 As I took all the photos for this post, I was feeling pretty satisfied, but as I worked, my mind wandered to another flavour combination: plum and Earl Grey tea. And though I was more than happy with the results of my first batch of jam, I couldn't let go the idea of combining plums with Earl Grey tea leaves. I wound up back at the Atwater market the very next day, returning to the same vendor to pick up more plums.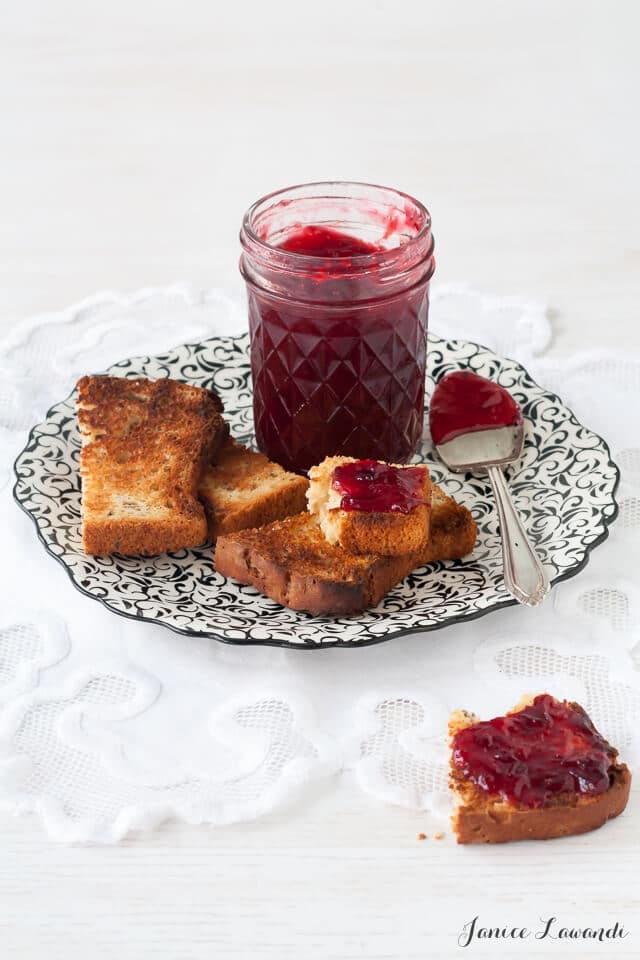 Turns out plum jam with Earl Grey might be even tastier than plum jam with cinnamon. Actually, I'm not totally sure.
I have the plum cinnamon jam on my morning buttered toast and I think "wow!"
Then I have the other on another slice of buttered toast and, at that point, I officially can't decide. Not to brag, but I'm pretty blown away by both. Conclusion: I think you should make both and see for yourself. And don't forget, if you are afraid of home canning, or if you don't have the proper tools, I have product reviews on the blog for a home canning starter kit that you can purchase from Amazon to get you going (tool kit on Amazon & starter kit from Bernardin on Amazon). Make sure to have a probe thermometer to take away the guessing of when the jam is cooked enough. I own a pink Thermapen which is very fast at registering temperatures and temperature changes, but the Thermoworks Dot can be used hands-free so would be more appropriate here.
The basic plum jam recipe is adapted from Camilla Wynne's book Preservation Society Home Preserves (available on Amazon).
Plum jam recipe
I like to use a thermometer when I boil a batch of jam: the thermometer allows you to monitor the temperature of the jam, thus ensuring you achieve a high enough temperature so your jam will set when it cools. This is the jam setting point. You can also use the plate test (also known as wrinkle test) by dolloping jam on a frozen saucer.
Plum jam
Homemade plum jam is a a fabulous treat for breakfast. You can make it plain, or flavour it with cinnamon, or infuse it with Earl Grey tea flavour
Ingredients
1.25

kg

(

1¼

kg

)

Italian plums

pitted and diced

450

g

(

1

lb

)

granulated sugar

2 ¼ cups

65

mL

(

¼

cups

)

fresh lemon juice

¼ cup
Flavour options (choose one or the other, or neither)
Instructions
In a medium bowl, combine the chopped plums, sugar, lemon juice and flavour (either a cinnamon stick OR the Earl Grey tea leaves wrapped in a cheesecloth to form a make-shift tea bag). Stir everything together and let rest on the counter for 6 to 8 hours, stirring every so often. The juices from the plums will form a syrup with the sugar as it dissolves.

At the end of the day, stir once more and then cover with plastic wrap and chill overnight.

The next day, transfer the macerated plum mixture to a large pot and heat on medium–high to bring it to a boil, stirring often.

Skim off any foam as needed and continue to boil/stir until the jam has thickened (I boiled one batch to 215ºF and the other to 217ºF). The jam is probably thick enough when it starts spitting at you.

Remove the cinnamon stick or the Earl Grey tea bag from the pot. Transfer the hot jam to hot, sterilized 250-mL mason jars using your handy canning tool kit available on Amazon, leaving ¼" headspace. Cover with clean, sterilized snap lids. If a jar isn't filled full, put it in the fridge to enjoy right away.

Process in a large boiling water batch for 5 minutes, then leave them another 5 minutes, still in the canning pot but off the heat before transferring the jars to a clean towel on the counter.

Let the jars rest overnight before labelling and storing them.
Notes
For the Earl Grey tea, use a good quality tea. I suggest Kusmi, for example, which you can buy on Amazon .
This recipe is adapted from the Preservation Society book on preserves, available on Amazon.
Remember that checking the temperature of your batch of jam as it cooks with a thermometer can help you determine if you have hit the jam setting point. Use a digital probe thermometer for faster readings, like the Thermoworks Dot which will register changes in temperature in 3 seconds or less!
Nutrition