Here is an amazing, flavourful spiced apple jam recipe for canning. This homemade apple jam is spiced with cinnamon, cloves and star anise. Easy to make and doesn't require any pectin. Seal the jars using a water bath canning method and you will have apple jam to keep you going until the next apple season.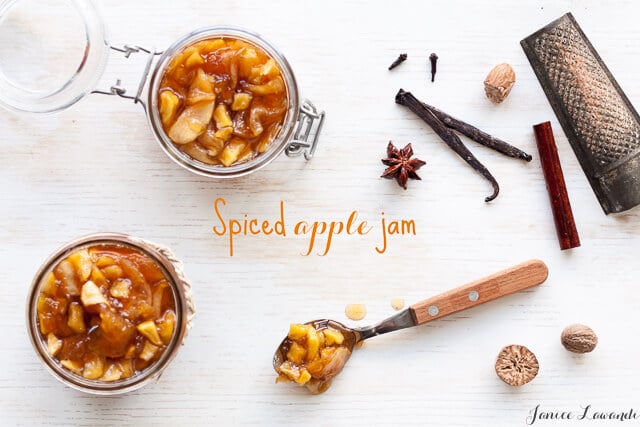 Disclosure: As an Amazon Associate, I earn from qualifying purchases.
As an Amazon Associate I earn from qualifying purchases.
Apple season spans from end of August to end of October where I live, and we have access to a wide variety of apples at the local markets and the you-pick orchards: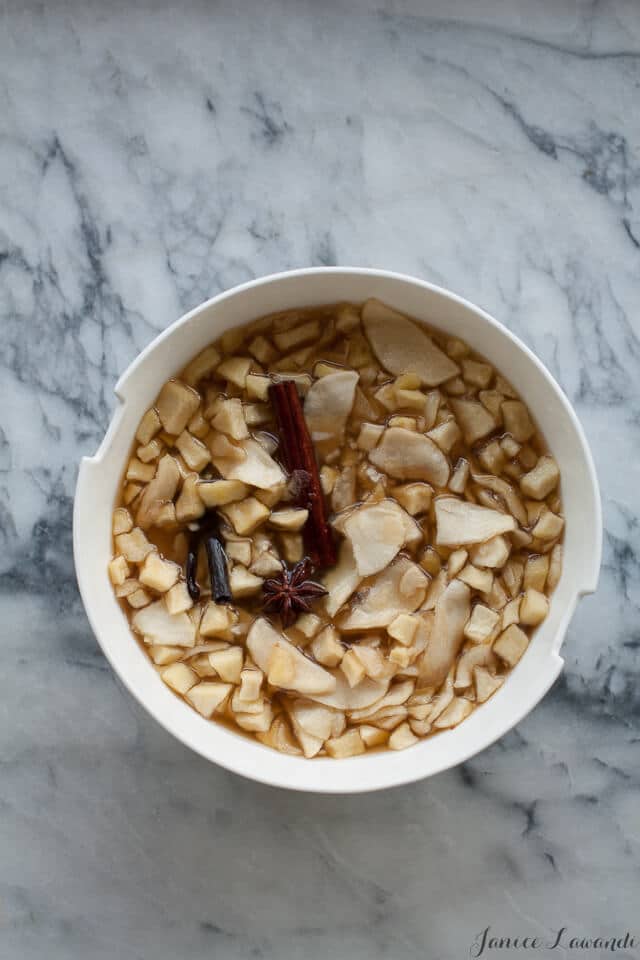 If you want to make an apple jam like the recipe below, you can use a combination of apples. If you want a saucier preserve, opt for a mixture of Cortlands and McIntosh apples. For an apple jam with distinct apple pieces, use Cortlands and Russets. They hold their shape, even with extensive cooking.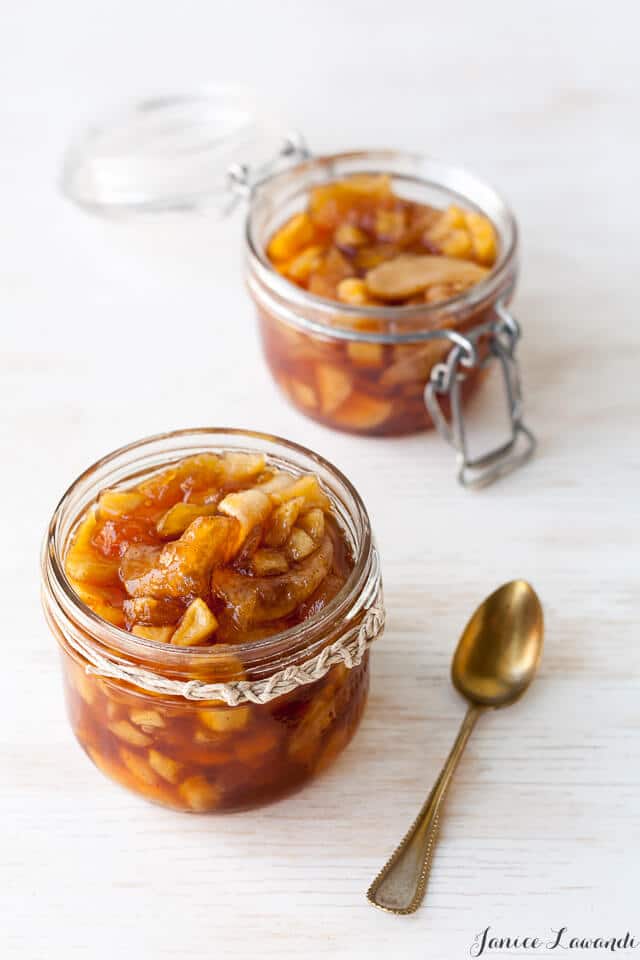 In the spirit of fall and hoarding food like a squirrel, I decided my homemade jam stash needed a little more jam. I've made some pretty awesome summertime jams, like rhubarb jam (no pectin, jalapeño jam, and plum jam. And in winter, I like to make three fruit marmalade. But what about autumn? None so far.
This homemade jam is like apple pie filling in a jar and the perfect ode to fall. It tastes amazing dolloped on toast, slathered with salted butter. I chose to make it with Russets and Cortlands because they hold their shape better than most other apples, as you can see. Next time, I'd like to try a mixture of Macintosh and Cortlands so that the jam will have a more apple sauce-like texture.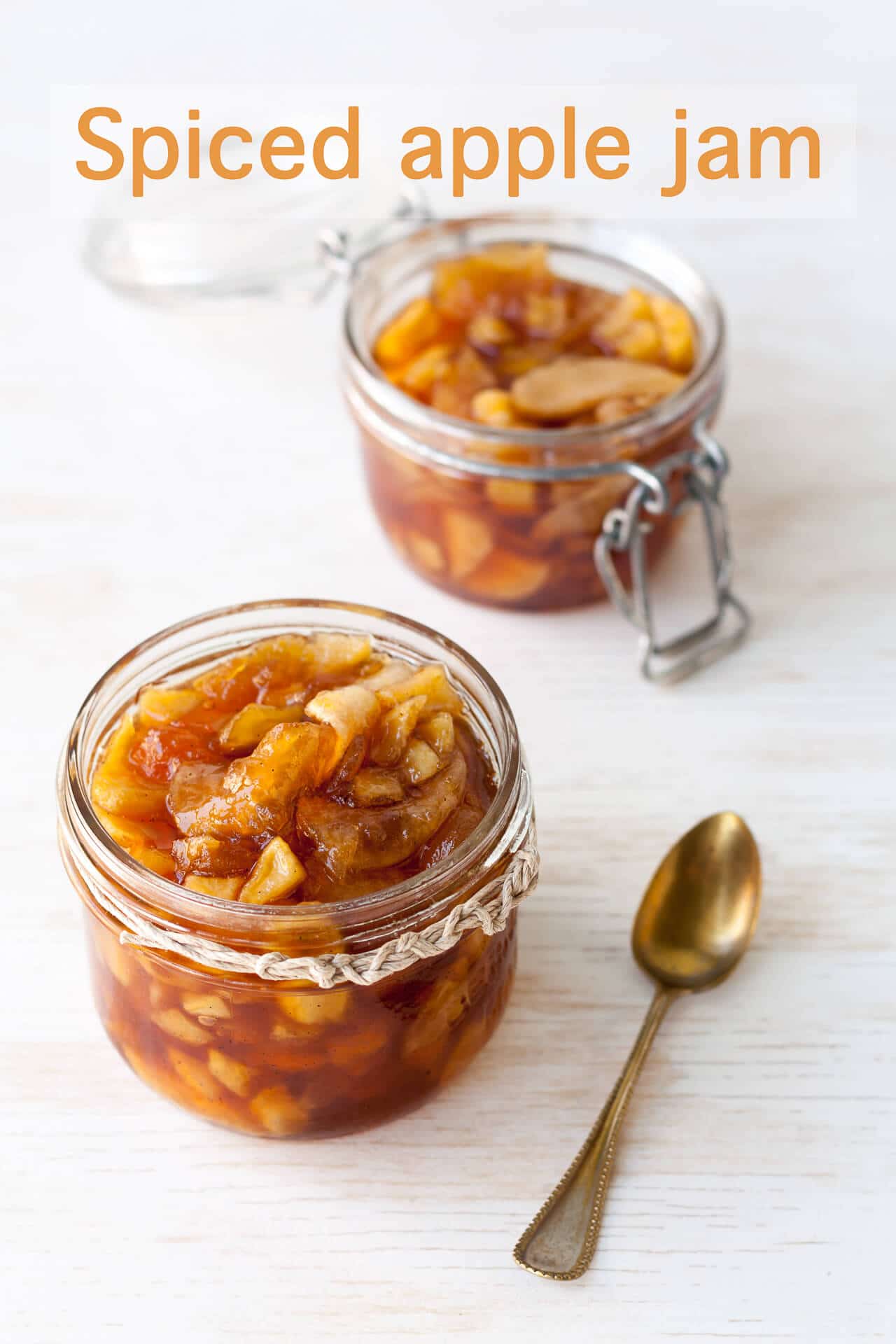 One of the easiest ways to make sure your jam will set properly when it cools is to check the jam temperature to make sure you achieve the jam setting temperature, also known as jam setting point. Using a thermometer and a home canning kit (which you can buy on Amazon) will make your life infinitely easier if you are going to make a lot of homemade jams.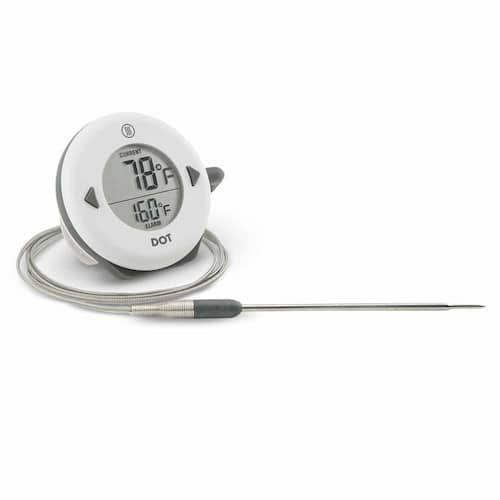 📖 Recipe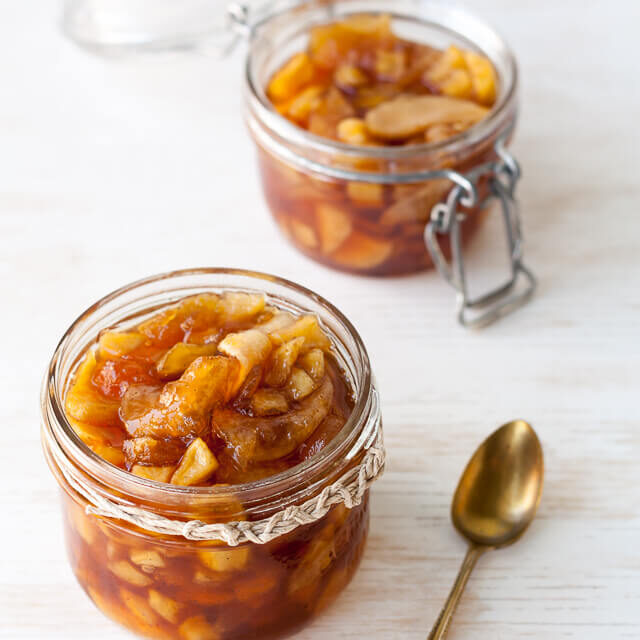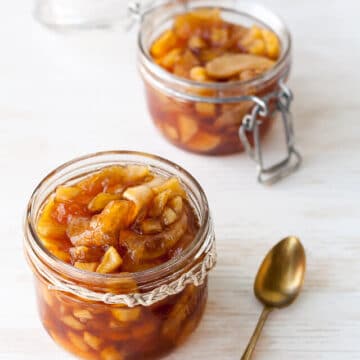 Spiced Apple Jam
This spiced apple jam is flavoured with star anise, cinnamon, and cloves. It's the perfect apple jam for fall! Makes 4 jars.
Ingredients
1.2

kilograms

Cortland apple(s)

600 g Russets, diced, and 600 g Cortland, sliced

300

grams

granulated sugar

300

grams

light brown sugar

52.5

mL

fresh lemon juice

1

cinnamon stick

1

star anise

1

pinch

ground nutmeg
Instructions
Combine the apples with the sugar, juice, and spices in a pot. Bring to a boil to dissolve the sugar.

Transfer the mixture to a container, top with parchment, and store in the fridge overnight.

The next day, place the syrupy apple mixture into a large pot and heat on medium-high. Cook the mixture until it reaches 220ºF, stirring constantly.

Take the pot off the heat, and let stand for 5 minutes, stirring every so often. Remove the spices and vanilla bean.

Transfer the mixture to sterilized jars, leaving a ¼-inch headspace. Process for 10 minutes, then let rest 5 minutes in the canner before transferring jars to a towel-lined tray. Let stand overnight, undisturbed.
Notes
Use a thermometer (like the ChefAlarm) to make sure you achieve the jam setting point. You can also do the plate test (also known as wrinkle test on a frozen plate) to make sure the set is correct.
This recipe makes about 4 x 250 mL (1 cup) jars
Nutrition
Calories:
42
kcal
Carbohydrates:
11
g
Protein:
1
g
Fat:
1
g
Saturated Fat:
1
g
Sodium:
1
mg
Potassium:
25
mg
Fiber:
1
g
Sugar:
10
g
Vitamin A:
9
IU
Vitamin C:
1
mg
Calcium:
5
mg
Iron:
1
mg
This recipe was adapted from Preservation Society Home Preserves, which is available to purchase from Amazon.
Please note this post contains affiliate links to Amazon. As an Amazon Associate I earn from qualifying purchases. If you buy a product I recommend, I will get a small commission, and the price you have to pay will not change in any way.