This apple butter pie is just like a pumpkin pie, but with apple butter instead of pumpkin purée or canned pumpkin, made with an easy all-butter pie crust that you make in the food processor.
As an Amazon Associate I earn from qualifying purchases.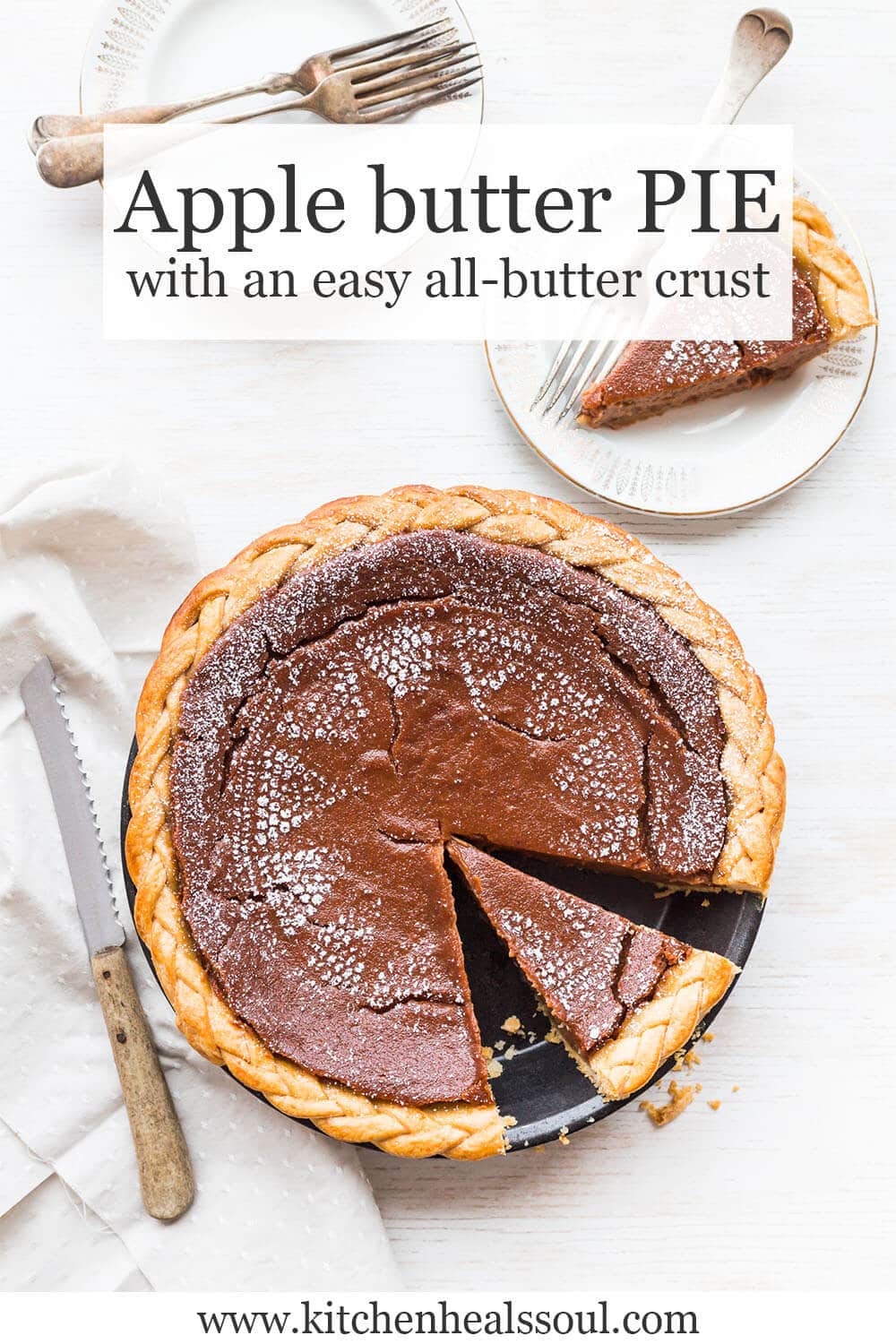 Disclosure: As an Amazon Associate, I earn from qualifying purchases.
I have had many pie failures. Pie crusts oozed butter onto the floor of my oven, almost setting the oven on fire. There were greasy pie crusts that looked so wrong. So, so wrong. There was a pie that literally seemed to refuse to bake, so after over an hour and a half, I set the oven to broil. In case you are wondering, that pie almost caught fire and was scorched beyond repair.
Pie shouldn't be stressful and I now have an all-butter pie crust recipe I like that's easy with simple ingredients, made in the food processor, and that holds its shape when baked. I'm going to stick to it from now on.
Jump to: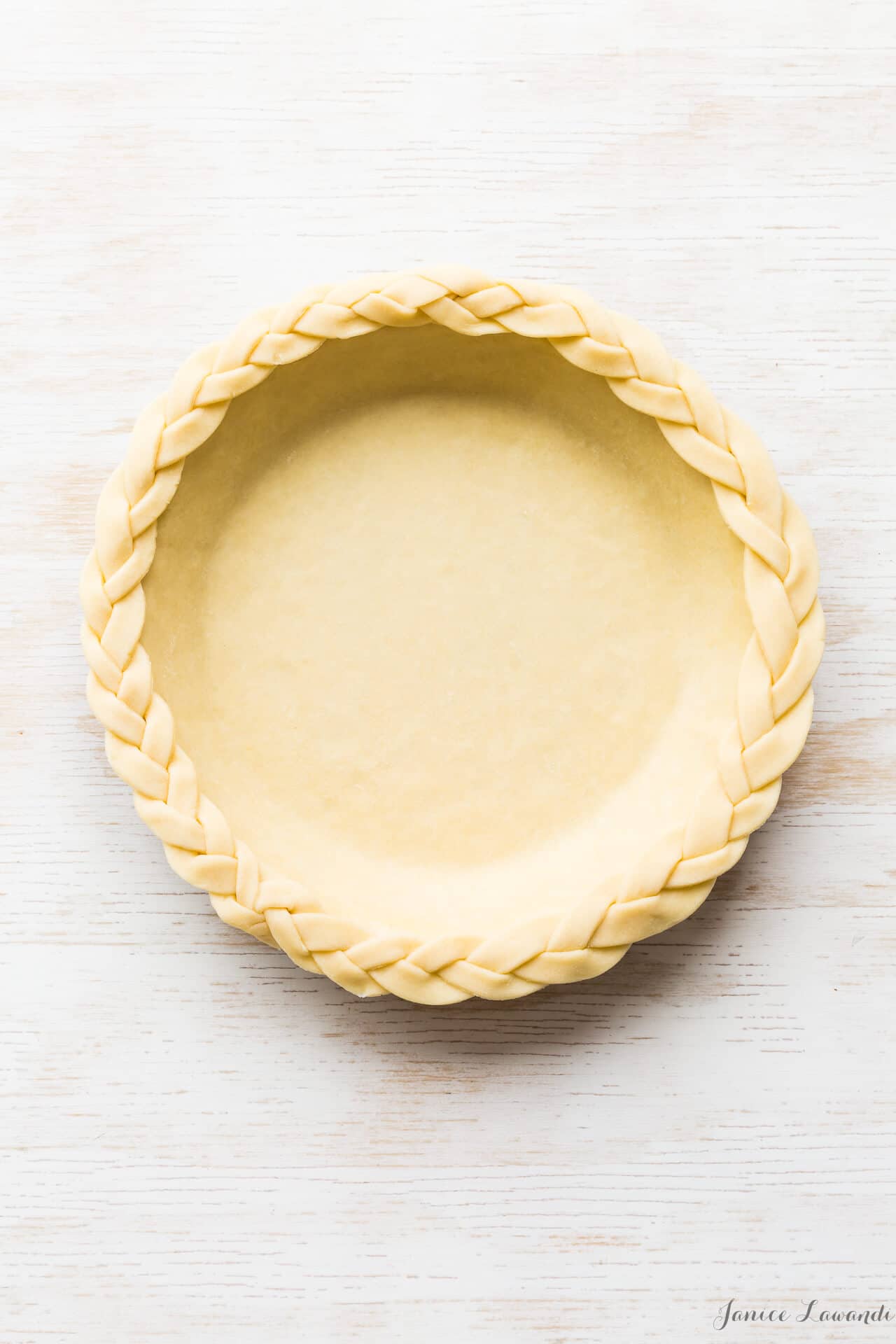 Making all-butter pie crust in the food processor
The recipe is straightforward. Dare I say easy? Case in point, I made the dough for this pie in the food processor, like I like to do for most pies. It takes minutes, literally. It's crispy and flaky enough.
This isn't homemade puff pastry and let's not aim for that! This is pie dough. The dough I made rolled out beautifully, didn't crack and didn't stick much. The dough holds its shape when baked. It doesn't ooze butter or become greasy. It doesn't budge as it bakes.
You don't need too many tools to make a pie, thankfully, and if you don't want to use a food processor to make the dough, you can make pie dough in a stand mixer if you prefer, or just use a bowl and your fingertips! All roads lead to pie.
What to do with pie dough scraps
When you make a pie, you will inevitably be left with a pile of pie dough scraps. Gather them up and press them together to shape them into a disk and use them to make pie crust cookies!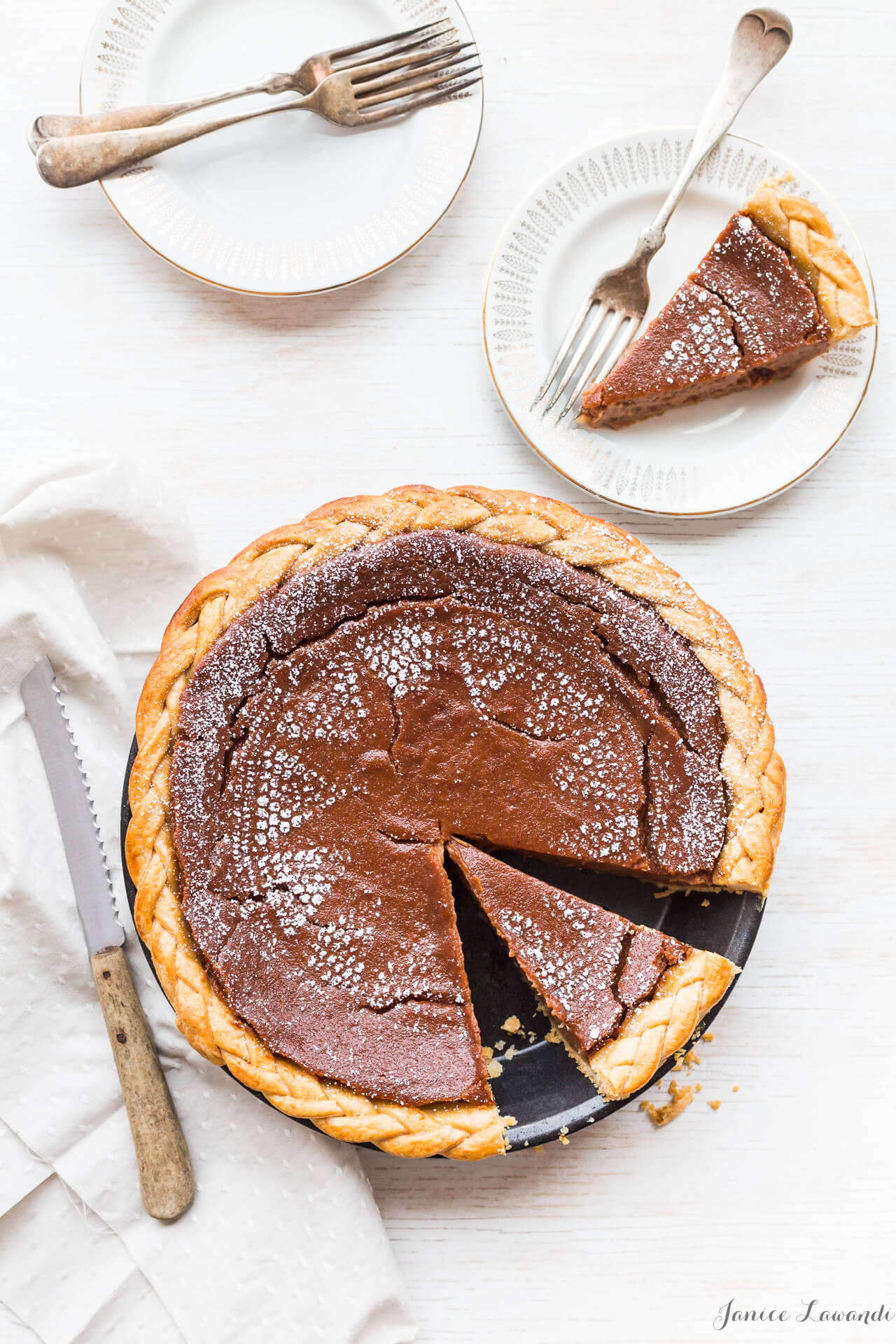 Making an apple butter pie
I used my favourite all-butter pie dough to make this apple butter pie. Turns out that you can use apple butter in place of pumpkin purée or canned pumpkin to make the apple version of pumpkin pie. This recipe yields a creamy, apple-flavoured filling with a texture much like that of pumpkin pie. It's soft and creamy, with a really buttery flavour. This apple butter pie is a great alternative to traditional pumpkin pie.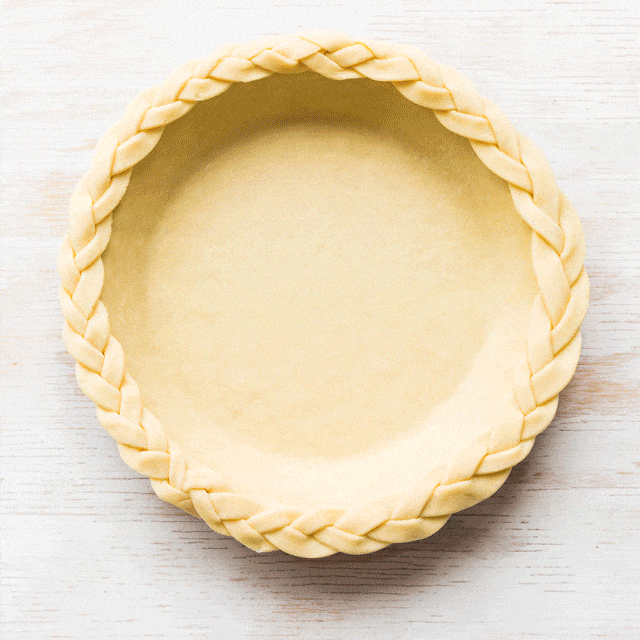 Apple butter versus compound butter
Remember to read the label of your apple butter and to choose wisely. I didn't use apple butter which is a compound butter of apple sauce mixed with butter. The apple butter for this recipe is 100% apples cooked down to a mahogany, buttery, molasses-flavoured apple spread. Sometimes there may be a little apple juice on the ingredient label and that's fine.
If you are looking for a pumpkin pie alternative for Thanksgiving dinner, this is it. And you know what? I am happy with this dough again. It's the same dough I used to make, and it's the recipe I used for this gorgeous maple apple pie that won the hearts of many. And for those that insist on following tradition, you can still make mini pumpkin pie tarts without evaporated milk.
📖 Recipe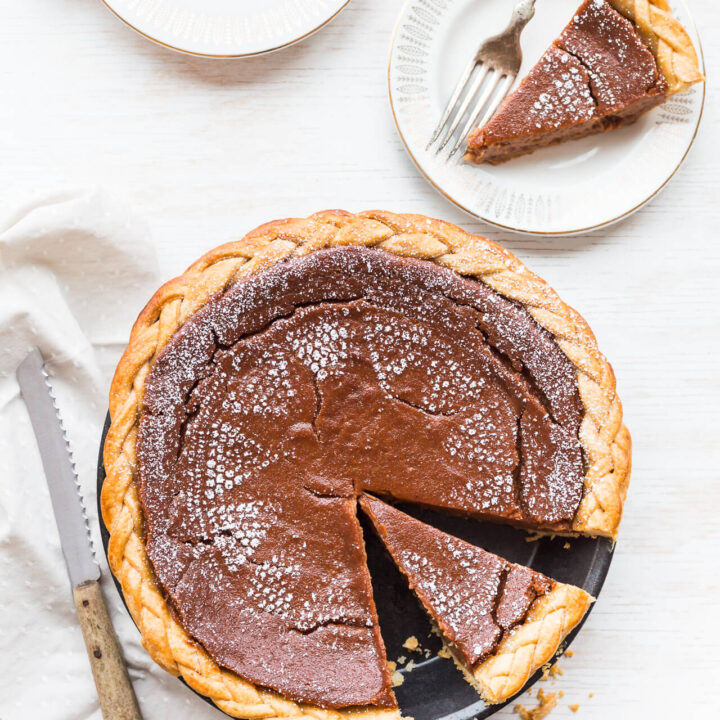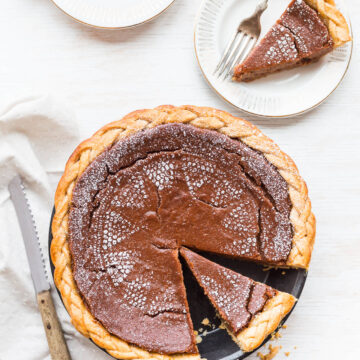 Apple Butter Pie
Apple butter pie is a great pumpkin pie alternative for Thanksgiving dinner. It's made just like an easy pumpkin pie from scratch, with an all butter crust you make in a food processor.
Ingredients
Easy all butter pie dough
258

grams

bleached all-purpose flour

¼

teaspoon

Diamond Crystal fine kosher salt

2

teaspoon

granulated sugar

173

grams

unsalted butter

cut into cubes, cold

83

mL

cold water

1

large egg(s)

beaten with 1 tablespoon water to brush on edge of pie to glue decorative braid to crust edges
Apple butter pie filling
480

g

apple butter

250

mL

whipping cream (35 % fat)

3

large egg(s)

50

grams

light brown sugar

60

mL

pure maple syrup

1

teaspoon

ground cinnamon

¼

teaspoon

ground nutmeg

½

teaspoon

ground ginger

2

pinches

ground cloves

¼

teaspoon

Diamond Crystal fine kosher salt

whole milk (3.25 % fat)

to brush surface edges of crust
Instructions
To make the all-butter pie dough and pie crust
In the bowl of a food processor, combine the flour with the salt and sugar. Add the butter and pulse to form a coarse crumble with butter lumps.

Add the water, and pulse to combine. You can continue to run the processor to form a ball of dough or do this on your work surface by hand.

Divide the dough into two disks, wrap in plastic wrap, and chill for 1 hour.

Roll out the first disk of dough to about a 12 inch diameter disk or so on a floured surface with a rolling pin. Transfer to a metal pie plate and make sure to work the dough into the corner edges of the pie plate. Trim the edges and place the pie in the fridge.

Roll out the second disk of dough to a very long rectangle that is quite thin. Cut thin strips of dough, then braid the strips together, three at a time.

In a small bowl, whisk together the egg with 1 tablespoon water. Brush the edges of the chilled pie shell with the egg wash, then press the braids to the brushed edges to stick them onto the edge. You can weave the ends of the braids together for a seamless look OR just cut out some leaf shapes with the dough scraps and hide the seams with them, glueing down the shapes with a little more egg wash.

Place the pie shell in the fridge and chill for 20 minutes.

Make the filling and bake the pie
Preheat the oven to 350ºF (175 °C).

In a large bowl, whisk together all the apple butter pie filling ingredients EXCEPT the milk. When the pie shell has chilled, carefully pour the pie filling into the shell. Brush the braid with a little whole milk.

Place the pie on the middle rack of the oven and bake for 1 hour 20 minutes. The surface will crack, the centre will still jiggle, but the crust will be nice and golden and the pie filling will finish setting as it cools.

Place the baked pie on a wire rack to cool completely before serving (I set the rack on my balcony outside, which is 0ºC to cool/chill the pie at the same time).

Notes
I like to bake my pies in a metal pie dish, something like this dark metal pie plate available on Amazon.
I used Eden organic apple butter, which you can find on Amazon. Many Americans might have an easier time finding Musselman's apple butter on Amazon, but note that Musselman's apple butter may be sweeter.
To achieve the look you see in the photos, I stencilled a lace pattern onto the surface of the pie by gently pressing a piece of lace on the surface of the pie and dusting generously with powdered sugar.
In case you are wondering, I currently use a Cuisinart 11-cup food processor. So far, I quite like it. You can also find it on Amazon.
Nutrition