Want to go directly to the pie recipe? Just click here to skip to the recipe for this bacon & egg pie!
As an Amazon Associate I earn from qualifying purchases.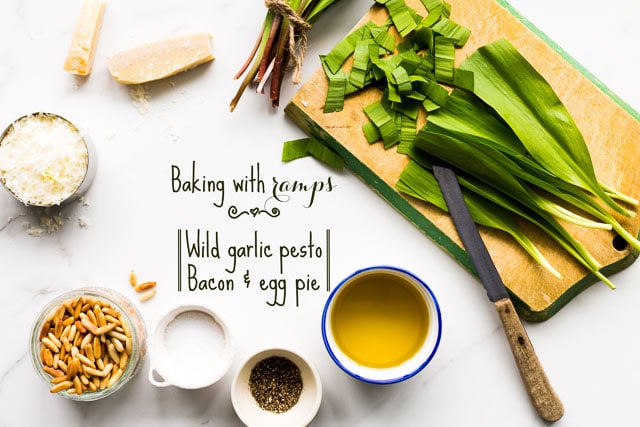 A few weeks ago, my friend, Aimee (of the blog Simple Bites), invited a few of us over for a morning walk in the forest, followed by brunch. After a very hectic week, it was exactly what I needed: an opportunity to drive away and leave everything behind. Even if I was putting everything on pause just for half a day, it was enough. Plus it gave me the opportunity to catch up with friends and hear what everybody is working on, share our struggles and our wins too! I feel like, as I trudge forward with my career (can we call it a career yet?), time with friends is crucial and always inspiring. I just hope that I have as much to offer them as they have to offer me...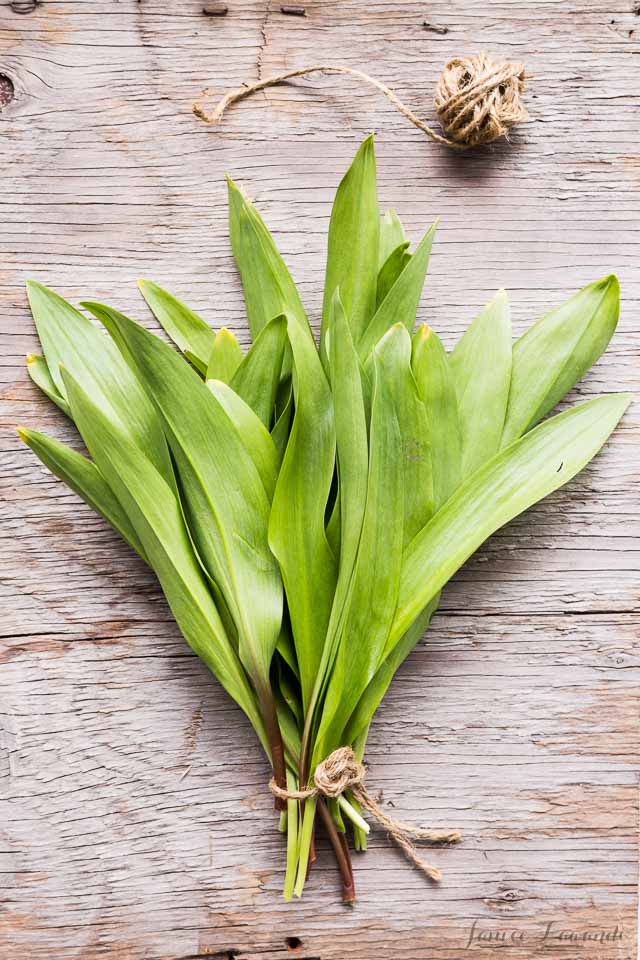 It was muggy and humid when we got together. On our morning walk, we foraged for ramps to flavour a big batch of scrambled eggs that were laid by Aimee's hens and carefully collected by her daughter. We also collected a few greens and edible wild flowers along the way for a salad just before it started to rain. Perfect timing! Aimee also made some of her cheesy gougères (if you want the recipe, I highly recommend buying her book, Brown Eggs & Jam Jars, available on Amazon) and some homemade bacon too. Mayssam (Will Travel for Food) brought some local fiddleheads for us to enjoy because the season is so short. Christelle (Christelle is Flabbergasting) provided a selection of Quebec cheeses (around here, most every meal includes a little cheese), and Kerrie (Ptite Cuisine) shared a few of her beautiful homemade soda breads to tie it all together. I took the opportunity to bring over this chocolate marble cake for dessert. It's from a recipe that I blogged about ages ago but hadn't made since (let's call it quality control because I figured it was a good time to see if an old recipe from the blog is as good as I remember it—thankfully it was!).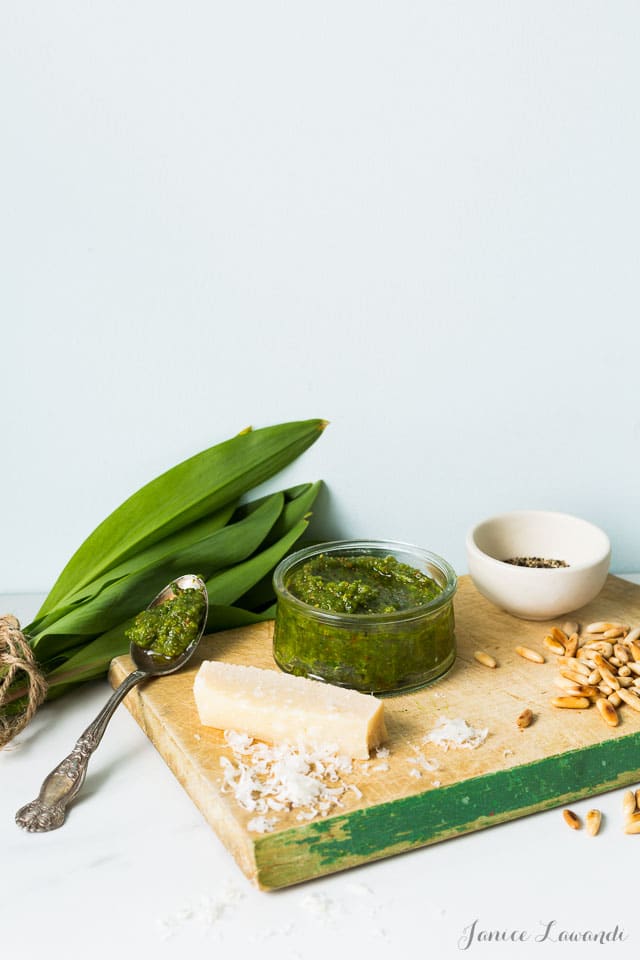 A morning spent in the forest with Aimee is downright educational for somebody like me, who lives in the city and knows nothing about foraging. I learned that ramps (also known as wild garlic) are protected in Quebec, not endangered, meaning that you can forage for ramps and pick them for your own personal use, but you can only pick a small percentage of a patch, leaving behind the rest. It's also best practice to leave behind the roots and most of the small wild garlic bulbs to ensure that the patches of ramps continue to grow back from year to year. Turns out it takes 7 years for wild garlic to grow from seed. No wonder they are protected! It's illegal to sell them in Quebec because of this. Given the surge in popularity of ramps and factoring the time it takes to grow from seed, it's obvious why the restrictions are in place.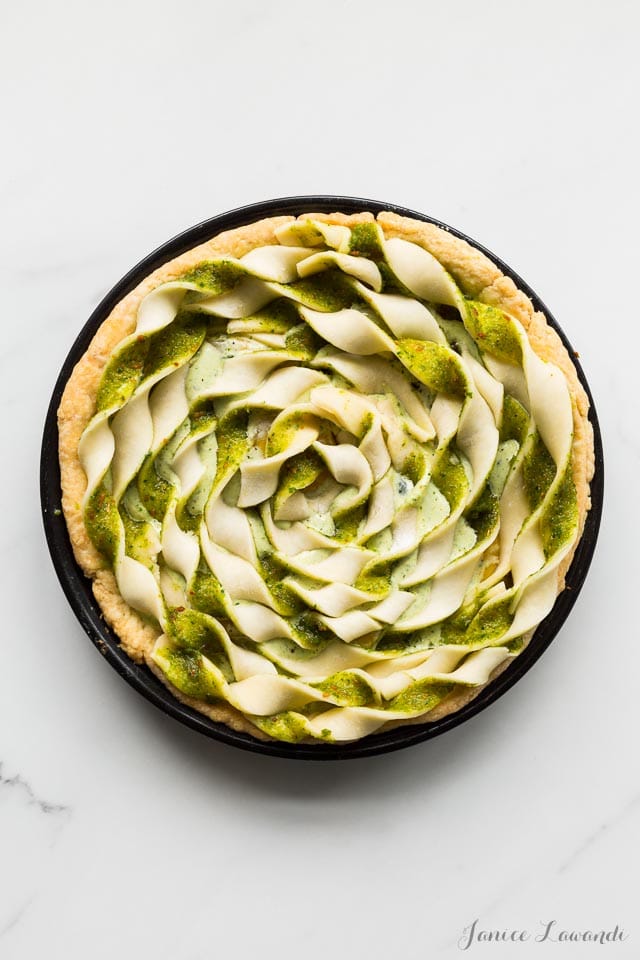 With the ramps that I picked that morning, I made this fancy lunch pie because when a friend sends you home with a gorgeous bouquet of freshly-picked ramps, you simply MUST take the time to make something special with it all. I made two batches of pesto with my bouquet of ramps. The first batch went into this pie, and the second was stirred into a big bowl of potatoes roasted on the BBQ that I ate with my parents.
This is a bacon and egg pie, not to be confused with a quiche. Bacon-and-egg pie and quiche are not at all the same thing, except that they are both pies and that they both have eggs. When you cut into this bacon and egg pie, the difference is obvious: a slice of this pie reveals whole, perfectly hard-cooked eggs hidden beneath the top crust (top crusts are another thing that quiches don't have). Quiche filling is made from whisked eggs and milk (or cream if you want to make the best quiche ever!), and this egg pie is made with whole eggs that are cracked directly into the blind-baked crust. See? Very different.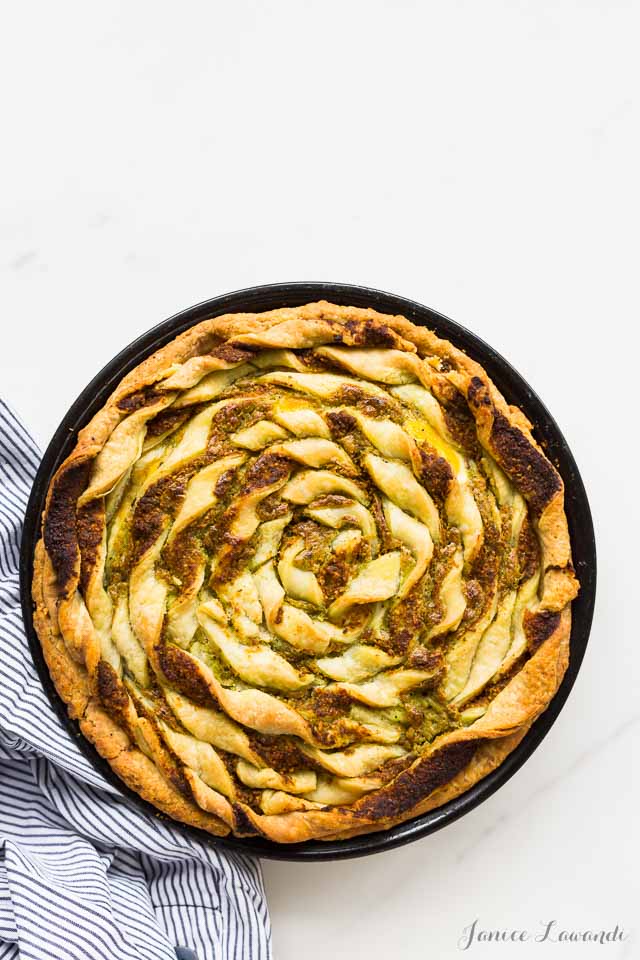 This bacon and egg pie is a labour of love, but I think that goes for most pies. It's not difficult, but it does take a little time and patience because there are quite a few more steps than the average cookie recipe. It's totally worth the extra time and effort. I've made this pie twice, the first time with lardons and almost exactly as written by Melissa Clark (you can find her on Twitter) on the NY Times Cooking site. This second time, I modified the recipe ever so slightly. I used my own pie dough recipe with less butter and more water, and opted for chopped pancetta as my "bacon of choice" and instead of spicy ketchup, I incorporated this wild garlic pesto. This is the perfect brunch or lunch pie. I think this bacon and egg pie would make an excellent picnic food because it holds together so well. It's easy to serve and tastes great warm or cold.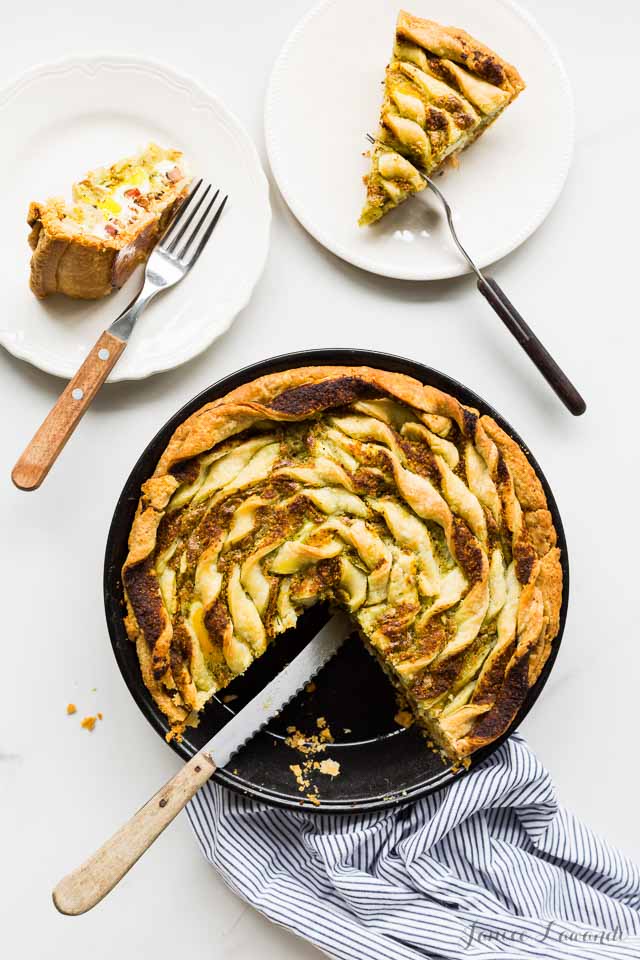 What to do with pie dough scraps
Inevitably, when you make a pie, you will be left with a pile of pie dough scraps. Gather them up and press them together to shape them into a disk and use them to make pie crust cookies!
A few helpful resources:
If you want to top the pie with a lattice crust, here's a video to show you how to make a lattice pie crust:
Bacon and egg pie
This bacon and egg pie is breakfast in the form of a pie. It's got the classic breakfast stapes, bacon and eggs, baked between two crusts, flavoured with wild garlic (ramp) pesto. What's not to love?
Ingredients
For the double crust pie dough
312

grams

(

2½

cups

)

all-purpose flour

5

mL

(

1

teaspoon

) Diamond Crystal fine kosher salt

173

grams

(

¾

cup

)

unsalted butter

cold and cut into cubes

105

mL

(

7

tablespoon

)

cold water
For the ramp pesto
1

(

1

)

bunch ramps

10-12, chopped (I used the leaves/stems only and left the bulbs in the ground

80

grams

(

½

cup

) Spanish pine nuts

lightly toasted in a dry skillet

25

grams

(

½

cup

)

grated parmigiano Regiano

83

mL

(

⅓

cup

)

olive oil

Salt & freshly cracked pepper
Bacon and egg filling
175

grams

(

6

oz

)

pancetta

cut into small pieces

8

(

8

)

large eggs

75

mL

(

5

tablespoon

)

whipping cream (35 % fat)

60

mL

(

3

tablespoon

)

homemade ramp pesto

plus optional 4 tablespoon extra for the top crust
Instructions
To make the double crust pie dough
In the bowl of an electric mixer fitted with the paddle attachment, mix together the flour and salt.

Drop the cold cubes of butter into the bowl and mix them in for 60 to 90 seconds to form a coarse crumbly mixture.

Drizzle the water into the bowl with the mixer running on low and continue to stir until a shaggy dough forms. Press it and shape into two disks and wrap with plastic wrap to chill in the fridge for 1 hour.
To make the pesto
Place the ramps, pine nuts, and cheese in a small food processor or mini chop (I like mine from KitchenAid available on Amazon). Purée everything together until the mixture is fairly fine. With the processor running, drizzle in the olive oil. Taste and adjust the pesto with salt and pepper. You might want to use more oil for a looser pesto. Use right away or store in a jar in the fridge.
To bake the pie
Roll out one disk of dough so that it is about an inch larger all around than the top of the pie plate (so really, the diameter of the dough should be 2 inches bigger). Transfer the rolled dough to the pie plate and fit it into the corners and edges really well. Trim and tuck under the edges as necessary. Chill the unbaked pie for 30 minutes.

Meanwhile preheat the oven to 375ºF.

While your pie crust is chilling, cook the chopped pancetta in a skillet. Transfer to a small bowl and let cool.

Just before blind-baking the pie crust, dock the crust with a fork, then place a sheet of parchment over the pie dough and fill with beans. Blind bake the pie as is for about 15 to 20 minutes, then carefully lift off the parchment and beans, then bake for another 5 to 10 minutes until the pie looks dry and just begins to colour.

Take the pie plate out of the oven. Increase the oven temperature to 400ºF.

Spoon the cooked pancetta over the blind-baked pie crust.

Crack the 8 eggs over top. Season with salt and pepper.

In a small bowl, whisk together the heavy cream and 3 tablespoon of the pesto. Poor this over the seasoned eggs.

Set this aside while you roll out the top crust to about ⅛ inch thick. Smear with pesto, about 4 tablespoons, if using (see note below). Cut into ½ inch strips. Working with 1 strip at a time, lift and twirl it from end to end, then twirl it in the centre of the pie, working from middle to outer edge in a spiral patter, gently tucking one end under the next strange ever slightly to hide the ends.

Bake the pie for a good 45 minutes at 400ºF. The crust should be a deep golden brown.
Notes
The pesto brushed onto the strips of top crust before baking get very dark in the oven because the baking time is quite long in order to properly bake the crust. If this isn't something you want, simply spiral plain strips of dough on top of the pie and brush the crust with pesto as soon as you pull it out of the oven.
Nutrition
Special thanks to Aimee of Simple Bites for sharing a bunch of ramps with me.
Please note this post contains affiliate links.