If you are looking for a simple fall baking recipe, try this recipe for apple cupcakes with cream cheese frosting. The cream cheese frosting is not too sweet and very thick and pipeable. The cupcakes are moist and flavoured with apple butter and fall spices.
Disclosure: As an Amazon Associate, I earn from qualifying purchases.
Why bake with apple butter?
Apple butter adds a highly concentrated apple flavour without adding any water to a recipe. It's a much more efficient way of adding apple without diluting flavour or messing with cake batter ratios, thus avoiding gummy textures that can come from adding fresh chopped fruit. I've baked with apple butter to flavour apple cakes— like in this Apple brandy loaf cake recipe; in scones—slathered inside of apple pie scones before baking, and I've also used it in pie filling in this gorgeous apple butter pie, which makes a great alternative to Thanksgiving pumpkin tarts and maple apple pie.
Why is cream cheese frosting runny or too sweet?
Typical recipes for cream cheese frosting have you cream the butter and the cream cheese together, then add A TON of icing sugar. The reason cream cheese frosting recipes call for so much powdered sugar is because without the extra powdered sugar, cream cheese frosting tends to be runny, unstable, weep, and soupy.
Why is cream cheese frosting so unstable? A block of cream cheese contains a lot more water than the same weight of butter. Remember that most grocery store butters have roughly 80 % fat in them, while cream cheese is half of that, around 40 % fat. What remains in both cases is mostly water, so cream cheese contains more moisture than butter.
When the cream cheese is creamed with the butter, and then the icing sugar is added in, the icing sugar draws out that moisture from the butter and the cheese. Butter has very little moisture to draw out, so you can make a thick, pipeable frosting with butter and icing sugar without much worry. But since cream cheese contributes double the moisture, when the icing sugar draws out that moisture, you end up with a soupy, runny, unstable cream cheese frosting.
This is the main reason why most cream cheese frosting recipes recommend an insane amount of icing sugar. Without all the extra powdered sugar, the frosting is too soft to work with. The frosting doesn't hold its shape when piped and it's quite unstable. Bakers tend to overload the frosting with powdered sugar to stiffen the frosting. This leads to a cloyingly sweet cream cheese frosting that doesn't taste very good.
How to make thick cream cheese that is stable and pipeable
Without resorting to adding an excess amount of icing sugar, to make a thicker cream cheese frosting that can be used to frost a cake or decorate cupcakes, the solution is simple: change the order you mix your ingredients in:
Step 1: Cream the butter with the icing sugar first, thereby coating all the little sugar molecules with fat (I have no proof that this really happens, but my brain thinks it works like this, so bear with me!)
Step 2: Once the butter and icing sugar are well mixed, THEN you add in the COLD cream cheese. The sugar is coated with fat, therefore making it more difficult to draw out the moisture from the cold cream cheese. The cream cheese remains intact, and no water leeches out.
By following this mixing order, you can make a frosting with significantly less sugar. In fact, you end up with a frosting that tastes a lot like cheesecake, not overly sweet! At this point, you should be really excited for the recipe.
Once you have mastered this thick, pipeable cream cheese frosting recipe, you will see that it is so thick that you can use this cream cheese frosting to make layer cakes, like this berry chocolate cake with cream cheese frosting and this cardamom cranberry layer cake with cream cheese frosting, so you know it's good because this cream cheese frosting works great in layer cakes too without the risk of sliding layers and weeping frosting!
These mini cupcakes are flavoured with apple butter and cinnamon for a truly fall flavour, and topped with a cream cheese frosting that tastes like cheesecake. Yes, I really did pipe dollops of frosting that are practically the size of the cupcakes themselves. You will understand why when you make this frosting.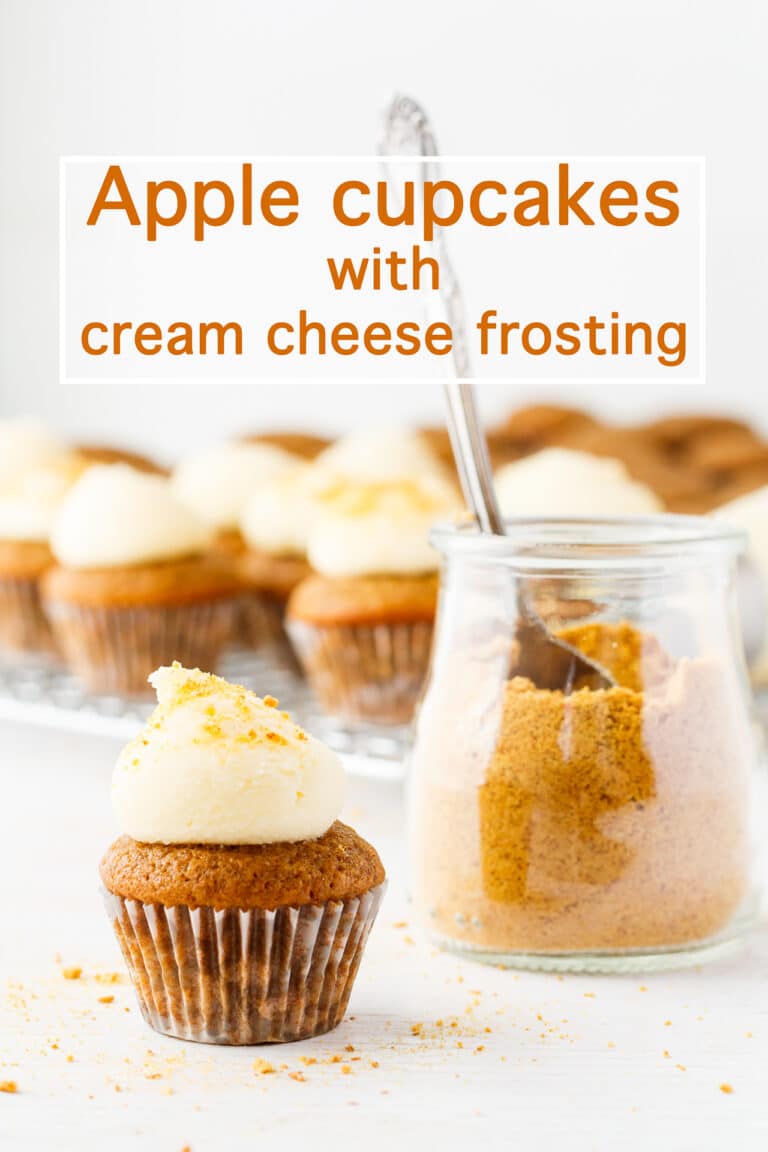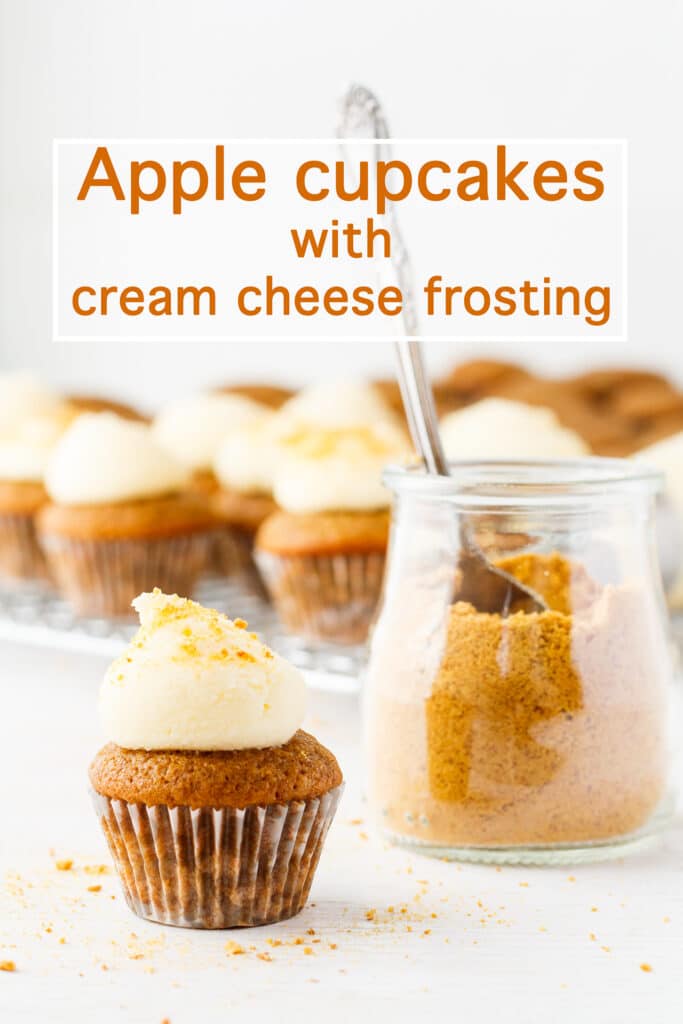 Another option for a thick cream cheese frosting is this white chocolate cream cheese frosting that is sweetened with melted white chocolate instead of icing sugar!
📖 Recipe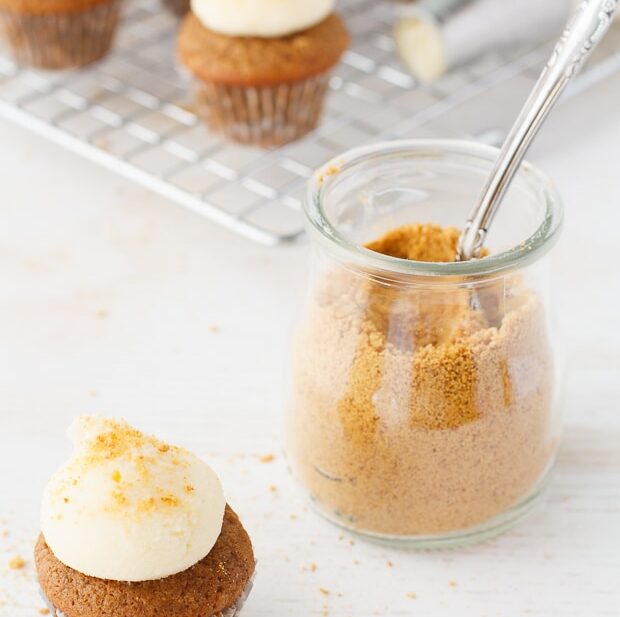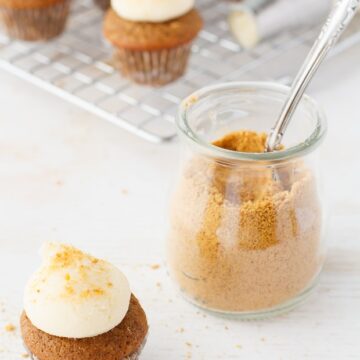 Apple Cupcakes with Cream Cheese Frosting
These mini cupcakes are flavoured with apple butter and cinnamon for a truly fall flavour, and topped with a thick cream cheese frosting that is pipeable and tastes like cheesecake
Ingredients
Apple cupcake ingredients
170

grams

unsalted butter

browned in a saucepan, then left to cool while you prepare the rest of the ingredients

133

grams

light brown sugar

287

grams

bleached all-purpose flour

1 ½

teaspoon

baking soda

1 ½

teaspoon

ground cinnamon

½

teaspoon

Diamond Crystal fine kosher salt

188

mL

yogurt (2 % fat)

250

mL

apple butter

2

large egg(s)
Frosting ingredients
250

grams

unsalted butter

room temperature

200

grams

icing sugar

divided

500

grams

Philadelphia cream cheese (full fat, regular)

2 blocks, cold
Optional for decorating
Instructions
To make the cupcakes
Preheat the oven to 350 °F (175 °C). Line a 24 mini cupcake pan with mini baking cups (find them on Amazon.

In a large bowl, whisk together the sugar, flour, baking soda, cinnamon, salt.

In a separate bowl, whisk together the yogurt, apple butter, and eggs. Add this mixture to the bowl of dry ingredients and gently whisk to incorporate. When you just have a few dry lumps of flour left, add the melted butter, and finish mixing (with a wooden spoon, if necessary).

Fill the liners ¾ full with the batter. I recommend using a ¾-ounce scoop (specifically this purple handled scoop on Amazon)for this.

Bake the cupcakes for about 12 to 14 minutes, or until a cake tester inserted in the centre comes out clean. Let cool a couple minutes in the pan before carefully transferring to a wire rack. Line the pan again, then scoop and bake again until you've finished all the cake batter.
To make the frosting
When the cupcakes are cooled, make the frosting. In the bowl of an electric mixer fitted with the paddle attachment, mix the softened butter with half the icing sugar. The mixture will be crumbly.

Add all the cream cheese at once and beat it in. Then add the remaining icing sugar to sweeten/loosen up the frosting.
To finish
Frost the cupcakes by piping a generous dollop on each (I used a big 20 mm round tip, but you can just cut the end of a piping bag to the desired diameter). If using, top with a sprinkling of graham cracker crumbs just before serving.
Notes
For this recipe, I used:
Filsinger's apple butter
Philadelphia brand cream cheese (and don't even think of using any other brand! and before you ask: they did not pay me to say that)
Nutrition
Calories:
143
kcal
Carbohydrates:
13
g
Protein:
2
g
Fat:
10
g
Saturated Fat:
6
g
Cholesterol:
33
mg
Sodium:
93
mg
Potassium:
35
mg
Fiber:
1
g
Sugar:
8
g
Vitamin A:
332
IU
Vitamin C:
1
mg
Calcium:
20
mg
Iron:
1
mg
I do my best to bake with the finest ingredients. Stirling Creamery, a Canadian company, has provided the butter for this post.
Please note this post contains affiliate links to Amazon. As an Amazon Associate I earn from qualifying purchases. If you buy a product I recommend, I will get a small commission, and the price you have to pay will not change in any way.