Learn how to make Christina Tosi's famous Milk Bar pie, which was formerly known as Crack pie. The Milk Bar pie features an oat cookie crumb crust and a gooey sweet corn-flavoured filling, similar to a chess pie filling.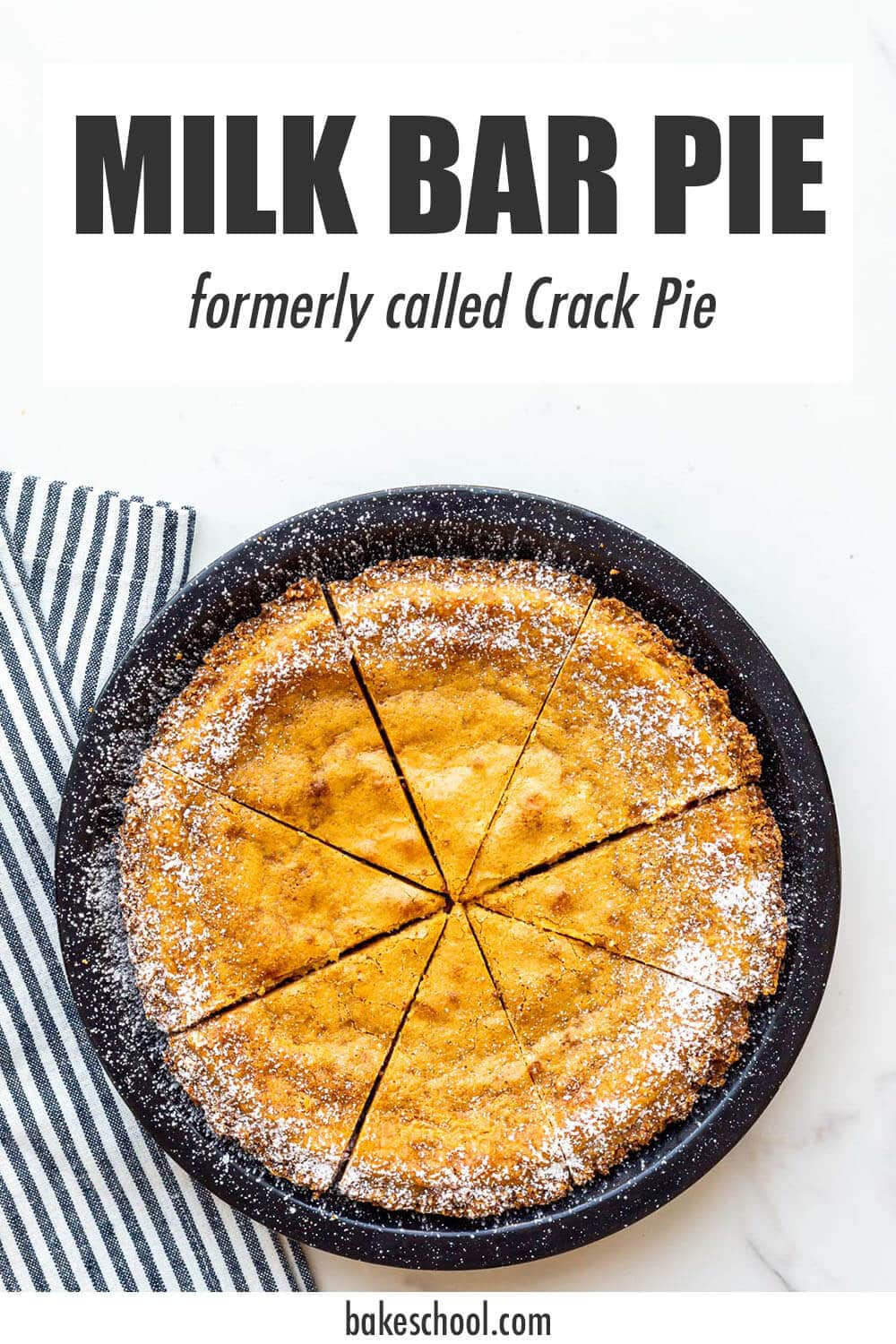 Disclosure: As an Amazon Associate, I earn from qualifying purchases.
What is the Milk Bar pie?
The Milk Bar pie is a play on the classic American chess pie with an egg yolk-thickened sweet filling. Where I live, we don't have chess pies and I think the closest relative would be certain sugar pies that are thickened with eggs. My all-time favourite sugar pie is maple pie, like this gorgeous maple syrup pie that is a real treat if you are a fan of maple syrup.
Milk Bar pie was formerly called Crack pie. It underwent a name change in 2019. The former name came from the fact that once you start eating this pie, you can't stop. The name was insensitive and so Milk Bar renamed their famous pie to the Milk Bar pie. The recipe stayed the same.
This pie is a bestseller at Milk Bar, along with the Milk Bar birthday cake, the birthday cake truffles, and the compost cookies (which have since been transformed into a compost pound cake too).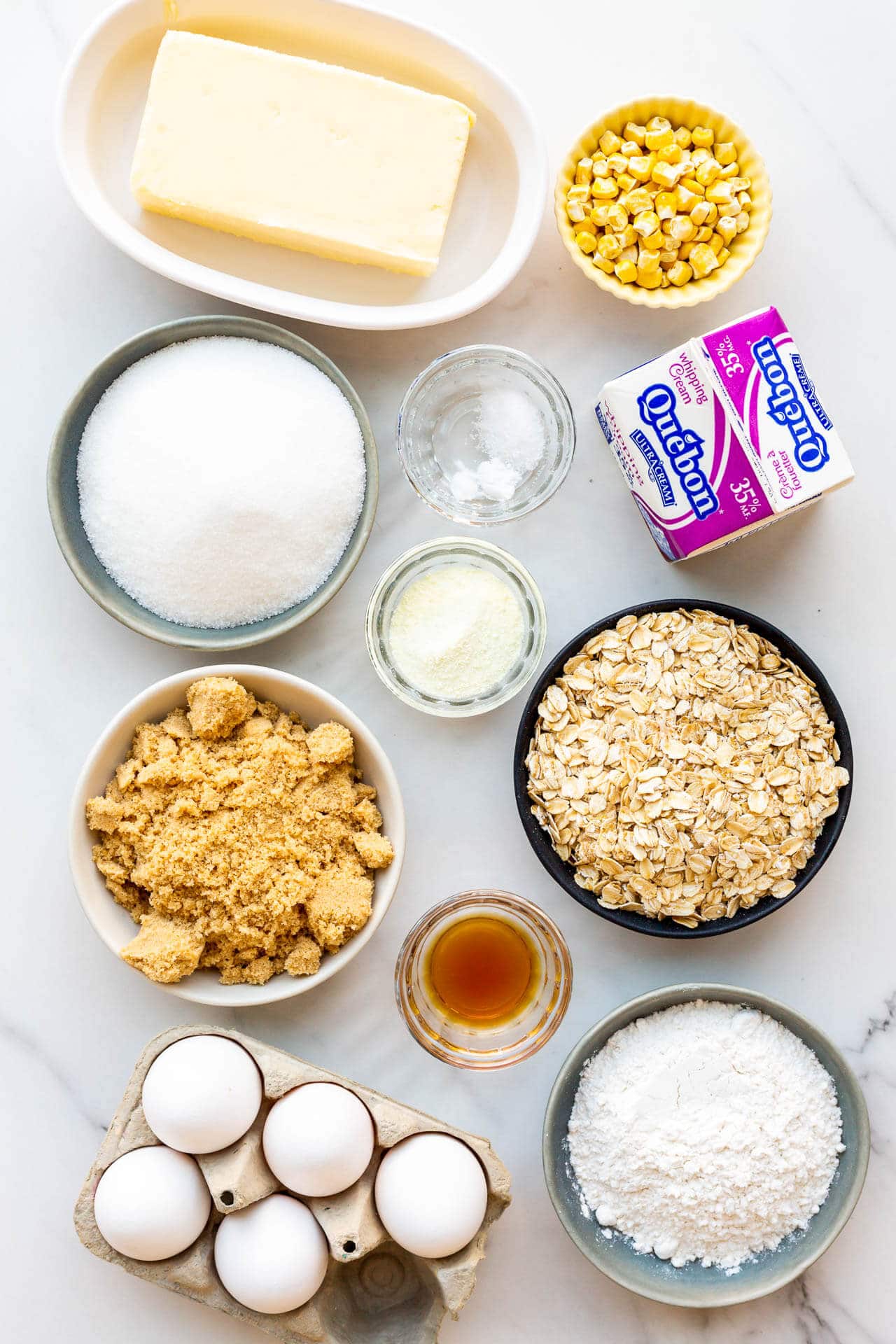 The components
Milk Bar pie has two components:
an oat cookie crumb crust made from a giant homemade oat cookie
a gooey sweet filling containing brown sugar, granulated sugar, powdered milk, cream, egg yolks, milk powder, and corn powder.
Special ingredients
This recipe includes the usual baking ingredients, butter, sugars, flour, cream, salt, and chemical leaveners, but if you want to make this pie, you will also need to shop for special ingredients you most certainly don't have in your pantry:
milk powder or powdered milk, which is a powder made from dehydrated milk. For this recipe, fat-free or low-fat milk powder works perfectly. You can purchase milk powder from nuts.com
corn powder, which is ground freeze-dried corn. You can often find freeze-dried corn at camping stores or outdoor recreation stores. None in my area had it so I ordered it from nuts.com.
While it may seem annoying to have to purchase special ingredients to make this pie, you will be able to use milk powder and corn powder in other recipes. In fact, most Milk Bar recipes are made with milk powder and you can use the corn powder to make Milk Bar's famous corn cookies!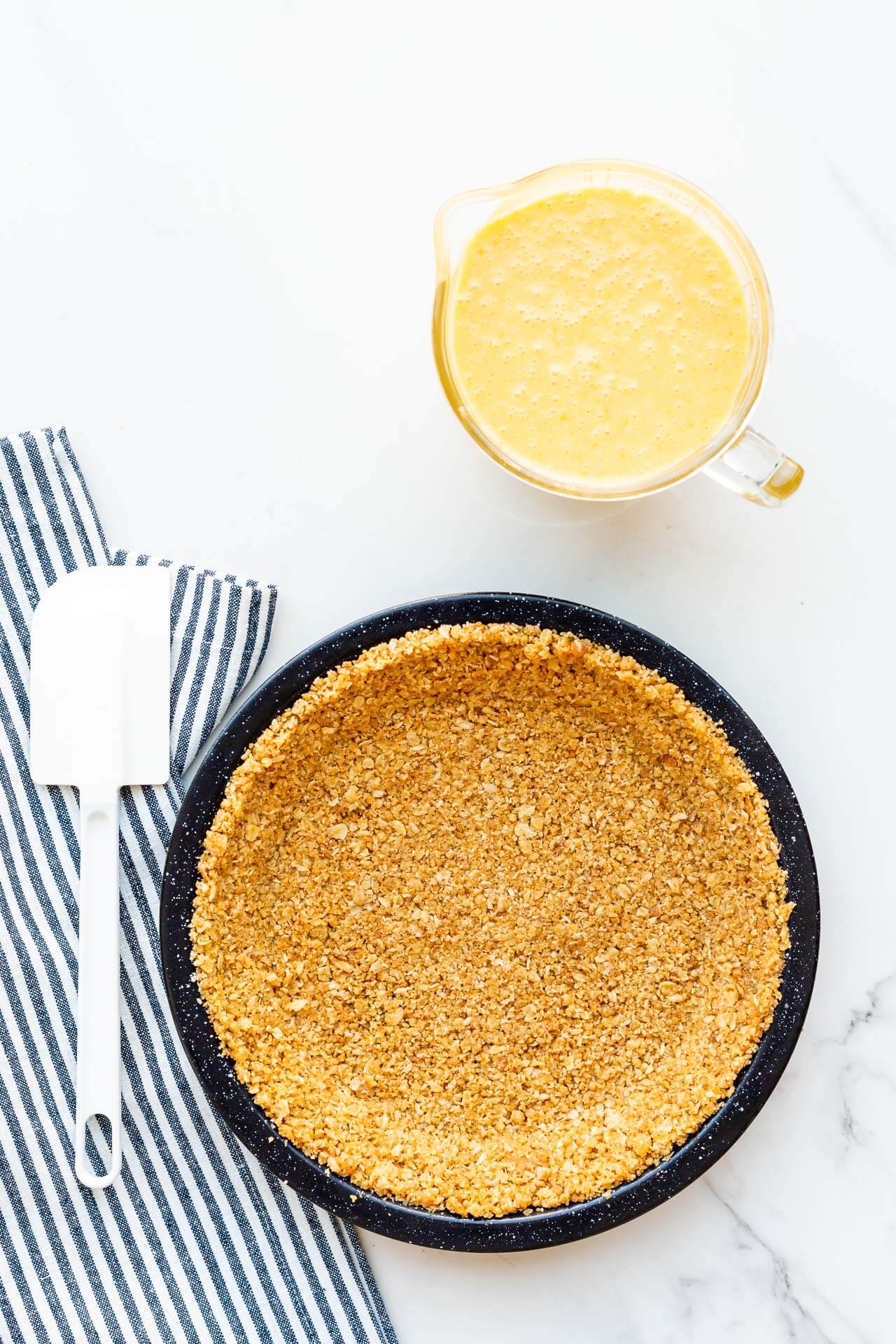 How to make the Milk Bar pie at home
Making crack pie at home takes a fair bit of time because the recipe has a lot of steps.
Make one giant oat cookie. I baked the giant cookie til it was golden and crispy on the edges, but still a little soft in the middle.  Then you cool the cookie and crumble it into oat cookie crumbs. This is a lot like if you were to first make a giant homemade graham cracker from scratch, which you then crumble into graham cracker crumbs to make a crust.
Transform it into an oat cookie crust. Combine the cookie crumbs with butter, and press them into the pie plate to make the oat crust.
Make the pie filling by whisking together all the ingredients. Pour it into the crust.
Bake the pie. The pie filling puffs up quite a bit in the oven. The crust becomes a deep golden colour
Cool the pie for a couple of hours on a cooling rack, then overnight in the freezer.
Unmould the pie once it's frozen. Serve cold.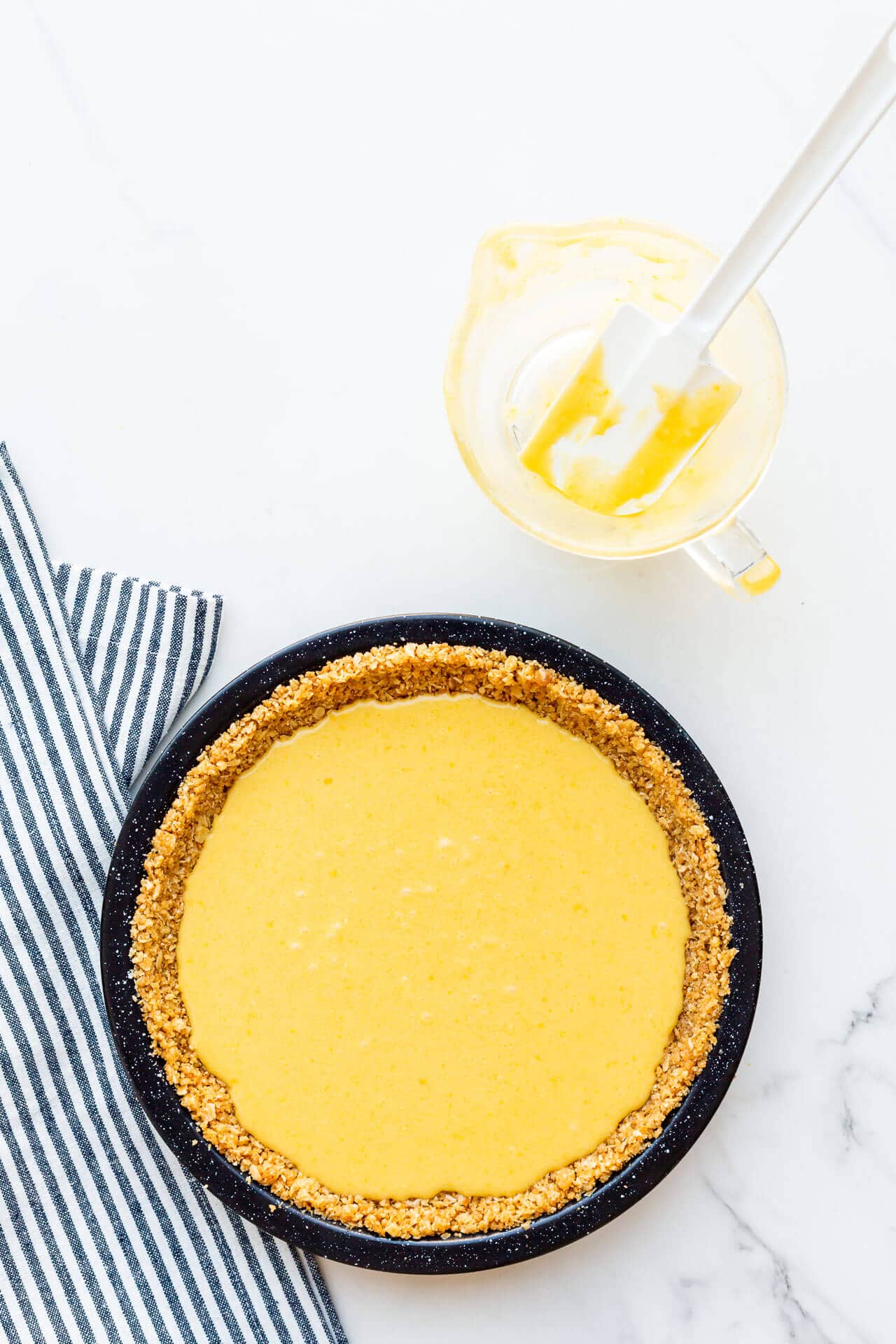 This crack pie recipe makes a pie that is wonderfully sweet, and not for the faint of heart. If you are addicted to sugar like a crack addict is addicted to crack, this pie is definitely for you.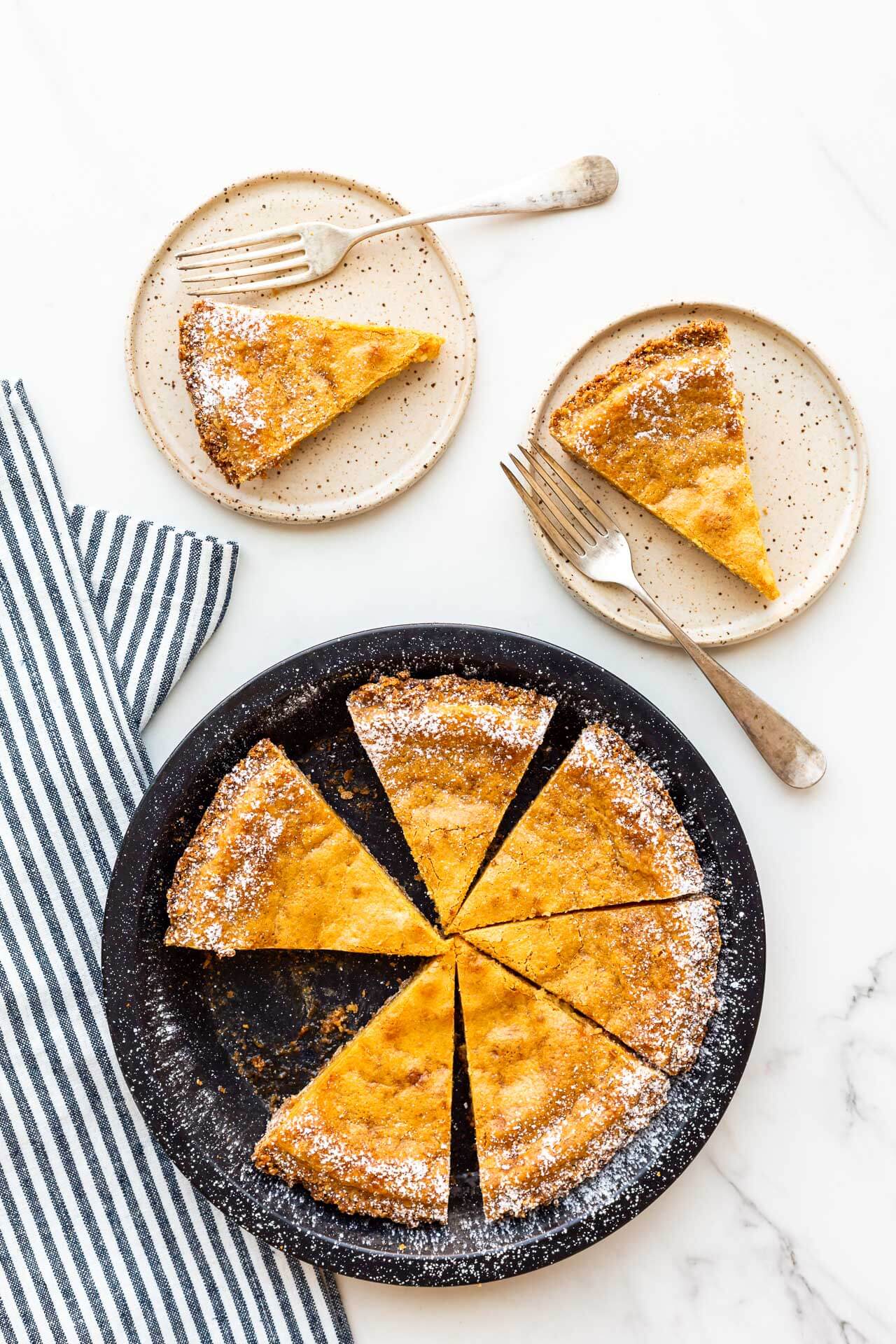 Frequently asked questions
What does the Milk Bar pie taste like?
The Milk Bar pie combines a gooey sweet corn filling and a salty-sweet oat crust. The filling has the texture of soft caramels, so gooey but firm enough to slice cleanly.
Is it the same as Crack pie?
The Milk Bar pie was formerly called Crack pie, but given the name was insensitive, Milk Bar renamed the pie. The recipe and formula have not changed over the years, even if the name got an update.
How long does it last?
The Milk Bar pie can be stored in the freezer for up to 1 month or in the refrigerator for up to 5 days. I like to wrap frozen slices tightly with plastic wrap, and then aluminum foil, and store them individually in the freezer for later.
How to unmould the pie if it's stuck in the pan?
Christina Tosi recommends baking the Milk Bar pie in a disposable aluminum pie plate because they are flexible, allowing you to push the frozen pie out.
If you are using a regular pie plate (metal or glass), it may be difficult to release the frozen pie from the pie plate since it won't bend and you can't push the pie out from the bottom.
To unmould the pie shown in the photos, I used a small offset spatula to release the edges, slowly sliding it between the plate and the edges of the crust to release all the way around. At that point, if you flip the pie and the pie doesn't fall out, you may have to cut the pie in the pan, and use those cuts to help you release the pie from the pan. You could also cut 1 thin slice out of the pie and "sacrifice" it to give you an entryway for your spatula to release the bottom... There will be some trial and error.
I think a round of parchment fitted to the bottom of the pan could also help. You might want to spray the bottom of the pan with a very thin layer of oil spray to adhere the paper to the pan.
📖 Recipe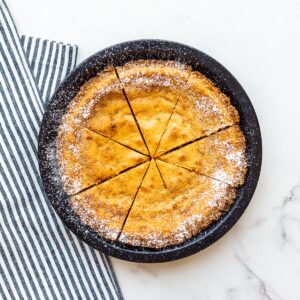 Milk Bar Pie (Formerly Crack Pie)
The Milk Bar pie (formerly Crack pie) is similar to a chess pie or a sugar pie, made with an oat cookie crust and a filling containing brown sugar, granulated sugar, milk powder, corn powder, cream, and egg yolks. Crack pie is a bestseller at Milk Bar!
Ingredients
Oat cookie
115

grams

unsalted butter

room temperature

75

grams

light brown sugar

divided

40

grams

granulated sugar

1

large egg yolk(s)

120

grams

rolled oats (or large flake oats)

80

grams

bleached all-purpose flour

0.625

mL

baking powder

1

pinch

baking soda
Instructions
Giant oat cookie
Preheat oven to 350 °F (175 °C). Line a sheet pan with parchment paper. 

Using a stand mixer fitted with the paddle attachment, cream together the butter and the sugars on high speed for 2 to 3 minutes, until light, fluffy, and pale, occasionally scraping down sides of the bowl because small amounts will cling to the sides.

Add egg yolk and beat until pale and fluffy on medium–high for 2 minutes. Scrape down the bowl again and mix more if needed.

In a separate bowl, whisk together the flour oats, flour, salt, baking powder, and baking soda. Add the dry mixture to the mixer bowl and stir it in on low speed until it disappears and a dough forms.

Turn oat mixture out onto prepared baking pan and press out evenly to a ¼" thickness.

Bake until light golden on top, 17 to 18 minutes. Transfer baking pan to rack and cool cookie completely.
Oat cookie crust
Note this makes enough crust for 2 pies.

Break up the cooled oat cookie into the bowl of a food processor. Pulse the cookie to form crumbs, similar to wet sand.

Transfer the mixture to a big bowl and add the sugar and salt. Stir in the melted butter, sugar, and salt. Make sure that the crumb crust holds together when pinched.

Transfer half the cookie crust mixture to 9-inch-diameter shallow pie plate (Note you may want to line the bottom of a pan with a circle of parchment to help you unmould the pie—I did not do this but it might make your life easier). Using fingers, press mixture evenly onto bottom and up sides of pie dish. Set aside.

The second half of oat cookie crust can be stored in an airtight container in the fridge for 2 weeks or frozen until you are ready to use it. If you have an extra pie plate, you could even press it into the pan before freezing so all you will need to do is make the filling and bake it later!
Milk Bar pie filling and assembly
Preheat to 350°F (175 °C). Note that it's important to mix the filling on the lowest speed setting to avoid incorporating air, which will lead to pockets that will expand and collapse, leading to a less pretty finish.

In the bowl of a stand mixer fitted with the paddle attachment, combine the granulated sugar, brown sugar, corn powder, milk powder, and salt on the lowest speed setting.

Add the melted butter and stir on low for 2 minutes until it's evenly mixed. Then add the egg yolks, one at a time, while mixing on low. Scrape down the bowl as needed.

Drizzle in the cream and the vanilla on low for 2 minutes. You should have a golden yellow, thick creamy filling that is not at all aerated.

Pour filling into crust. Bake pie 15 minutes (filling may begin to brown—that's normal).

Reduce oven temperature to 325°F (165 °C). Continue to bake pie until filling is browned all over top and set around edges but centre still moves slightly when pie dish is gently shaken, about 15 minutes longer. 

Cool pie 2 hours on a rack. Transfer to freezer and chill uncovered overnight. 

Unmould the frozen pie and slice into 8 equal pieces. Serve cold dusted with a little powdered sugar. To unmould the pie, use a small offset spatula to release the edges from the plate. If the pie is truly stuck in the pan, you may have to slice it in the pan to be able to unmould it piece-by-piece.
Notes
DO AHEAD: Can be made ahead and kept in the freezer.
This Crack Pie recipe is adapted from Christina Tosi's Milk Bar cookbook, available on Amazon.
Nutrition
Calories:
451
kcal
Carbohydrates:
50
g
Protein:
4
g
Fat:
27
g
Saturated Fat:
16
g
Trans Fat:
1
g
Cholesterol:
176
mg
Sodium:
208
mg
Potassium:
112
mg
Fiber:
1
g
Sugar:
40
g
Vitamin A:
929
IU
Vitamin C:
1
mg
Calcium:
65
mg
Iron:
1
mg
This recipe and many other recipes have been compiled in the Milk Bar cookbook available on Amazon.