Did you know you can make homemade graham crackers? That's right! You can make graham crackers from scratch at home! Find out what's in a graham cracker and how they are made, then scroll down to the recipe to make your own graham crackers at home!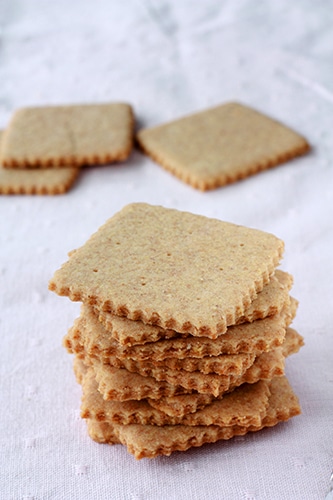 Disclosure: As an Amazon Associate, I earn from qualifying purchases.
I've always been interested in making graham crackers at home and they are actually quite easy to make. You can whip them together just like any other cut-out cookie recipe (like gingerbread and sugar cookies).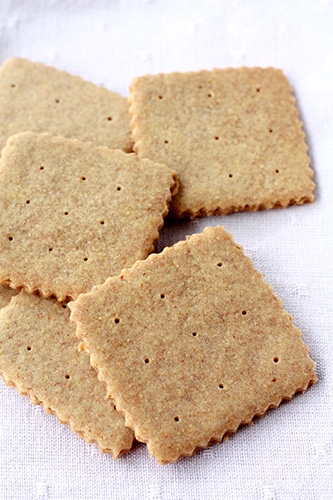 What is in graham crackers?
Graham crackers are made with whole wheat flour and wheat germ that many recipes called for. Apparently, graham crackers got their name, not from some dude named Graham who created them, but from the "graham flour" that is used to make them. Graham flour was actually named after a dude named Graham (it figures at some point, there was a Graham involved, somehow!).
What is graham flour?
Graham flour can be replicated with a mix of white flour, whole wheat, and wheat germ. The whole wheat and wheat germ, besides being extra healthy, give the crackers a more granular texture, and definitely add to the "chew" of the cookies. That's a win–win, if you ask me. I'm definitely going to keep a batch on hand at all times, just so that I am ready to make last-minute graham cracker crusts and microwave s'mores whenever I want to. I can't wait to play with them in the kitchen.
How do you make graham crackers?
Graham crackers are made like any cookie cut-out recipe because that's what they are. All you have to do is make a sweet, but not too sweet cookie dough, roll it out, cut out the cookies, chill, and bake!
What to do with graham crackers
Once you've mastered making graham crackers, you can use them as a building block for so many great recipes!
Use them in a graham cracker crust
Graham crackers can be ground into crumbs, then mixed with a little melted butter and sugar to make a very easy graham cracker crust for desserts like:
Use them as a garnish or topping
Crumbled or ground graham crackers make a great garnish for desserts:
Incorporate them into doughs and batters
📖 Recipe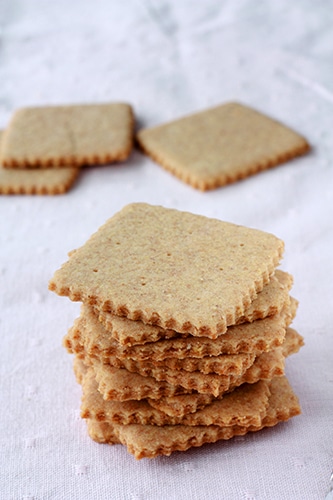 Homemade Graham Crackers
Learn how to make homemade graham crackers from scratch with this easy recipe. This baking staple is made with all-purpose and whole wheat flour and wheat germ, giving them a delightfully nutty flavour. Perfect for s'mores and ice cream sandwiches!
Ingredients
205

grams

bleached all-purpose flour

1 ⅓ cups

125

grams

whole wheat all-purpose flour

1 cup

43

grams

wheat germ

½

teaspoon

Diamond Crystal fine kosher salt

1

teaspoon

baking soda

1

teaspoon

ground cinnamon

234

grams

unsalted butter

room temperature, 1 cup

144

grams

light brown sugar

¾ cups

2

tablespoon

honey
Instructions
Preheat the oven to 350 °F (175 °C).

In a medium bowl, whisk together the flours, wheat germ, salt, baking soda, and cinnamon. Set aside.

In the bowl of an electric mixture fitted with the paddle attachment, cream the butter, brown sugar, and honey until it is smooth.

With the mixer on low, slowly add the dry ingredients, and continue mixing until the dough comes together. The dough will squeeze together nicely between your fingers when it is ready, though it may still appear slightly crumbly.

Take half the dough and form it into a rectangle. Roll it on a generously floured surface until it is about ⅛-inch thick. Cut into squares with cookie cutters and place on a parchment- (or Silpat-) lined baking sheet. The cookies do not expand much in the oven, so you can pack them pretty close on each cookie sheet. Continue to roll and cut out cookies with the other half of the dough and the scraps.

Freeze the cookies for 20 minutes until they are frozen solid, then prick decorative holes through each (I used my metal cake tester for this) and bake for about 10–12 minutes until the edges just begin to turn golden.

Remove them from the oven and let them cool completely on a cooling rack.
Notes
The original recipe is from Martha Stewart. I didn't make too many changes, though I worked in grams and baked them for longer. The amounts listed are from my weighing and measuring. Check-out the original recipe for the amounts in cups.
For the honey, I used my lavender infused honey
Nutrition