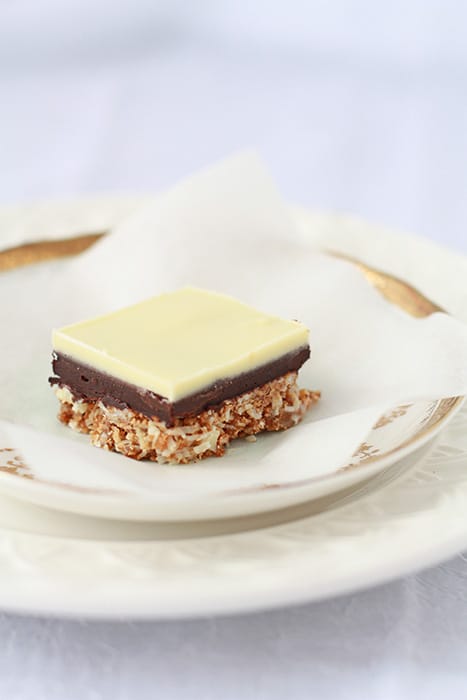 This Nanaimo bar recipe was originally published in Canadian Living Holiday Special Baking Edition. It was one of those recipes that I saw and was instantly curious about.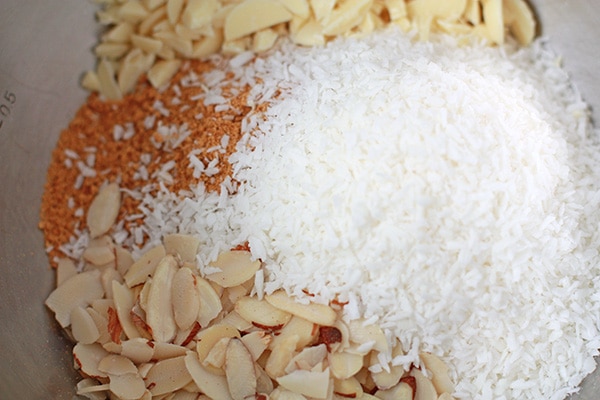 Disclosure: As an Amazon Associate, I earn from qualifying purchases.
A typical Nanaimo bar is made up of a dark chocolate/graham/coconut/walnut crust with a sweet, thick custard filling and a dark chocolate top. The reversed Nanaimo bars are kind of opposite to that, so a white chocolate/graham/coconut/almond crust with a deep dark chocolate custard filling and a white chocolate top. Honestly, I think I like the reversed Nanaimo bar variation better than the original. I found this version full of flavour and less cloyingly sweet.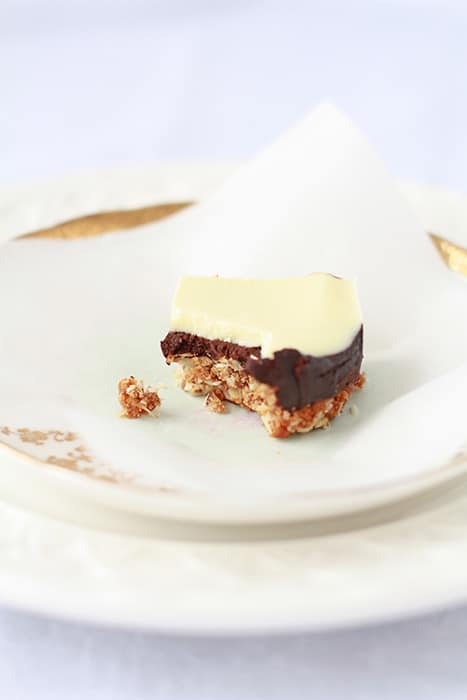 📖 Recipe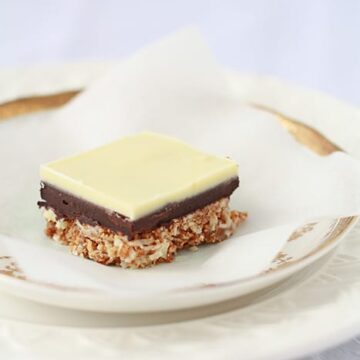 Nanaimo Bars, Reversed!
A twist on the classic Nanaimo bar recipe: Nanaimo bars, reversed! Classic Nanaimo bars have a chocolate, coconut graham cracker crumb crust with a sweet custard-flavoured layer and dark chocolate on top. These are the opposite: a white chocolate, coconut and graham cracker crust on the bottom, with a dark chocolate ganache centre, and a white chocolate top.
Ingredients
For the white chocolate layer
225

grams

Cacao Barry white chocolate

½

teaspoon

unsalted butter
Instructions
For the crust
Preheat the oven to 350°F (175 °C). Prepare an 8×8″ pan by buttering it all over and then lining the bottom with a square of parchment.

In a small saucepan, melt together the butter and the white chocolate.

Meanwhile in a medium bowl, stir together the graham cracker crumbs, coconut, and almonds. Stir in the melted butter and white chocolate and mix to combine, then stir in the egg.

Press the crumb mixture into the prepared pan and use a flat-bottomed glass to flatten the crust into an even layer.

Bake the crust for 10 to 15 minutes. Place the pan on a wire rack to let the crust cool completely.
For the filling
When the crust is cooled, make the cocoa filling by beating the butter, cocoa powder, icing sugar, cream, custard powder (if using) and vanilla together, first on low, then on medium-high til it's smooth.

Spread the cocoa filling over the cooled graham cracker crust. Cover the pan with foil and refrigerate it to set it, at least 1 hour.
For the white chocolate layer:
When the filling is completely chilled and firm, make the white chocolate topping by melting together the white chocolate with the butter over low heat or in the microwave.

Pour the melted chocolate over the filling and spread it with an offset spatula.

Refrigerate the pan for about 15 minutes to partially set the chocolate, then with a sharp knife, score the chocolate layer into 25 squares to make cutting easier later on.

Refrigerate for another hour or so, until the chocolate is completely hardened.

Cut the squares along the score lines to serve.
Notes
Nutrition