Learn how to make Mini Eggs blondies with this easy recipe. These Easter cookie bars have chewy edges and a slightly fudgy centre with crunchy Mini Eggs mixed into the batter and sprinkled on top for a colourful Easter treat!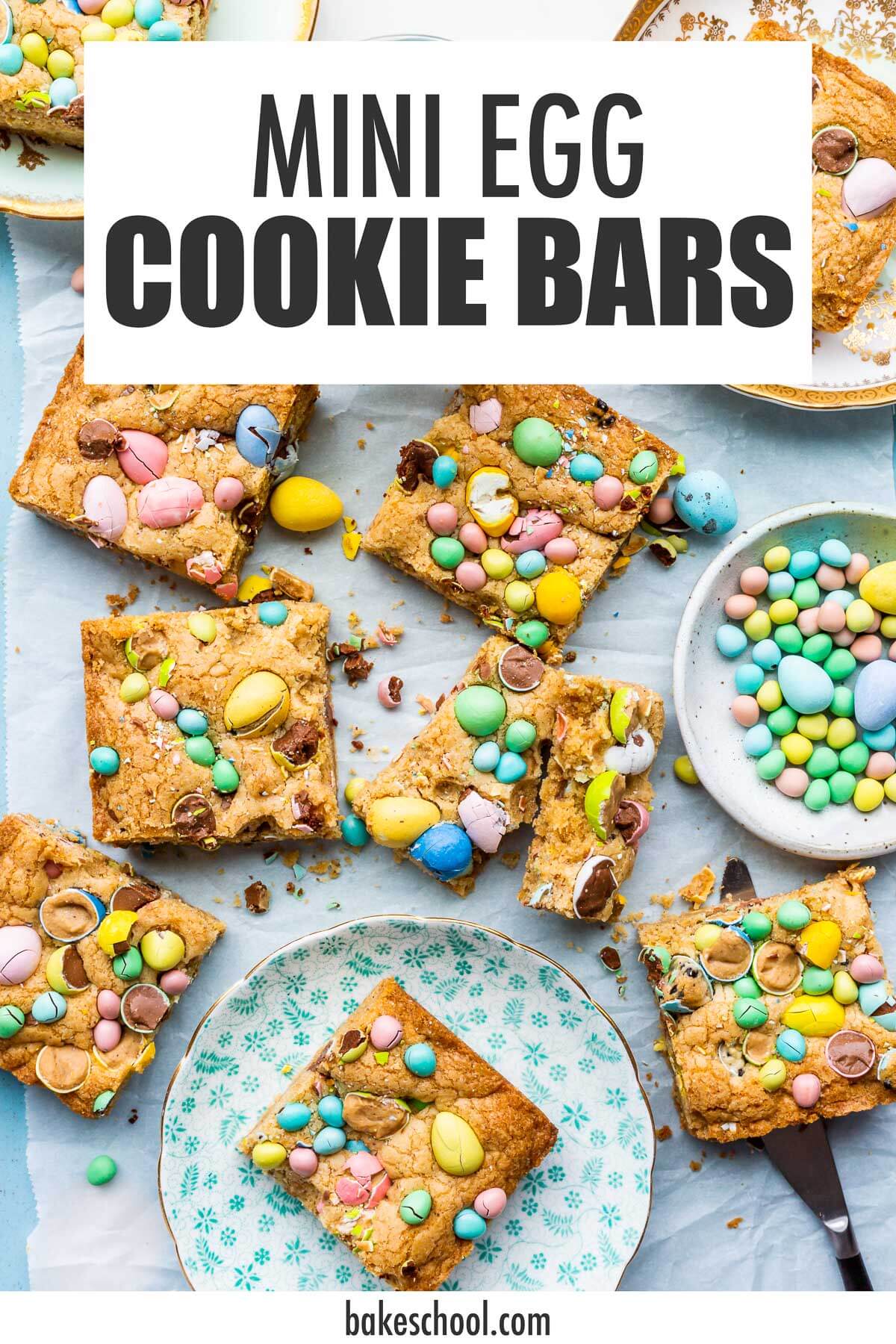 Disclosure: As an Amazon Associate, I earn from qualifying purchases.
Are you "team brownie" or "team blondie"? If you are on "team brownie", try these Easter brownies made with lots of Mini Eggs. If you are on team blondie bar, keep reading!
Jump to:
What you need to make Easter blondies
Most blondies and cookie bars are made with the same basic ingredients as these chocolate chip cookies with pecans. This recipe is a variation of these chewy toffee blondies.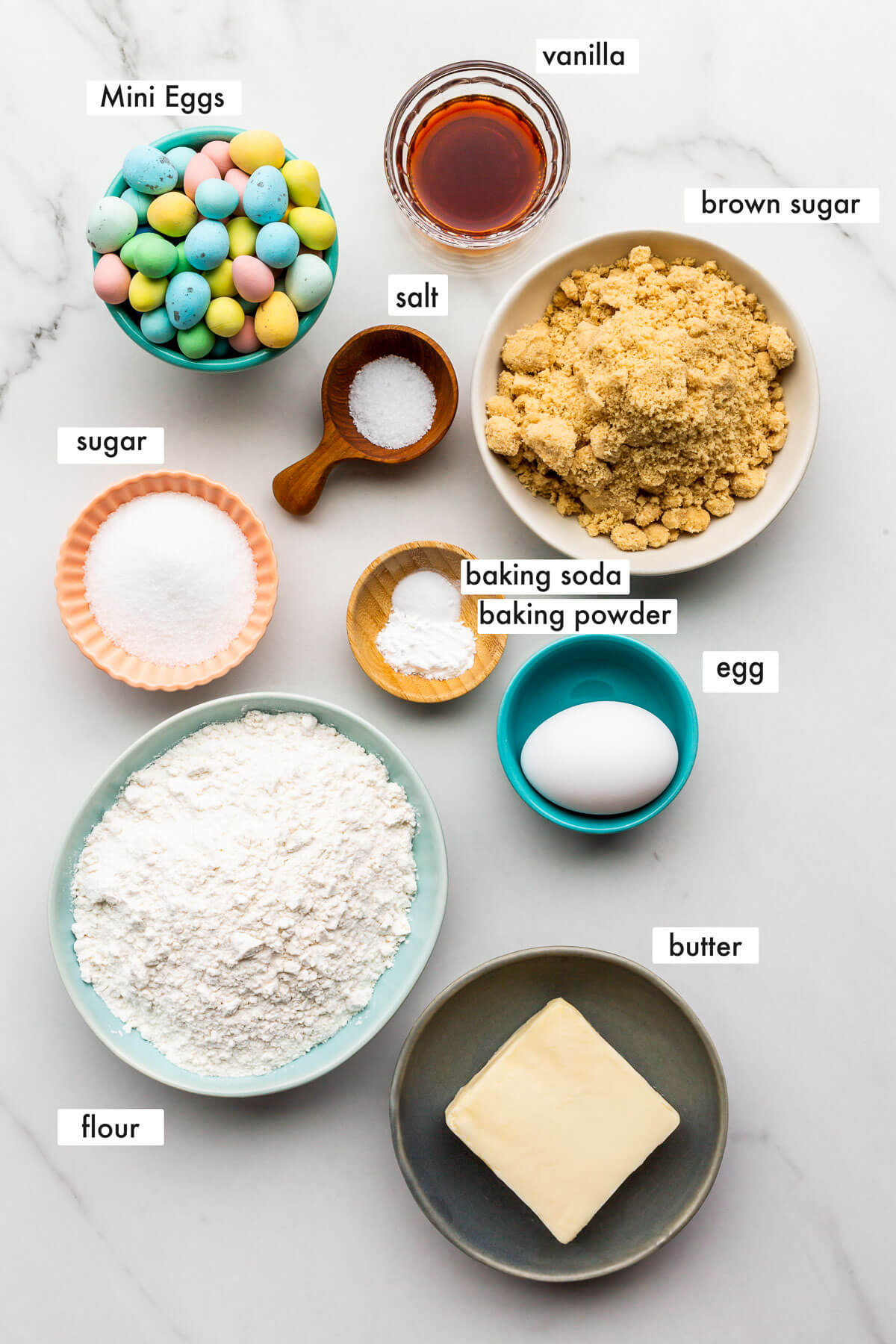 butter, preferably unsalted butter because you will add salt to the cookie dough, but if you have salted butter, it will work. Just adjust the salt in the recipe accordingly, otherwise, your bars may be too salty. We will be browning the butter for this recipe!
sugar, both granulated and brown sugar work here. I prefer using all (or mostly) brown sugar for the flavour and to balance out the egg in the cookie dough.
large eggs, don't use smaller eggs because your cookie dough may be too dry and your brownies may be crumbly but don't use extra large eggs because they could cause the batter to separate
vanilla extract—I use pure vanilla extract in this recipe though artificial could work (just use a little less because it's more potent)
all-purpose flour is needed to bind all the ingredients together and give the blondies structure, contributing to the chewiness of the bars as well. If you don't use enough flour, your cookie bars may be overly fudgy and dense
salt is really important to balance out the sweet chocolate flavour, especially since these brownies feature quite a bit of candy chocolate. Please don't skip it. I like to use Diamond Crystal fine kosher salt, but table salt will work, though the bars will be saltier and you may want to halve the salt in that case
leavening agents—both baking soda and baking powder are added to the mix of dry ingredients to open up the crumb of the cookie leading to a lighter texture. People who like cakey cookies tend to favour recipes with baking powder.
candy-coated Easter chocolate candy eggs like Cadbury Mini Eggs or Hershey's Eggies
See recipe card for quantities.
Tip: If you aren't sure about the difference between the leavening agents, please read this post about baking soda versus baking powder.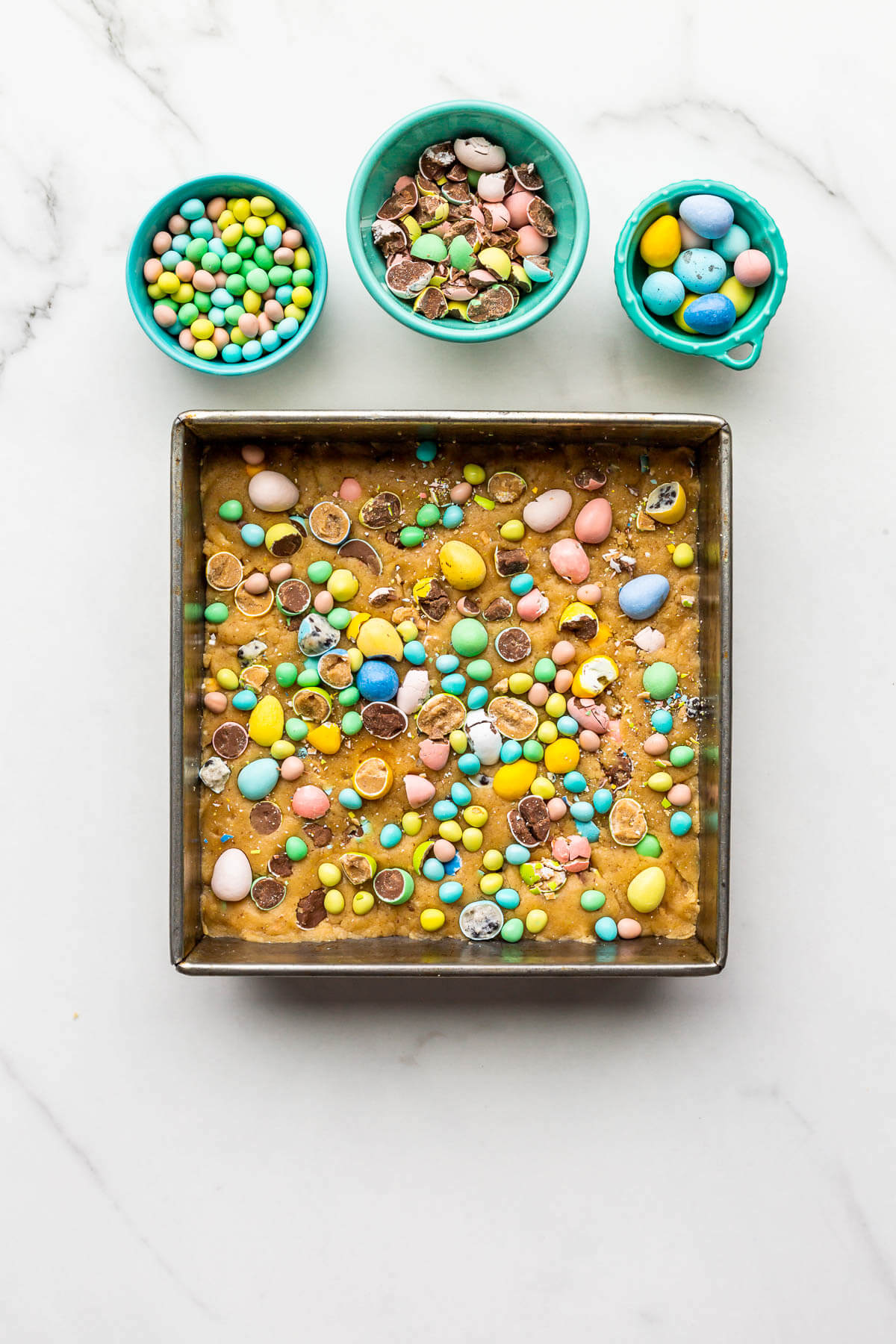 Substitutions
Blondie bars are made from a simple list of ingredients and your substitution options are limited. Here are some places where you can deviate:
sugar: I used granulated sugar (white sugar) and light brown sugar, but feel free to try dark brown sugar for a more pronounced flavour, if you prefer. Do not use icing sugar.
Mini Eggs: you can use any candy-coated chocolate in this recipe if you can't find Mini Eggs. M&M's and Canadian Smarties candy both work perfectly in this recipe. So do Hershey's Eggies.
Variations
This is a great cookie bar base recipe and you can incorporate any of your favourite Easter chocolate and the leftover Easter candy you have after the holiday:
Cream Egg - while I don't recommend trying to fold chopped Cream Egg into the brownie batter (they're too gooey for this purpose!), you can top it with miniature Cadbury Cream Eggs before baking for a fun variation on this recipe.
Peanut butter - chop up Reese's peanut butter egg candy and incorporate them in the brownie batter before baking for a peanut butter version.
Nuts - forego the candy and incorporate chopped nuts instead. I'd also stir in some dark chocolate chips or chopped-up chocolate eggs to balance out the sweetness of the bars. Add sprinkles to make it festive!
How to make Mini Egg blondies
This Easter dessert recipe is made just like chocolate chip cookies and classic blondie recipes, but using brown butter for more flavour!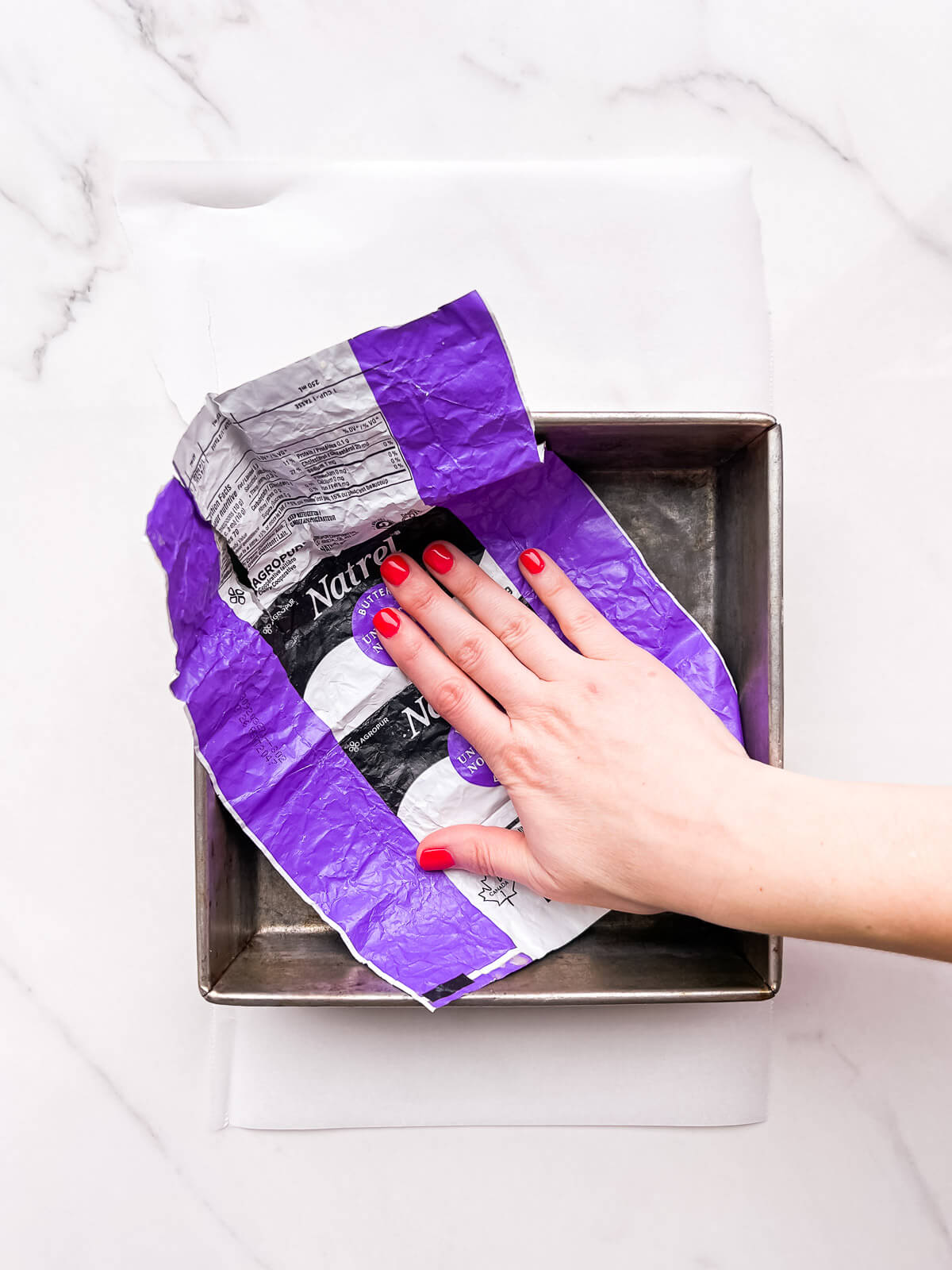 Grease a brownie pan using butter paper and a small piece of butter.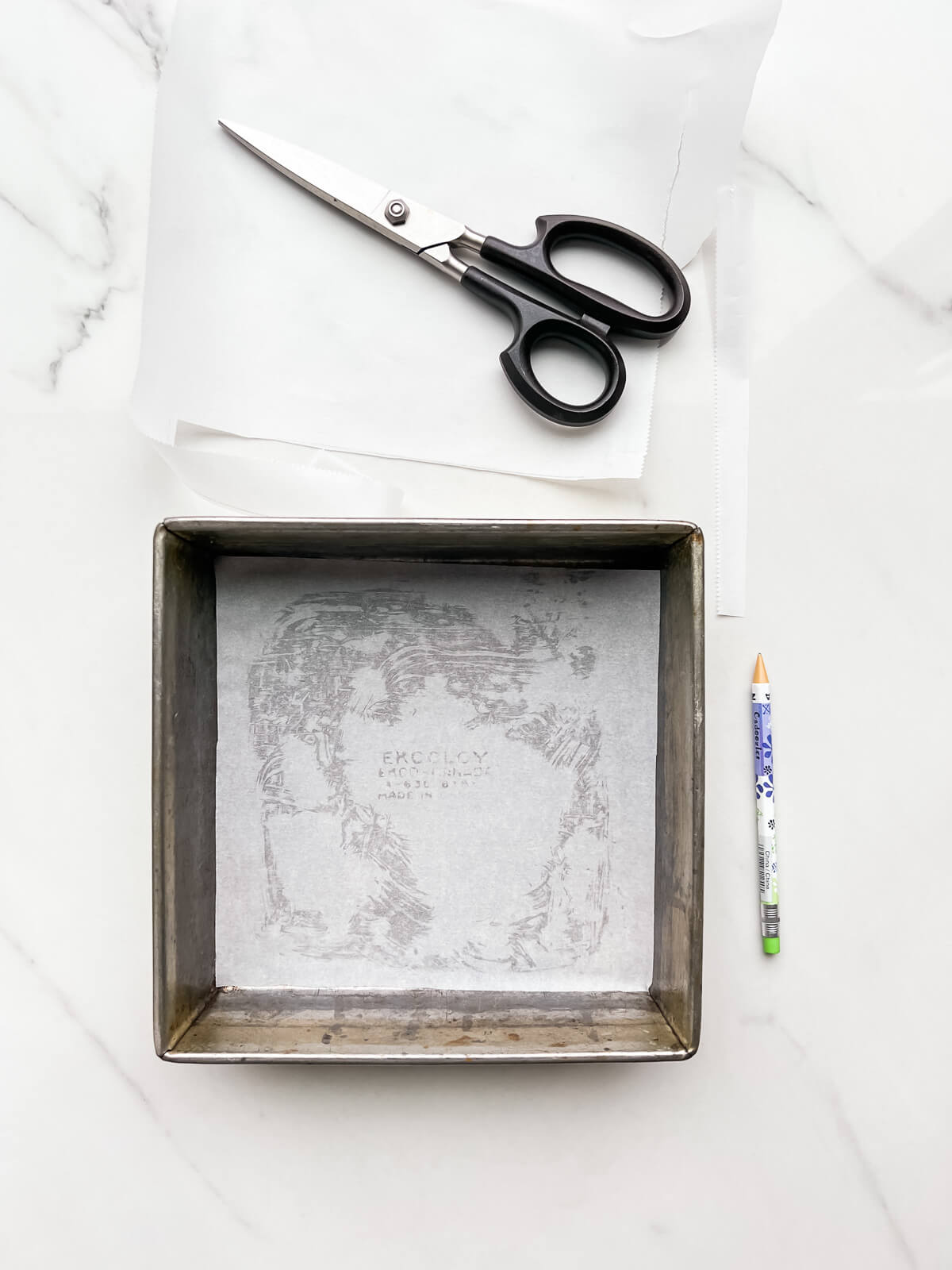 Line the bottom of the pan with a square of parchment to make the blondies easier to serve.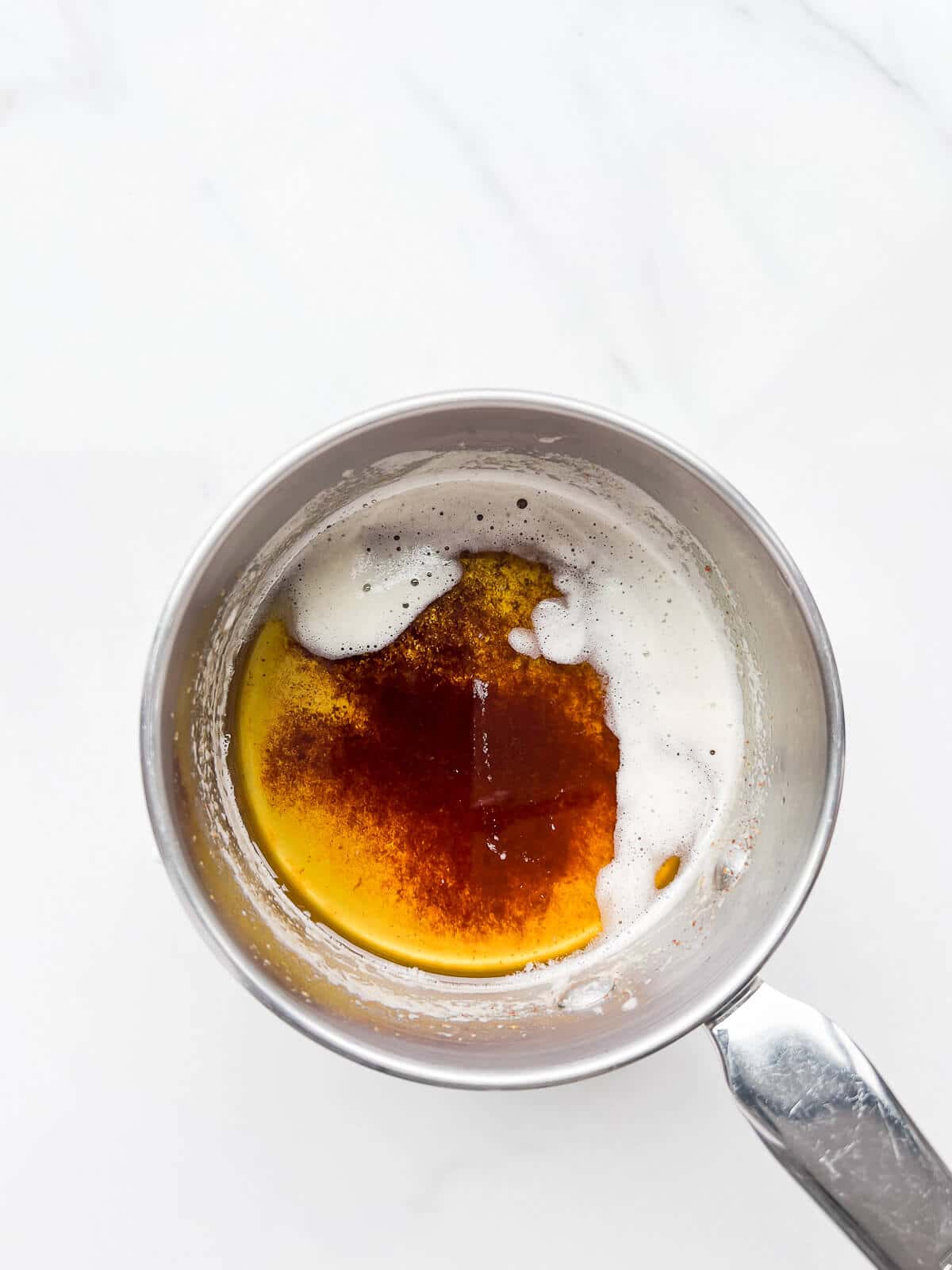 Brown butter in a small saucepan to caramelize the milk solids and bring out a nutty flavour.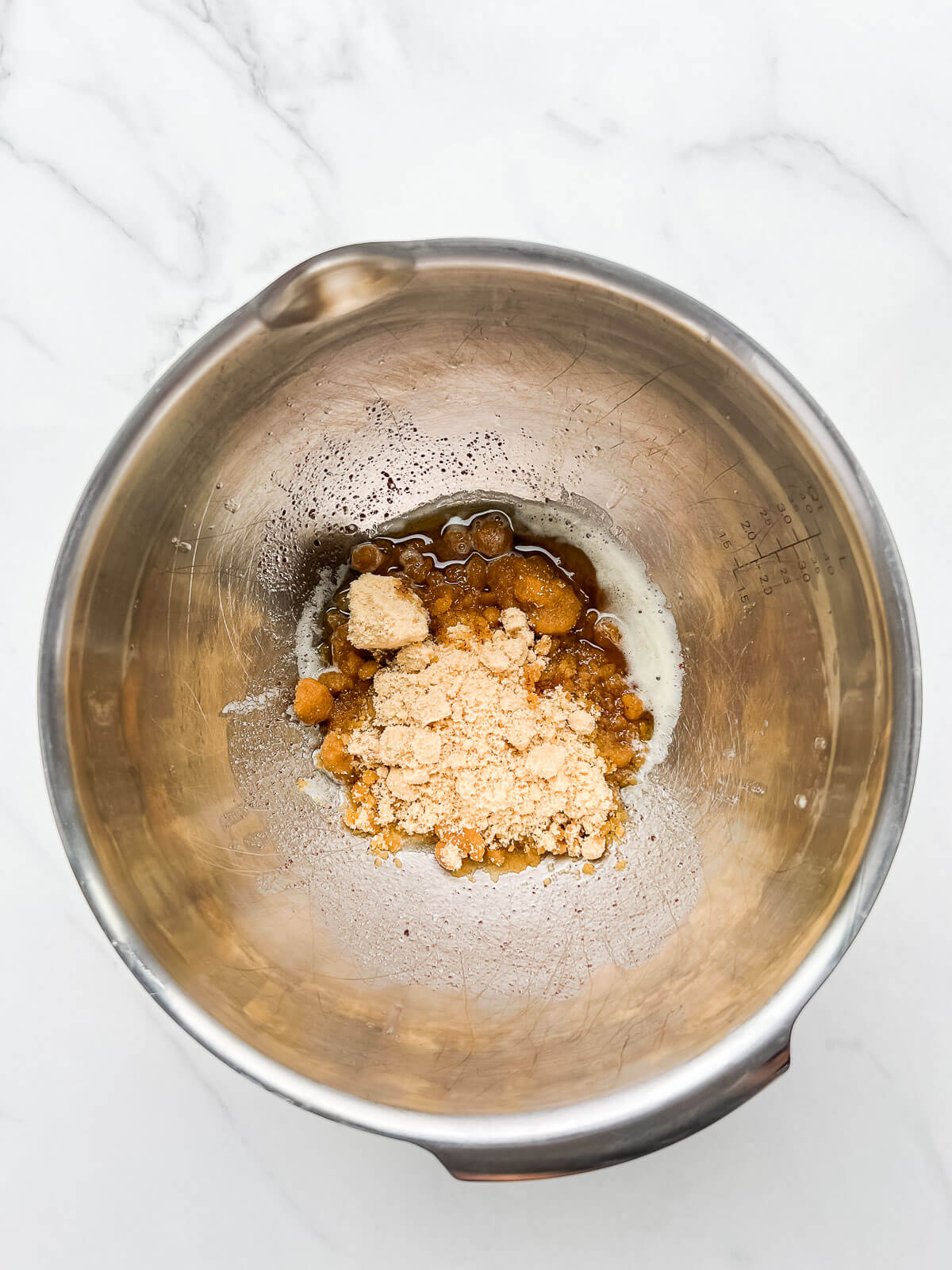 Combine the brown butter with sugar.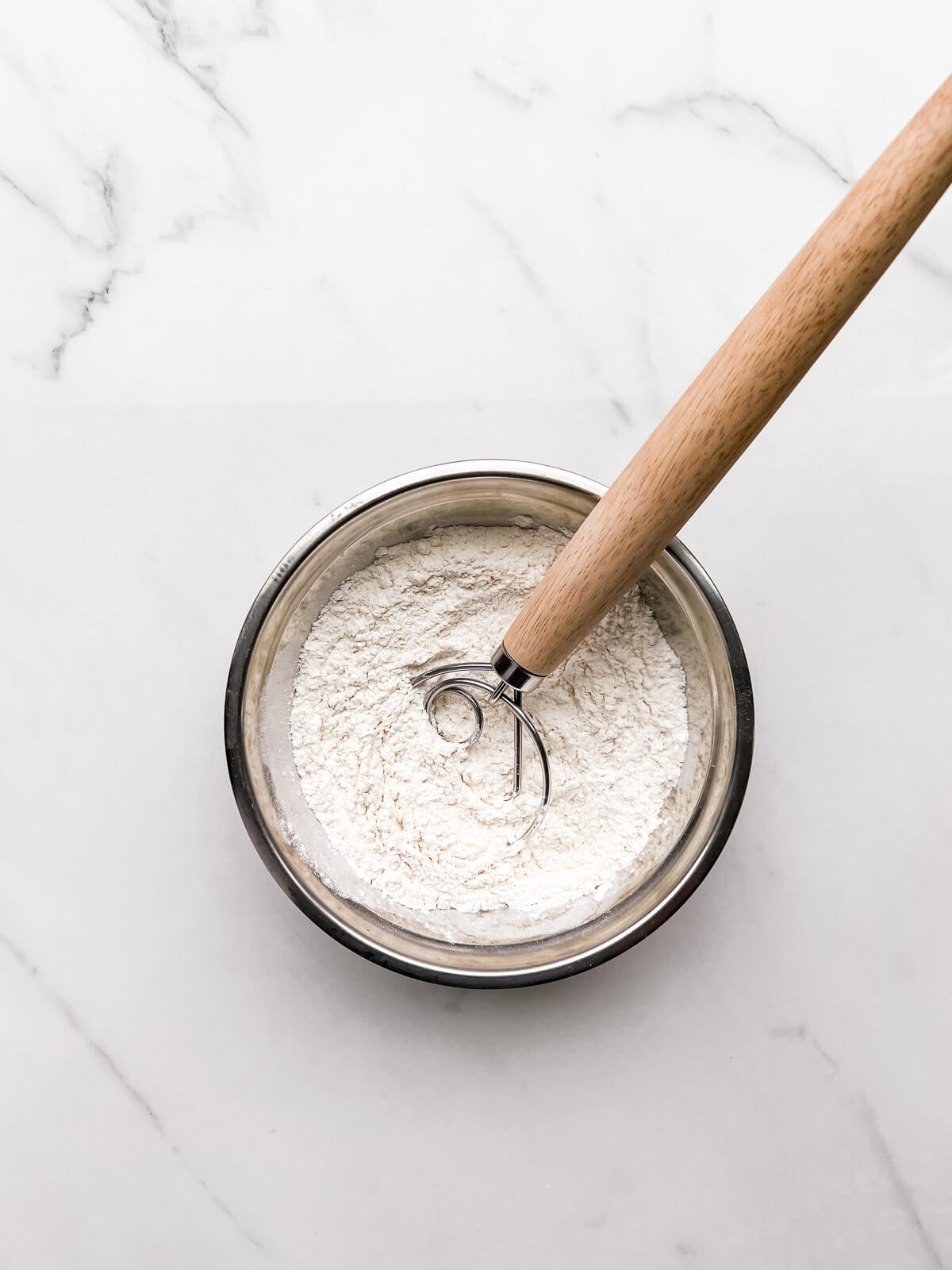 Whisk together the dry ingredients in a separate bowl.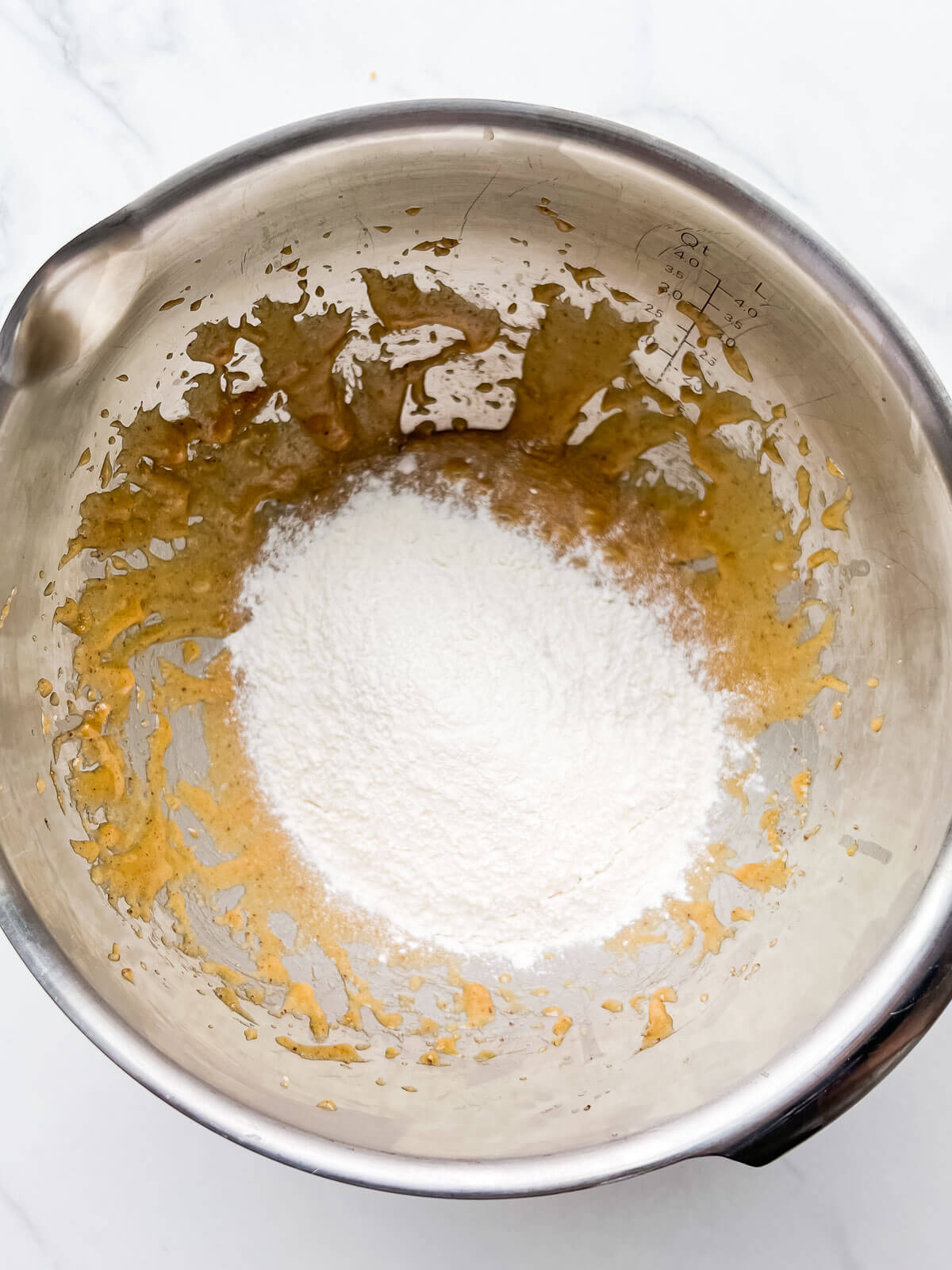 Stir them into the mixing bowl.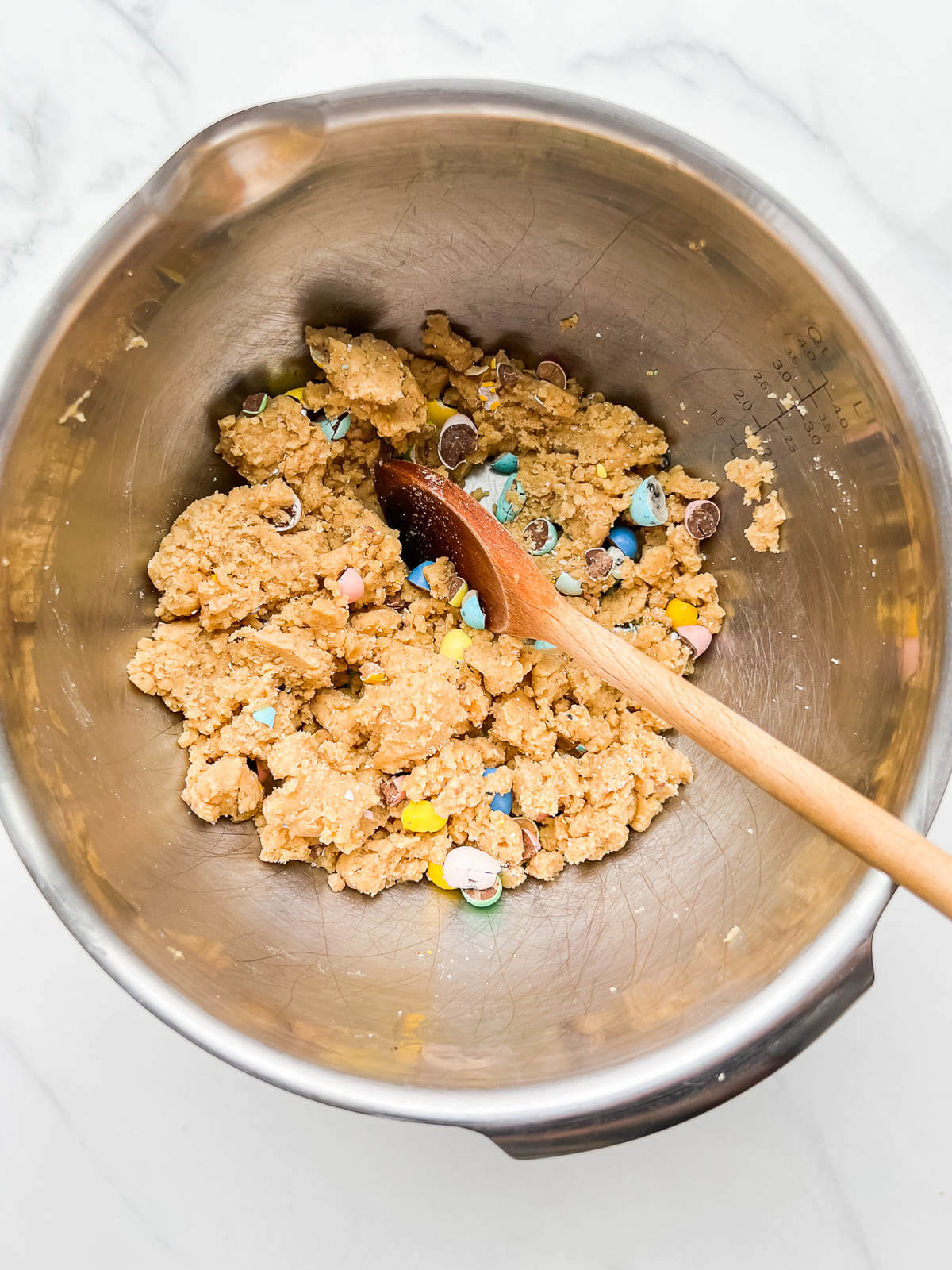 Fold in the chopped Easter egg candy.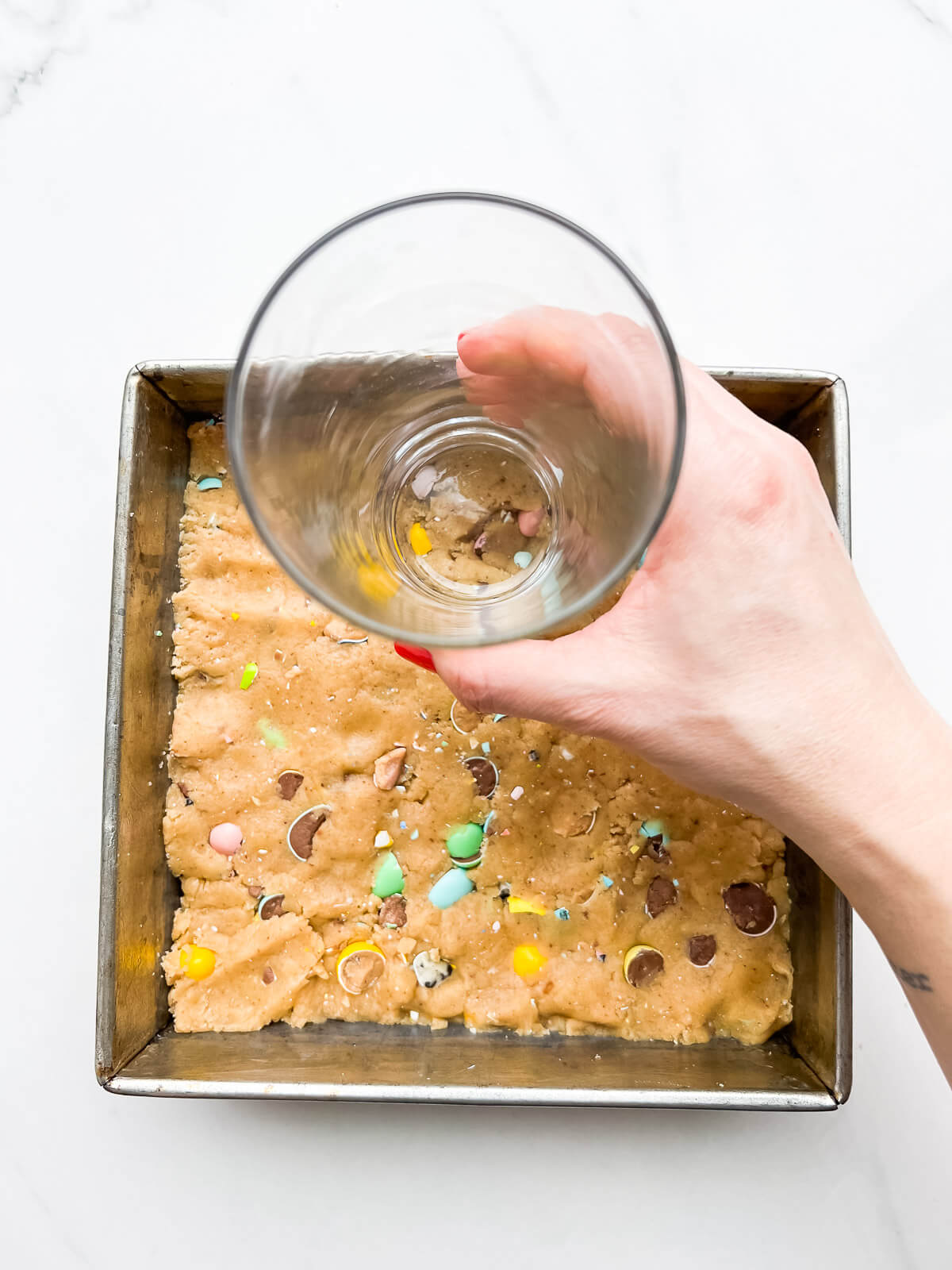 Pat out the cookie dough in the pan, from edge to edge, using a flat-bottomed glass or the palm of your hand.
Hint: Remember to choose your baking pans wisely! For blondies and brownies, I like to use a metal square pan because metal is a good heat conductor, better than glass. This means the cookie bars will bake fast and cool down faster than if you used a glass pan. You need to account for the material of the pan when adjusting baking times.
Equipment
Just like most cookie doughs, you don't need too many gadgets to make this recipe:
For measuring ingredients, I recommend using the OXO kitchen scale. Measuring cups will produce variable results.
For mixing the cookie dough, use a hand-held electric mixer because we are working with small quantities, too small for some stand mixers.
Storage
To store Easter blondies, place them in an airtight container in a cool, dry place. Alternatively, like with chocolate chip cookies, for longer-term storage, you can freeze blondies in a single layer in a freezer bag. Defrost them, one at a time, when a craving strikes. Defrost one blondie bar in a low oven on a tiny sheet pan for about 10 minutes (usually at 250–275 ºF). The blondie will end up warm and taste just like it was freshly baked.
Frequently asked questions
Why are my blondies not gooey?
For blondies to have a gooey, moist texture, you need to under-bake them. I prefer chewy brownies so I bake them for 30–40 minutes. For gooey brownies bake them for less time. You could also try baking them at a higher temperature to set the crust faster so that you can take them out of the oven sooner.
In general, cookie bars set over time and they won't have that "gooey" texture the next day. Keep that in mind when you are eating the leftovers!
How long do they last?
Once cool, store blondies in an airtight container at room temperature. They will keep for up to a week, though they may dry out in that time. To freeze them, wrap the cooled, sliced bars in plastic wrap, then transfer to an airtight container or freezer bag. Freeze for up to three months.
What to serve with them
To transform this simple bar recipe into a fancy, plated dessert, serve the bars warm with a scoop of your favourite ice cream!
More Easter baking
Looking to do more baking this Easter holiday? Check out these Easter baking recipes! Here are a few popular ones to try!
📖 Recipe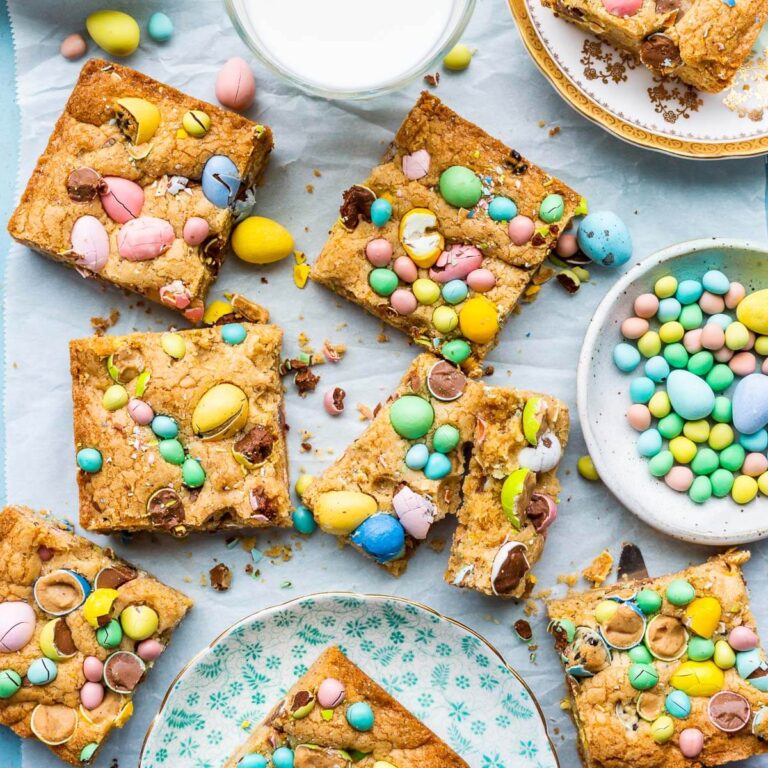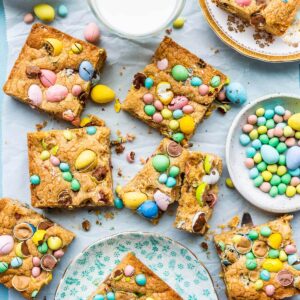 Mini Eggs Blondies
These Easter blondies are made with chopped Cadbury Mini Eggs and browned butter for the ultimate Easter cookie bar treat!
Ingredients
190

grams

bleached all-purpose flour

for softer, more gooey blondies, use less flour, as little as 125 grams (1 cup)

5

mL

Diamond Crystal fine kosher salt

or 2.5 mL (½ tsp) table salt

2.5

mL

baking powder

1.25

mL

baking soda

115

grams

unsalted butter

150

grams

light brown sugar

50

grams

granulated sugar

1

large egg(s)

15

mL

pure vanilla extract

200

grams

Mini Eggs

coarsely chopped, plus extra for garnishing

rainbow sprinkles

optional but sprinkles will make these even more festive!
Instructions
Preheat the oven to 350 ºF (175 °C). Butter an 8x8-inch (20x20-cm) metal brownie pan and line the bottom with a square of parchment. Set aside.

In a medium bowl, whisk together the flour, salt, baking powder, and baking soda. Set aside.

In a small saucepan on medium–high heat, melt the butter, swirling the pan often. Continue heating the butter and swirling often until the milk solids at the bottom of the pan begin to brown. The browned butter will smell nutty when it's done. Set aside to cool slightly.

In a large bowl, using an electric hand mixer, whip together the browned butter, the granulated sugar, and the brown sugar until it's well mixed.

Add the egg and the vanilla, and mix well until the mixture is light and fluffy. Make sure to clean down the sides of the bowl as needed with a big spatula.

Dump in the whisked dry ingredients, and incorporate them either with the hand mixer on low, or by hand with a big wooden spoon.

Mix in the chopped Easter chocolate. The dough should be quite thick.

Transfer the dough to the prepared pan and pat it out from edge-to-edge so that it fills the pan completely. You can use a flat-bottomed glass to press the dough into the corners and smooth it out.

Bake the blondies for 25 to 30 minutes. Less for a more gooey blondie, longer for a chewy blondie. I like to bake blondies until the edges are nicely browned and chewy.

Let the blondies cool completely before cutting into squares (9 large squares or 16 smaller squares).

Store in an airtight container.
Notes
For softer, more gooey blondies, use less flour, as little as 125 grams (1 cup)
For a 9x9 brownie pan, the blondies will be thinner and will take less time to bake. Start checking them after 20 minutes to see if they are done!
You can also bake this recipe in a 7x11-inch rectangular metal baking pan.
Nutrition
Calories:
379
kcal
Carbohydrates:
51
g
Protein:
5
g
Fat:
18
g
Saturated Fat:
11
g
Polyunsaturated Fat:
1
g
Monounsaturated Fat:
3
g
Trans Fat:
0.4
g
Cholesterol:
49
mg
Sodium:
316
mg
Potassium:
85
mg
Fiber:
1
g
Sugar:
35
g
Vitamin A:
403
IU
Vitamin C:
1
mg
Calcium:
81
mg
Iron:
1
mg