This easy recipe for toffee blondie bars is made with browned butter and chopped Skor bar (a crunchy toffee chocolate bar), and topped with flaky sea salt for a salty toffee cookie bar treat!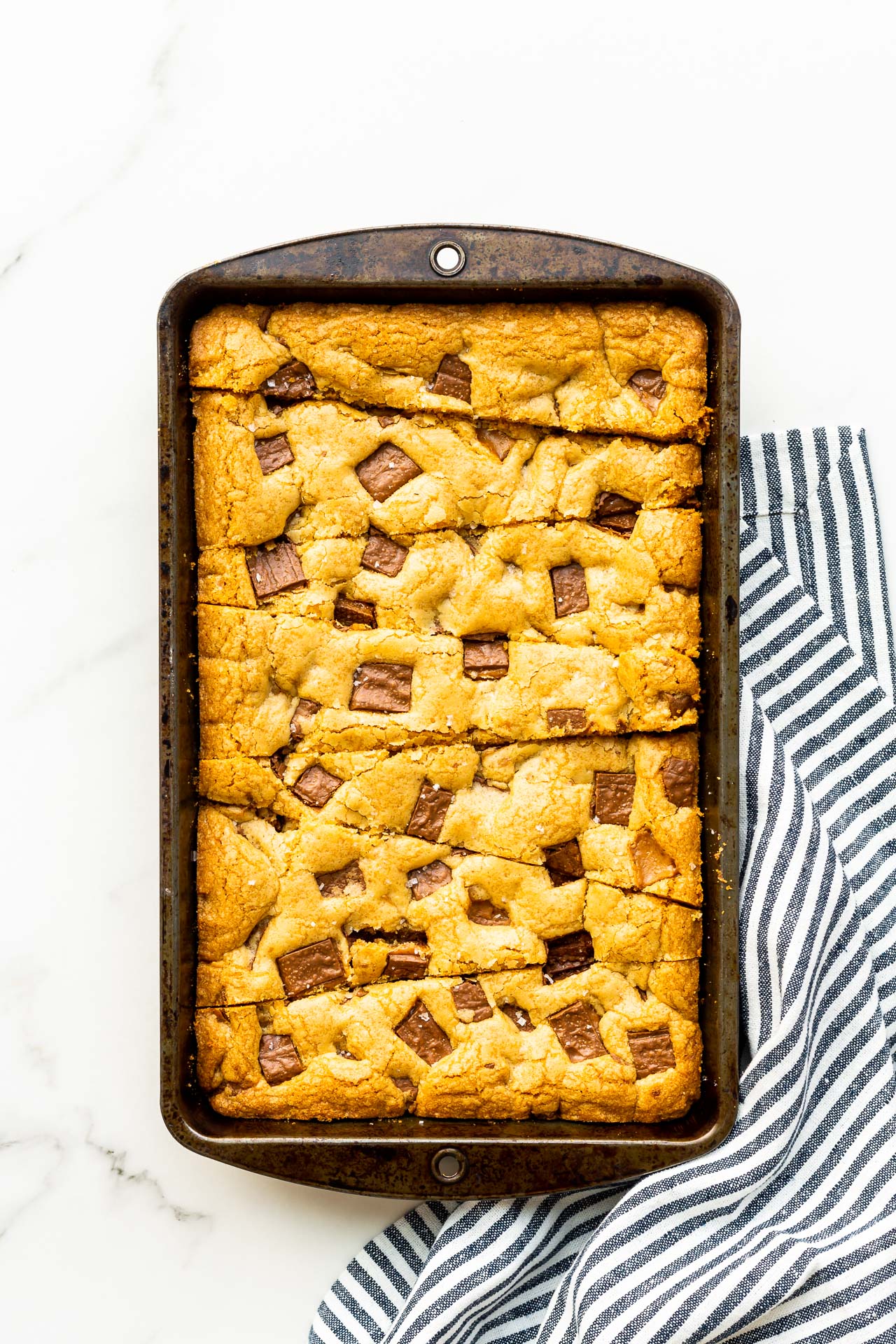 Disclosure: As an Amazon Associate, I earn from qualifying purchases.
These Skor cookie bars take are the best blondies for those who are a fan of caramel and chocolate. Toffee chocolate bars are a great way to incorporate caramel flavour into blondies without having to make salted caramel sauce or soft caramels.
Jump to:
Ingredients to Make Toffee Blondies
Blondies and cookie bars are made with the same basic ingredients as chocolate chip cookies, so you will need: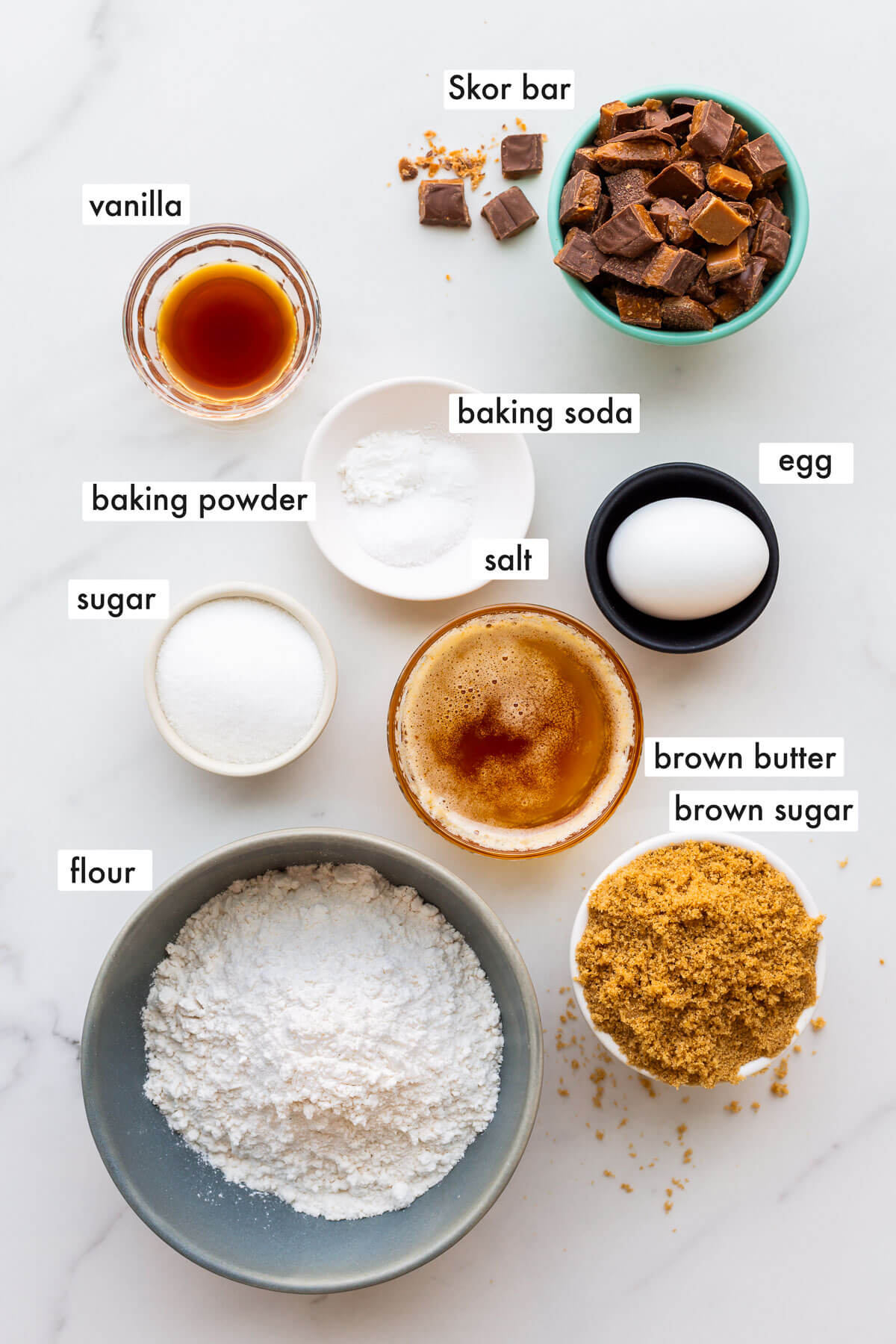 butter, preferably unsalted butter because you will add salt to the cookie dough, but if you have salted butter, it will work. Just adjust the salt in the recipe accordingly, otherwise, your bars may be too salty. We will be browning the butter for this recipe!
sugar, both granulated and brown sugar work here. I prefer using all (or mostly) brown sugar for the flavour and to balance out the egg in the cookie dough.
large eggs, don't use smaller eggs because your cookie dough may be too dry and your brownies may be crumbly but don't use extra large eggs because they could cause the batter to separate
vanilla extract—I use pure vanilla extract in this recipe though artificial could work (just use a little less because it's more potent)
all-purpose flour is needed to bind all the ingredients together and give the blondies structure, contributing to the chewiness of the bars as well. If you don't use enough flour, your cookie bars may be overly fudgy and dense
salt is really important to balance out the sweet chocolate flavour, especially since these brownies feature quite a bit of candy chocolate. Please don't skip it. I like to use Diamond Crystal fine kosher salt, but table salt will work, though the bars will be saltier and you may want to halve the salt in that case
leavening agents—both baking soda and baking powder are added to the mix of dry ingredients to open up the crumb of the cookie leading to a lighter texture. People who like cakey cookies tend to favour recipes with baking powder.
chopped candy bars, like Crunchie bars or Skor bars (made of chocolate-coated crunchie toffee bars)
Please refer to the recipe card for exact quantities of ingredients.
Tip: Not sure about the difference between the leavening agents? Please read this post about baking soda versus baking powder.
Variations and Substitutions
Like with most cookies and brownies, the base recipe of the blondie is a blank canvas for adding in different flavour elements. In this recipe we added chopped Skor bars, but you can try different mix-ins:
Sugar: I used a combination of granulated sugar (for those crispy edges) and brown sugar (to give a chewy texture), but you can also do all granulated sugar
Flour: If you want to replace the all-purpose flour with an alternative flour, consider the following substitutions:

whole wheat flour: 190 grams (1.5 cups) of whole wheat flour to make whole wheat blondies
spelt flour: 220 grams–250 grams (1.75 cups to 2 cups) spelt flour to make spelt blondies. Use the lesser amount if you prefer your blondies that are more gooey or the higher amount if you prefer chewy cookie bars.

Skor bars: If you want to replace the chopped Skor toffee bar, replace it with toffee bits and chocolate chips. Or use leftover chocolate candy bars from Halloween and lots of flaky sea salt. You could also replace the Skor bars with sea salt caramels or even butterscotch chips!
replace the vanilla extract with a splash of bourbon or scotch, which will provide an interesting oak flavour to these blondies, or some vanilla bean paste
Nuts: this recipe would be great with chopped toasted walnuts or pecans mixed into the cookie dough—when you add in the chocolate, also mix in 110 grams (1 cup) of chopped nuts
If you want to add in something crazy: take inspiration from Christina Tosi's Milk Bar compost cookie recipe and her compost pound cake and throw in some salty potato chips, chopped pretzels, and coffee grinds!
Alternatively, you can top these bars with chopped chocolate and berries, like for these white chocolate and raspberry blondies.
How to Make Blondie Bars with Toffee
I use an electric hand mixer to make the cookie dough for these toffee bars, but you could even mix them by hand with a wooden spoon.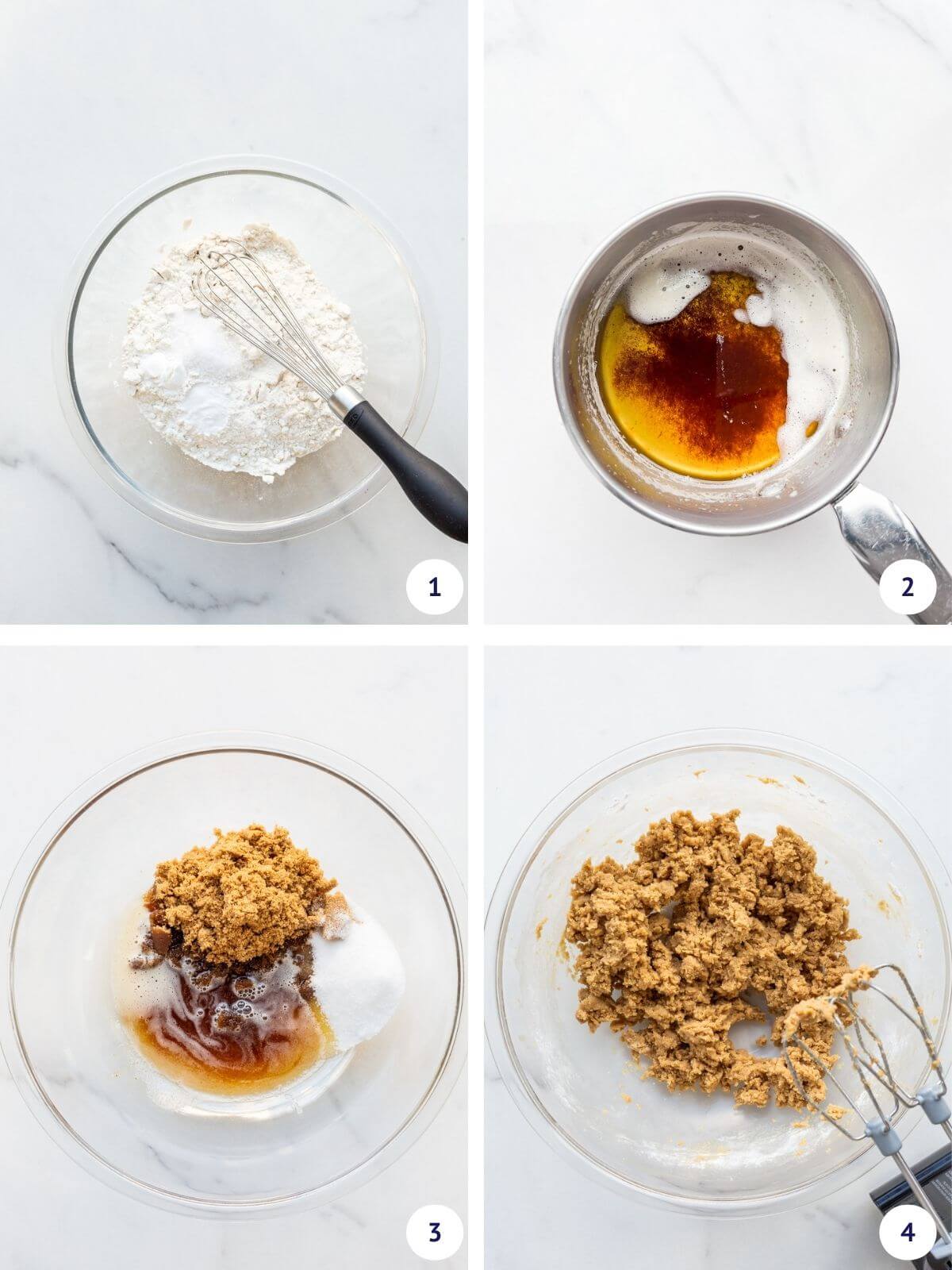 Step 1: Whisk together the dry ingredients in a medium bowl (image 1) and brown the butter in a small saucepan (image 2). Transfer the browned butter to a large bowl and once it's cooled slightly, add in the sugars (image 3). Use an electric hand mixer (or a wooden spoon) to combine (image 4).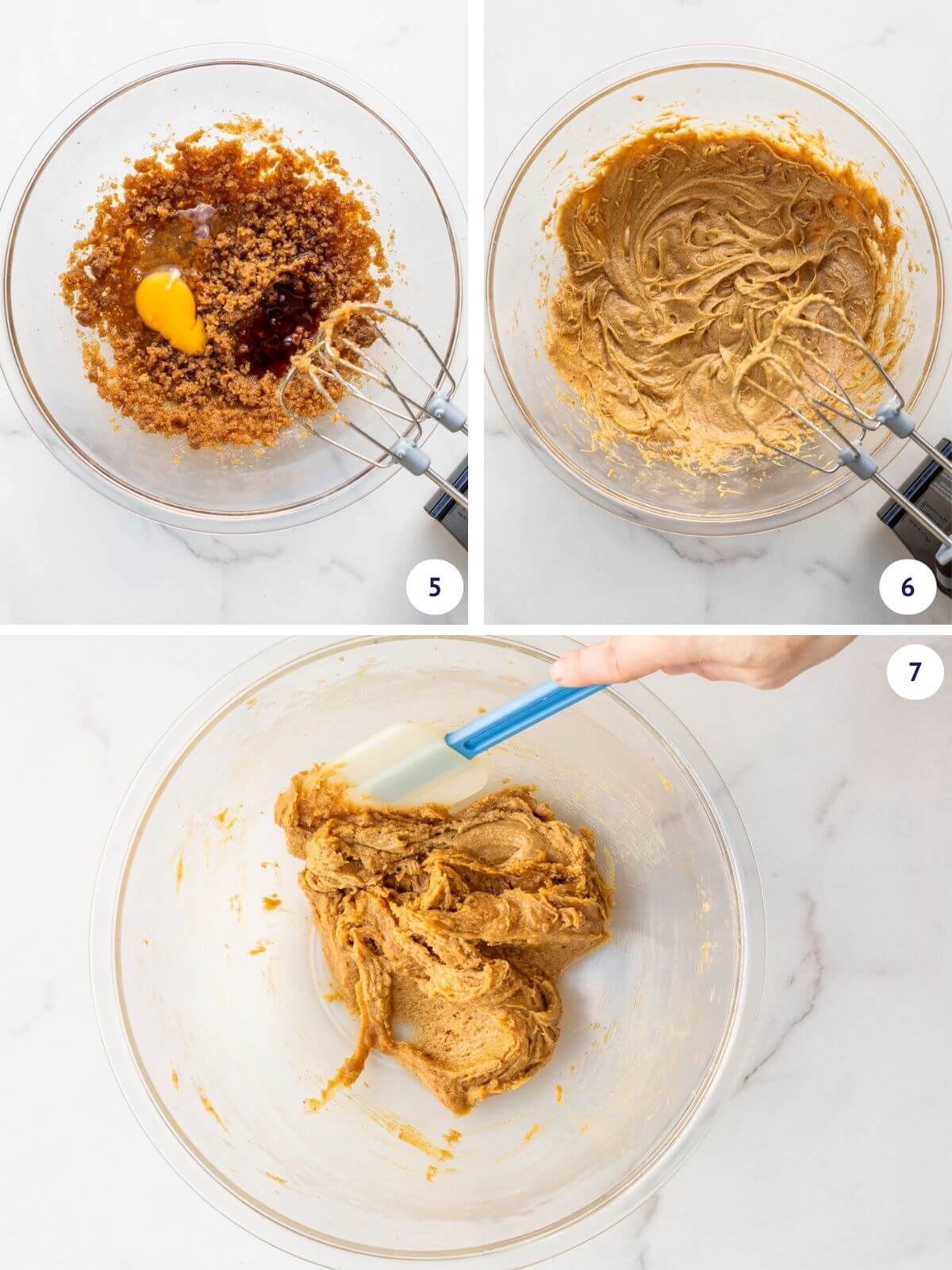 Step 2: Add the egg and vanilla to the mixer bowl (image 5) and beat them in until the mixture is light, fluffy and emulsified (image 6). Use a spatula to scrape the sides of the bowl down and make sure all the ingredients are well mixed (image 7).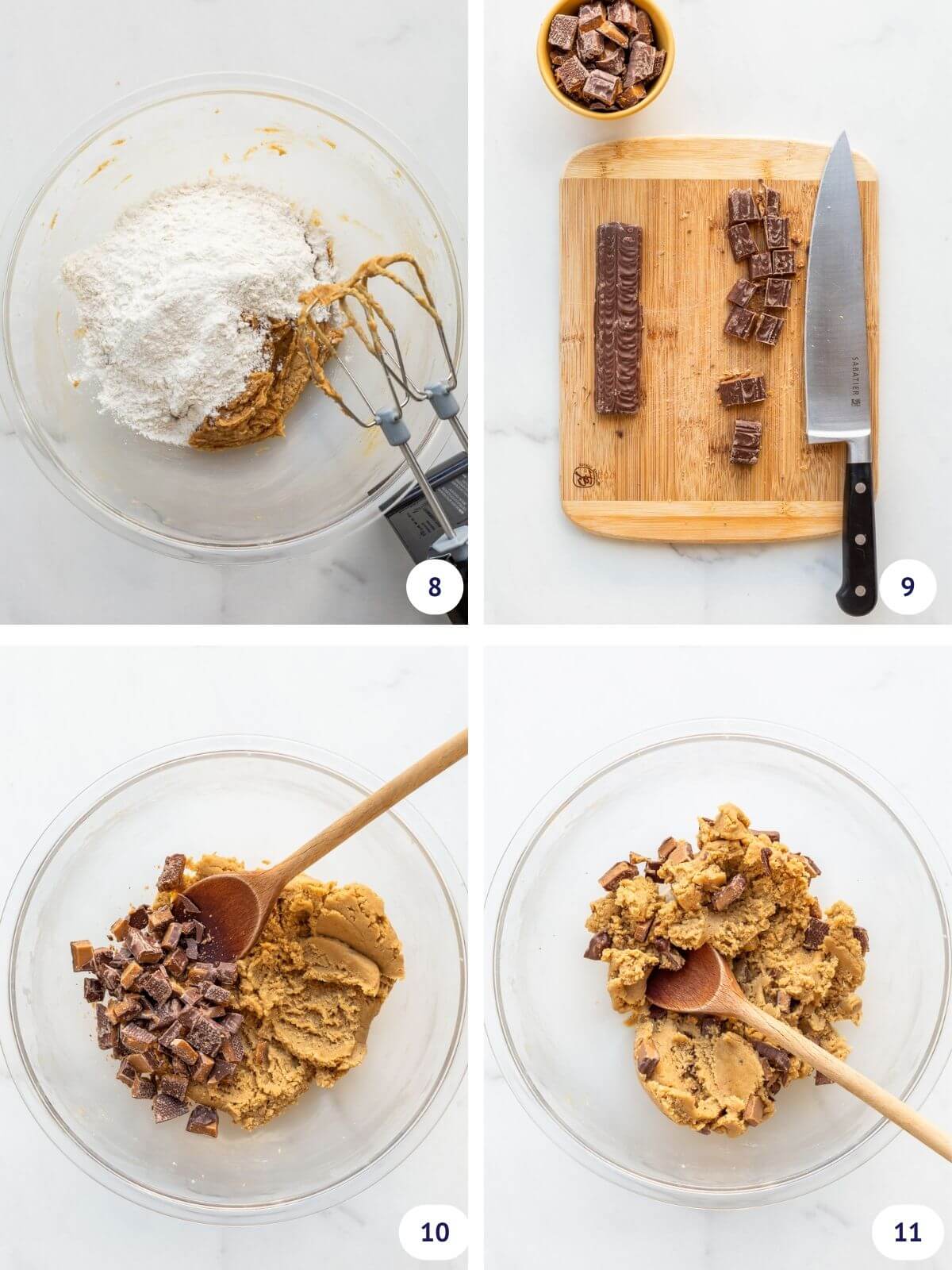 Step 3: Mix in the whisked dry ingredients (image 8) to form a thick cookie dough. Meanwhile, chop the Skor bars into small pieces (image 9) and add them to the bowl with the cookie dough (image 10). Stir them in with a wooden spoon (image 11).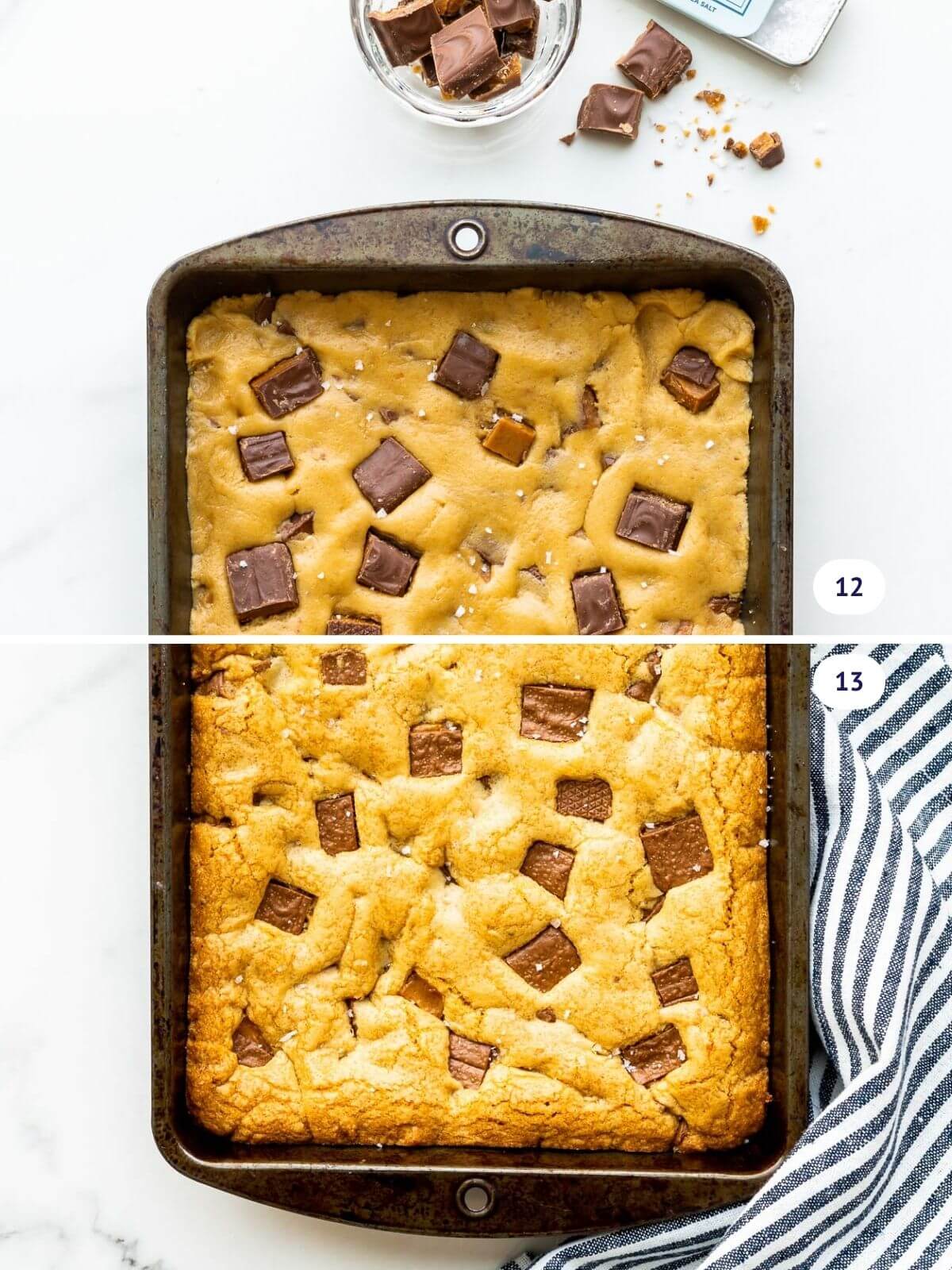 Step 4: Transfer the cookie dough to a greased baking pan (either 8x8 or 7x11 inches—20x20 or 18x28 cm). You can garnish it with a few more pieces of chopped chocolate bar and/or some flaky sea salt if you have any (image 12) and then bake it until the edges are golden brown and the bars are puffed (image 13).
Top Baking Tip
Just like with brownies, baking blondies can be tricky when it comes to how long to bake them and when to know they are done.
if you want a gooey or under-baked centre, you want to take them out of the oven BEFORE the middle sets—the middle should be quite soft still and verging on raw at this point because the blondies will continue to cook for over 10 minutes after you've taken them out of the oven to cool!
if you want a chewy centre that is more "baked through," you will bake them longer and use a skewer to feel the texture of the middle—it should be firmer and more set, and the blondies should be golden brown on top too, and not just on the edges.
Look for signs that the cookie bars are baked enough: the surface should have dried out and lost its shine, and no longer look like dough.
Glass Versus Metal Baking Pan
Blondies are baked in a big square or rectangular baking pan, the pieces in the middle of the pan will be more under-baked, regardless of the ratios you use, because the middle doesn't heat up as much as the edges. If you like under-baked cookies, blondies are the way to go!
Hint: the baking pan you use to bake your blondies will have an impact on the baking and the final texture. Use a metal pan so they bake faster and rise taller with a more chewy edge. Read all about baking pans to understand the difference between metal and glass bakeware.
For this recipe, you will need a metal baking pan, either 7x11, an 8x8 or a 9x9 brownie pan will work here. Larger pans will lead to thinner blondies and shorter baking times, while smaller pans will lead to thicker cookie bars and slightly longer baking times.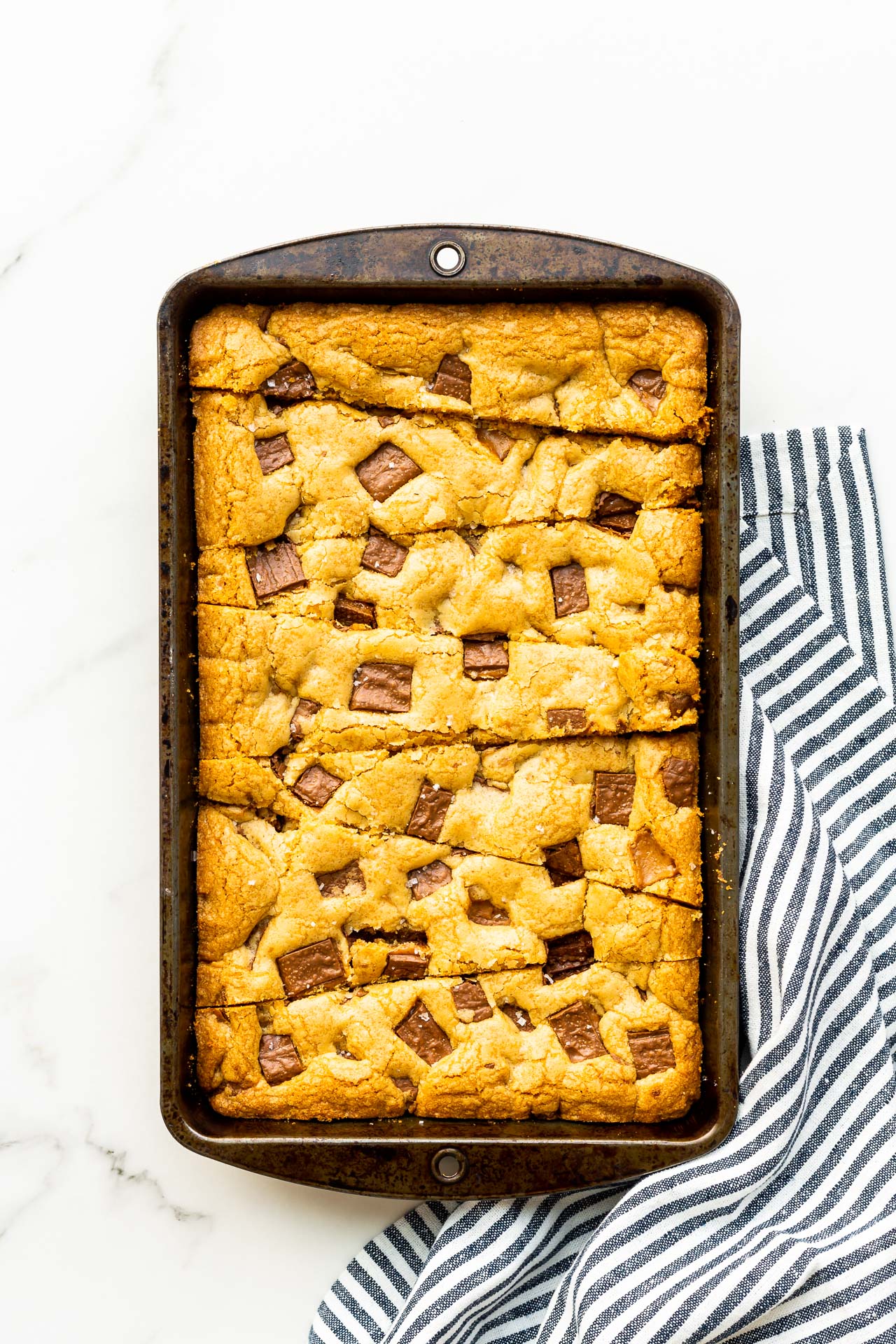 Baking FAQs
What is a Skor bar?
A Skor bar, also called Heath bar, is a crunchy toffee bar coated in milk chocolate. When chopped into chunks, Skor bar and Heath bar make excellent additions to chocolate chip cookies and blondies because of their caramel flavour.
How long do I bake blondies?
Look for signs that the cookie bars are baked enough: the surface should have dried out and lost its shine, and no longer look like dough.
If baking in a glass pan, take the blondies out sooner because they will continue to bake for longer out of the oven as the glass pan is insulating.
Why are my blondies not gooey?
I prefer chewy blondies so I tend to bake them until they are a deep golden brown. If you prefer a more gooey cookie bar, you will need to underbake them. Take 10 minutes off the bake time and check them early so that you bake them just enough but not too much. The blondies will be lighter in colour.
Using a skewer to check if they're done baking will help you get a feel for what's going on in the middle of the pan:
How do I store blondies?
To store blondies, place them in an airtight container in a cool, dry place. Alternatively, like with chocolate chip cookies, for longer-term storage, you can freeze blondies in a single layer in a freezer bag. Defrost them, one at a time, when a craving strikes. Defrost one blondie bar in a low oven for about 10 minutes (usually at 250–275 ºF). The blondie will end up warm and taste just like it was freshly baked.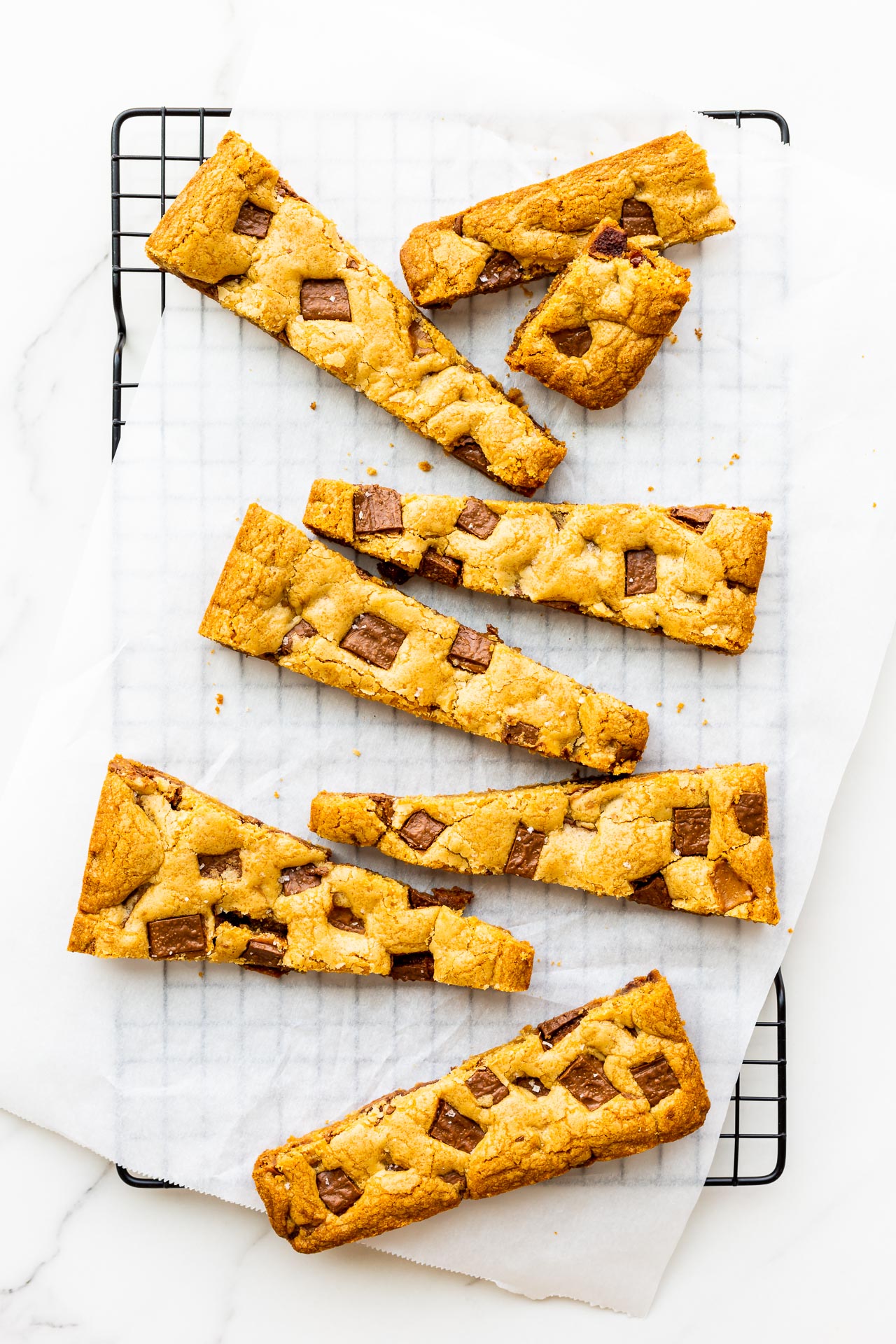 Other Cookie Bar Recipes to Try
If you love blondies, be sure to check out these other easy bar recipes, including brownies with walnuts (with delightful chewy edges) and easy lemon bars that are so tangy!
If you tried this toffee blondies recipe (or any other recipe on my website), please leave a ⭐ star rating and let me know how it went in the comments below. I love hearing from you!
📖 Recipe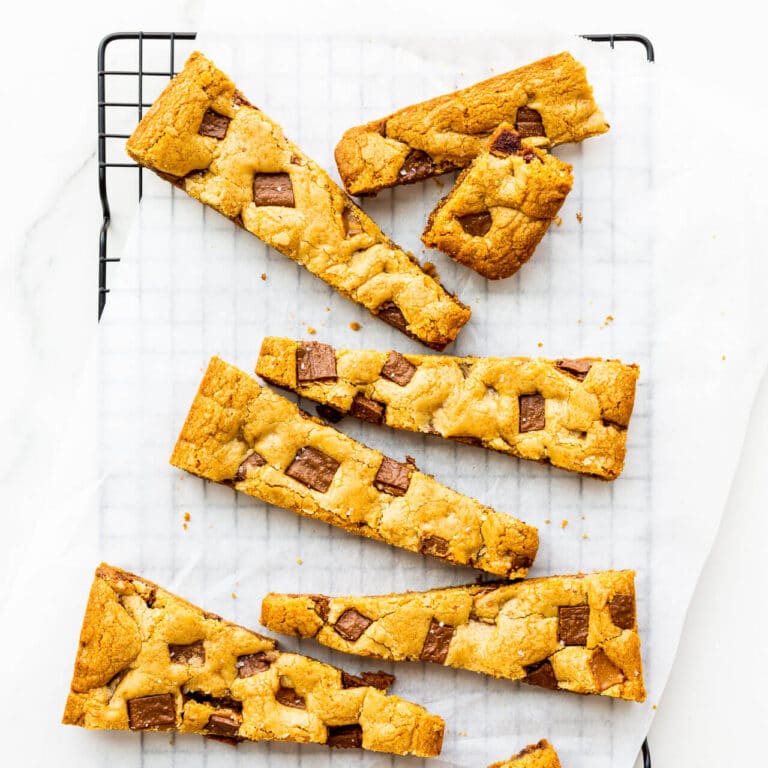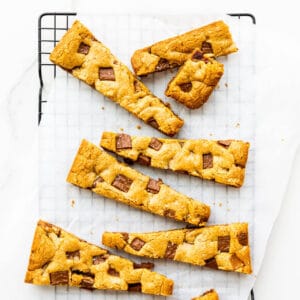 Skor Toffee Blondies
These toffee blondies are made with chopped Skor bar, browned butter, and flaky sea salt for the ultimate toffeee cookie bar treat!
Ingredients
190

grams

bleached all-purpose flour

for softer, more gooey blondies, use less flour, as little as 125 grams (1 cup)

5

mL

Diamond Crystal fine kosher salt

or 2.5 mL (½ tsp) table salt

2.5

mL

baking powder

1.25

mL

baking soda

115

grams

unsalted butter

browned and cooled slightly

150

grams

dark brown sugar

50

grams

granulated sugar

1

large egg(s)

15

mL

pure vanilla extract

175

grams

Skor bar

chopped (approximately 5 bars)

Flaky sea salt

optional
Instructions
In a medium bowl, whisk together the flour, salt, baking powder, and baking soda. Set aside.

In a large bowl, using an electric hand mixer, whip together the browned butter, the granulated sugar, and the brown sugar until it's well mixed.

Add the egg and the vanilla, and mix well until the mixture is light and fluffy. Make sure to clean down the sides of the bowl as needed with a big spatula.

Dump in the whisked dry ingredients, and incorporate them either with the hand mixer on low, or by hand with a big wooden spoon.

Mix in the chopped chocolate. The dough should be quite thick.

Transfer the dough to the prepared pan and pat it out from edge-to-edge so that it fills the pan completely. You may garnish the bars with a few extra pieces of chopped chocolate bar and/or some flaky sea salt if you'd like.

Bake the blondies for 25 to 30 minutes. Less for a more gooey blondie, longer for a chewy blondie. I like to bake blondies until the edges are nicely browned.

Let the blondies cool completely before cutting into squares (9 large squares or 16 smaller squares).

Store in an airtight container.
Notes
Read about how to make brown butter if you've never made it before.
Can't find Skor bars? Use leftover halloween chocolate, or a combination of toffee bits and chocolate chips available in grocery store baking aisles. You may also try using salted caramels or even butterscotch chips for that caramel flavour.

For softer, more gooey blondies, use less flour, as little as 125 grams (1 cup)

Use a metal baking pan if you can for the best results. You can bake this recipe in a 7x11-inch rectangular metal baking pan or an 8x8 metal pan. A 9x9 would also work. Using an 8-inch square pan will lead to thicker blondies, using a 9-inch square pan will make thinner blondies. The baking times will vary. Thicker bars will take longer to bake.
If baking in a glass pan, take the blondies out sooner because they will continue to bake for longer out of the oven as the glass pan is insulating.
Nutrition
Calories:
369
kcal
Carbohydrates:
51
g
Protein:
3
g
Fat:
17
g
Saturated Fat:
10
g
Cholesterol:
50
mg
Sodium:
335
mg
Potassium:
80
mg
Fiber:
1
g
Sugar:
34
g
Vitamin A:
346
IU
Calcium:
35
mg
Iron:
1
mg