This easy recipe for raspberry brownies yields bars with a very chewy edge and a fudgy center (but not too fudgy). You can keep them plain or incorporate nuts or seeds to garnish them.
This one-bowl brownies recipe post was sponsored by Cacao Barry.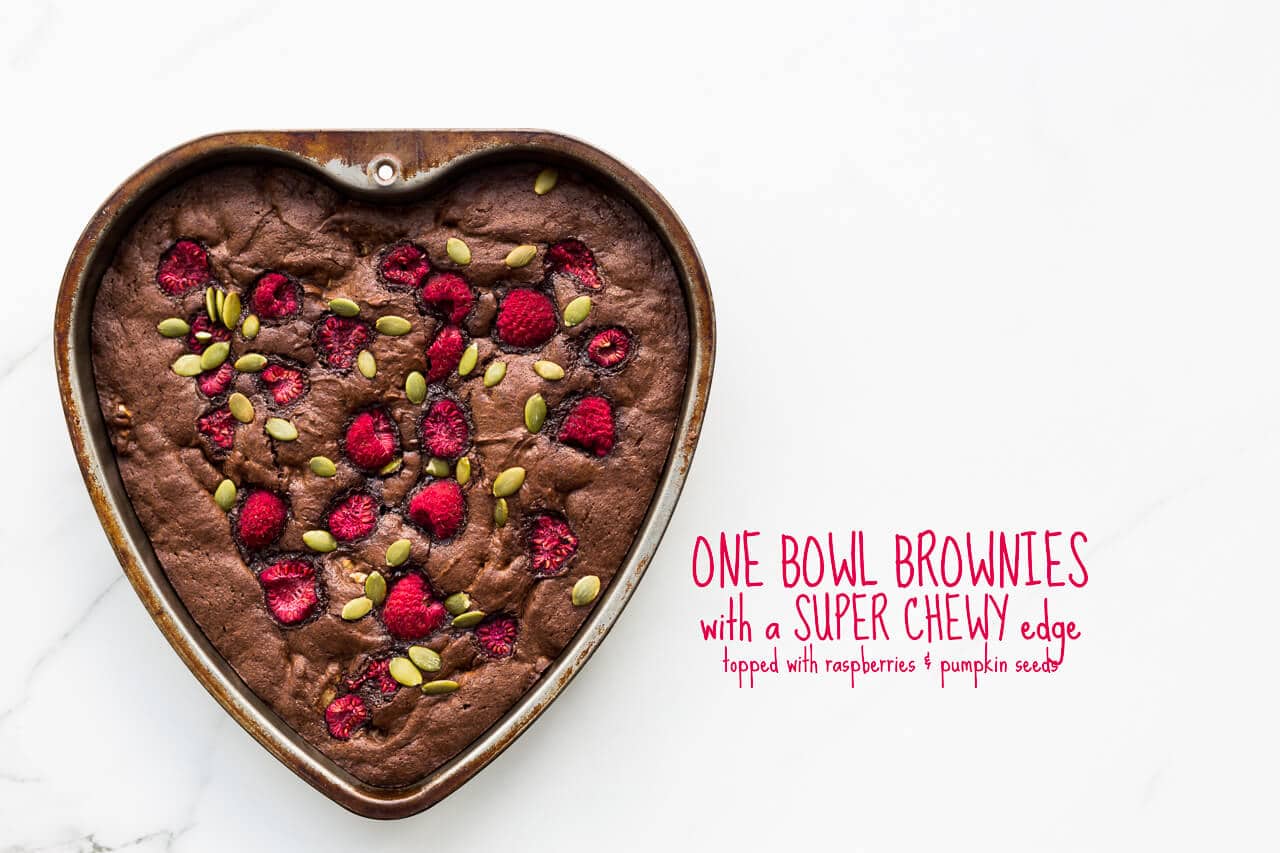 Disclosure: As an Amazon Associate, I earn from qualifying purchases.
Jump to:
Brownie texture
How do you like your brownies? Do you prefer fudgy brownies or chewy brownies? Do you like to eat the centrepiece or an edge?
The trouble is there's no such thing as perfect. What I would call the perfect brownie might be your least favourite iteration. The fact is that I cannot come up with a brownie recipe that will please everyone because we all like different things.
This recipe makes brownies that I think are the perfect brownie: a brownie with thick and chewy edges that I hope you will love too. It's a variation on the recipe for brownies with walnuts.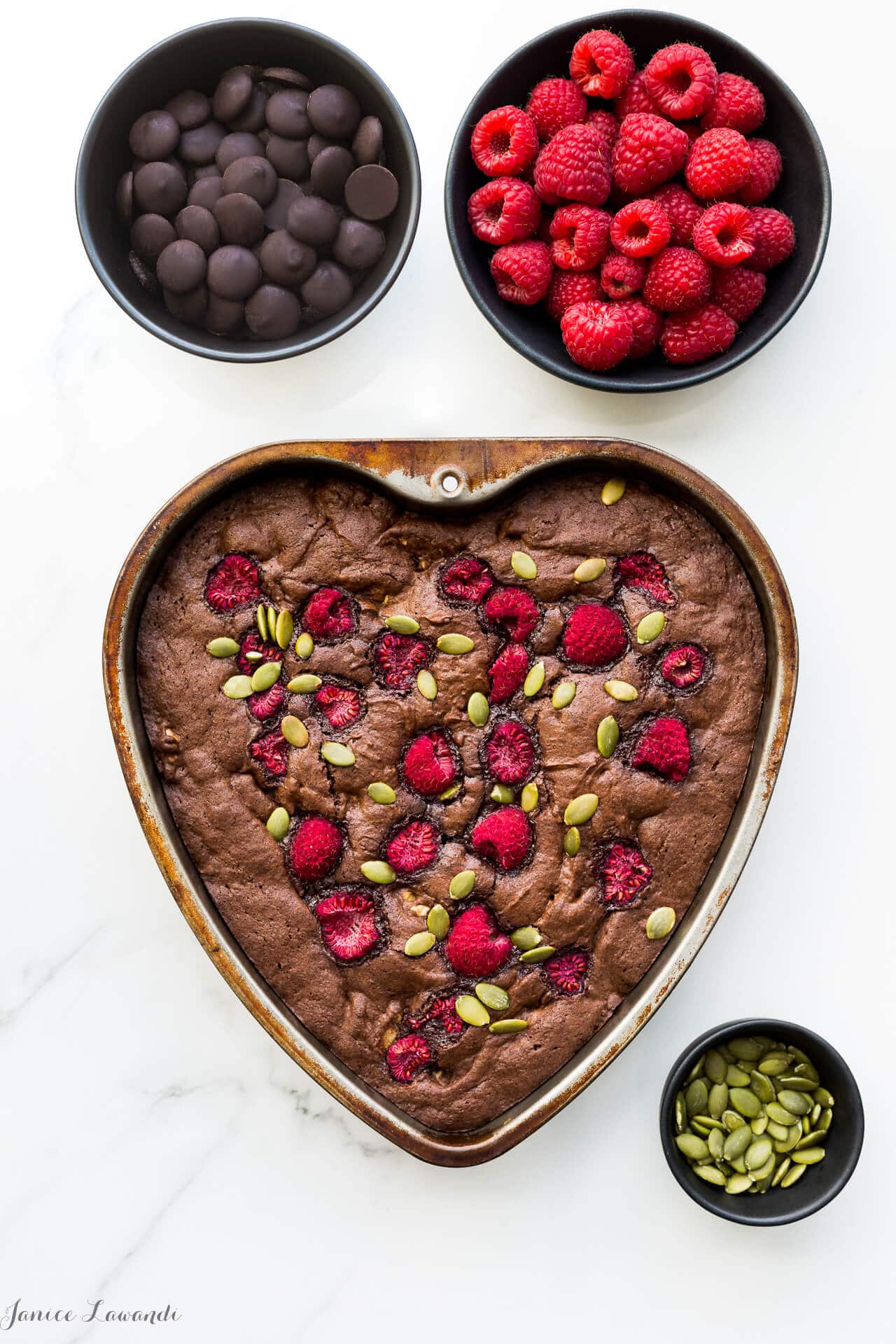 What you'll need to make brownies with raspberries
Most every brownie recipe you'll come across all have the same basic ingredients, but a few are key to achieving the desired texture:
Butter or oil: I prefer to bake with butter, melting it with the chocolate. The water in the butter will help dissolve the sugars, which in turn contributes to a shiny crust on top. Butter also provides more flavour.
Chocolate, preferably semi-sweet or bittersweet chocolate with at least 70 % cocoa solids. If you use chocolate chips, these have a lot of sugar and you will need to adjust this recipe
Sugar (granulated and/or brown sugar): choose granulated sugar if you like to have that shiny paper-thin flaky crust on top of brownies and use more sugar to make sure it forms
Eggs: in brownies, you often see little to no leavening agents used and so the moisture from the eggs acts as a leavening agent here but also helps dissolve the sugar to make a shiny top.
Flour: the less flour you use, the more fudgy the brownies will be, but I find too little can lead to a brownie that is too dense and too greasy. I like to add enough flour to brownie batter so that it can absorb the fat and lead to a more chewy texture that's not so moist.
Cocoa powder is there to give the brownies a deeper chocolate flavour that dark chocolate alone can't.
Leavening agents: classic brownies don't have leavening agents, but like with cookies, you can add just a little baking powder so that the brownies rise taller yielding a slightly less dense, more open texture.
Other flavour ingredients: you may see vanilla extract and even espresso powder to further enhance the flavour. Bitter coffee notes are known to enhance the chocolate flavour.
Raspberries: I used fresh raspberries, which I sprinkled over top. Be careful if you want to use frozen brownies, they may be too wet in this recipe, leading to a gummy texture!
Interestingly, though every brownie recipe is made with the same basic ingredients, there are a number of ways of combining them to make brownies.
Ways to mix brownie batter
The "creaming method": cream the butter with the sugar, then add the eggs, then add the dry ingredients, then finish with the melted chocolate. These brownies get a lot of lift from the creaming step, which incorporates air. These popcorn brittle brownies are a perfect example of brownies made by the creaming method.
The "whipped method": whip the eggs with the sugar, then add the dry ingredients, and finish with the chocolate which has been melted with the butter. Like with the creaming method, whipping the eggs with the sugar also provides a lot of lift to your brownie batter so they aren't overly dense. This simple gluten-free chocolate cake, though not technically a brownie, would fall into this whipped egg category.
The "one bowl brownies method": Melt the chocolate with the butter, then add all the other ingredients progressively after: sugar, then eggs, then dry ingredients. You may want to include a chemical leavener (baking powder) to give the brownies some lift. The recipe below is an example of this, and here's a gluten-free brownie made with peanut butter where everything is mixed in the pan you melt the butter and chocolate.
The good news is: any of these mixing methods leads to good brownies!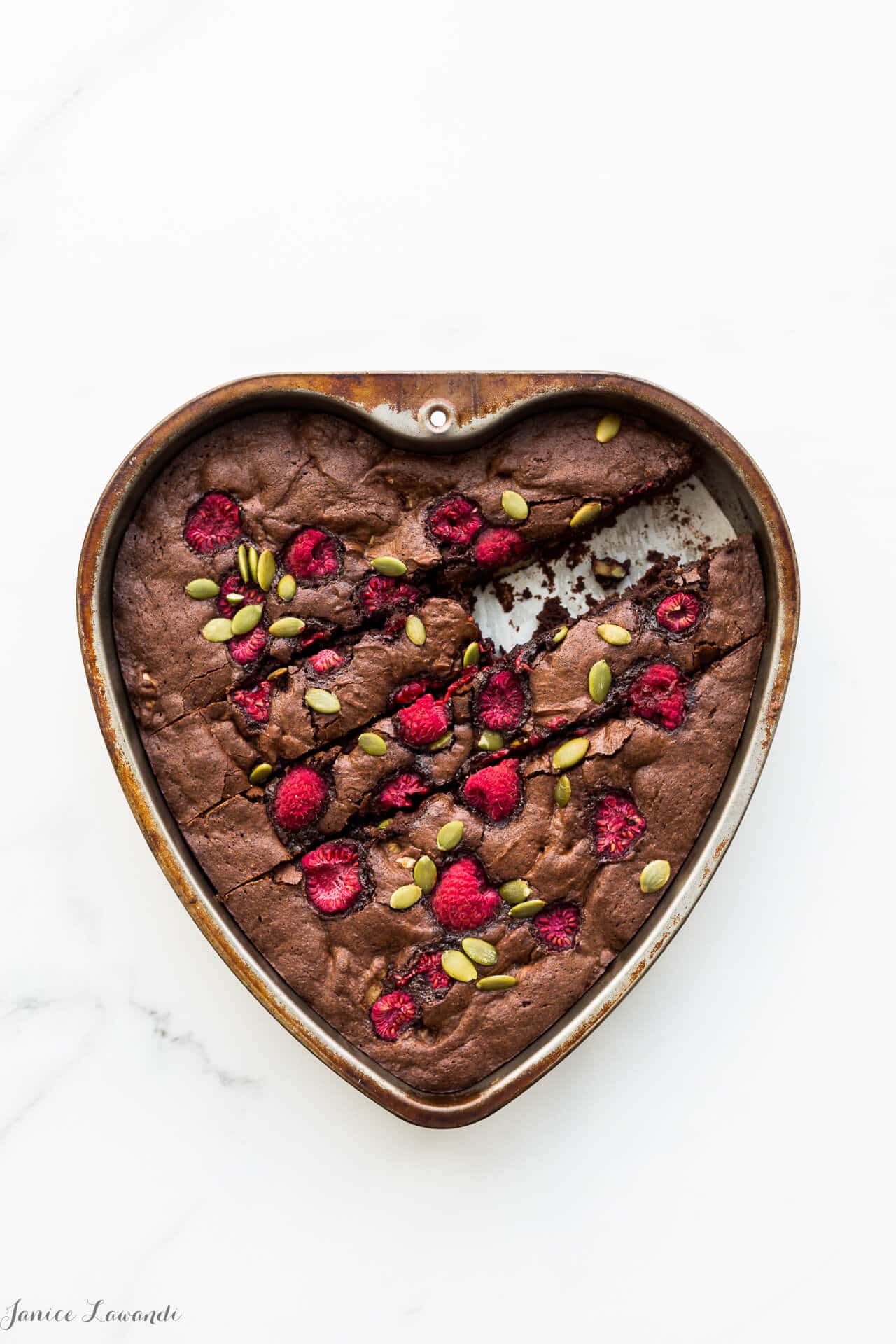 One-bowl mixing
For this recipe, I wanted a one-bowl brownie: an easy recipe for highly satisfying brownies that can be made in the same bowl that you use to melt the chocolate and butter.
If you weigh your ingredients, that means that you only dirty a bowl and a spoon (or whisk). Considering how messy some baking projects can get, that sounds pretty perfect to me!
After a few attempts and many, many brownies consumed, I ended up with this recipe, where some of the cocoa in a typical brownie recipe is replaced with dark chocolate. If you need help making baking substitutions, check out my guide for how to replace the cocoa powder with dark chocolate (and vice versa).
The brownies are moist and still have a fudgy middle, but they aren't dense. The edges are delightfully thick and very chewy. I baked these brownies for a good 40 minutes to ensure thick, chewy, dryer edges because that's how I like them. Feel free to bake them less.
Substitutions
Brownies are made from a simple list of ingredients and your substitution options are limited. Here are some places where you can deviate:
dark chocolate: I used 70 % dark chocolate from Cacao Barry. This is a semi-sweet chocolate verging on bittersweet. If you don't have access to this brand of chocolate, feel free to use a Lindt dark chocolate bar or any high-quality chocolate with at least 50 % cocoa content. If you are unsure, read about the different types of chocolate for baking.
cocoa powder: I used a Cacao Barry brand cocoa powder called Extra Brute. It is a Dutch-processed cocoa powder. You can replace it with any brand of Dutch-processed cocoa powder. I don't recommend a natural cocoa powder because the flavour will be weak.
sugar: I used granulated sugar (white sugar), but feel free to use a combination of brown sugar and white sugar if you prefer. Do not use icing sugar.
raspberries: I used fresh raspberries—frozen raspberries may work but could also lead to a gummy wet layer on the surface of the brownie if they release too much water. Proceed with caution!
pumpkin seeds and walnuts: you can use any chopped nuts or replace them with chopped chocolate (white, milk, or dark) or chocolate chips, if you prefer.
Types of chocolate for brownies
When you make brownies with chocolate, ideally you should use the best chocolate for baking you can get, specifically dark chocolate that has a deep, dark flavour and that isn't overly sweet.
To make these one-bowl brownies, I used Ocoa chocolate from Cacao Barry, which is a 70% cocoa dark chocolate with a rich chocolate flavour. You can find it at IGA grocery stores in Quebec in 1-kilo resealable bags.
If you don't live in Quebec, you can order this chocolate online (and many other Cacao Barry products) via the Vanilla Food Company website. They ship across Canada and to the United States! This means that we all have access to professional quality chocolates at the click of a button. They also carry two types of Cacao Barry cocoa powders, which I highly recommend.
Special equipment
I baked these brownies in a heart-shaped cake pan to celebrate Valentine's day, but feel free to bake them in a small 8x8-inch brownie pan. If you only have a 9x9-inch pan, you should multiply this recipe by 1.5 (meaning multiply each ingredient by 1.5) in order to better fill the pan. Otherwise, your brownies will be too thin.
Please use a metal pan to bake brownies. They will have a better texture if you bake them in a metal pan. If you use a glass pan, they may be more dense. Read all about the different types of baking pans to understand the difference.
Serving suggestions
Brownies are great enjoyed as is, but you can also eat them à la mode, topped with vanilla bean ice cream or dark chocolate ice cream. Another favourite of mine is to serve these with Oreo ice cream or mint chocolate chip.
Cutting brownies neatly
If you struggle to cut brownies because they stick to your knife, try using a plastic knife instead of a metal knife! The plastic cuts cleanly through brownies without sticking. You can also use the straight edge of a plastic bowl scraper.
📖 Recipe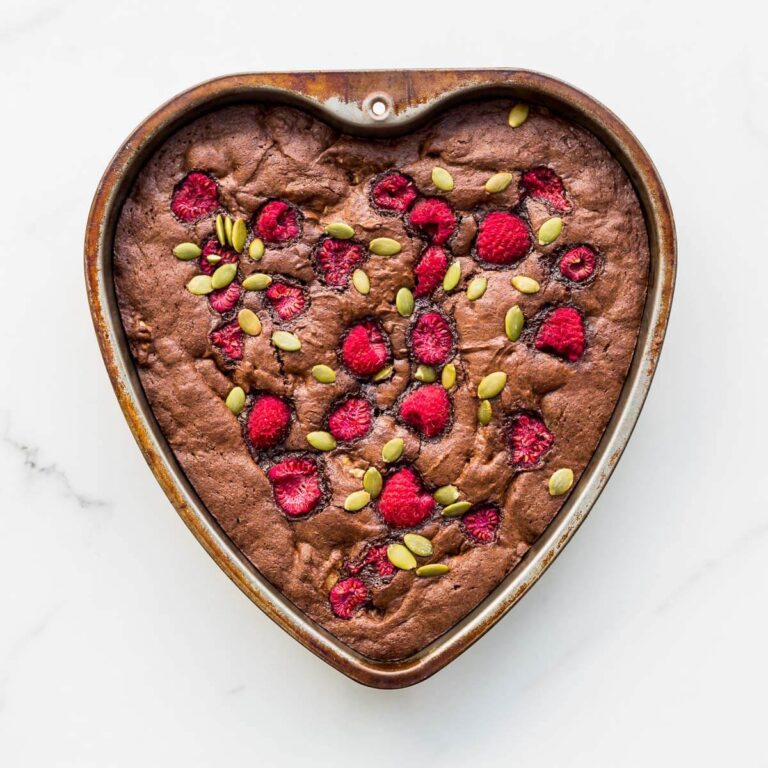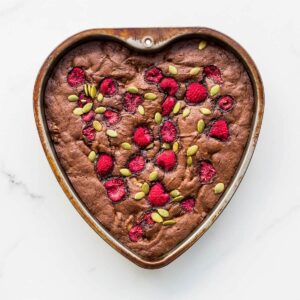 Raspberry Brownies
The easiest brownies you can make are these one bowl brownies. These raspberry brownies have a thick chewy edge and a fudgy moist center. You can customize them with your favourite toppings and I baked these with walnuts and topped the brownies with raspberries and pumpkin seeds.
Instructions
Preheat the oven to 350ºF (175 °C). Butter an 8x8-inch brownie pan or a 9-inch heart-shaped pan. Line the bottom with parchment. Set aside.

In a large bowl, melt together the butter and the chocolate. You can do this over a pan of simmering water or in the microwave at power level 5. Pause to stir a little so that the mixture heats evenly.

Add the granulated sugar to the bowl of melted chocolate and butter, and whisk it in.

Add the eggs, one at a time, mixing well between each addition. Dump in the flour, cocoa powder, salt, and baking powder, and stir it in.

Fold in walnuts, if using. Pour the batter into the prepared pan and smooth the surface. Top with raspberries and pumpkin seeds, if using.

Bake for 30 to 40 minutes or however long it takes to achieve your perfect brownies. Let cool completely in the pan before serving.
Notes
I baked this brownie recipe in a 9" heart shaped cake pan, similar to this Wilton pan on Amazon
Nutrition
This post is sponsored by Cacao Barry. I was compensated monetarily and with product. Thanks for supporting the companies that allow me to create content for Kitchen Heals Soul. As always, please know that I wouldn't work with a sponsor nor recommend a product if it wasn't worth it.