This guide to how to substitute for cocoa powder with dark chocolate in cakes, cookies, and brownies is sponsored by Cacao Barry. Learn what the difference is between cocoa powder and dark chocolate and how to substitute chocolate for cocoa powder in baking recipes.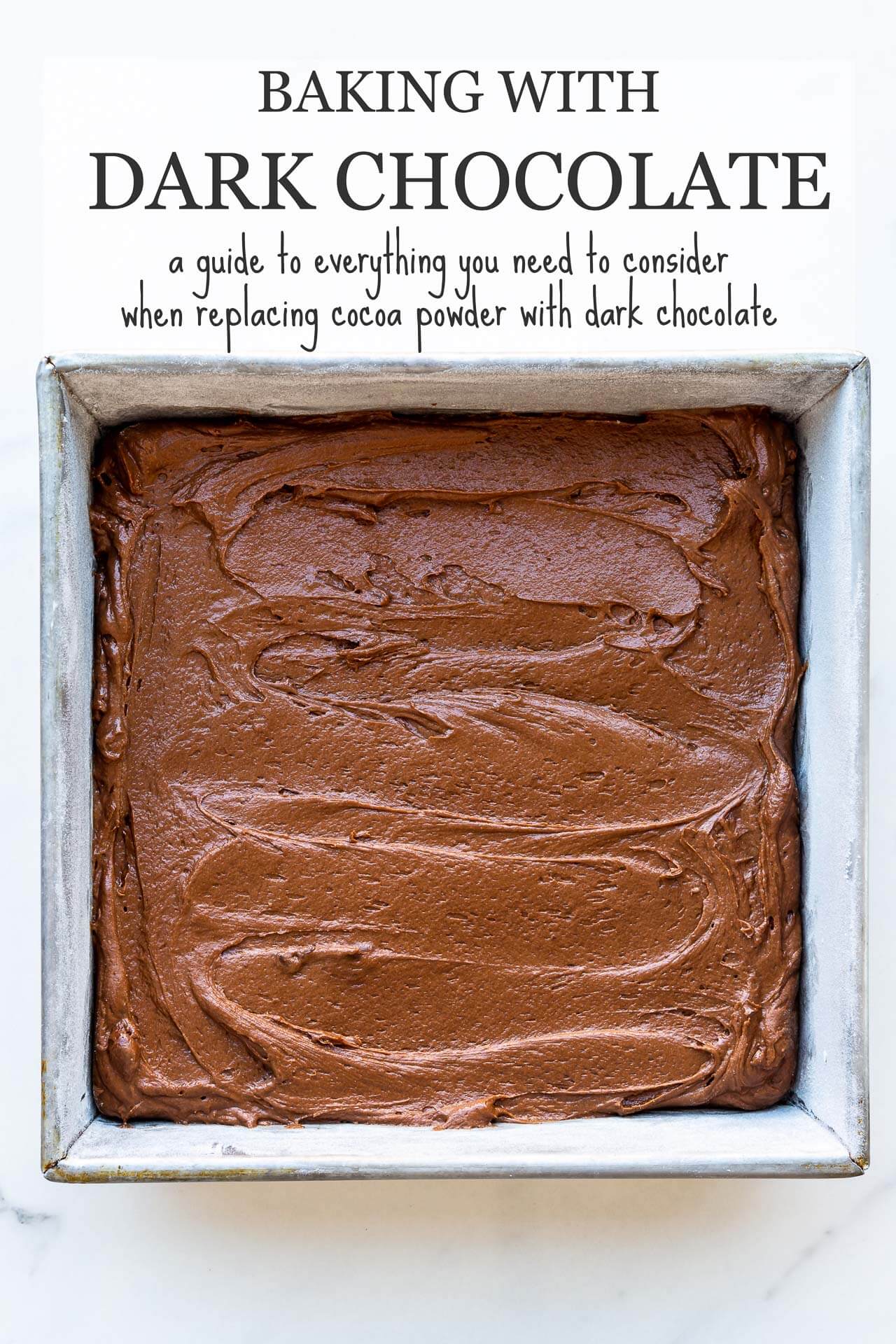 Disclosure: As an Amazon Associate, I earn from qualifying purchases.
Jump to:
Cocoa powder vs dark chocolate: what is the difference?
As we saw in the different types of chocolate for baking, there are A LOT of chocolate and cocoa products to choose from and each product has its own characteristics, and pros and cons depending on the application.
You probably know cocoa powder and dark chocolate are two different products, but you might be wondering what is the difference between cocoa powder and dark chocolate. We need talk about the differences between these two chocolate products before we can think of swapping one for the other.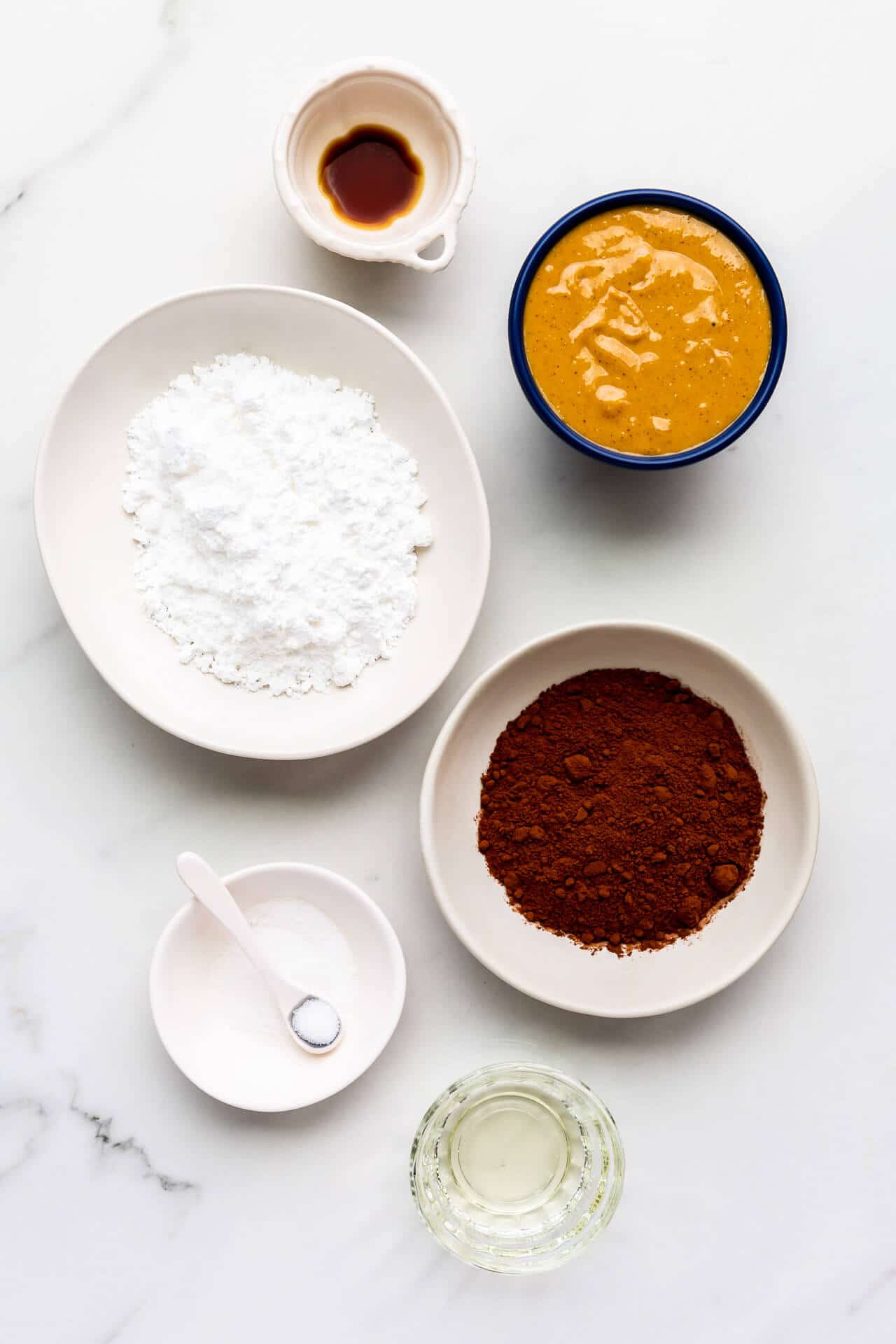 Cocoa powder & dark chocolate: it all starts with chocolate liquor
In the process of making chocolate, cocoa nibs are ground into a chocolate liquor, similar to how nuts are ground into nut butter. Chocolate liquor is solid at room temperature, unlike most natural nut butters. Why? Because cocoa butter is solid at room temperature whereas nut oils are liquid at room temperature. So, though the name might make you think otherwise, chocolate liquor is actually a solid product sold as blocks. Chocolate liquor is also called unsweetened chocolate, cocoa mass, or even baking chocolate.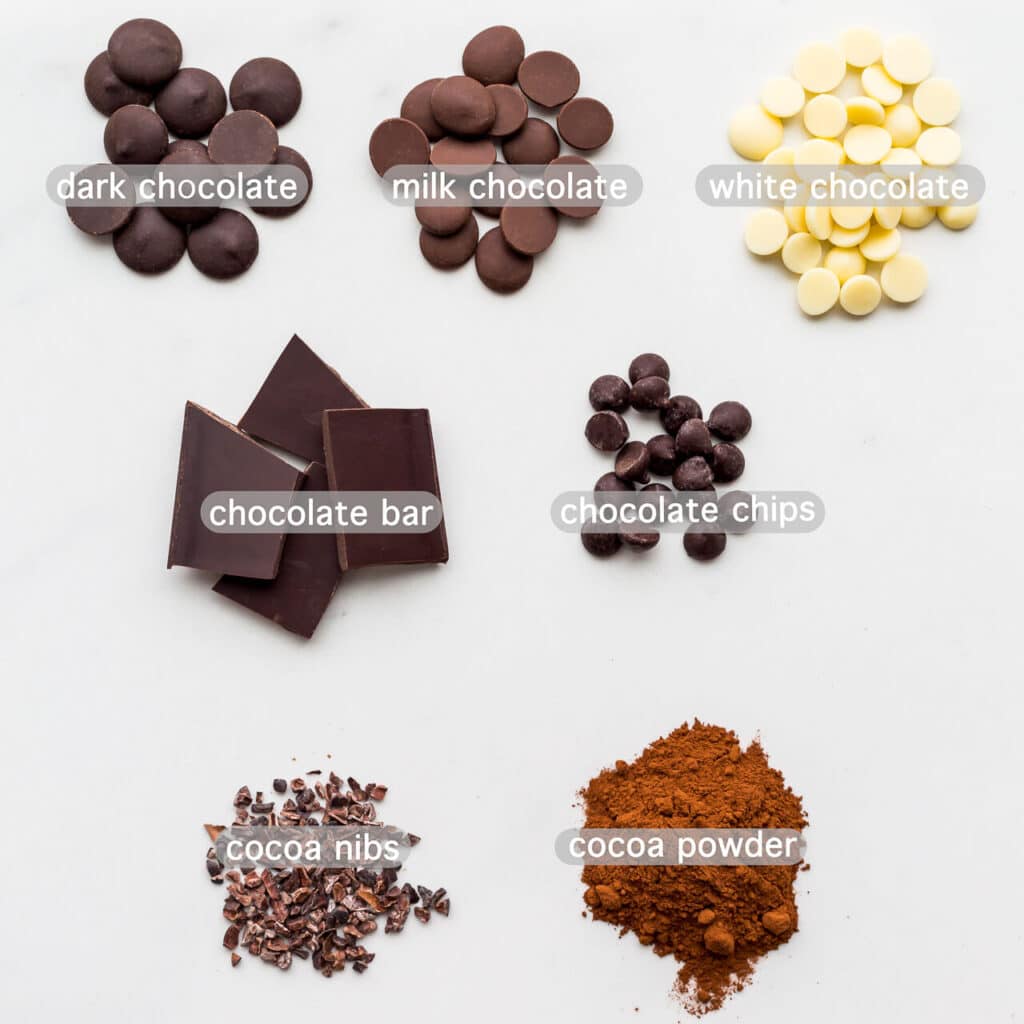 Cocoa powder is a product derived from chocolate liquor
When chocolate liquor is pressed, much of the cocoa butter melts and is squeezed out, leaving behind a solid cake that is ground into a fine powder. This fine powder is natural cocoa powder. Naturally, cocoa powder has:
a pH between 5 and 6, so it is slightly acidic
no sugar added, whereas hot cocoa mixes are sold with sugar and milk solids added and sold as a shelf stable powder product
a lower fat content than chocolate liquor and other chocolate products because much of the cocoa butter is lost as the cocoa liquor is squeezed dry. In North America, cocoa powder contains at least 10% cocoa butter by law. There are fat free cocoa powders on the market, but since it is very costly to produce, fat free cocoa powder comes at a high price.
Note: You can also find higher fat cocoa powder containing over 20% cocoa butter, but this is also more expensive in North America. In Europe, regular cocoa powder is richer and is higher in fat (20% cocoa butter), while reduced-fat cocoa powder in Europe contains less than 20% cocoa butter.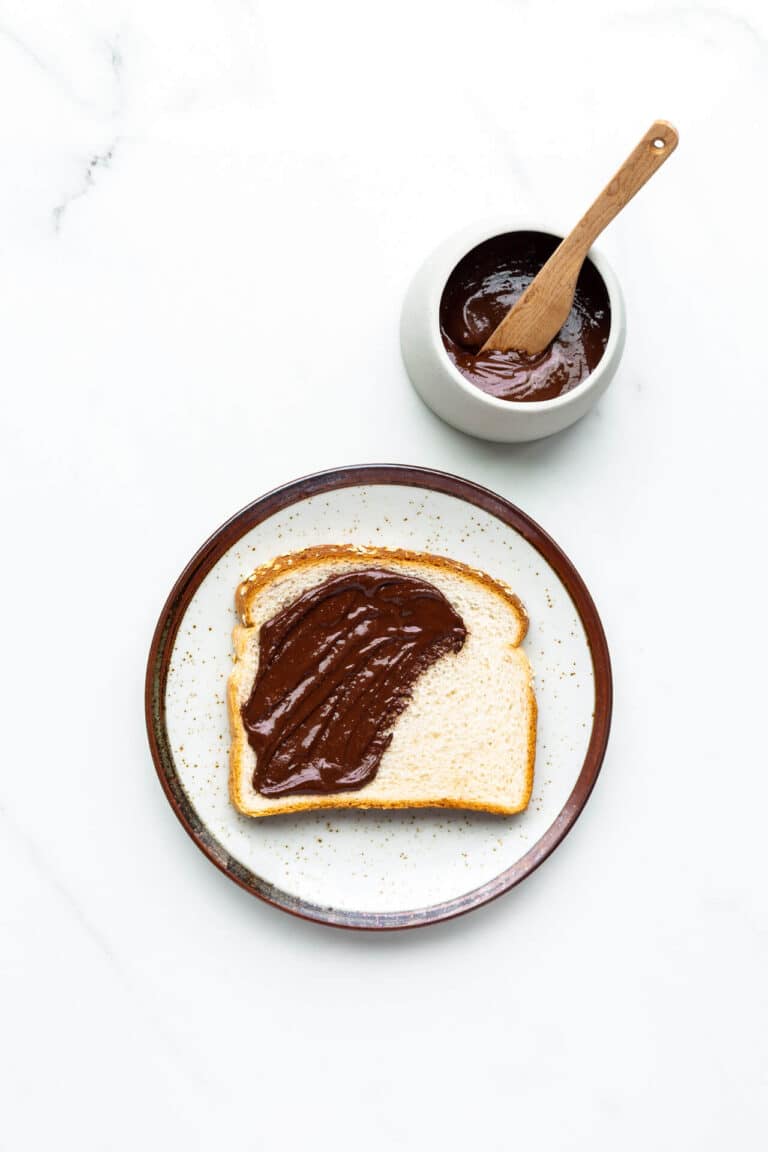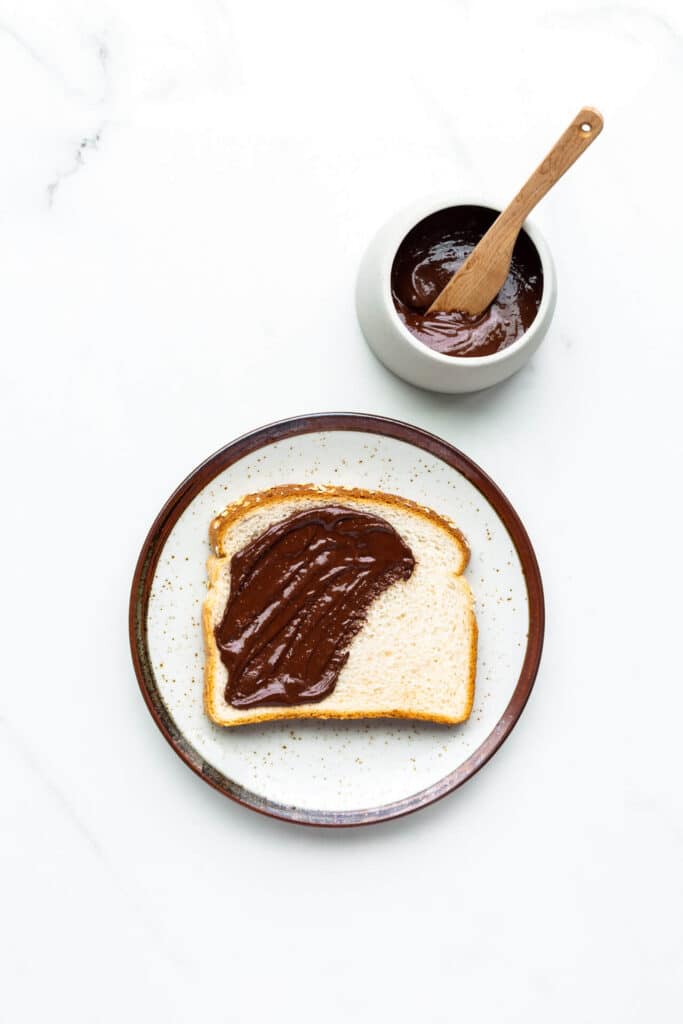 Dutch processed cocoa has a higher pH
Natural cocoa powder is treated with a base (alkali) in a process known as dutching. Dutch-processed cocoa powder has a pH of 7 or above, meaning it is neutral or basic in pH.
Dutch processing changes the colour of cocoa powder, leading to a darker powder The more dutched the cocoa powder, the darker it is. Dutch processing also leads to a richer flavour that is smoother. This is why most pastry chefs prefer Dutch-processed cocoa.
Dark chocolate also comes from chocolate liquor
Dark chocolate also comes from chocolate liquor. Chocolate liquor is ground up and mixed with sugar, dairy, and flavour agents. The mixture is gently heated, but also mixed and kneaded for a long period of time in a process called conching, which yields a smoother, shinier dark chocolate product with a better mouthfeel.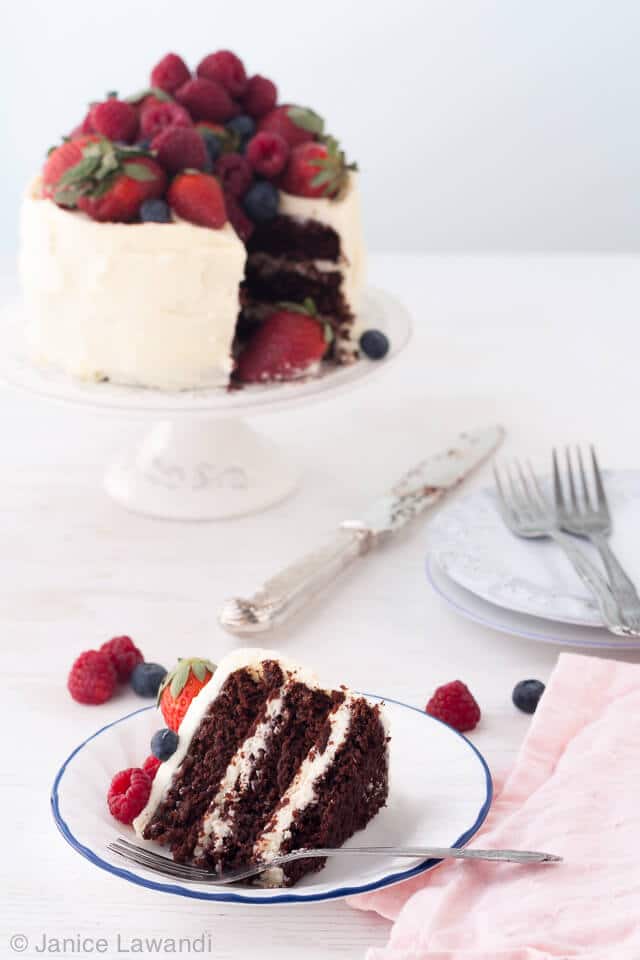 Non-chocolate substitute for cocoa powder
Let's not forget carob, the trendy non-chocolate substitute for cocoa powder that was quite popular back in the '80s. Having developed a few recipes with carob for clients, I still feel that carob isn't a very good cocoa powder substitute so I wouldn't advise it. The flavour isn't the same!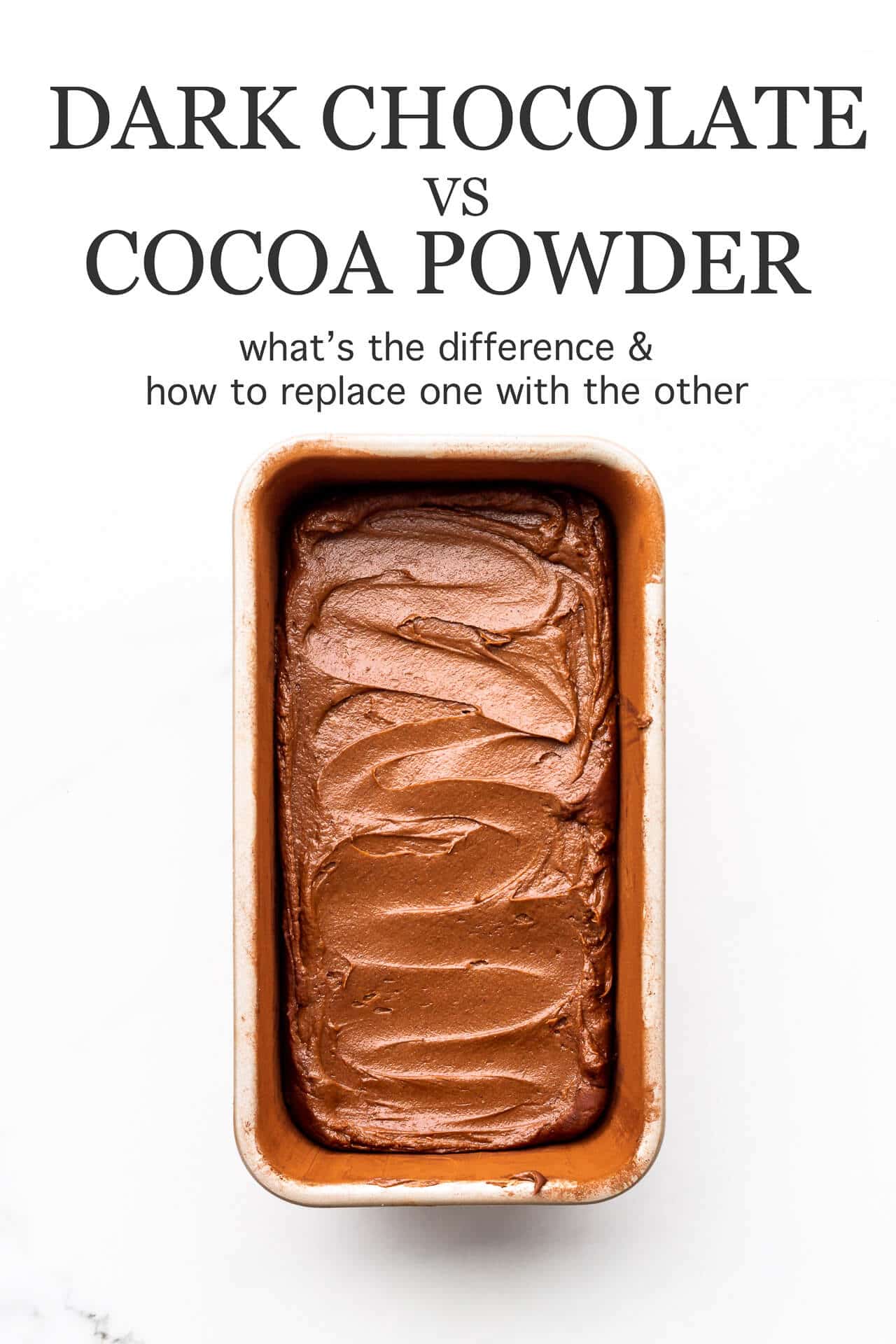 Baking a chocolate cake without cocoa powder: is dark chocolate a good substitute for cocoa powder?
Replacing cocoa powder with melted dark chocolate in a baking recipe can be tricky, but it is possible to use it as a substitue for cocoa powder! This peanut butter chocolate cake is a proof that you can make a chocolate cake with melted dark chocolate instead of cocoa powder.
Remember, dark chocolate has more cocoa butter and might have other fats to help it melt smoothly. Dark chocolate also contains sugar, sometimes a lot of sugar, and dairy.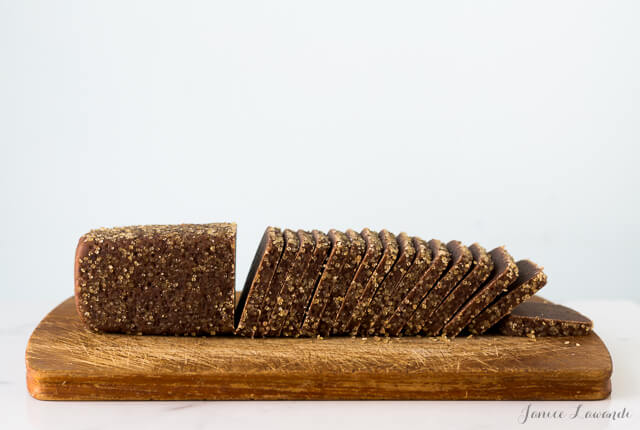 On the other hand, cocoa powder is mostly cocoa solids and lower in cocoa butter and in fat. Cocoa powder is high in flavour, especially those bitter chocolate notes.
This means you can't replace 100 grams of cocoa powder with 100 grams of melted chocolate. This also means that you can't incorporate melted chocolate, a liquid of sorts that can seize and harden, into a recipe the same way you would cocoa powder, a dry ingredient:
Incorporating cocoa powder in a recipe—the dry method: any additional dry ingredients, like cocoa powder, should get whisked or sifted with the other dry ingredients (flour, baking powder, baking soda, salt, ground nuts, etc.). Sifting is important when you bake with cocoa powder because it can be clumpy.
Incorporating cocoa powder in a recipe—the wet method: some bakers like to mix cocoa powder with hot water or hot coffee to "bloom" the cocoa, leading to a more intense chocolate flavour in baked goods
Incorporating melted chocolate in a recipe: melted chocolate can be added to a recipe at the beginning (like in this gluten-free chocolate cake), in the middle (like in these chocolate crackle cookies), or at the end (like in this peanut butter chocolate cake). In fact, sometimes melted chocolate is even the last ingredient added to a cake batter or cookie dough. But in all cases, you have to melt the chocolate first before incorporating it into your recipe for a more even incorporation of the product into the recipe.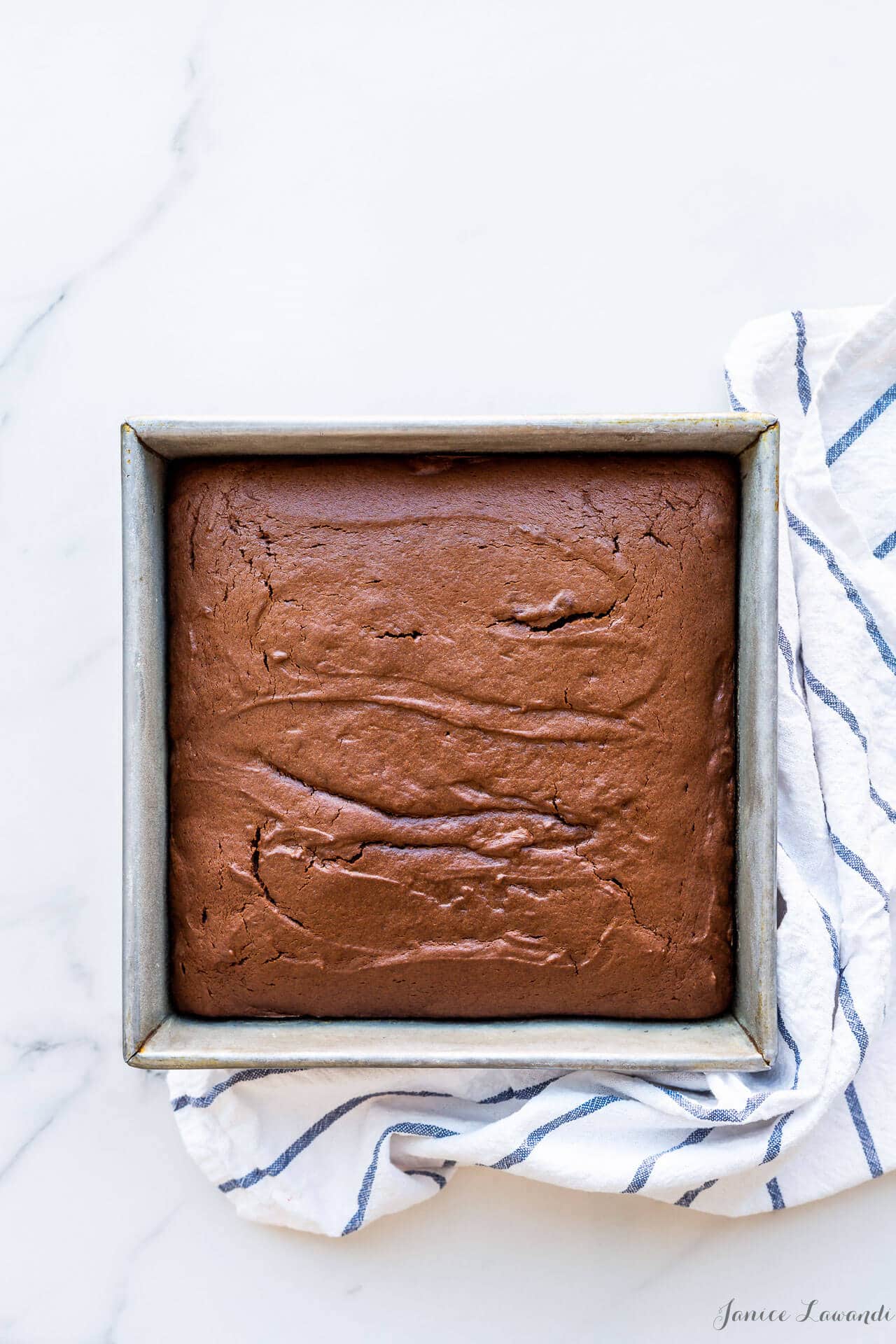 FOR THE BEST results when replacing cocoa powder WITH DARK CHOCOLATE, USE REALLY GOOD CHOCOLATE!
Cocoa powder is lower in fat than chocolate and high in flavour, with no sugar added. This means if you want to replace cocoa powder with dark chocolate, you MUST use the best dark chocolate for baking because it is providing both flavour, structure, and texture to the recipe.
I like to bake with Cacao Barry Ocoa 70% dark chocolate, which is a professional quality dark chocolate that you can buy in IGA grocery stores in Quebec and online from Vanilla Food Company. It comes in 1 kilo resealable bags as pistoles (which resemble giant flattened chocolate chips) which make most baking projects super easy because you don't even have to chop it to melt it!
Ocoa is not overly sweet which means you aren't adding too much extra sugar when you bake with it. Ocoa has a deeper, bittersweet chocolate flavour that works well in baked goods.
These chocolate zucchini muffins are a prime example of baking with dark chocolate instead of cocoa powder.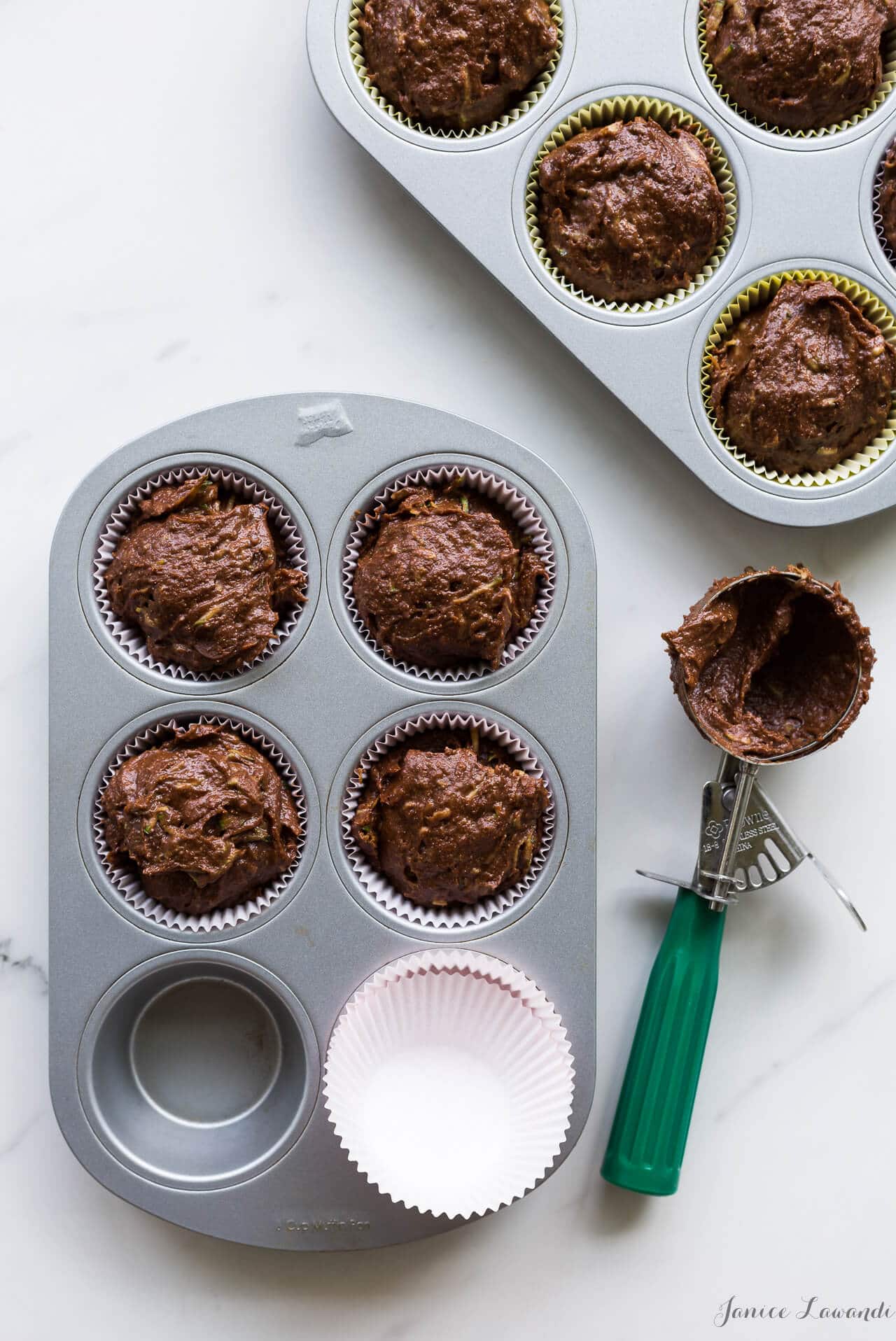 If you want to use dark chocolate to make a chocolate cake, you can replace cocoa powder in cake with melted dark chocolate in most baking recipes, but consider the following:
quality of chocolate: you will need to choose your chocolate wisely. To make a chocolate cake with dark chocolate instead of cocoa powder, choose a dark chocolate with a higher percentage cocoa content to get the most intense chocolate flavour.
sugar content: you should pick a dark chocolate that is not too sweet for baking. Avoid overly sweet dark chocolates and avoid using melted semi-sweet baking chips which have a lot of added sugars and a lot of added fats. Save the chocolate chips for chocolate chip cookies. Even if you are careful to choose a chocolate that isn't too sweet, know that you are still adding some sugar to your recipe so you may need to adjust the quantity of sugar in your recipe and reduce it to compensate for the sugar coming from the chocolate.
fat: dark chocolate has fat in it (cocoa butter and/or other fats) which means, you need to adjust the fat in your recipe if you are substituting cocoa powder with dark chocolate. Extra fat added to a baking recipe will disrupt gluten formation, which has pros and cons. The good thing about disrupting gluten formation is that less gluten means a more tender baked good. The bad thing is that if the gluten network is not formed enough, you may end up with a baked good that is overly crumbly and won't hold together properly. When baking with melted chocolate instead of cocoa powder, you may have to reduce the amount of butter or oil you use in your recipe.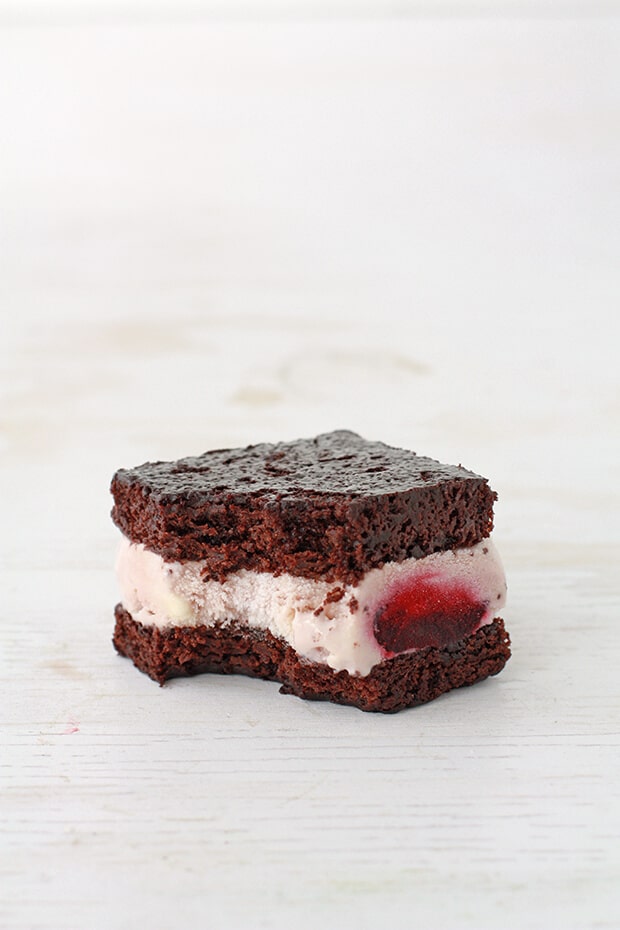 Keep in mind this conversion ratio when substituting dark chocolate with cocoa powder or vice versa
According to Paula Figoni in her baking science book How Baking Works (available on Amazon), most pastry chefs use the following ratio for substituting dark chocolate with cocoa powder and vice versa:
replace 100 g dark chocolate with 56 grams cocoa powder + 44 grams fat (but many will go as low as 22 grams fat)
replace 56 grams cocoa powder with 100 g dark chocolate + reduce the fat in the recipe too, like by 20 to 40 g for ever 100 g of dark chocolate added
These numbers should guide you when you are swapping dark chocolate for cocoa powder, or vice versa, but you might have to do a few tests to get the recipe just right.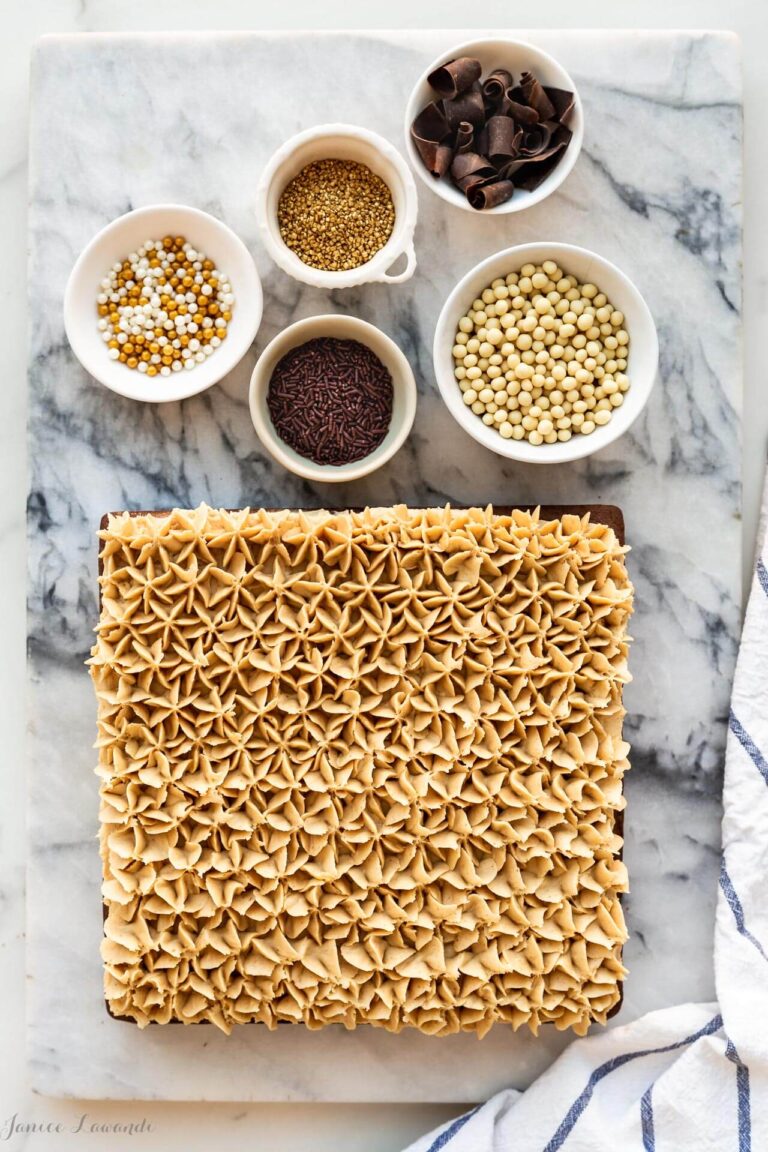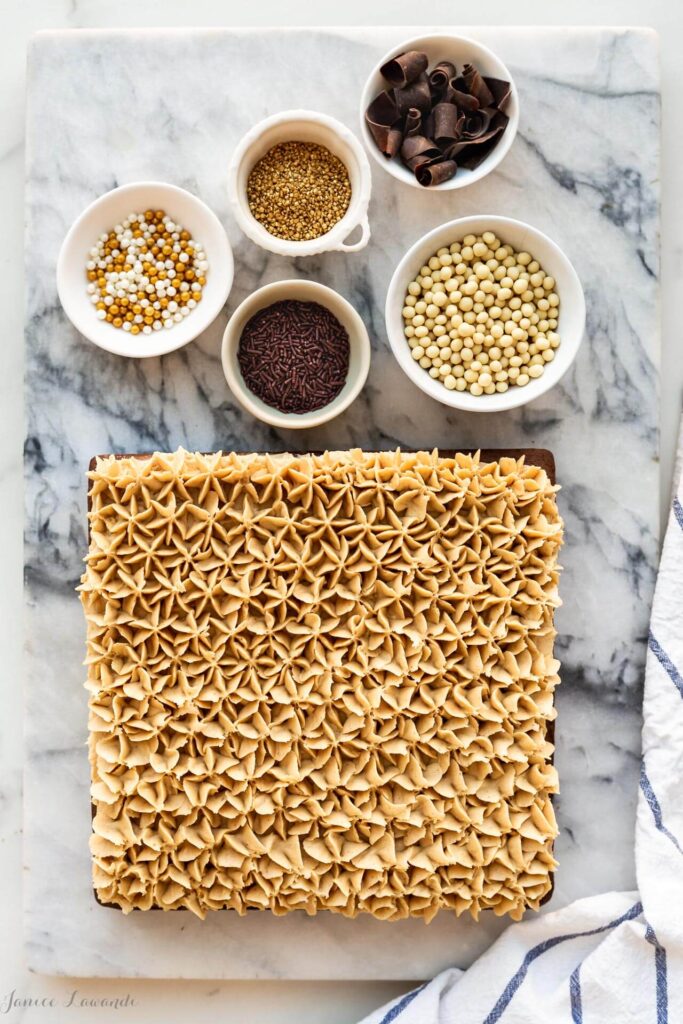 Paula Figoni's calculation is for unsweetened baking chocolate, so if you are working with a 70% dark chocolate like Ocoa from Cacao Barry, you may have to make a few more adjustments. The thing to note is that if you want to replace cocoa powder with dark chocolate, you will have to adjust the fat (maybe add less butter to the recipe) and you might also want to reduce the sugar depending on the chocolate you are using.
And, if all you have on hand is milk chocolate, don't use milk chocolate as a substitute for cocoa powder. It's too sweet and the flavour is sure to get lost in most baking recipes like chocolate cakes. Instead, make this raspberry chocolate tart, which has a milk chocolate ganache filling!
I have successfully replaced a portion of cocoa powder with dark chocolate in one-bowl brownies, for example, and in baked chocolate donuts. Sometimes the best way to maximize flavour and achieve the best texture is to work with a combination of cocoa powder and dark chocolate (or two combine two different types of chocolate like in these chocolate pots de crème made with milk and dark chocolate).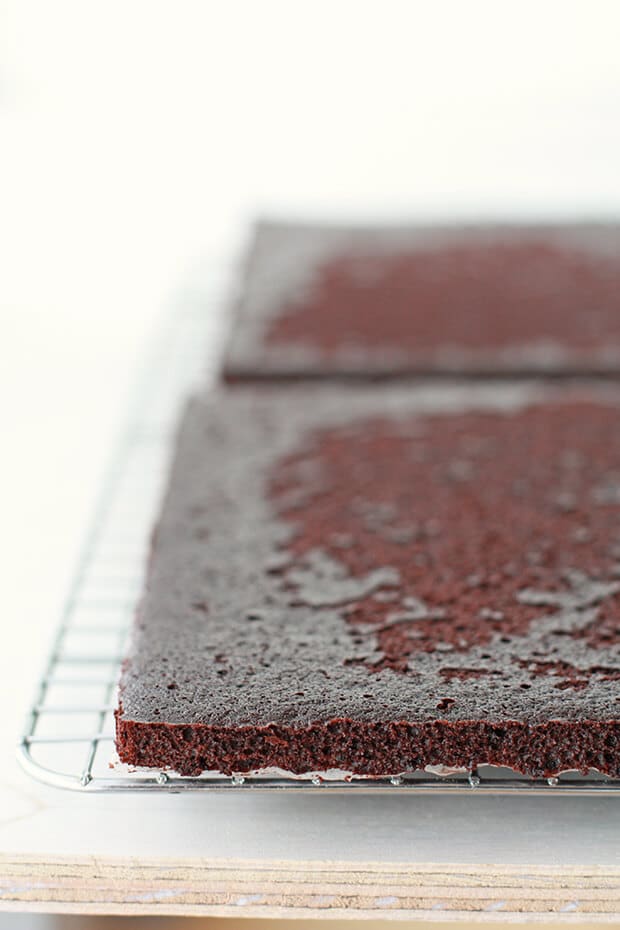 This post is sponsored by Cacao Barry. I was compensated monetarily and with product. Thanks for supporting the companies that allow me to create content for Kitchen Heals Soul. As always, please know that I wouldn't work with a sponsor nor recommend a product if it wasn't worth it.
Please note this post contains affiliate links to Amazon. If you buy a product I recommend, I will get a small commission, and the price you have to pay will not change in any way.