I baked these pots de crème, adapted from Aran Goyoaga's gorgeous new book. I could spend hours just looking at her book (or at her blog for that matter). I want to live in it. I want to eat everything in it. However, given the level of crisis at hand, I opted to start with one of her more chocolaty recipes.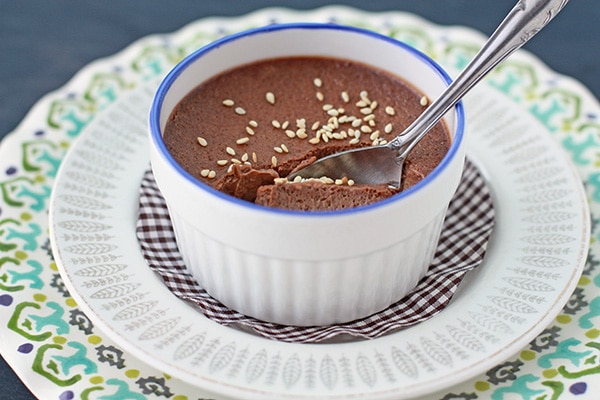 The original recipe was made with hazelnut butter, but given I'm allergic to hazelnuts, I substituted it with sesame butter. Chocolate and sesame work really well together, but I think the coconut milk used to prepare the custard came through more than the sesame. That being said, I'd still make this again because they were super chocolaty and luxuriously smooth. Perfect temporary fix for those moments of panic.
Chocolate sesame pots de crème
Ingredients
500

mL

canned coconut milk

I prefer Thai Kitchen for its flavor

1

vanilla bean

split lengthwise, seeds scraped

1

large egg

2

large egg yolks

50

grams

coconut sugar

2

tablespoon

tahini (sesame butter)

tahini

60

grams

Cacao Barry Alunga 41% milk chocolate

60

grams

dark chocolate

toasted sesame seeds
Instructions
Preheat the oven to 350°F.

In a medium saucepan, combine the coconut milk, vanilla bean/seeds, and stir over medium heat until it simmers.

Meanshiile, in a medium bowl, whisk together the egg, egg yolks, coconut sugar and sesame butter (try to get whisk out the lumps).

Combine the chocolates in another medium bowl.

When the milk mixture is steamy, pour the hot milk over the chocolate. Let it sit 1 minute, then whisk it slowly until the chocolate is melted and the ganache is smooth, then pour this mixture over the whisked egg mixture to temper them.

Strain the mixture into a large, 4 cup measuring cup or a bowl with a spout preferably. Then divide the chocolate custard between 6 ramekins.

Place the ramekins in a deep roasting pan and fill the pan with hot water so that it reaches halfway up the ramekins.

Bake the custards for 40 minutes or until the centers are completely set. Cool to room temperature before serving topped with a sprinkling of toasted sesame seeds.
Nutrition
Disclosure: I was provided with a free copy of Small Plates Sweet Treats to review, but my opinions in this post are my own.