This easy pots de crème recipe uses a stovetop method so it is a no-bake dessert that you can make ahead and chill until you are ready to serve it.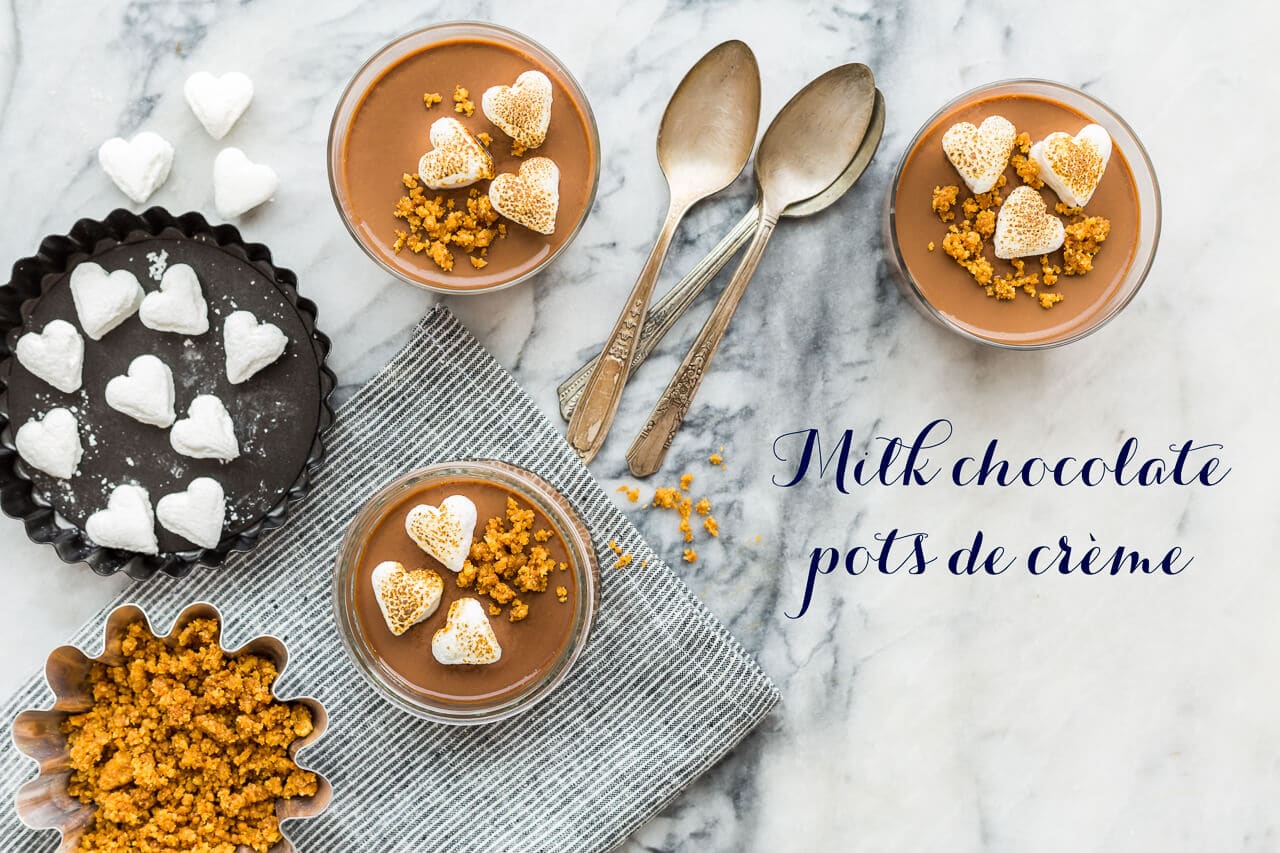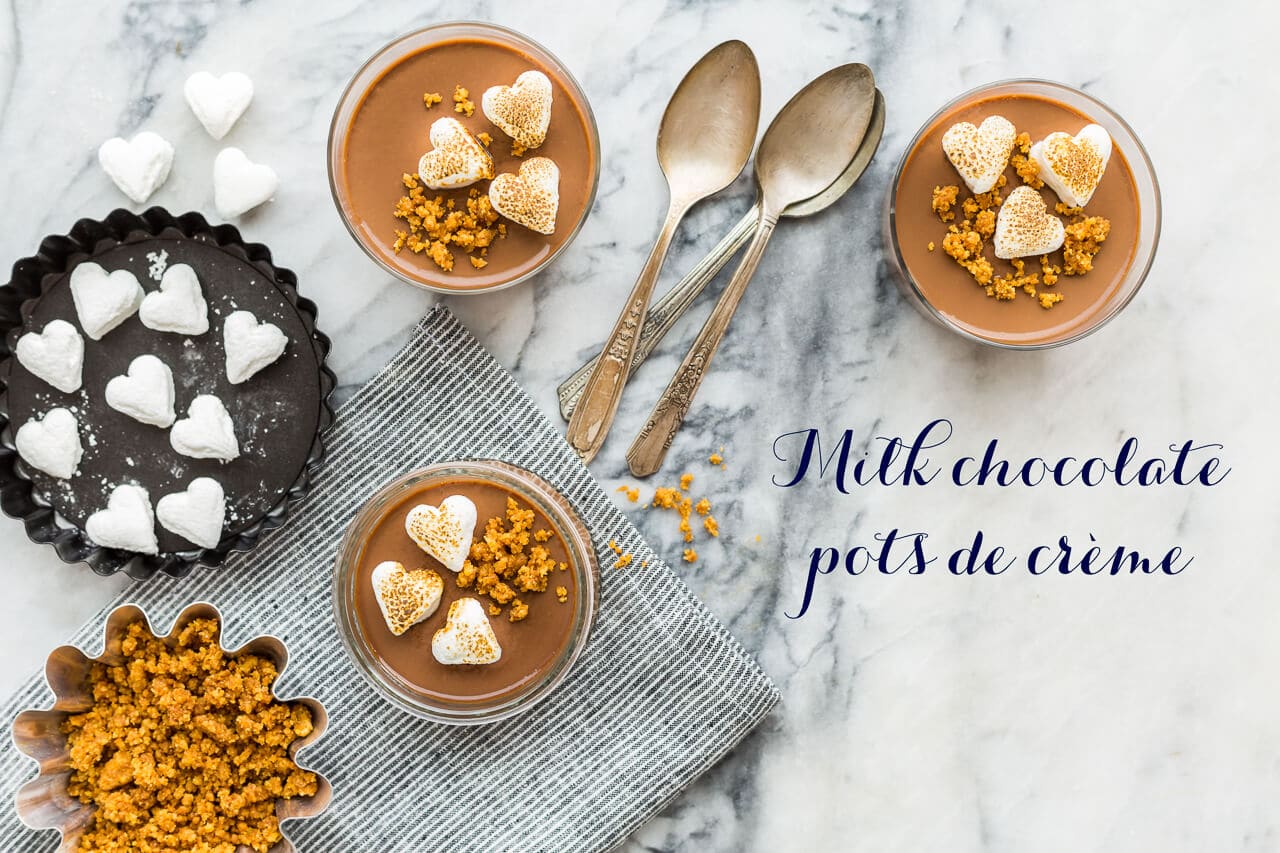 Disclosure: As an Amazon Associate, I earn from qualifying purchases.
This recipe for milk chocolate pots de crème was sponsored by Cacao Barry.
Last week, on Instagram, I asked the question: What chocolate treat should I bake next? The top result was pots de crème, followed by chocolate tart and chocolate pie, and of course there was cake. So, now that I know what some of you want to see, I will slowly make my way down the list of chocolate desserts. It's going to be awesome. Chocolate will be a food group in our diets, as it should be! First up on the list of chocolate desserts: the s'mores version of milk chocolate pots de crème, a.k.a another excuse for me to break out the heart-shaped cookie cutters. You know they are my favourite, right?
What are s'mores and what's in them?
S'mores are a campfire treat and there are three key ingredients to the perfect s'mores:
Graham crackers
Marshmallows (preferably toasted)
Milk chocolate
I was lucky to grow up eating s'mores at the cottage every summer, but I think that's a very North American tradition. You poke a big marshmallow or two onto a long stick "foraged" from the forest (so on trend!). Then you toast the marshmallow over an open campfire. The marshmallow roasts and turns golden brown and crispy on the outside and ooey-gooey on the inside. The molten interior allows you to sandwich the toasted marshmallow between graham crackers with a square of chocolate, which melts with the residual heat. S'mores are decadent, sticky and messy. They are the ultimate campfire treat.
S'mores for the rest of us
Unfortunately, most of us do not have access to campfires (I know, shocking!). I can't even imagine how my condo board would react if I built a fire on my balcony. They'd probably have me arrested. No campfires for me! That's why I love to make s'more desserts and s'more recipes that call for just a stovetop or an oven, which works better for the rest of us fireless city-dwellers. Remember, when I made s'more bars years ago? Those were so fun! These s'more chocolate pots de crème are another fun take on the classic summertime dessert. I guess you could call these indoor s'mores recipes because that's what they are: versions of s'mores you can make in the oven or on the stove (with the help of a kitchen torch)!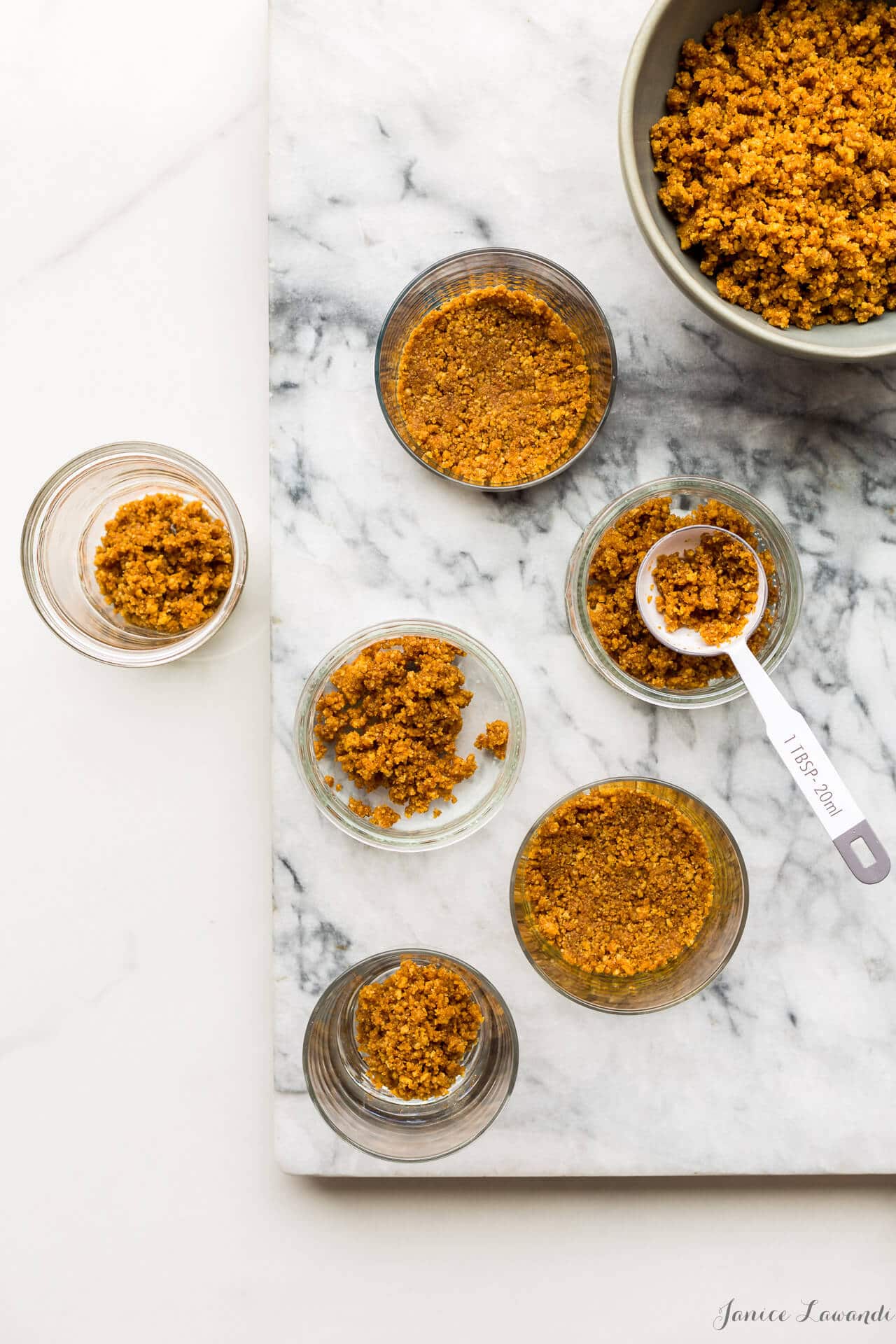 What you need to make these pots de crème with milk chocolate
There are three components to this milk chocolate dessert:
No-bake graham cracker crumb crust
Chocolate pot de crème custard base
Marshmallows
Graham cracker crumbs or a no-bake graham cracker crust
You could definitely go to the trouble of baking homemade graham crackers for this recipe but, honestly, you don't have to. Regardless of whether you bake a batch of graham crackers or buy them at the store, you can crush them to form the base of these milk chocolate pots de crème.
You can use the graham cracker crumbs as is, or do as I do and mix them with a little sugar and melted butter, much like you would make a graham crust for a no-bake cheesecake. "Butter makes everything better" is a way of life and basically my daily motto. The graham cracker crumbs serve as a base and a topping.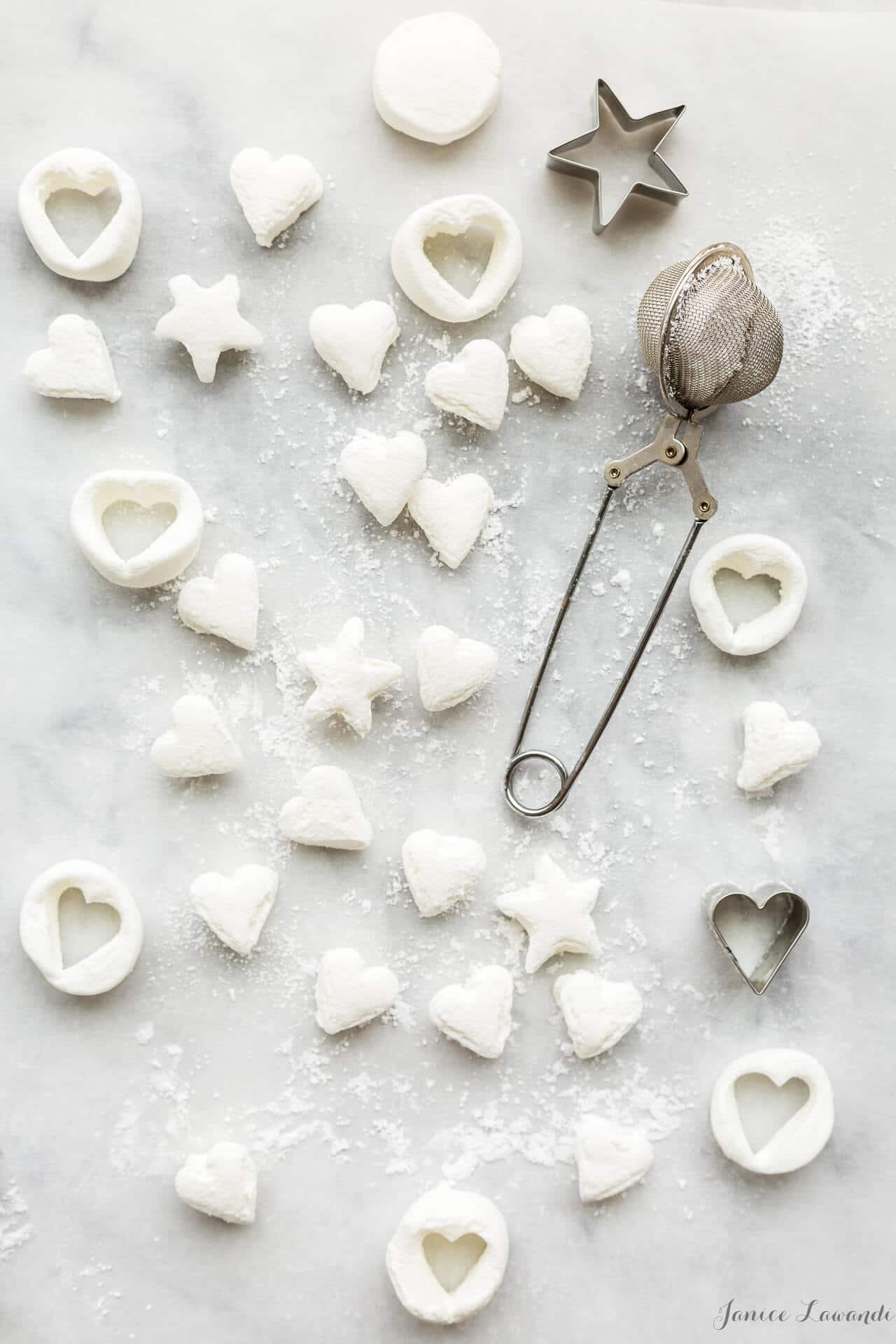 Marshmallows
I think we are all fully aware that you can make marshmallows at home and it isn't *that* difficult, but... ain't nobody got time for that! Or maybe you do? I don't know. If you do, go for it and whip up a batch so you can cut them out as you wish.
I took a shortcut for the marshmallow topping: I bought big marshmallows at the grocery store (super cheap!). I cut them into the shapes I wanted with mini cookie cutters. This satisfied my need for marshmallows right away, while also giving me an opportunity to be a little crafty.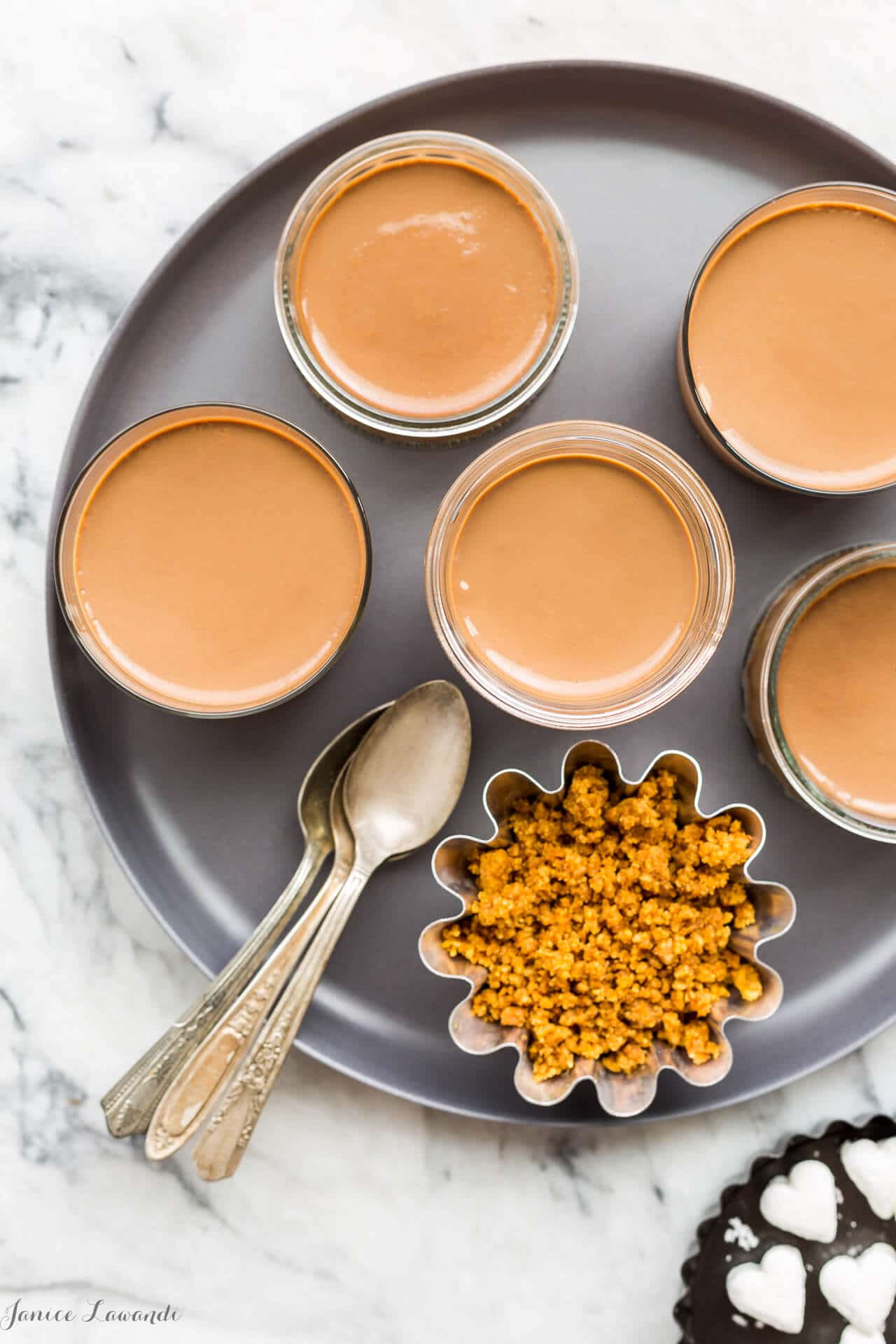 Ways to make pots de crème
Pots de crème are much like a creamy chocolate custard made from cream, milk, sugar, eggs, and chocolate. There are two ways of making them:
Oven-baked pots de crème: you can bake pots de crème in the oven in a water bath as I did for these white chocolate pots de crème or dark chocolate pots de crème. The results of oven-baked pots de crème are fantastic, as long as you are careful to use a water bath to control the baking
Stovetop pots de crème: you can make pots de crème by cooking it on the stove, much like you would any kind of custard or pudding. All you have to do is

heat the milk/cream in a pot
whisk the eggs with the sugar in a separate bowl
temper the eggs with the hot milk
return the tempered mixture to the pot
stir like mad on low heat to thicken the custard without overcooking the eggs
strain the pudding over chopped chocolate, mix well, transfer to jars, chill, et voilà!
I know it sounds like a lot of steps but if you can make a custard like a classic vanilla bean pastry cream, you can make stovetop milk chocolate pots de crème.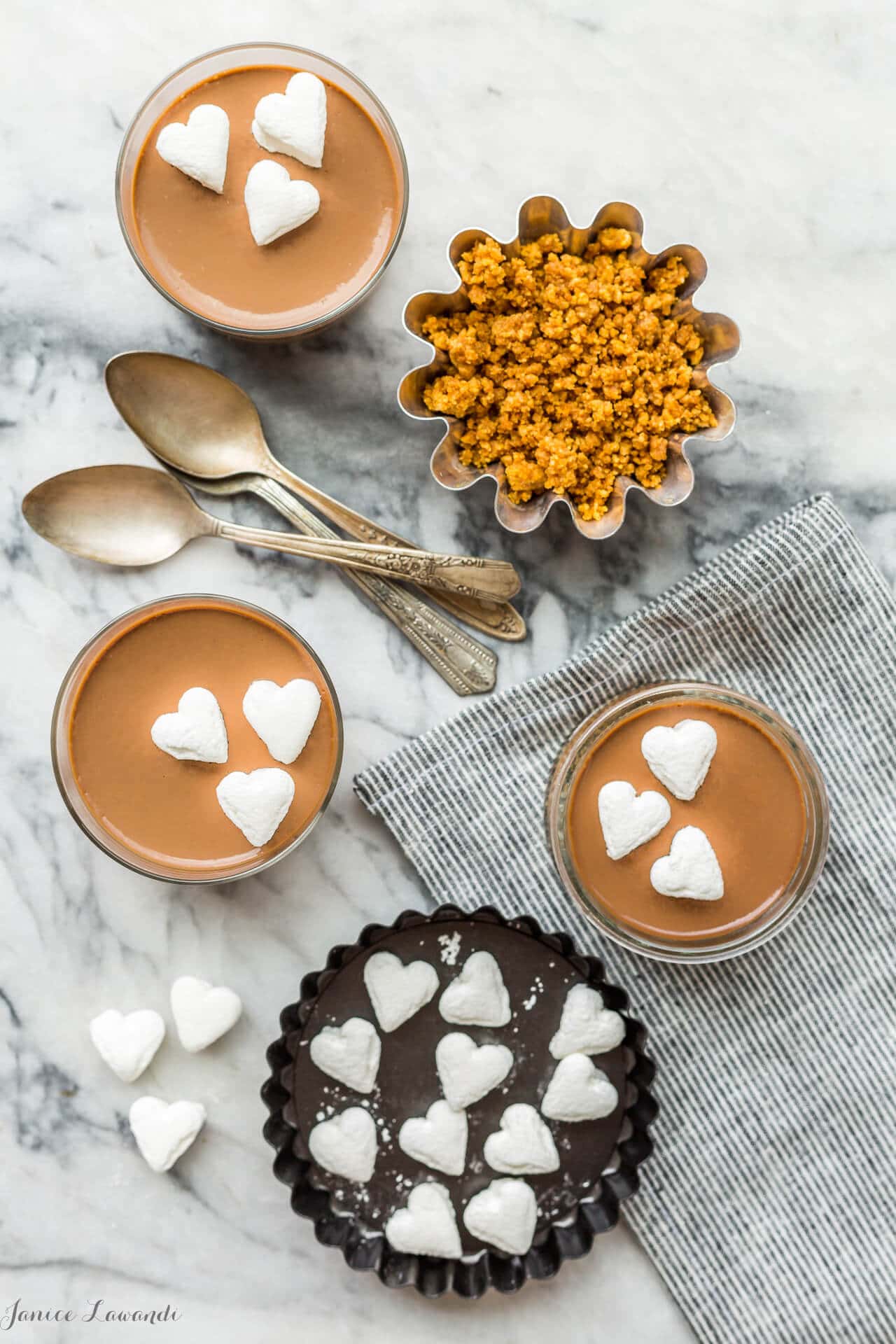 Pastry tip for getting rid of bubbles in custards, puddings, or pots de crème
Air bubbles in puddings or pots de crème aren't that big a deal, but let's discuss. Visually, they aren't ideal. Fine. More importantly, if you are planning on storing these pots de crème for a few days, air bubbles may reduce the shelf life of the dessert. So, if you find you have a lot of bubbles on the surface of the pots de crème BEFORE they set, you have a few options to get rid of them:
Tapping the jar on the counter a bunch of times can push the bubbles up to the surface
Spinning the jar can help pop them (this works for cake batter in cake pans too!)
Pop them with your finger (if spinning doesn't work)—I have very mixed results with this and I find it frustrating to do
Pass the mixture through a strainer (this does work quite well sometimes)
If there are a lot of bubbles on the surface, use a blow torch VERY GENTLY. Just move the torch back and forth very briefly over the surface, never stopping in any one place. The heat of the torch *should* do the trick of popping the bubbles on the surface.
Chocolate quality
The key to simple desserts like this is good quality ingredients, specifically the best chocolate for baking, in this case the best milk chocolate, which is the star of this dessert recipe. For this recipe, I used Cacao Barry Alunga 41% milk chocolate, which is referred to as the milk chocolate for dark chocolate lovers and makes the most unctuous milk chocolate desserts. Want to grab a bag to see for yourself? (trust me, you do!) If you are located in Quebec, check with your local IGA stores because they should carry it! Or, if you are elsewhere in the world, I recommend ordering online from Vanilla Food Company. They will ship it to you and they have a great selection of Cacao Barry chocolates for you to bake with and enjoy.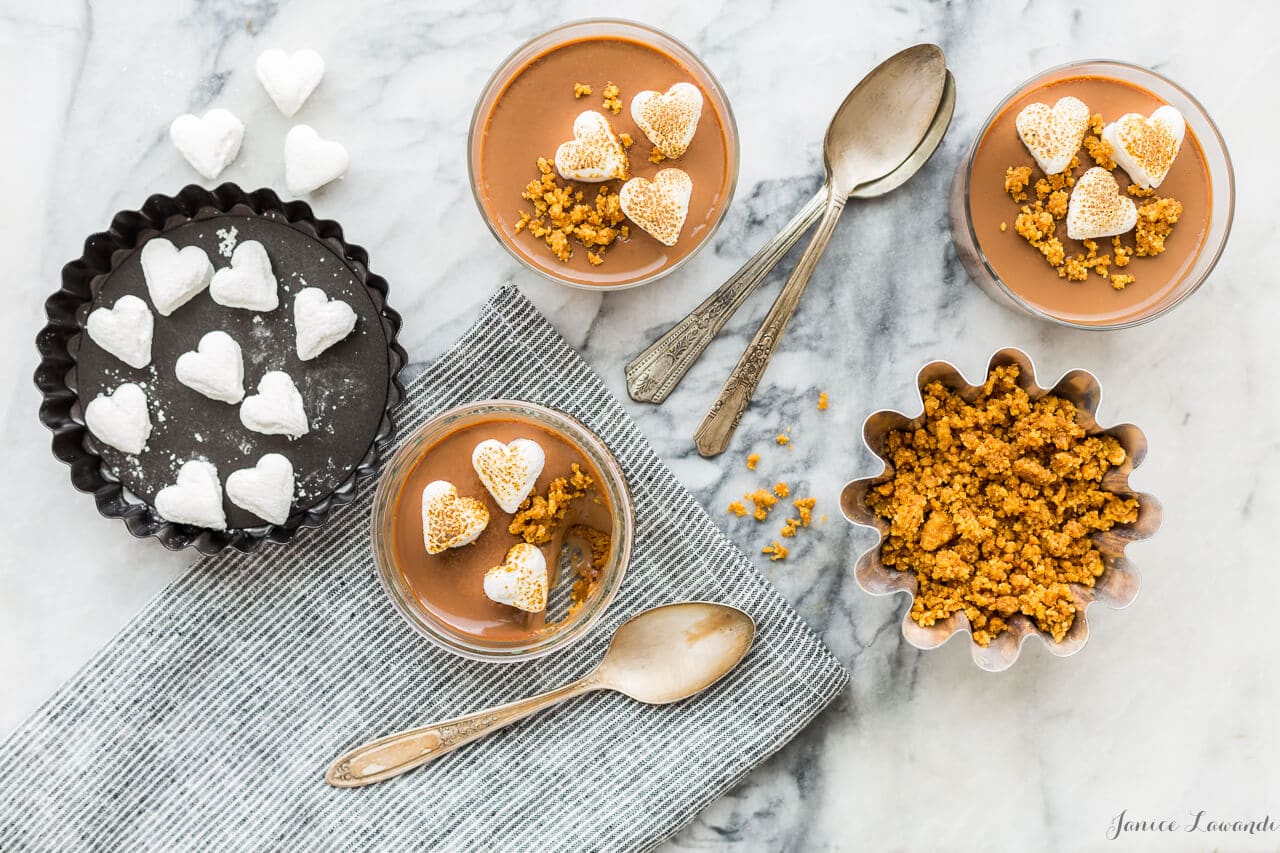 📖 Recipe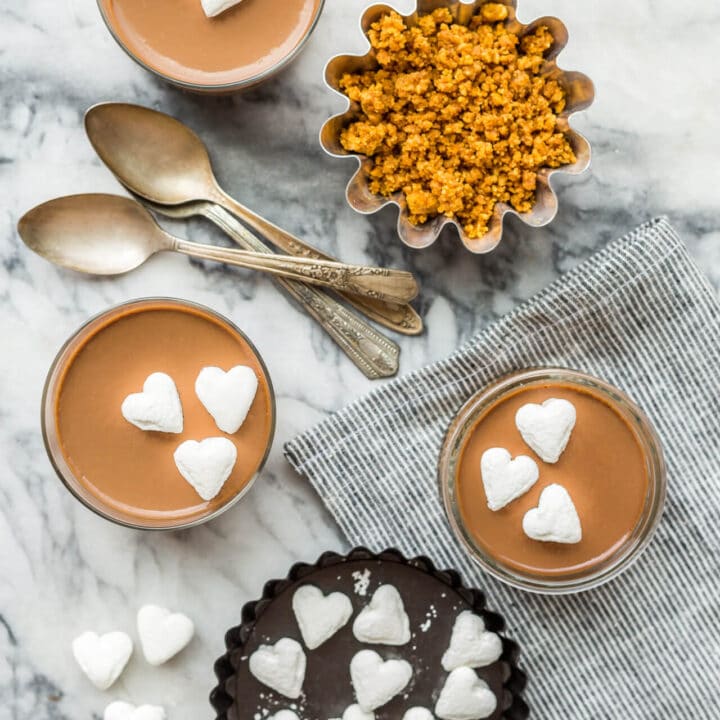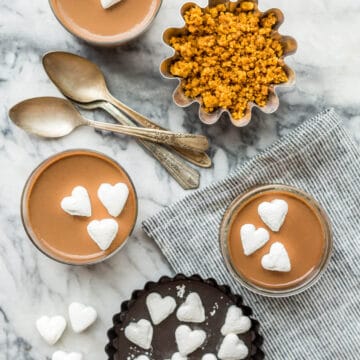 Easy Milk Chocolate Pots De Crème (Stovetop Method)
Easy milk chocolate pots de crème made just like s'mores with a graham cracker cookie crumb crust and marshmallows on top
Ingredients
Graham cracker crumb crust
Milk chocolate pots de crème
250

mL

whole milk (3.25 % fat)

250

mL

whipping cream (35 % fat)

5

large egg yolk(s)

50

grams

granulated sugar

1.25

mL

pure vanilla extract

175

grams

Cacao Barry Alunga 41% milk chocolate
S'more garnish
9

jumbo marshmallows

cut in half

½

batch

graham cracker crumb crust

saved from above
Instructions
To make the graham cracker crumb crust
In a bowl, mix together the graham cracker crumbs, melted butter, and granulated sugar. Add a pinch of salt if you would like. When the mixture is well mixed, divide in half. Split the first half between 6 glasses or jars and press gently to form a bottom crust in each glass. Place on a sheet pan or a tray. Reserve the rest of the graham cracker crumble for later
To make the milk chocolate pots de crème (stovetop method)
Heat the milk and the cream in a large saucepan.

In a large bowl, whisk together the egg yolks with the sugar to lighten them. Chop the chocolate and place it in a separate large bowl. Place a strainer over the bowl with the chocolate.

When the milk is very hot (almost boiling), take it off the heat and pour it over the whisked eggs and whisk to temper the eggs. Transfer back to the saucepan and heat on medium–low, whisking constantly.

When the mixture has thickened and reaches a temperature of about 80–83ºC (175–180ºF), take it off the stove and immediately pour through the strainer.

Let the mixture sit for 2 minutes, then stir slowly to melt the chocolate and form an evenly mixed chocolate custard. Be sure to scrape the bottom! You may want to use a hand blender to smooth it out but this might result in air bubbles.

Divide mixture between the 6 glasses or jars that have a graham cracker crust base. Place in the fridge and let chill 4 hours or overnight.
S'more pots de crème assembly
Cut out hearts or stars if desired with tiny cookie cutters greased with a little oil. Toss the marshmallow cutouts in a little powdered sugar to prevent sticking and place on a plate.

When the pots de crème are set, garnish with marshmallow hearts and use a kitchen torch to lightly toast them. Sprinkle with saved graham cracker crumble.
Nutrition
Calories:
635
kcal
Carbohydrates:
76
g
Protein:
8
g
Fat:
36
g
Saturated Fat:
20
g
Polyunsaturated Fat:
2
g
Monounsaturated Fat:
11
g
Trans Fat:
1
g
Cholesterol:
234
mg
Sodium:
187
mg
Potassium:
220
mg
Fiber:
2
g
Sugar:
54
g
Vitamin A:
1017
IU
Vitamin C:
1
mg
Calcium:
116
mg
Iron:
2
mg
This post is sponsored by Cacao Barry. I was compensated monetarily and with product. Thanks for supporting the companies that allow me to create content for Kitchen Heals Soul. As always, please know that I wouldn't work with a sponsor nor recommend a product if it wasn't worth it.
Please note this post contains affiliate links to Amazon. If you buy a product I recommend, I will get a small commission, and the price you have to pay will not change in any way.