Earl grey lavender chocolate truffles are surprisingly easy to make and made with only 4 simple ingredients: chocolate, tea, cream, and cocoa powder. Find out how to flavour chocolate truffles and chocolate ganache with tea and lavender so you can make these truffles today!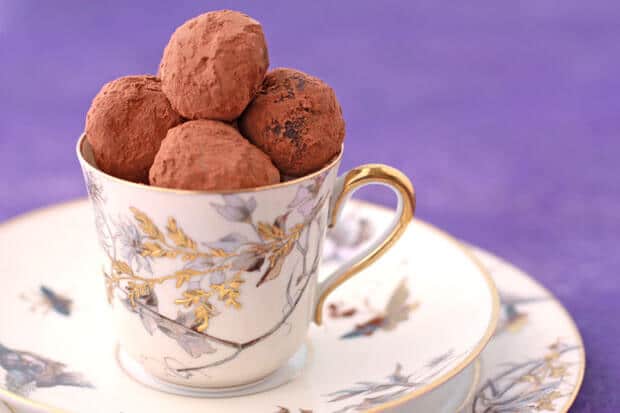 Disclosure: As an Amazon Associate, I earn from qualifying purchases.
Truffles are made with ganache
The simplest dark chocolate truffles are made from a chocolate ganache that has a 1:1 ratio of dark chocolate to cream. Given that, at their core, truffles only have two ingredients, make sure to use the best chocolate and cream you can buy because this is a recipe where the chocolate shines!
I like to use a 70% dark chocolate from Cacao Barry called Ocoa, which has sour, fruity, and woody notes that are perfect paired with Earl Grey tea and lavender. Be sure to taste the chocolate you are going to use to make truffles. You want to make chocolate ganache and truffles with a chocolate that you enjoy eating.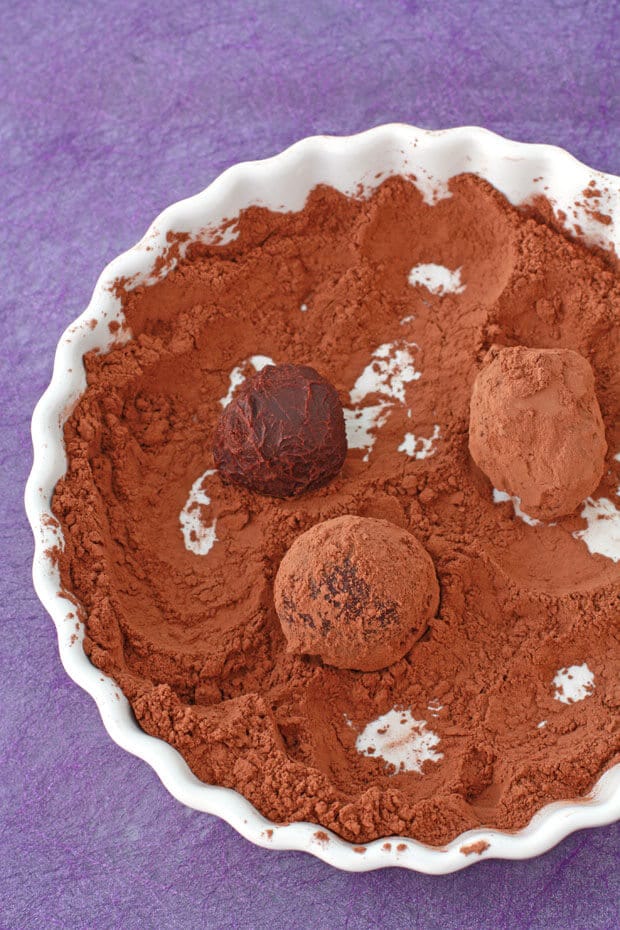 The great thing about chocolate truffles is that they are great enjoyed as is, but you can also slip in a little flavour. When flavouring truffles, try to think about the type of chocolate you are using and its flavour profile so that you can pair it with the right ingredients:
Is the chocolate fruity? Perhaps you can enhance that with a cream infused with lemon or orange zest
Is the chocolate flowery? This might be perfect paired with Earl grey tea and/or lavender buds
Is the chocolate woody? This chocolate might be great with some cinnamon or chilli to make a spicy batch of truffles with a little kick to them
Is the chocolate nutty? Try adding in a little amaretto liqueur to your ganache!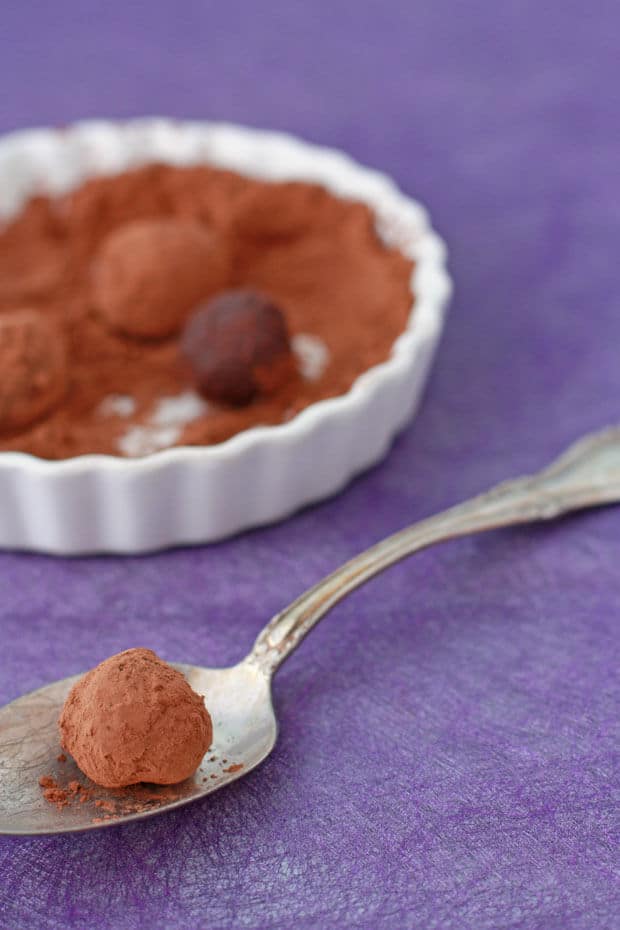 How to flavour truffles
It's so easy to add flavour to chocolate truffles, by adding tea, herbs, citrus zest, and spices to the hot cream, and letting it steep before pouring it over the chocolate. The key is to add as much flavour to the cream as possible. Actually, this is the same technique as for flavoured panna cotta, where you infuse the milk/cream with tea or another flavour before making the final panna cotta mixture. These recipes for Earl Grey panna cotta tarts, Earl Grey chocolate tart, and Earl Grey hot chocolate are prime examples of infusing tea flavour into desserts. I've infused frosting and cake layers to make this impressive Earl Grey cake.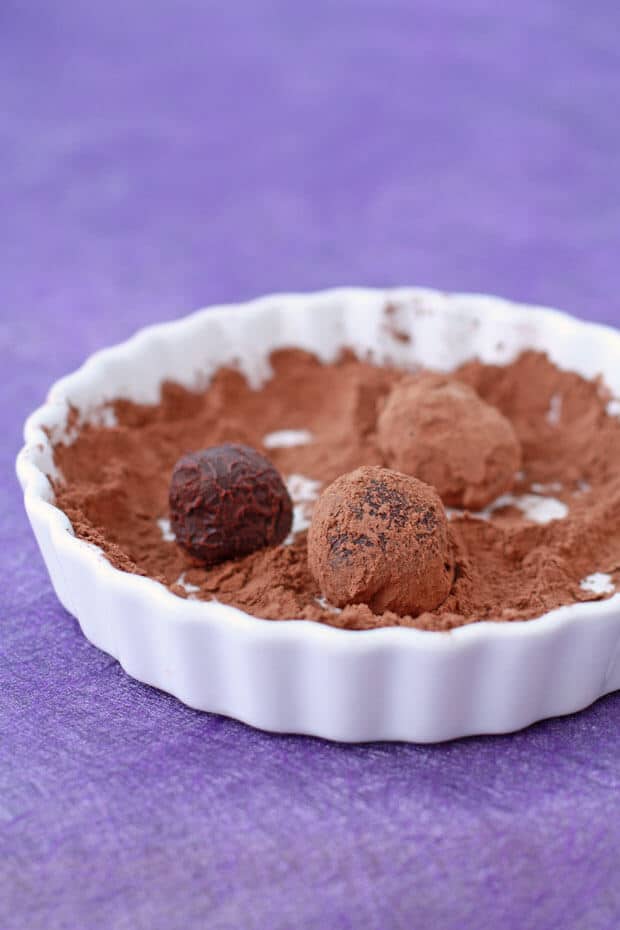 Easy truffles recipe
These easy Earl grey chocolate truffles  are perfectly smooth, mildly floral and citrusy from the lavender and Earl grey. You could infuse the cream with any of your favourite teas/herbs, but I love Earl grey and lavender tea. For a more pronounced flavour, double up on the tea and infuse the cream for longer. Chocolate truffles are easy to make. Try them and see for yourself. If you like to make chocolates and confections, try these chocolate booze balls, birthday cake truffles and fruitcake truffles too!
📖 Recipe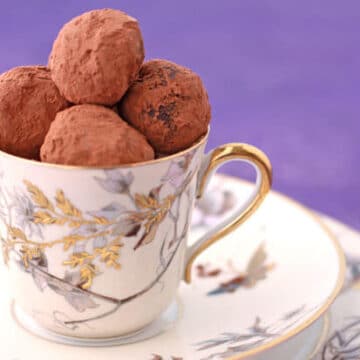 Earl Grey Lavender Chocolate Truffles
This is an easy chocolate truffles recipe. You can make plain truffles or you can flavour the cream with tea leaves to make Earl Grey chocolate truffles or Earl Grey lavender chocolate truffles.
Instructions
In a small saucepan, combine the butter and the cream, and heat over medium heat to melt the butter. Bring the mixture to a light simmer, add the tea, and reduce the heat to medium-low. Continue simmering for about 10 minutes to infuse the cream with the tea flavor.

In the meantime, pulse the dark chocolate pistoles in the food processor to grind the chocolate. Transfer the ground chocolate to a metal bowl.

When the tea has steeped sufficiently, strain the cream mixture over the chocolate, pressing the tea leaves into the strainer to extract all the cream. Whisk the cream/chocolate mixture until the chocolate is melted and the mixture is smooth.

Cover the bowl with plastic wrap and chill it for about 2 hours until the mixture is firm enough to scoop and roll into truffles.

Toss each truffle in the cocoa powder to coat it, tapping off the excess.

Store the truffles in an airtight container.
Nutrition