You can make candy at home and it's easier than you think. Turn buttered popcorn into popcorn brittle with this easy recipe!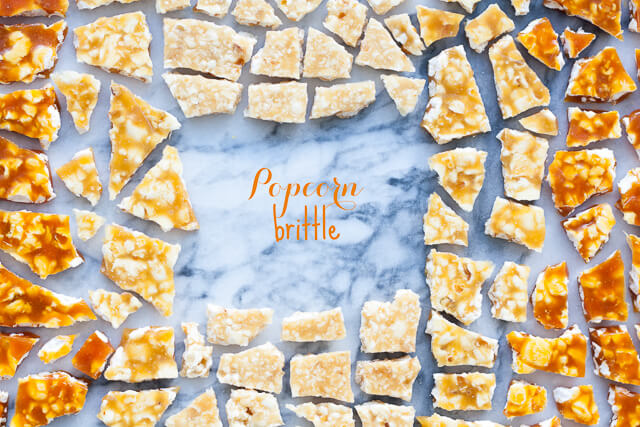 Disclosure: As an Amazon Associate, I earn from qualifying purchases.
I have been meaning to make popcorn brittle for a very, very long time, and then Popcorn, Indiana sent me some of their Movie Theatre popcorn to try out! It was fate, I tell you. Now, I need to preface this by saying that I do not mention all the products that I get sent, but I could not pass up the opportunity to mention this popcorn and use it in a new recipe because... I am in love.
As you probably have noticed, I am completely obsessed with popcorn, and sometimes, when I'm in a particularly lazy mood, I buy the pre-popped stuff. So, I'd like to think of myself as somewhat of a popcorn connoisseur because I have tried popcorn from a lot of different sources. I always enjoy the store-bought popcorn because it's popcorn and I'm addicted, but usually the pre-popped popcorn is WAY too salty for me (even when I buy the supposed "good brands"). Every time I consume it, I wake up with a popcorn hangover the next morning: a mix of puffy eyes, dry, salt-burned lips, and dehydration. OK, so maybe it's also because I consume a little more than "1 serving" of popcorn. Can you blame me?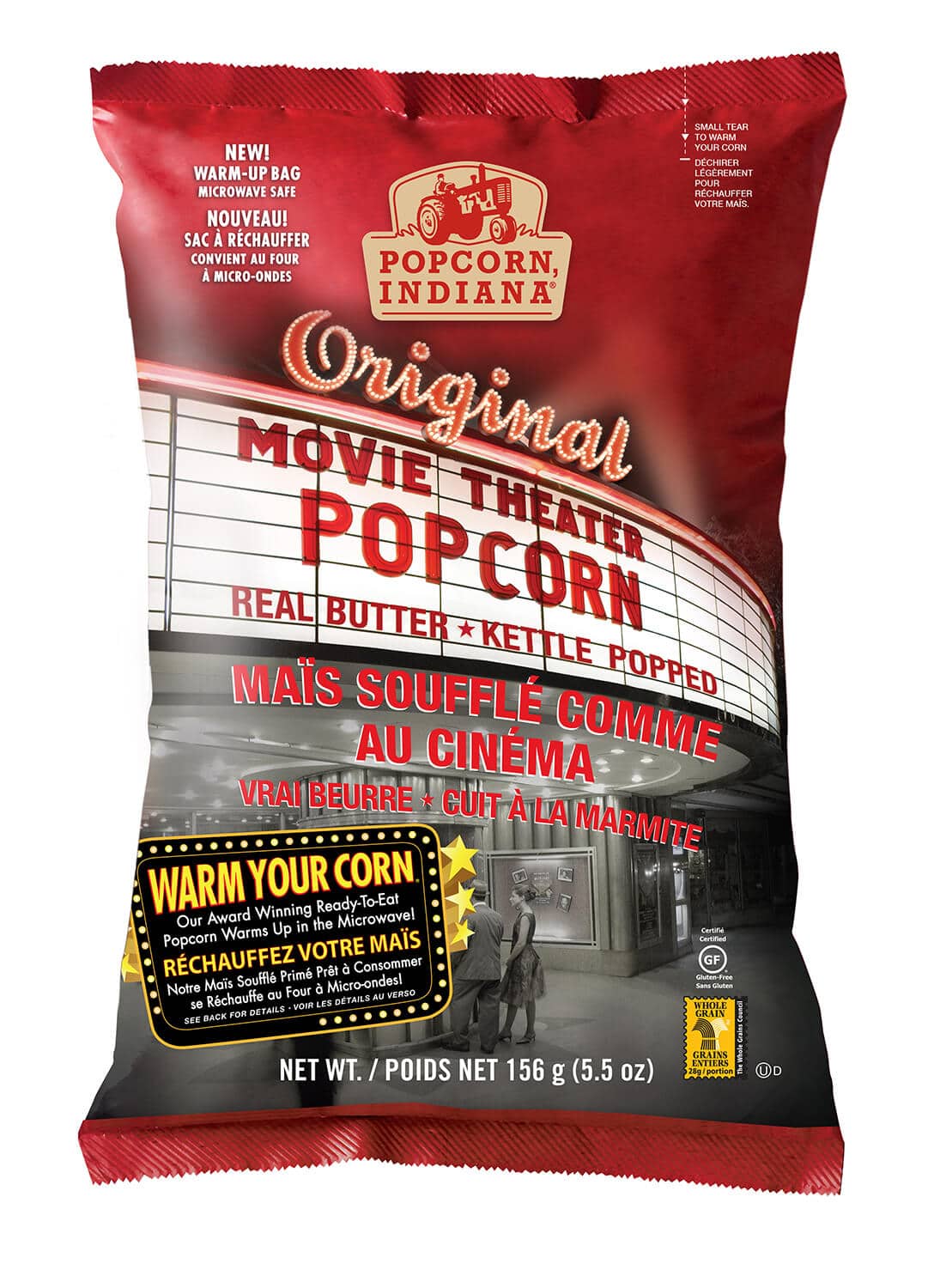 What I love about the Popcorn, Indiana Movie Theatre popcorn is that it has less (if any!) of those annoying super crunchy/tooth-breaking partially-popped kernels. It also has less salt (about half the salt per serving compared to a brand that I often buy) and it's made with clarified butter! Butter! In fact, this movie theatre-style popcorn only has 4 ingredients listed on the label, which I think is great because popcorn shouldn't come with a list of 20 ingredients: it's as simple as popcorn, canola oil, clarified butter, salt. I'd actually say it tastes less like movie theatre-style popcorn and more like actual, real homemade buttered popcorn, and that makes me happy. I'm probably going to be smuggling some into the movie theatres next time I go...It also comes with an option to heat it in the bag in the microwave, but I actually preferred the texture when I skipped the heating process.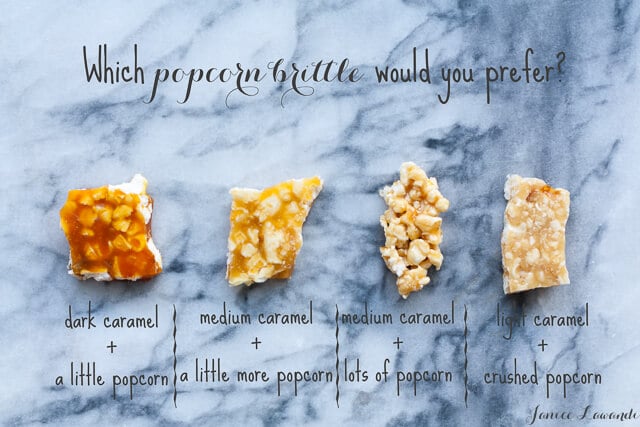 I took the delicious Popcorn, Indiana Movie Theatre popcorn and worked on the recipe I had been dying to try: popcorn brittle. I made 7 batches so that I could figure out how caramelized the brittle should be without compromising butter flavour and also to find out just how much popcorn I could get into the brittle while still being able to call it brittle:
when too much popcorn is added, the candy is less brittle-like and more of a caramel corn.
darker caramels lead to delicious brittle, but that deep caramel flavour masks the buttery popcorn taste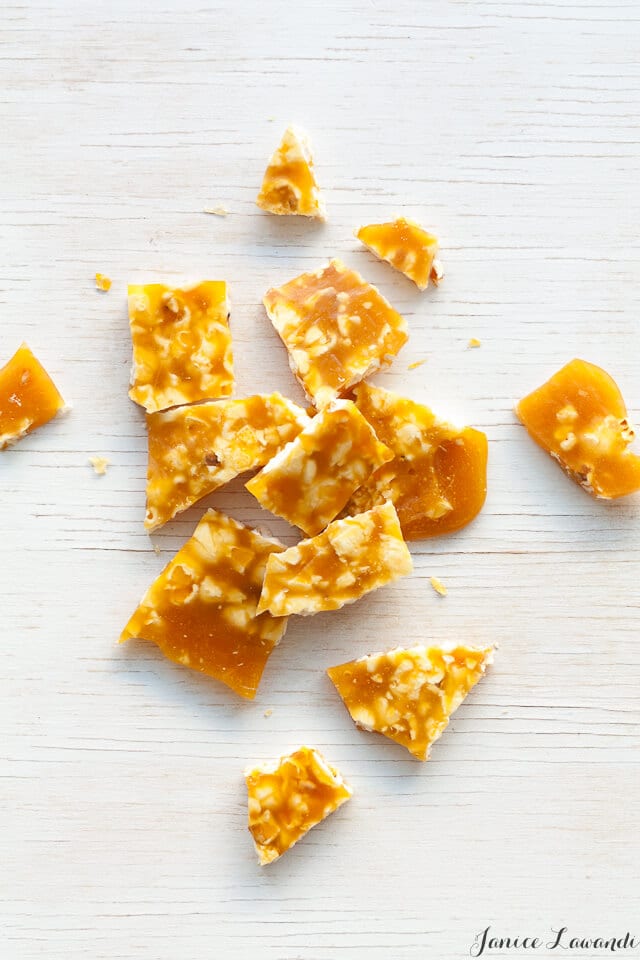 All popcorn brittles are delicious. I opted for the simplest brittle recipe, combining water, sugar, crushed Popcorn, Indiana Movie Theatre popcorn, and a little extra butter and salt. Corn syrup helps prevent the syrup from crystallizing while you are cooking the brittle. We aren't using baking soda because the flavour of residual baking soda would leave a flavour that masks the popcorn flavour. Darker caramel brittles are yummy, but in this case, you should opt for a light to medium caramel colour to avoid masking the delicious butter taste. How much popcorn you add is up to you: 5 cups of popcorn yields a brittle that's more like caramel corn while just a cup and a half leads to a popcorn brittle that is much more brittle-like.
Once you've made 7 batches of popcorn brittle, you can hide some of it in these popcorn brittle brownies. And if you want to try your hand at making other types of candy, try make sea salt caramels and traditional maple fudge.
📖 Recipe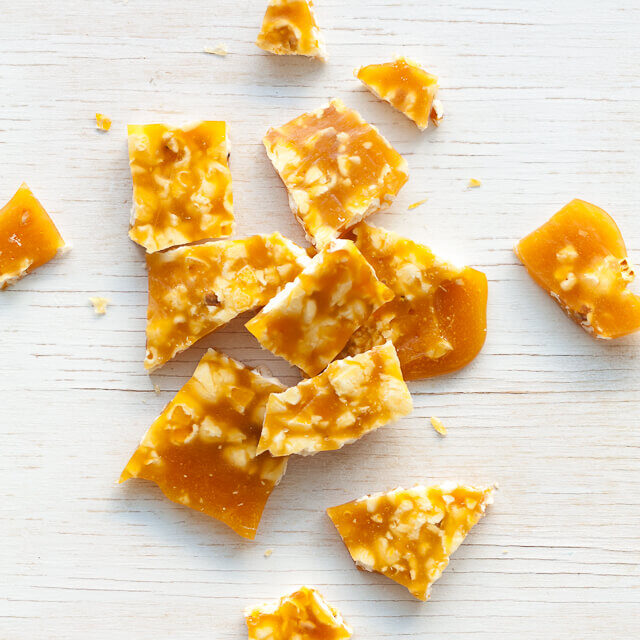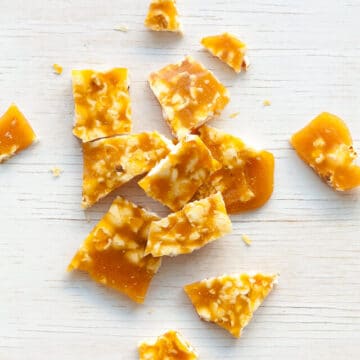 Buttered Popcorn Brittle
Make brittle that much more exciting by adding buttered popcorn to it to make crunchy buttered popcorn brittle.
Instructions
Line a sheet pan with parchment paper or foil and grease with nonstick cooking spray. I prefer parchment.

In a medium saucepan, combine the water, corn syrup, granulated sugar. Heat the mixture to 300 ºF (150 ºC), which is the hard crack stage.

Add the butter, and continue heat to 330–340ºF (166–171 ºC). This is past the hard crack stage and your mixture will have a light caramel colour to it. Remove the pan from the heat and immediately stir in the popcorn and the salt.

Working quickly, transfer the mixture to the prepared sheet, top with another layer of parchment and roll to the desired thickness. At this point, you can grease a chef's knife and score the brittle into small pieces to make cutting easier. When it's cold, snap it into pieces and store in a container.
Nutrition
Popcorn, Indiana sent me the popcorn used in this recipe. Thanks for supporting the sponsors that allow me to create new recipes for Kitchen Heals Soul. As always, please know that I wouldn't work with a sponsor nor recommend a product if it wasn't worth it.