You can make the best hot chocolate with just two ingredients: dark chocolate and milk. Start with the best dark chocolate you can buy. You can keep it simple or you can infuse the milk with Earl Grey tea, masala chai, spices, herbs, extracts, etc. Hot chocolate is very easy to make and deeply satisfying.
This post was sponsored by Cacao Barry.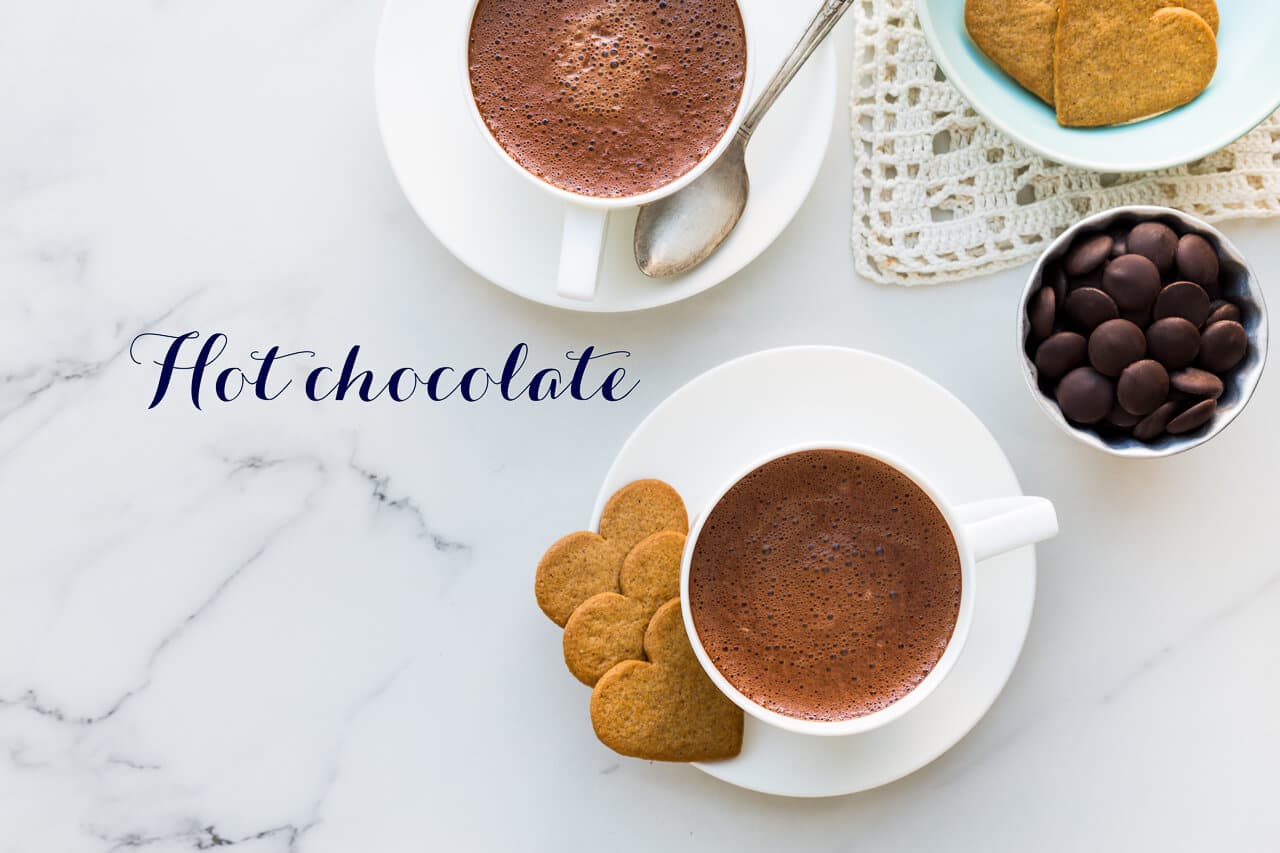 Disclosure: As an Amazon Associate, I earn from qualifying purchases.
My mom used to serve us hot chocolate in tiny, very fancy china teacups when we were growing up. I remember having it after playing with the dogs out in the backyard in the dead of winter. The tiny teacups only came out when we were having hot chocolate. I'm honestly not sure what else you would serve in tiny teacups besides hot chocolate.
If you are in the middle of winter, like we are, and you are craving other hot beverages, try this Turkish coffee (great afternoon caffeine jolt) and hot buttered rum (because sometimes, booze is the answer).
Hot chocolate vs hot cocoa
I suspect a lot of people think that hot chocolate and hot cocoa are the same. They are both hot, chocolaty beverages, but they aren't made in the same way.
Hot chocolate is made from chocolate and milk, while hot cocoa is often made from cocoa powder and boiling water. Hot cocoa mix may also contain sugar, cornstarch, vanilla, or other ingredients. Both hot chocolate and hot cocoa are very easy to make at home and require few ingredients.
Personally, I find that hot chocolate made with real chocolate has a richer, more luscious flavour. And the more chocolate you add, the more unctuous and luxurious hot chocolate becomes.
How do you make hot chocolate with real chocolate?
Making hot chocolate with real chocolate is so simple. All you have to do is heat the milk, add the chocolate and stir to melt. You can finish the hot chocolate with a hand blender to smooth out any lumps and to make sure the mixture is emulsified properly. This will also add froth to your drink. If you'd like to infuse hot chocolate with tea or spices, you would want to do that before, then strain it out and add the chocolate to the hot infused milk.
The ratio of milk to chocolate
For a luscious hot chocolate that is not too thick and not too thin, you want to start with 2 parts milk (preferably whole milk) and 1 part dark chocolate (the best chocolate you can buy and preferably 70% cacao chocolate), so 2:1 by volume. This means 2 cups (500 mL) milk mixed with 1 cup (250 mL) chocolate. By weight, this works out to 25% dark chocolate in whole milk or 150 grams of dark chocolate melted with 500 grams of milk.
This is how I personally make the best hot chocolate to suit my taste, but you might want to tweak this recipe to make it the way you like it, with more or less chocolate.
The best chocolate for the best hot chocolate
When it comes to recipes like hot chocolate, where the chocolate is the star and one of two main ingredients, it's even more important to reach for the best chocolate for baking that has a great flavor.
To make this hot chocolate, I used Ocoa chocolate from Cacao Barry, which is a 70% cocoa dark chocolate with a deep chocolate flavour. You can find it at IGA grocery stores in Quebec in 1 kilo resealable bags.
If you aren't living in Quebec, you can order this chocolate online (and many other Cacao Barry products) via the Vanilla Food Company website. They ship across Canada and to the United States! This means that we all have access to professional quality chocolates at the click of a button. By investing in the best chocolate, you will make the best hot chocolate. It's that simple.
Transform dark hot chocolate into dark chocolate milk
Chill this drink for several hours before serving and you have homemade dark chocolate milk. Just make sure to give it a good shake before serving.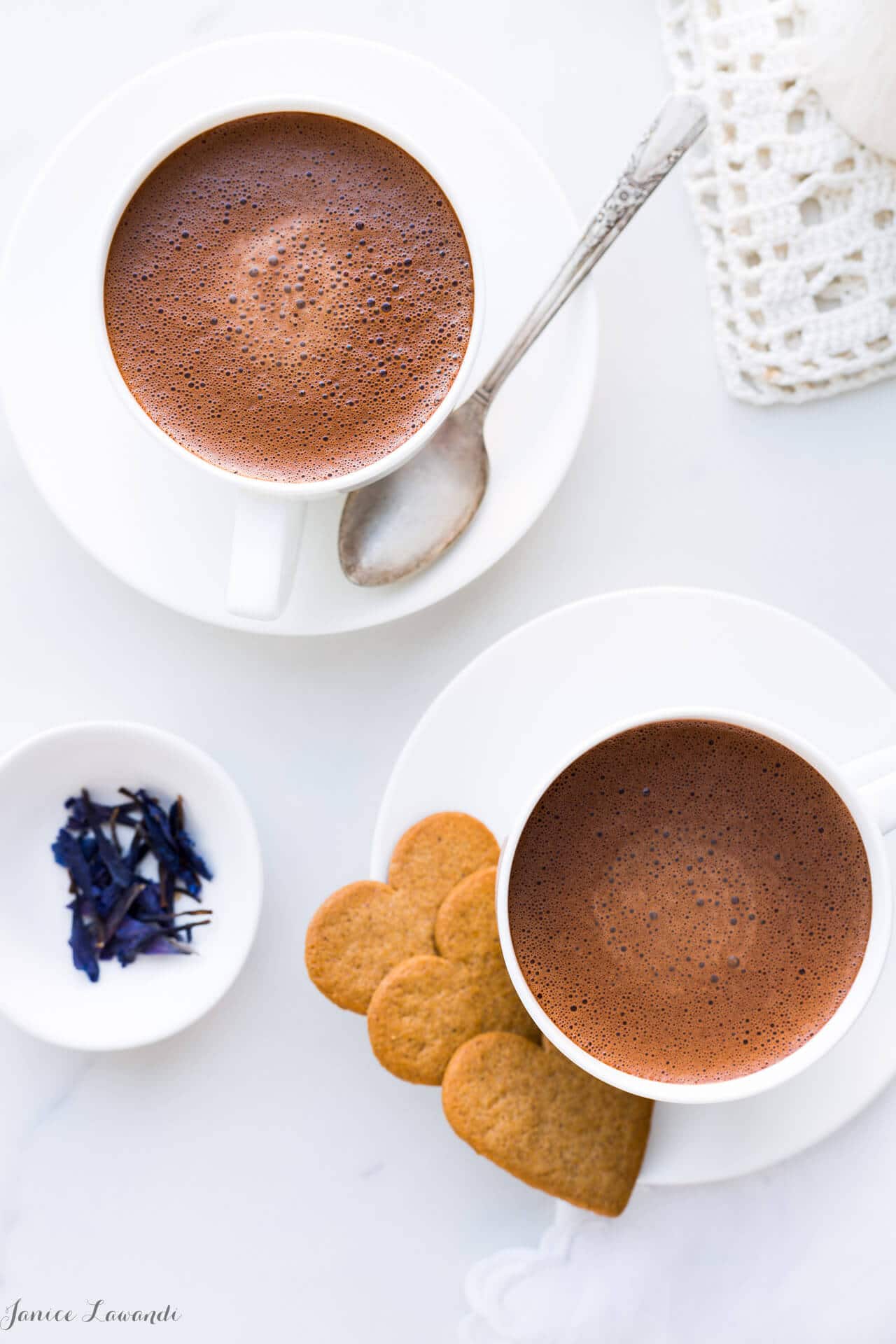 Flavouring and infusing hot chocolate
There are so many flavours that pair well with hot chocolate and dark chocolate. In the recipe below, I infused the milk with Earl Grey tea before making the hot chocolate. I've done this to make Earl grey chocolate truffles and this Earl Grey chocolate tart. Here are a few examples of how you can get creative and flavour hot chocolate. Remember that in all cases, you will have to experiment to get the flavour you want. Make sure to add less flavouring first and add more as needed. If you add too much, you can't go back!
Tea-infused hot chocolate: steep the milk with a few tea bags (or a tea strainer with loose leaf tea) to add tons of flavour before adding the chocolate
Spiced hot chocolate: add cinnamon, cardamom, or even some dried chilli for a kick
Nutty hot chocolate: stir in a little nut butter, like tahini or peanut butter. Start with ¼ cup (60 mL) and add more to taste.
Peppermint hot chocolate: stir in a little peppermint extract. Start with around ¼ teaspoon peppermint extract and add more as needed.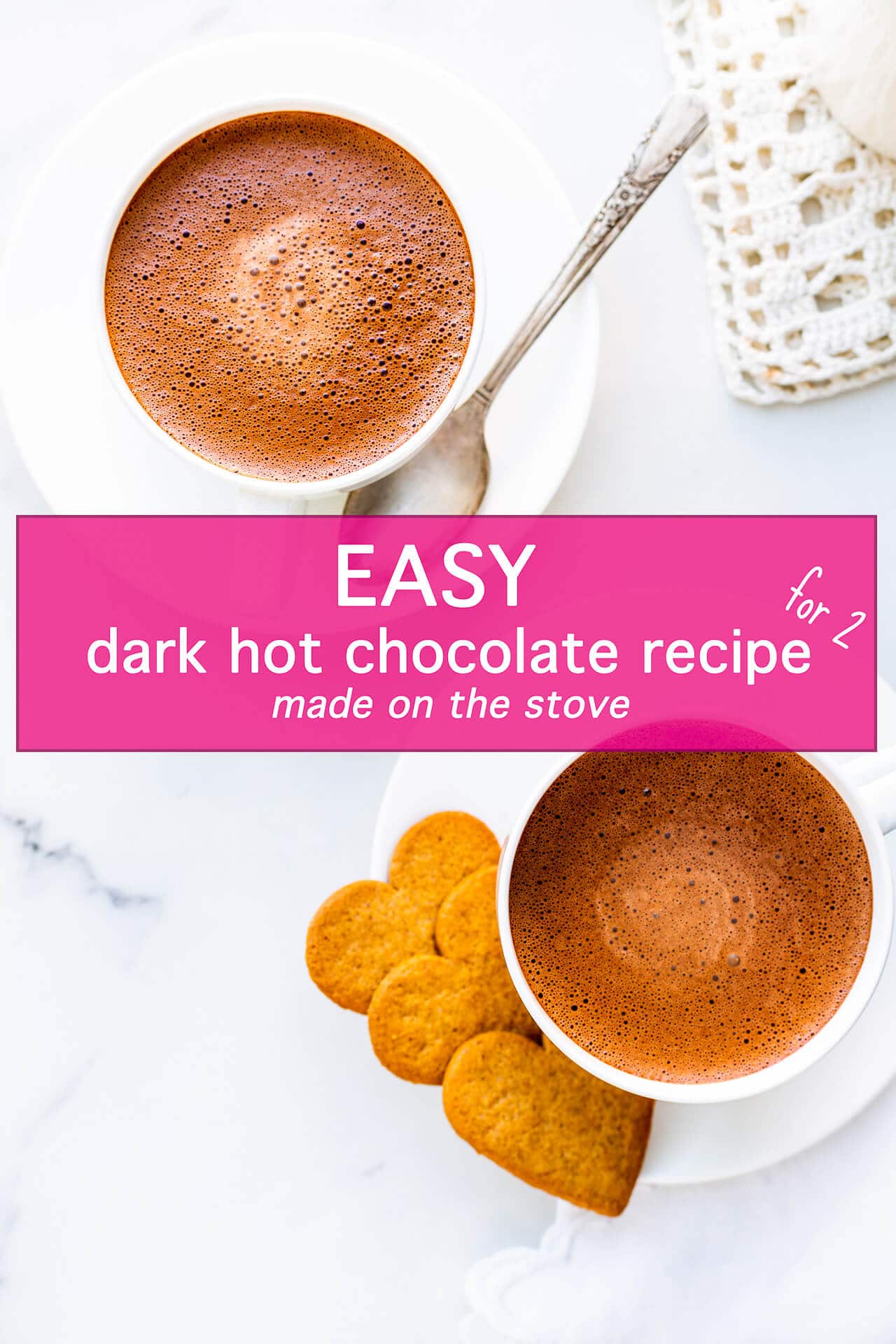 Earl Grey hot chocolate recipe
📖 Recipe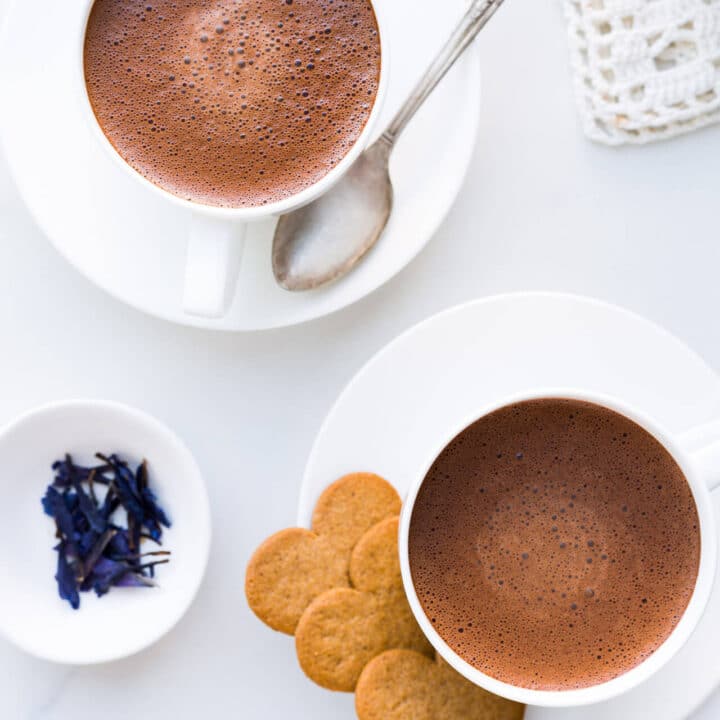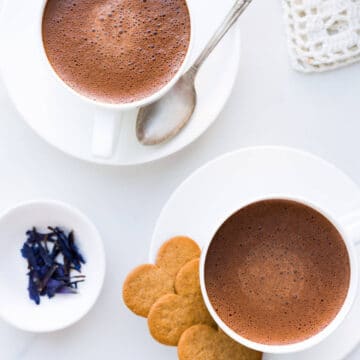 Hot Chocolate with Earl Grey Tea
This is a recipe for the best hot chocolate, made with high quality dark chocolate (70%) and whole milk. The milk is infused with Earl Grey tea, but you can skip that if you prefer. This makes a rich, luxurious hot chocolate.
Ingredients
500

mL

whole milk (3.25 % fat)

3

tea bags

Earl Grey tea or masala chai tea

optional

150

g

Cacao Barry Ocoa 70% dark chocolate
Instructions
Place the pan of milk on the heat. Heat over medium–high heat until it's almost boiling. Remove from the heat and add the dark chocolate. Stir to melt. Use a hand blender to emulsify the mixture to yield smooth hot chocolate. This will also froth the hot chocolate.

Optional: Heat the milk in a saucepan with the tea bags, if using. When the milk almost comes to a boil, remove the pan from the heat and let steep 5 minutes. Squeeze the bags and remove. then continue with step 1

Divide the hot chocolate between two mugs. Serve immediately as is, or with a dollop of sweet whipped cream or a marshmallow.
Nutrition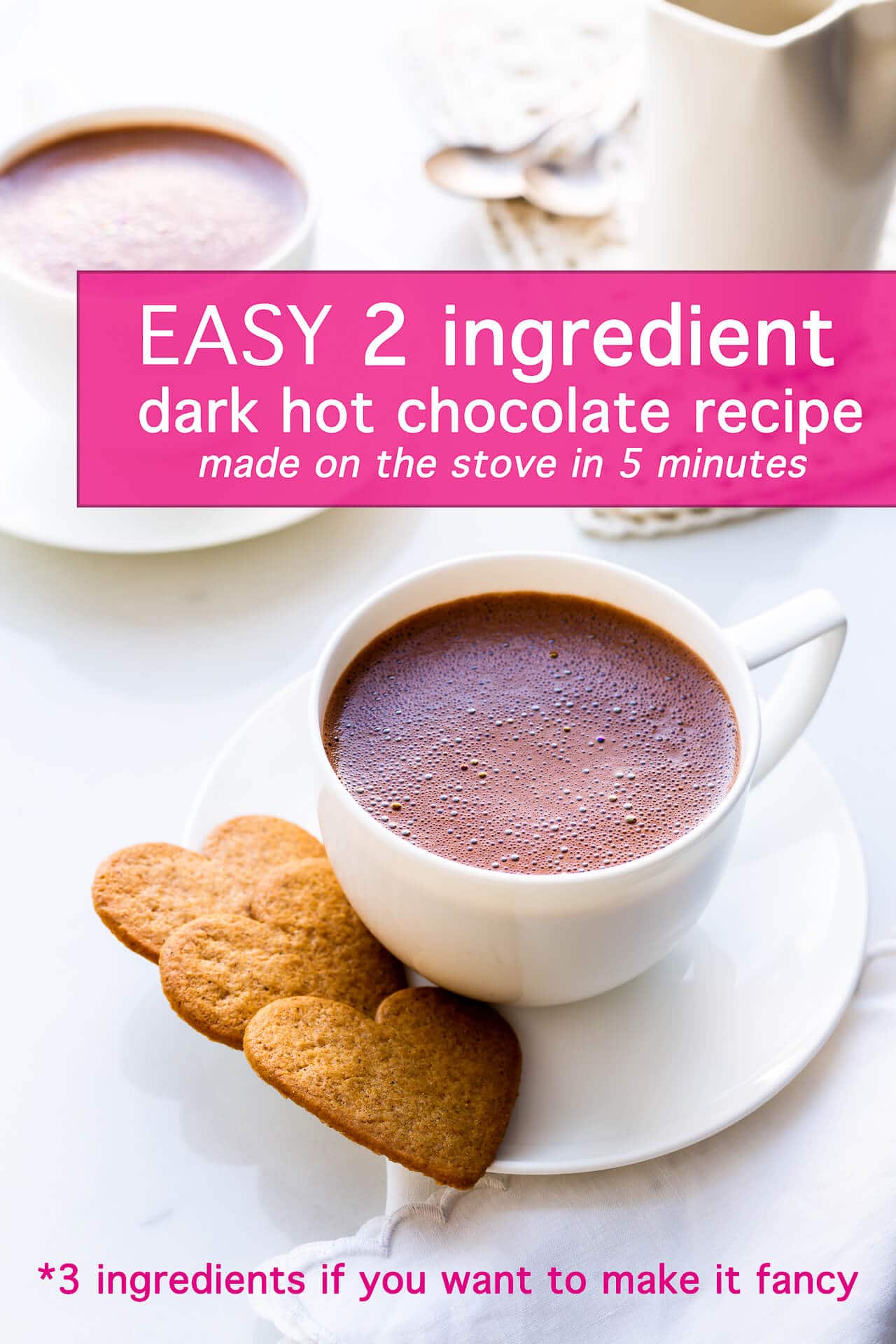 This post is sponsored by Cacao Barry. I was compensated monetarily and with product. Thanks for supporting the companies that allow me to create content for Kitchen Heals Soul. As always, please know that I wouldn't work with a sponsor nor recommend a product if it wasn't worth it.
Please note this post contains affiliate links to Amazon. If you buy a product I recommend, I will get a small commission, and the price you have to pay will not change in any way.