Learn how to make homemade hot cocoa mix with powdered milk and cocoa powder with this easy recipe! This is such a versatile mix that you can easily tweak to make it your own. And once you've got it stored in a jar, you will be able to make a cup of hot cocoa with just boiling water at a moment's notice! This mix also makes a great edible Christmas gift or Valentine's day gift for the holidays.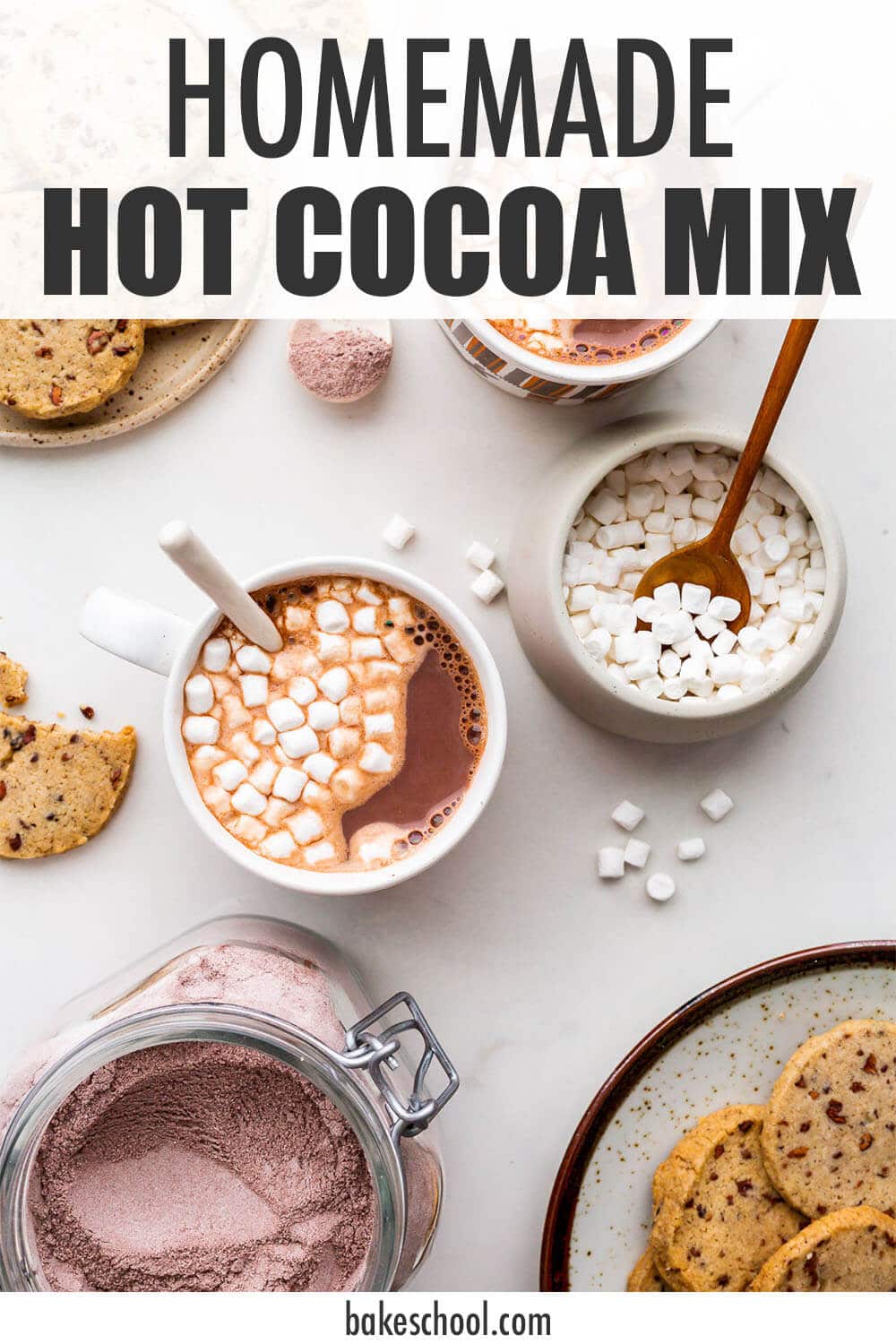 Disclosure: As an Amazon Associate, I earn from qualifying purchases.
Hot cocoa is the beverage that gets many of us through the cold months of winter. Dare I say, it is essential, especially for those who enjoy outdoor activities, whether that's a leisurely winter walk through the snow or downhill skiing. The reward is usually a hot cup of cocoa. It's quick and easy, and the longest/hardest part is waiting for the water to boil.
Jump to:
Hot cocoa versus hot chocolate
Hot cocoa is not to be confused with hot chocolate. Hot chocolate is made with dark chocolate and whole milk (sometimes cream). It's kind of like ganache, but with more liquid.
On the other hand, hot cocoa is a sweetened beverage made from a powder mix that you scoop into a mug and add boiling water to. It's often garnished with small crunchy dehydrated marshmallows that become quite frothy on the surface of the beverage.
For both types of chocolate beverages, you can infuse the liquid with any flavour that is water-soluble or easily extracted in milk, like spices (cinnamon sticks or star anise), herbs (peppermint or spearmint), or even tea leaves (like Earl Grey tea).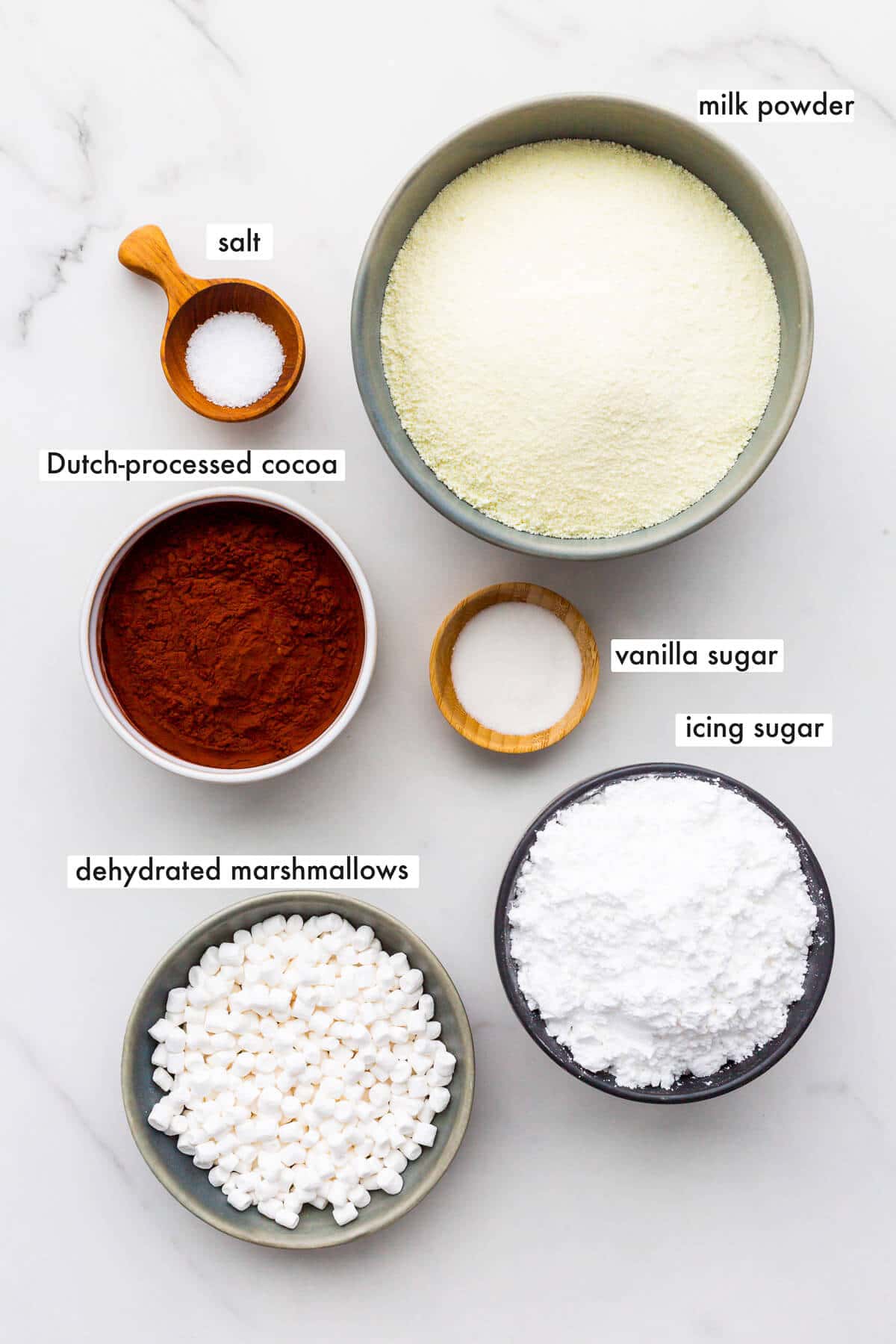 What you need to make homemade hot cocoa mix
You only need shelf-stable pantry staples to make this recipe, and you may have most of these already! To make hot cocoa mix, you will need:
dry milk powder (also called powdered milk) is a main ingredient in this recipe. It adds body to the mix and also allows you to make a cup of hot cocoa with just boiling water (without adding milk or cream)!
icing sugar (also called powdered sugar or confectioner's sugar) because it has a fine texture that will dissolve quickly. It also adds a little body to the beverage because icing sugar contains a small amount of starch (usually cornstarch or tapioca starch), which will help thicken the beverage just a little
cocoa powder—please use Dutch-processed cocoa powder, which has a richer, more pronounced flavour and a darker colour, otherwise your hot cocoa may end up watery and not as flavourful
salt—preferably fine kosher salt, which is less salty than table salt
vanilla sugar is optional but I find it helps round out the flavour and also gives a nice aroma to the mix
dehydrated marshmallows (also called marshmallow bits) are also optional, but they are super cute and really bring this beverage up a notch, transforming it into the quintessential hot cocoa mix.
Please see recipe card for quantities.
Cornstarch in hot cocoa
You'll notice some hot cocoa mixes are made with cornstarch. It's not necessary in homemade mixes, but can help prevent clumping, while also providing more body to the beverage so that it's less thin and fluid when you make it.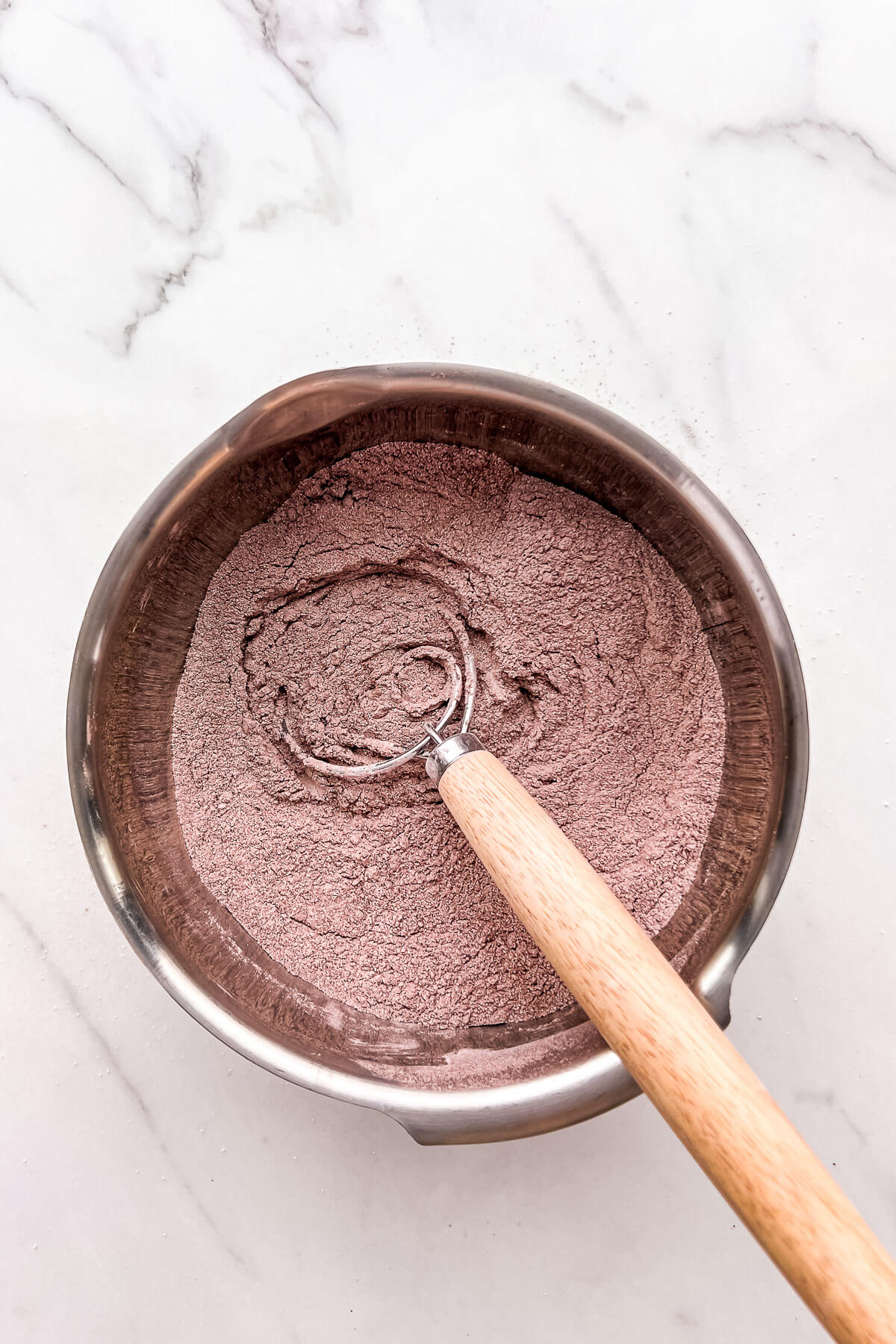 Substitutions
Though I insist you use Dutch-processed cocoa powder for this recipe and will accept no substitute, there are other changes you can make to this base recipe:
milk powder—if you can't have lactose, there is lactose-free milk powder made from dehydrated lactose-free milk, or you can try soy milk powder, or even coconut milk powder. I haven't tried these alternatives. Note that some of these non-dairy milks may have more fat. These products can be more expensive
icing sugar—instead of icing sugar, you can use granulated sugar or super fine sugar. Note that these will be slower to dissolve. I recommend this change with reservations. Make this substitution at your own risk
vanilla sugar—you can use ground vanilla bean instead of vanilla sugar, but this will be much more expensive
If you'd rather not use powdered milk and instead make the hot cocoa with hot milk, you can! Skip the milk powder in the recipe, and when portioning out the mix into mugs, add half the amount of hot cocoa mix. Add hot milk to make the beverage.
Variations
This hot cocoa mix is a base recipe you can easily add your own spin to. For example:
Warm flavours—Add ground cinnamon, which will add a very comforting flavour
Floral flavour—add ground green cardamom to the mix
Spicy flavour—add ground cayenne pepper to the dry mix, but remember a little goes a long way! You will have to experiment to find the right balance of flavours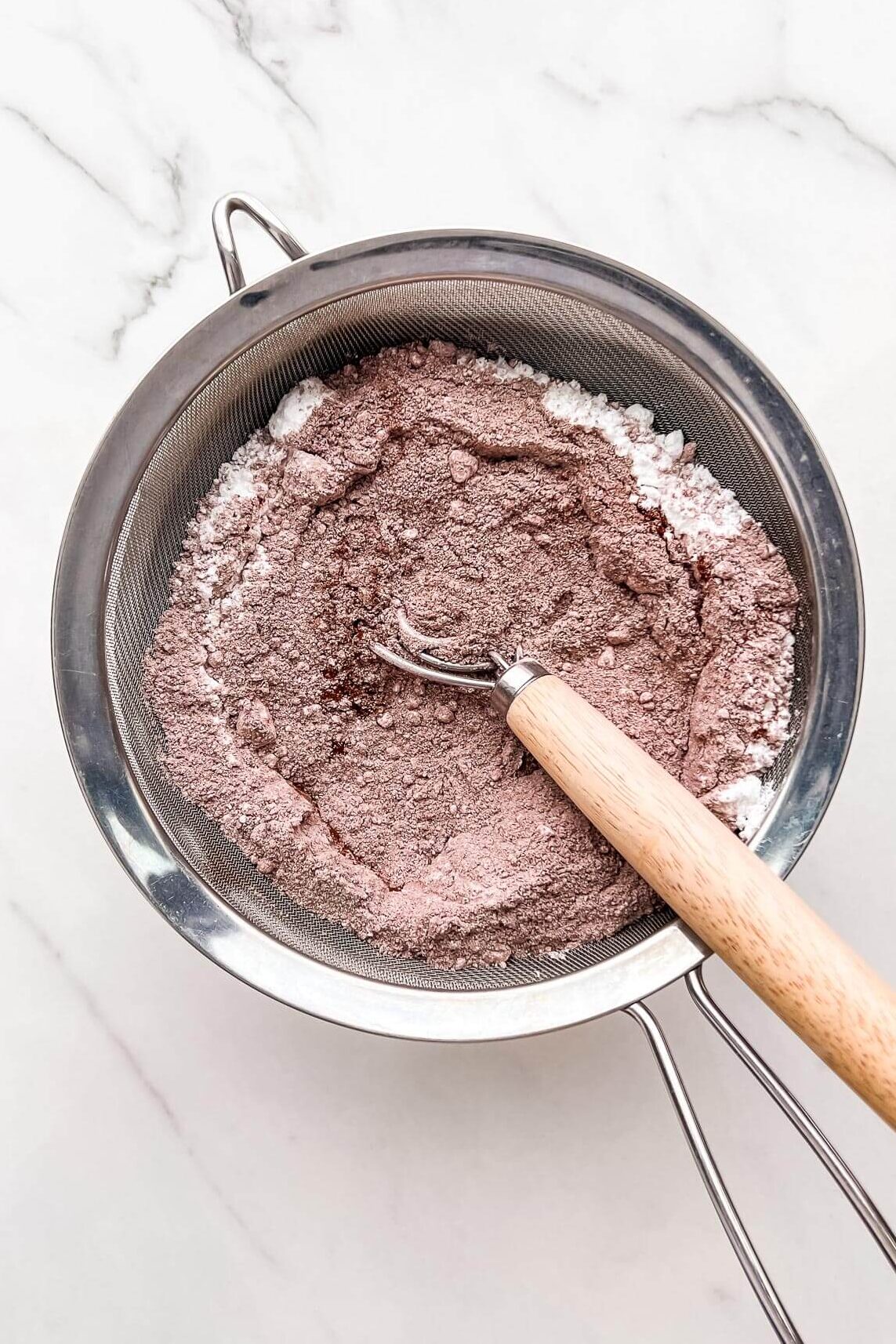 Special equipment
In theory, all you need is a bowl, a whisk, and a big jar (750 mL to 1 L is big enough, or a volume of 1 quart or 33 ounces). You will also need a kitchen scale, though you can get away with dry measuring cups. Precision and accuracy aren't as important with a dry mix like this.
Since both cocoa powder and icing sugar tend to be very clumpy, I do an extra step before I transfer the mix to a jar. I like to sift the hot cocoa mix using a fine mesh strainer to remove clumps and lumps.
This helps you better mix and evenly disperse the dry ingredients and will help you achieve a smoother cup of hot cocoa in the end. It's definitely worth the extra time, though not essential.
Steps to make it
Making hot cocoa mix from scratch is so easy. All you have to do is combine the ingredients in a bowl and whisk them together for a few minutes until they are evenly combined.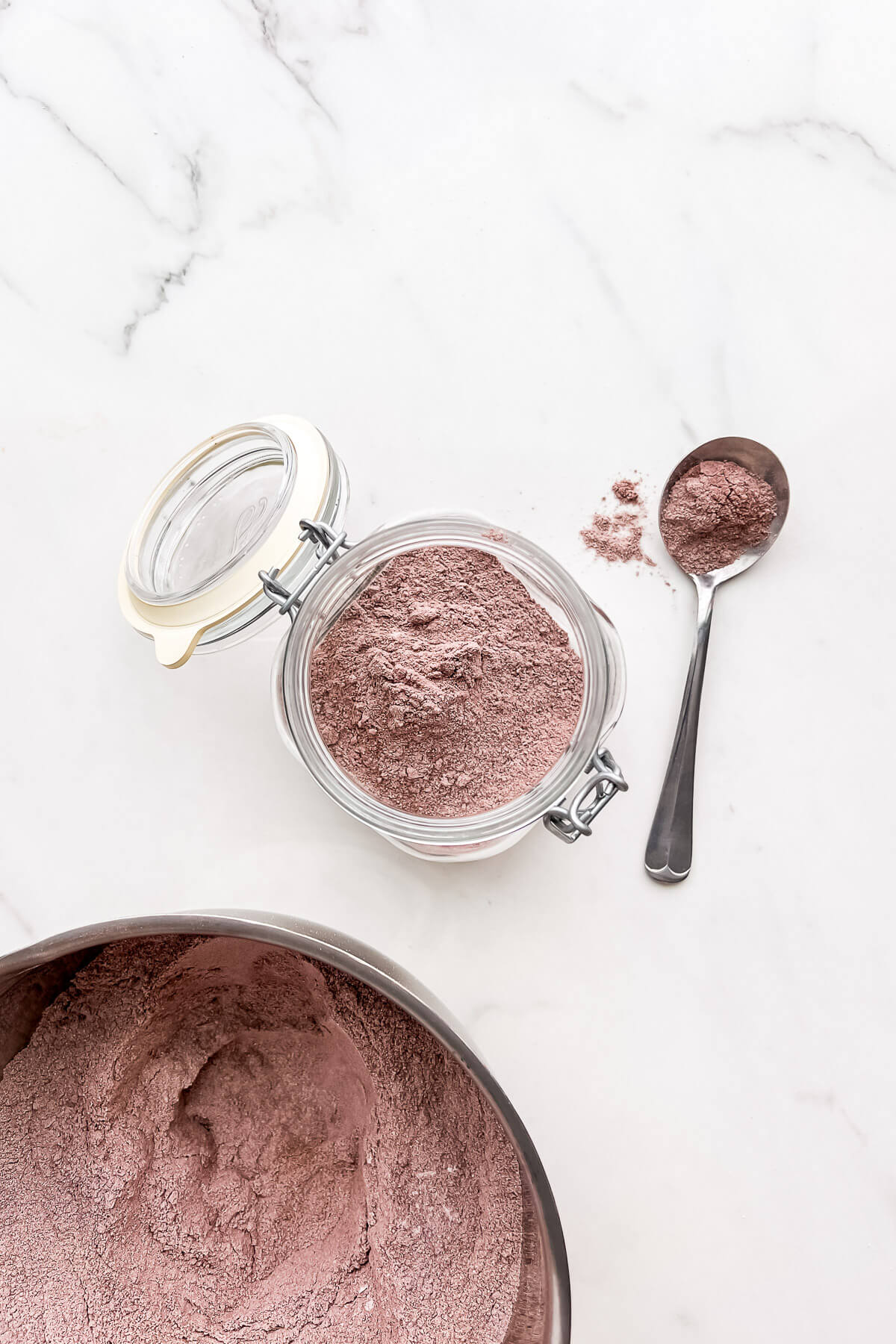 Cocoa powder, icing sugar, and powdered milk can absorb moisture and clump when stored. To make a finer hot cocoa mix without any lumps or clumps, strain these ingredients through a fine-mesh sieve.
Once you've whisked together all the ingredients, transfer the mixture to jars to store them. You can add pretty labels and ribbons to decorate your jars of homemade drink mix. It makes a great edible gift for Christmas or Valentine's day.
Storage
IStore hot cocoa mix in a closed Mason jar or any airtight container at room temperature in your pantry. And if you are wondering if it will expire, it will last a year or more. This depends on the expiry dates of the ingredients you use in your mix, of course. Use those dates as your guide for how long you can technically safely store the mix for.
Avoid getting water in the jar of dry mix. Make sure to use a dry spoon to measure it out into mugs.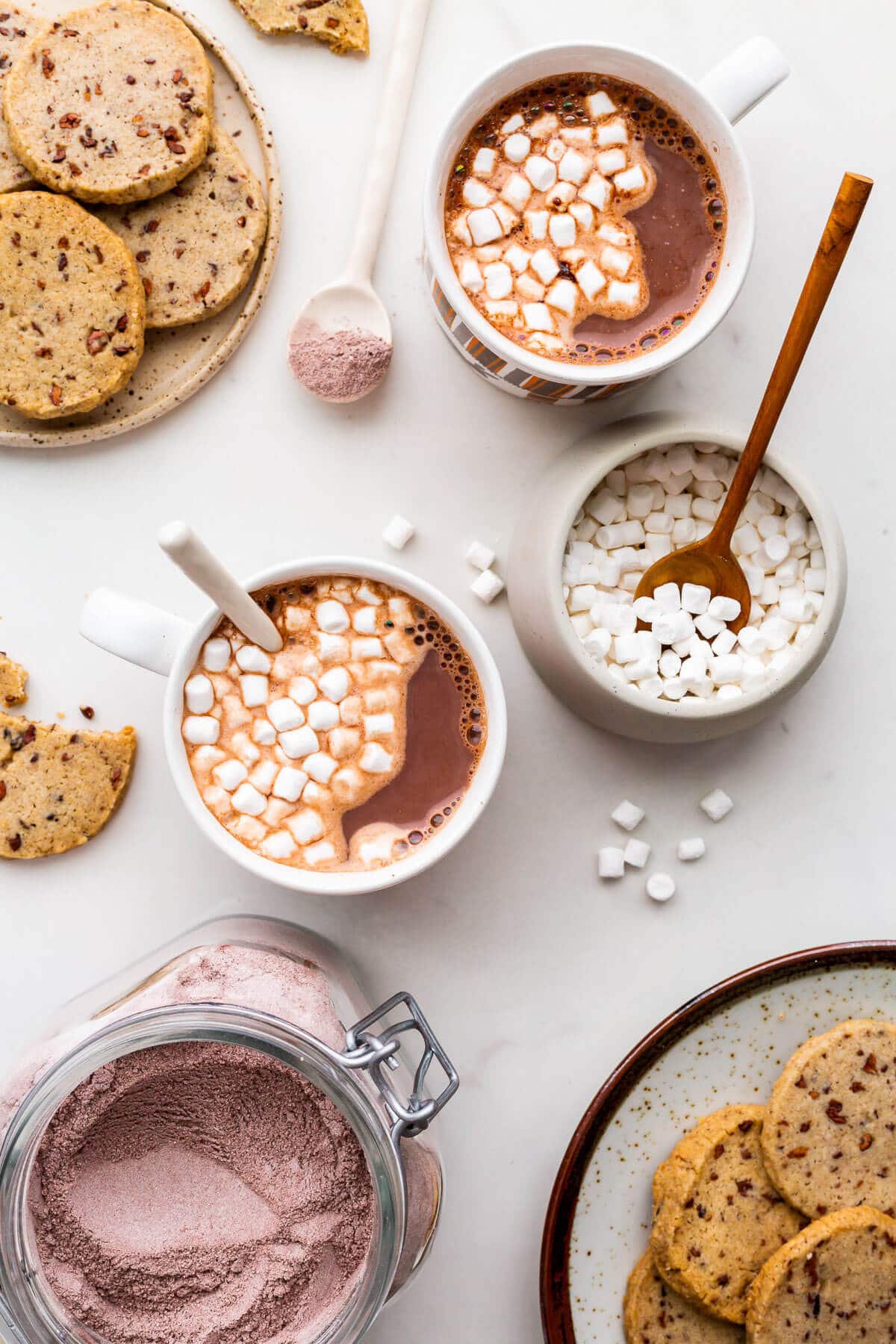 Top tip
Hot cocoa is made with boiling water! Give a freshly made cup a few minutes to cool down before drinking. Otherwise, you may burn your lips or your tongue!
How to use homemade hot cocoa mix
Once your mix is ready, you can use it right away. It's so fast and easy, and all you need is boiling water! To make a cup of hot cocoa, all you have to do is scoop some of the mix into a mug, and whisk in boiling water. Top with mini marshmallows or dehydrated marshmallows just before serving. Serve it with shortbread cookies, like these buckwheat shortbread cookies with cocoa nibs.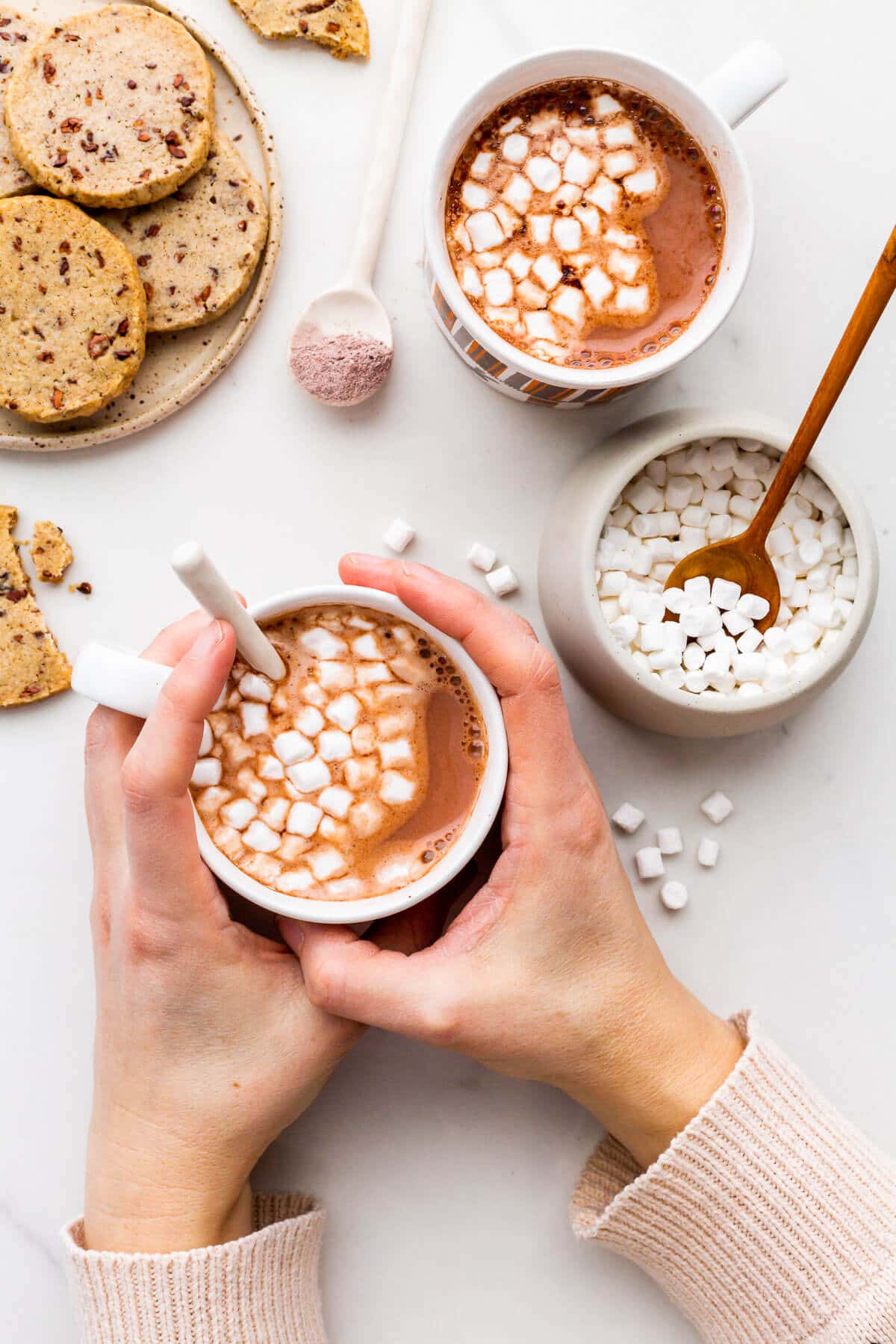 Replacing cocoa powder with hot cocoa mix
I've seen some confusion about using hot cocoa mix in baking, in place of cocoa powder. I cannot recommend that you replace cocoa powder with hot cocoa mix in any baking recipe, whether natural or Dutch-processed cocoa is called for.
As you can see from the ingredients, hot cocoa is made from a mixture of ingredients. It's mostly cocoa powder, sugar, and powdered milk. You would have to make great adjustments to a recipe if you want to replace cocoa powder with hot cocoa mix. Especially, if you want to compensate for the extra sugar it brings!
📖 Recipe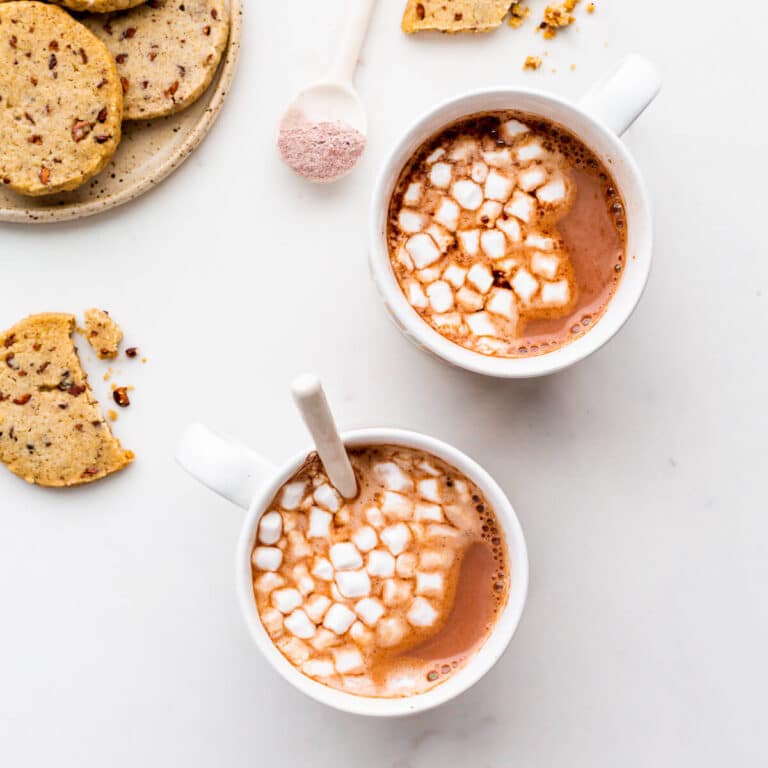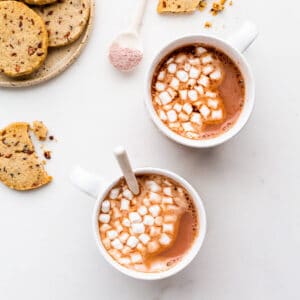 Hot Cocoa Mix
Learn how to make homemade hot cocoa mix with this easy recipe so that you are ready for a cup of hot cocoa any time! This mix makes an excellent Christmas gift, especially if you include the tiny dehydrated marshmallows as garnish for the top!
Instructions
Place a strainer over a large bowl.

Add the milk powder, icing sugar, cocoa powder, and vanilla sugar to the strainer and use a whisk to strain it through and remove any lumps.

Whisk the salt into the strained ingredients in the bowl.

Transfer to a jar to store the mix until you are ready to use.
Serving
To make a cup of hot cocoa, place 2 tablespoons of the mixture in a mug and top with boiling water.
Nutrition
Calories:
96
kcal
Carbohydrates:
20
g
Protein:
5
g
Fat:
1
g
Saturated Fat:
1
g
Polyunsaturated Fat:
1
g
Monounsaturated Fat:
1
g
Cholesterol:
2
mg
Sodium:
150
mg
Potassium:
266
mg
Fiber:
1
g
Sugar:
18
g
Vitamin A:
248
IU
Vitamin C:
1
mg
Calcium:
148
mg
Iron:
1
mg