Learn how to make hot buttered rum with this quick and easy recipe.
Hot buttered rum is a hot alcoholic drink made with boiling water, butter, sugar, spices, and alcohol (rum, as the name indicates). In researching hot buttered rum recipes, I noticed a few were ice cream-based, which seems really odd to me. This is a recipe for hot buttered rum from scratch from a butter batter, not ice cream.
Making a butter batter
To make hot buttered rum, you need to prepare a butter batter, which is a key ingredient to hot buttered rum. You can make the "butter batter" (the base for hot buttered rum) ahead of time, and keep it in the fridge for your last minute hot buttered rum needs. Very convenient.
Disclosure: As an Amazon Associate, I earn from qualifying purchases.
The butter batter is basically a paste of butter, sugar, and spices, like cinnamon, cloves, and nutmeg. You can play around with the spices you use and get creative. You make the butter batter by creaming together those ingredients. Then you chill it until it's time to make drinks.
Preparing the drink
Once your butter batter has chilled, you are ready to make the drink. All you need to do to make it is boil water in a kettle, add a spoonful of butter batter to each mug, and a splash of rum, then pour the boiling water over top and stir. It's that easy!
I like to stir the drinks with cinnamon sticks which also make great garnish for these.
This drink is warm, festive, and cheery. And as I mentioned, feel free to tweak the spices and the amount of sugar in this recipe. I tested this recipe using plain boiling water, and also boiling maple water (which made the drink slightly sweeter). Boiling apple cider would also taste great with these spices, but then I guess it wouldn't be a hot buttered rum anymore....
For another fun and festive drink, try this eggnog milkshake!
📖 Recipe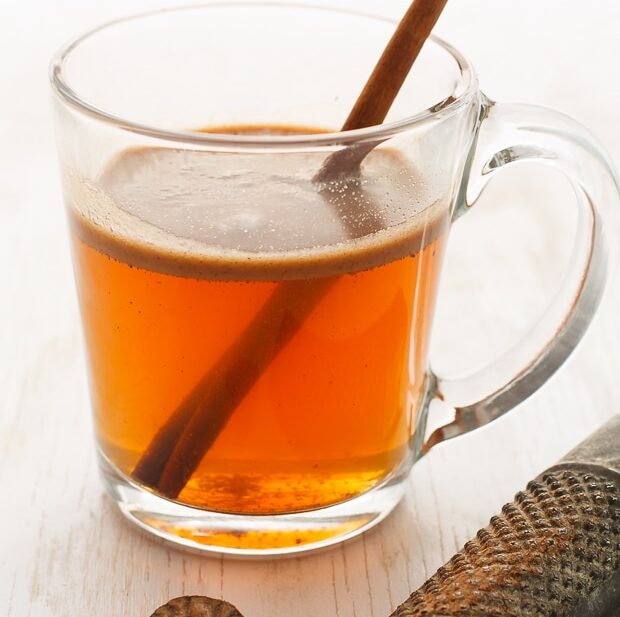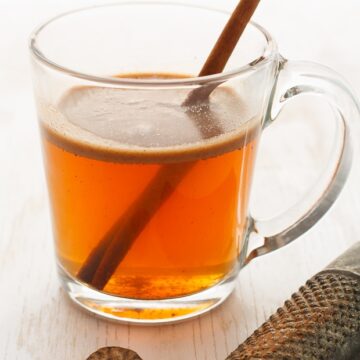 Hot Buttered Rum
A quick and easy recipe for hot buttered rum: start by making the "butter batter" (the base for hot buttered rum) ahead of time, and keep it in the fridge. Then when you want to make a hot buttered rum needs, just mix a scoop of it with some boiling water and booze, et voilà!
Ingredients
For butter batter
115

grams

unsalted butter

room temperature

100

grams

light brown sugar

5

mL

ground cinnamon

1.25

mL

ground nutmeg

1.25

mL

ground allspice

0.625

mL

ground cloves
For each hot buttered rum serving
15

mL

pure maple syrup

1

shot

spiced or dark rum

30

grams

butter batter

300

mL

boiling maple water or plain boiling water

1

cinnamon stick

ground nutmeg
Instructions
First, prepare the butter batter. Cream together all the ingredients for the butter batter. Roll into a log and wrap tightly in plastic wrap or parchment. Store in the fridge

For every serving of hot buttered rum, in the bottom of a heat-proof glass or mug, add a splash of maple syrup, spiced rum, and a hunk of butter batter (~25–30 grams). Fill halfway with boiling water (or boiling maple water) and stir vigorously with the cinnamon stick to melt the butter and dissolve the sugars. When everything is melted and well stirred, top with more boiling water. Sprinkle with freshly grated nutmeg and enjoy.
Nutrition