Homemade eggnog is easy: if you can make a crème anglaise, a cooked custard sauce or an ice cream base, then you can make eggnog because they are actually the same thing. Eggnog is basically an egg-yolk thickened milk beverage, flavoured with freshly grated nutmeg and alcohol, which not only adds a ton of flavour but also helps preserve the drink for longer.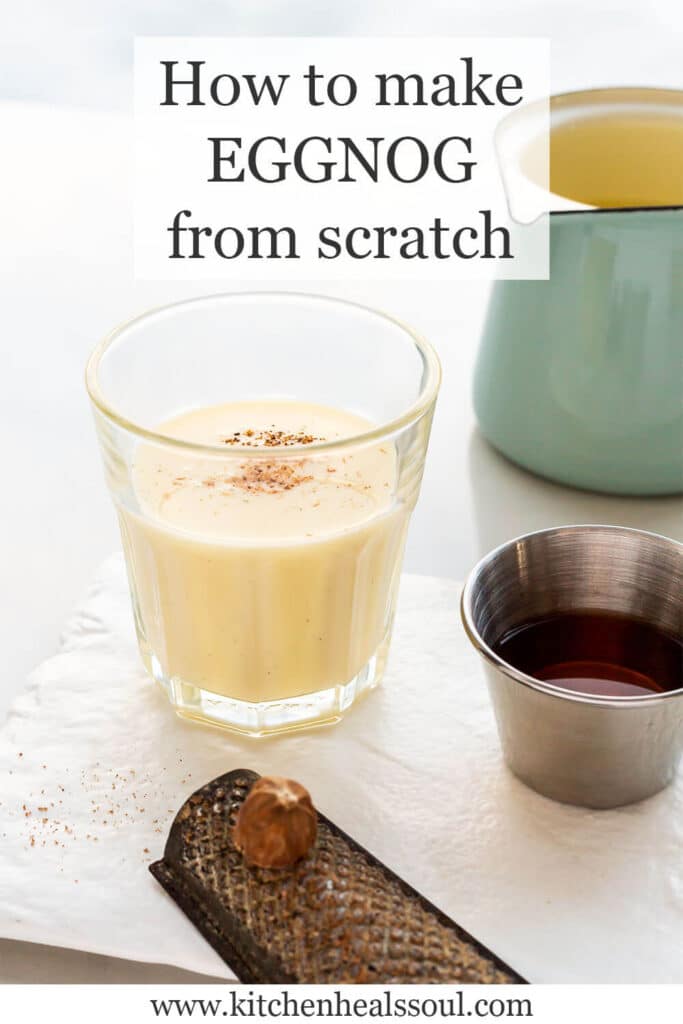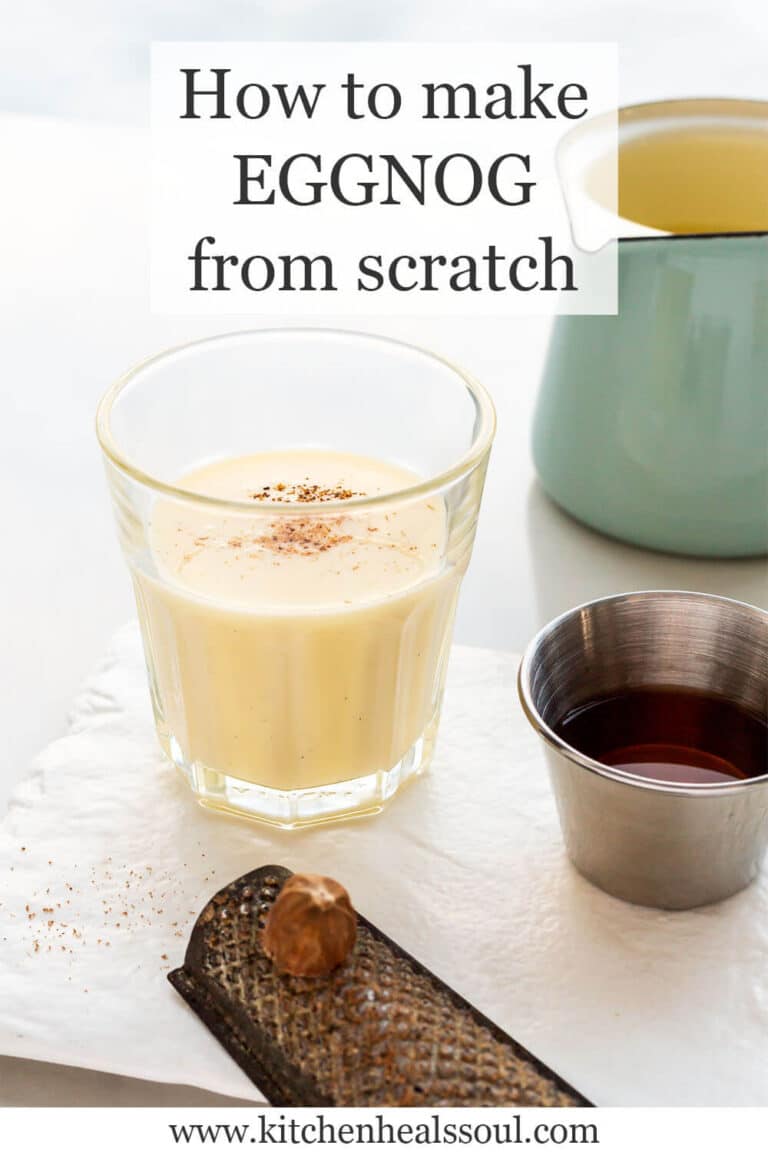 Disclosure: As an Amazon Associate, I earn from qualifying purchases.
What is it
Eggnog is a milk-based drink thickened with egg yolks and flavoured with nutmeg and alcohol. The alcohol also helps preserve the beverage, which has a very short shelf-life in the fridge without it. You can make non-alcoholic eggnog by skipping the booze, but you should make it the day before you want to drink it and you can't store it for much longer than that.
Eggnog is actually a crème anglaise, which is the French baking term for custard sauce. Remember that crème anglaise is also the custard base used to make homemade ice cream, adding cream to it before churning.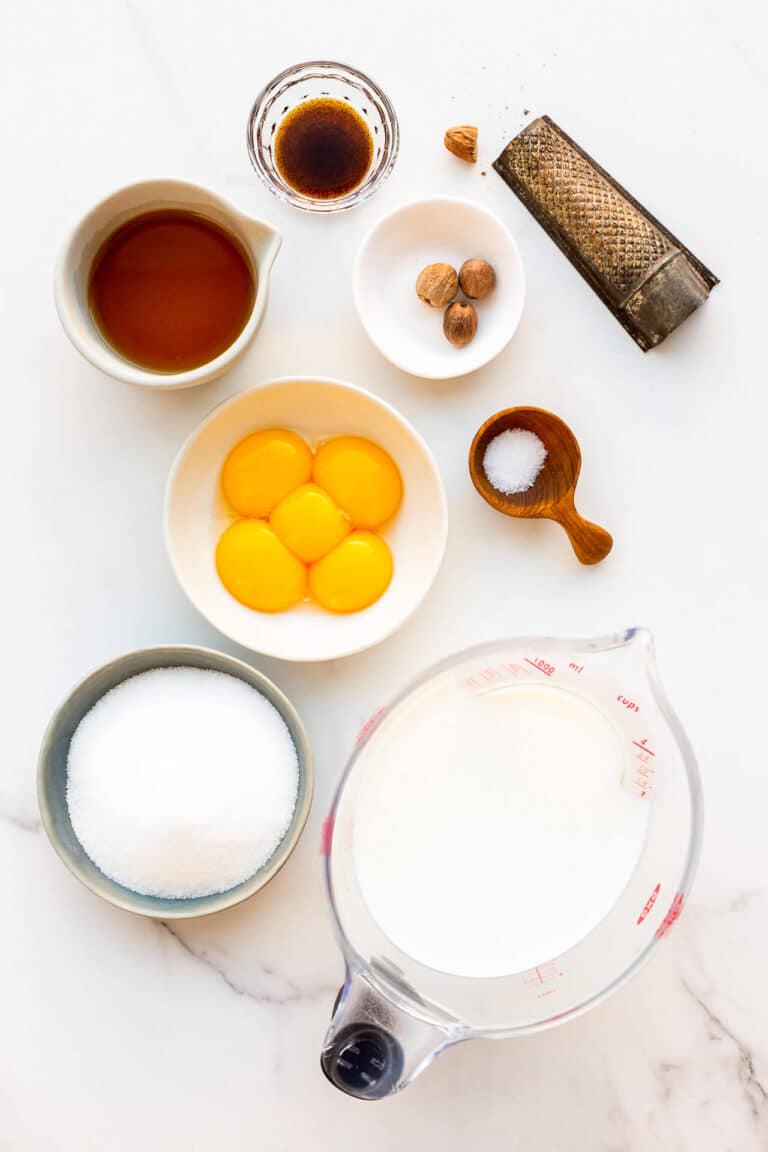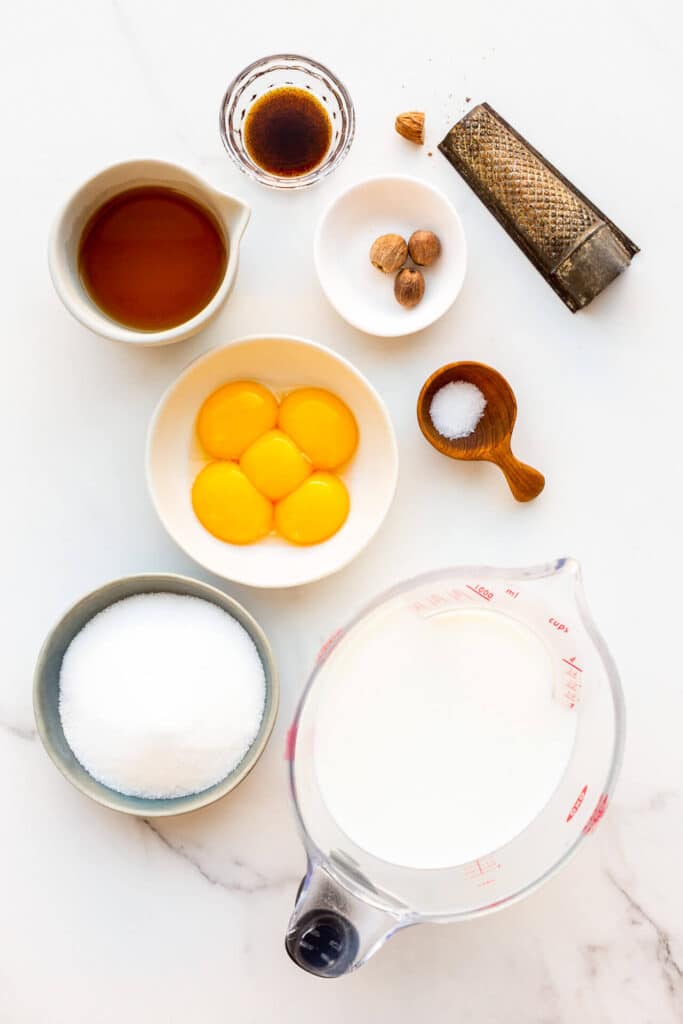 What spices are in it?
Eggnog traditionally is made with vanilla and/or nutmeg only. I have seen versions that will deviate though and some recipes get quite creative with the spices.
I've seen variations with , cinnamon, star anise and even cardamom, but these are very much modern takes on this winter drink. I prefer to flavour with nutmeg and vanilla.
For the vanilla flavour, when cooking and baking with vanilla, different forms of vanilla are added at different stages of cooking. You can either add vanilla bean paste or vanilla extract after cooking the custard, or you can infuse the custard with a vanilla bean.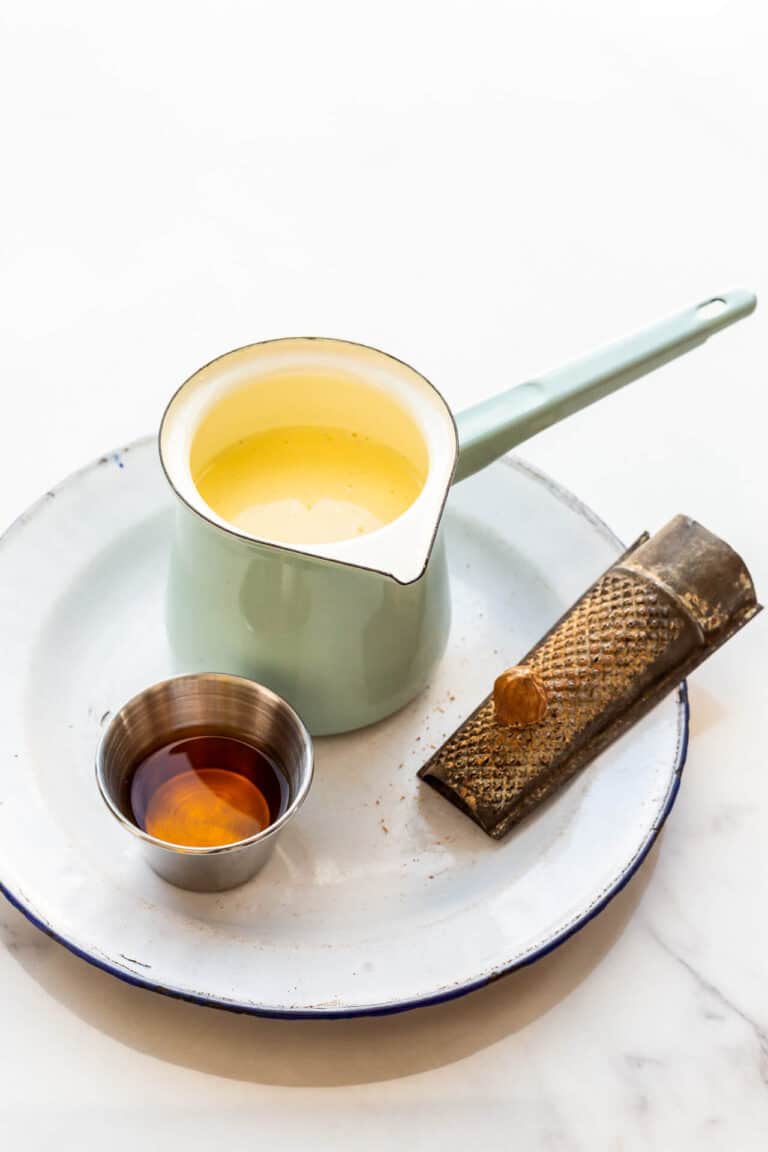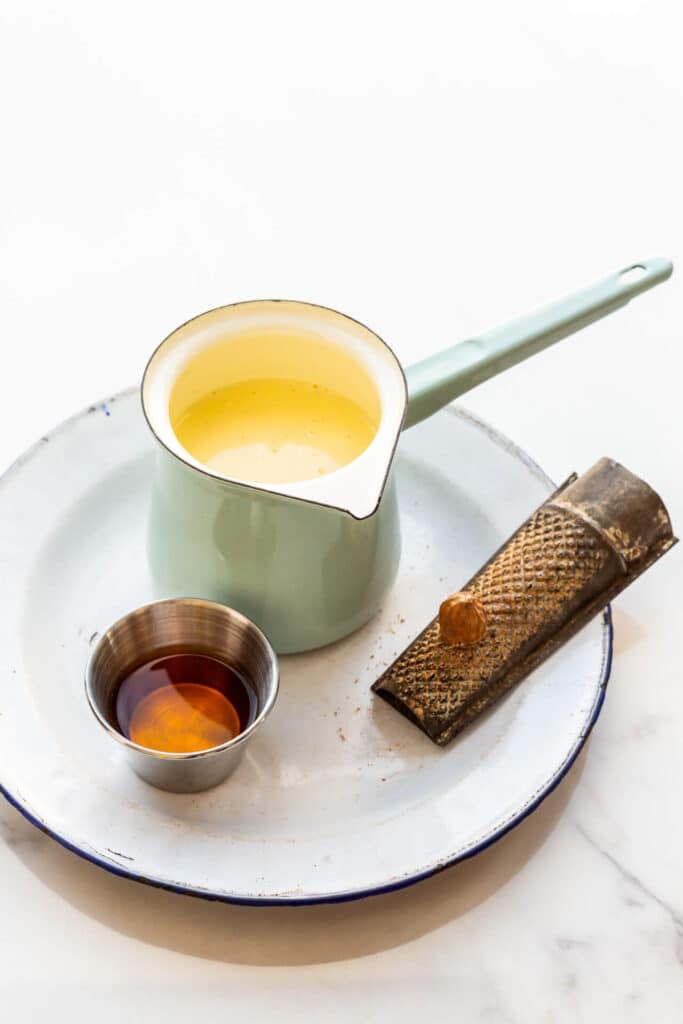 What type of alcohol do you use to make eggnog
Generally, I make eggnog with spiced rum because that's usually what I have in my kitchen to bake with. But you can also use:
I've even seen eggnog recipes with whiskey. Choose a dark alcohol that has a flavour and aroma that you like since most of the flavour of this drink comes from the booze. Don't make eggnog with an alcohol you don't like because you probably won't like the resulting beverage.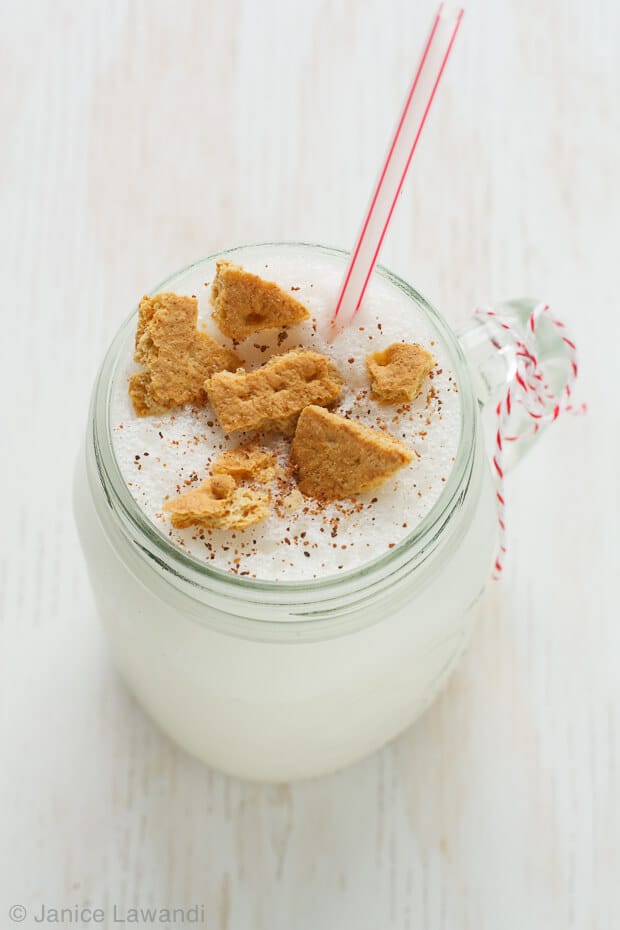 How much alcohol you add is up to you
Technically, you could serve eggnog without any alcohol, but custard sauces and non-alcoholic eggnog have a short shelf-life: keep them just a couple days in the refrigerator. After that, you will have to toss it out.
The more alcohol you add, the longer you can store homemade eggnog. Some eggnog recipes will add well over 250 mL (1 cup) of booze for a 4 egg yolk custard base. This type of eggnog can be store in an airtight container for several weeks.
There are some hard core eggnog fans that will store eggnog for a year in a sealed jar before consuming. The way I make eggnog, I store it for up to one week. I prefer to make small batches more often.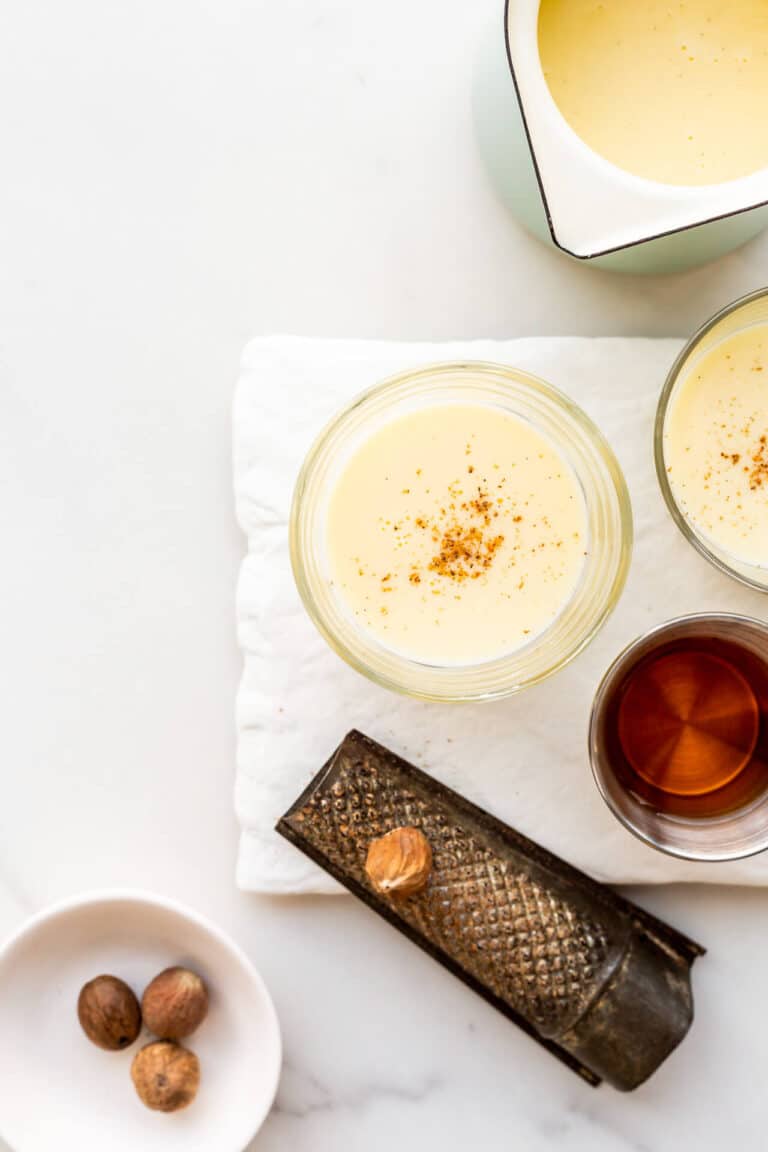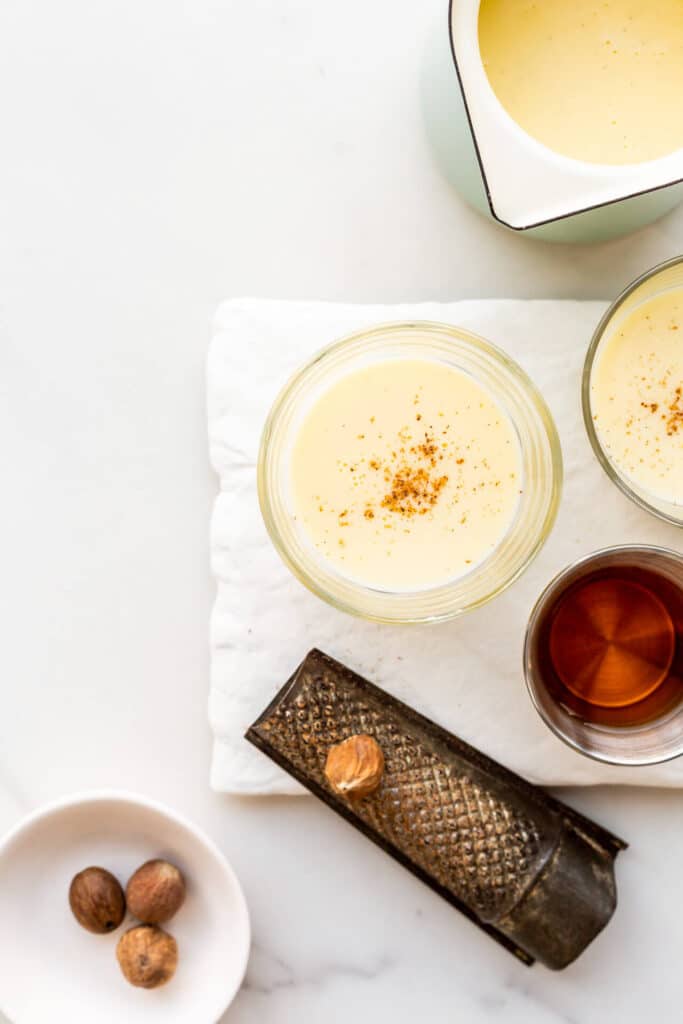 What about the egg whites?
To make eggnog, the custard drink is thickened with egg yolks, just like a crème anglaise. This leaves you with leftover egg whites (5 if you follow this recipe). Some people will actually whip the egg whites and fold them into the drink, leading to a more frothy Christmas beverage. Whether or not you do that is entirely up to you and it's an optional step that some might enjoy.
I prefer to keep my egg whites to make meringues, Italian meringue buttercream, vanilla marshmallows, macaroons, or chocolate pavlovas. You can also freeze the leftover egg whites to use later.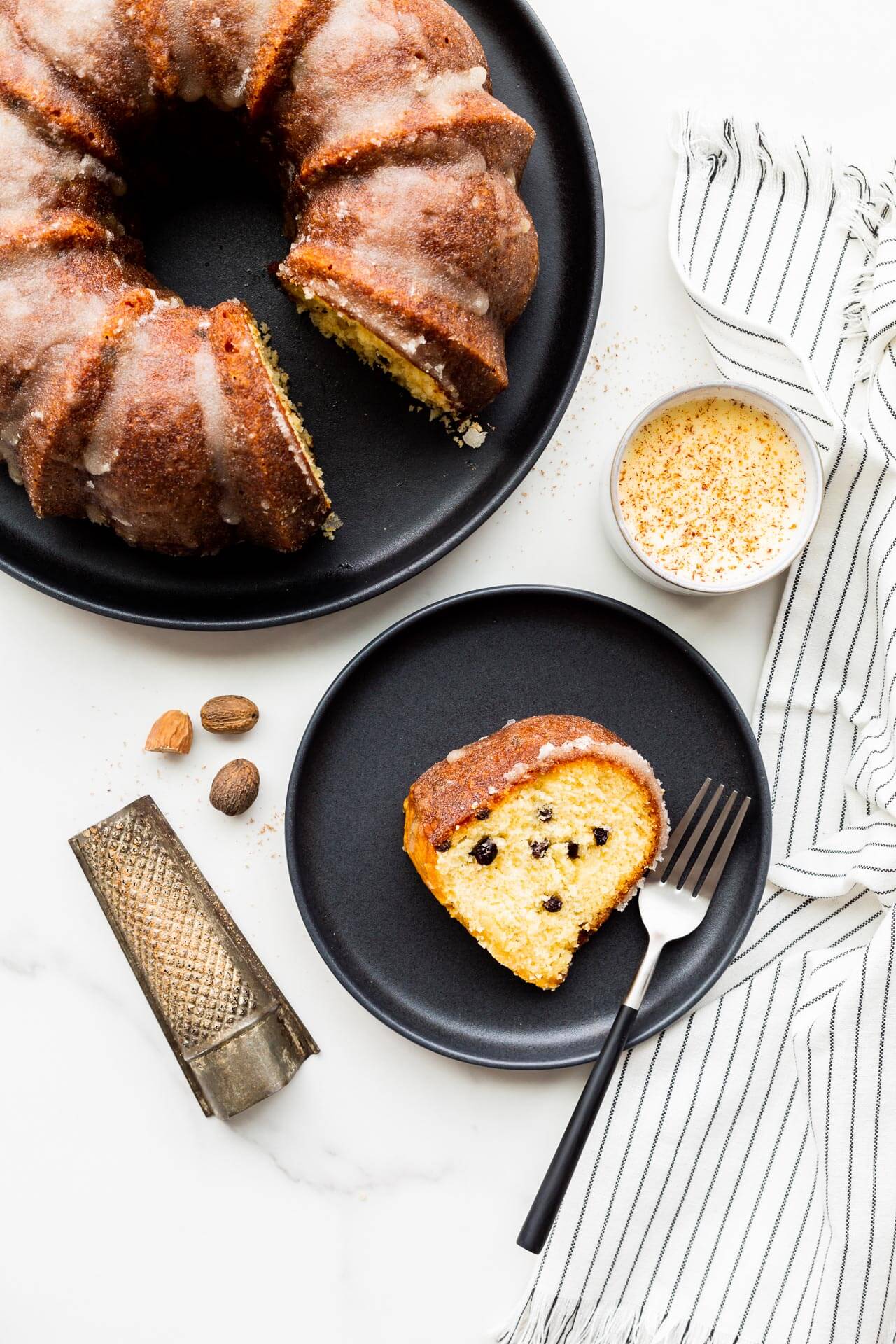 What to do with leftover eggnog
You can make many things with leftover eggnog. I like to blend it in an easy eggnog milkshake, or if I'm feeling more ambitious, you can bake it into a 1-2-3-4 cake, like in this eggnog bundt cake.
You can also add it to your morning coffee or serve it over multigrain waffles.
📖 Recipe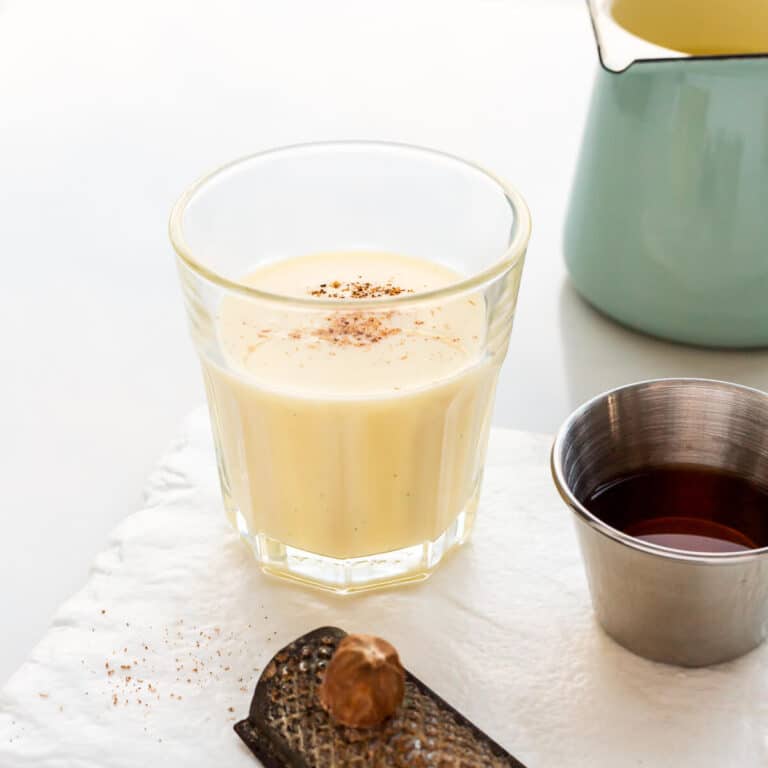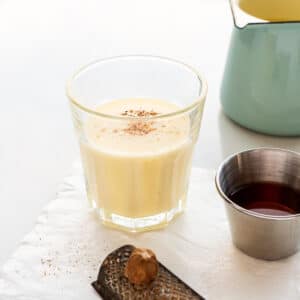 Homemade Eggnog
Homemade eggnog is a custard drink flavoured with freshly grated nutmeg that can be served with alcohol.
Ingredients
750

mL

whole milk (3.25 % fat)

100

grams

granulated sugar

divided

2.5

mL

ground nutmeg

more or less depending on how much you like nutmeg

5

large egg yolk(s)

0.625

mL

Diamond Crystal fine kosher salt

5

mL

pure vanilla extract

80

mL

spiced or dark rum

or you can use bourbon or even brandy
Instructions
Set a medium metal bowl in a large bowl of ice water and have a fine sieve at the ready.

Combine the milk, half the sugar, and the nutmeg in a 3-quart saucepan. Set the pan over medium heat, stirring occasionally to encourage the sugar to dissolve. Heat the mixture through but do not allow it to boil (this is key to avoid making eggnog scrambled eggs!). Remove from the heat.

Put the egg yolks and salt in a small heatproof bowl and gently whisk to break up the yolks. Whisk in the remaining half of sugar and beat the mixture until the yolks become very pale and light. Gradually whisk in the warm sweet milk mixture. Pour the yolk mixture back into the saucepan, and whisk to combine.

Cook over medium-low heat (slow and steady), stirring constantly with a clean wooden spoon until the custard thickens enough to coat the back of the spoon and hold a line drawn through it with a finger, about 8 minutes. An instant-read thermometer should register 170°F–175°F. Do not let the sauce overheat or boil because then you will probably curdle the mixture, making eggnog scrambled eggs. Immediately strain the sauce through the sieve into the bowl set in the ice-water bath.

Gently whisk in the rum and vanilla extract. Stir the drink occasionally until cool, about 10 minutes. Transfer it to a large container. Cover and refrigerate for about 1 hour, until the eggnog is velvety and slightly thick.
Nutrition
Calories:
215
kcal
Carbohydrates:
23
g
Protein:
6
g
Fat:
7
g
Saturated Fat:
4
g
Cholesterol:
143
mg
Sodium:
100
mg
Potassium:
178
mg
Fiber:
1
g
Sugar:
23
g
Vitamin A:
376
IU
Calcium:
157
mg
Iron:
1
mg