Here's everything you need to know" about Turkish coffee: the type of coffee used in Turkish coffee, how to brew Turkish coffee in a kanaka, how to serve Turkish coffee, and also an "instant method" for making Turkish coffee with boiling water directly in your cup.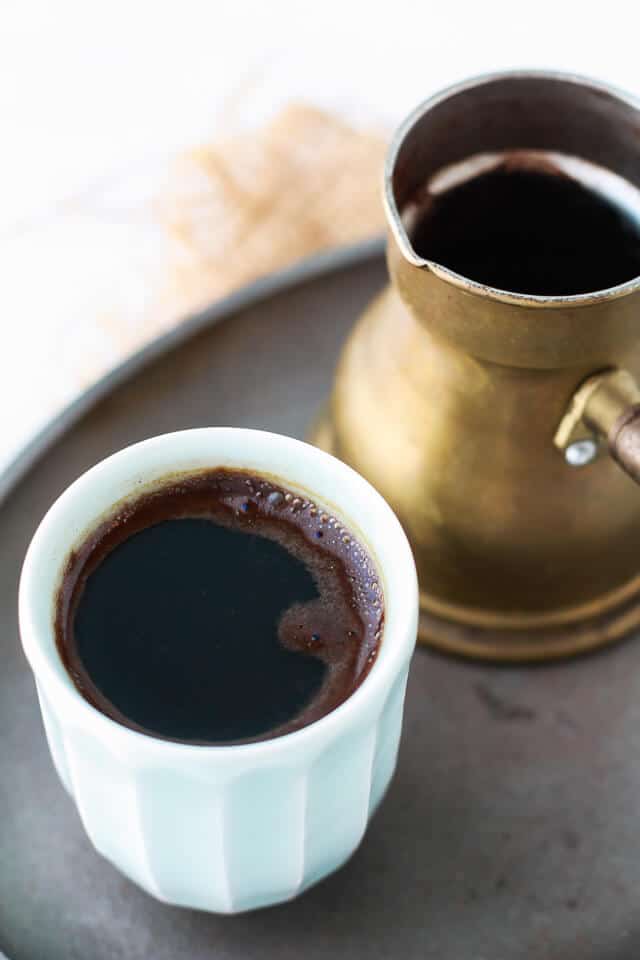 Disclosure: As an Amazon Associate, I earn from qualifying purchases.
What are the ingredients in Turkish coffee?
Turkish coffee, also known as Greek coffee or Arabic coffee, is made from Arabica beans that are very finely ground. Some also grind in cardamom along with the coffee beans, imparting floral, spicy, and citrus notes when brewed. The cardamom makes Turkish coffee even better in my opinion. Turkish coffee is enjoyed in many Middle Eastern and European countries, such as Turkey, Greece, Lebanon, Iran, and Egypt. Many will serve Egyptian shortbread cookies or pistachio baklava with Turkish coffee.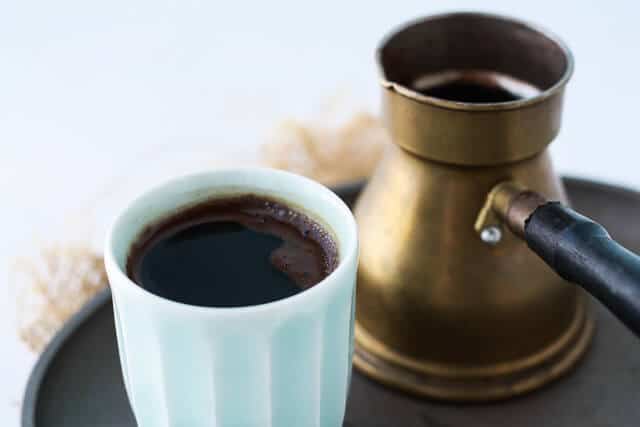 How do you make Turkish coffee?
Equipment needed to make traditional Turkish coffee
Turkish coffee pot on a stovetop: Though there isn't really a Turkish coffee maker per se, the kanaka (also known as cezve, briki or briki, or also rakweh) is the traditional method for brewing Turkish coffee on the stovetop. It's a small, but tall pot with a handle and a pouring spout.
Alternative: either a small saucepan OR a kettle to boil water if you don't have a traditional Turkish coffee pot
How do you make Turkish coffee without an ibrik or kanaka?
If you don't have an ibrik or kanaka, you have two options for making Turkish coffee without the ibrik:
The "instant" method to make Turkish coffee without an ibrik or kanaka: My aunt taught me that now it is quite common to make "instant" Turkish coffee these days, just by stirring the coffee grinds with boiling water directly in your coffee cup. So for this, all you need to do is bring water to a boil in a kettle or in a pot on the stove.
Make Turkish coffee in a saucepan on the stove if you don't have an ibrik: purists will mock, but if you don't want to buy an ibrik, this is your best option.
Use an espresso Moka pot to make Turkish coffee without an ibrik: the trouble with Turkish coffee is the beans are very finely ground so if you brew Turkish coffee in an espresso pot, the Turkish coffee grinds may escape through the pores. Still, most who drink Turkish coffee are used to the grinds left behind in the cup, so this is also a great option. You can buy the Moka pot on Amazon.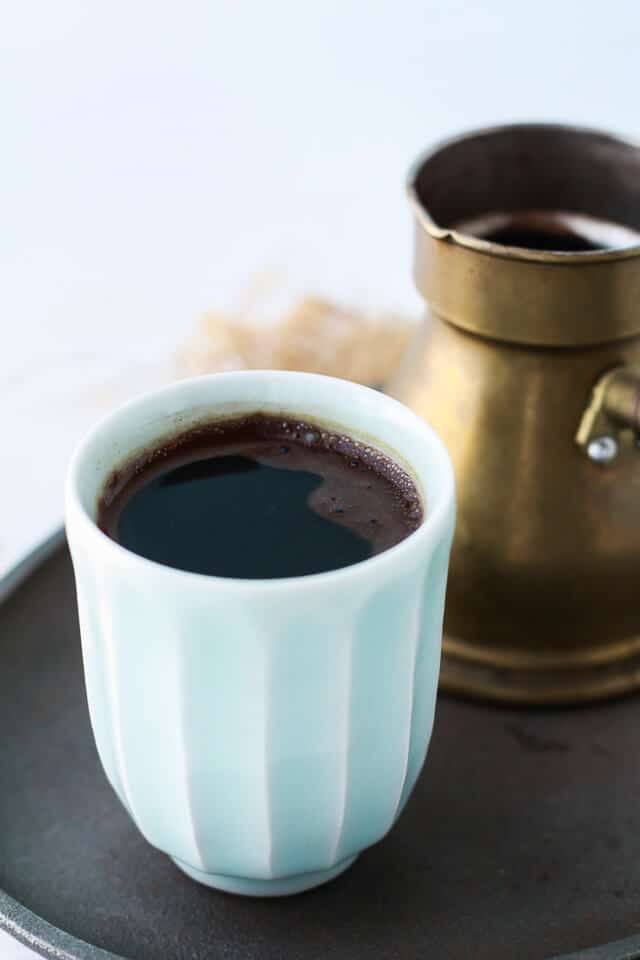 How is Turkish coffee served?
When the coffee is ready, Turkish coffee is poured into small cups, much like Italian espresso, and most of the wet coffee grounds are transferred to the cups. The coffee grounds settle to the bottom of the cup before drinking. Turkish coffee is often served with lots of sugar, though many enjoy it plain and unsweetened. Milk isn't added to Turkish coffee. While some cultures remove the foam that forms when the Turkish coffee is brewed, in Egypt, the foam on the coffee is called the "wish" (i.e. face) and it is good luck, so the Turkish coffee is served with the foam on top. The best method for achieving the most foam when making Turkish coffee is on the stove.
Some say the coffee grounds left at the bottom of the cup can be used to tell your fortune. The cup is inverted onto a saucer and the residual coffee grounds are used for fortune-telling, also referred to as tasseography.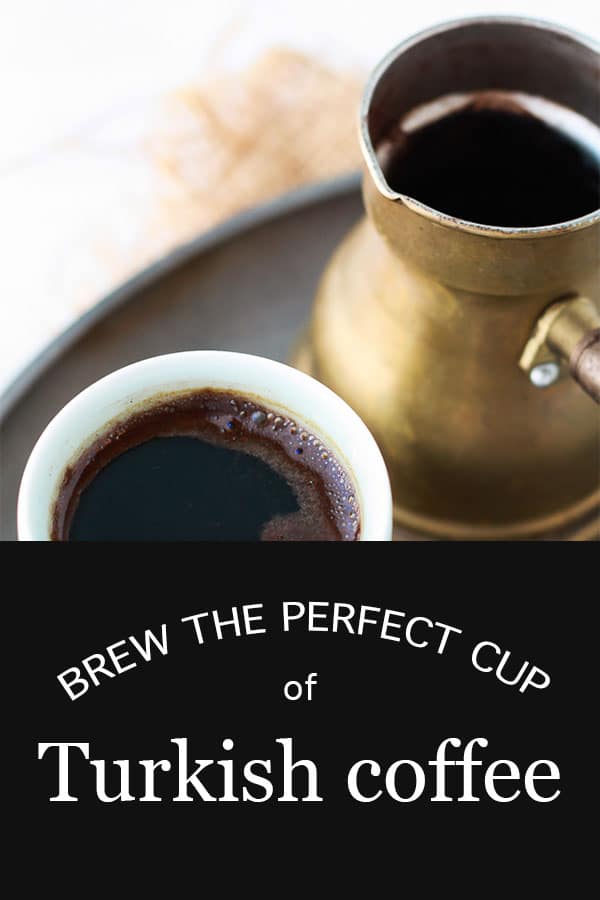 However you choose to make it, Turkish coffee is delightful. It is sweet, slightly floral from the cardamom, and not at all bitter so you can enjoy it hot, without milk, and even without any sugar. And if you love Turkish coffee, try these Turkish coffee buns, sweet Turkish-coffee-flavoured bread buns.
📖 Recipe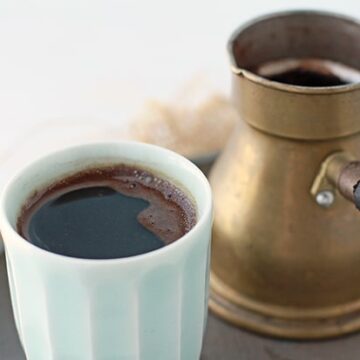 How to make Turkish coffee
Here's how to make Turkish coffee, the fast way with boiling water and the slow way with a kanaka on the stove.
Instructions
The "instant" way:
Place coffee grinds and sugar (if using) in a small coffee cup. Top with boiling water.

Stir the mixture, going around 23 times with your spoon (not 19 or 27 times!). Stirring is important so that the coffee grinds hydrate better and sink to the bottom so that you aren't drinking grainy coffee later.

Let the coffee settle for a few minutes and sip while hot.
The "traditional" way in Egypt (please note: this method requires a kanaka)
Place coffee grinds and sugar (if using) in the kanaka. Top with cold water.

Place the kanaka on the stove and heat on low very slowly until the mixture just begins to boil (if it boils too much, you will lose the foam, and possibly your good luck, especially when the coffee erupts out of the pot).

Remove from heat and let sit 1 minute before pouring into a small coffee cup.
Nutrition