Egyptian shortbread (also called ghorayebah) are different than the typical shortbread from the UK because they are made with clarified butter (samneh) instead of regular butter, as well as icing sugar, and an egg yolk. The resulting shortbread are sturdy and crisp yet tender, with a melt-in-your-mouth texture that can't be beat!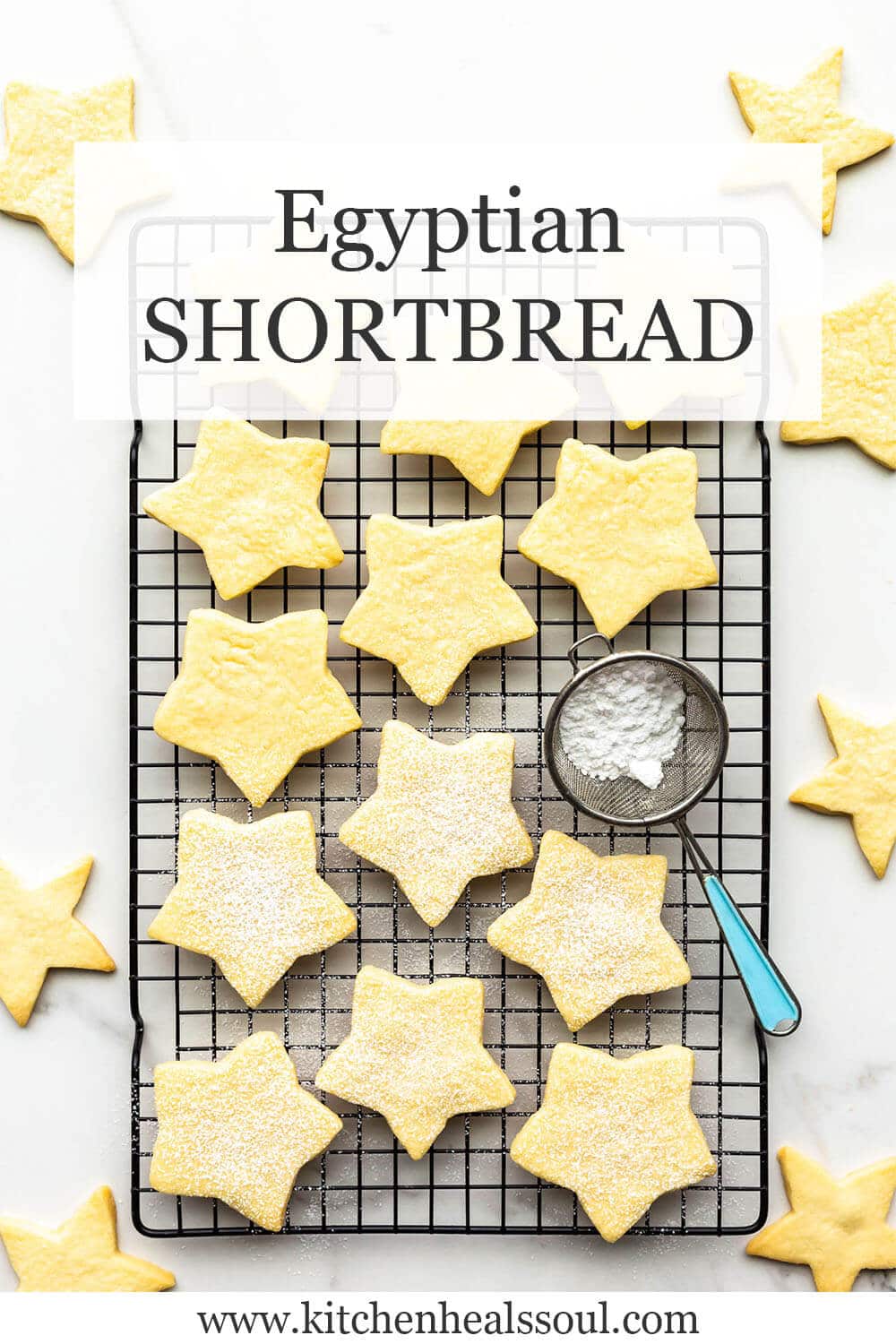 We make Egyptian shortbread (ghorayebah in Arabic) every Christmas. Full disclosure: I'm sure that the Lebanese will say that they are Lebanese shortbread (or ghraybeh), and the Syrian's will correct me and call them Syrian shortbread, and the Iranians will label them as Iranian cookies…. Whatever you want to call them is fine. They are Egyptian to me.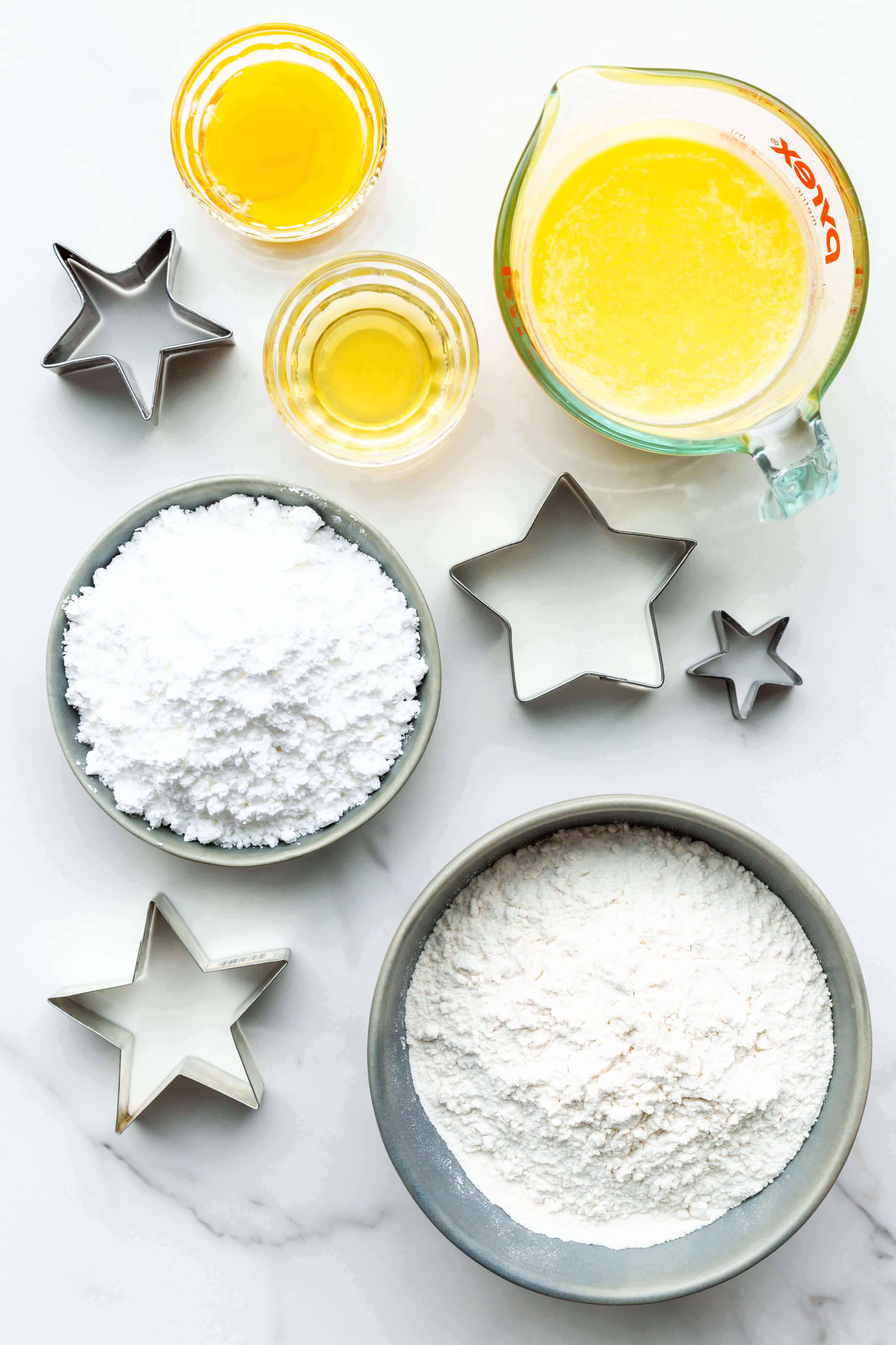 Disclosure: As an Amazon Associate, I earn from qualifying purchases.
Egyptian butter cookies are made with clarified butter
These Egyptian butter cookies are different than typical shortbread cookies from the UK in that the Egyptian shortbread are made with clarified butter, which is called samneh. Clarified butter is very easy to prepare: you heat your butter in a small saucepan on low and as the milk solids separate from the fat, you can use a spoon to skim them off the top.
To further clarify the butter, pour the hot melted butter through a cheesecloth to remove any leftover solids. The resulting melted butter will be a clear, golden yellow colour. It will turn opaque as it cools and solidifies, turning into a pastel yellow colour, but quite solid.
Clarified butter is sometimes called ghee, but in some cultures, ghee is actually made from browned butter, where the milk solids are browned to caramelize them. When the melted browned butter is strained, it is ghee, and it has a slightly nutty flavour from the browned milk solids. Clarified butter has a different flavour, more creamy/milky and delicate.
Both clarified butter or ghee can be used in this recipe. Just make sure the butter is at room temperature. The beauty of baking with either of these is that clarified butter and ghee have a longer shelf-life, which means that the cookies can be stored for longer.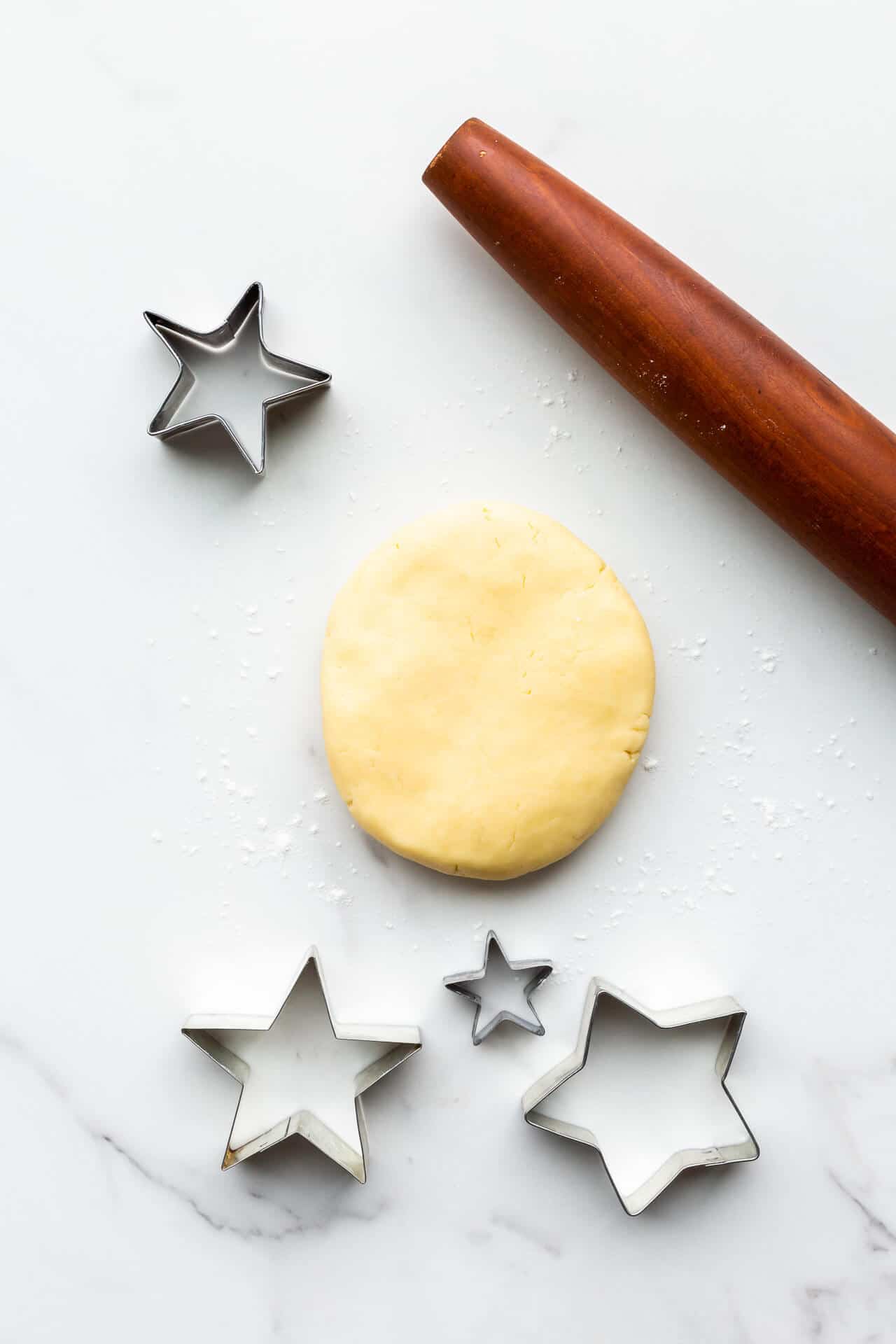 Traditionally, Egyptian shortbread are rolled into small balls, and a nut is placed on each one before baking, so they may look similar to jam thumbprint cookies. In my family, we actually roll out the dough with a rolling pin and cut out the cookies using a round cookie cutter or a glass, or with simple cookie cutters, like stars. This yields a more delicate biscuit that is lovely served with afternoon tea.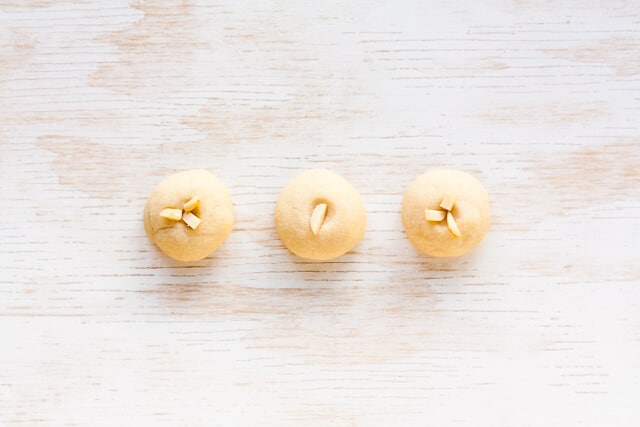 These rolled out butter cookies have a texture very similar to these jam-filled shortbread, which are cut-out shortbread cookies sandwiched with a jam filling (but you could also use homemade nutella). The shortbread used for sandwich cookies have less sugar (half of it!) because you sandwich them with sweet jam. These ghorayebah have a ratio that is very close to the 1-2-3 shortbread ratio (1 part sugar, 2 parts butter, 3 parts flour, by weight), the go-to ratio for most shortbread.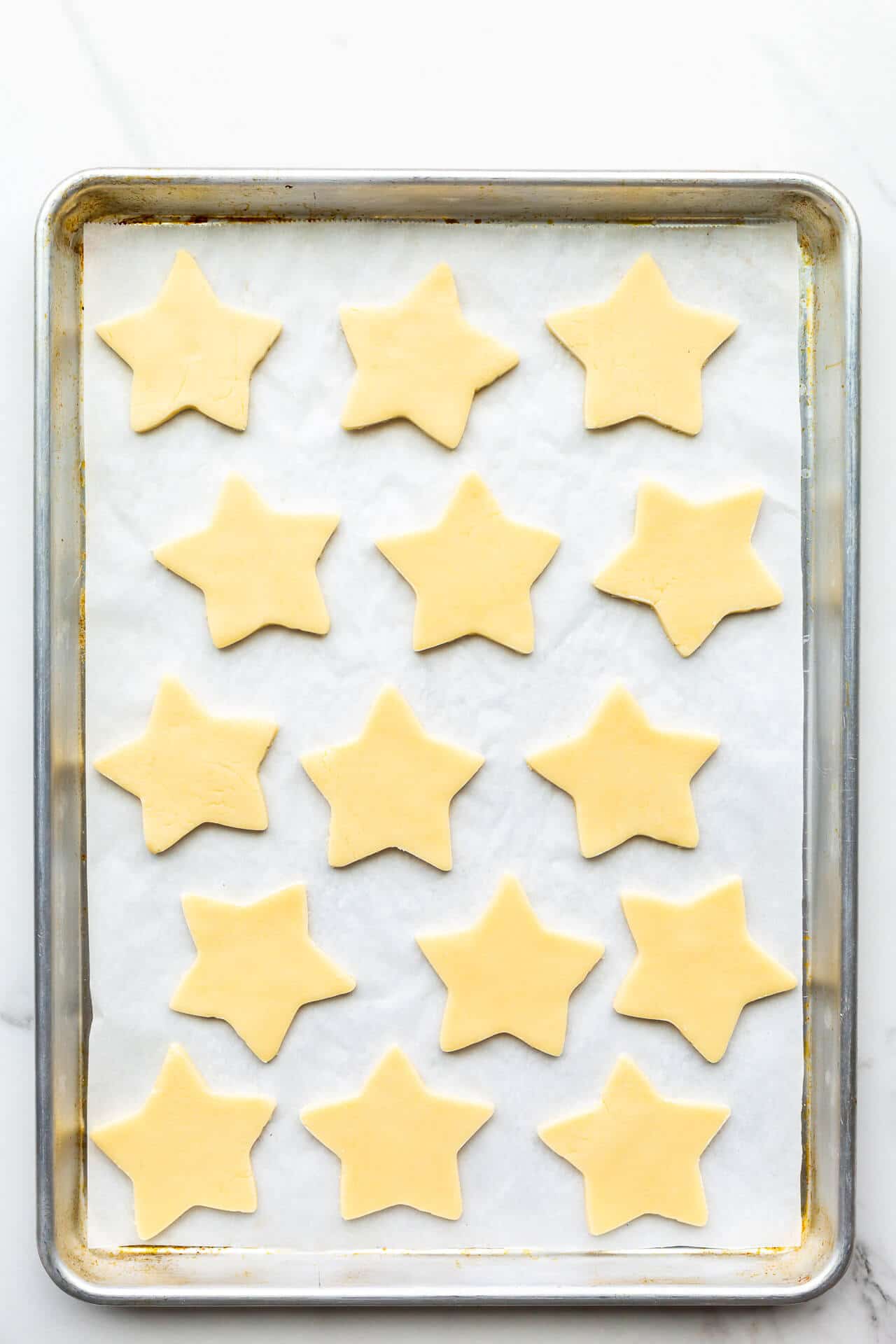 Chill the cookies to reduce spread
Like with any cutout cookies, the secret to preventing them from spreading in the oven is to chill the cookies before baking. By cooling the cookies in the fridge, the butter takes longer to melt and so the cookies hold their shape longer as the edges set out and dry.
You can bake the cookies as soon as you've cut them out if you are in a hurry, but the edges may soften a little as the cookies bake. The cookies will taste just as good! If you decide to chill before baking, you may add a minute or two to the baking time to ensure they are properly cooked.
Making tender rich shortbread
The texture of Egyptian shortbread cookies should be crisp but tender, firm enough that you can ship them, but not hard to bite. The secret to making these cookies more rich and tender is using icing sugar (powdered sugar) to make the dough and also adding an egg yolk. The egg yolk provides a lot of richness to the classic shortbread.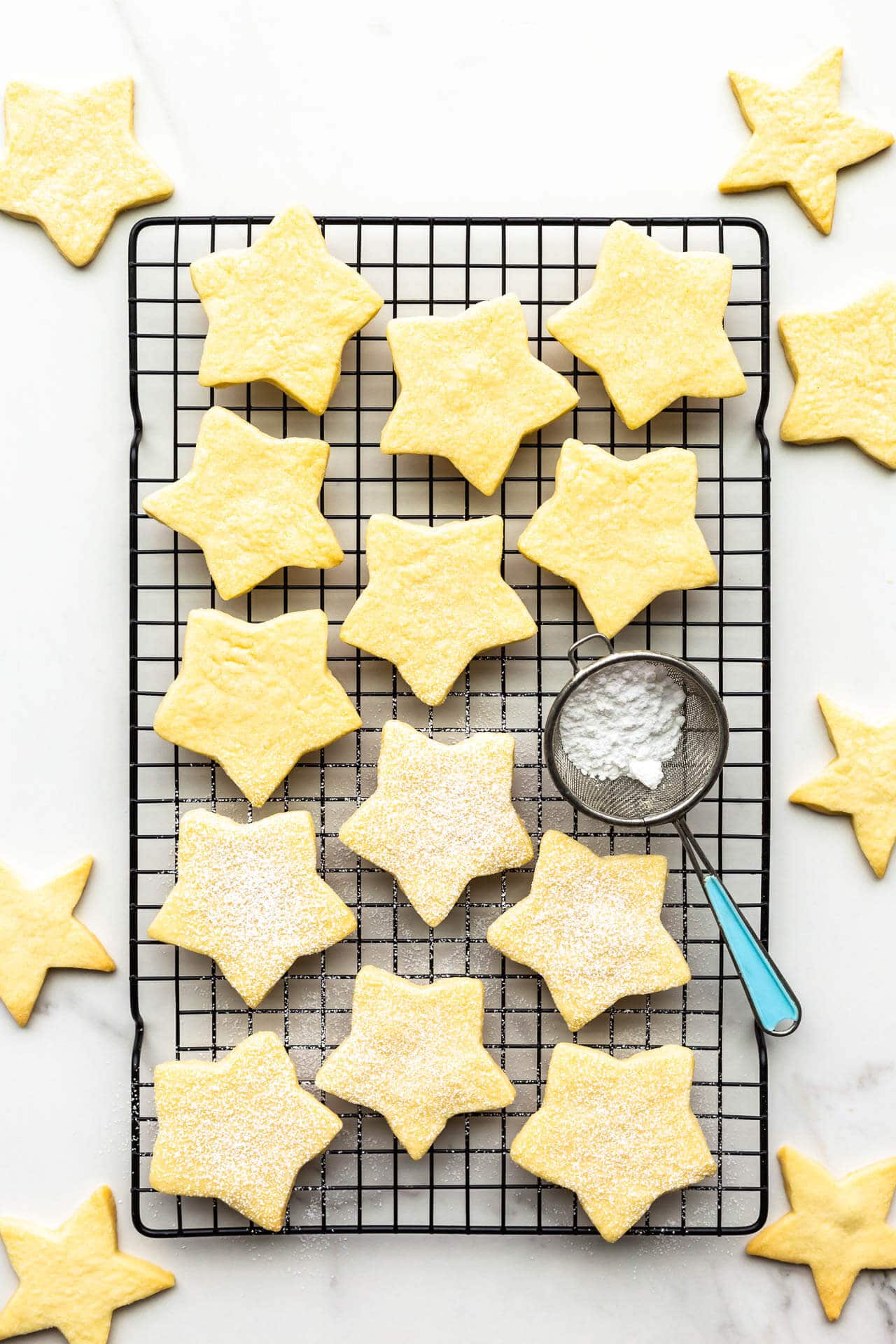 These should not be chewy! If your butter cookies are chewy, you probably didn't bake them for long enough. It's very important that the cookies dry out in the oven to achieve the perfect texture. If you want chewy cookies, these are not the cookie for you. Make these chewy chocolate chip cookies instead.
Egyptian cookies are often sprinkled with powdered sugar to serve them. This is a very simple way of decorating them. If you find they are sweet, you can reduce the icing sugar in the cookie dough by 30 grams (¼ cup).
After years of baking this recipe, I think we have come up with the right ratios yielding a cookie that is delicate but firm enough to munch on without making a mess. These are not the typical British shortbread since the Egyptian shortbread are made with samneh (also known as clarified butter) and powdered sugar. An egg yolk makes the cookies more tender, while a touch of brandy gives them an interesting flavour. You can substitute the same volume of vanilla extract for the brandy, or use a different alcohol like rum or bourbon. The flavour of these shortbread is really special.
My dad still reminisces of the years when our cookies were so short that he'd take a bite of one only to find that the rest of the cookie had crumbled in his hand and all over his lap. Clearly dad's an even bigger fan of butter than I am!
📖 Recipe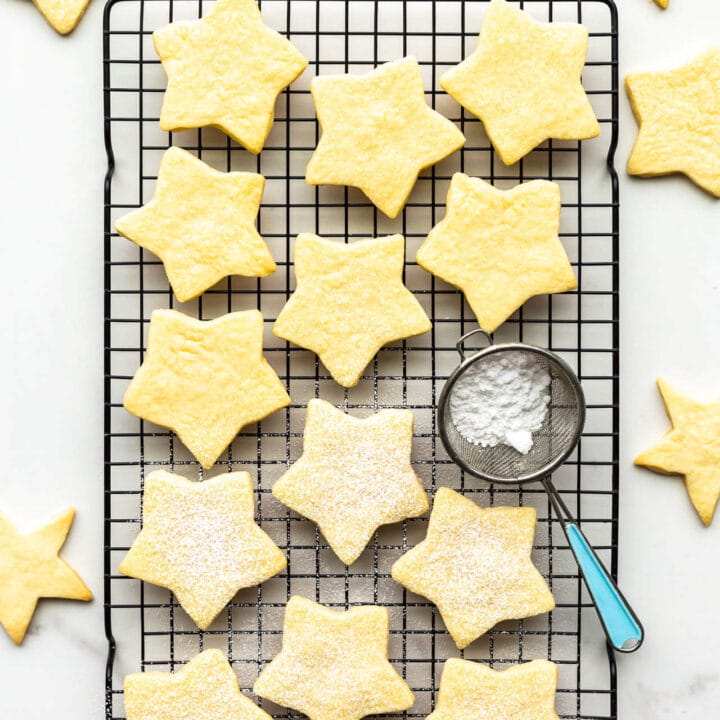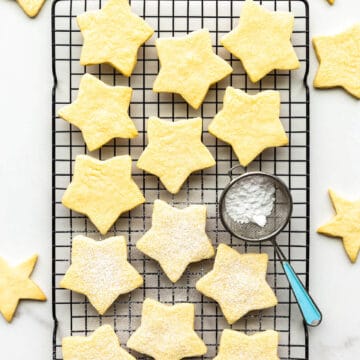 Egyptian Shortbread (Ghorayebah)
Egyptian shortbread (also called ghorayebah) are made with clarified butter. They are tender, crisp, and yet sturdy, while they still have that melt-in-your-mouth quality of a good butter cookie!
Ingredients
200

grams

clarified butter

aka ghee or samneh, room temperature

125

grams

icing sugar

sifted

1

large egg yolk(s)

310

grams

bleached all-purpose flour

30

mL

brandy

or dark rum or even whiskey or bourbon can work!
Instructions
Preheat the oven to 325°F. Line a couple sheet pans with parchment paper. Set aside.

In a large bowl using an electric hand mixer or in the bowl of an electric mixer fitted with the paddle attachment, cream the butter and sugar until smooth.

Add the egg yolk, and mix until combined.

Add the flour, one third at a time, mixing and scraping down the bowl as needed. Continue beating the dough until it is crumbly but well mixed.

Mix in the brandy. The dough will be crumbly but hold together when squeezed.

Form the dough into 2 flattened disks.

On a lightly floured surface, roll out 1 disk until it is ¼ inch thick so that the dough doesn't stick. Cut into circles with a glass dipped in flour (~2.5 inch diameter glass) or star cookie cutters. Place them on the prepared sheet pans.

Bake the cookies for about 16 minutes. The cookies are done when they look completely dry on the surface and are just starting to colour on the bottom edges. The timing is highly dependent on how hot your oven is: if your oven is hotter (and heats to closer 350°F), they may bake in as little as 8 minutes. Do not let them brown too much because that changes the flavour completely.

Remove the pan from the oven, and place it on a wire rack to cool for a couple minutes before transferring the cookies to another rack to cool completely.

Serve the cookies as is, or sprinkled generously with more powdered sugar.
Notes
Rolling out shortbread cookie dough is tricky. If you find the dough is cracking a little, just press it back together. If the dough sticks to your work surface, you can use an offset spatula to get the cookies off the table top to transfer them to your baking sheet.
If you find your cookies spread or lose their shape when they bake in the oven, chill the cutout cookies on the sheet pan for 15 minutes before baking. This will reduce cookie spread.
Nutrition
Calories:
97
kcal
Carbohydrates:
10
g
Protein:
1
g
Fat:
6
g
Saturated Fat:
4
g
Cholesterol:
20
mg
Sodium:
1
mg
Potassium:
9
mg
Fiber:
1
g
Sugar:
3
g
Vitamin A:
7
IU
Calcium:
2
mg
Iron:
1
mg
Troubleshooting Egyptian shortbread recipe
If your dough is crumbly and delicate, that's normal! The dough is probably crumbly because we don't make the dough with regular unsalted butter. For Egyptian shortbread, we use clarified butter (with little to no water in it): there isn't much gluten that can form in this dough because gluten needs water to arrange in a network and the clarified butter isn't providing it. No gluten? Crumbly dough.
The gluten network is also disrupted in doughs that are high in fat and high in sugar. This dough is both high in fat and has a fair bit of sugar.
Adding a couple of tablespoons of water makes the dough easier to work with, but the cookies don't bake as nicely, especially if you make thumbprint-style shortbread. Basically, water makes them look uglier somehow.
An extra yolk doesn't help the dough at all. Just as crumbly.
Adding two tablespoons of egg white to the dough instead of the yolk gives enough "glue" to form a more cohesive dough and that dough is a little easier to roll out. When baked, the texture of the cookie is crisper with the extra egg white, and not as "short".
You can pat out the dough into a parchment-lined springform pan, score it and bake it, just like you would for classic shortbread. This works quite well and it's the easiest solution to making the cookies without any trouble. This is what I did when I made lavender shortbread.
Reducing the sugar or the flour in the recipe doesn't make this dough much easier to work with, and most importantly, if you use less flour, the cookies spread more as they bake. I prefer the flavour with more icing sugar, but feel free to use less if you prefer (like 30 grams or ¼ cup less)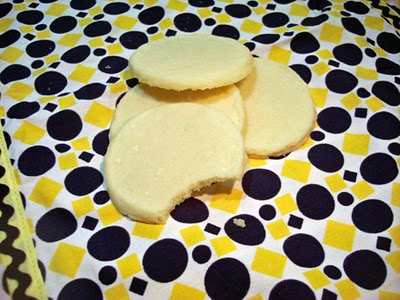 We have made these cookies for years. The recipe comes from my aunt Fawzia in Egypt. She gave my dad the recipe over the phone, which he quickly translated into English, inscribing it on a scrap piece of paper as she spoke. The recipe she gave him was vague, to say the least. My aunt Fawzia was the oldest of my dad's siblings, and she was quite the cook. She cooked and baked these traditional recipes for our family for so long that she measured nothing. She had a feel for how much of each ingredient had to be added. I'm sure her recipes were dependent on the weather and the look and touch of what she was preparing, but whatever she put together always worked out deliciously.
I swear, she could cook for an army in a tiny New York kitchen without a single measuring spoon to be found. When she gave my dad her shortbread recipe, she guesstimated amounts in "saucers" and "cups" (but not the cups that you or I know). I don't think that she actually knew how much of each ingredient she used in her recipe because she had so much experience making them that she could eyeball the quantities. But the rest of us need exact measurements so that's why I published this recipe.