Nutella is a commercial chocolate hazelnut spread available in most grocery stores. You can make a homemade version of Nutella without hazelnuts, using any nut or nut butter (or even tahini!), with the recipe below. Find out what nuts make good hazelnut substitutes and the steps it takes to transform any nut (or nut butter) into a nutty chocolate spread that kids and adults will love.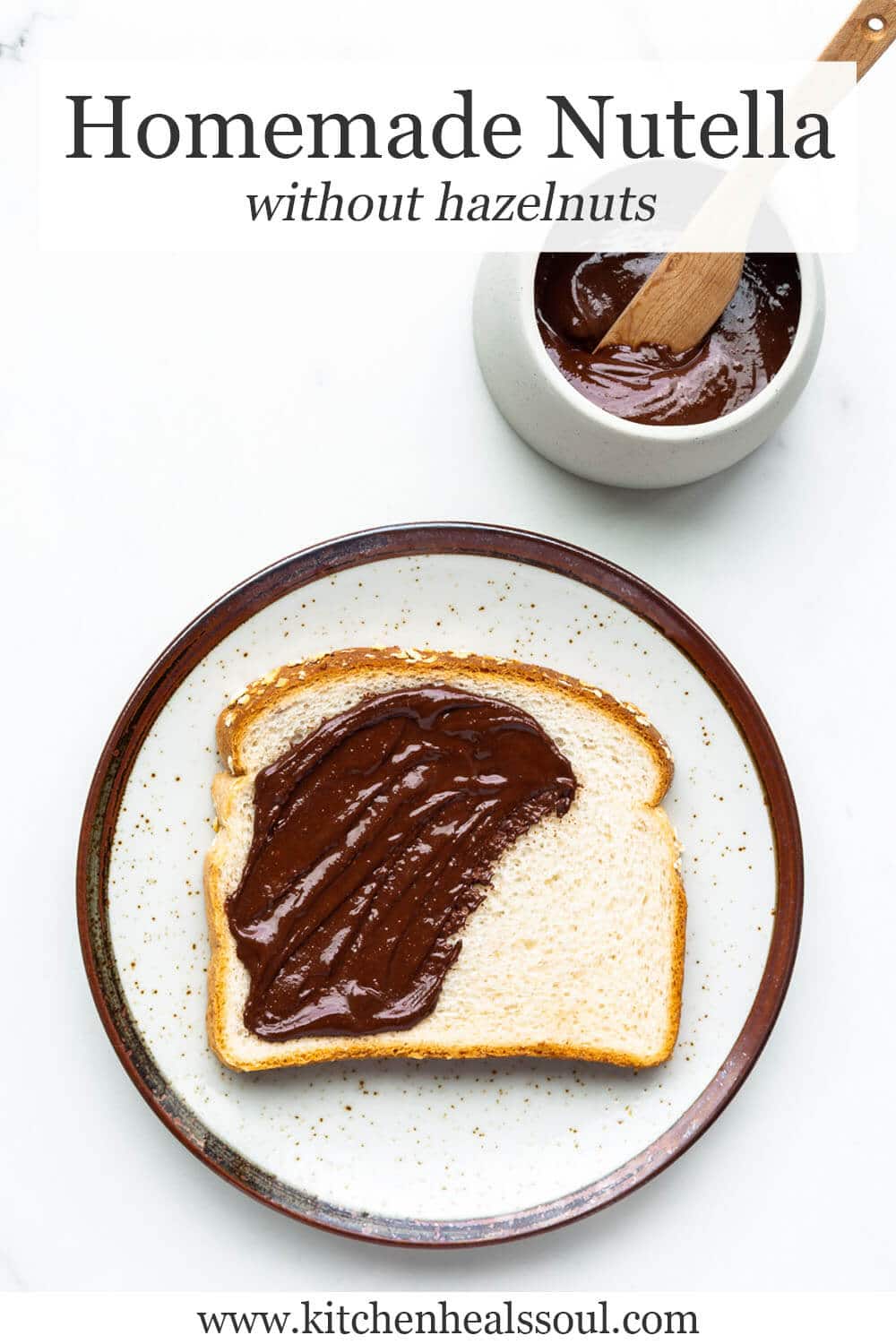 Disclosure: As an Amazon Associate, I earn from qualifying purchases.
I used to love eating Nutella smeared thick on a slice of soft white sandwich bread. Then, one day, I developed a hazelnut allergy. No more Nutella for me! So I decided to investigate how to make Nutella without hazelnuts at home.
Ingredients to make homemade chocolate hazelnut spread without hazelnuts
Turns out, to make homemade Nutella with any type of nut or seed, all you need is nuts, cocoa powder, icing sugar, oil, and a little salt. That's it! This recipe couldn't be easier and the options are endless.
The chocolate
You have two options for making chocolate spreads at home: melted chocolate or cocoa powder. I used cocoa powder to make this chocolate spread, allowing me to control the amount of sugar that goes into the recipe.
If I recommended using melted chocolate, it would be difficult for me to know what chocolate you use and your chocolate may be more or less sweet than the chocolate I use, and that could lead to flavour issues. So for this recipe, we're using cocoa powder. Also, when working with melted chocolate and incorporating other ingredients, you might end up with separation issues where the oil separates from the spread. Cocoa powder is easier to handle.
I bake exclusively with Dutch-processed cocoa powder, which has a better chocolate flavour and a darker colour. Cacoa Barry "Extra Brute" dark cocoa powder is what I use (available on Amazon or from Vanilla Food Company)
. That is the cocoa powder I used for this recipe. Dutch-processed is quite different than natural cocoa powder. You can read more about the difference and how they aren't the same as other types of chocolate for baking.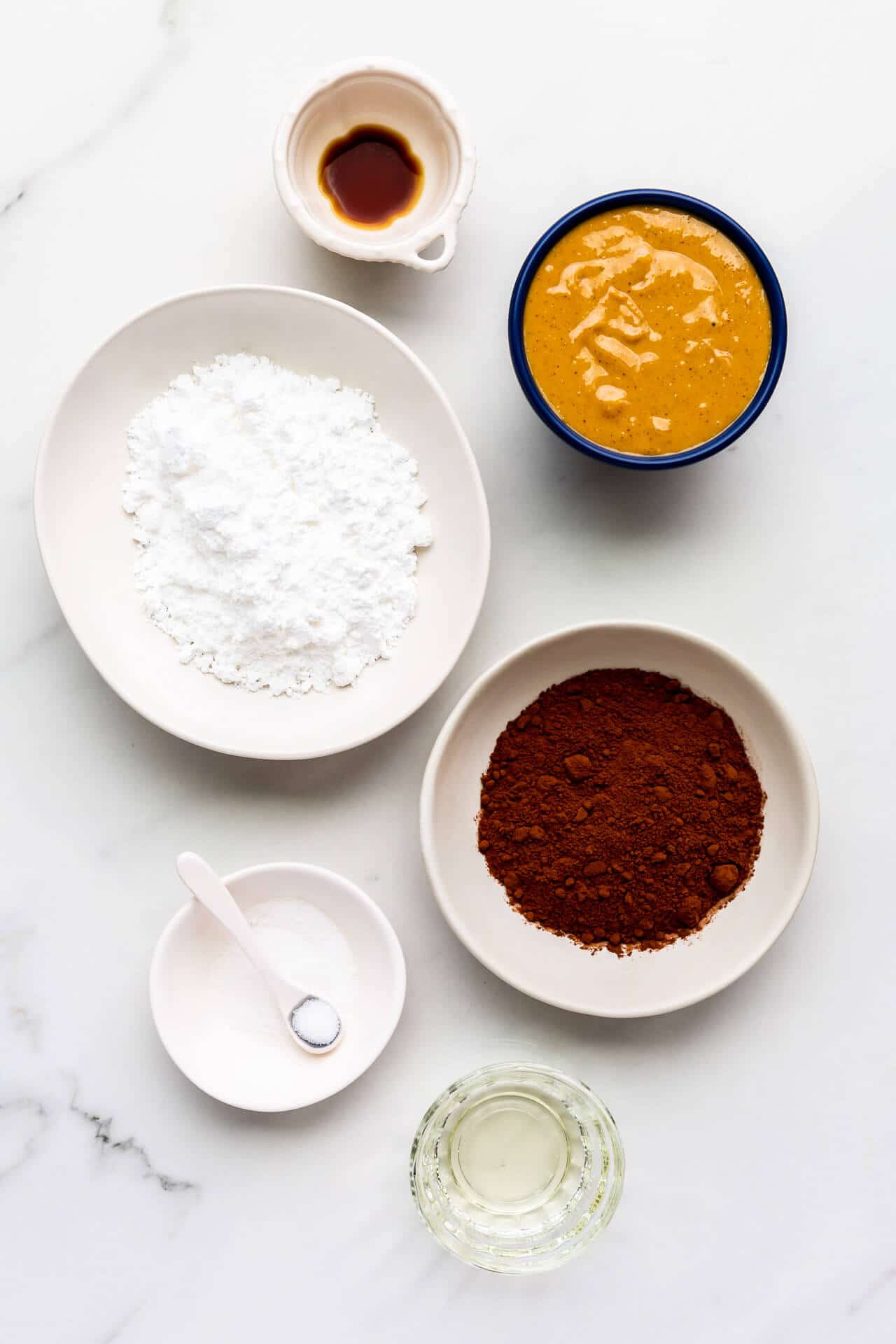 Hazelnut substitutes
The most common substitute for hazelnuts is almonds. Both nuts have a similar texture. Other nuts you can try are cashews. Often cashews are used in baklava instead of hazelnuts or pistachios. For example, you can replace the pistachios in this pistachio baklava with cashews and see how you like it! Macadamia nuts are sweeter and pecans have a different texture, but even these would work as a replacement for hazelnuts. Basically, you can use any nut to replace hazelnuts quite successfully in a simple recipe like the one below, but it's a matter of personal preference.
For those who really can't eat any nuts, use seeds, like sunflower seeds, sesame seeds, or pumpkin seeds to make nut-free Nutella at home. Actually, bakers grind up sunflower seeds to replace almond flour in baking recipes, such as macarons if they want them to be nut-free! You could even try sesame seeds in this recipe.
I tried seven different roasted nuts to find which would work best in my hazelnut-free homemade Nutella: almonds, cashews, macadamia nuts, peanuts, pecans, pistachios, walnuts. I also tried sesame (by using tahini). All roads lead to a delicious chocolate spread that kids and adults will love.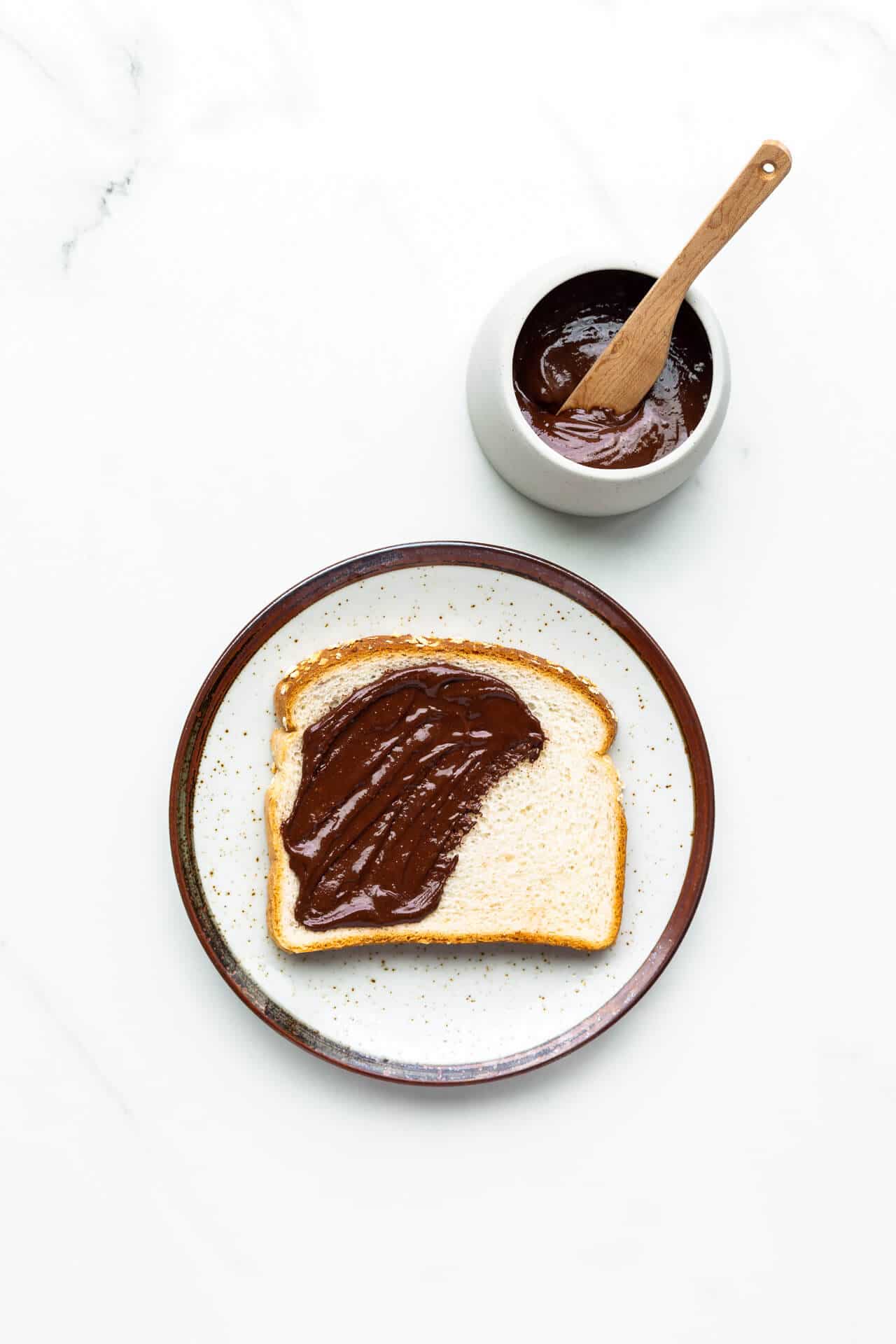 Why do we need oil?
Without the oil in this recipe, the chocolate spread is too thick to smear on toast or bread, and you end up tearing the bread while struggling to smooth the spread over the surface of it. Not ideal. The oil thins out the spread, while allowing you to maintain the emulsion you've developed processing the nut butter with the other ingredients.
I tested milk and water for this purpose but it wasn't as successful with either of these in this recipe. Best to use oil. You can use an affordable neutral tasting oil (like canola oil or sunflower oil), or you can use a nut oil. For example, it would be interesting to use almond oil to make a chocolate almond spread!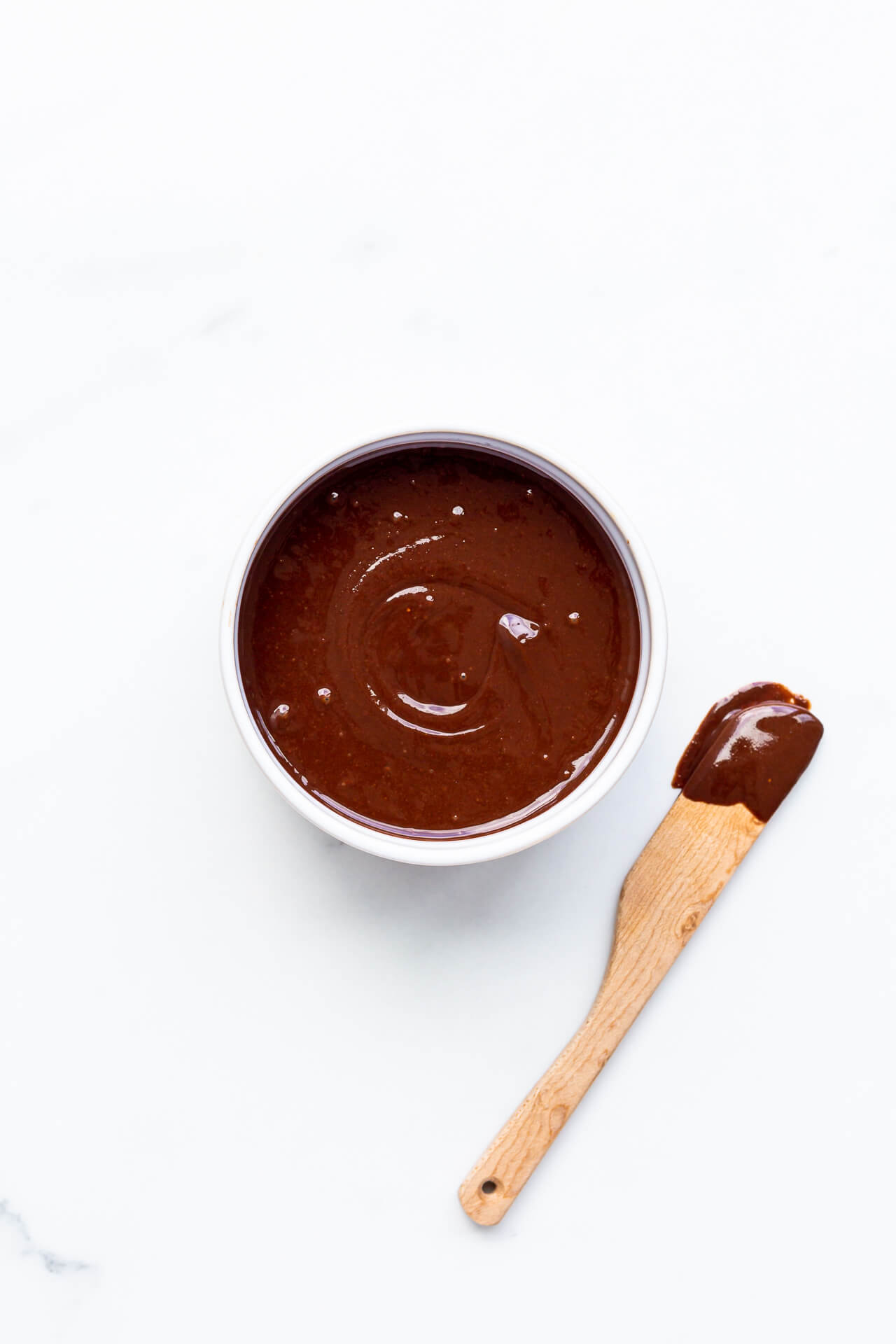 Making chocolate hazelnut spread at home without hazelnuts
Special equipment
To make homemade Nutella, you will need a food processor or a mini food processor for a small batch. There's no avoiding it. Even if you start with natural unsweetened peanut butter or tahini, you still need a food processor to properly incorporate the ingredients to make a silky smooth spread that is glossy, thick, and spreadable. I tried. Mixing by hand does not work well for this recipe and if you try, you will find that your spread is too thick to smear on any bread.
For a small batch, I used a small 3.5 cup KitchenAid food processor from Amazon. For a larger batch, I used my Cuisinart 11 cup food processor, also from Amazon. I suspect high powered blenders like Vitamix or Blendtec would also work, but I haven't tried either of these for this recipe. Let me know in the comments if you do!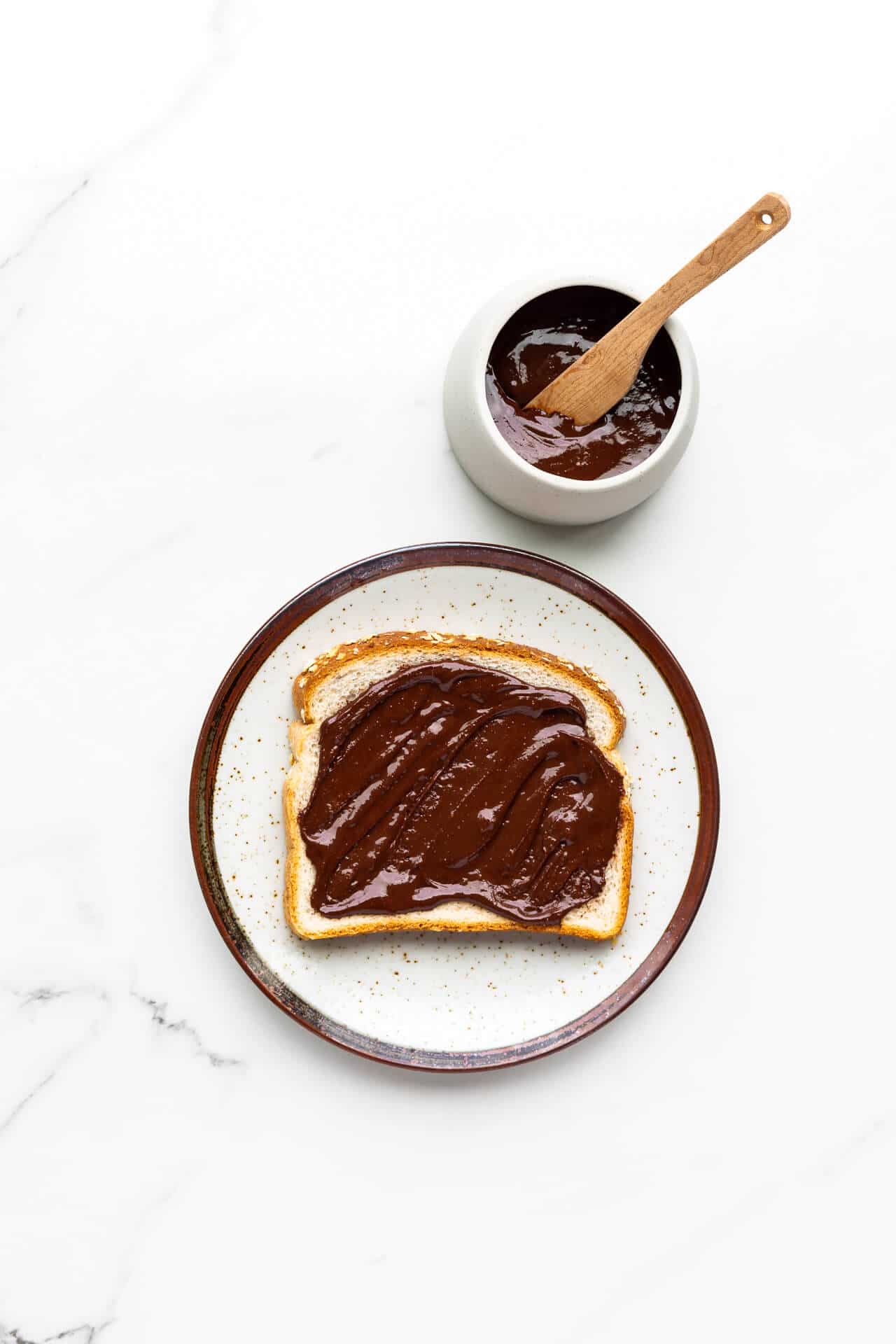 Steps
The steps to make Nutella without hazelnuts are pretty simple (and yes, you could also use hazelnuts but that's not the point):
Do your mise-en-place, which is fancy French baking term telling you to measure out all your ingredients before you begin. This way, it'll take you just a few minutes to whip up a batch in the food processor.
Whisk together the dry ingredients, which include powdered sugar, cocoa powder, and salt. This step is optional, but it helps you avoid any clumps and also ensures an even distribution of the ingredients.
Toast the nuts you want to use to add flavour. You can do this in a dry fry pan on medium heat, until they are nice and roasty-toasty or for large batches, like this recipe, toast the nuts in your oven preheated to 350 ºF. Toasting could take 10 to 20 minutes. Make sure to stir often and to watch them because nuts quickly go from toasted to burned. If using nut butter, you can skip this step.
Grind the toasted nuts until they are finely ground in the food processor. I used a small 3.5 cup KitchenAid food processor from Amazon for a small batch. For a larger batch (double the recipe below), I used my Cuisinart 11 cup food processor, also from Amazon. If using a nut butter, you just place it directly in the food processor.
Add the dry ingredients, along with some vanilla (⅛ tsp) and blend until smooth. It takes several minutes to transform the mixture into a thick spread.
Adjust the consistency of the spread with a little oil, the amount varies and you could use up to 45 mL (3 tablespoons). Keep processing the mixture until you form a spreadable paste.
Homemade Nutella made this way is dark brown, very nutty and very chocolate-y. This homemade chocolate spread might not be as silky smooth as the original store-bought product if you process the mixture for less time or if your food processor isn't powerful enough. The spread will be shiny and glossy.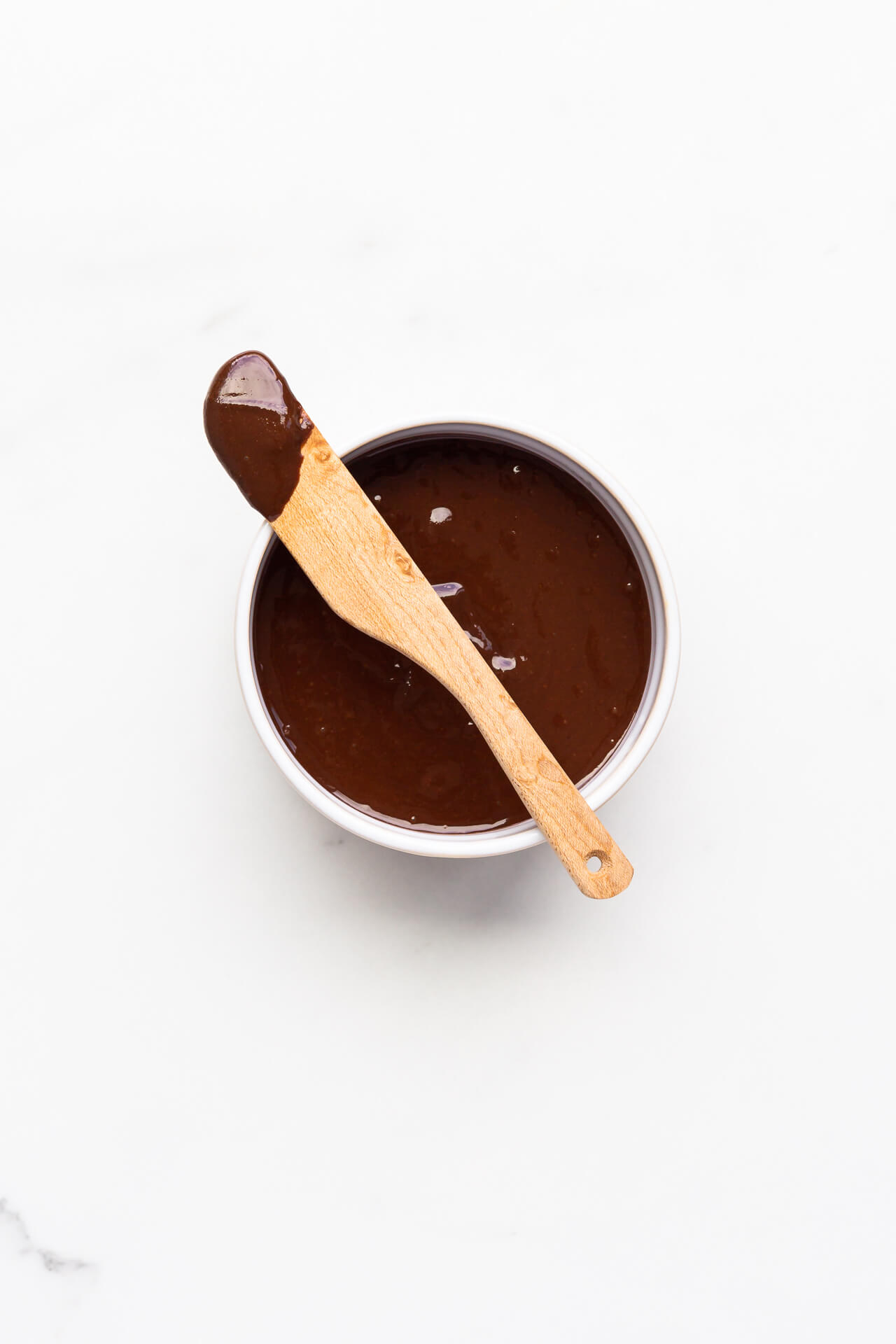 I think it's worth exploring making this recipe with sesame paste, like tahini (this is the tahini I buy on Amazon), if nuts aren't your thing. Replace the nuts with the same weight of tahini. I think you will find the resulting chocolate tahini spread very tasty!
Here's the base-recipe I used to make my homemade Nutella without hazelnuts to get you started. Please note it was originally published in the LA Times to be made with hazelnuts, but because I am allergic, I tested the recipe with almonds, cashews, macadamia nuts, pistachios, walnuts, pecans, and peanuts. I've also tested this recipe with natural peanut butter and also tahini. Both work great and allow you to skip a few steps and the spread is smoother if you start with a nut butter.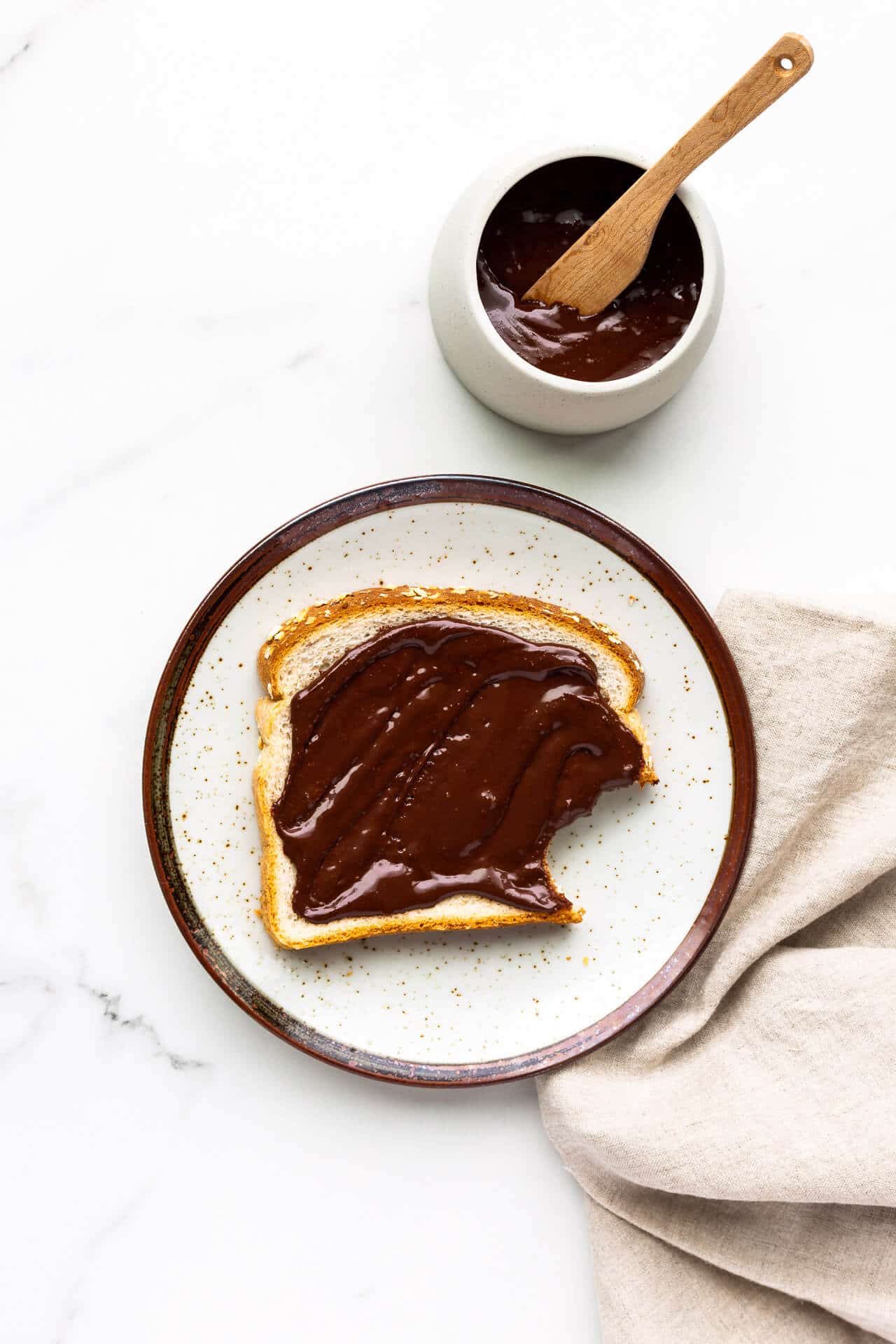 📖 Recipe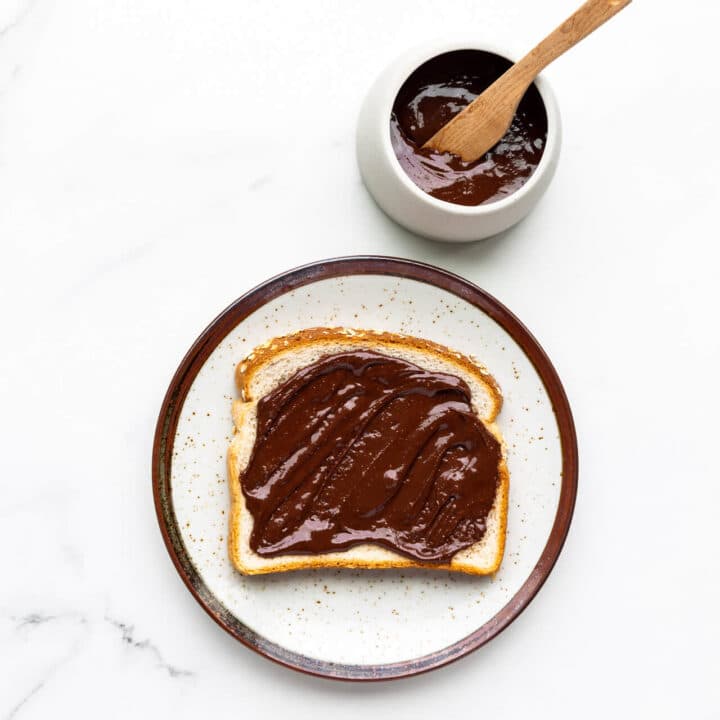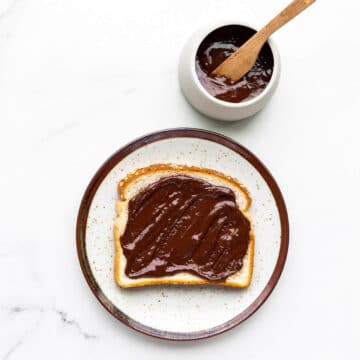 Nutella without Hazelnuts
Make a small batch of homemade Nutella without hazelnuts and with any nut with this easy recipe.
Instructions
Preheat the oven to 350 ºF. Place the nuts on a large rimmed sheet pan.

If using nut butters or seed butters like tahini, you can skip this step and go to the next. If you are using whole nuts: Place the sheet pan in the oven, and toast the nuts for about 10 minutes, being sure to open the oven door to shake the pan up to ensure they will toast evenly. When toasted, remove the pan from the heat and immediately pour out the nuts to cool. In the bowl of a food processor, pulverize the toasted nuts for several minutes. They should be as fine as you can get them. Scrape down the bowl as needed.

In a small bowl, whisk together the cocoa, sugar, and salt. Set aside.

Add the dry ingredients, and the vanilla to the food processor. Continue blending until you obtain a spread (this could take at least 5 minutes if you started with whole nuts). The more you blend, the more the oils of the nuts will be released, rendering the spread glossier. For a liquidier spread, add a little oil (up to 45 mL or 3 tablespoons) and blend. Continue to do this until you obtain the desired consistency.

The spread can be stored in the fridge. Just bring it to room temperature before using it (or it may be difficult to spread).
Notes
If you want, you can replace the 280 grams of nuts with the same weight of unsweetened nut/seed butter (like natural peanut butter or tahini). This works out to using 1 cup of nut butter.
Calories calculated based on 1 tablespoon serving size.
The homemade Nutella recipe makes about 1.5 cups of chocolate spread, about 25 tablespoons.
Nutrition
Calories:
40
kcal
Carbohydrates:
6
g
Protein:
1
g
Fat:
2
g
Saturated Fat:
1
g
Sodium:
10
mg
Potassium:
27
mg
Fiber:
1
g
Sugar:
5
g
Calcium:
2
mg
Iron:
1
mg