Made from granulated sugar and lemon zest, lemon sugar is a great way to give baked goods a better lemon flavour than with lemon juice.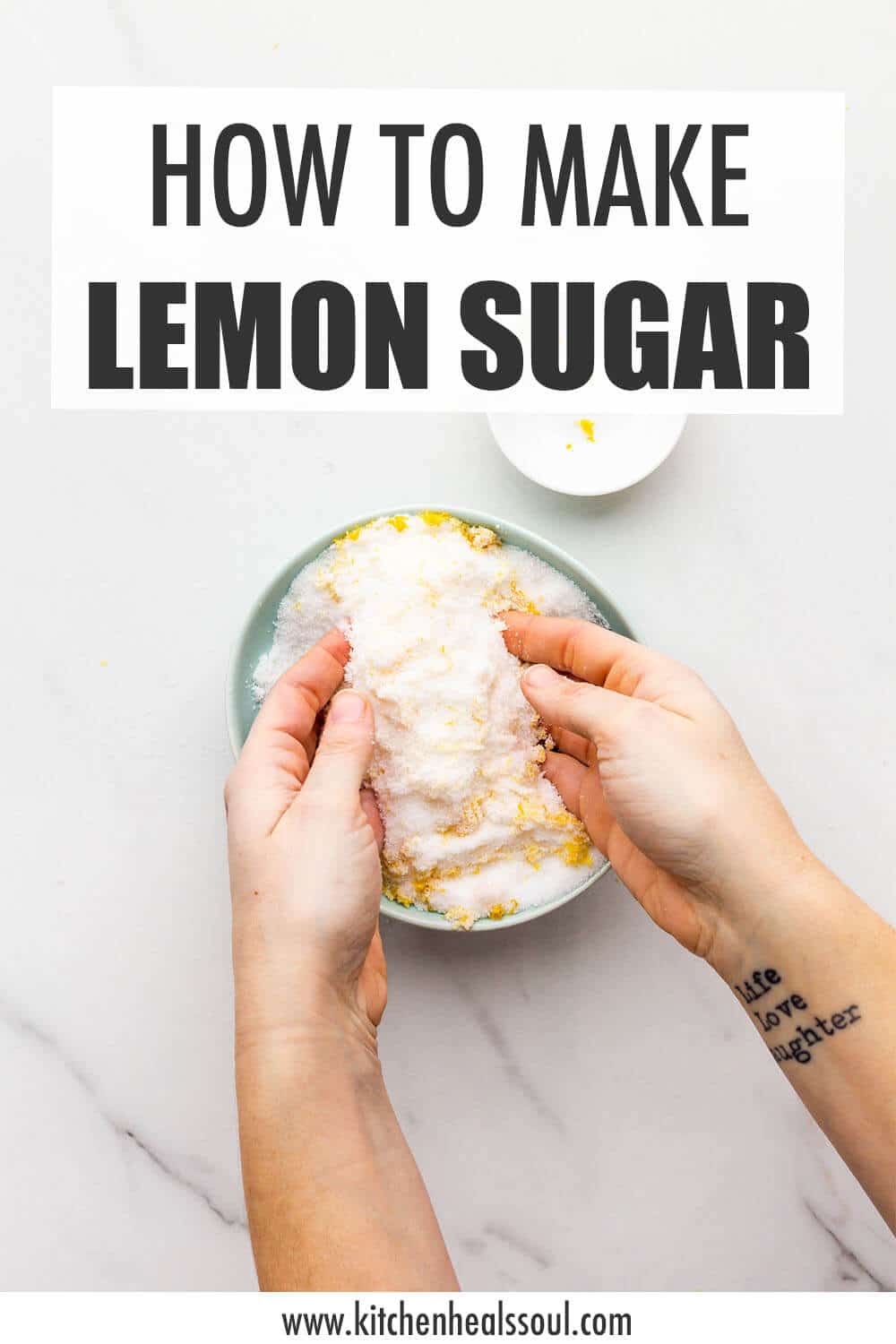 Disclosure: As an Amazon Associate, I earn from qualifying purchases.
Jump to:
How do you make it
Lemon sugar is so easy to make. All you have to do is rub together granulated sugar with the zest of a lemon (or two). Use your finger tips to rub the two ingredients together to damage the cells of the lemon zest, releasing their natural citrus oils and infusing the sugar.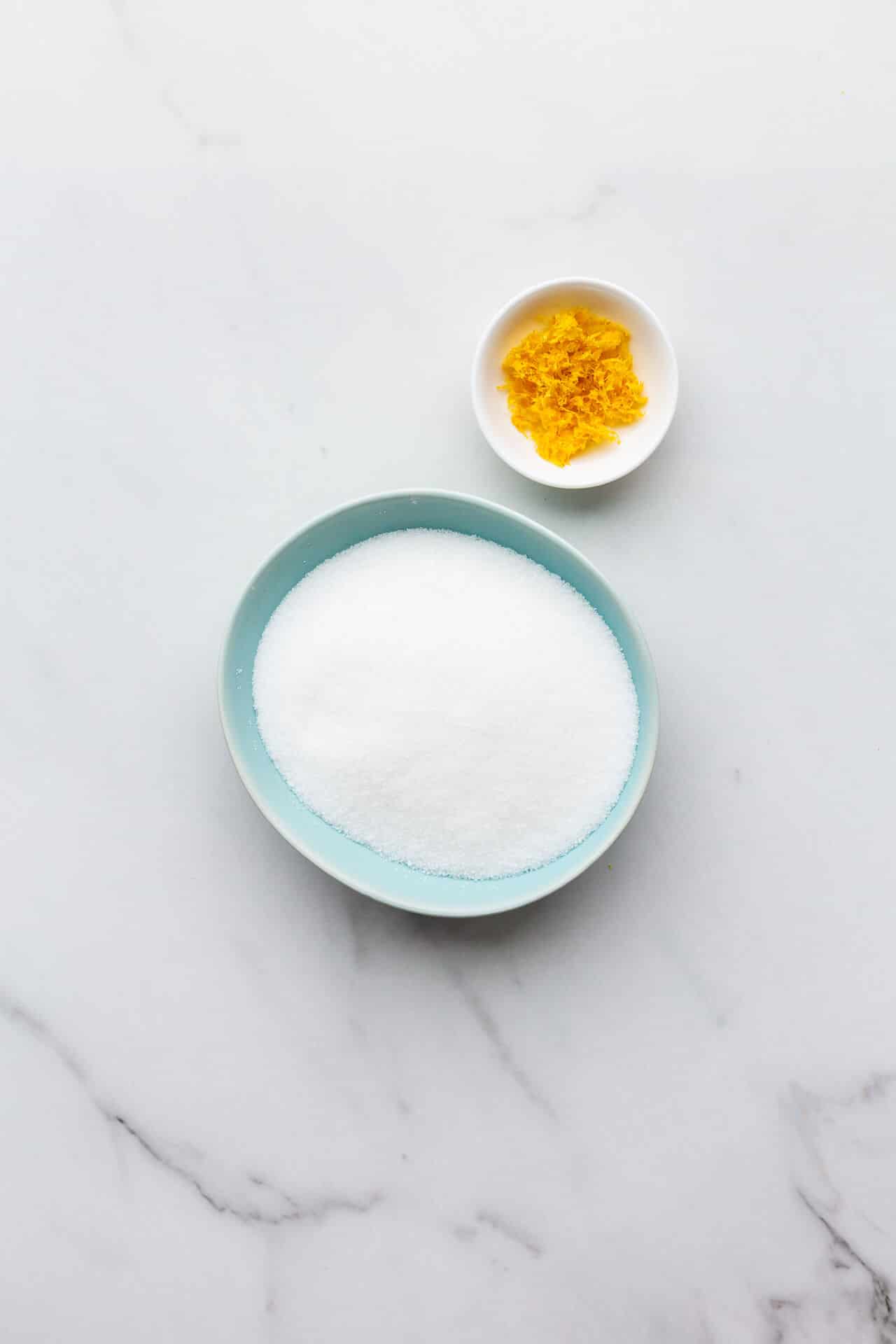 You can also do this with any other citrus fruit, whether that's orange, lime, grapefruit, or even bergamot!
Regardless of the citrus fruit you choose, make sure to:
wash and dry the citrus fruit well, removing any stickers or dirt, before using
use a microplane to remove only the outer layer of the zest, leaving behind the light coloured, white pith that is very bitter and not tasty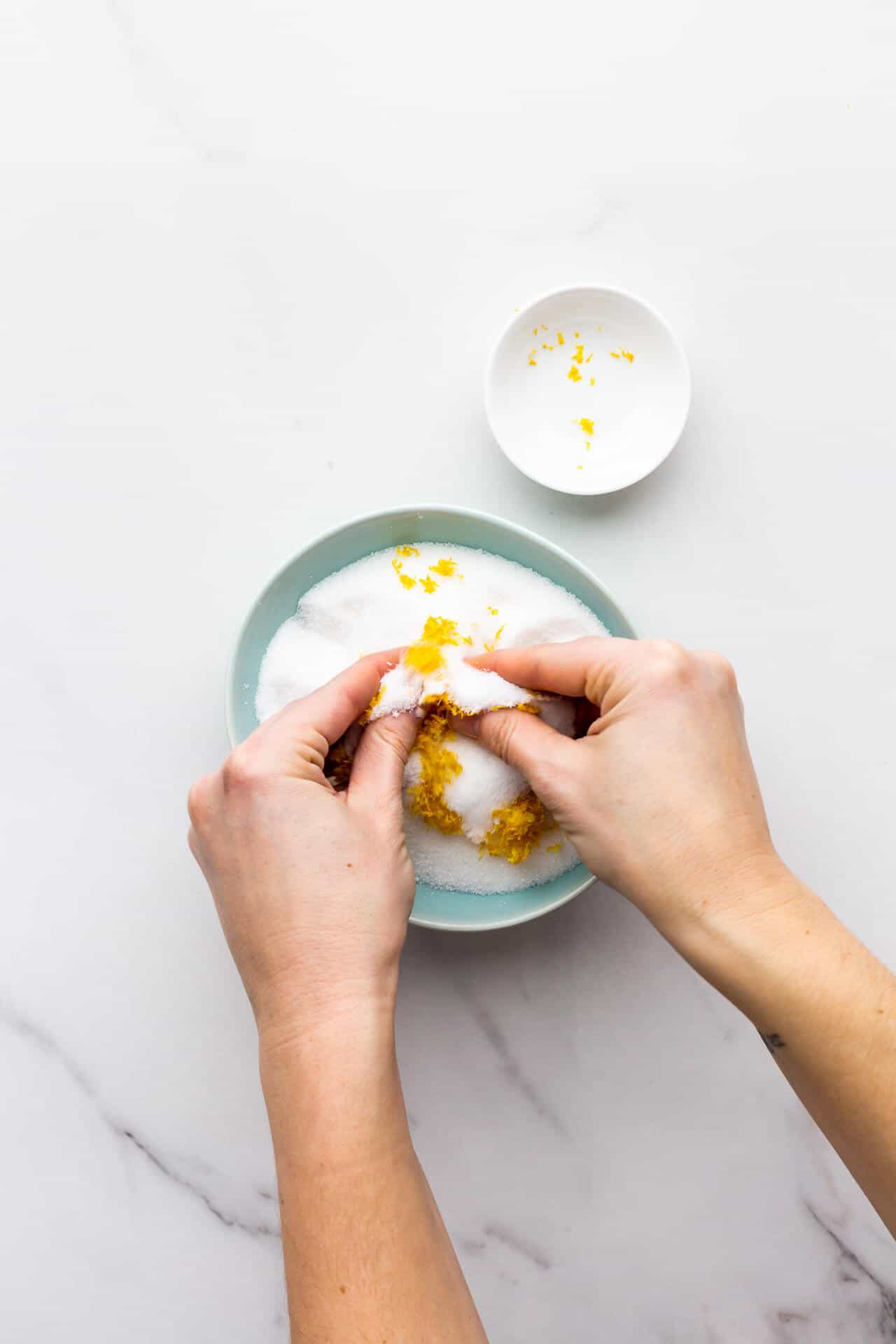 What to do with it
The beauty of lemon sugar is that it allows you to add tons of lemon flavour to recipes without adding excess moisture. Replace granulated sugar in any cake or cookie recipe with lemon sugar, and you will add lemon flavour without throwing off the ratio of liquid-to-dry ingredients and without throwing off the pH of the recipe. I used lemon sugar to flavour these cranberry lemon muffins.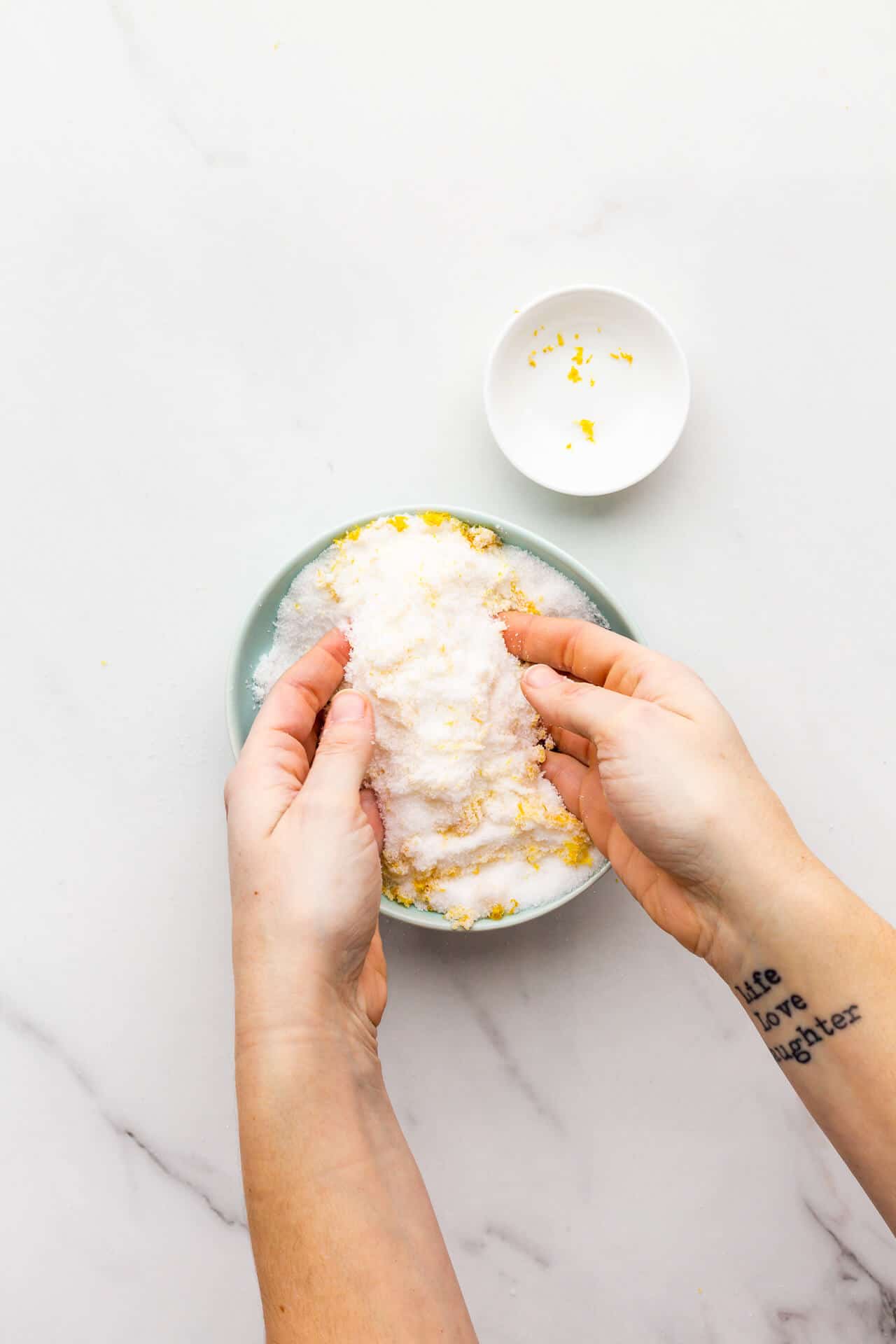 Another great use for lemon sugar is as a finishing ingredient. For example, you can sprinkle them on crêpes before folding them up to serve them. This is a much simpler presentation than the strawberry crêpes served with vanilla bean pastry cream. Garnishing crêpes with lemon sugar is the traditional way of serving crêpes in France and parts of Europe, actually. This adds a ton of flavour, but still leaves room for serving with maple syrup, honey, or even crème anglaise or a caramel sauce.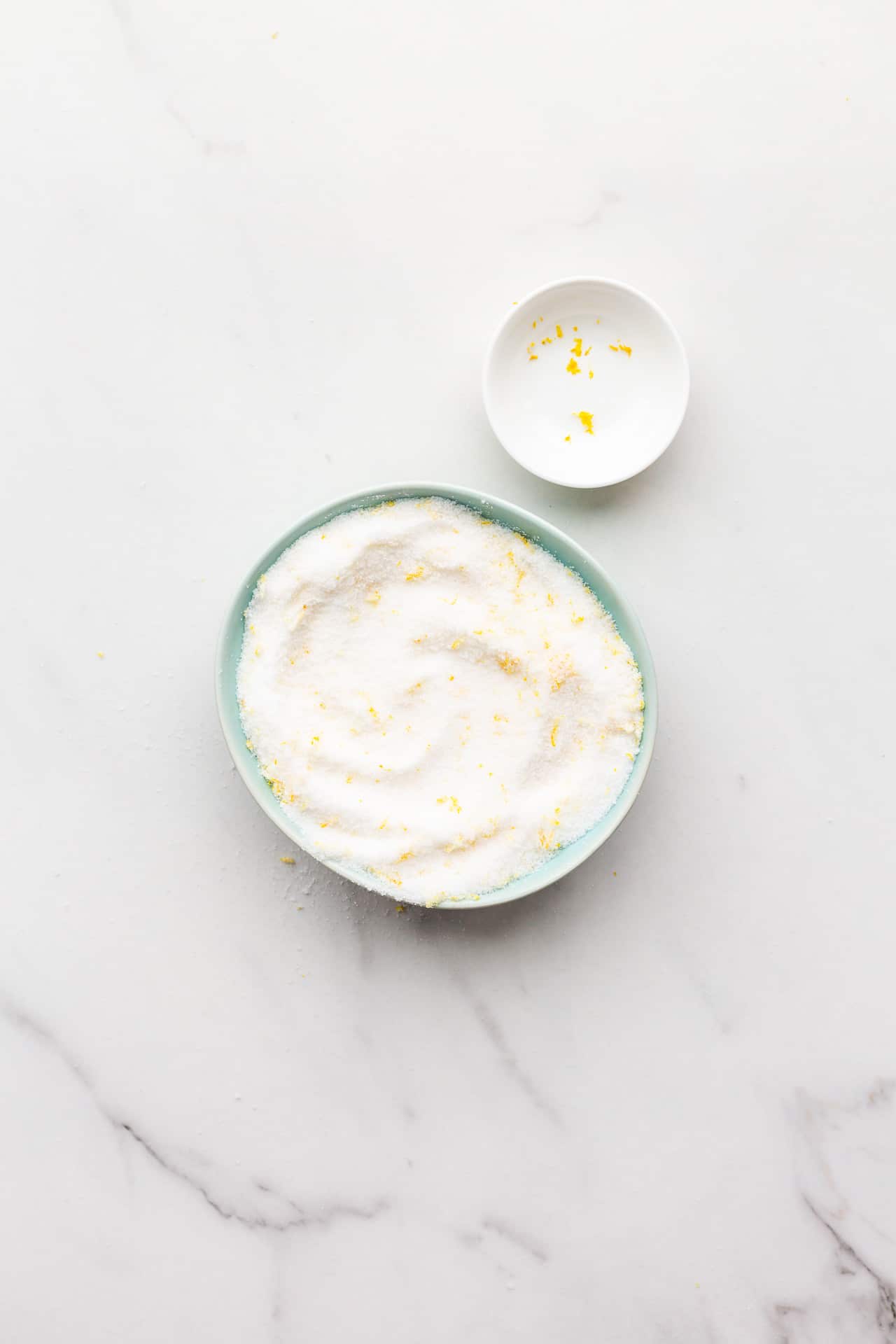 One thing to note is that lemon sugar won't add that tart acidity that many expect from lemon-flavoured baked goods. Neither will lemon oil or lemon extract for that matter.
If you are looking to bring a bright acidic note to your dessert, whether that's a cookie, a cake, or even a muffin, it's best to top the dessert with a lemon sauce or a lemon glaze made from fresh lemon juice, which allows you to finish with a bright, tart icing that will provide a punch of flavour.
📖 Recipe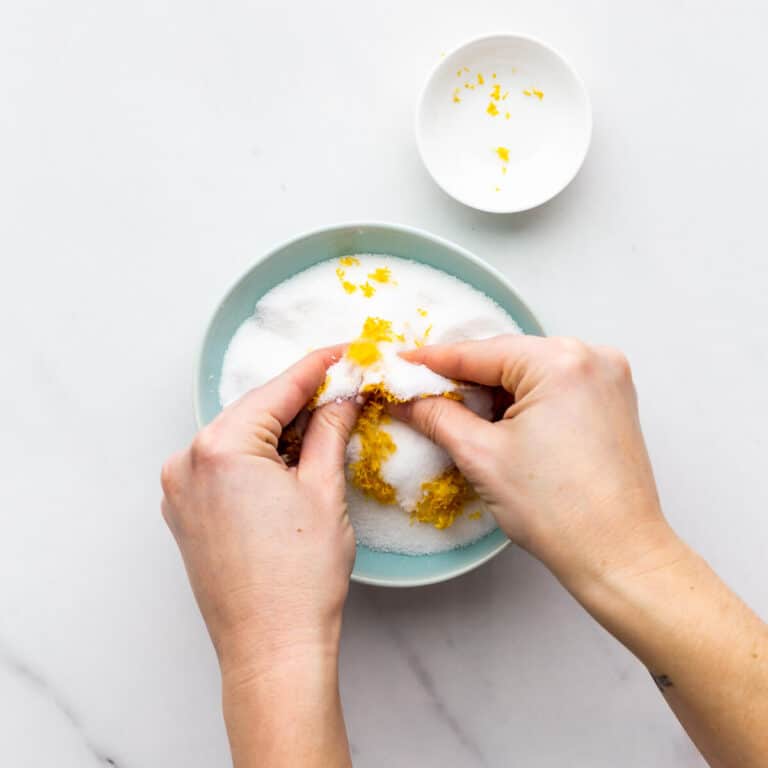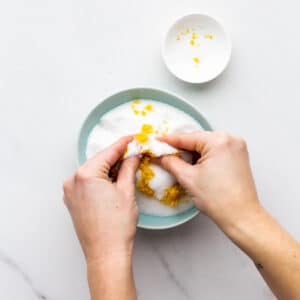 Lemon Sugar
Lemon sugar is so easy to make with this recipe and you can use it to flavour baked goods, like cakes, cookies, and muffins, but also as a filling for crêpes!
Ingredients
For the muffin batter
200

grams

granulated sugar

30

mL

finely grated lemon zest
Instructions
In a large bowl, combine the granulated sugar and lemon zest. Using your fingertips, rub the ingredients together. This will help bring out the oils in the zest, adding more flavour.

Store lemon sugar in an airtight container in a cool, dry place.
Nutrition
Calories:
49
kcal
Carbohydrates:
13
g
Protein:
1
g
Fat:
1
g
Saturated Fat:
1
g
Sodium:
1
mg
Potassium:
3
mg
Fiber:
1
g
Sugar:
13
g
Vitamin A:
1
IU
Vitamin C:
2
mg
Calcium:
3
mg
Iron:
1
mg