These cranberry lemon muffins get an extra hit of lemon flavour from the easy lemon glaze drizzled on top after baking.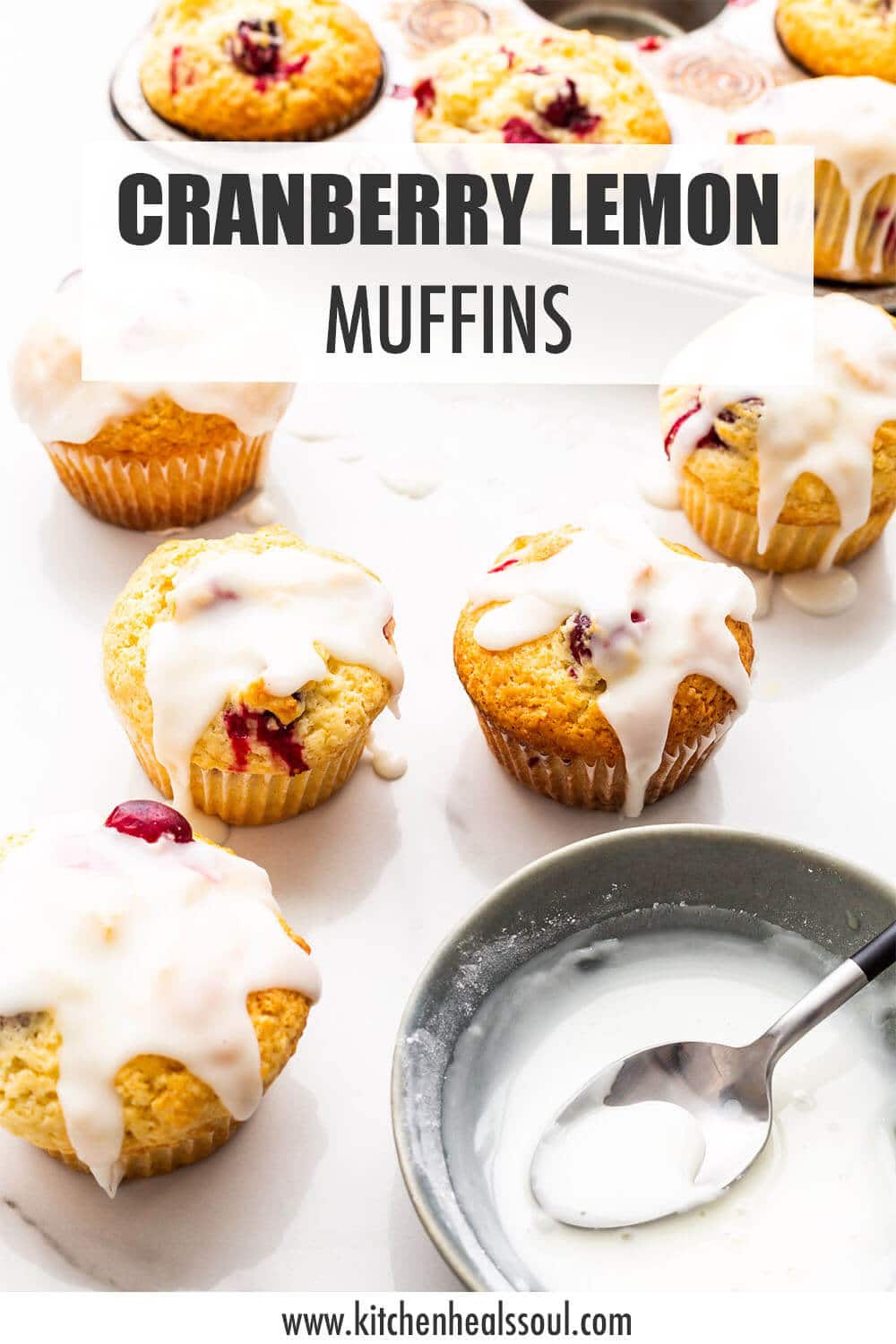 Infusing baked goods with lemon flavour
Adding lemon juice to a gluten-free lemon cake or fruit muffins doesn't add a lot of lemon flavour. It's not concentrated enough and there are too many ingredients in batters, including sugar and flour, that inevitably overpower that tart lemon flavour.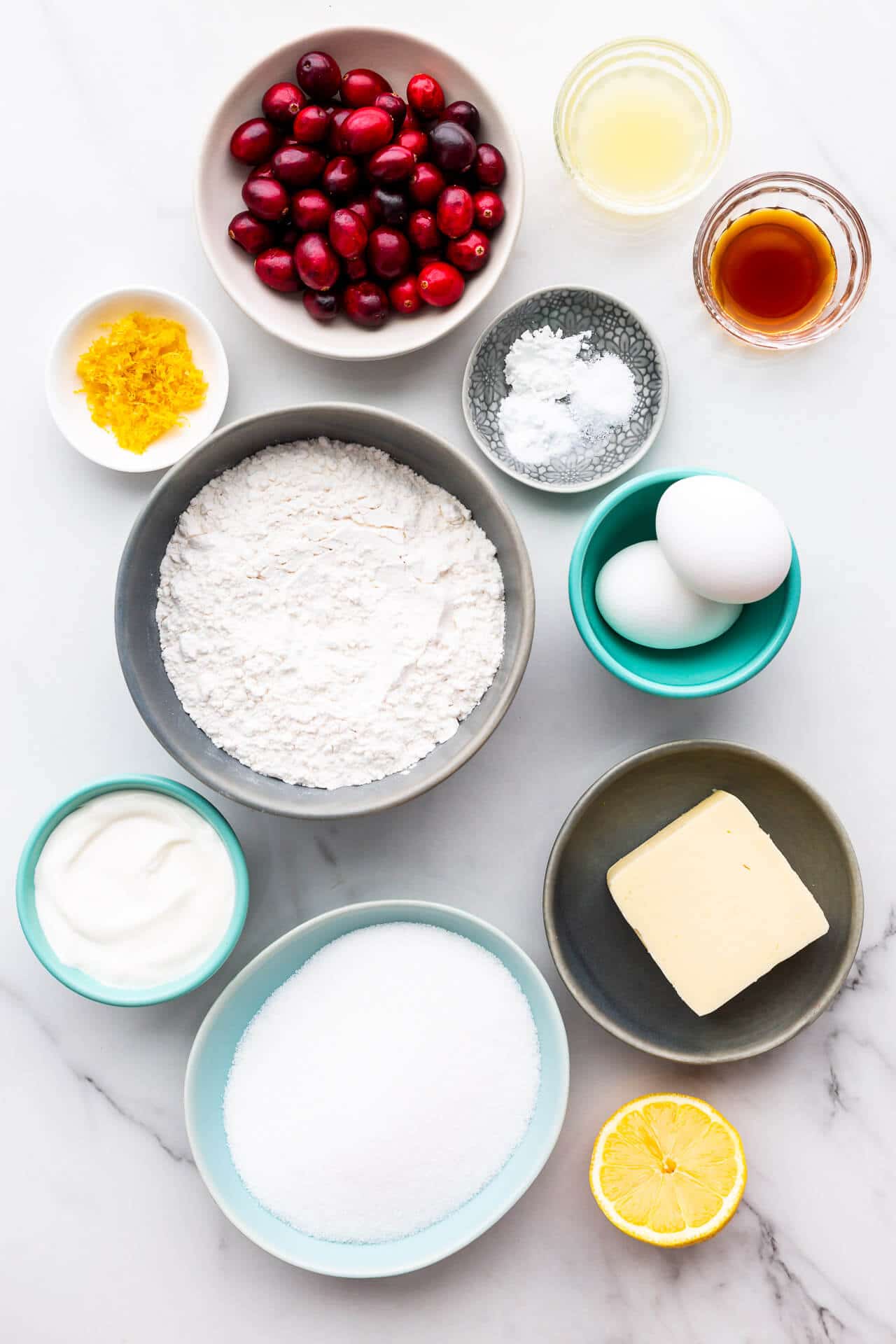 The best options to boost the lemon flavour in baked goods include:
lemon extract, an alcohol-based extract (made in a similar process to vanilla extract)
lemon oil, an oil extracted directly from lemons (lemon oil is actually a by-product that is recovered when lemons are squeezed for their juice)
lemon bakery emulsion, a water-based emulsion of lemon oil and water
lemon zest, from the outermost layer of the skin of a lemon containing the natural oils of the fruit, excluding the white pith, which is bitter.
Though they bring the bitter lemon and floral notes, these ingredients don't bring that mouth-puckering acidity we all expect from lemon.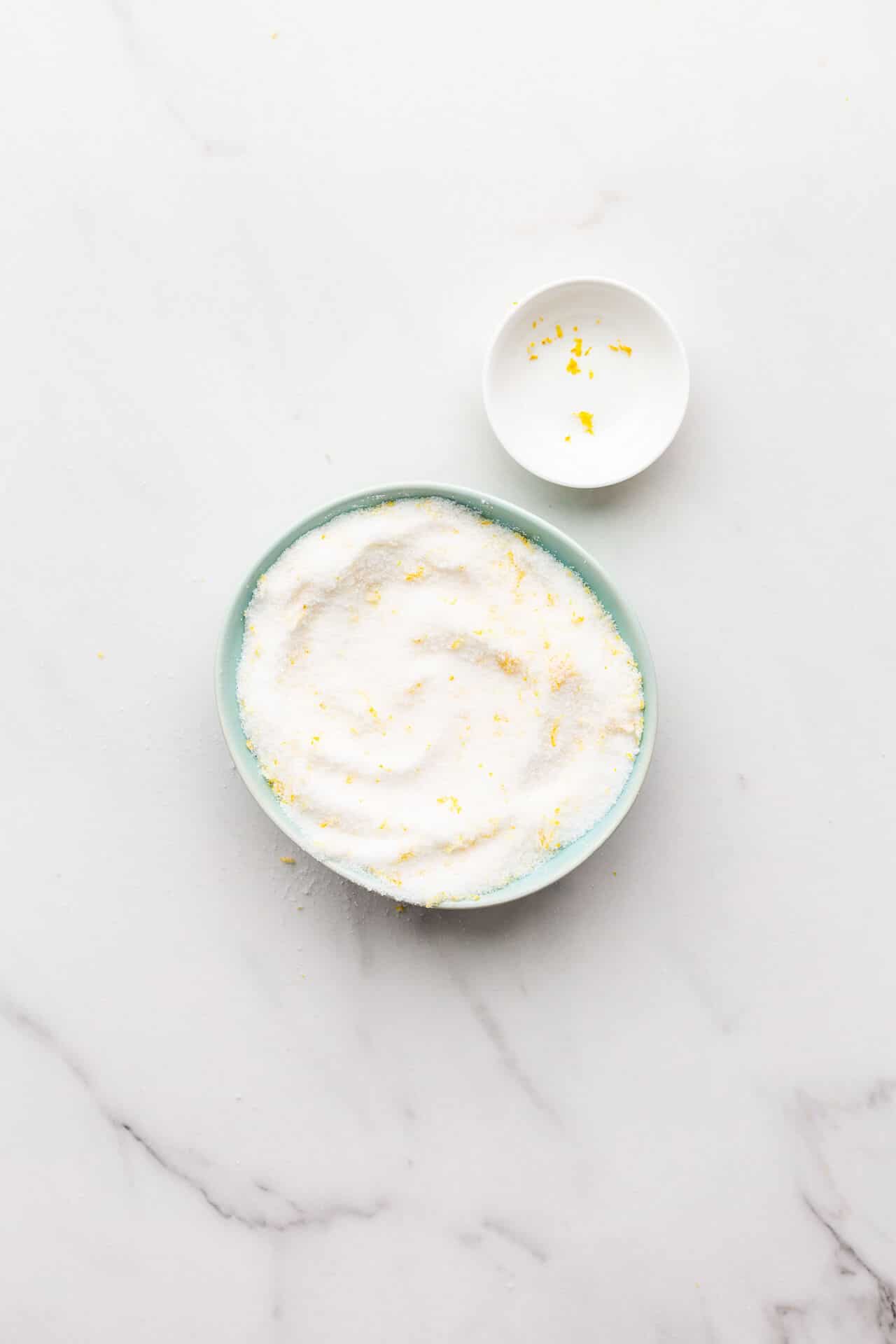 Lemon sugar
My favourite option for adding lemon flavour is baking with the zest, adding it to cake and muffin batters. In fact, whenever I want to infuse baked goods with lemon flavour, I always opt to use lemon zest in the batter. I think it works just as well as extracts or oils in this case, and lemons are readily available year round at most grocery stores.
Instead of just tossing the zest in with the other ingredients, I highly recommend you rub it into the granulated sugar in the recipe for several minutes. The sugar crystals damage the surface of the zest, liberating the flavourful oils contained within, infusing the sugar. This leads to a little more flavour.
You could use this technique with other kinds of citrus (grapefruit, lime, or orange, among others) and to flavour other muffins. These honey blueberry muffins and these cranberry gingerbread muffins would be great flavoured with orange zest. These rhubarb muffins would be great with lemon zest.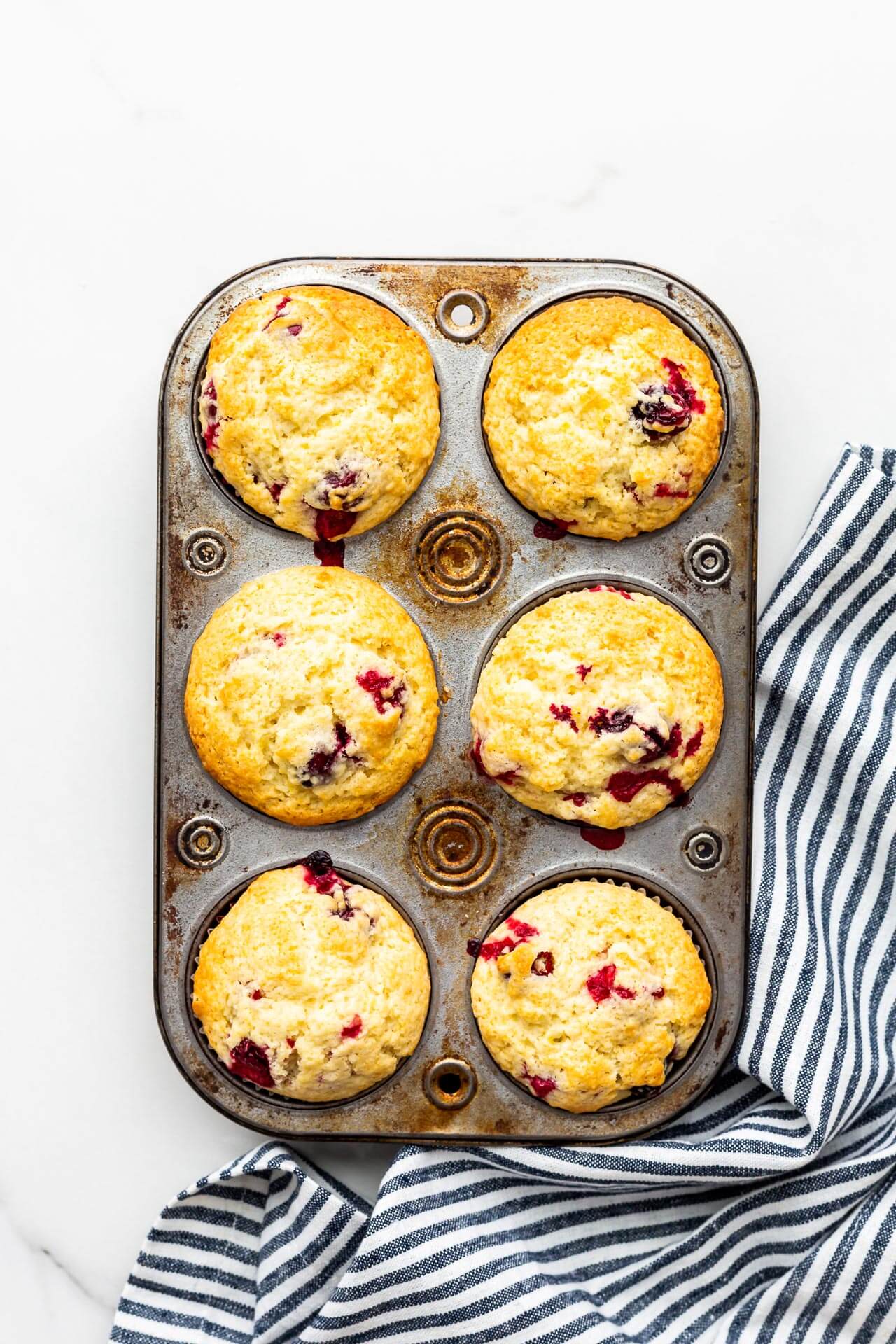 Lemon glaze
Another great way to add lemon flavour to a lemon muffin or cake is to glaze it after baking. Even a simple powdered sugar glaze made from lemon juice can have a huge impact on the flavour of the muffin, bringing that acidity that the lemon zest lacks. This works especially well on muffin tops. Of course, the unglazed stump won't have that lemony hit, but the glaze still helps bring out the flavour.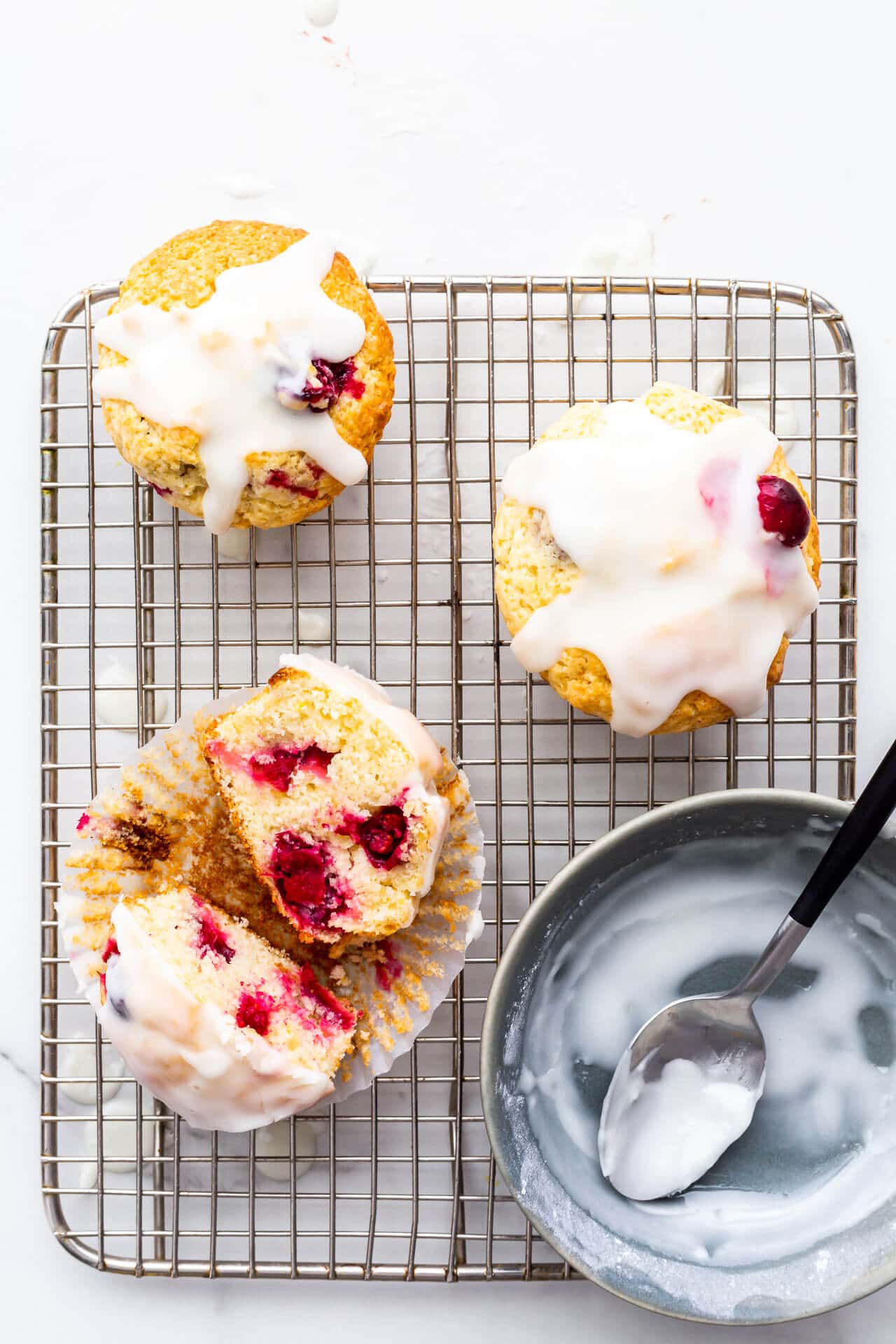 You can also brush the surface of cakes with a lemon simple syrup, which again, will help bring some of that acidity to a layer cake.
This muffin recipe makes a thick batter, which helps contribute to the dome of the muffin top, which rises up instead of spreading out as they bake. That's how you make the best muffins!
Frequently asked questions
Do I need a mixer to make muffins?
With the two bowl mixing method, you do not need a mixer or any special equipment. All you need is two bowls, a whisk, a spoon, and of course, muffin pans. The dry ingredients are whisked together in one bowl and then the soft butter is worked into it. And the wet ingredients are combined in a separate bowl before mixing everything together. It's really easy!
How do I make the muffins more lemony?
It's very difficult to infuse lemon flavour into baked goods and there's a limit to how much flavour you can get into a muffin. Your best bet to make lemon muffins more flavourful is to use the zest in the batter and the juice in a glaze.
Can I freeze these muffins?
If you want to freeze these cranberry lemon muffins, I suggest freezing the cooled muffins without the glaze, then you can glaze them when you defrost them.
How do you make a moist muffin?
You could add a little more sour cream to the recipe, resulting in a slightly looser batter, but then the muffins will spread out more and you will lose the dome, which will be flatter. Increase the sour cream to 170 mL (⅔ cup) instead of 125 mL (½ cup) and also add a little more sugar, using 250 grams (1-¼ cups) instead of 200 grams (1 cup) will make a more cake-y muffin that is very moist.
Cranberry lemon muffins
This easy recipe for cranberry lemon muffins is made with sour cream and has a lemon glaze on top to boost the lemon flavour. These cranberry muffins are tender, moist, and have a cake-like texture that is perfect. 
Ingredients
For the muffin batter
200

grams

(

1

cup

)

granulated sugar

30

mL

(

2

tablespoon

)

finely grated lemon zest

250

grams

(

2

cups

)

bleached all-purpose flour

2.5

mL

(

½

teaspoon

)

baking soda

2.5

mL

(

½

teaspoon

)

baking powder

2.5

mL

(

½

teaspoon

) Diamond Crystal fine kosher salt

115

grams

(

½

cup

)

unsalted butter

room temperature, cut into small pieces

125

mL

(

½

cup

)

sour cream (14% fat)

30

mL

(

2

tablespoon

)

fresh lemon juice

2

large egg(s)

5

mL

(

1

teaspoon

) pure vanilla extract

100

grams

(

1

cup

)

fresh cranberries

or frozen
For the lemon glaze
125

grams

(

1

cup

)

icing sugar

30

mL

(

2

tablespoon

)

fresh lemon juice
Instructions
Preheat the oven to 425 °F. Line two muffin pans with 10 muffin paper liners being sure to space them out between the two pans to allow better air flow.
Make the muffin batter
In a large bowl, combine the granulated sugar and lemon zest. Using your fingertips, rub the ingredients together. This will help bring out the oils in the zest, adding more flavour.

Whisk in the flour, baking powder, baking soda, and salt.

Add the cubes of softened butter and work it in with your hands, rubbing it in until the mixture resembles coarse sand.

In a separate bowl, whisk together the sour cream, lemon juice, eggs, and vanilla.

Add the wet ingredients to the flour mixture and stir it in (takes about 20 stirs to get the batter mixed).

Fold the cranberries into the batter gently with a wooden spoon or spatula to evenly distribute them.

Divide the batter between 10 paper-lined wells of two muffin pans.

Bake at 425°F for 8 minutes, then drop the temperature to 350 ºF and continue baking until a cake tester inserted into the middle of a muffin comes out clean to check if the muffins are baked. This takes about 15 minutes more and the edges start to turn golden.

Let cool slightly in the pan before transferring to a wire rack to cool completely.
Make the glaze
Whisk together the ingredients of the glaze and drizzle the tops of the muffins with it. The glaze should be very thick so that it doesn't all run off. Make sure the muffins have cooled down fully before glazing or the heat will cause the glaze to run off.
Give back
If you enjoy the free content on this website, say thank you!
Notes
For a "puffy" muffin top:
refrigerate the batter overnight, then scoop the batter into 8 to 10 muffin paper-lined wells of a muffin pan, sprinkle with streusel topping, and bake them at 350 °F for about 30 minutes.
For a more fluffy, caky muffin, you can increase the sour cream in the recipe, from 125 mL (½ cup) to 170 mL (⅔ cup) but the muffin top won't be as tall.
Nutrition
Calories:
339
kcal
|
Carbohydrates:
53
g
|
Protein:
4
g
|
Fat:
13
g
|
Saturated Fat:
8
g
|
Trans Fat:
1
g
|
Cholesterol:
64
mg
|
Sodium:
190
mg
|
Potassium:
92
mg
|
Fiber:
1
g
|
Sugar:
33
g
|
Vitamin A:
413
IU
|
Vitamin C:
2
mg
|
Calcium:
37
mg
|
Iron:
1
mg