This easy orange cranberry bundt cake is made with sour cream and lots of orange zest to yield a moist and flavourful orange cake with a recipe that is very easy to remember and works for any bundt cake.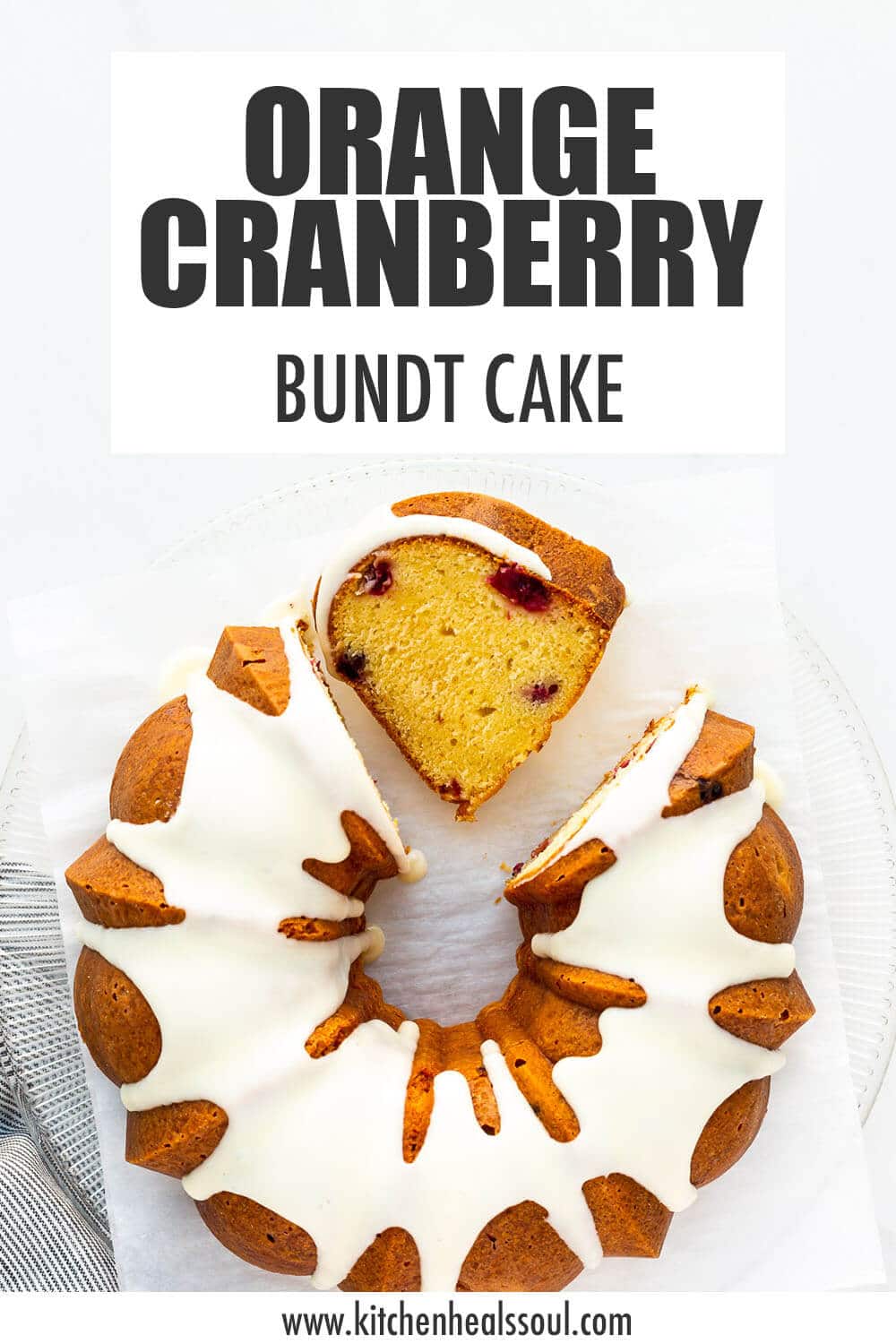 Disclosure: As an Amazon Associate, I earn from qualifying purchases.
An easy-to-remember recipe for bundt cakes
The simplest bundt recipe to remember has a 1-2-3-4 ratio of ingredients, by volume, so it's 1 cup butter, 2 cups sugar, 3 cups flour, and 4 large eggs.
Technically "4 eggs" isn't a volume measurement at all, but 1-2-3-4 is easy to remember and it doesn't work very well to translate eggs into cups. I don't think any of us want to try measuring out 1 cup of eggs.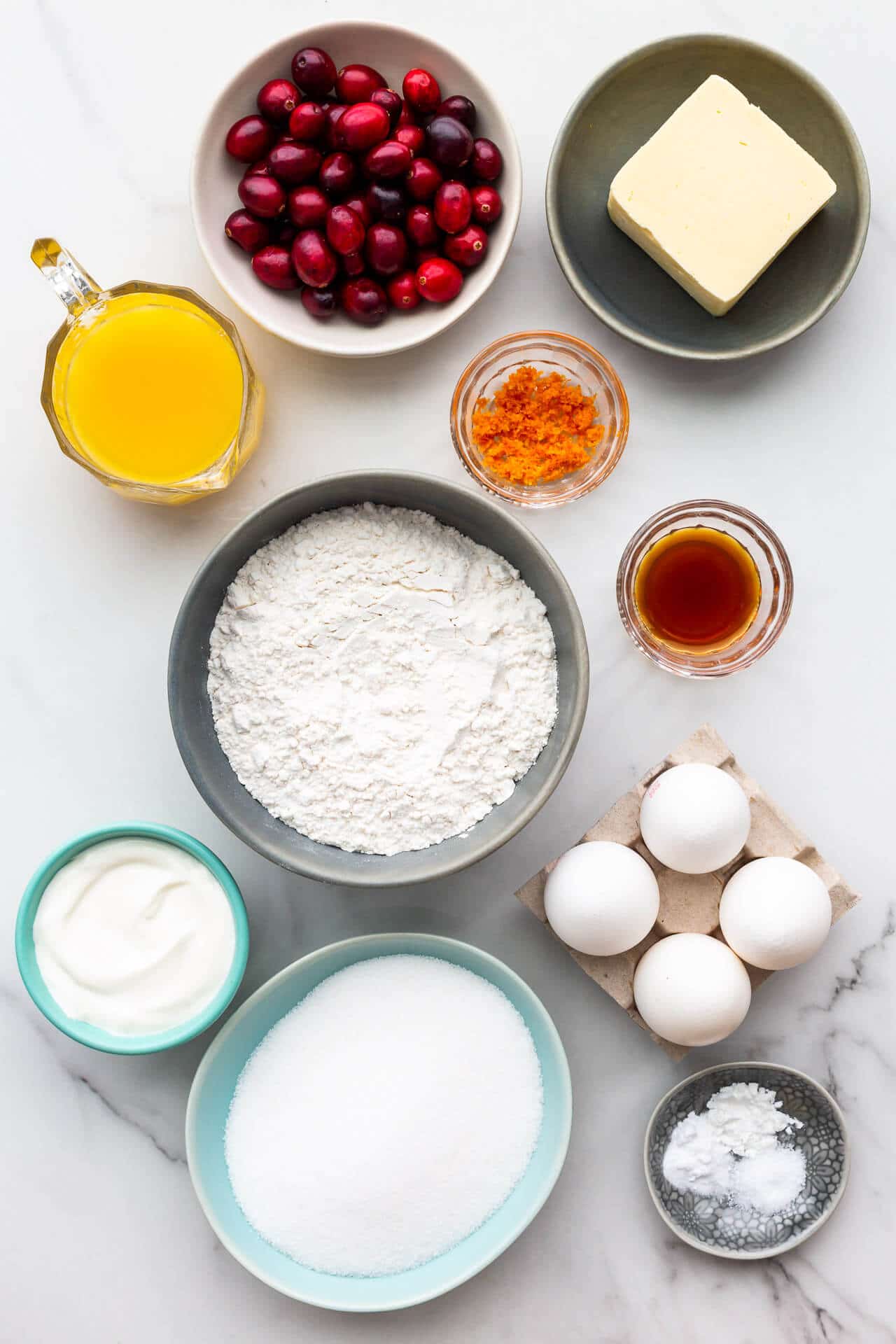 The ratio 1-2-3-4 is by volume, but I actually prefer to convert it to weight measurements before I bake. You can use this list of baking conversions and if you would prefer a printable copy, join the mailing list and I'll send you the baking conversions pdf.
This is the same ratio I use for the chocolate chip bundt cake and the apple bundt cake. I don't mess with it because it makes such a great bundt with the perfect texture!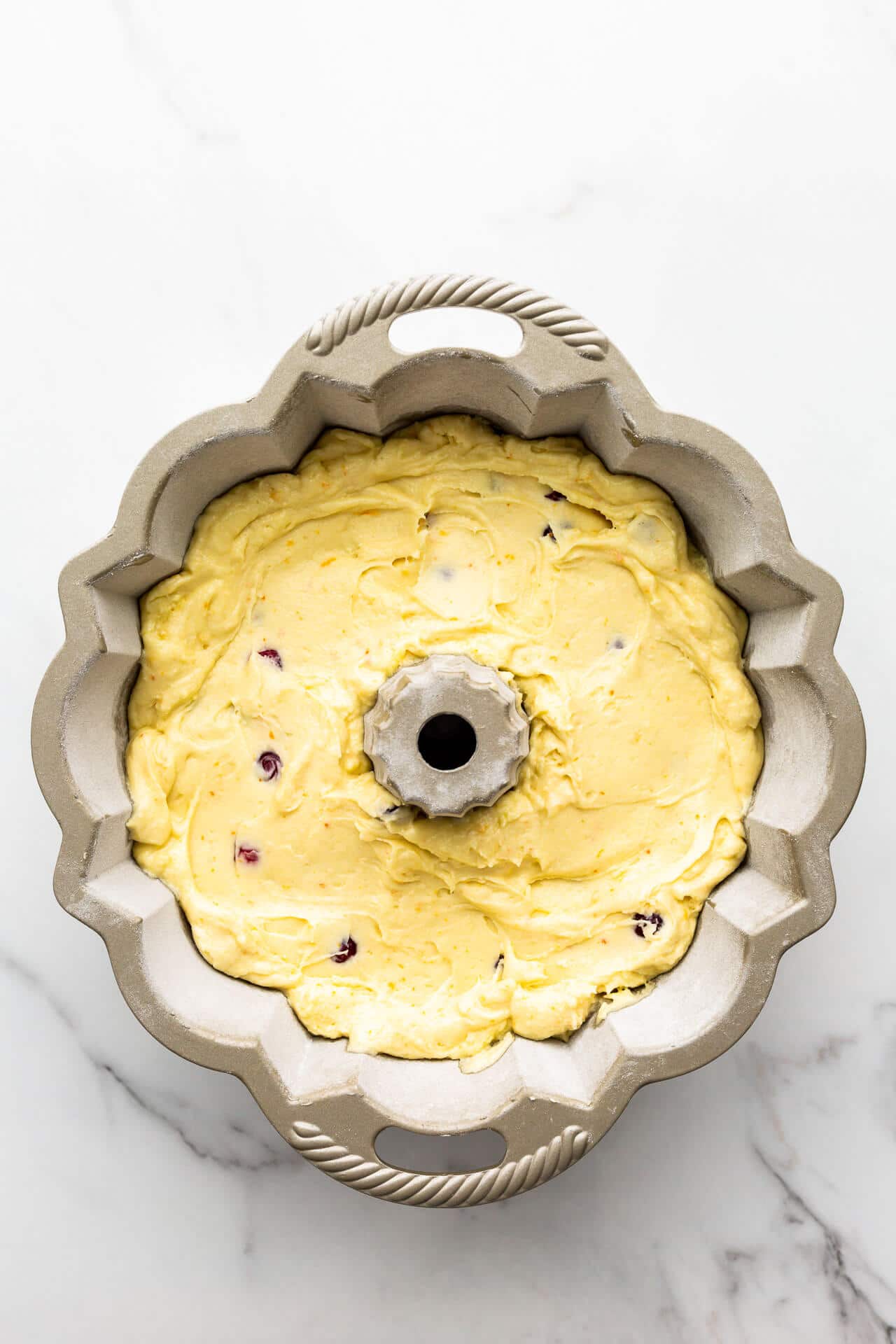 Adding orange flavour to cake batters
To transform the 1-2-3-4 cake recipe into an orange cranberry bundt, you need to find the best way to add orange flavour to a cake batter, and for me, that's with orange zest. I zested two oranges to flavour the batter, which yields roughly 2 tablespoons of zest. Like when making cranberry lemon muffins and lemon sugar, it's important to only zest the outer layer of the skin of the fruit, leaving behind the bitter white pith. The oils are in the thin outer skin so that's where all the flavour is.
When baking with citrus zest, I like to work the zest with the sugar first to help extract the oils, like when you make lemon sugar. In this recipe, we cream the butter, granulated sugar, and orange zest for over 5 minutes, which gives ample time to extract the oils from the zest to flavour the cake.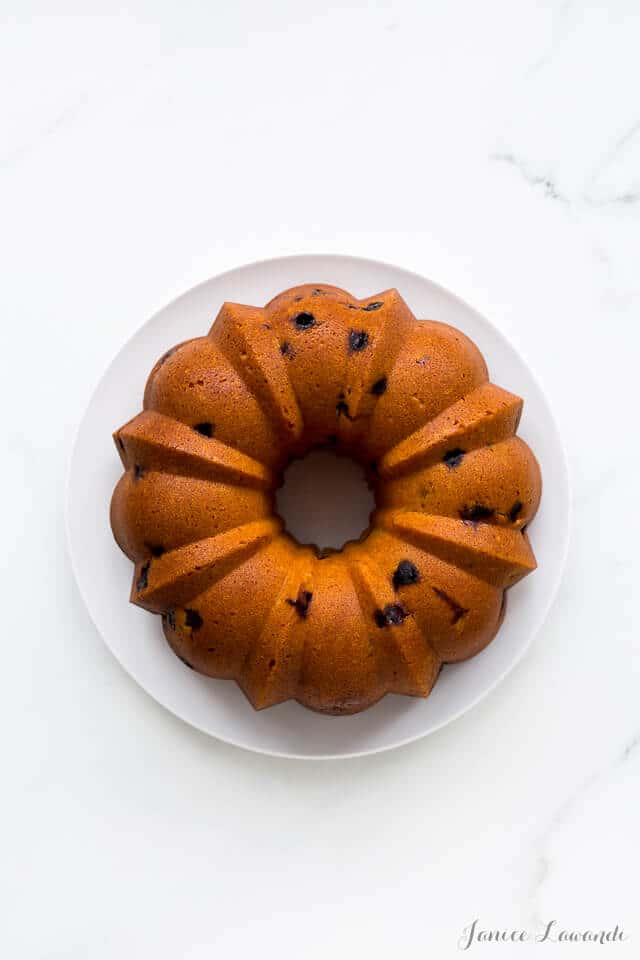 I also added orange juice to the cake batter and I used orange juice from the grocery store, like Tropicana or Minute Maid, as opposed to freshly squeezed. I find that "premium" orange juice from the grocery store has a more pronounced flavour. You need to use something strong because the orange juice is mixed with large quantities of other ingredients (butter, sugar, flour...) to make the batter.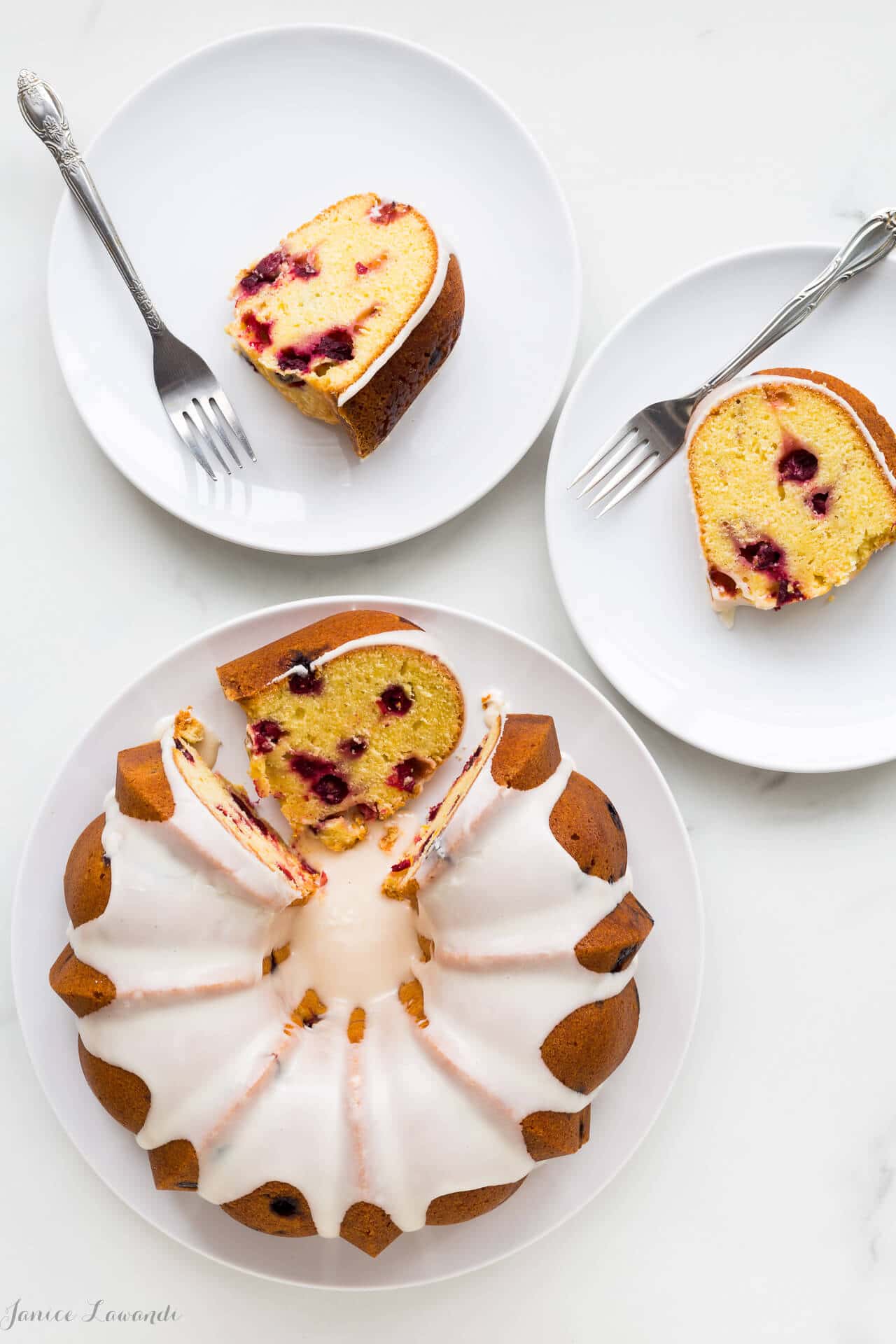 Easy glaze for bundt cakes, muffins, and donuts
For the glaze on this orange cranberry cake, I went with an easy icing sugar glaze that you can make with any liquid. Since are pouring it on an orange cake, I flavoured the glaze with orange juice, but you could also use lemon juice for a more tart glaze, or even plain milk to make it more neutral. If you go with milk, feel free to add a little vanilla extract or even a couple drops of almond extract since almond and orange go so well together.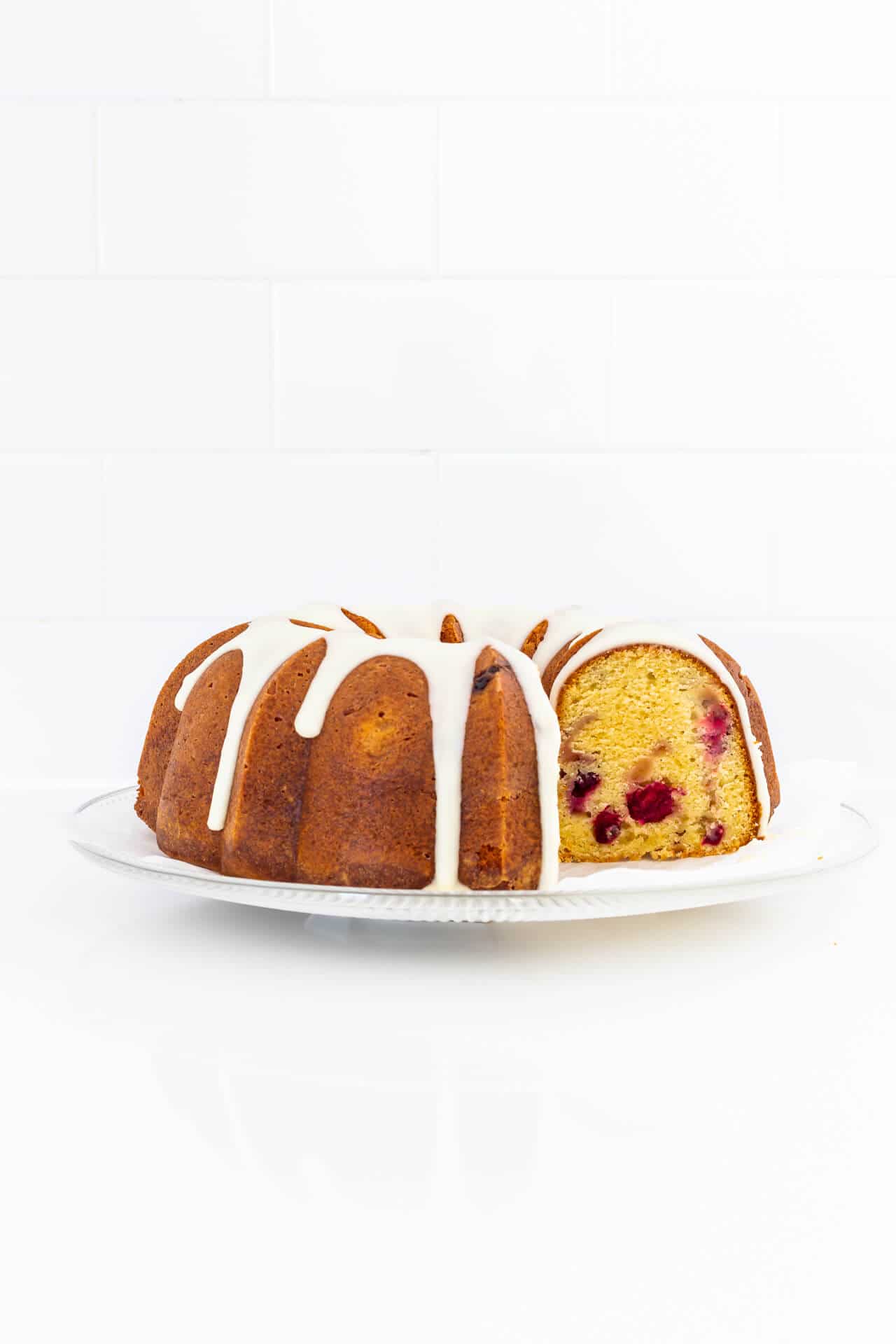 Perfect glaze thickness
The secret to the glaze is to keep it very thick. You don't need to use more than 30 mL (2 tablespoons) of liquid for 125 grams (1 cup) of icing sugar. This ratio makes a glaze that is very thick but that you can still pour on top of a bundt cake. It will run down decoratively without flowing off into a pool at the bottom. This is the same ratio I used to glaze these cranberry lemon muffins.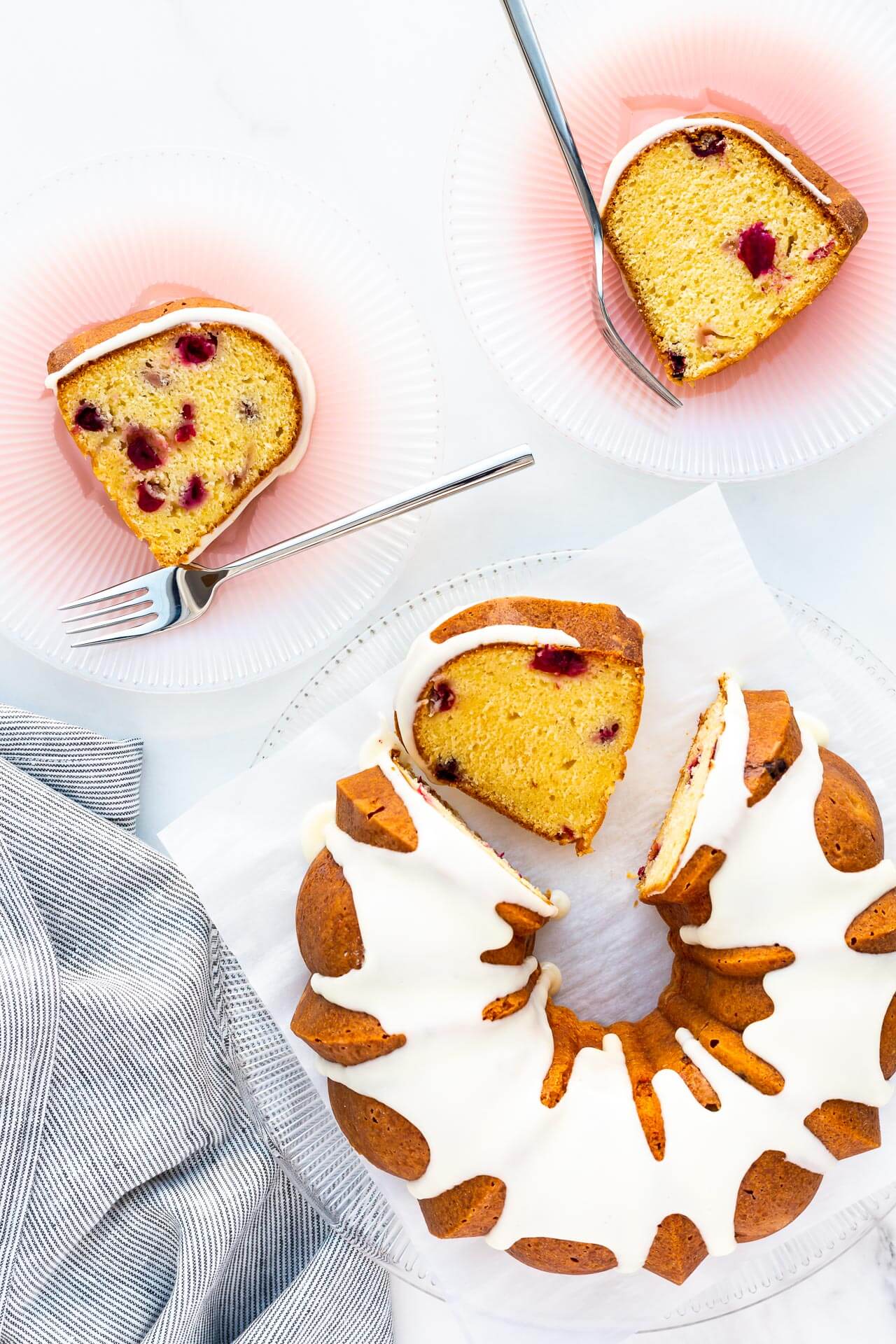 Frequently asked questions
Why did my bundt cake collapse or fall?
If your cake rose and fell, or your cake collapsed at some point in the baking process, it's possible that it is overleavened with chemical leaveners, baking powder and/or baking soda, or it's possible that you whipped too much air into the batter (although I think this is unlikely with this recipe...). It could be that you trapped pockets of air in the batter as you filled the pan. It's important to push the batter into the edges and corners of the pan to make sure there are no gaps of air.
If your bundt cake collapsed as it was cooling, it's possible it wasn't baked enough. You should use a cake tester and even a digital thermometer to check if your cake is done baking.
Do you have to refrigerate bundt cakes?
I don't refrigerate bundt cakes once they are glazed. Cover this cake and store it at room temperature for 3 days or so. For longer storage, you may want to consider freezing portions for later. If you want to freeze it, you may want to skip the glaze, which might become gooey when defrosted.
Do you cool bundt cakes in the pan?
Unmoulding a bundt cake is stressful. The elaborate and intricate designs create so many nooks and crannies where we all know cake will get stuck. To unmould a bundt pan, cool it for about 20 minutes, until the cake is firm but still warm. At that point, you should be able to flip it onto a wire rack to cool completely. If you have never used a one before, be sure to read this post on how to use a bundt pan before you begin!
How do you prevent the cake from sticking to the bundt pan?
Bundt cakes are notorious for sticking to bundt cake pans. There are a number of causes that are to blame, from the way you prepare the pan to the finish of the pan itself, that set us up for trouble. I encourage you to use soft butter to smooth it onto every single crevice of the pan before dusting generously with flour, tapping the excess. Use this post on preparing a cake pan as your guide.
Once the bundt cake is baked, do not let it cool completely in the pan because it will get stuck if you do! Make sure to unmould it after 20 minutes.
My bundt cake is stuck in the pan, how do I get it out?
If your bundt cake cooled in the cake pan and is stuck, I recommend preheating your oven to 300 ºF and putting the cake pan back in the oven to warm it up. Within 10 minutes, you can check on it and try unmoulding it again. The goal is not to dry out the cake, but you need to warm up the edges of the pan and of the cake to melt the fats so that it will slide out. Of course, if you didn't prepare your cake pan correctly, the cake may be stuck for good. Sorry.
This recipe for orange cranberry cake is made with sour cream to make a moist bundt cake that is perfect to serve with afternoon tea during the fall and winter months.
📖 Recipe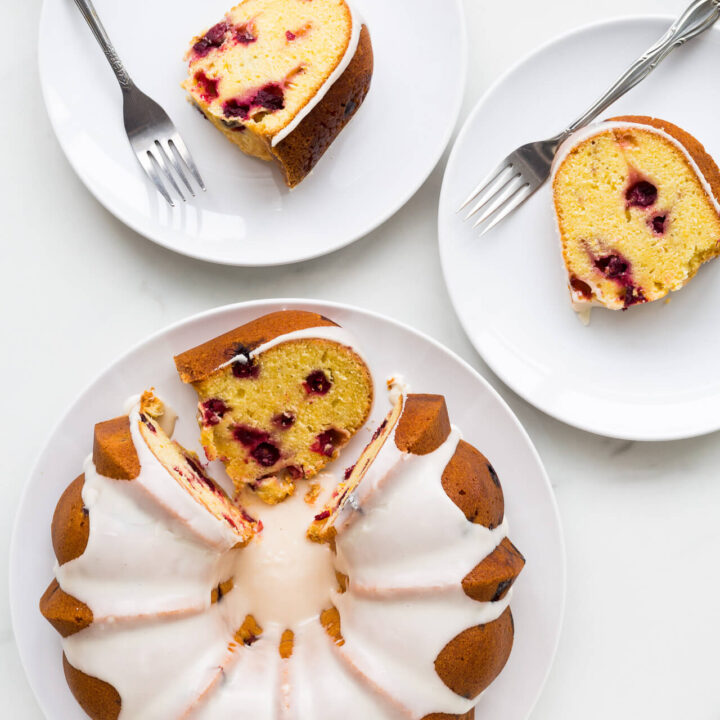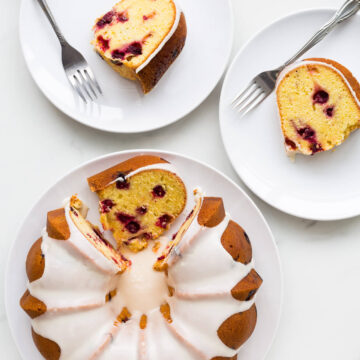 Orange Cranberry Bundt Cake
Learn how to make the best orange cranberry bundt cake with this easy recipe.
Ingredients
Chocolate chip bundt cake ingredients
375

grams

bleached all-purpose flour

7.5

mL

baking powder

2.5

mL

baking soda

230

grams

unsalted butter

softened

30

mL

orange zest

the more you use, the better the flavour!

400

grams

granulated sugar

4

large egg(s)

10

mL

pure vanilla extract

250

mL

sour cream (14% fat)

125

mL

orange juice

I prefer to use "premium" orange juice from the grocery store which has more flavour

200

grams

fresh cranberries

or frozen
Glaze
125

grams

icing sugar

30

mL

milk

or orange juice or lemon juice
Instructions
Preheat the oven to 325°F (165 °C).

Prepare a 10-cup (2.4 L) bundt pan by buttering the inside lightly with softened butter. Make sure the pan is evenly coated and that the butter has reached all the nooks and crannies. Dust the inside with flour, tapping out the excess. Set the pan aside for later.

In a medium bowl, whisk together the flour, baking powder, baking soda, and salt. Set aside.

In the bowl of a mixer fitted with the paddle attachment, cream the butter, the sugar, and the orange zest for at least 5 minutes until it is light and fluffy. Add in the eggs, one at a time, mixing well between each addition. The batter should be very light and fluffy at this point.

Add the sour cream and vanilla, and beat again to mix it really well.

Add half the dry ingredients and stir on low to incorporate. Mix in the orange juice, and then the rest of the flour. Don't mix it in completely. When there's still some flour not yet incorporated, finish stirring with a spatula or a big wooden spoon, being sure to scrape up what's stuck to the bottom of the bowl. Fold in the cranberries.

Dollop the batter into the prepared pan and swirl and smooth it with a small offset spatula. Bang the pan on the counter several times to make sure the batter settles into all the grooves of the pan. If you are worried, you can even push a knife through the batter to force it into place.

Bake the bundt until it's golden brown on the top and edges. Insert a cake tester or long skewer to check the cake is done in the middle (it should come out clean). It takes about 90 minutes to bake completely and I recommend rotating the pan after about 75 minutes to make sure the front and back bake evenly. Let the bundt cool for about 20 minutes in the pan before inverting on a wire rack to cool completely.
How to make the easy glaze
Whisk together the powdered sugar and milk or juice to form a very thick glaze. The glaze must be thick to adhere to the outside of the bundt without running off.

Pour the glaze over the top of the bundt, giving the glaze a nudge in places to help it slowly drip down the sides a little.
Nutrition
Calories:
375
kcal
Carbohydrates:
54
g
Protein:
4
g
Fat:
16
g
Saturated Fat:
10
g
Trans Fat:
1
g
Cholesterol:
80
mg
Sodium:
136
mg
Potassium:
145
mg
Fiber:
1
g
Sugar:
34
g
Vitamin A:
546
IU
Vitamin C:
7
mg
Calcium:
57
mg
Iron:
1
mg