Everybody needs an easy chocolate chip bundt cake recipe. This chocolate chip cake is made with sour cream and a little cinnamon, and topped with a thick layer of chocolate ganache. This is the best dessert to serve a crowd because everybody loves a great bundt cake.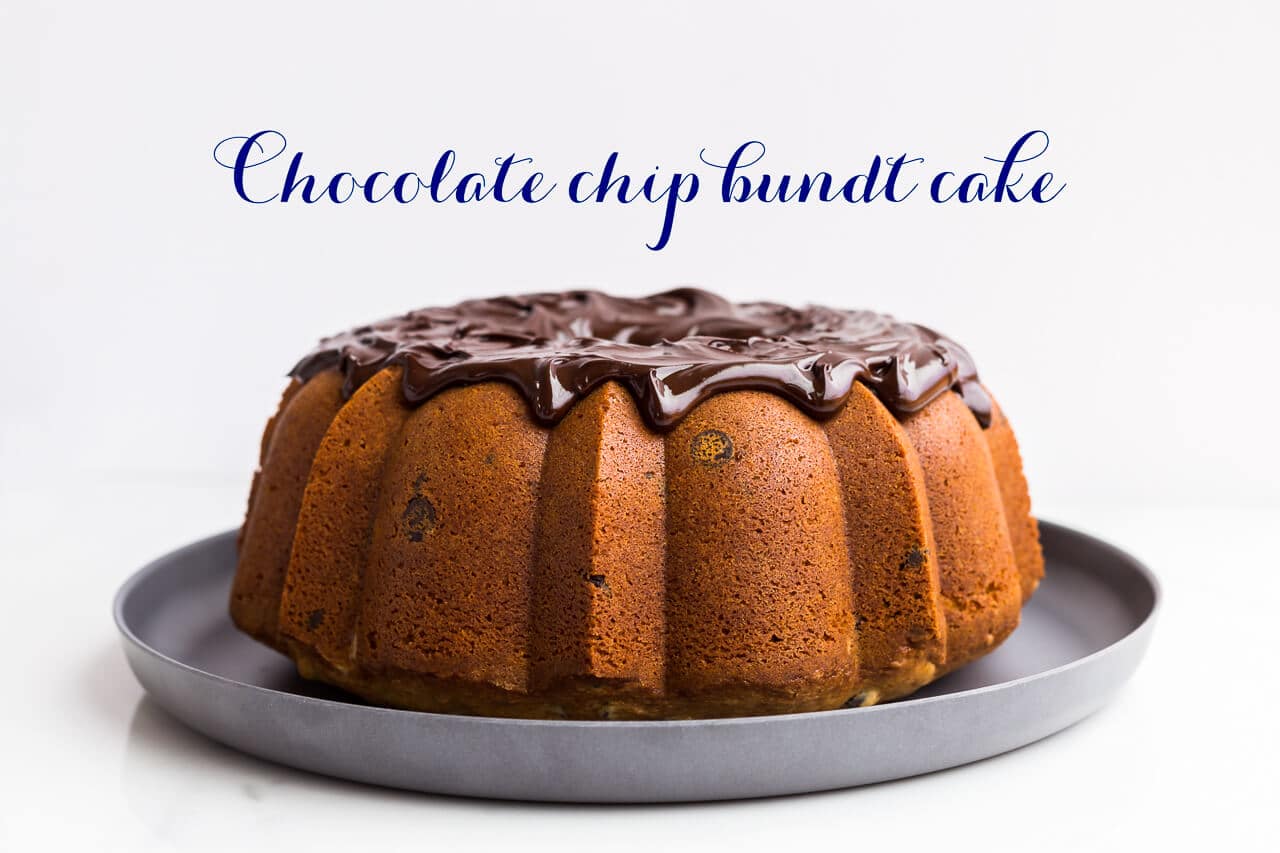 Disclosure: As an Amazon Associate, I earn from qualifying purchases.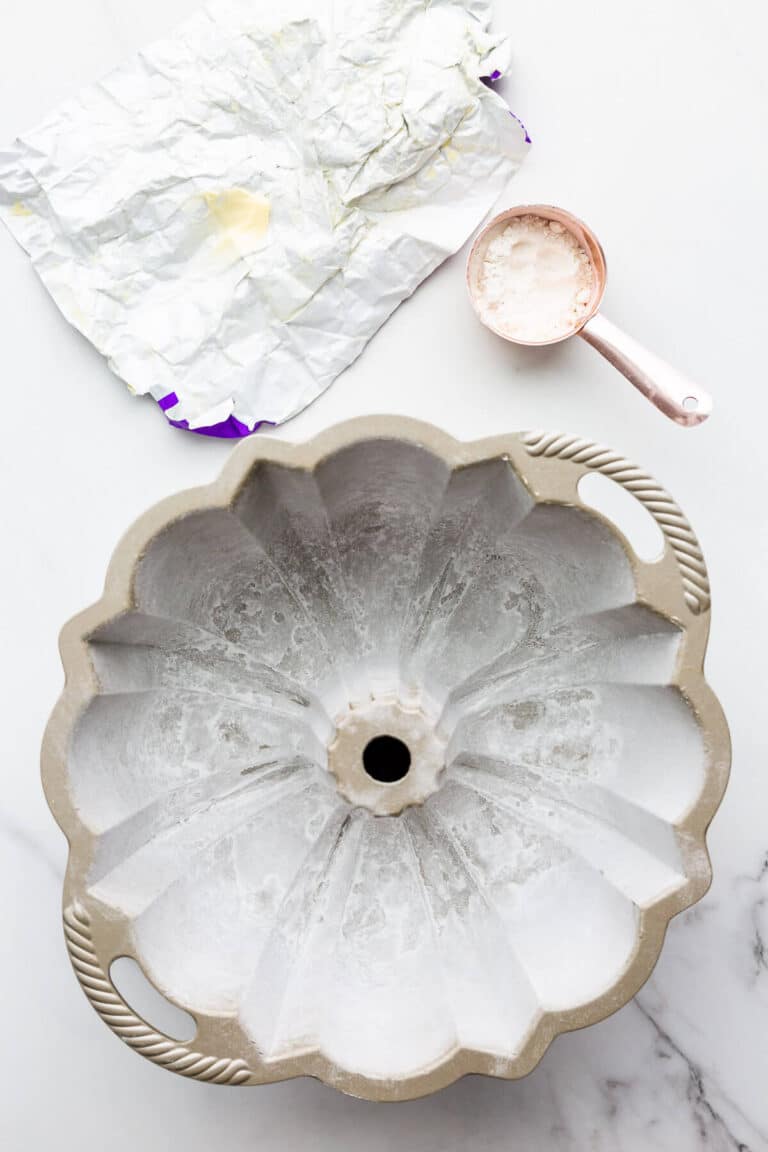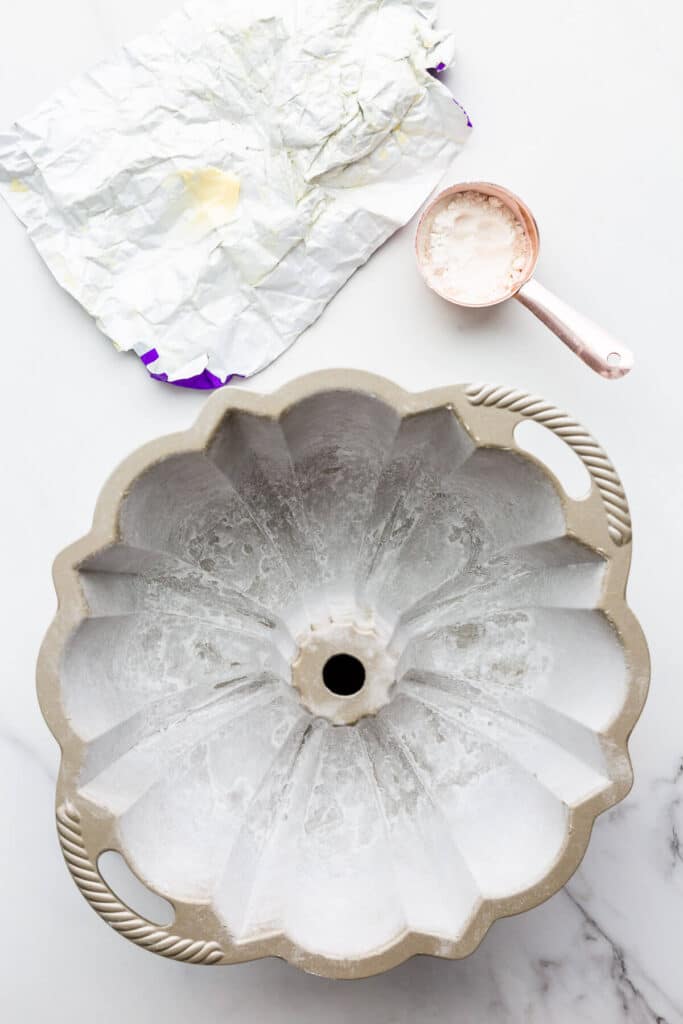 When I want to bake bundt cakes or come up with a good bundt cake recipe, one of my criteria is that the recipe has to be easy and it should not be overly complicated. If I read a bundt cake recipe that calls for separated eggs, for example, where the whites are whipped into a pillowy mass that gets folded into the batter, I feel like this is too much work for a bundt. Bundts are the cake you bring to community events or family picnics, and I truly believe they should be simple but taste fantastic. Everybody loves a good bundt and this chocolate chip bundt cake recipe from scratch is my go-to recipe when I want a simple cake that feeds a crowd.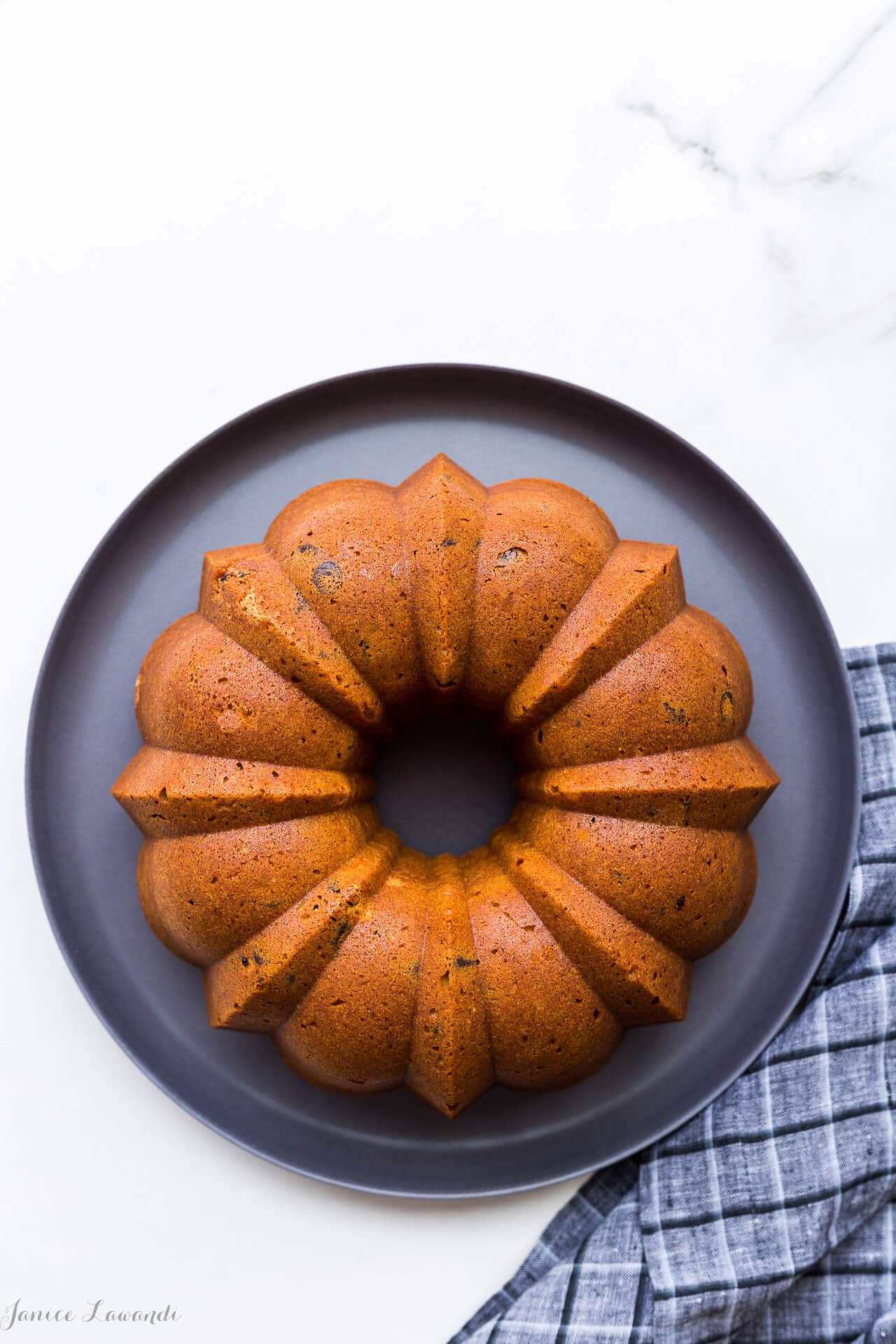 This chocolate chip bundt cake starts with a 1-2-3-4 cake recipe
This easy chocolate chip bundt cake with sour cream is a 1-2-3-4 cake so it's made with 1 cup butter, 2 cups sugar, 3 cups flour, and 4 eggs. The baking ratio is therefore 1:2:3:4, by volume. To give the bundt a little extra rise, I threw in some baking powder and baking soda. The sour cream in this recipe gives the cake a moist crumb and a lighter texture. This chocolate chip cake has the perfect texture: not too dense, but not overly fluffy either. This easy bundt cake recipe is a recipe you can keep in your back pocket. It's as easy as 1-2-3-4 and that's what you have to remember! And you can also use the same recipe to make an apple bundt cake.
Chocolate chocolate chip bundt cake recipe variation
In general, the easiest way of turning a vanilla cake into a chocolate cake: take out a portion of the flour from the recipe (not all) and sift in the equivalent amount of cocoa powder. So, if you want to bake a chocolate chocolate chip bundt cake: it's easy. Start by measuring out the flour you need for this recipe and take out ¾ cup (basically measure 2 ¼ cups (instead of 3 cups), which comes out to 280 grams (instead of 375 grams)). Replace that volume of flour with cocoa powder, so use ¾ cup cocoa powder for this recipe (that should be about 90 grams).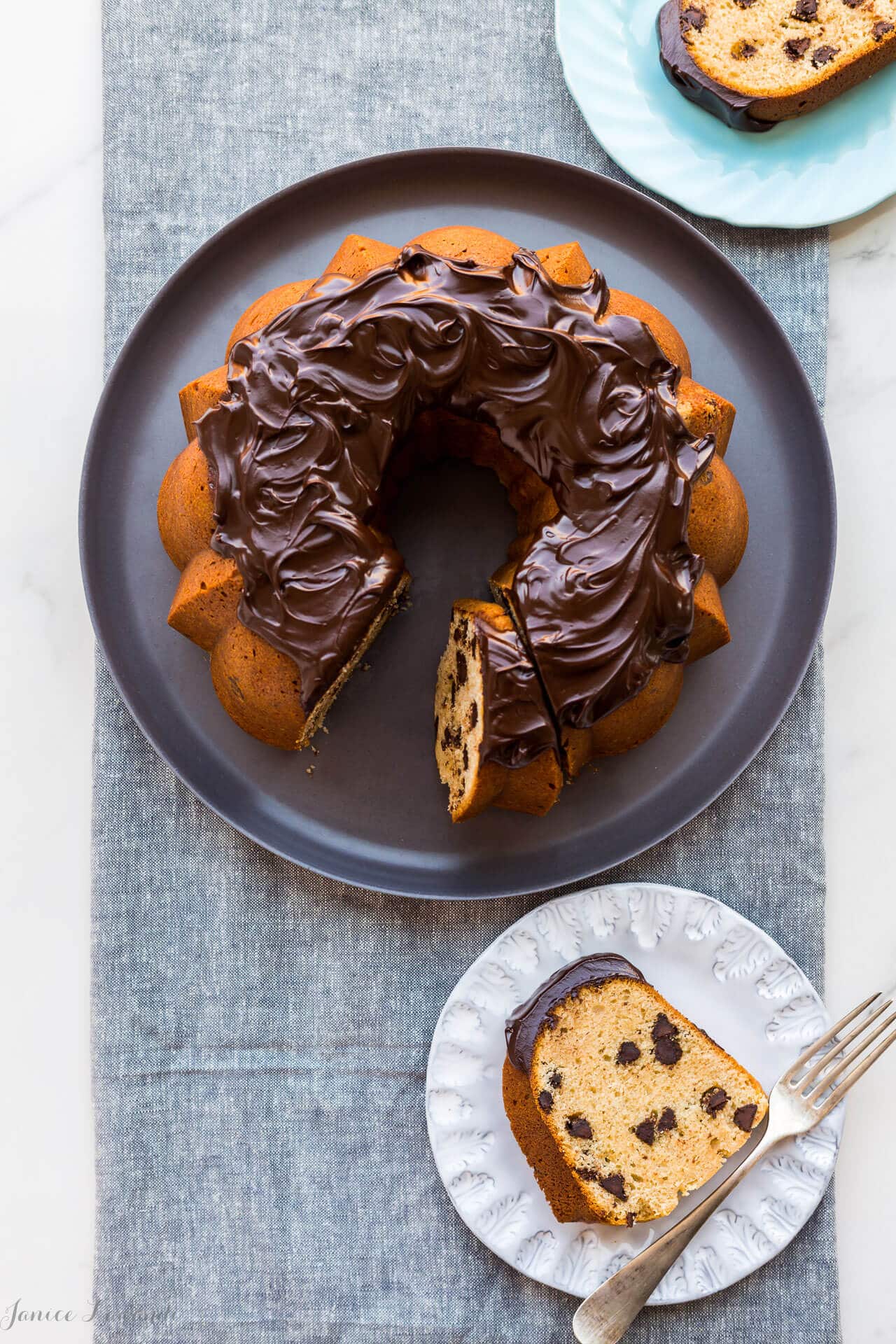 This cinnamon chocolate chip bundt cake is rather large and can be sliced into 16 pieces of cake, give or take. If you want a smaller cake, try the chocolate marble loaf cake.
I always recommend taking the time to prepare cake pans for baking, and bundts are no exception. Make sure to follow the bundt pan manufacturers instructions. Nordic Ware, for example, recommends brushing on oil or butter, as opposed to using an aerosol cooking spray. Baking spray is also a great option because it contains flour. If you have never used a one before, be sure to read this post on how to use a bundt pan before you begin!
📖 Recipe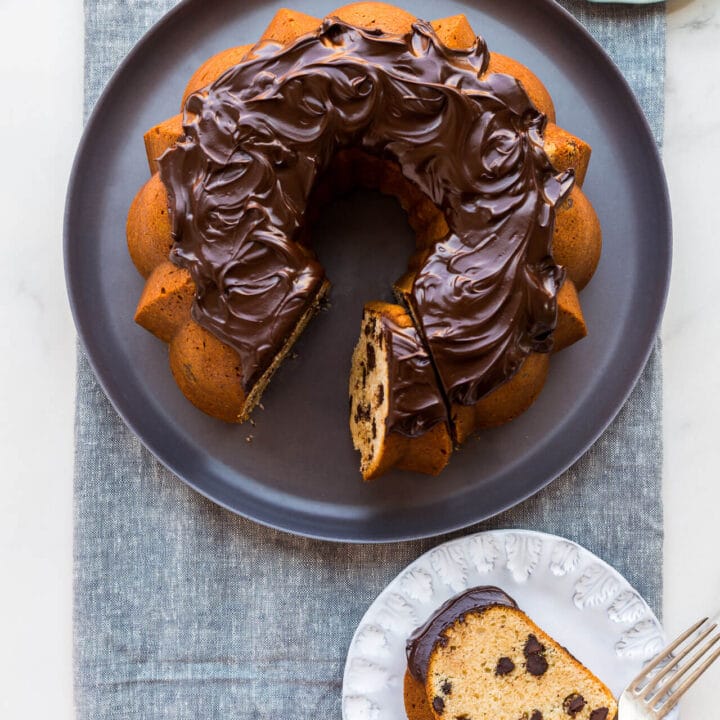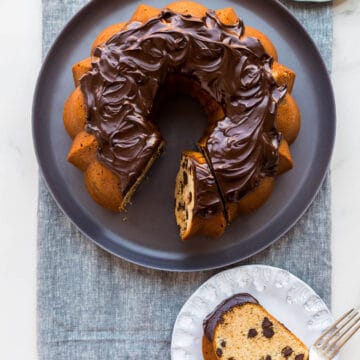 Cinnamon Chocolate Chip Bundt Cake with Chocolate Ganache
Everybody needs an easy chocolate chip bundt cake recipe. This chocolate chocolate chip bundt cake is made with sour cream, a little cinnamon, and topped with a thick layer of chocolate ganache. Pretty perfect, if you ask me!
Ingredients
Chocolate chip bundt cake ingredients
Chocolate ganache ingredients
175

grams

Cacao Barry Ocoa 70% dark chocolate

28

grams

unsalted butter

30

mL

sour cream (14% fat)
Instructions
How to make the chocolate chip bundt cake
Preheat the oven to 325°F (165 °C).

Prepare a 10-cup (2.4 L) bundt pan by brushing the inside lightly with canola oil to make sure the pan is evenly coated. Set the pan aside for later.

In a medium bowl, whisk together the flour, baking powder, cinnamon, baking soda, and salt. Set aside.

In the bowl of a mixer fitted with the paddle attachment, cream the butter and the sugar. Add in the eggs, one at a time, mixing well between each addition. The batter should be very light and fluffy at this point.

Add the sour cream and vanilla, and beat again to mix it really well.

Add the dry ingredients and stir on low to incorporate. Don't mix it completely. When there's still some flour not yet incorporated, finish stirring with a spatula or a big wooden spoon, being sure to scrape up what's stuck to the bottom of the bowl. Fold in the chocolate chips.

Dollop the batter into the prepared pan and swirl and smooth it with a small offset spatula. Bang the pan on the counter several times to make sure the batter settles into all the grooves of the pan. If you are worried, you can even push a knife through the batter to force it into place.

Bake for 75 minutes or until a tester comes out clean. Let the bundt cool 25 minutes before inverting on a wire rack to cool completely.
How to make the chocolate ganache
In a medium bowl, melt together the chocolate with the butter. You can do this gently over a double boiler OR in the microwave at power level 5, making sure to stir every so often to avoid burning the chocolate.

Add the sour cream and stir. Let the ganache sit until it has thickened enough to spread on top of the cooled bundt without it flowing off the sides.
Nutrition