Does baking in a bundt pan make you nervous? Here's how to use a bundt pan, including how to prepare it and techniques for how to remove a bundt cake from a bundt pan without any stress (or tears!). These tips and tricks work for getting bundt cakes out of both mini and full-sized pans! Getting a cake out of a pan is a really crucial and very stressful step in baking for all of us. This step can literally make or break your recipe.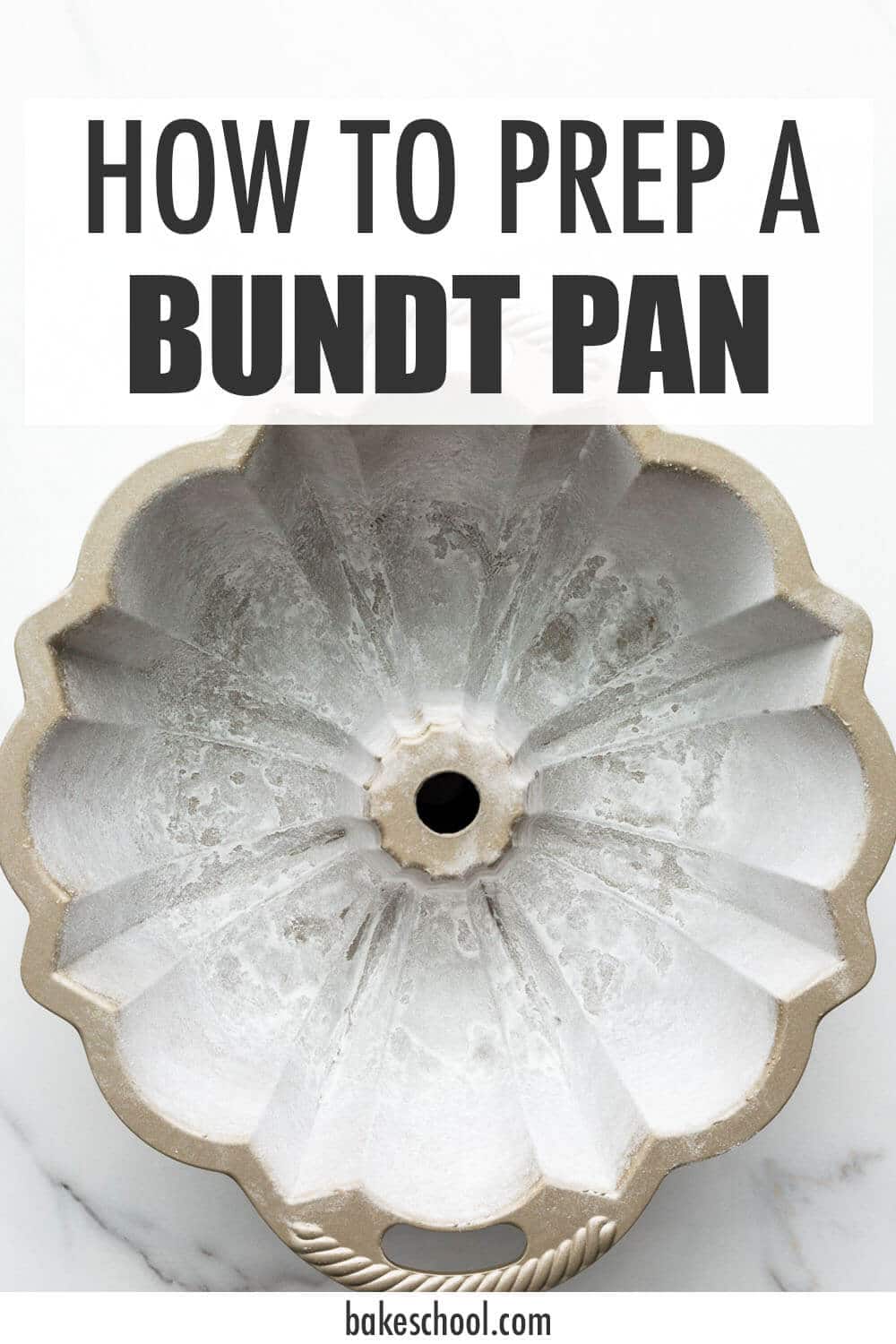 Disclosure: As an Amazon Associate, I earn from qualifying purchases.
Jump to:
What is a bundt pan?
A bundt pan is a metal cake pan with a tubular or doughnut shape, meaning that cakes baked in this type of pan have a hole in the middle. This type of cake pan usually has intricate designs and swirling patterns embossed directly in the mould, creating a more decorative cake. The patterns of some bundt pans can serve as cutting guides for portioning out even slices, and for others, the patterns are well suited for glazes and icings that can drip and pool in places.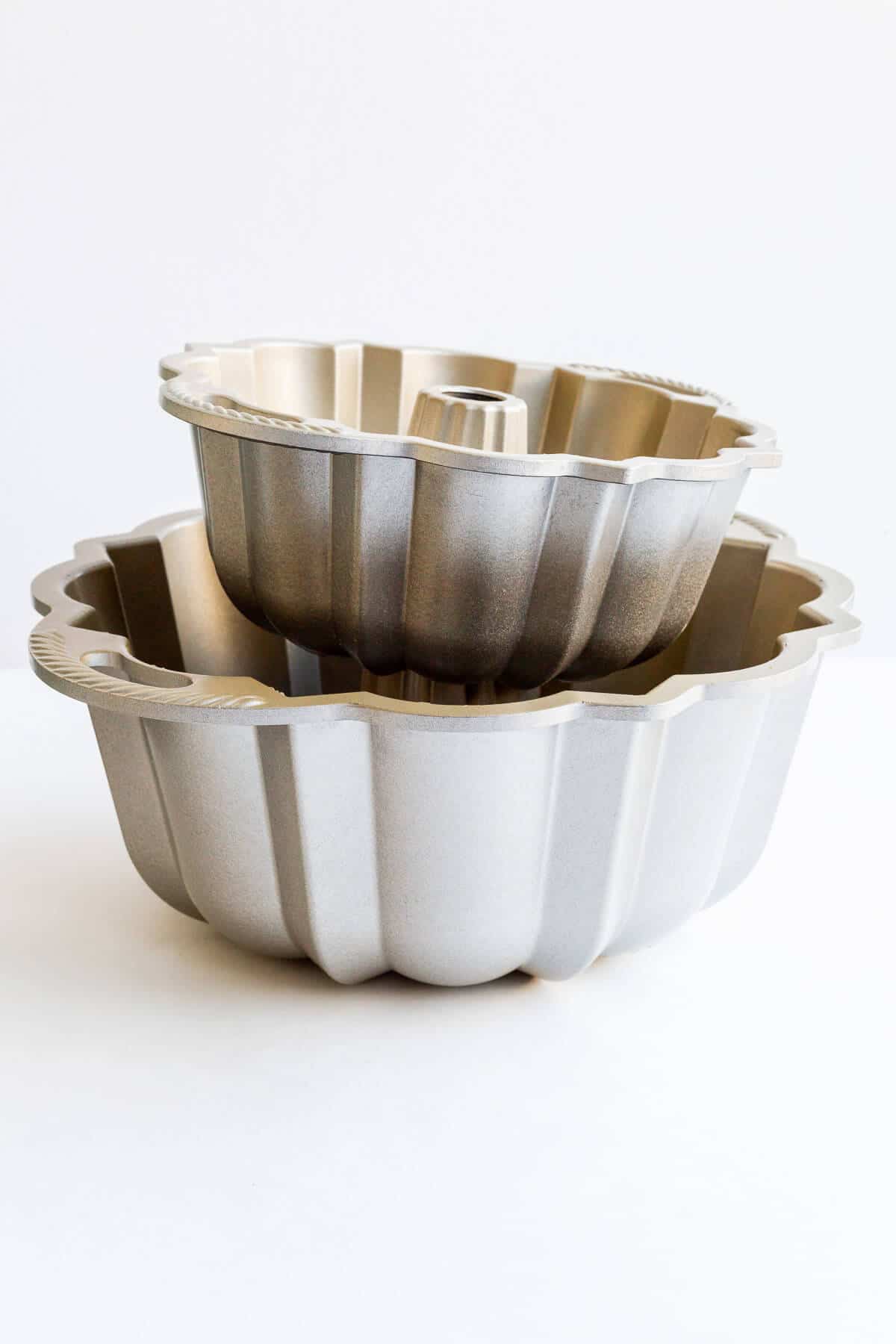 The bundt pan is similar to the German and Eastern European Kugelhopf pan (or Gugelhupf pan) for baking sweet yeasted breads and cakes (called Kugelhopf, Gugelhupf, or Bundkuchen).
Interestingly, the word "bundt" is trademarked by Nordic Ware, a Minnesota company. You may see bundt cake pans in stores labelled as "fluted tube pan" or "fluted cake pans" if they are produced by brands other than Nordic Ware.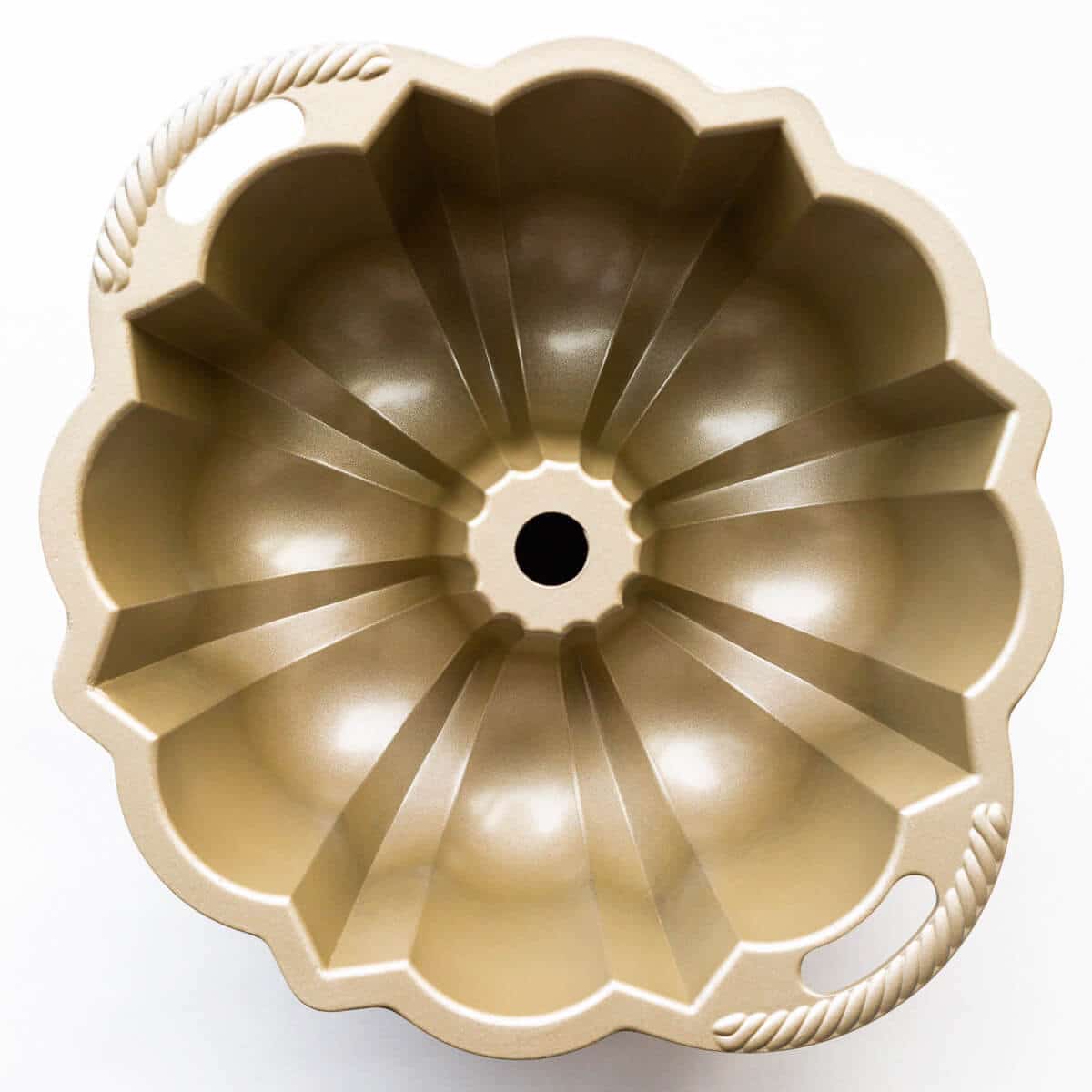 How to use bundt pans
The elaborate designs and shapes of bundt cake pans make them a little tricky to use. It's important to take the time to prepare the cake pan for baking.
Greasing bundt pans
You have to grease a bundt pan, even if it's non-stick. You would be surprised how easily a cake will get stuck in a pan with intricate patterns as you see in this type of bakeware.
For greasing this type of bakeware, you have options:
liquid fats, like canola oil, vegetable oil, or another neutral oil work fine, but because this type of fat is liquid at room temperature, the oil may slide down the sides of the pan and pool on the bottom, leading to pools of oil where the cake batter will not be able to spread. This can lead to empty patches and holes on the surface of the bundt cake. You can easily brush liquid fats with a pastry brush and do so just before transferring the batter to the pan, to minimize pooling.
solid fats, like shortening or softened butter work best because when you spread the solid fat on the inside of the pan, in all the nooks and crannies, the fat stays in place and doesn't move at room temperature until the pan is in the oven. To apply solid fats to a bundt pan, use your fingertips, a piece of parchment, a paper towel, or even a butter wrapper. You can even use a soft pastry brush to do this task. Just make sure you apply it as evenly as possible, in a thin layer, and make sure to smooth it into all the edges and corners of the pan to make sure the surface is completely coated.
I do not recommend using aerosol oil sprays (like Pam) to prepare a bundt pan because the spray can create a sticky residue that gets baked onto the exposed edges. The pan will become very sticky and this can cause problems down the road.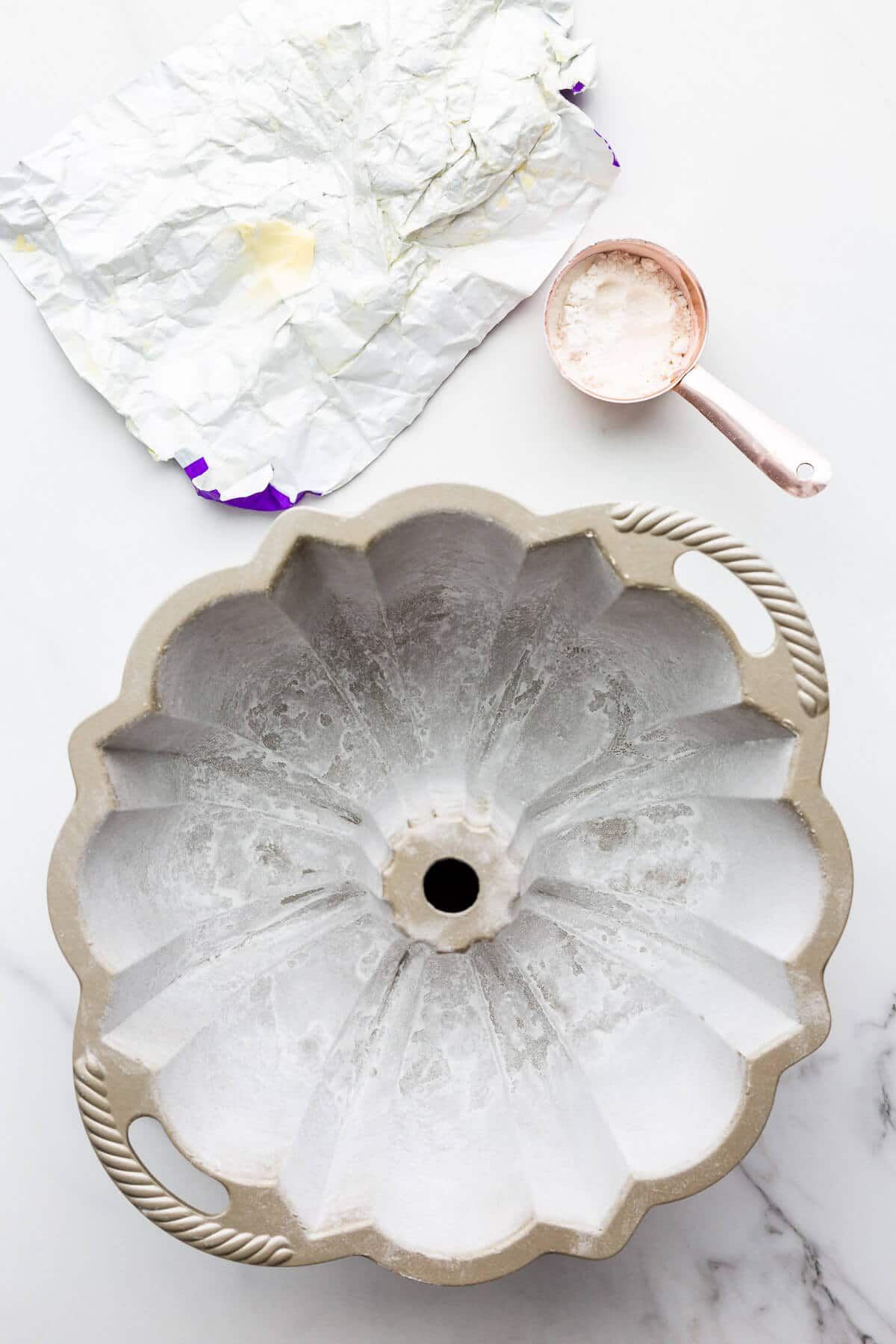 Flouring bundt pans
As an extra precaution, you can also flour a bundt pan after greasing it. Do not take a risk: always prepare a bundt pan by greasing it (and even flouring it) before using.
I do recommend trying a baking spray specifically formulated for cakes. Bakers Joy is a great example. These usual contain both a fat and flour, and they work especially well for bundts, without leaving behind a sticky or gummy residue. Just make sure to hold the can of baking spray at a distance from the pan and to spray the inside evenly. Consult the manufacturers instructions for more information about the optimal distance for spraying the aerosol.
Like with all pans, it's important to take the time to prepare the pan to make sure that every part of the pan has an even coating of grease and flour. I may spend as much as 5 minutes to prep a bundt pan, but this guarantees that I will be successful when it's time to unmould the cake.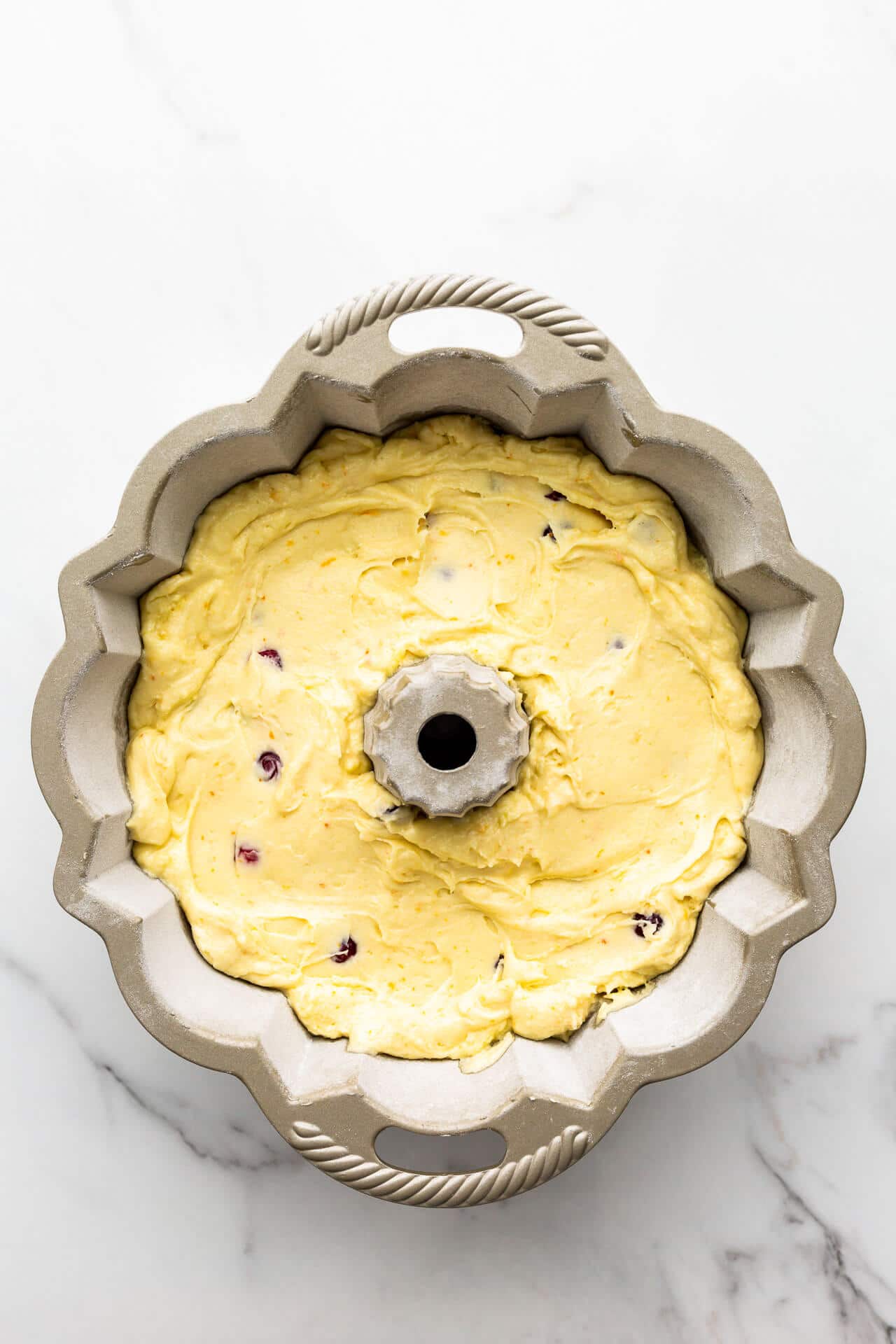 Filling it with batter
Filling a bundt pan is tricky because of all the indentations, bumps, and corners. You have to take the time to make sure that the batter reaches and fills every corner, from edge to edge, otherwise, you may end up with empty patches, pockets or holes.
Use a spoon or a small ladle, or even a piping bag with a big opening to ensure that every inch of the pan is properly filled with batter on the bottom before adding more to fill the pan. This is especially important with thick batters.
Some bakers recommend banging the filled pan on the counter to help the cake batter settle into the corners of the pan, but this might not work for thick batters. You may have to use the back of a spoon to push the batter into the corners and edges.
Make sure to only fill the pan until it's two-thirds to three-quarters full with batter. Otherwise the cake will take too long to bake and the edges may brown too much. Extra batter can be baked in muffin tins.
Baking the bundt cake
Bundt cakes tend to be very tall, thick cakes, and they can take as much as 75 minutes (1 hour and 15 minutes) to bake properly and completely, usually at either 325 ºF or 350 ºF. Be patient. Make sure to use a cake tester and/or a digital thermometer to check that your cake is done baking.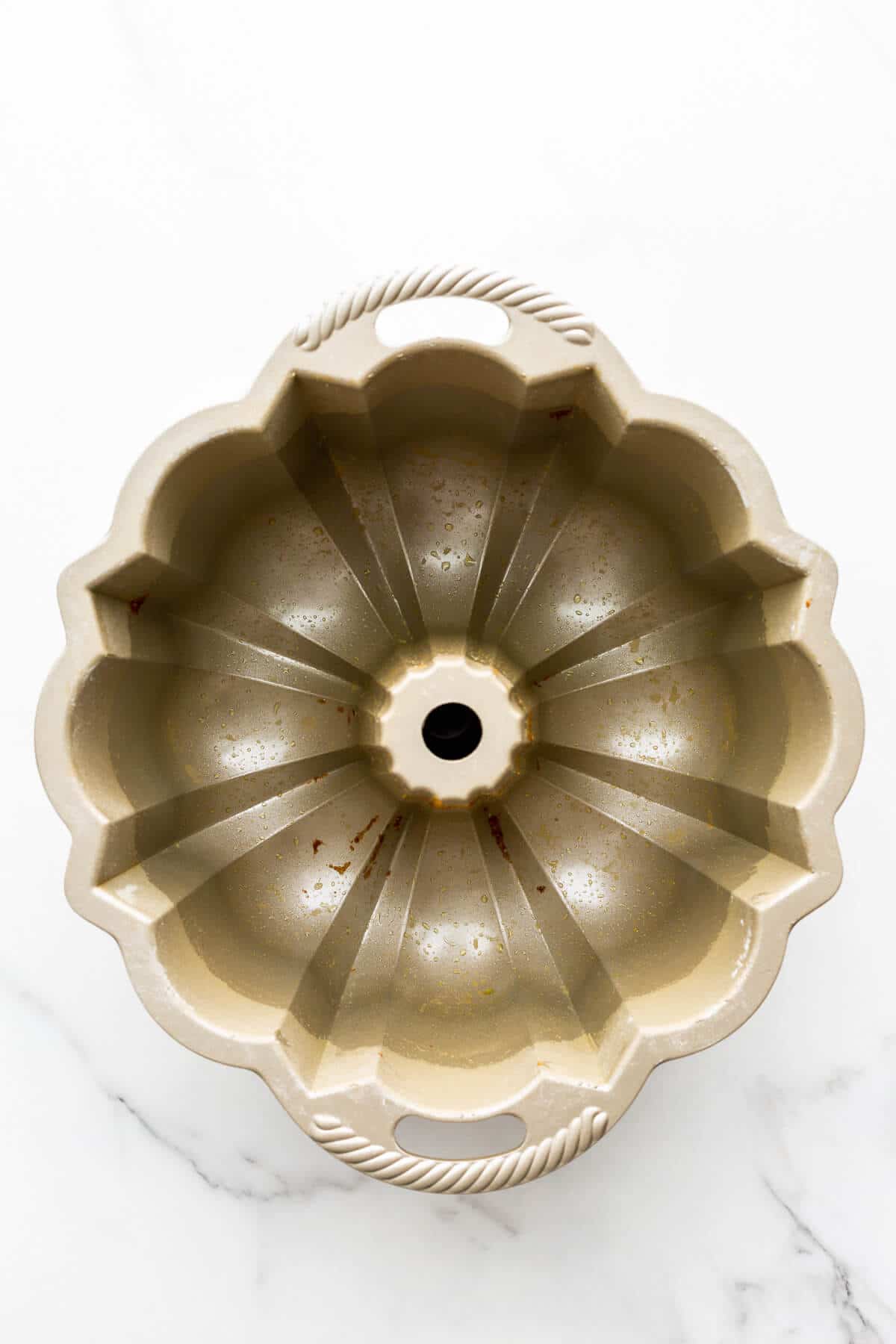 How to get the cake out of the bundt pan
Once you have checked that the cake is done baking and you are abolutely sure the bundt cake is baked through, place the cake pan on a cooling rack and wait 10 minutes. This gives the crumb time to harden and firms up the whole cake.
After 10 minutes, invert the cake onto the cooling rack and remove the pan. To do so, place the cooling rack on top of the opening of the bundt pan, and flip it over swiftly and without hesitating. Make sure to grip both the cooling rack and the pan firmly with both hands. If the pan is still hot, you will need to use a towel or oven mitts to avoid burning your hands.
The cake should slide right out of the pan and onto the rack, cleanly, without sticking, if it's baked properly and cooled just enough but not too much. If the cake cools too much in the pan, it will stick and break apart if you aren't careful.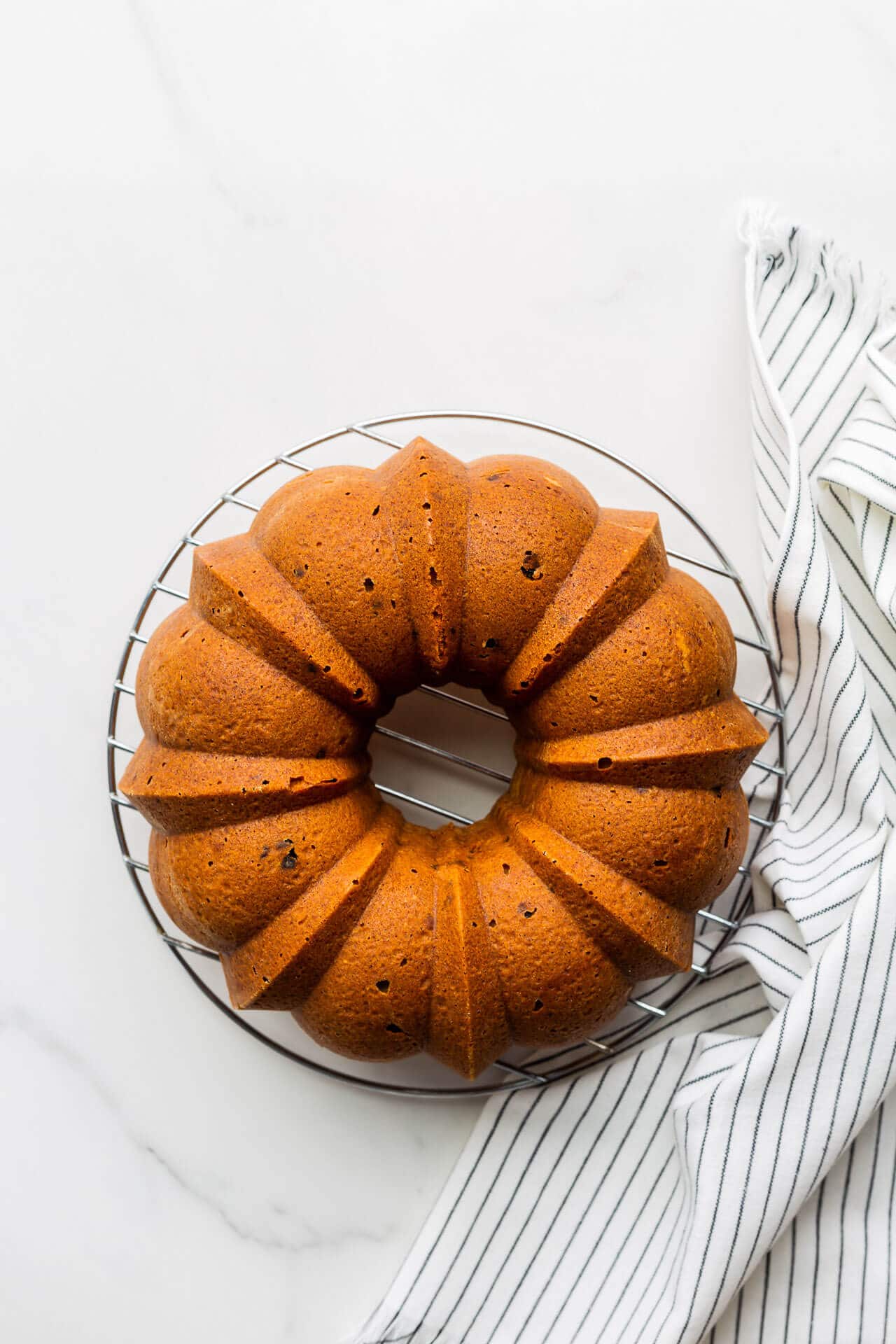 What to do if the bundt cake sticks to the pan
If your cake sticks to the bundt pan, flip it back so that the opening is on top (as if to bake the cake in the oven). You will need to evaluate what is happening and why it's sticking. Ask yourself these questions:
did you prepare the pan properly by greasing it and even flouring it?

If your answer is no, you may be out of luck and it might not unmould cleanly without breaking.
If your answer is yes, then there's hope!

is the pan and/or the cake cool to the touch?

If your answer is no, it's likely you didn't grease and flour the pan properly.
If your answer is yes, it's likely that the pan and the cake cooled down too much, fusing it to the pan. Preheat the oven to 300 ºF and place the cake pan back in the oven to warm the outside. You want to warm the pan enough so that the fat on the edges melts. It could take about 10 minutes. The pan should feel warm, but not burning hot. Once the pan and the edges of the cake are warmed up, you should be able to unmould the bundt cleanly, assuming the pan was properly prepared before baking in it.
I have had a lot of luck rewarming bundt cakes that are stuck to the pan so you should definitely try this trick. If all else fails, make trifle.
Cakes to make using a bundt pan
Bundt cakes are designed to serve a crowd, so if you are hosting a gathering with many people, bundt cakes are ideal because they are simple to make and always impressive to serve. Here are a few bundt cake recipes to try:
You'll notice that most bundt cake recipes are actually 1-2-3-4 cake recipes, made from 1 cup butter, 2 cups sugar, 3 cups flour, and 4 eggs. Knowing the baking ratio makes the recipe easy to remember and once you've mastered it, you can use the ratio as a jumping off point to get creative!
Bundt cake recipes usually call for the creaming mixing method in order to incorporate more air into the batter, along with the chemical leaveners, baking powder and baking soda, to avoid a dense, heavy cake.
Can you make a bundt cake without a bundt pan?
You could technically bake most bundt cake recipes in any pan, but because most full-sized bundt pans have a volume of 10 to 15 cups (2.5 L to 3.75 L), this means you will have to split the batter into multiple pans and baking them could be tricky.
The beauty of the shape of the bundt is that it has a tubular or donut shape with a hole in the middle. The central metal tube helps conduct heat so that tall, dense cakes have a better chance of baking properly.
A tube pan could work for some batters, but you may want to wrap the outside with foil to avoid any dripping or leaking as the cake bakes since many tube pans are made of two pieces.
Remember the name bundt cake refers to the shape more than the type of recipe, so if you bake a bundt cake recipe in a regular cake pan, you are just baking a regular cake!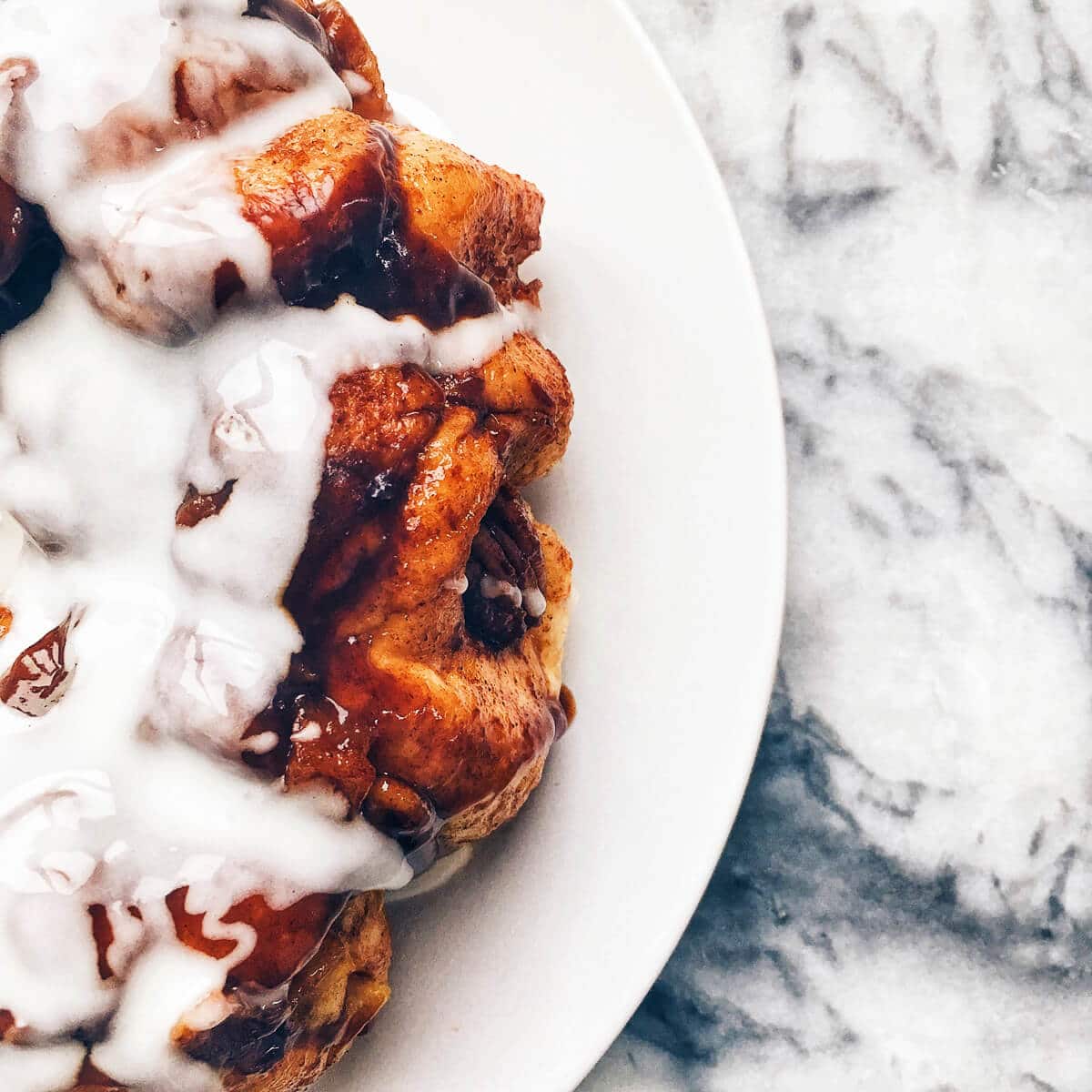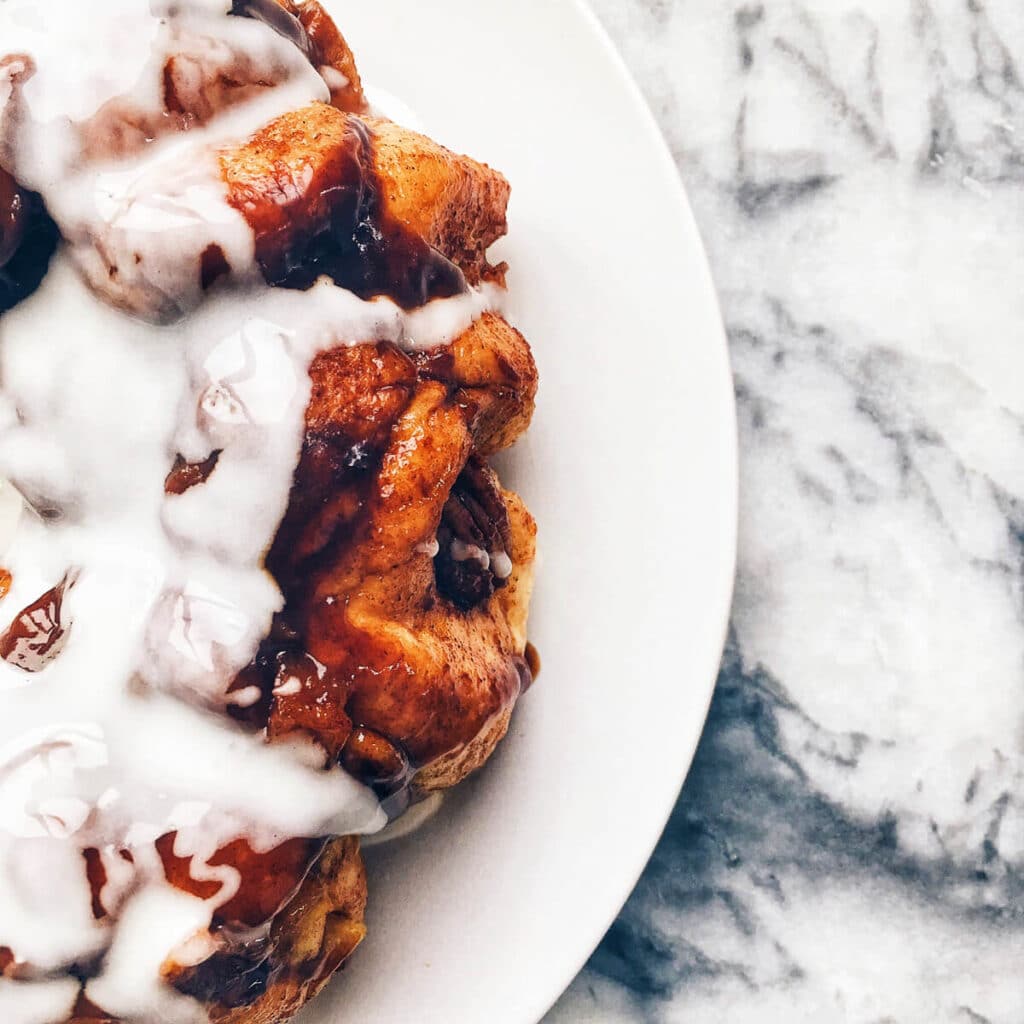 Other uses for bundt pans
Surprisingly, you don't have to use these pans exclusively for cakes! You can also use bundt pans for moulded gelatin-based recipes, and also for yeasted sweet breads, including monkey bread!
In my family, bundt pans are also used to make Middle Eastern moulded rice dishes with layers of basmati rice, ground meat, and toasted pine nuts. The trick is to press firmly each layer in the pan to create a dense texture that can survive flipping onto a plate, while holding the shape of the pan.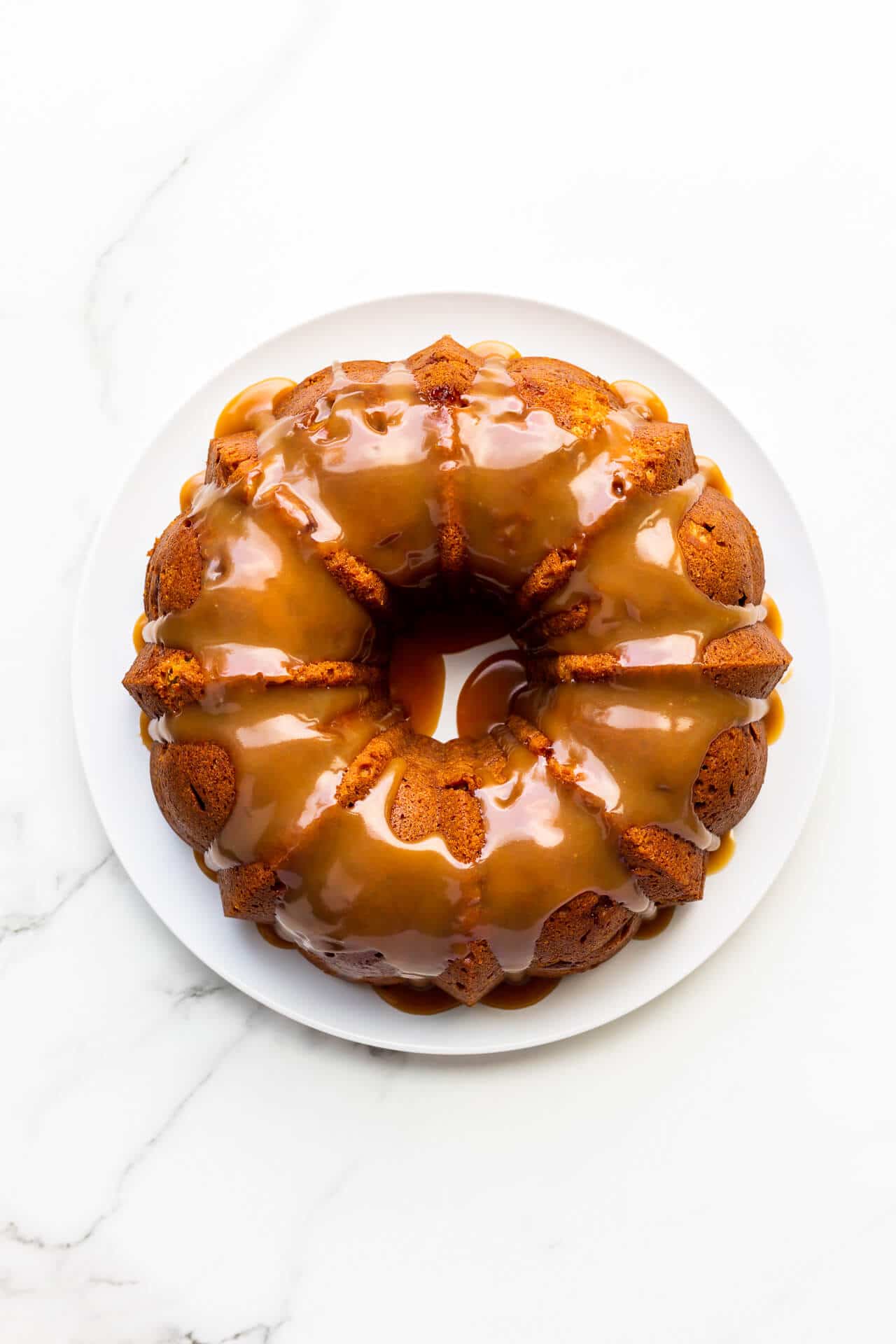 Bundt pan recommendations
I have baked a lot of bundts and I've found results vary depending on the pan. I've found with some older, vintage bundt pans, cakes are prone to sticking to the pan, no matter how careful you are about preparing the pan by greasing and flouring.
I bake exclusively with Nordic Ware bundt pans, which have a light non-stick coating on them for easy and clean unmoulding. These pans are very heavy duty so there's no risk of bending or damaging the shape of the pan, and they conduct heat well for even baking.
Measuring the size of a bundt pan can be tricky. Read this post about how to measure cake the size of a cake pan to find some tips and tricks (including using water to measure the size!).
I only recommend the following bundt pans:
10-15 cup bundt pans:

the Platinum Collection Anniversary Pan, which has a classic bundt cake shape and is the easiest pan to use. More intricate pans are more difficult to use because it can be hard to get the batter to fill every nook and cranny of the elaborate designs. This pan also features handles on either side to make it easier to get cakes in and out of the oven and also helps with unmoulding.
the Elegant party bundt pan (also on Amazon), which has a more intricate pattern than the Anniversary pan, but it's a little finer and different than the classic design.

6-cup bundt pans:
Mini bundt pans (also called bundtlette pans):

the easiest to use will again come from the Platinum Anniversary collection, with their mini bundt pans, which make 6 individual bundt cakes. Beginners should avoid pans with intricate, finer designs which are very difficult to use.
I highly recommend that both beginner and experienced bakers invest in at least one classic bundt pan to add to their arsenal of baking pans. Cake recipes baked in this type of pan are easy, feed a lot of people, and impressive!
Need more help with bundt pans?
Most of us aren't born with a natural ability to guess the exact size of any cake pan. If you would like to learn more about converting recipes from one pan type to another, you need the Baking Pan conversions chart.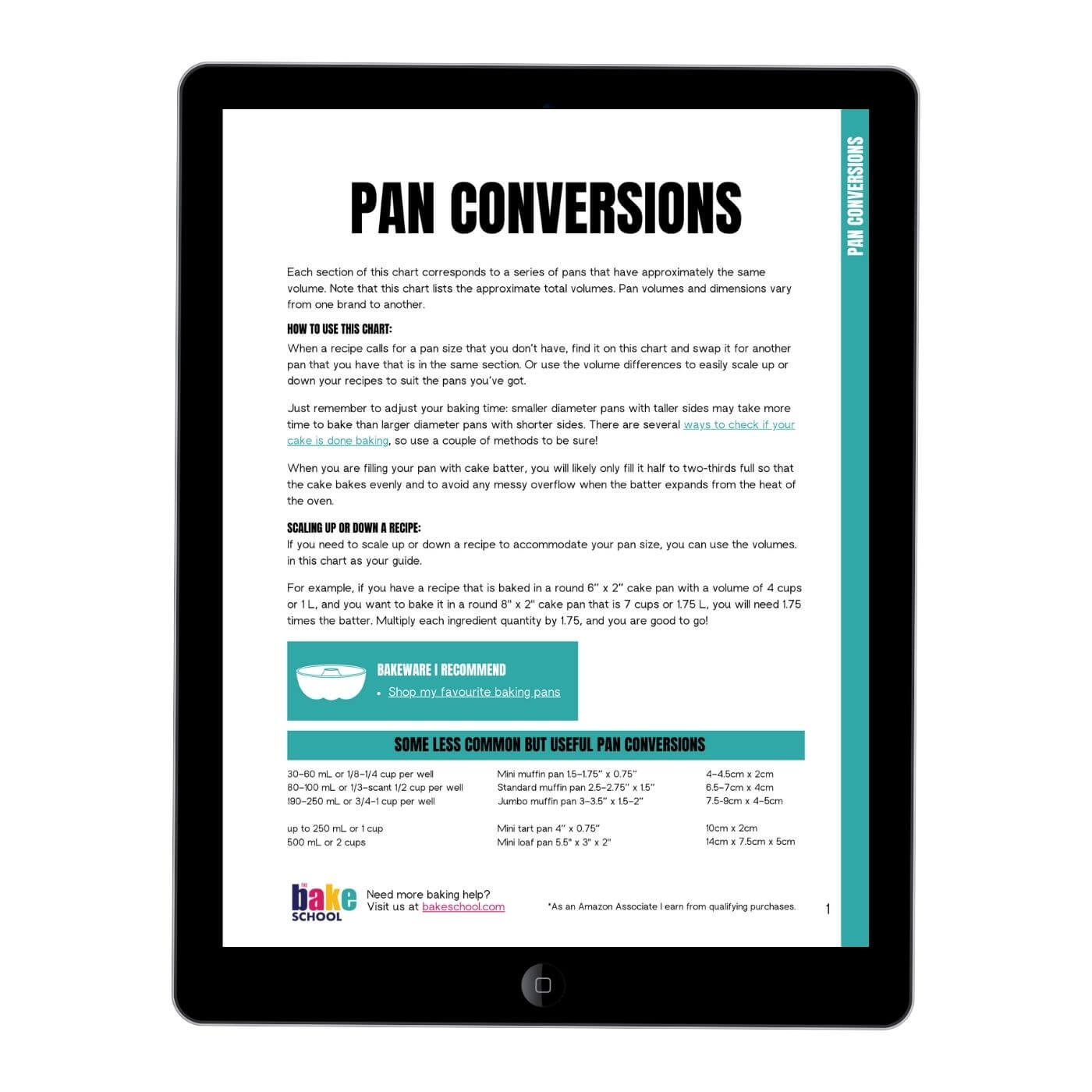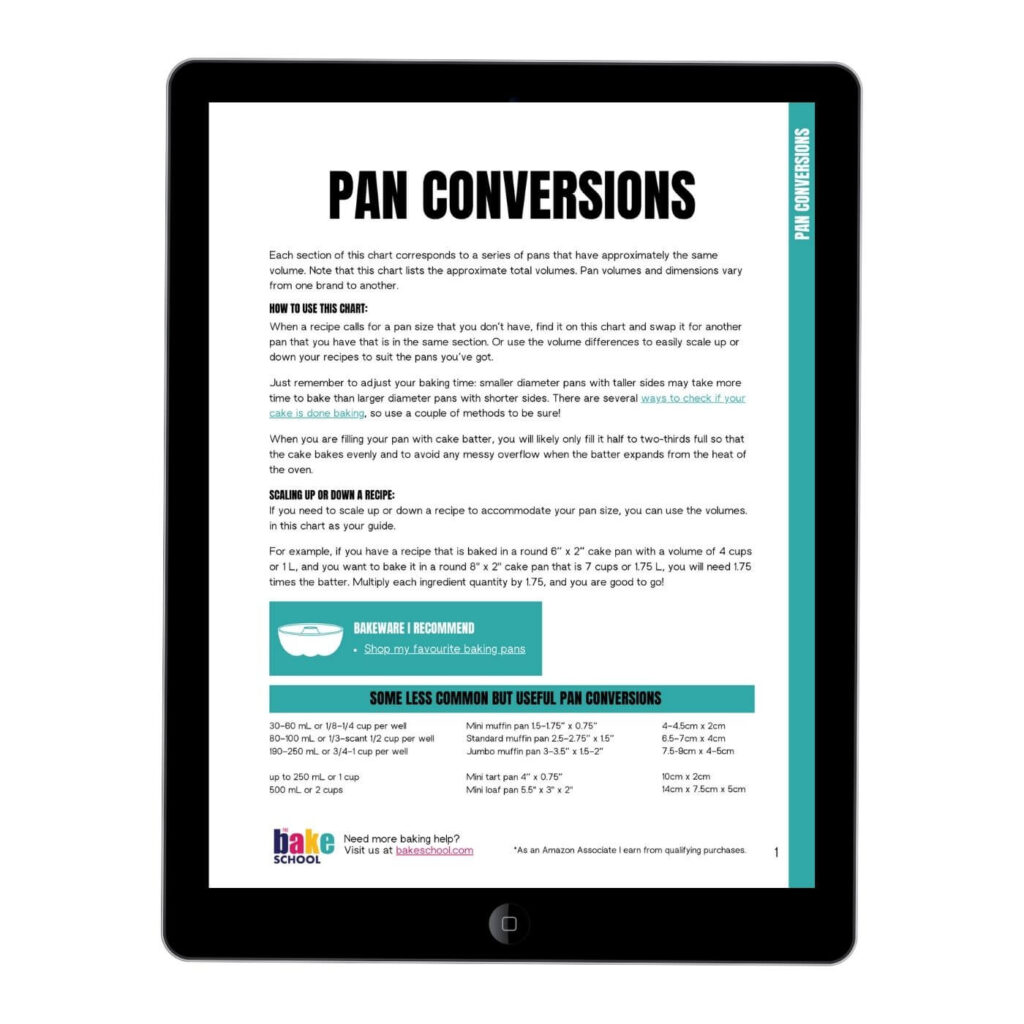 Pan conversions chart
Use this baking pan size conversion chart to help you swap cake pans in a recipe. Learn how to find out which pans are equivalent and how to convert from one cake pan size to another.