This easy recipe for carrot muffins makes moist muffins flavoured with warm spices that are perfect for breakfast or a snack. You can add chopped nuts like walnuts to this recipe, top them with cinnamon sugar or even a crumble topping if you prefer!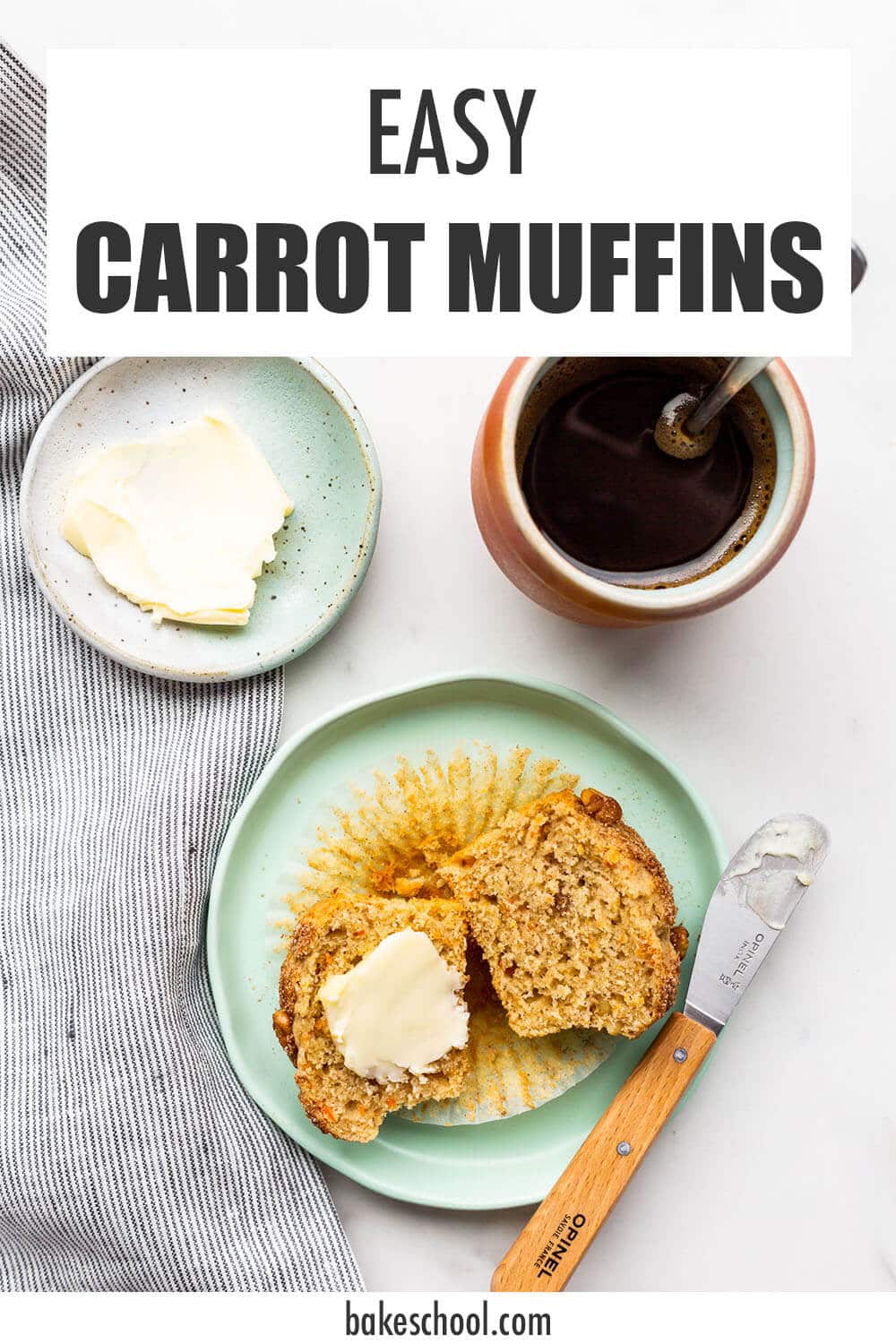 What you need to make these
Carrot muffins are simple to make, as simple as the ingredients. All you need to make these is:
Flour, all-purpose is ideal, or you can try a mixture of whole wheat and all-purpose, but this will affect the texture a little.
Sugar, granulated sugar or light brown sugar
Leavening agents, specifically both chemical leaveners (baking powder and baking soda)
Salt, fine kosher salt like Diamond Crystal is what I use. If you use a different salt that has more or less sodium per gram, you will likely have to adjust the quantities so the muffins aren't overly salty or under-salted
Spices, otherwise your carrot muffins may taste bland
Butter, either salted or unsalted will work, though if your salted butter has a lot of salt in it, you may have to adjust the salt in the recipe
Eggs
Sour cream, preferably full-fat (14 % fat) otherwise the muffins may be dry.
Vanilla extract to enhance the sweetness and the flavour of the muffins
Shredded carrot (I grate carrots on the finer side of a box grater)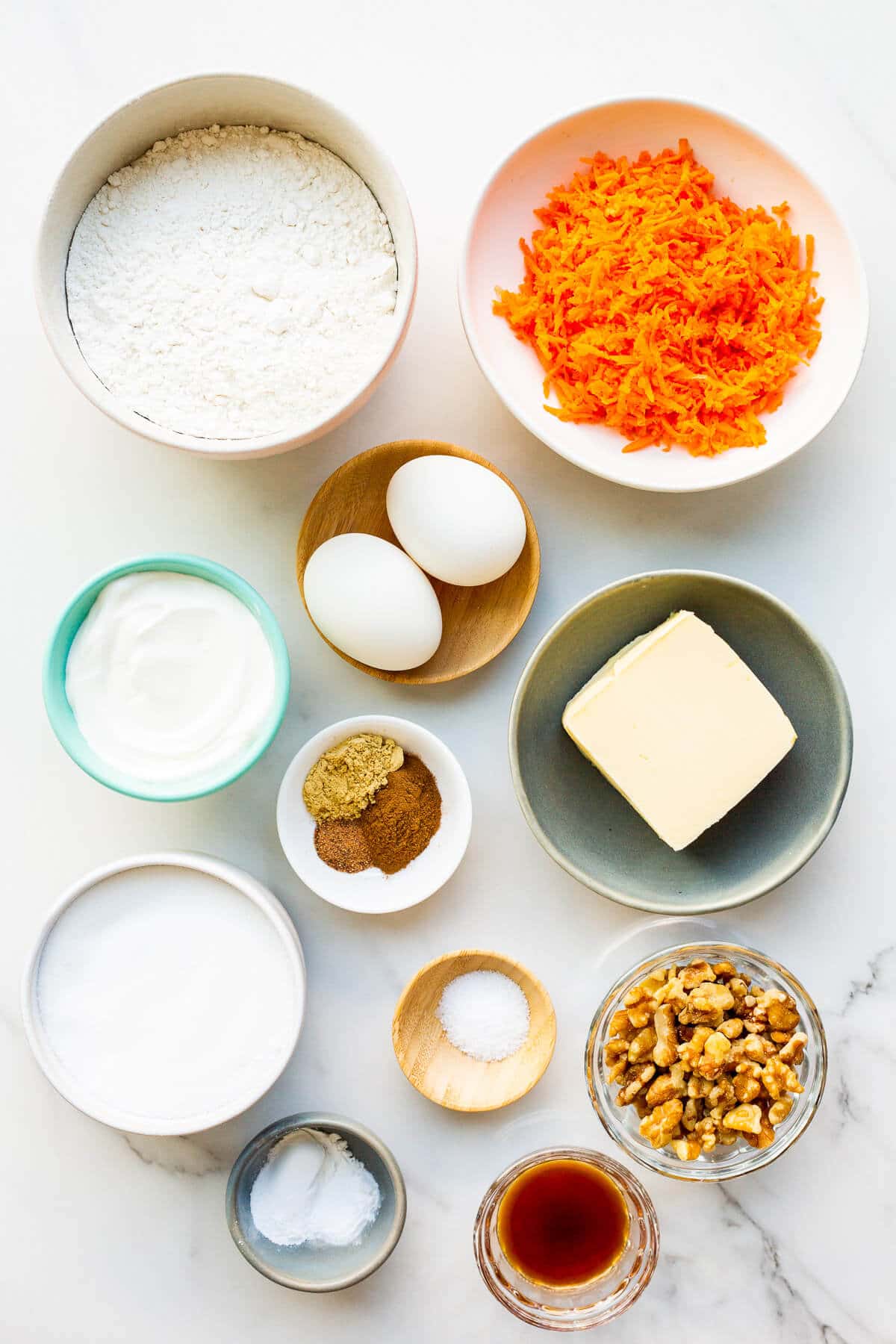 Spices to add to this recipe
Carrots are sweet and pair nicely with warm, fall spices like cinnamon, nutmeg, ginger, and cloves.
Another option that would work well here is ground cardamom (from the seeds of green cardamom pods).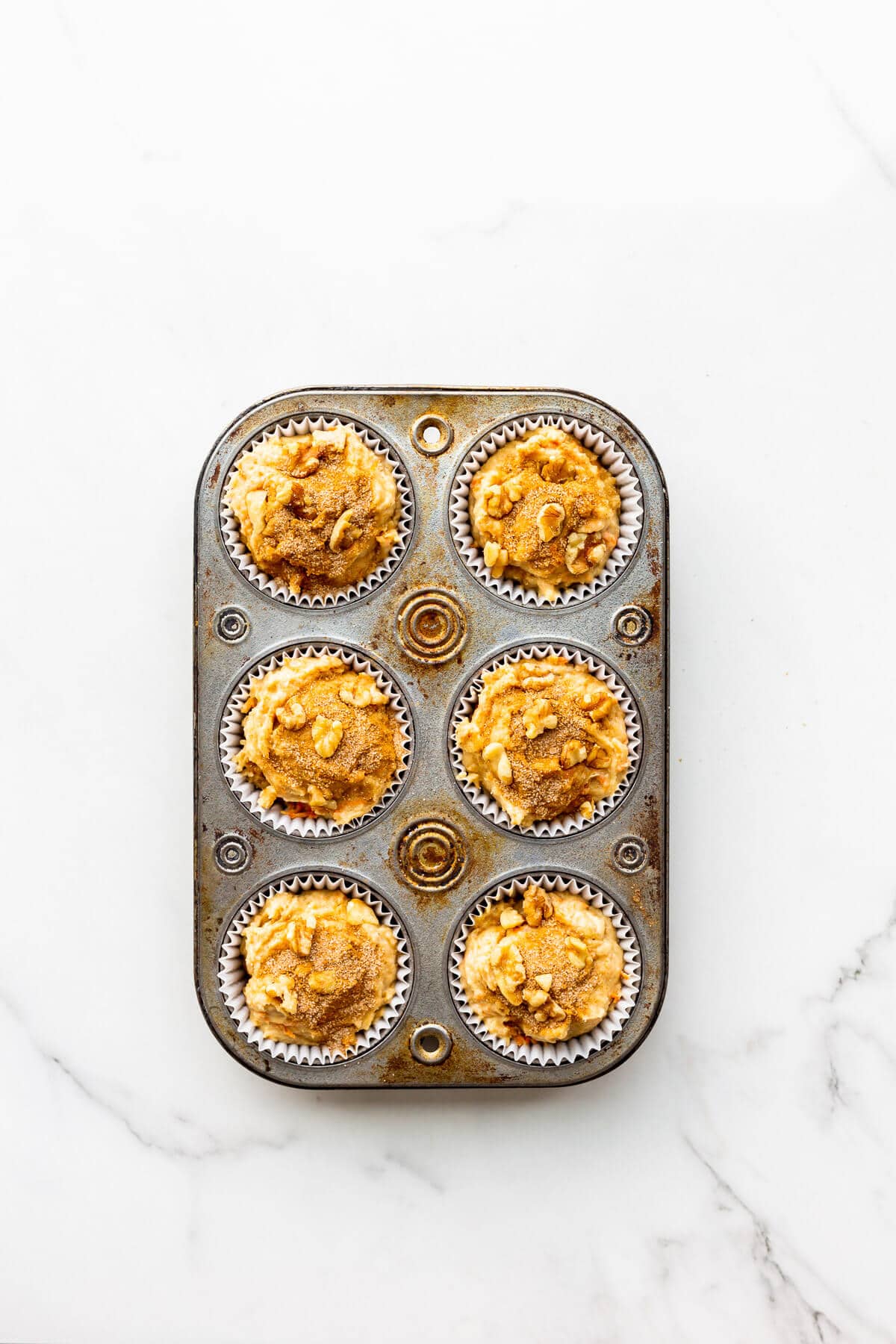 Inclusions
You can keep the muffins plain, or you can jazz them up with some inclusions:
chopped nuts, like chopped toasted walnuts or pecans
dried fruit, like golden raisins, chopped dried apricots, or even chopped pitted dates
chocolate, specifically white chocolate chips would be great in carrot muffins
When making carrot muffins, you may want to add ingredients like canned pineapple to the mix, just beware that this will throw off the baking ratio in the recipe, which may lead to prolonged bake times or a gummy or wet crumb.
If you decide to go that route, make sure to drain the chopped pineapple well and even dry it on paper towel to remove as much moisture as possible before stirring it into the muffin batter.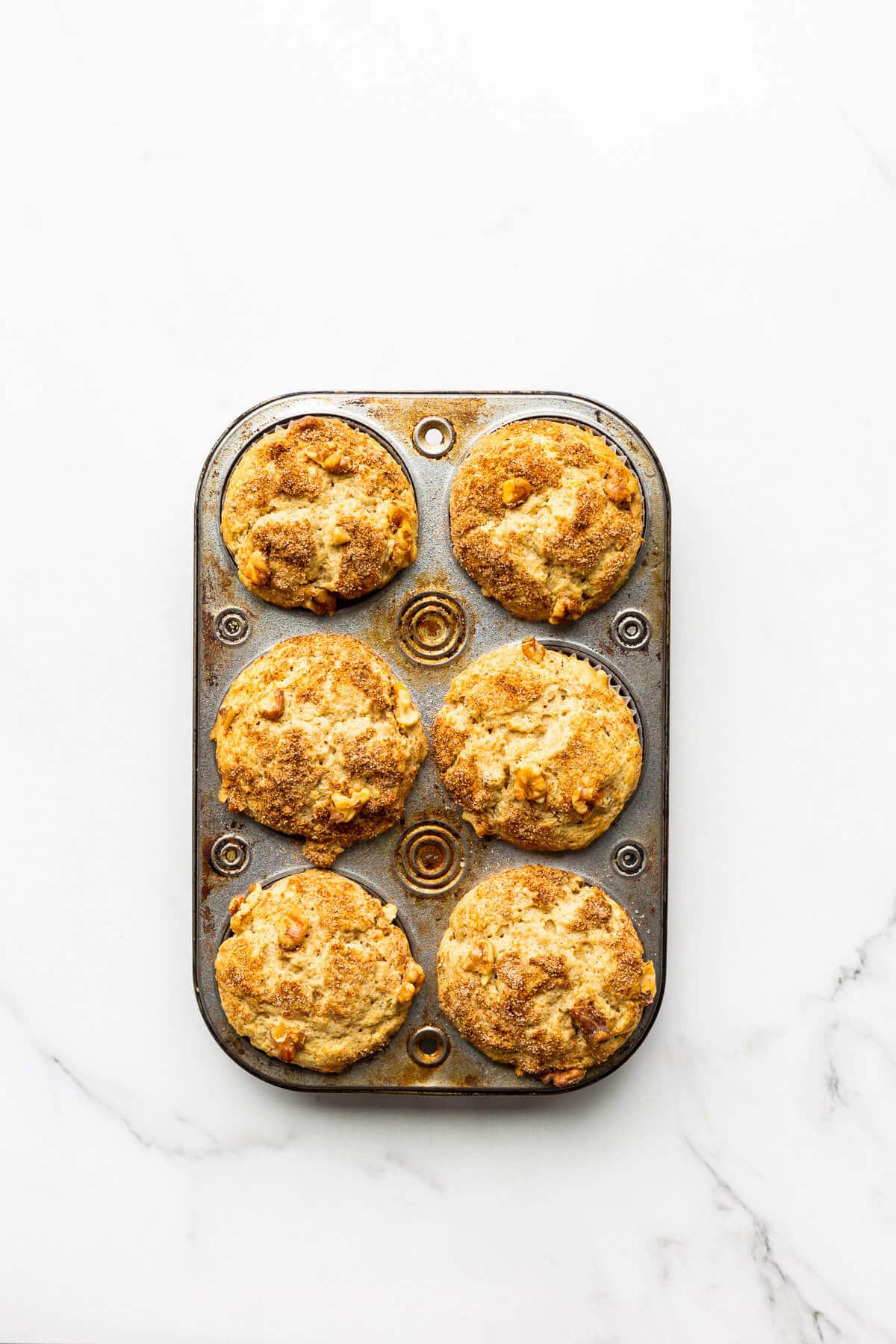 Easy method for muffins
Lately, I've been using the reverse creaming mixing method to make muffins. I find it easier and you don't need a mixer for it. For this method, you:
put all the dry ingredients in a bowl, so the flour, spices, chemical leaveners, salt, and even the sugar, then whisk them together.
The butter is cubed and softened, worked into the dry mixer by hand until the mixture resembles coarse sand.
add in the wet ingredients and stir everything together to form a thick batter.
For carrot muffins, you fold in the shredded carrot and nuts (if using) at the end of this process.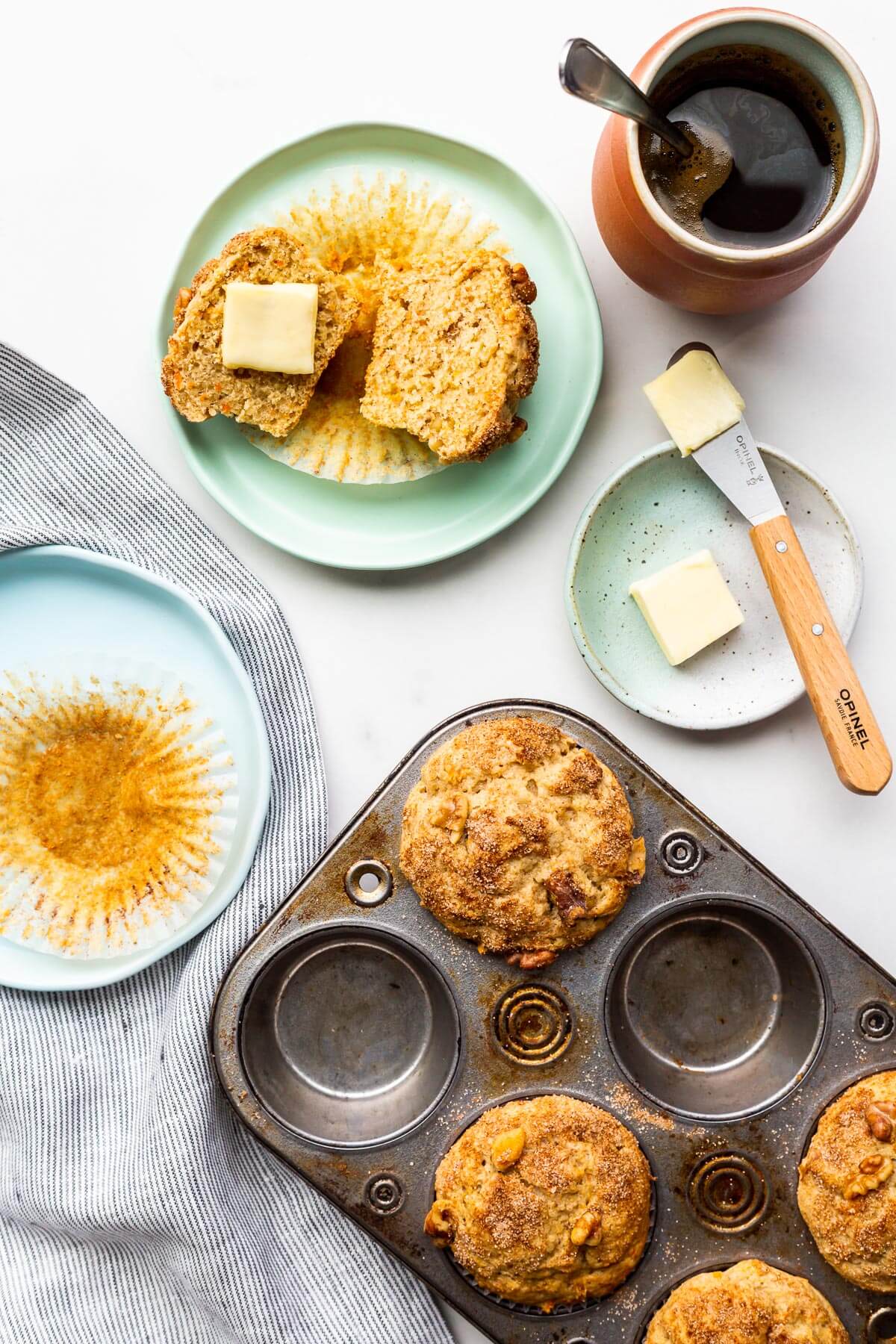 Pans and muffin liners
I baked these muffins in two 6-cup muffin pans. You can also use one 12-cup pan if you have it! Makes it faster and easier to get all the muffins in and out of the oven at once.
For this recipe, regular paper liners work great (same as for cupcakes), or you can also opt to use silicone liners. I don't recommend parchment liners because the muffins won't stick to the parchment liners, which will fall right off.
If you would prefer to bake without any liners, I recommend using cooking spray to grease the wells of your muffin pans.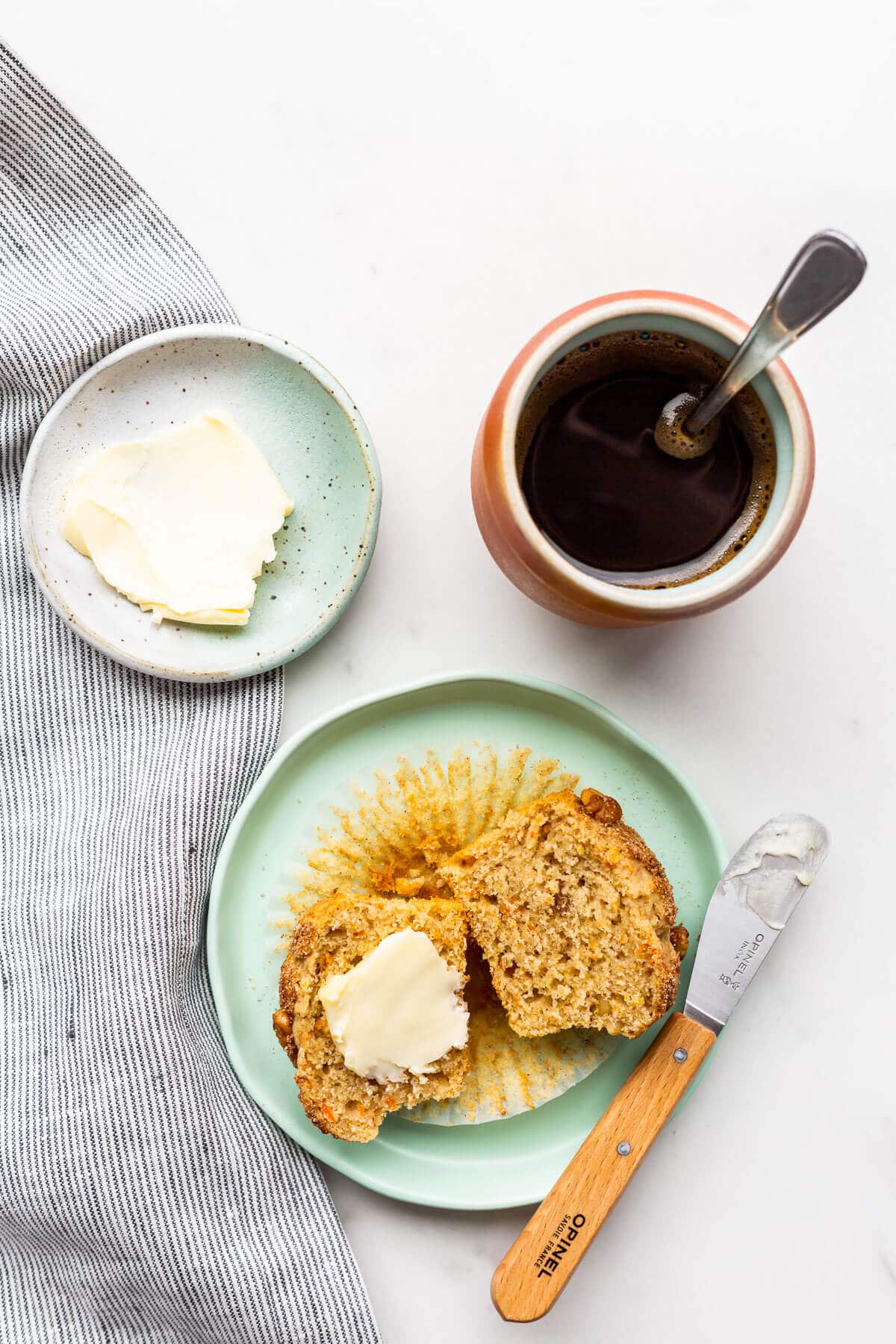 Other muffins to try
Muffins are a quick and easy treat that you can bake. They freeze well and they are easy to grab for a snack when you are on the go. Here are a few other muffin recipes to try:
Carrot muffins
This easy carrot muffin recipe is made without a mixer and stirred by hand. The muffins are moist from shredded carrot and sour cream, topped with cinnamon sugar before baking.
Ingredients
For the muffin batter
250

grams

(

2

cups

)

bleached all-purpose flour

200

grams

(

1

cup

)

granulated sugar

5

mL

(

1

teaspoon

)

baking powder

2.5

mL

(

½

teaspoon

)

baking soda

2.5

mL

(

½

teaspoon

) Diamond Crystal fine kosher salt

5

mL

(

1

teaspoon

)

ground cinnamon

2.5

mL

(

½

teaspoon

)

ground ginger

1.25

mL

(

¼

teaspoon

)

ground nutmeg

115

grams

(

½

cup

)

unsalted butter

room temperature, cut into small pieces

125

mL

(

½

cup

)

sour cream (14% fat)

2

large egg(s)

5

mL

(

1

teaspoon

) pure vanilla extract

250

mL

(

1

cup

)

shredded carrot

100 grams

50

grams

(

½

cup

) chopped toasted walnuts
For the cinnamon sugar topping
50

grams

(

¼

cup

)

granulated sugar

5

mL

(

1

teaspoon

)

ground cinnamon
Instructions
Preheat the oven to 375 ºF. Line two muffin pans with 12 muffin paper liners.
Make the muffin batter
In a large bowl, whisk the flour, sugar, baking powder, baking soda, salt, and spices.

Add the cubes of softened butter and work it in with your hands, rubbing it in until the mixture resembles coarse sand.

In a separate bowl, whisk together the sour cream, eggs, and vanilla.

Add the wet ingredients to the flour mixture and stir it in (takes about 20 stirs to get the batter mixed).

Fold in the shredded carrot and the walnuts into the batter gently with a wooden spoon or spatula to evenly distribute them.

Divide the batter between 12 paper-lined wells of two muffin pans.
Make the cinnamon sugar
Whisk the granulated sugar with the cinnamon in a small bowl. Sprinkle generously over each muffin before baking. If you have extra, sprinkle it on buttered toast!

Bake at 375°F until a cake tester inserted into the middle of a muffin comes out clean to check if the muffins are baked. This takes about 25–30 minutes and the edges start to turn golden.

Let cool slightly in the pan before transferring to a wire rack to cool completely.
Give back
If you enjoy the free content on this website, say thank you!
Notes
For a "puffy" muffin top:
refrigerate the batter overnight, then scoop the batter into 8 to 10 muffin paper-lined wells of a muffin pan, sprinkle with streusel topping, and bake them at 350°F for about 30 minutes.
For a more fluffy, caky muffin, you can increase the sour cream in the recipe, from 125 mL (½ cup) to 170 mL (⅔ cup) but the muffin top won't be as tall.
Nutrition
Calories:
296
kcal
|
Carbohydrates:
41
g
|
Protein:
4
g
|
Fat:
14
g
|
Saturated Fat:
7
g
|
Polyunsaturated Fat:
3
g
|
Monounsaturated Fat:
3
g
|
Trans Fat:
1
g
|
Cholesterol:
53
mg
|
Sodium:
230
mg
|
Potassium:
163
mg
|
Fiber:
2
g
|
Sugar:
22
g
|
Vitamin A:
3828
IU
|
Vitamin C:
1
mg
|
Calcium:
50
mg
|
Iron:
1
mg