This easy coffee banana smoothie recipe takes minutes to make and uses frozen bananas (fresh would work too)!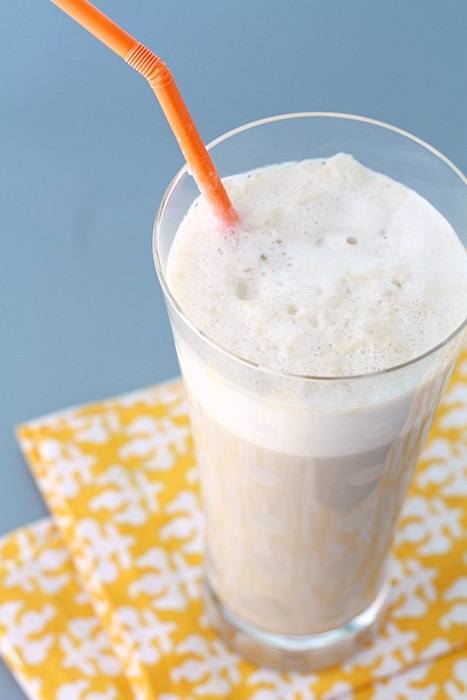 I'm currently dealing with a mountain of frozen bananas. Sure, you could make the best banana bread with them, but smoothies will also do the trick when it comes to getting the frozen banana stash under control.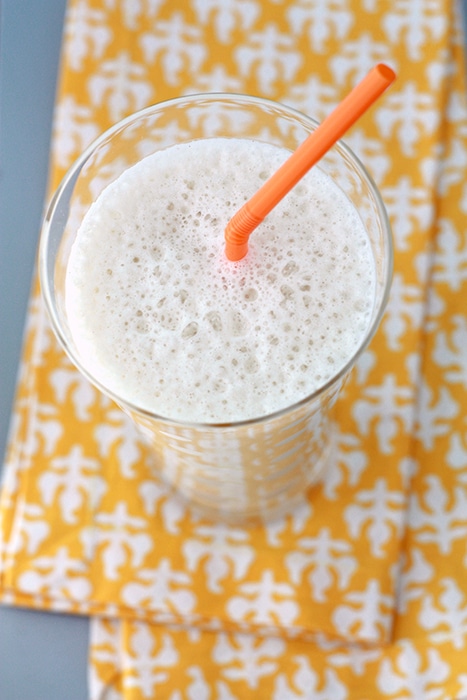 I'm getting rid of enjoying the frozen fruit in the form of smoothies. Smoothies take minutes to make and are easily consumed while packing. They are also an awesome way to get in some vital nutrients on days when my pantry-diet is cookie-filled and delicious, but perhaps less than healthy.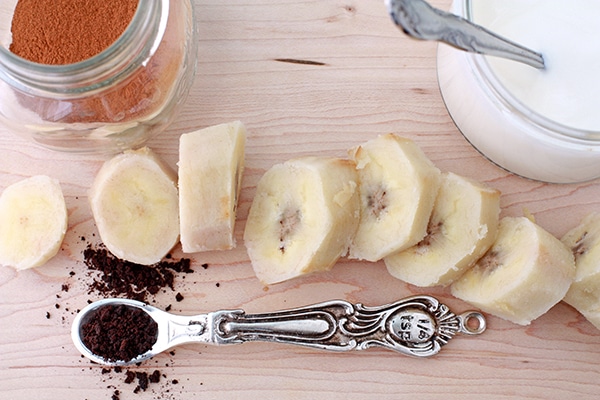 Bananas and coffee are a yummy combination in a smoothie, especially when you add in cinnamon and nutmeg. I love the frothy layer that forms when you blend smoothies, like the milky foam of a cappucino.
For a thicker smoothie, use less milk. For a thinner smoothie, add more. Smoothies are very forgiving.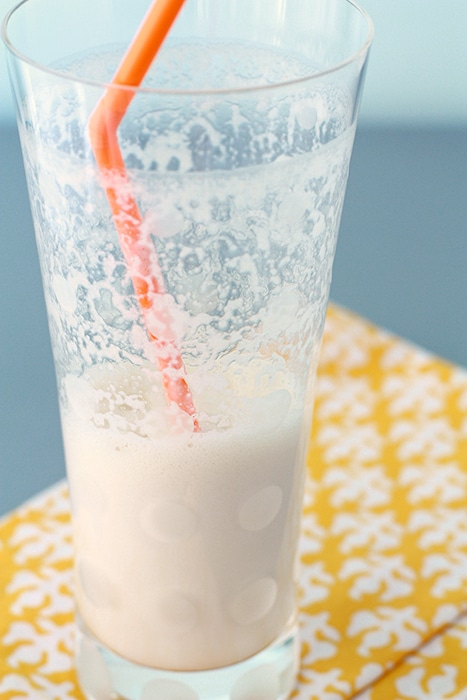 Each time I make this coffee and banana smoothie, I make it a little differently. Some days, I add more honey because I want it to be sweeter, other days, I add a ton of cinnamon. I change the sweetener I use as well, opting for maple syrup because I tend to be maple-obsessed most days. When I have some freshly brewed coffee on hand, I use it instead of the instant coffee and consequently, I reduce the milk used. If it's summer, I blend in a few ice cubes. Cocoa powder would also taste great in this recipe. The smoothie you create will be a matter of taste, but here's a recipe to get you started. And, by all means, tweak away when you make your version of this smoothie!
Coffee banana smoothie
Ingredients
1

(

1

)

frozen banana

sliced

125

mL

(

½

cups

)

yogurt (2 % fat)

250

mL

(

1

cups

)

skim milk (fat free)

more or less depending on the desired consistency

honey

to taste

1

pinch

(

1

)

ground nutmeg

1

teaspoon

(

1

teaspoon

)

instant coffee granules

or more

1

dash

ground cinnamon

to taste
Instructions
Combine all the ingredients in a blender, and pulse. Continue blending until smooth.
Nutrition
Calories:
141
kcal
|
Carbohydrates:
24
g
|
Protein:
7
g
|
Fat:
3
g
|
Saturated Fat:
2
g
|
Cholesterol:
11
mg
|
Sodium:
82
mg
|
Potassium:
521
mg
|
Fiber:
2
g
|
Sugar:
17
g
|
Vitamin A:
355
IU
|
Vitamin C:
5
mg
|
Calcium:
228
mg
|
Iron:
1
mg