Need an easy make-ahead shortbread cookie recipe for the holidays, Christmas, or just because? These cocoa nib buckwheat cookies are easy slice-and-bake shortbread cookies that store well once baked. You can also make the cookie dough ahead, shape it into a log, and freeze it for later.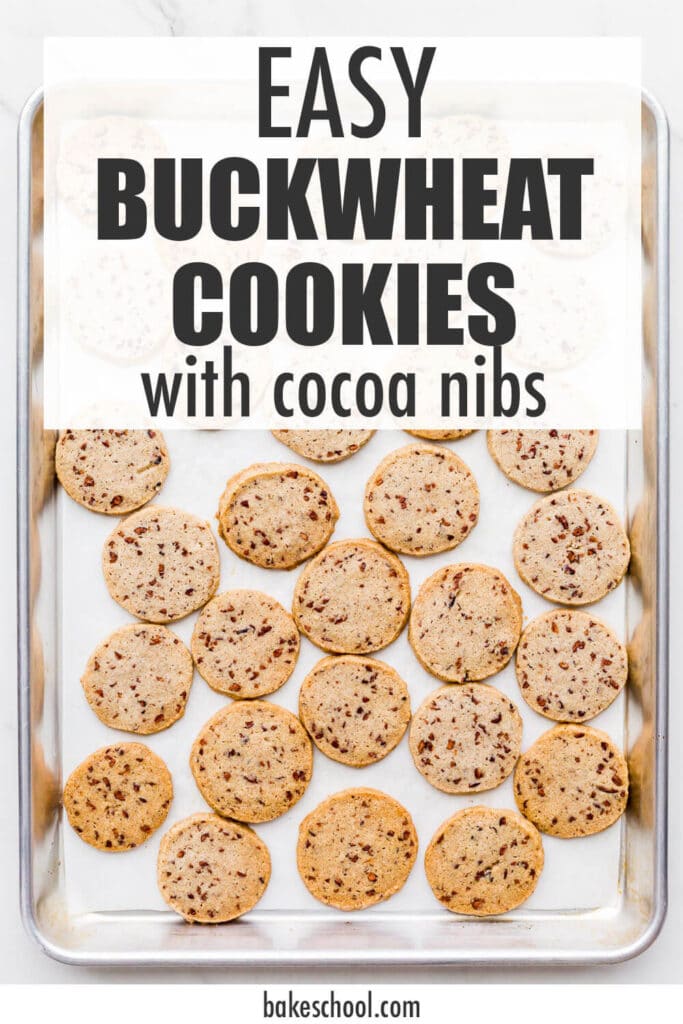 Disclosure: As an Amazon Associate, I earn from qualifying purchases.
If you have never baked with buckwheat flour and cocoa nibs, you have to start with these simple shortbread cookies. This slice-and-bake cookie recipe is easy to make so you can throw it together in minutes. The ingredients in this cookie are quite simple. There are just a few ingredients on the list. It's the perfect backdrop to start exploring the flavour of buckwheat flour and cocoa nibs, and the texture they impart.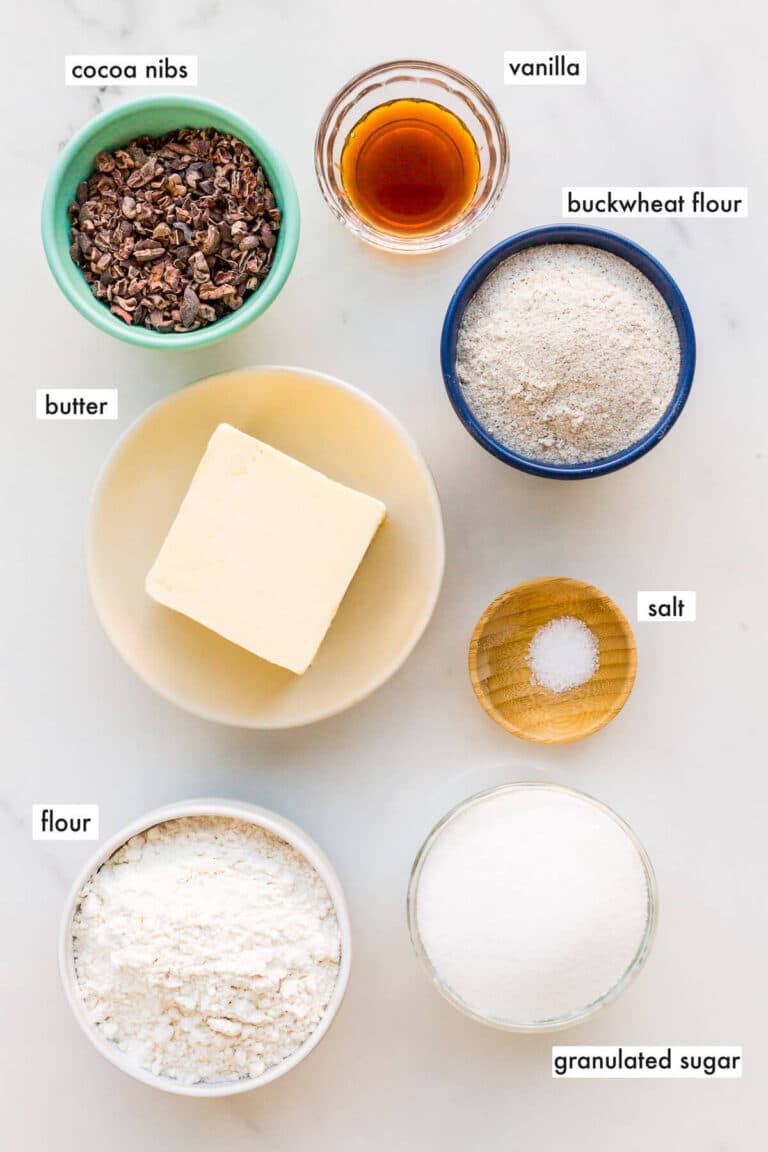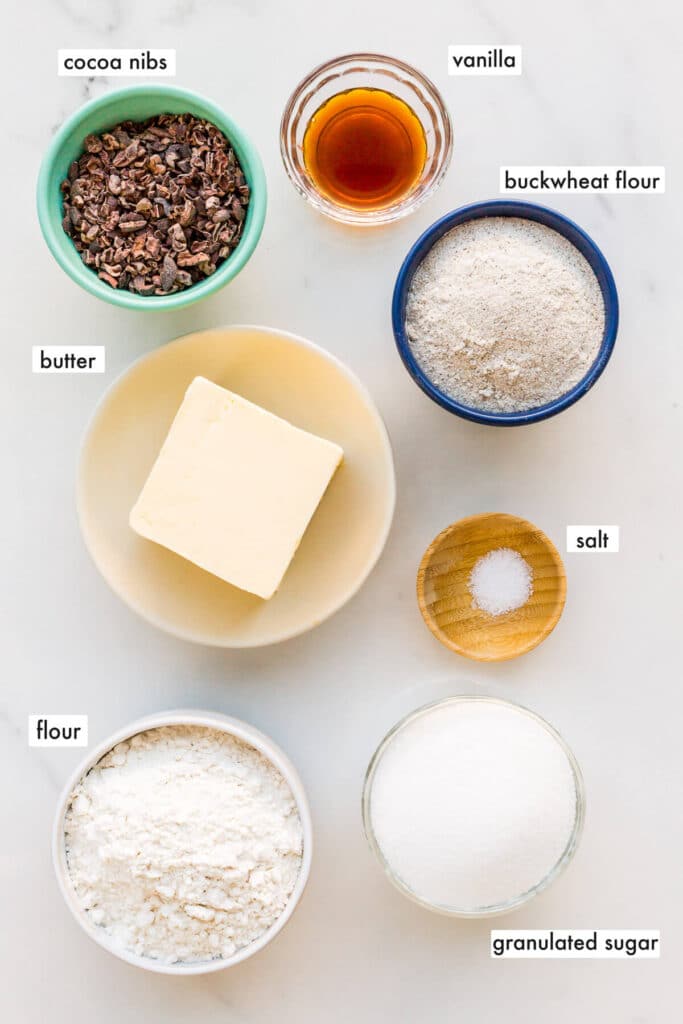 What you need to make slice-and-bake shortbread cookies
Slice-and-bake cookies are so easy to make and the basic ingredients for shortbread cookies are always butter, sugar, and flour. Here's what you'll need to make these buckwheat cookies:
butter, preferably unsalted butter because you will add salt to the dough, but if you have salted, it will work. Just adjust the salt in the recipe accordingly, otherwise your cookies may be too salty
granulated sugar though brown sugar would also work here and would add to the molasses flavour. Brown sugar may also lead to a slightly thicker cookie
vanilla extract adds depth of flavour and sweetness to these cookies. Don't skimp on this ingredient!
cocoa nibs add texture and a deep chocolate flavour. Crunching on them before you add them to the cookie dough, you'll notice they are very bitter and not sweet at all. But that bitterness works so well in these cookies, balancing out the buttery, sweet flavour.
flour is needed to bind all the ingredients together and give the cookies structure, so that they hold their shape. If you don't use enough flour, your cookies may spread too much as they bake, especially given the amount of butter you will use. For this recipe, we are using a combination of all-purpose flour with a small portion of buckwheat flour for flavour
salt is really important to balance out the sweet buttery flavour. Don't skip it. I like to use Diamond Crystal fine kosher salt, but table salt will work, though the cookies will be saltier and you may want to halve the salt in that case.
You'll notice there are no leavening agents in this cookie recipe. Baking soda is a base (alkaline) and can cause your cookies to spread, which we don't want for this type of cookie. On the other hand, baking powder would cause the cookies to puff as they bake, and we don't want that either.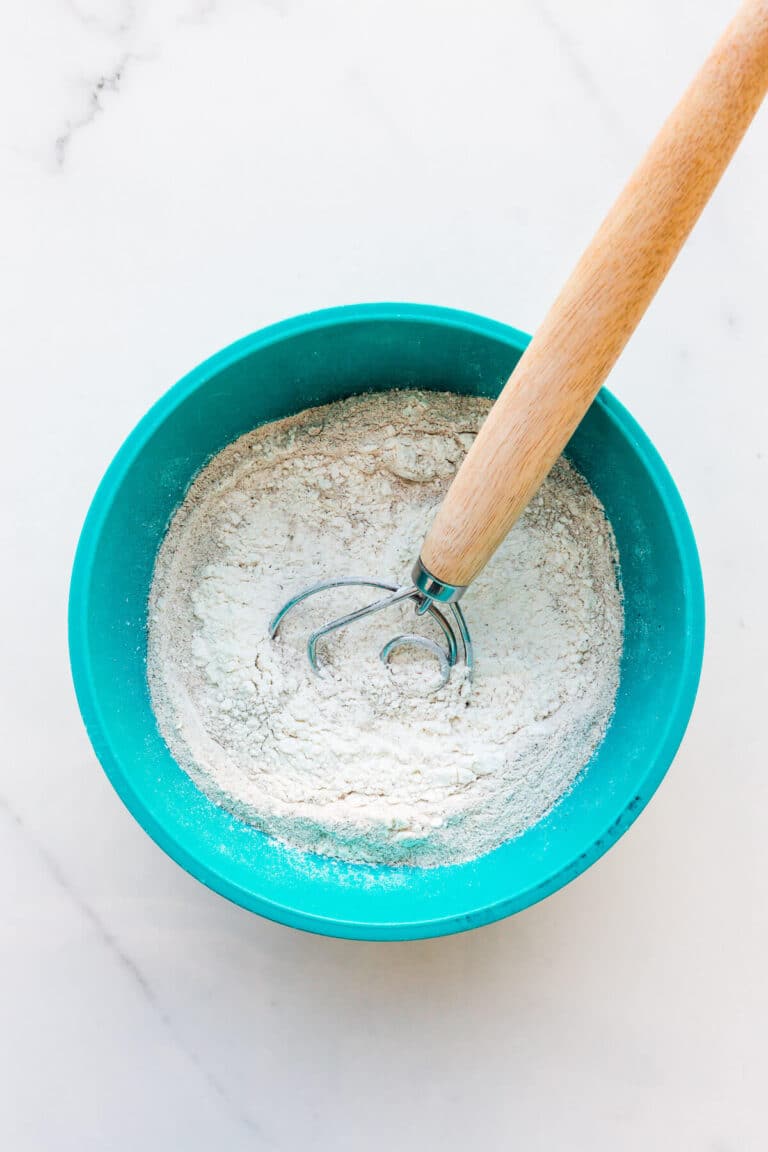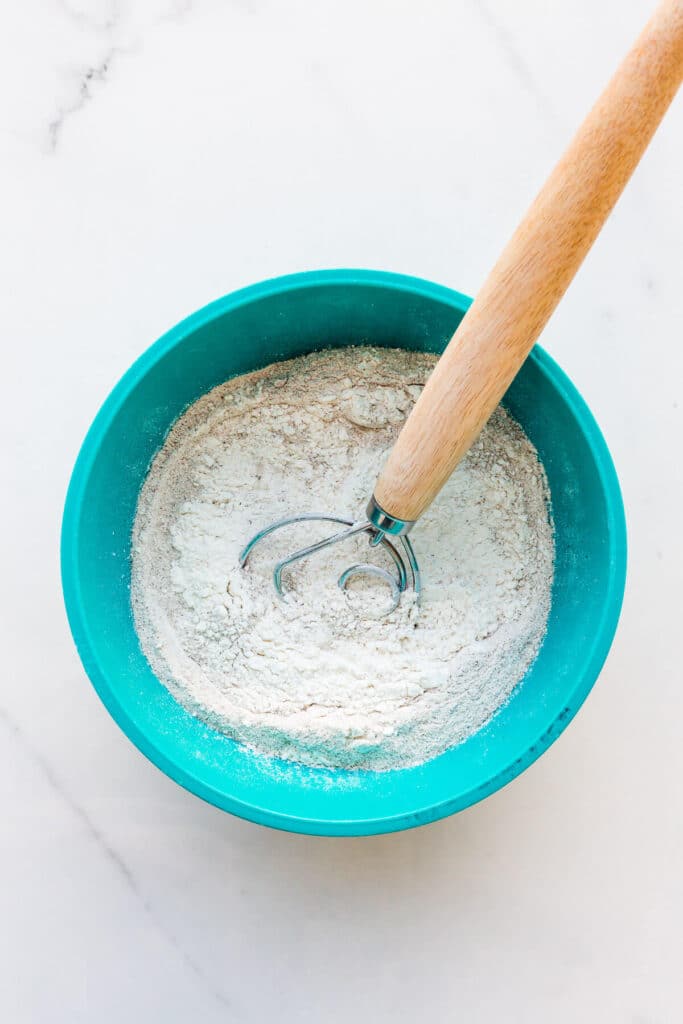 Working with alternative flours
In most recipes, it's very different to swap out all-purpose flour for an alternative flour (like buckwheat or spelt). It's not a one-to-one replacement. If you aren't careful and use too much of an alternative flour (or 100 %) without making other changes, your cookies may spread more as they bake.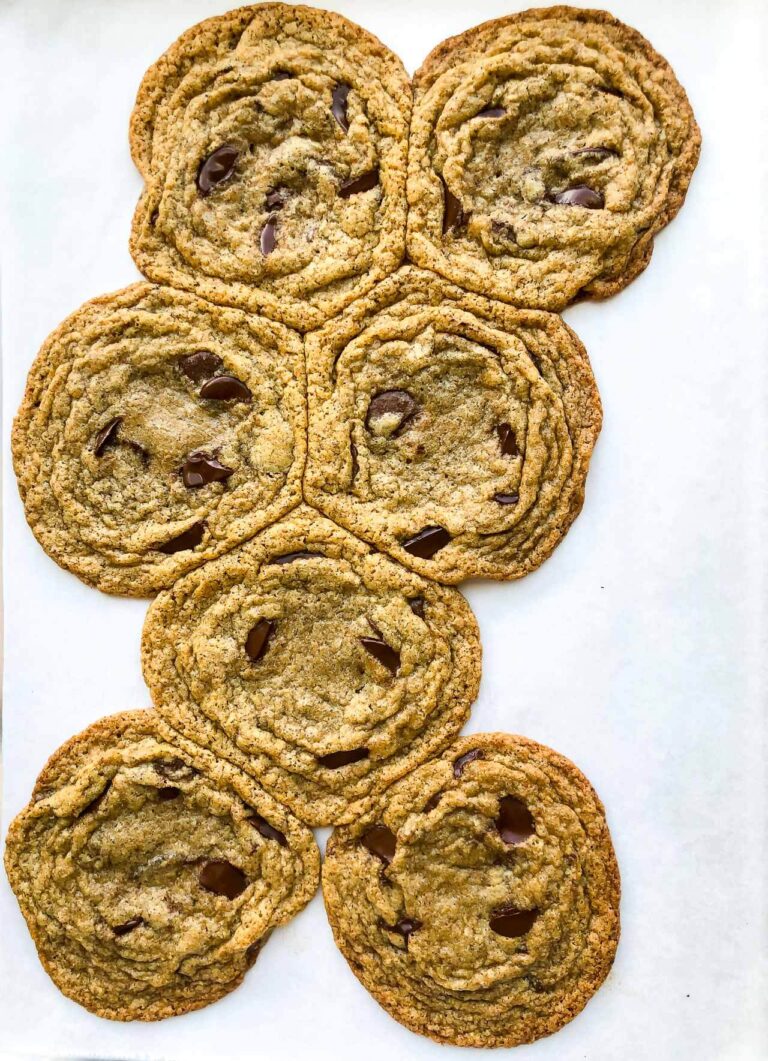 Instead of replacing all of the all-purpose flour in a recipe, try replacing a portion. Alice Medrich suggests swapping out 15 to 20 percent of the all-purpose flour for an alternative flour. Try corn flour, oat flour, sorghum flour, brown rice flour, teff, buckwheat, and even chestnut flour! Other wheat flour relatives like kamut, spelt, barley, whole wheat, and rye will also work. Baking with these alternative flours will up the flavour in your baking recipes, change the colour of baked goods, and.
Baking with cocoa nibs (aka cacao nibs)
Because cocoa nibs do not melt, cocoa nibs add a crunchy textural element to baking recipes. Cocoa nibs (also written cacao nibs) are chopped bits of cocoa bean. They add a bitter chocolate flavour without adding any extra sugar to baked goods so they are one of the different types of chocolates for baking.
If you are wondering what you can bake with them, cocoa nibs make a great addition to cookie recipes. You can replace all (or a portion) of chocolate chips in any recipe with them for a deeper flavour. Add cocoa nibs to:
Cocoa nibs could add a lot of crunchy texture and chocolate flavour without adding to the sweetness of the cookie. They are perfect in sweet cookies. I think cocoa nibs would work really well in sweet tart crusts too. Try adding them to this coffee sugar cookie crust or even in brownies with raspberries!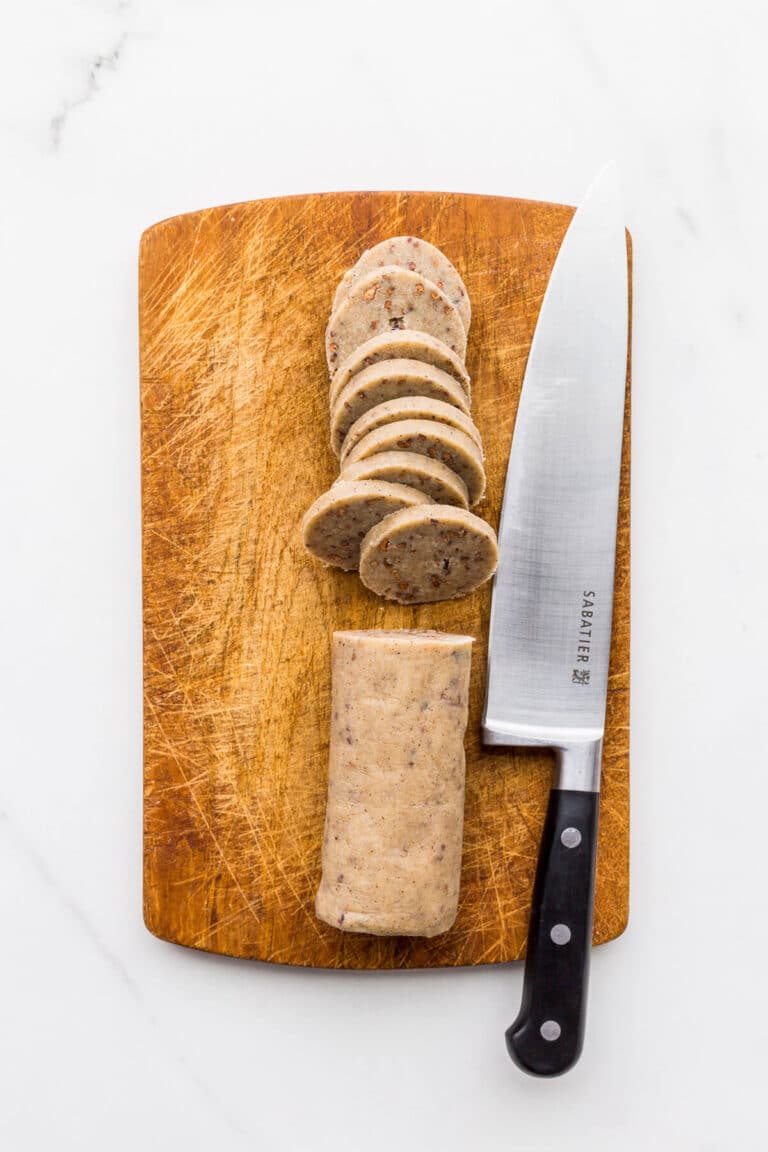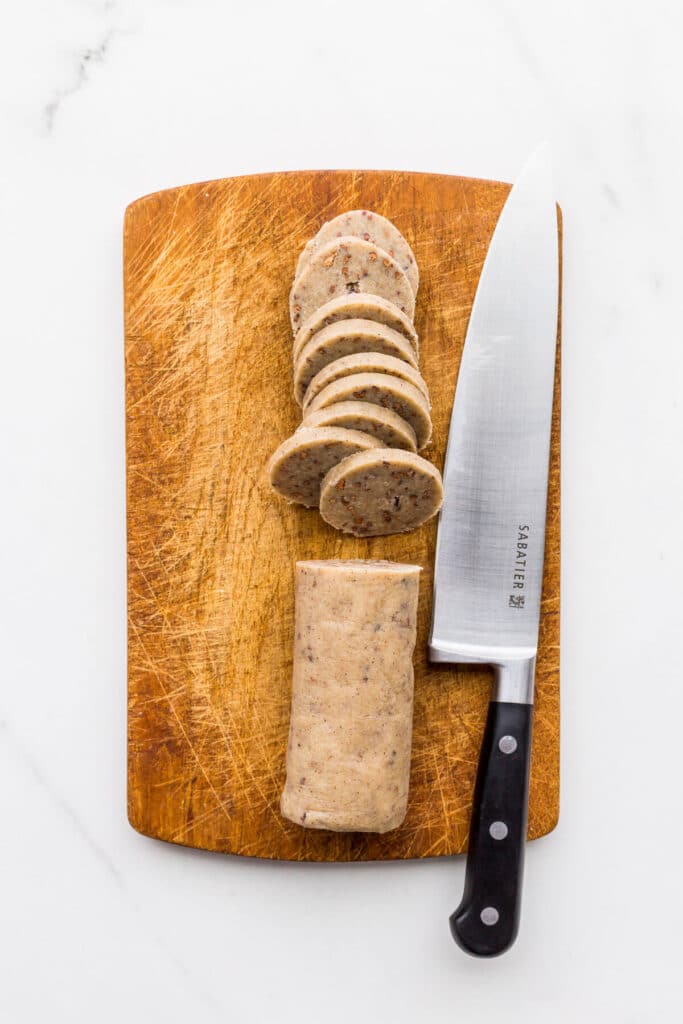 Special equipment
You don't need any special tools to make this recipe. Still, I recommend using:
Slice-and-bake cookies for the win!
The beauty of shortbread cookie recipes is that they require only 3 basic ingredients: flour, sugar, and butter. To this, we incorporate salt, vanilla, and cocoa nibs.
These slice-and-bake shortbread cookies with cocoa nibs are the cookies you want in your life. This is the best way to make a lot of shortbread cookies fast (once the dough is chilled). It's a different way to prepare shortbread than the traditional shortbread cookies that are pressed into a pan and scored before baking (like these lavender shortbread cookies baked in a tart pan).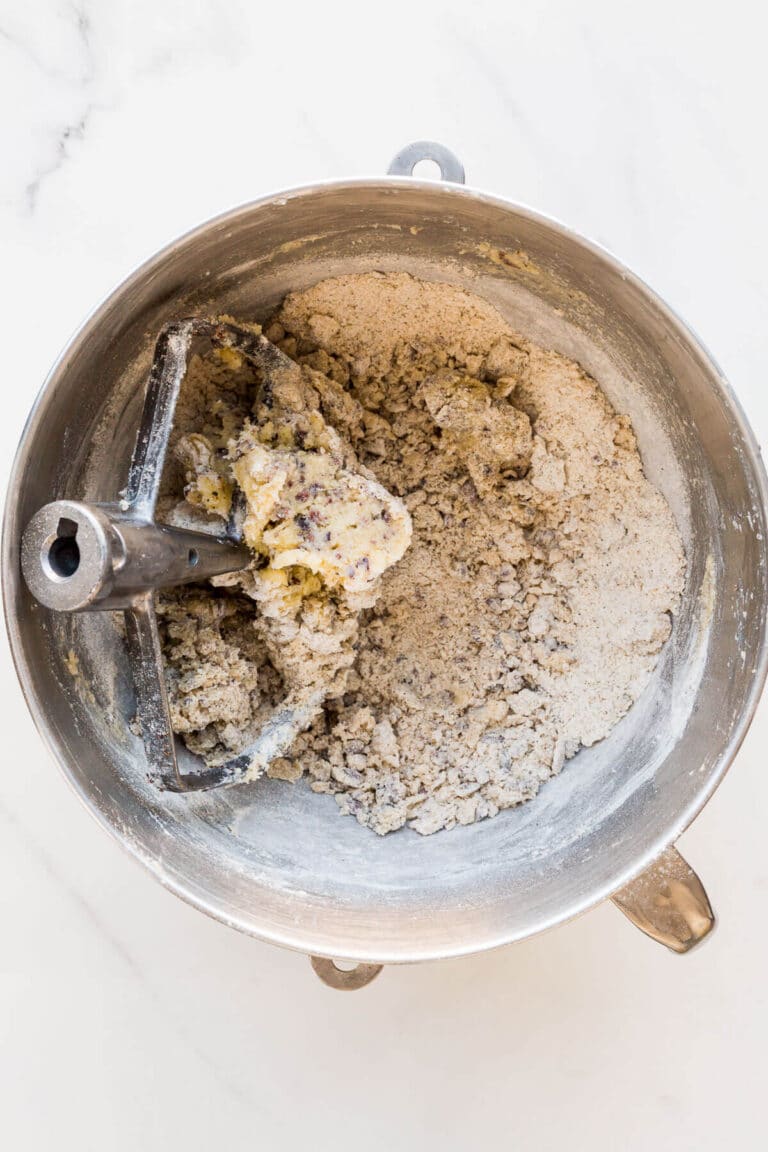 Chilling the cookie dough
It's very important to chill the logs of cookie dough before slicing them. The butter will harden, making it easier for you to slice the cookie dough without distorting the round shape.
Chilling the dough is also very important to reduce cookie spread as they bake. The raw cookies need to be cold when they go into the oven so that the edges set before the butter melts.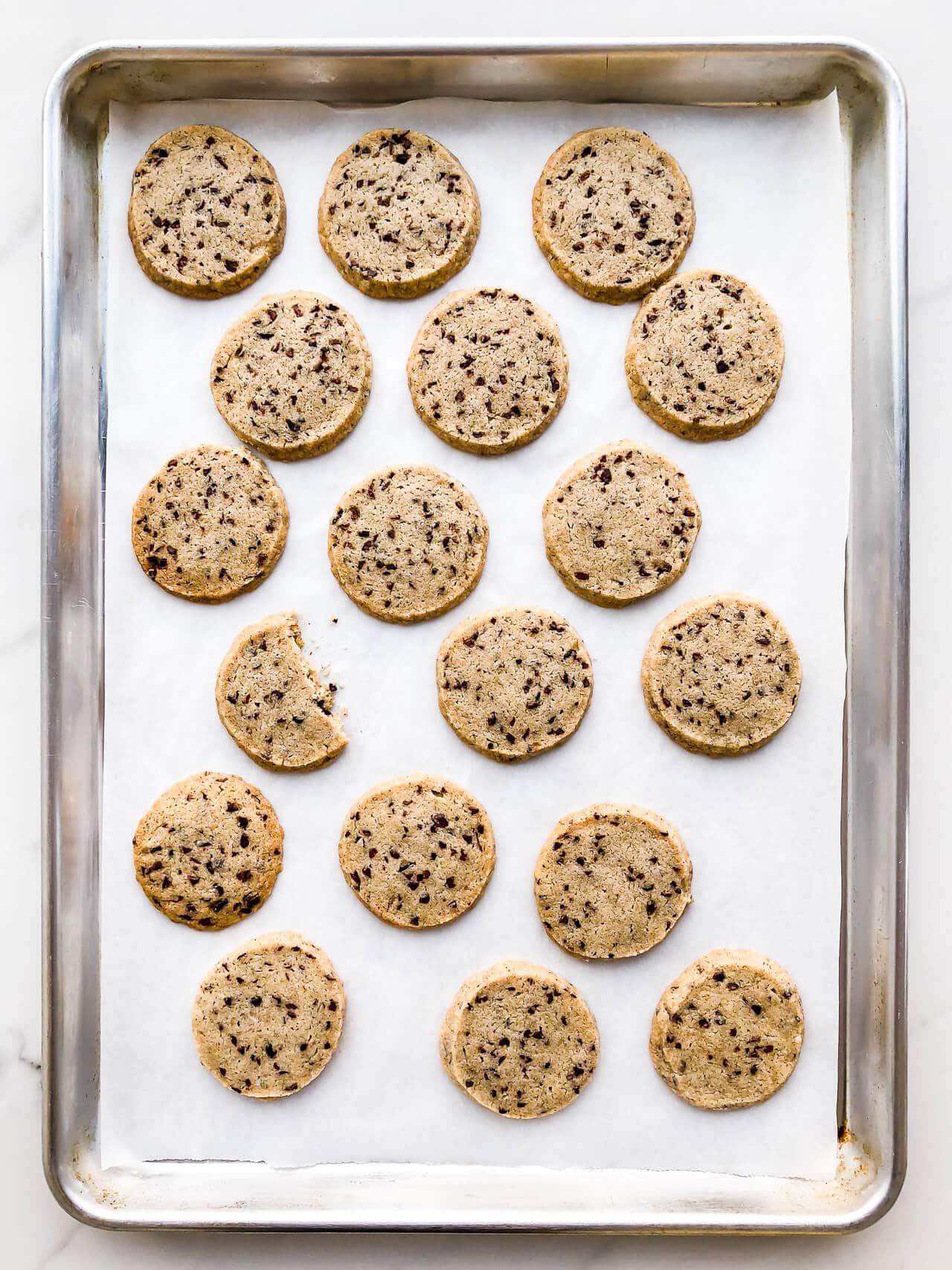 Storage suggestions
You can make the cookie dough ahead and store it in the fridge for a few days. It would freeze well too. Defrost the logs of cookie dough in the refrigerator for a full 24 hours before using. These cookies would be a hit on a Christmas cookie platter too.
These shortbread cookies are what I call a "dry cookie." They store very well once baked. You can bake these ahead of time and store in a sealed, air-tight container in a cool, dry place.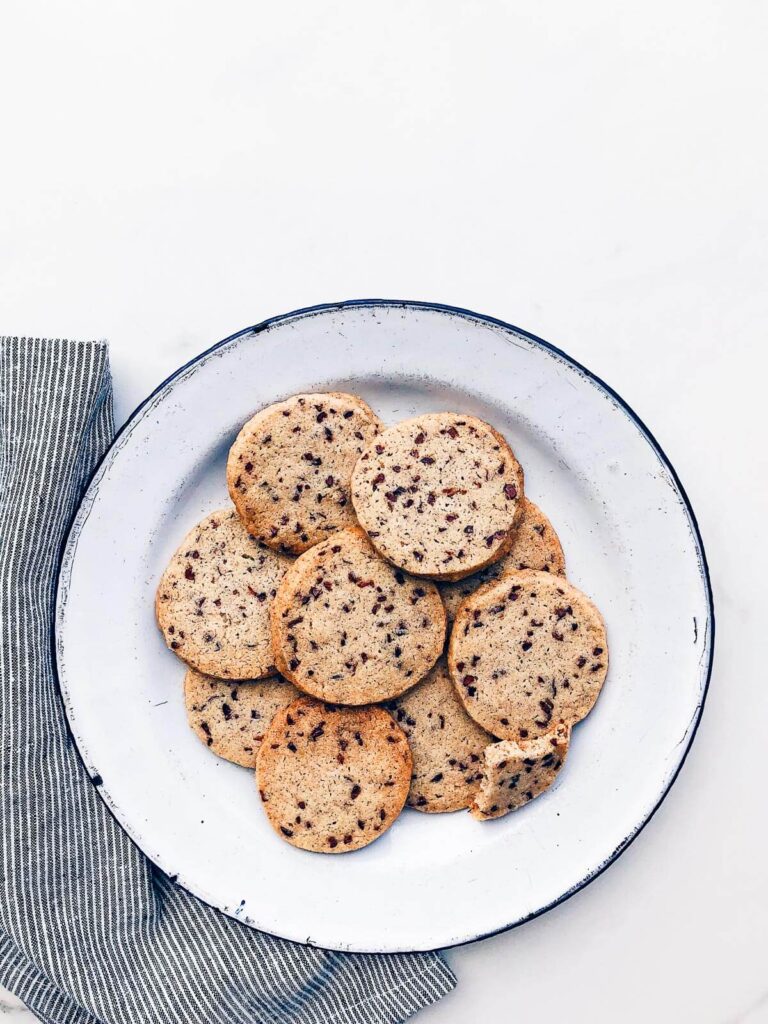 These buckwheat cocoa nib cookies are made with a lot of butter giving them a delightful buttery flavour and the perfect shortbread texture. These cookies aren't overly sweet either. This recipe comes from Alice Medrich and was featured in the Food52 Genius Desserts cookbook by Kristen Miglore, which I highly recommend! I reviewed the Food 52 Genius desserts on the blog before and you can still buy it on Amazon.
📖 Recipe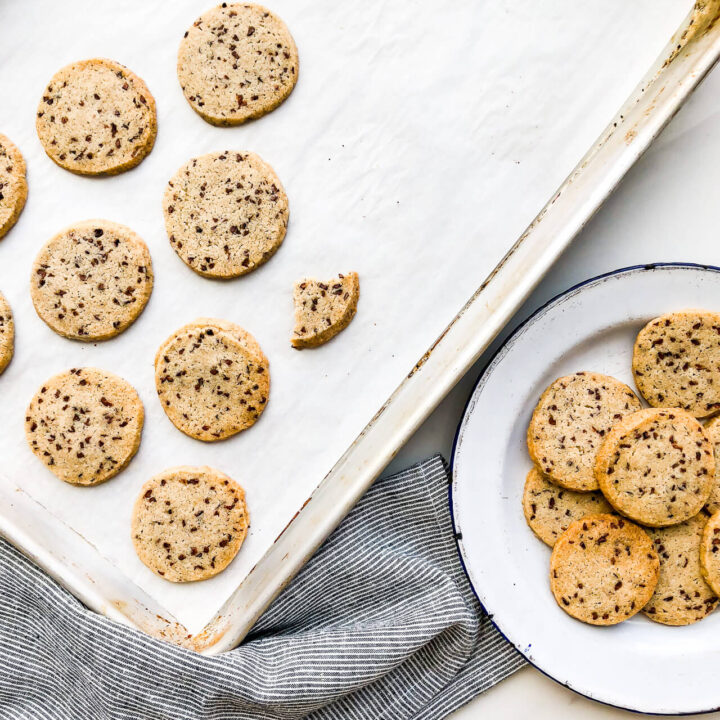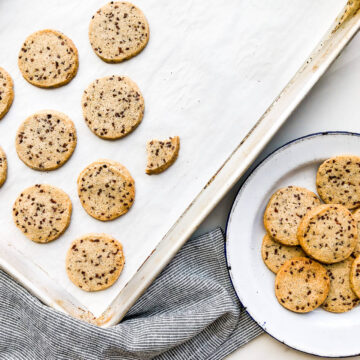 Buckwheat Shortbread Cookies with Cocoa Nibs
Need an easy make-ahead holiday cookie recipe for Christmas? These buckwheat cocoa nib shortbread cookies are a unique twist on a classic holiday cookie: slice-and-bake shortbread cookies that store well baked, and you can also make the dough, shape it into a log, and freeze it for later.
Instructions
Whisk together the flours in a medium bowl. In the bowl of an electric mixer fitted with the paddle attachment, beat the butter, sugar, and salt on medium until smooth and creamy but not fluffy, about 1 minute. Stir in cocoa nibs and vanilla. Add the flours and mix until no steaks of flour remain. Scrape the dough together onto a work surface lined with plastic wrap, knead a few times to mix until smooth.

Roll the dough into a 12 by 2-inch (30 by 5cm) log. Bundle the log in the plastic wrap, twisting the ends tightly to help even out the shape, and refrigerate for at least 2 hours or preferably overnight. To help maintain its round shape, refrigerate the log in an empty paper towel roll or tall drinking glass.

Heat the oven to 350ºF (175ºC), with racks in the upper and lower thirds. Line two large rimmed baking sheets with parchment paper.

Using a sharp knife, slice the log into ¼-inch (6 mm) rounds. Arrange the rounds on the baking sheets, spacing and staggering them.

Bake the cookies until they are beginning to turn brown at the edges, about 14 minutes, rotating the pans from top to bottom, back to front, halfway through the baking time. Let the cookies cool completely on the baking sheets on a rack. The cookies improve with time and can be stored in an airtight container for at least 1 month.
Notes
This recipe from Alice Medrich was published in the Food52 Genius Desserts book, written by Kristen Miglore (available on Amazon). The recipe was republished with permission from Ten Speed Press.
Nutrition
Serving:
1
cookie
Calories:
68
kcal
Carbohydrates:
6
g
Fat:
4
g
Saturated Fat:
2
g
Cholesterol:
10
mg
Sodium:
12
mg
Potassium:
14
mg
Sugar:
2
g
Vitamin A:
115
IU
Calcium:
2
mg
Iron:
0.2
mg