These coconut cookies are filled with grapefruit curd, like for linzer cookies. They are buttery like shortbread cookies and they would work well with lemon curd too or your favourite marmalade.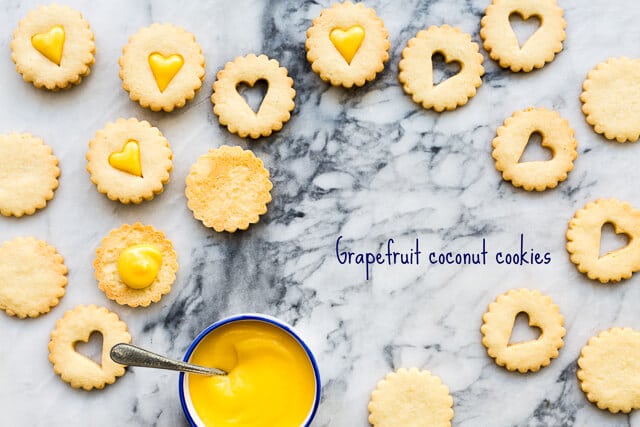 Disclosure: As an Amazon Associate, I earn from qualifying purchases.
Making grapefruit curd
Pink grapefruit is bittersweet. Most times, when I make a curd, regardless of the purée or juice that I'm using, I always add in a squeeze or more of lemon juice . The acidity perks it up, brightens the flavour, and balances out the sweetness from the fruit and the sugar. This time, my purist tendencies took over and I went ahead with freshly squeezed pink grapefruit juice, exclusively. I wanted the bittersweet flavour to be prominent, and lemon juice has a tendency of taking over (not that there's anything wrong with that—you all know I am passionate for lemon curd and tangy citrusy treats).
Pink grapefruit curd has the same, simple ingredients list as any lemon curd. You probably already have all the ingredients you need:
fruit juice
eggs
sugar
butter
Some may add gelatin to stabilize curds, like I did in this blackberry almond cake. Others may add thickeners, like cornstarch or flour, but these will significantly reduce the flavour of the curd. I don't recommend using thickeners. Save them for pastry creams.
You can use either whole eggs or egg yolks for fruit curds, but for this grapefruit curd, I preferred using only egg yolks, which gives it a better colour.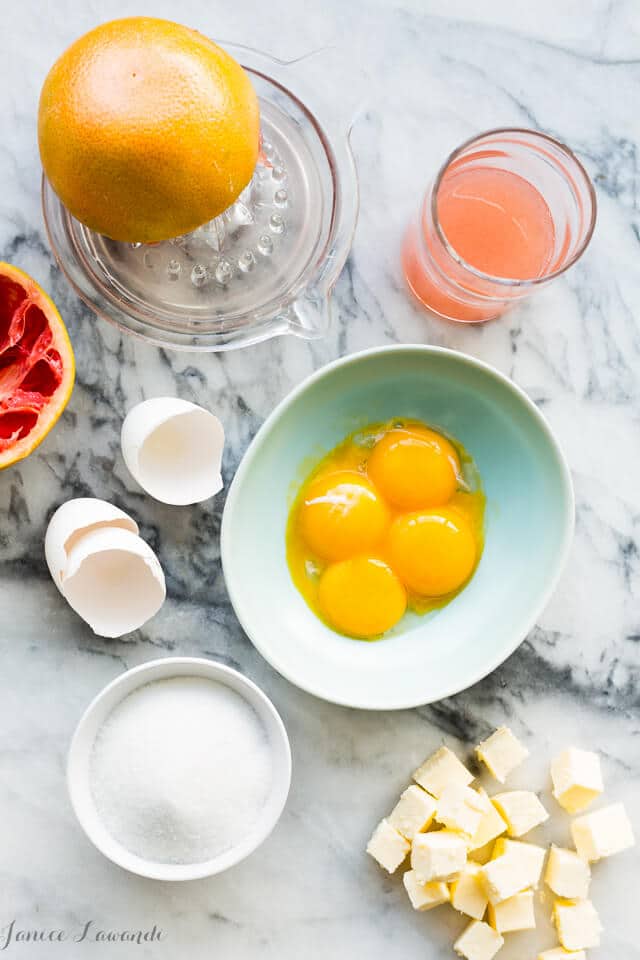 Things to note about pink grapefruit curd
do your mise-en-place when making pastry creams and fruit curd. It doesn't matter if you have to pause while you are making a batch of cookies. The ingredients and the mixing method lead to a pretty stable product with little room for problems. On the other hand, when you make pastry creams and curds, mise-en-place is crucial for success. Start by reading the recipe and then put out all the ingredients in tiny dishes and all the tools you will need BEFORE you do anything else.
pink grapefruit curd is not tart like lemon curd: given that I used only grapefruit juice for this recipe, the grapefruit curd is bittersweet, not tangy or tart. If you want a tart or tangy curd, replace a portion of the grapefruit juice with freshly squeezed lemon juice. It's that easy.
pink grapefruit curd is not pink! I actually considered adding some food colouring to give back that pink grapefruit colour to this curd, but then I didn't. Food colouring isn't very "me", now is it? And contrary to what we all would expect, pink grapefruit curd is bright yellow-orange, not pink, probably because of the bright yellow egg yolks.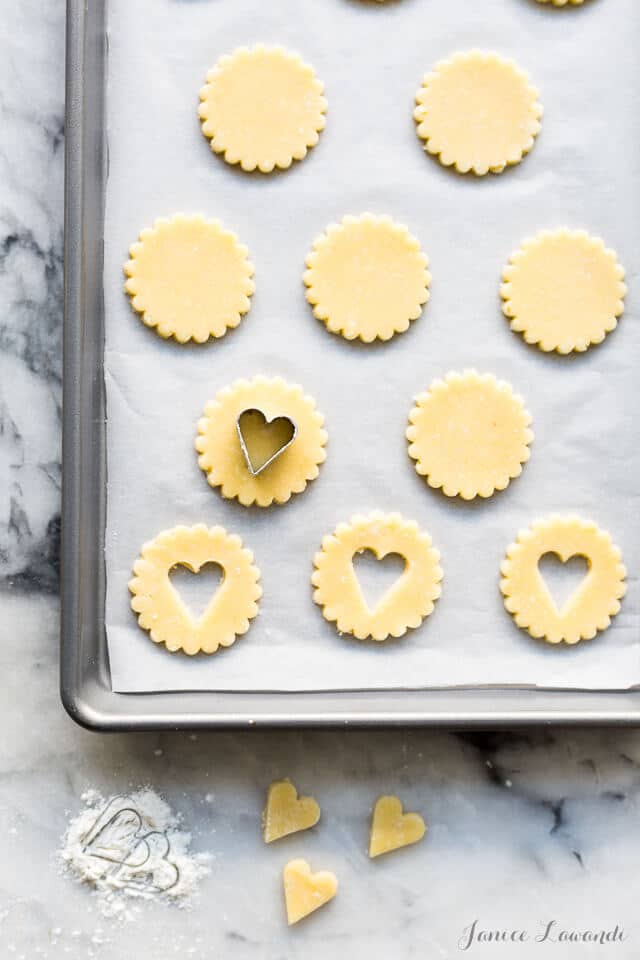 Coconut cookies (rolled and cut out)
These coconut cookies are rich and buttery, and not too sweet. The recipe is based on a recipe for the French pâte sucrée, but made with ground coconut instead of ground almonds. I have used pâte sucrée, made with ground almonds, as a crust for Earl Grey panna cotta tarts and for these matcha tarts.
To make a pâte sucrée with coconut instead of ground almonds, I used unsweetened shredded coconut, which I ground finely in the food processor to improve the texture of the cookies and also to make it easy to work with the coconut cookie dough. Shredded coconut would make it hard to make clean cut-out cookies with cookie cutters.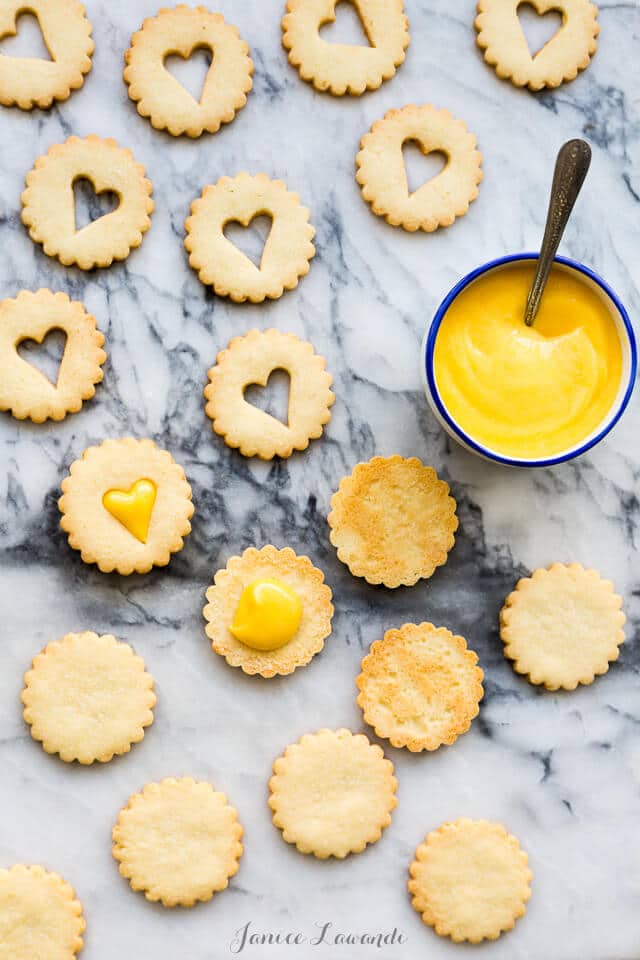 The idea of grapefruit and coconut cookies had been dancing around in my head for weeks, and I am so glad I finally made these! Feel free to use this recipe as a jumping off point.
Use this coconut cookie recipe with other fillings
Use this recipe to make mini grapefruit tarts or one big grapefruit tart with a few adjustments
This recipe yields enough cookie dough to make either one 9-inch tart shell or 6 mini tarts. Use leftover coconut cookie dough to make cookies obviously (don't waste it!) and those cookies can be used to garnish the tart, as I've done with this raspberry chocolate tart.
In order to fill a large tart shell and make a full-size grapefruit tart, you will have to double the grapefruit curd recipe below because you'll need. But to make mini grapefruit tarts, you should have just enough.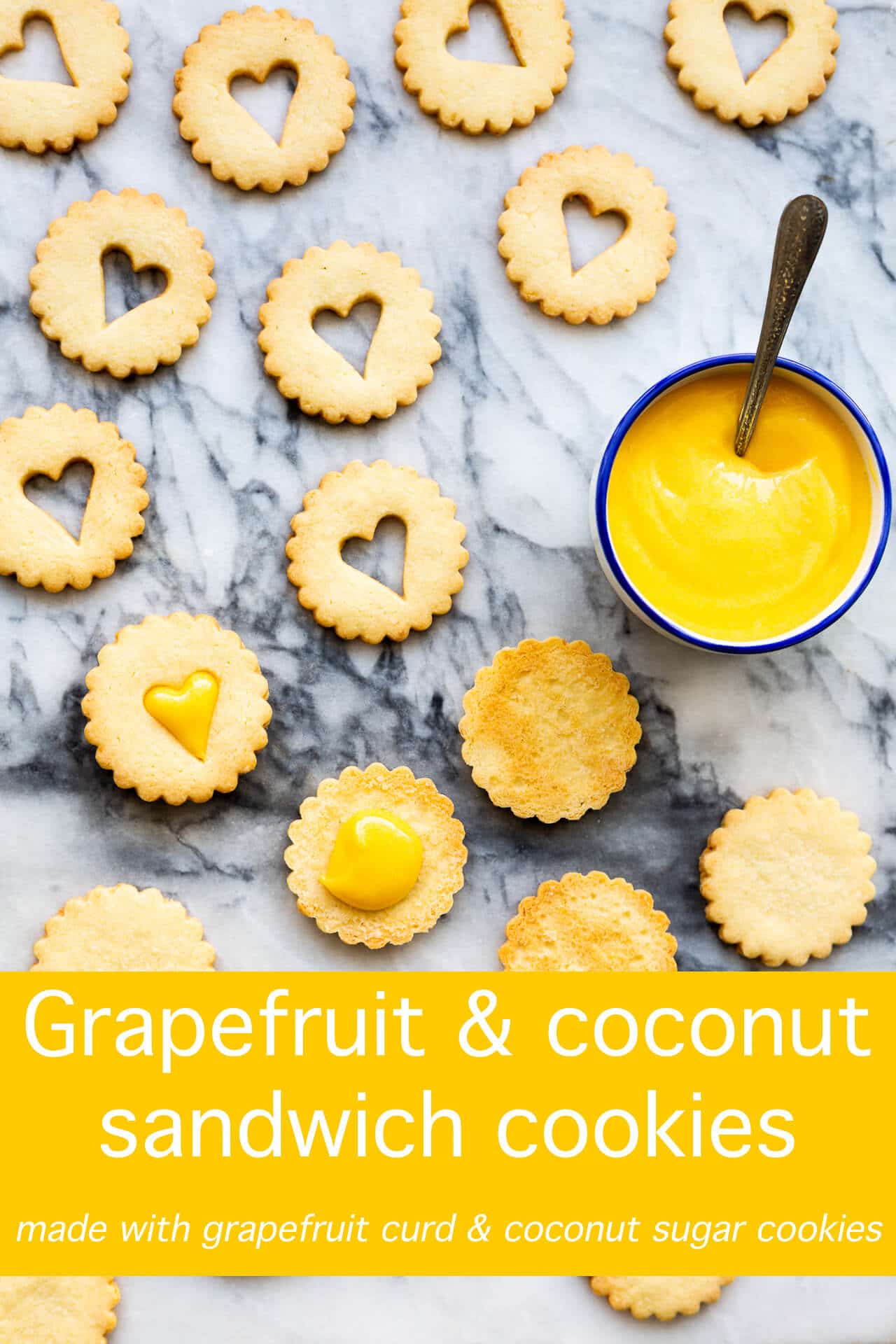 📖 Recipe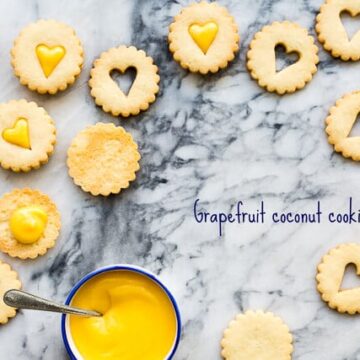 Coconut Cookies with Grapefruit Curd
Buttery coconut cookies sandwiched together with homemade grapefruit curd. Sinfully delicious.
Ingredients
Grapefruit curd
84  

mL

freshly squeezed pink grapefruit juice

⅓ cup

100

grams

granulated sugar 

½ cup

4 

large egg yolk(s)

76  

grams

unsalted butter

⅓ cup, cut into pieces
Coconut cookies
173

grams

unsalted butter

¾ cup, room temperature

100

grams

granulated sugar

½ cup

¼

teaspoon

Diamond Crystal fine kosher salt

1

large egg yolk(s)

55

grams

ground coconut

½ cup, made in a spice grinder from shredded unsweetened coconut

188

grams

bleached all-purpose flour

1 ½ cups

Grapefruit curd

about half a batch, recipe above
Instructions
Grapefruit curd
In a small-to-medium saucepan, combine the grapefruit juice with half the granulated sugar. Set on a burner on medium–high heat.

Meanwhile in a medium heatproof bowl, whisk together the egg yolks with the rest of the sugar. Whisk vigorously until the mixture turns a very pale, light yellow. Set aside.

Place another bowl with a strainer over top next to the stove, and have the chopped butter ready on a plate close by as well. Have a heatproof spatula ready too. Do all this before going any further.

When the grapefruit juice just comes to a boil, take the pot off the burner and pour it over the sugary egg mixture. Whisk to temper the eggs and combine all the ingredients together. Pour the mixture back into the saucepan and return the pot back onto the burner. Whisk the mixture over medium–high heat until it comes to a boil. Then boil the mixture for 1 minute, whisking like mad.

After the minute has elapsed, immediately take the pot off the burner and turn it off. Drop the butter into the saucepan, a few pieces at a time, whisking constantly and when all the butter has disappeared into the curd, transfer it all to the strainer set over a bowl. Collect the curd in the bowl, then cover with cling film pressed directly on the surface to protect it from the air. Chill overnight.
Coconut cookies
In the bowl of an electric mixer fitted with the paddle, cream together the butter and sugar until it is creamy and soft.

Add the salt and the egg yolk, and beat it until it is very well mixed, scraping down the sides as needed with a spatula.

Beat in the ground coconut, mix well, then add the flour. Mix on low until the dough forms. Divide the dough in two, pat into disks, wrap in plastic, and chill for about 1 hour.

Preheat the oven to 350 °F (175 °C). Line a couple baking sheets with parchment.

Roll out one disk of dough to a thickness of about ¼"-⅛" (not too thick, but not too thin). Cut out 2 ¼" circles with the dough, re-rolling the scraps to cut out more circles. You will end up with about 24 cutouts. Chill them on parchment-lined sheets for at least 15 minutes (30 minutes is better), then bake for 12–13 minutes, until the edges begin to brown a little. Let cool 1 minute before transferring to a wire rack to cool completely.

Repeat the rolling and cutting with the 2nd disk of dough to make 24 more circles, but this time, cut out a window with a small heart cutter or another small circle cookie cutter. Chill and bake as before. You should now how 24 top cookies with windows and 24 bottom cookies to make sandwiches.

When the cookies are cool, dollop a scant teaspoon of curd on the centre of each bottom cookie and top with a window cookie, twisting gently to glue them together.
Nutrition
Calories:
164
kcal
Carbohydrates:
15
g
Protein:
2
g
Fat:
11
g
Saturated Fat:
7
g
Cholesterol:
63
mg
Sodium:
28
mg
Potassium:
31
mg
Fiber:
1
g
Sugar:
9
g
Vitamin A:
313
IU
Vitamin C:
1
mg
Calcium:
9
mg
Iron:
1
mg
** I absolutely FORBID YOU from buying lemon curd at the grocery store. I've tried a few brands, including some that make decent marmalades and jams, and every store-bought curd I tried was disgusting. Disgusting is a strong word on a food blog. I don't use it lightly. I'd rather you buy raspberry jam and sandwich it between these coconut cookies, if you don't want to make the curd.