This recipe for passion fruit curd makes about 2 cups. You will need to use passionfruit purée or pulp, which is often sold frozen in grocery stores.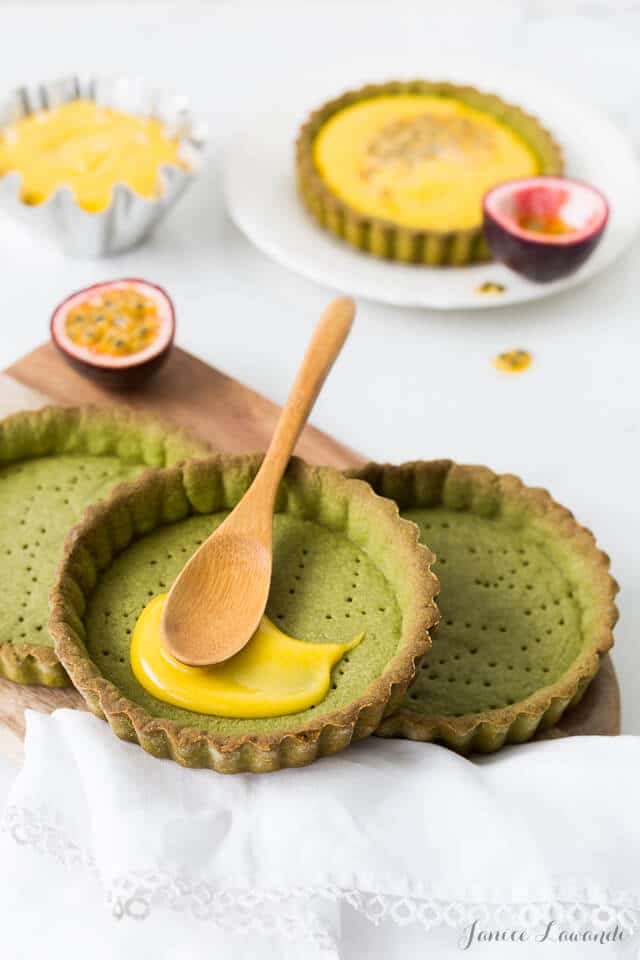 📖 Recipe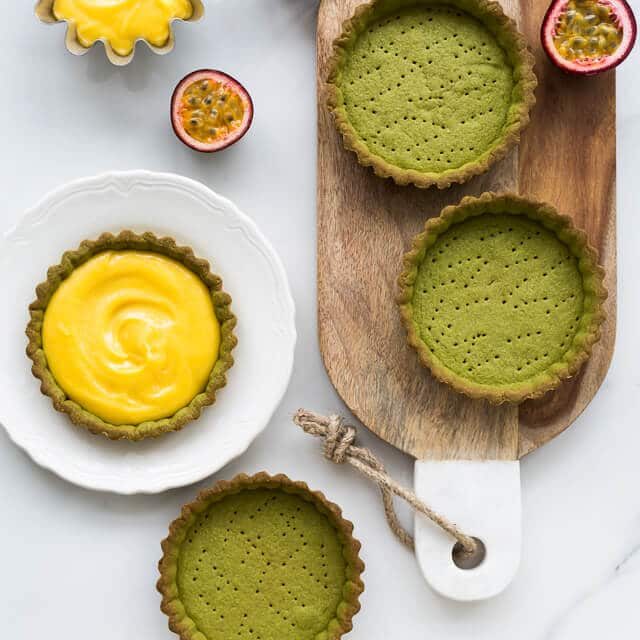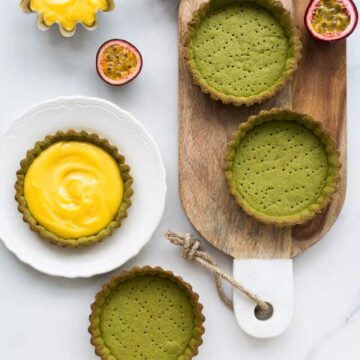 Disclosure: As an Amazon Associate, I earn from qualifying purchases.
Passion Fruit Curd
An easy recipe for homemade passion fruit lemon curd made from scratch
Ingredients
125

mL

passion fruit purée

63

mL

fresh lemon juice

200

grams

granulated sugar

divided

8

large egg yolk(s)

150

grams

unsalted butter

cubed
Instructions
In a medium saucepan, combine the passion fruit purée, the lemon juice, and half the sugar.

In a large bowl, whisk together the egg yolks with the rest of the sugar until the mixture has lightened in colour. Set aside by the stove.

Have the cubes of butter ready by the stove (away from heat) and also, place a fine mesh strainer over a large bowl nearby. Have a couple heatproof spatulas at the ready.

Heat the juice mixture on medium–high until it comes to a boil almost. Pour the juice over the lightened yolks and whisk like mad to temper the eggs. When the egg-juice mixture is well mixed, transfer it back to a saucepan.

Heat the curd on medium–high until it comes to a boil, whisking constantly. When the mixture comes to a boil, set a time for 1.5 minutes and boil the mixture while whisking non-stop. Move the saucepan around over the burner to avoid scorching if your burner/pan have hot spots. At this point, the curd should be thick. Take the pan off the heat, and begin whisking in the butter, a little at a time. When the butter has disappeared and the curd is well mixed, pour it into the strainer set over a bowl. Use a spatula to get every last drop of curd out of the pan. Press the mixture through the sieve.

Cover with plastic wrap pressed onto the entire surface of the curd, then close the bowl with another piece of plastic wrap pulled across the top. Chill overnight.
Notes
Please note calories calculated based on a 1 tablespoon serving
Nutrition