If you grind up chocolate in the food processor to make coarse shards of chocolate, and add that to your cookie dough instead of chocolate chips, you can make the ultimate chocolate chip cookies. Grated chocolate might be the best kept secret to making the best cookies!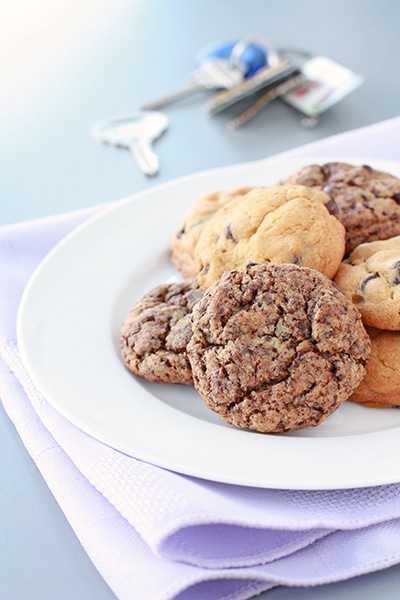 Jacques Torres' chocolate chip cookie recipe published in a 2008 in the New York Times is ever-popular. The recipe seems pretty standard, just like most other chocolate chip cookie recipes, a simple list of ingredients and nothing different from most other recipes. And yet, when you start to analyze it, you'll see there's actually more to it.
The type of flour
One thing that sets the Jacques Torres recipe apart from the rest is that it combines bread flour and cake flour to make the dough, instead of just using all-purpose flour. And though all-purpose flour would be a descent baking substitution for the combination of flours, protein-wise, in terms of starches, it doesn't match up:
cake flour is higher in starch and lower in protein, and it's a very fine, soft flour, that would add a lighter, cakey texture to cookies
bread flour is lower in starch but higher in protein, and has a great capacity for absorbing water that is prone to gluten development . By combining the two flours, you can see how they each bring different properties that all-purpose can't.
Still, I am pretty lazy, so I'm giving you the option of either using only all-purpose, or using a 50/50 mix of bread and cake flour. I used all-purpose to develop my big fat chewy chocolate chip cookies, but I also tested spelt flour for spelt chocolate chip cookies.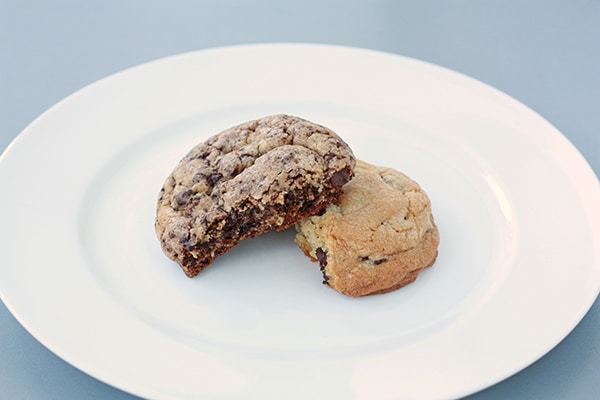 Chilling the dough
There's another point in the recipe technique that sets the Jacques Torres chocolate chip cookie recipe apart: a rest period of 24–72 hours for the dough prior to baking. This means the recipe takes planning. If you want cookies now, sure this technically would work, but the results won't be the same.
Resting the dough transforms a good old chocolate chip cookie dough into the perfect cookie: crispy, chewy, sweet, salty, chocolaty. The texture of the rested dough is completely different from that of a freshly prepared batch. It's definitely worth the wait. I find it easier to portion out the dough before resting, personally. Better yet, always have a batch of the rested dough on hand, pre-scooped and frozen.
Then all you have to do is place the scoops on a parchment-lined baking sheet and bake them, when the craving strikes. The baking time varies depending on if your dough is chilled or frozen. Sometimes I prefer letting the dough warm up slightly at room temperature (while the oven preheats) so that the cookies can spread a little as they bake before setting. This way your cookies aren't so squat.
The chocolate: chocolate chips vs grated chocolate
For this recipe, I tested two types of chocolate: whole chocolate chips versus dark chocolate that was grated into shards in the food processor. The cookies were made from the same batch, split in half prior to adding the chocolate:
to half the dough, I added dark chocolate chips
to the other half, the same amount of dark chocolate chips that I had ground up in the food processor
The ground dark chocolate render the cookie slightly less sweet. I think I might have preferred these to the chocolate chips, especially that 70 % dark chocolate is much less sweet than chocolate chips.
Normally I chop chocolate to incorporate it into cookie doughs, but the grated chocolate brought more chocolate flavour to them and gave the cookies a greater bitter-sweet character which, dare I say, might put these in the category of the ultimate chocolate chip cookies.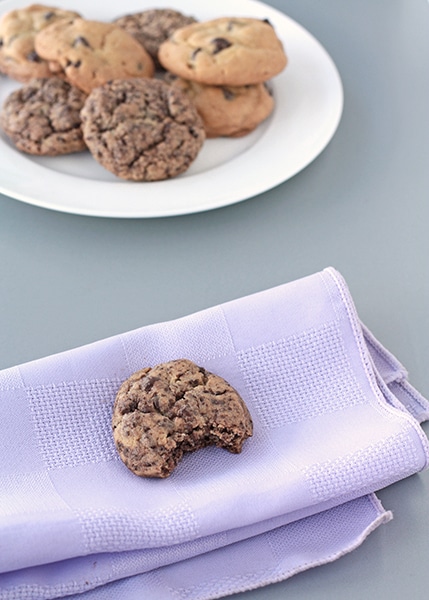 The ultimate chocolate chip cookies
Ingredients
500

grams

(

4

cups

)

all-purpose flour

or use half bread flour and half cake flour

7.5

mL

(

1½

teaspoon

)

baking powder

7.5

mL

(

1½

teaspoon

) Diamond Crystal fine kosher salt

6.25

mL

(

1¼

teaspoon

)

baking soda

290

grams

(

1¼

cups

)

unsalted butter

2 ½ sticks, room temperature

300

grams

(

1½

cups

) light brown sugar

200

grams

(

1

cup

)

granulated sugar

2

large eggs

room temperature

10

mL

(

2

teaspoon

) pure vanilla extract

570

grams

(

1¼

lbs

) dark chocolate chips

either whole or ground in the food processor
Instructions
In a medium bowl, whisk together flour(s), baking powder, salt, and baking soda. Set aside.

In the bowl of an electric mixer fitted with the paddle attachment, cream together the butter and sugars for at least 5 minutes, or until the mixture becomes very light in color.

Add the eggs, one at a time, mixing well and scraping down the bowl between each addition with a spatula.

Add the vanilla, and beat again.

With the mixer on low, slowly add the dry mixture, scraping down the bowl as needed.

Add the chocolate and mix to incorporate (whether chips or chocolate shards).

Portion out the dough and roll into 60 balls. Place in an air-tight container and refrigerate for 36 to 72 hours.

To bake, preheat the oven to 350°F. Place portions of cookie dough on a sheet pan about 1 inch apart on a Silpat-lined cookie sheet or parchment lined.

Bake the cookies for about 18 minutes until the edges are golden brown (less time if baking on parchment). Place the sheet on a wire rack to cool slightly before enjoying.

Alternatively, freeze the balls of cookie dough on a baking sheet, then transfer to a tupperware to store in the freezer for when you need a cookie or two.
Nutrition
Calories:
151
kcal
|
Carbohydrates:
20
g
|
Protein:
2
g
|
Fat:
7
g
|
Saturated Fat:
5
g
|
Cholesterol:
16
mg
|
Sodium:
91
mg
|
Potassium:
92
mg
|
Fiber:
1
g
|
Sugar:
11
g
|
Vitamin A:
130
IU
|
Vitamin C:
1
mg
|
Calcium:
42
mg
|
Iron:
1
mg