After baking 17 half-batches of chocolate chip cookies, testing out different flours to find the best chocolate chip cookie recipe, these spelt chocolate chip cookies with walnuts were my favourite.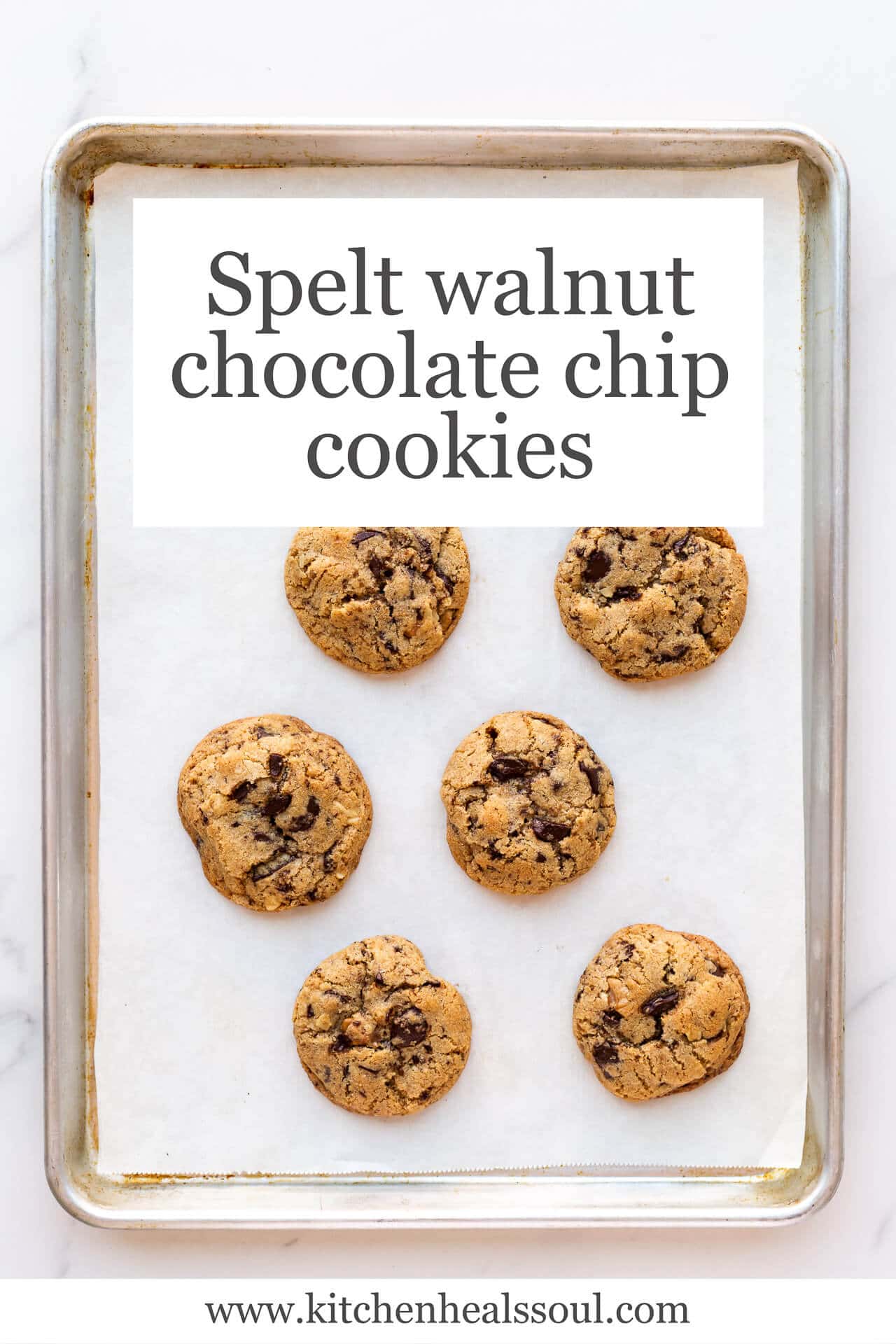 It's very hard to judge when you are faced with a mountain of freshly baked cookies because all roads lead to happiness and a belly full of cookies. Still, when I tested out baking chocolate chip cookies with alternative flours, including oat, buckwheat, rye, spelt, and corn, these spelt chocolate chip cookies stood out.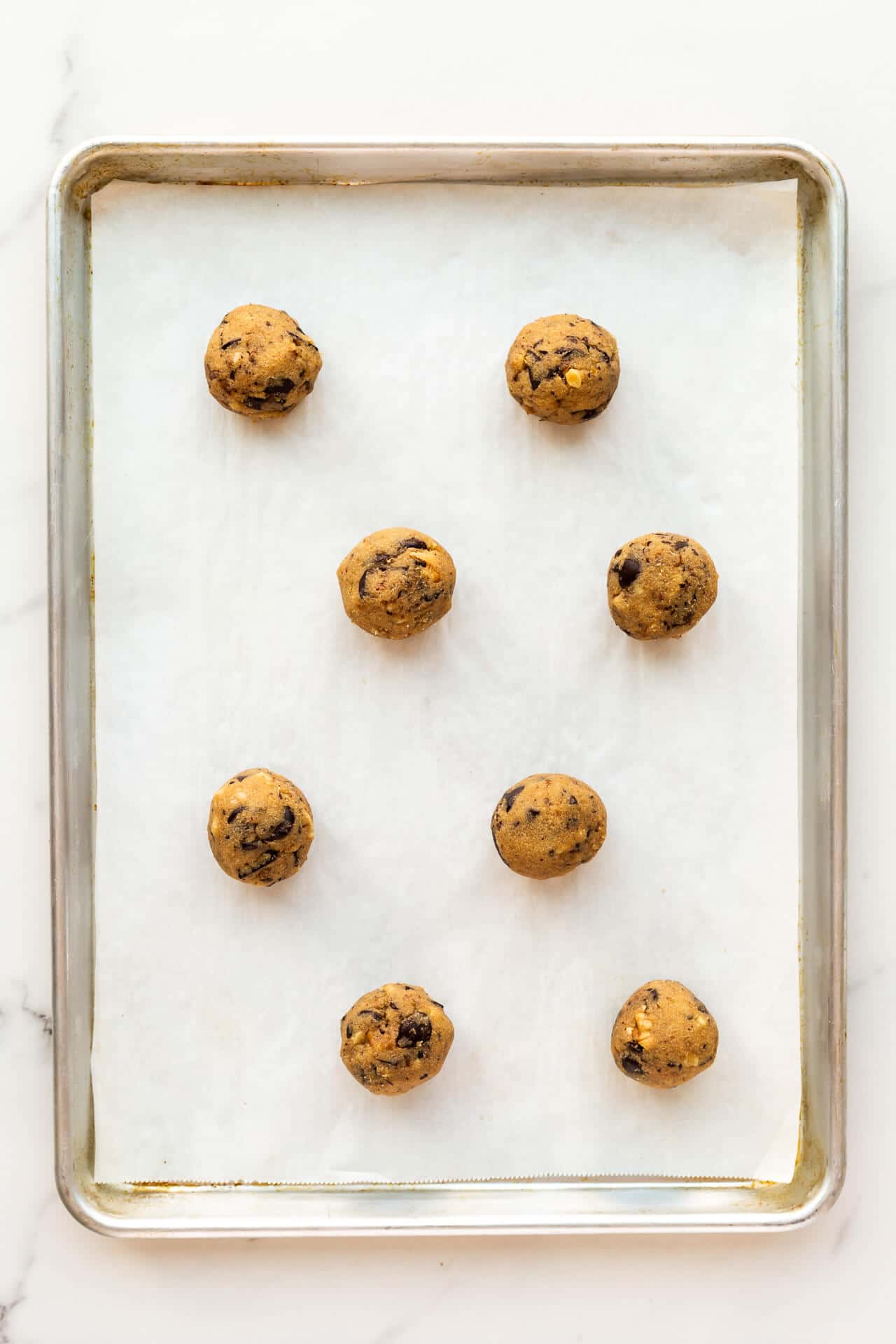 If you compare spelt flour vs all-purpose flour, you'll find that spelt has a little less gluten, which means for this chocolate chip cookie recipe, I used 65 grams (½ cup) more of spelt flour as compared to my basic chocolate chip cookie recipe. Adding slightly more spelt flour means you can achieve a thick chocolate chip cookie that doesn't spread too much, which is a typical problem when baking cookies with alternative flours that lower in gluten or gluten-free.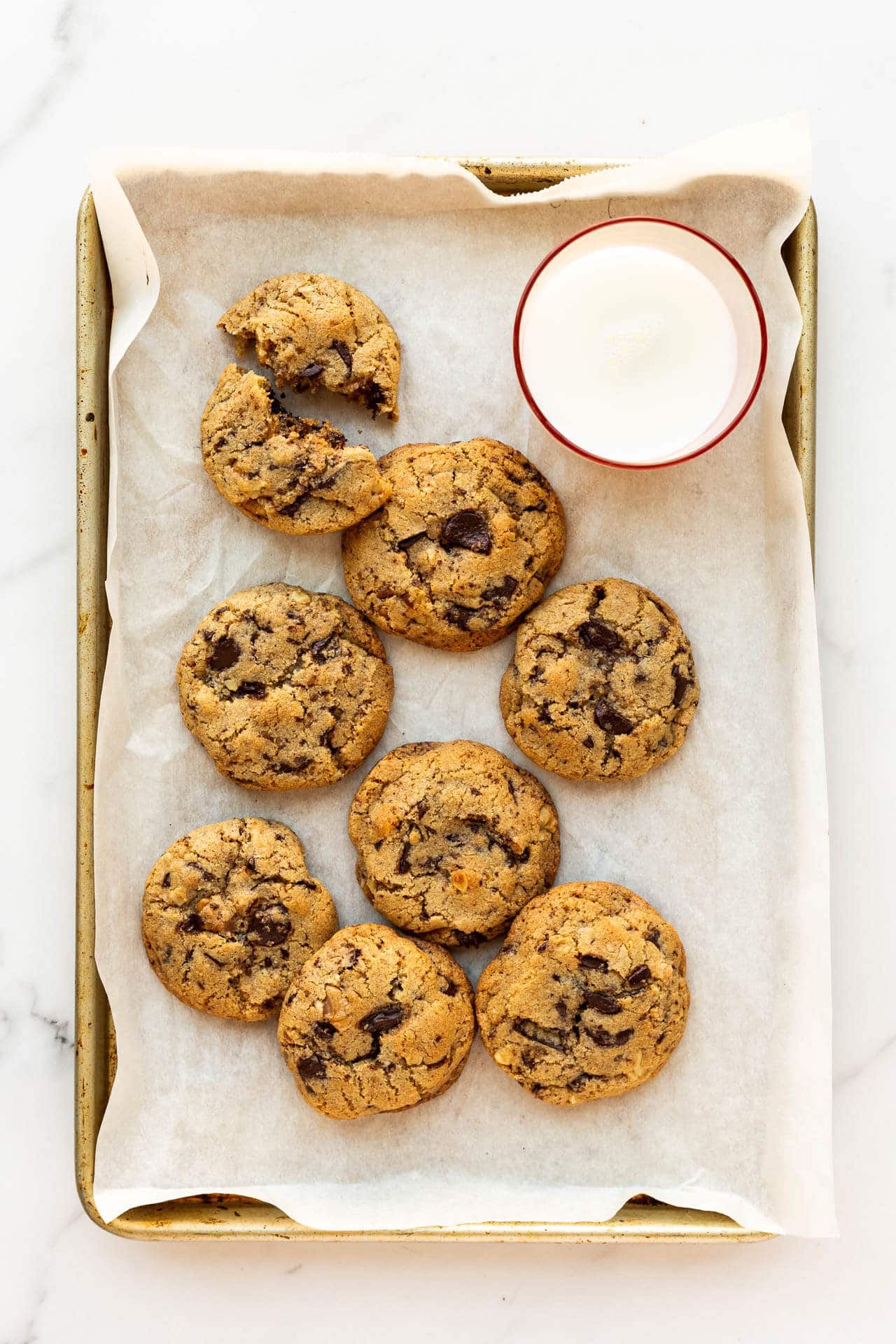 The extra flour also means the batch makes 2 extra cookies, so 16 cookies instead of 14. If that's too many cookies for you, chop up a bunch into small pieces and freeze them so you can churn them into a batch of cookie ice cream!
If you ever run into the problem that your cookies are burning on the bottom and staying raw in the middle, it could be the material of your sheet pan (dark bakeware absorbs more heat), your oven temperature, or even too much baking soda in your recipe.
Spelt chocolate chip cookies with walnuts
Here's a recipe that is a twist on classic chocolate chip cookies with walnuts, using spelt flour instead of all-purpose flour.
Ingredients
250

grams

(

2

cups

)

whole grain spelt flour

5

mL

(

1

teaspoon

) Diamond Crystal fine kosher salt

or 2.5 mL (½ tsp) table salt

2.5

mL

(

½

teaspoon

)

baking soda

115

grams

(

½

cup

)

unsalted butter

150

grams

(

¾

cup

) dark brown sugar

100

grams

(

½

cup

)

granulated sugar

1

(

1

)

large eggs

10

mL

(

2

teaspoon

) pure vanilla extract

175

grams

(

1

cup

)

dark chocolate

chopped (approximately 250 mL or 1 cup), or 250 mL (1 cup) dark chocolate chips

120

grams

(

1

cup

) chopped walnuts
Instructions
Preheat the oven to 400 ºF. Line two large sheet pans with parchment paper.

In a medium bowl, whisk together the flour, salt, and baking soda. Set aside.

In a large bowl, using an electric hand mixer, cream together the butter, the granulated sugar, and the brown sugar until it's very light and fluffy.

Add the egg and the vanilla, and mix well until the mixture is light and fluffy again. Make sure to clean down the sides of the bowl as needed with a big spatula.

Dump in the whisked dry ingredients, and incorporate them either with the hand mixer on low, or by hand with a big wooden spoon.

Mix in the chocolate and the chopped walnuts. The dough should be quite thick.

Scoop approximately 50 gram portions of the dough, rolling them into balls.

Place 8 cookies per cookie sheet, being sure to space them apart and stagger them.

Bake the cookies one sheet pan at a time until the edges just begin to brown (this takes about 12 to 14 minutes). You might want to rotate the pan partway through the baking to make sure the cookies brown evenly.

Let the cookies cool completely on the sheet pan while you bake the second pan.

Store in an airtight container.
Notes
replace the spelt flour with:

all-purpose flour: 190 grams (1.5 cups) all-purpose flour to make regular thick chewy chocolate chip cookies
whole wheat flour: 190 grams (1.5 cups) whole wheat flour to make whole wheat chocolate chip cookies—note that at 190 grams (1.5 cups) of whole wheat flour, the cookies spread out more than they would with the same weight of all-purpose, but they are still on the thicker side so I don't think you should add more flour than this.
rye flour: 190 grams (1.5 cups) rye flour to make rye chocolate chip cookies (basically replace with the same amount)—any more rye flour makes the cookies too thick and way too chewy, and less rye flour results in a much thinner cookie that spreads out. Also note that chocolate chip cookies made with 100 % rye flour will be quite chewy, even freshly baked.
oat flour: 220 grams–250 grams (1.75 cups to 2 cups) oat flour depending on how thick a cookie you want (note you can also replace the chopped chocolate with raisins to make them gluten-free oat flour raisin cookies )
corn flour: 220 grams–250 grams (1.75 cups to 2 cups) corn flour, depending on how thick a cookie you want
buckwheat flour: 310 grams (2.5 cups) buckwheat flour to make gluten-free buckwheat chocolate chip cookies—less works, but the cookies spread quite a bit!

If you want to garnish: you can't go wrong with a sprinkle of flaky sea salt which will help balance out the sweetness of the cookie dough.
Nutrition
Calories:
294
kcal
|
Carbohydrates:
33
g
|
Protein:
4
g
|
Fat:
16
g
|
Saturated Fat:
7
g
|
Cholesterol:
26
mg
|
Sodium:
174
mg
|
Potassium:
128
mg
|
Fiber:
4
g
|
Sugar:
18
g
|
Vitamin A:
199
IU
|
Vitamin C:
1
mg
|
Calcium:
26
mg
|
Iron:
2
mg