After baking 17 half-batches of chocolate chip cookies, and testing out different flours to find the best chocolate chip cookie recipe, these spelt chocolate chip cookies with walnuts were my favourite. This easy recipe makes the best spelt flour chocolate chip cookies.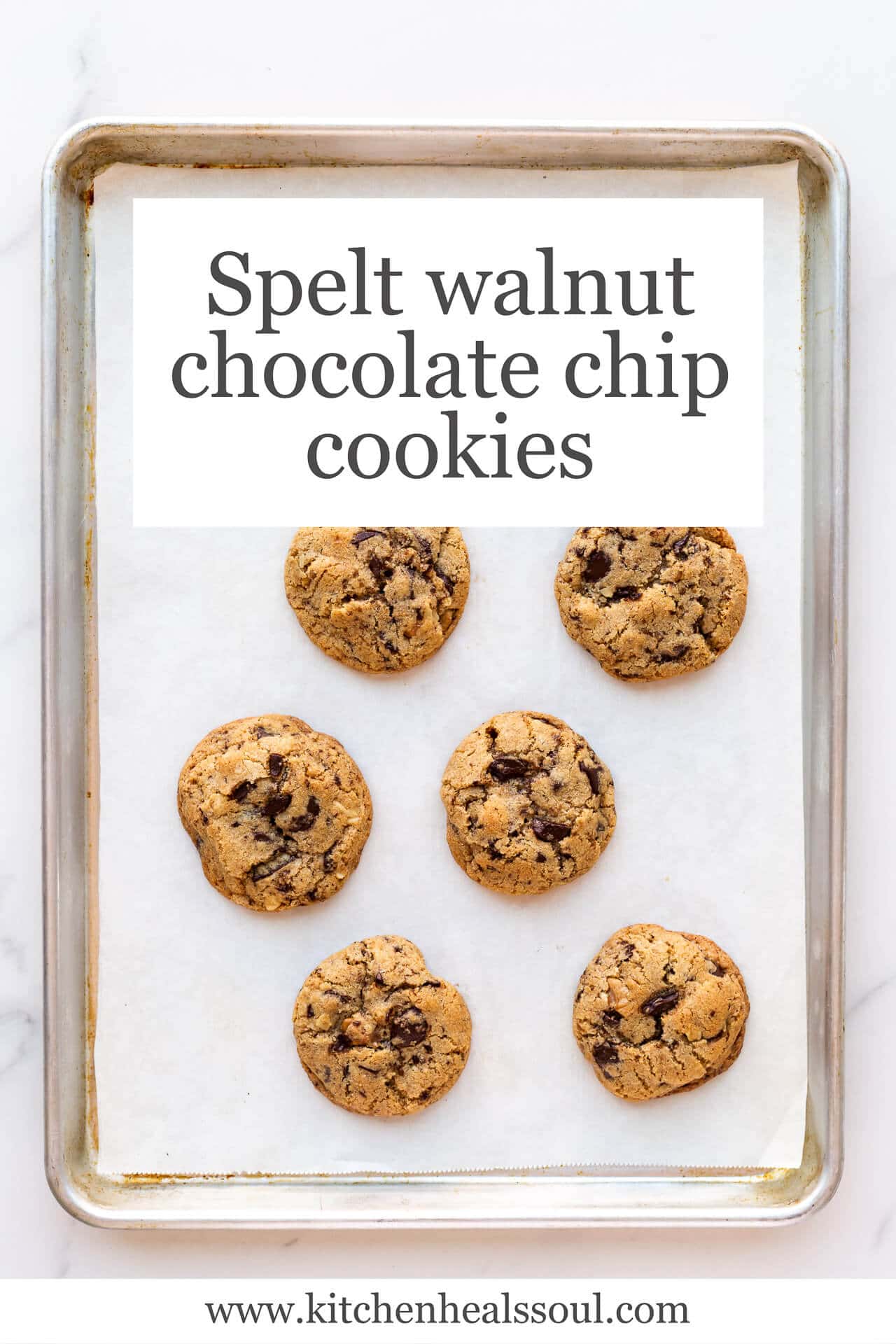 Disclosure: As an Amazon Associate, I earn from qualifying purchases.
It's very hard to judge when you are faced with a mountain of freshly baked cookies because all roads lead to happiness and a belly full of cookies. Still, when I tested out baking chocolate chip cookies with alternative flours, including oat, buckwheat, rye, spelt, and corn, these spelt chocolate chip cookies stood out.
Jump to:
What you need to make these cookies
Chocolate chip cookies are so easy to make and the basic ingredients are always butter, sugar, eggs, flour, and of course chocolate. Here's what you'll need to make these spelt flour cookies:
butter, preferably unsalted butter because you will add salt to the dough, but if you have salted, it will work. Just adjust the salt in the recipe accordingly, otherwise, your cookies may be too salty
sugar—we are using a combination of granulated sugar (to help give cookies their crispy edges) and brown sugar to add the molasses flavour and balance out the flavour of the egg. Brown sugar may also lead to a slightly thicker cookie
vanilla extract adds depth of flavour and sweetness to these cookies. Don't skimp on this ingredient!
large eggs—don't use smaller eggs because your cookies may be too dry, but don't use extra large eggs because they could affect the texture too. Sometimes too many eggs can make a cakey cookie!
flour is needed to bind all the ingredients together and give the cookies structure so that they hold their shape. If you don't use enough flour, your cookies may spread too much as they bake, especially given the amount of butter you will use. For this recipe, we are using spelt flour
baking soda, a base (alkaline), is the leavening agent in this cookie recipe. It contributes to browning and helps your cookies to spread Don't confuse it with baking powder, which would cause the cookies to puff up as they bake. Read this post about baking powder versus baking soda if you are confused
salt is really important to balance out the sweet buttery flavour. Don't skip it. I like to use Diamond Crystal fine kosher salt, but table salt will work, though the cookies will be saltier and you may want to halve the salt in that case.
chocolate—use either dark chocolate (bittersweet or semisweet), milk chocolate, or even white chocolate. You can use chocolate chips or chopped chocolate, but remember chocolate chips will hold their shape, while chopped chocolate will melt and ooze.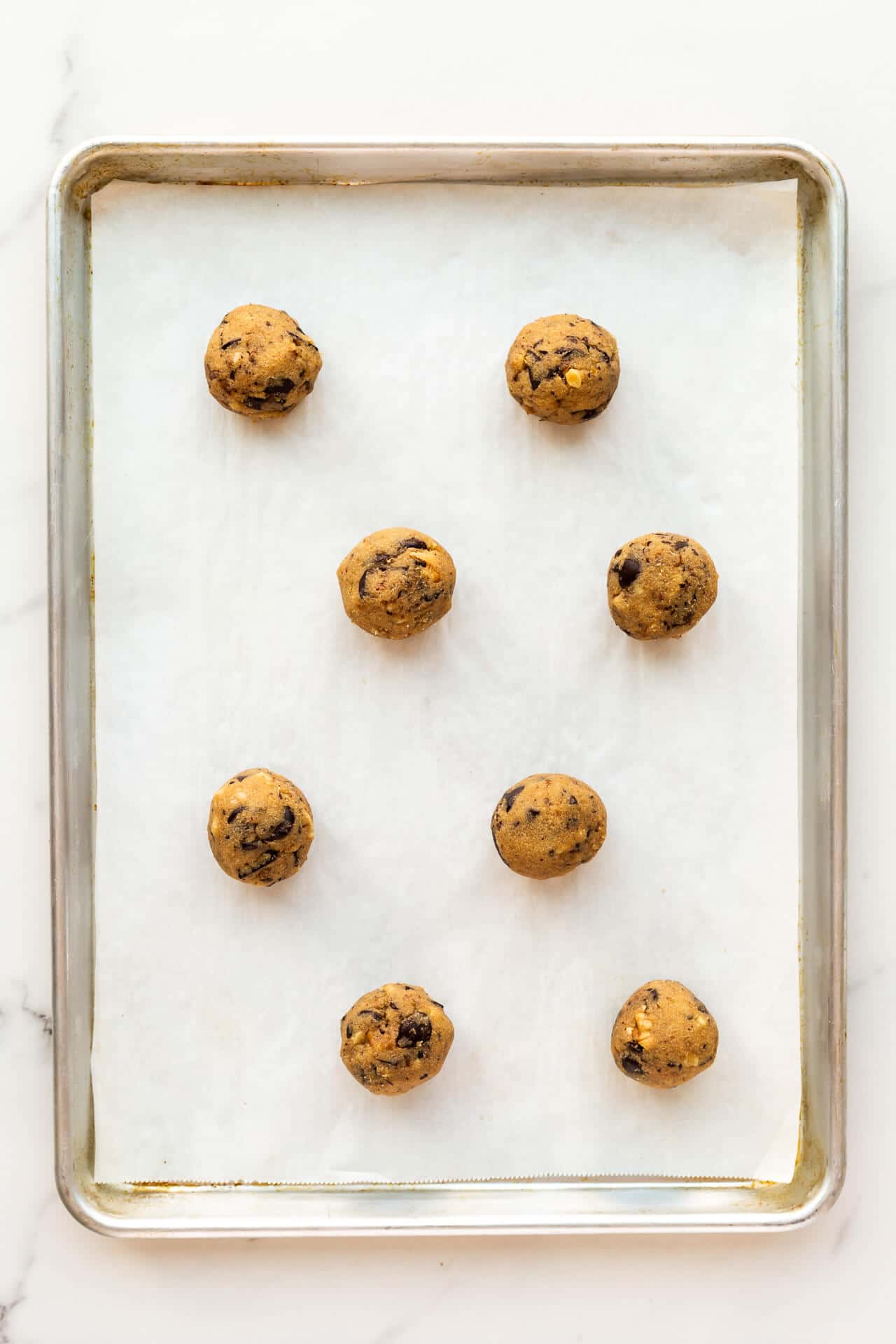 Replacing all-purpose with spelt flour
If you compare spelt flour vs all-purpose flour, you'll find that spelt has a little less gluten, which means for this chocolate chip cookie recipe, I used 65 grams (½ cup) more spelt flour as compared to my basic chocolate chip cookie recipe. Adding slightly more spelt flour means you can achieve a thick chocolate chip cookie that doesn't spread too much, which is a typical problem when baking cookies with alternative flours that are lower in gluten or gluten-free. If you struggle with thin or flat cookies, read about the reasons cookies spread.
The extra flour also means the batch makes 2 extra cookies, so 16 cookies instead of 14. If that's too many cookies for you, chop up a bunch into small pieces and freeze them so you can churn them into a batch of cookie ice cream!
Other substitutions and variations
Like with any chocolate chip cookie recipe, you have a lot of options when it comes to substitutions and variations:
Chocolate: use white, milk, or dark chocolate, either in the form of chocolate chips or chopped chocolate.
Nuts: use chopped walnuts or pecans (like in these chocolate chip cookies with pecans), or skip them and add more chocolate (note if you simply omit the nuts, your cookies may spread more).
Sugar: use white or brown sugar (either light or dark)—the type of sugar will have a little impact on the spread of the cookies (brown sugar cookies may spread less). Overall, the bigger impact is on flavour. Brown sugar will bring more molasses flavours and add complexity to the taste that is more pleasant.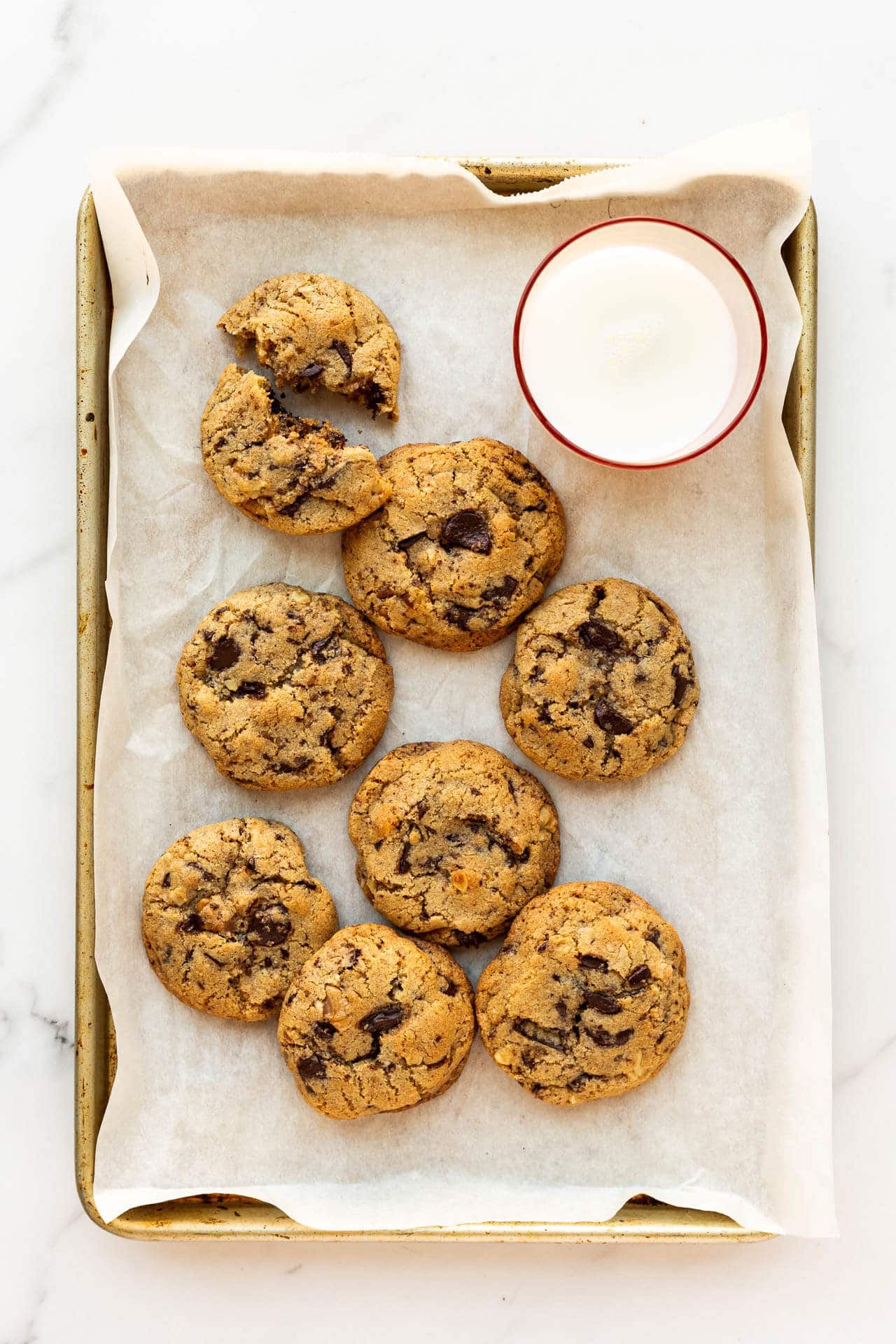 Special equipment
It can be difficult to make cookie dough by hand in a bowl with a wooden spoon, so I prefer to use an electric hand mixer or even a stand mixer. Besides a mixer, you will need:
Baking temperature
I baked these cookies at 400 °F to ensure they stay thick. Feel free to bake a test cookie at this temperature to make sure you like the results and adjust the temperature accordingly. Lower the oven temperature to 375 or even 350 °F for thinner cookies.
Common problems with cookies
If you ever run into the problem that your cookies are burning on the bottom and staying raw in the middle, it could be the material of your sheet pan (dark bakeware absorbs more heat), your oven temperature, or even too much baking soda in your recipe.
If your cookies are spreading too much, you may have mismeasured an ingredient or your oven temperature is set too low. Another culprit could be the material of your baking sheet. If you are baking with insulated bakeware like an air-filled sheet pan, this could slow the set of the cookie edges, leading to spreading and thinner cookies. The same goes with silicone baking mats which can have a similar effect.
📖 Recipe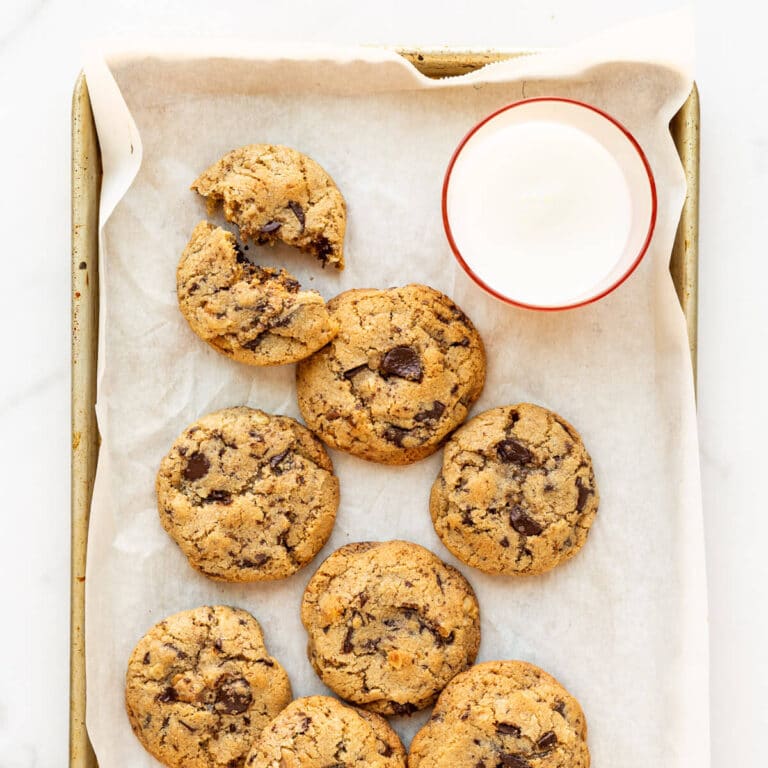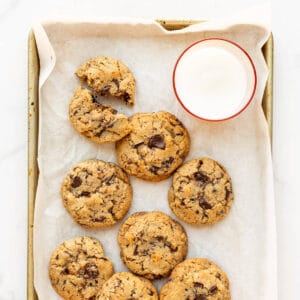 Spelt Chocolate Chip Cookies with Walnuts
Here's a recipe that is a twist on classic chocolate chip cookies with walnuts, using spelt flour instead of all-purpose flour.
Instructions
Preheat the oven to 400 ºF (200 °C). Line two large sheet pans with parchment paper.

In a medium bowl, whisk together the flour, salt, and baking soda. Set aside.

In a large bowl, using an electric hand mixer, cream together the butter, the granulated sugar, and the brown sugar until it's very light and fluffy.

Add the egg and the vanilla, and mix well until the mixture is light and fluffy again. Make sure to clean down the sides of the bowl as needed with a big spatula.

Dump in the whisked dry ingredients, and incorporate them either with the hand mixer on low, or by hand with a big wooden spoon.

Mix in the chocolate and the chopped walnuts. The dough should be quite thick.

Scoop approximately 50 gram portions of the dough, rolling them into balls.

Place 8 cookies per cookie sheet, being sure to space them apart and stagger them.

Bake the cookies one sheet pan at a time until the edges just begin to brown (this takes about 12 to 14 minutes). You might want to rotate the pan partway through the baking to make sure the cookies brown evenly.

Let the cookies cool completely on the sheet pan while you bake the second pan.

Store in an airtight container.
Notes
I baked these cookies at 400 °F to ensure they stay thick. Feel free to bake a test cookie at this temperature to make sure you like the results and adjust the temperature accordingly. lower the oven temperature to 375 or even 350 °F for thinner cookies.
replace the spelt flour with:

all-purpose flour: 190 grams (1.5 cups) all-purpose flour to make regular thick chewy chocolate chip cookies
whole wheat flour: 190 grams (1.5 cups) whole wheat flour to make whole wheat chocolate chip cookies—note that at 190 grams (1.5 cups) of whole wheat flour, the cookies spread out more than they would with the same weight of all-purpose, but they are still on the thicker side so I don't think you should add more flour than this.
rye flour: 190 grams (1.5 cups) rye flour to make rye chocolate chip cookies (basically replace with the same amount)—any more rye flour makes the cookies too thick and way too chewy, and less rye flour results in a much thinner cookie that spreads out. Also note that chocolate chip cookies made with 100 % rye flour will be quite chewy, even freshly baked.
oat flour: 220 grams–250 grams (1.75 cups to 2 cups) oat flour depending on how thick a cookie you want (note you can also replace the chopped chocolate with raisins to make them gluten-free oat flour raisin cookies )
corn flour: 220 grams–250 grams (1.75 cups to 2 cups) corn flour, depending on how thick a cookie you want
buckwheat flour: 310 grams (2.5 cups) buckwheat flour to make gluten-free buckwheat chocolate chip cookies—less works, but the cookies spread quite a bit!

If you want to garnish: you can't go wrong with a sprinkle of flaky sea salt which will help balance out the sweetness of the cookie dough.
Nutrition
Calories:
294
kcal
Carbohydrates:
33
g
Protein:
4
g
Fat:
16
g
Saturated Fat:
7
g
Cholesterol:
26
mg
Sodium:
174
mg
Potassium:
128
mg
Fiber:
4
g
Sugar:
18
g
Vitamin A:
199
IU
Vitamin C:
1
mg
Calcium:
26
mg
Iron:
2
mg
Storage
Once the baked cookies have cooled completely (emphasis on the completely!), I store my freshly baked spelt flour chocolate chip cookies in a sealed container or a resealable bag. As you store them, in the first few days, you will notice they will dry out just a little and become even chewier. I find they hit peak chewy on day 2. After that, the cookies will really start to dry out.
It's difficult to preserve the gooey freshly-baked texture when you store chocolate chip cookies, unfortunately. If that's the texture you look for in a chocolate chip cookie, you are better off storing the raw cookie dough than the baked cookies. This way you can bake them when the craving strikes.
To keep baked chocolate chip cookies moist, you can try the same tricks you would use to keep brown sugar fresh and moist:
put a marshmallow in the container with the cookies
put a slice of bread in the container with the cookies
put a slice of apple in the container with the cookies
put a hydrated terracotta brown sugar keeper in the container with the cookies
Storing freshly-baked cookies in the freezer
Most people aren't aware that chocolate chip cookies freeze beautifully. You can do so in a zip-top freezer bag, being mindful to suck all the air out of the bag before placing it in the freezer. Then when you want a cookie, take one out and gently reheat it in a low oven (250 ºF) on a mini sheet pan for around 10 to 15 minutes to achieve a warm chocolate cookie that's as good as freshly baked. You can also test defrosting a frozen cookie in the microwave. The time it takes will depend on your microwave. I tend to defrost a cookie on a microwave-safe plate at power level 8 (80% power) with the timer set to 10–30 second increments. The results tend to be a little uneven, but it does work!
Storing raw cookie dough
If you decide to chill your cookie dough to let the dough "cure" and for the flavours to develop, I prefer to roll the raw cookie dough out into 50-gram balls. You can place them in a zip-top bag or even in a closed plastic container. Please read about what chilling cookie dough does before doing this!
Storing raw cookie dough
You can store the raw dough in the refrigerator for 2 to 4 days. If you decide to freeze your portioned-out cookie dough unbaked, I recommend first freezing the scoops on a parchment-lined sheet pan until frozen solid, then transfer them to a zip-top freezer bag in a single layer preferably, being careful to remove all the air before zipping the bag closed. Then you can store them in the freezer for two months, according to the USDA.
Baking from frozen
When you are ready to bake the frozen chocolate chip cookie dough, simply place the scoops on a parchment-lined cookie sheet to bake from frozen, spacing them out with a few inches in between. Let the cookies defrost for 10 minutes at room temperature, while you preheat your oven. Keep in mind that the cookies will take longer to bake. Look for the tell-tale signs that they are done: the edges should begin to brown and the surface should look like it's beginning to set, without being baked through.
Frequently asked questions
Is spelt flour good for baking cookies?
If you want to replace all-purpose flour, consider using spelt flour. In cake recipes, a 1:1 substitution by weight will likely work. In cookies, where cookies can spread as they bake, you may have to replace the all-purpose flour with a little more spelt flour. You may have to do a couple of tests to come up with the right formula (as I had to do for the above recipe), but it will work! You can bake cookies with spelt flour!
Are spelt cookies gluten-free?
Spelt flour is made from spelt, an ancient grain. Modern wheat is a relative of spelt and is part of the wheat family. For this reason, cookies made with spelt flour are not gluten-free.