This recipe for the best thick chewy oatmeal cookies was sponsored by Cacao Barry. This easy recipe for oatmeal cookies is loaded with Alunga milk chocolate and salted peanuts, and the cookie dough can be made and baked right away without chilling the dough!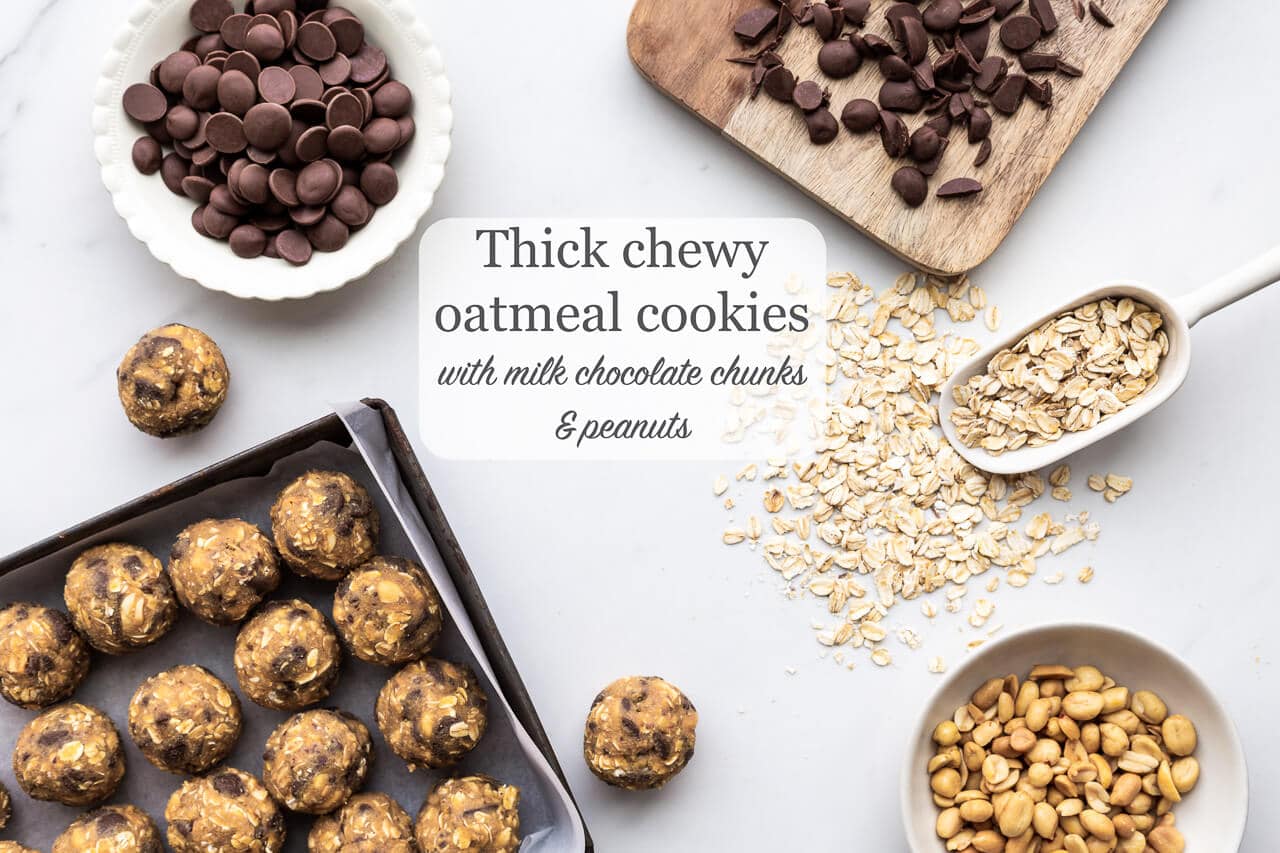 Disclosure: As an Amazon Associate, I earn from qualifying purchases.
What makes the best chocolate chip cookies? Or the best oatmeal cookie? This is such a loaded question and any answer goes because the truth is: my best oatmeal cookie recipe or perfect chocolate chip cookie recipe might not be your favourite. There are certain characteristics in a cookie that I look for that you might hate. The perfect cookie is subjective and the answers are infinite with no right or wrong.
Jump to:
Characteristics of the best oatmeal cookie (according to me)
should be a thick oatmeal cookie, not a thin cookie: I want minimal cookie spread and the cookie should have some heft to it
is a chewy oatmeal cookie: I don't want a soft oatmeal cookie, not that there's anything wrong with soft cookies, but I like oatmeal cookies that have a chewy texture with some bite to them
will have a slightly crackled top: the cracks on top of the cookie are what draw me in—I know the cookie is going to be good when I see those cookie cracks
is loaded with chunks chocolate, and I do mean chocolate, not raisins. There is a time and a place for oatmeal raisin cookies, but this is not a recipe for those. By the way, I have a recipe for crispy oatmeal raisin cookies if you need one
has both chocolate and nuts (salted peanuts work great!)—I hesitated to put nuts in these oatmeal chocolate cookies, but the salted peanuts are actually a really nice touch. You don't really notice the peanuts as you are chewing, but you can definitely taste them
made with vanilla: using pure vanilla extract in cookie dough adds depth, a little smokiness, and some musky flavour notes that would be missed if you skipped it. If you don't have any vanilla extract, try adding bourbon or rum as an alternative for those woodsy notes.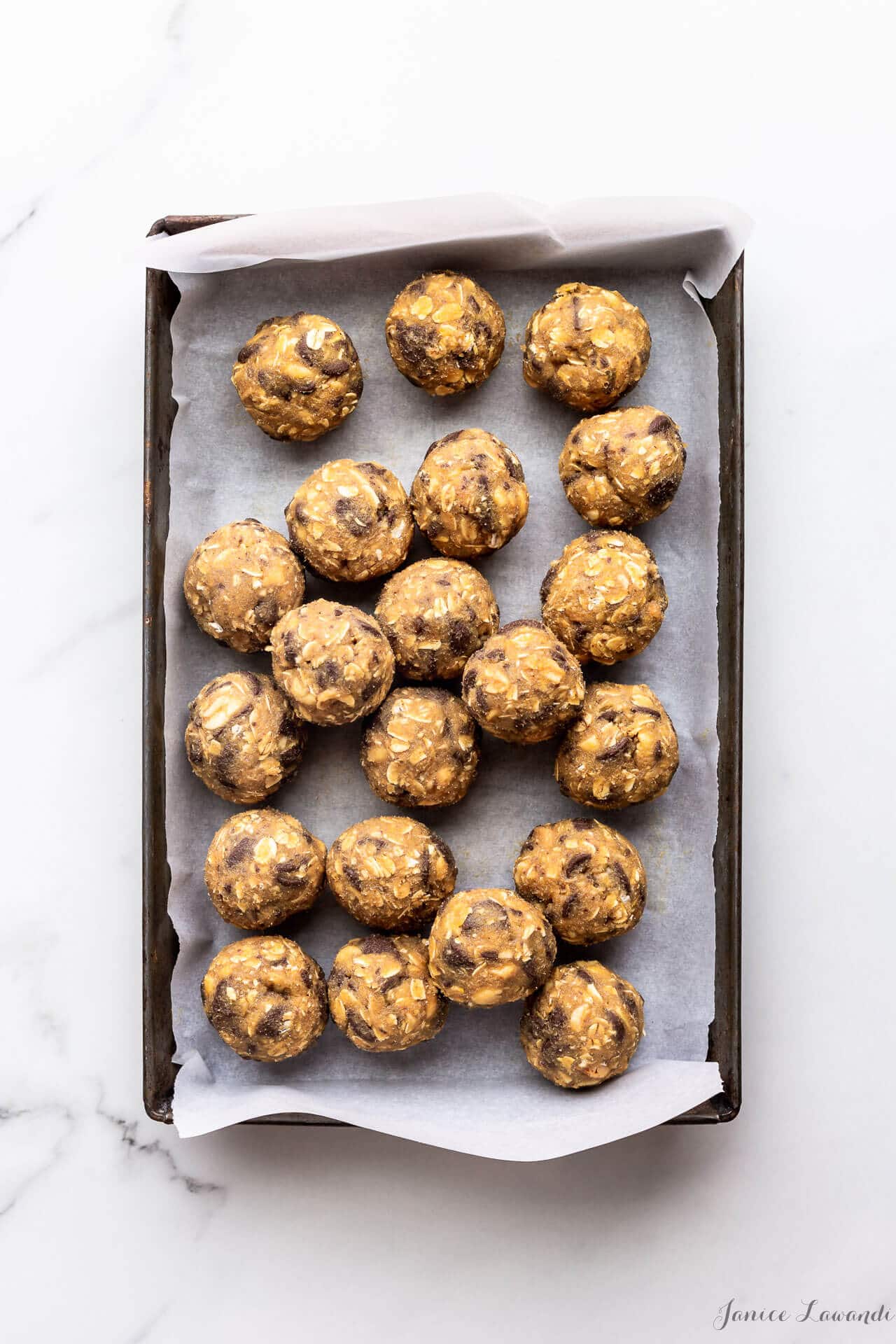 How do you make thick cookies that don't spread when baked?
The tricks to baking thicker cookies that don't spread when baked:
make a thicker dough with a higher proportion of dry ingredients and lots of add-ins (oats, chocolate, peanuts) which will impede cookie spread.
chill the dough before baking, which means it will take longer for the butter in the dough to "melt" in the oven. Cookie spread is a balance of melting and setting. Read all about why we chill cookie dough and what it does.
increase the baking temperature so that the exterior of the cookie sets before the cookie has time to spread.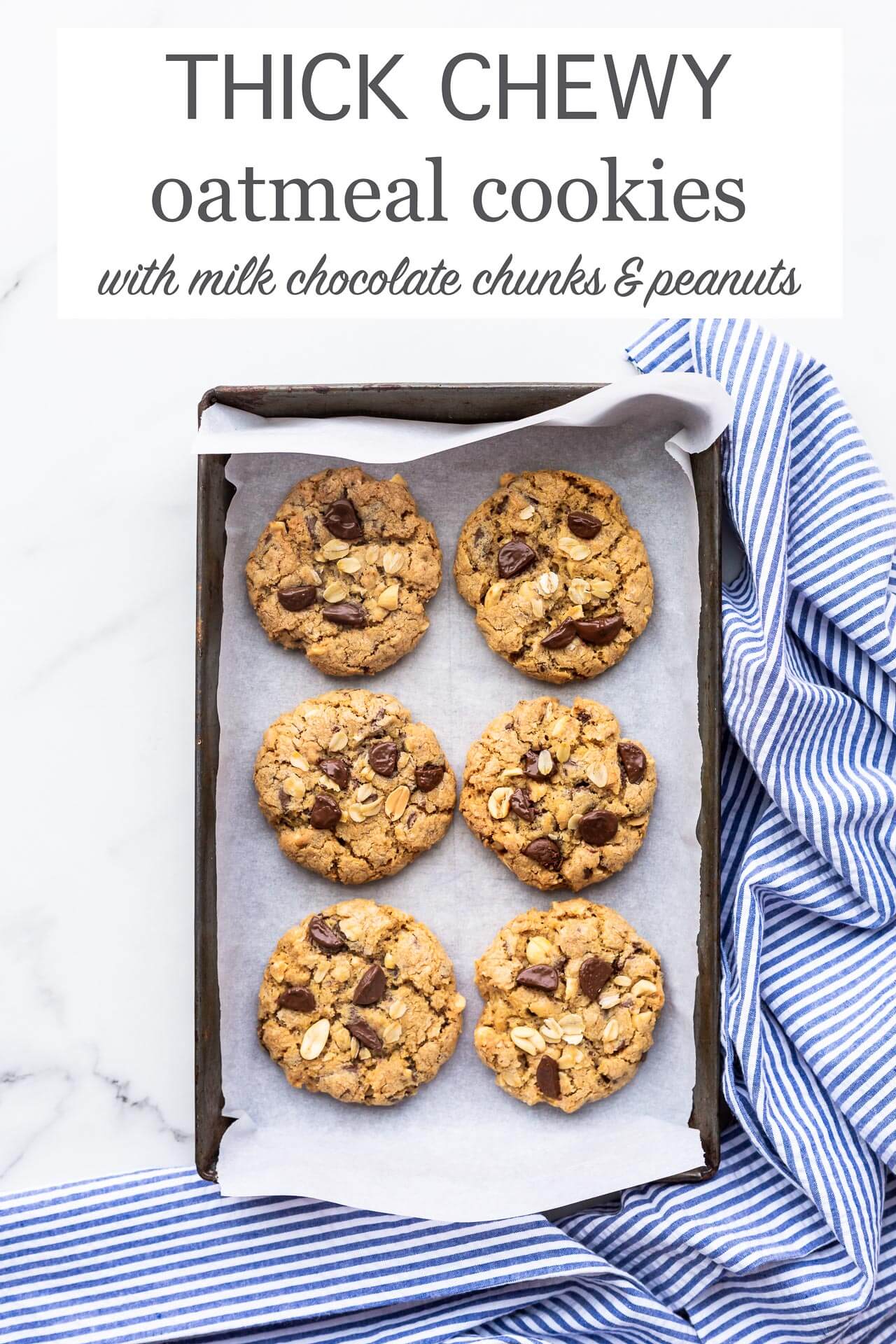 How do you make cookies chewy?
Use brown sugar instead of white sugar because brown sugar will add a certain tenderness and softness to the dough while white sugar will lead to a crisp, dry cookie texture. Brown sugar also adds a lot more flavour which helps to balance out the flavour of the egg in cookies too! I like to bake with a mix of white and brown sugar for the perfect chewy cookie texture and sweet flavour.
Oats increase the chewiness of cookies by adding a texture to the cookie dough
Bake the cookies until they are perfectly golden brown but don't overbake the cookies and don't underbake the cookies either

overbaked cookies will be dryer, hard, and crisper
underbaked cookies will be softer, gooey-er in the middle

Avoid silicone bakeware for chewy cookies: silicone bakeware results in less browning and also in softer cookies. For soft cookies, use a silicone mat between the sheet pan and the cookies. For chewy or crispy cookies, use parchment. 
Tip: If you struggle with flat cookies, read about the reasons cookies spread.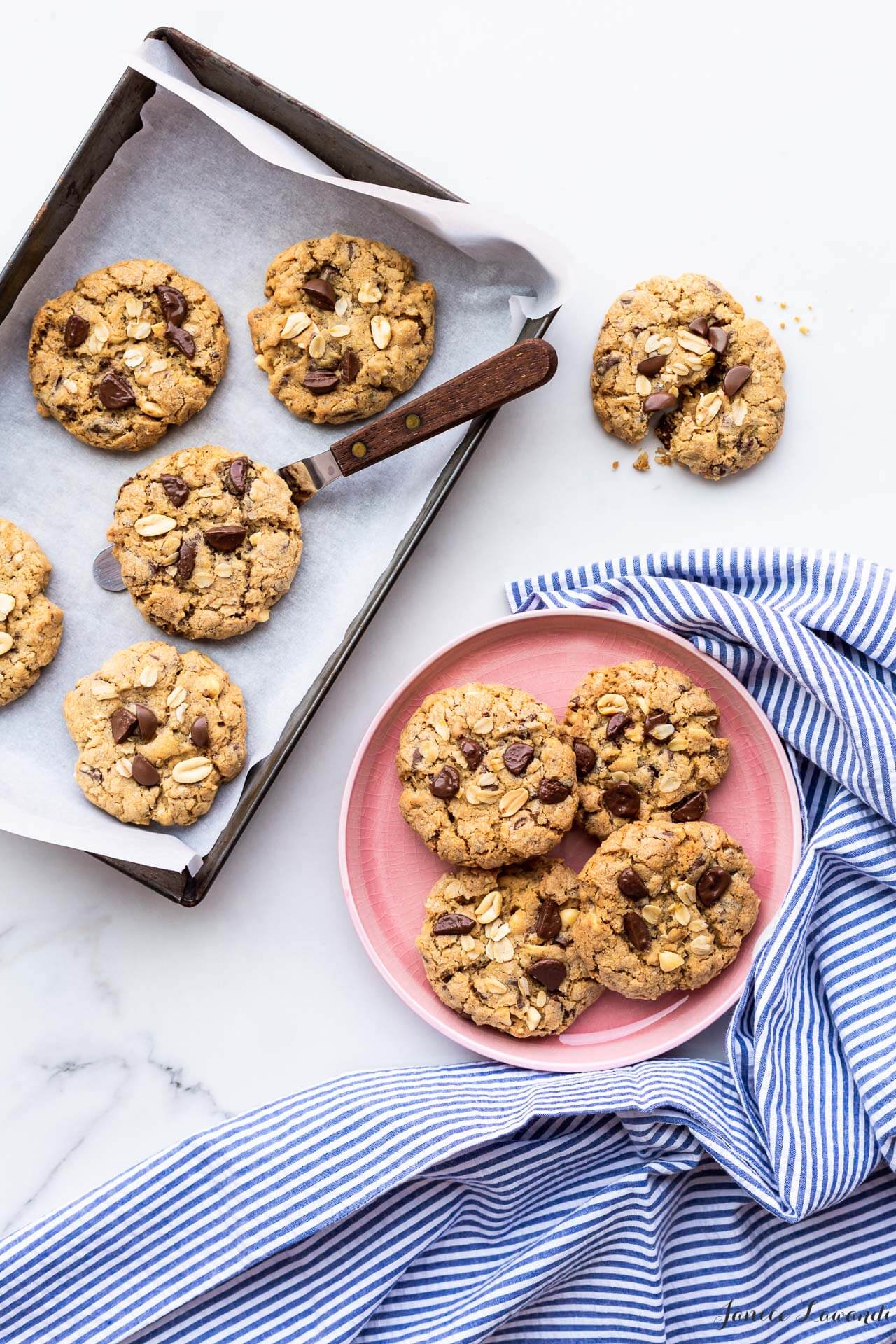 Great chocolate makes awesome cookies so you MUST use the best chocolate for baking, a chocolate that you like to eat because this recipe is all about the chocolate. For this recipe, I made the milk chocolate ganache with Cacao Barry's Alunga milk chocolate, which is sometimes referred to as dark milk chocolate because it has 41% cocoa solids, leading to a more complex, deeper chocolate flavour.
Alunga milk chocolate has a smooth, creamy texture and flavour that is not overly sweet, which is why even those that tend to prefer dark chocolate love it too. Alunga comes in 1-kilo resealable bags and is sold at IGA grocery stores in Quebec, as well as online via Vanilla Food Company.  The chocolate comes as "pistoles", kind of like very large chocolate chips. I roughly chopped the pistoles to make these oatmeal chocolate chunk cookies. I have a post about the types of chocolate for baking if you need more info to guide you when you are shopping for chocolate to bake with.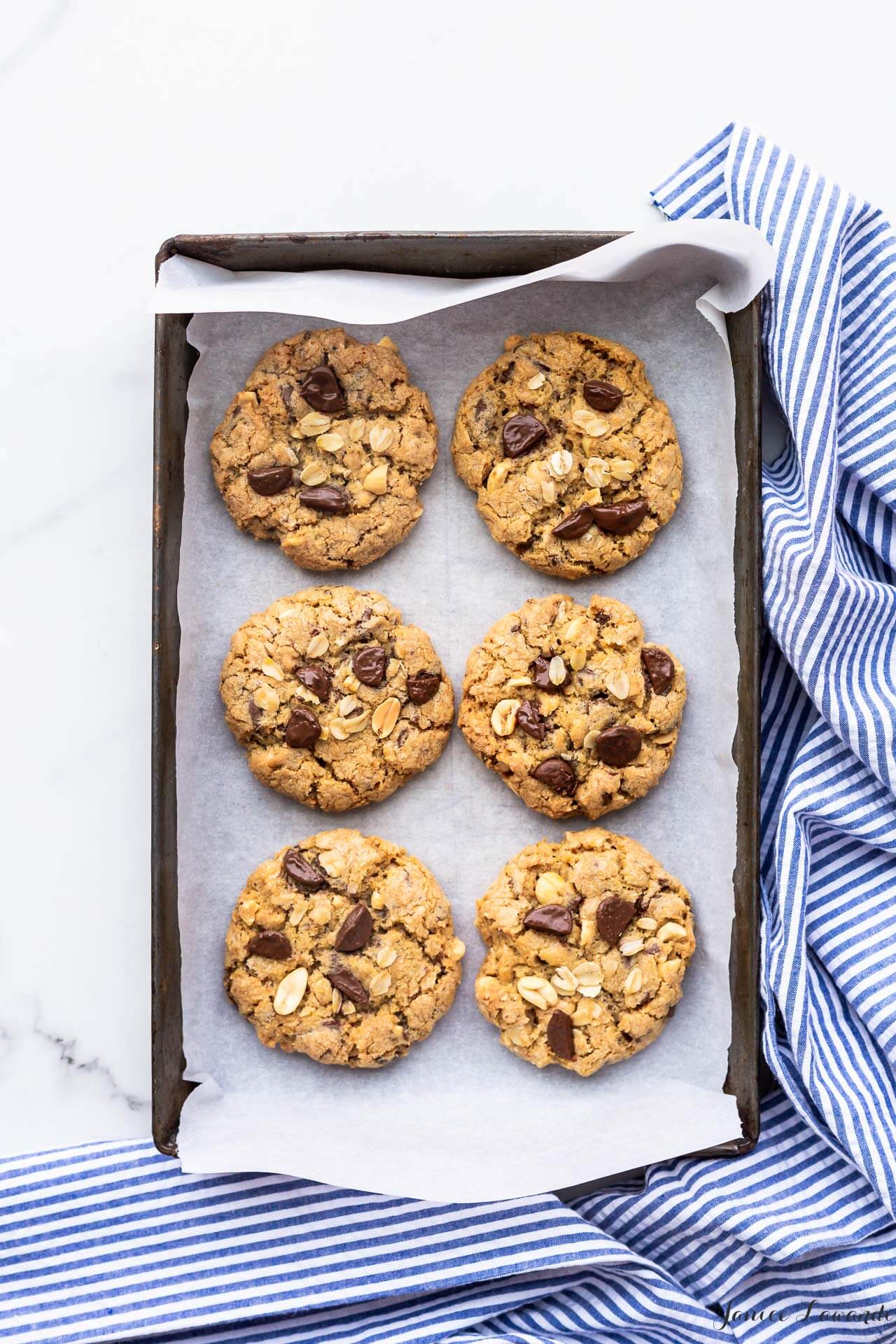 Tools to bake the best cookies
There are tools, equipment, and bakeware that I use when I make cookies. The list is simple but if you are going to make cookies on a semi-regular basis, you might want to consider investing in a few items to make your baking sessions easier and more successful!
If you ever run into the problem that your cookies are burning on the bottom and staying raw in the middle, it could be the material of your sheet pan (dark bakeware absorbs more heat), your oven temperature, or even too much baking soda in your recipe. And if you somehow wind up with too many cookies for you to eat, remember that you can chop them up into small pieces and freeze them for later so that you can fold them into a custard base to make a batch of cookie ice cream!
📖 Recipe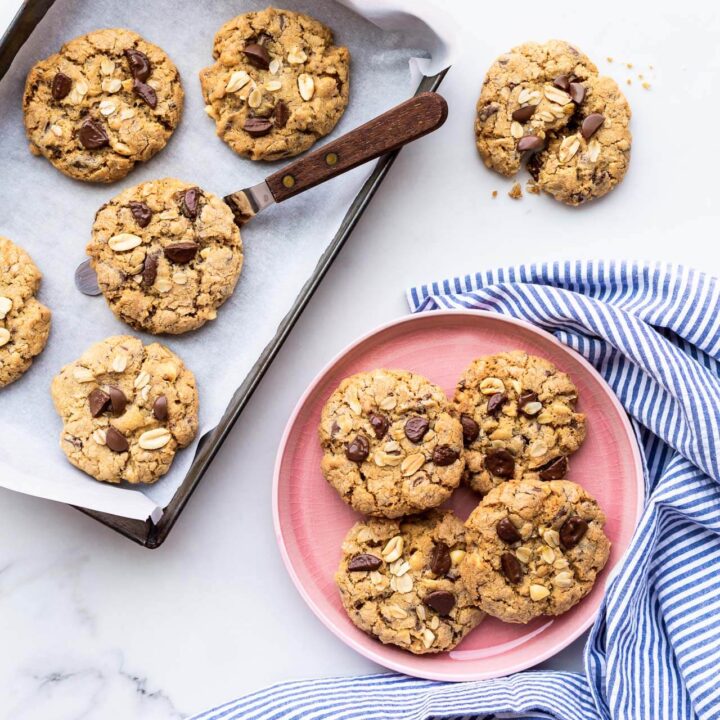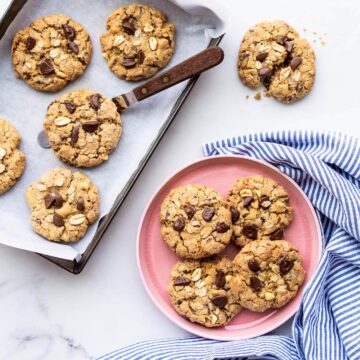 Thick Chewy Oatmeal Cookies
This oatmeal cookie recipe yields thick chewy cookies loaded with chunks of milk chocolate and peanuts
Instructions
Preheat the oven to 350ºF (175 °C). Line two cookie sheets with parchment.

In a bowl, whisk together the flour, oats, baking soda, and salt.

In a large bowl with an electric mixer (I like this one from Braun on Amazon), cream together the butter and the sugars for several minutes.

Add the egg and the vanilla. Mix them in well, scraping down the sides of the bowl with a spatula as needed.

Add the dry ingredients and stir them in. When the dry ingredients are almost incorporated, add the chopped chocolate and the peanuts. Fold them in.

Scoop the dough, rolling into even balls and place them on the cookie sheets, you may only fit 8 cookies per sheet depending on the size of the sheet. Press the cookies lightly to flatten them out a little with the palm of your hand,

Bake the cookies in the preheated oven for 12 minutes—less for a gooey-style softer oatmeal cookie (like 10 minutes), more for a crispy edged chewy oatmeal cookies (like 14 or even 16 minutes).

Let cool slightly before transferring the baked cookies to a cooling rack to cool completely.
Notes
I like to use the electric hand mixer from Braun (available on Amazon)
Nutrition
Calories:
186
kcal
Carbohydrates:
26
g
Protein:
3
g
Fat:
9
g
Saturated Fat:
5
g
Cholesterol:
19
mg
Sodium:
98
mg
Potassium:
77
mg
Fiber:
1
g
Sugar:
15
g
Vitamin A:
140
IU
Calcium:
16
mg
Iron:
0.9
mg
This post is sponsored by Cacao Barry. I was compensated monetarily and with product. Thanks for supporting the companies that allow me to create content for Kitchen Heals Soul. As always, please know that I wouldn't work with a sponsor nor recommend a product if it wasn't worth it.
Please note this post contains affiliate links to Amazon. As an Amazon Associate I earn from qualifying purchases. If you buy a product I recommend, I will get a small commission, and the price you have to pay will not change in any way.