These bacon whiskey apple cookies are an easy recipe for chewy oatmeal cookies made with dried apple pieces soaked in whiskey and bacon pieces.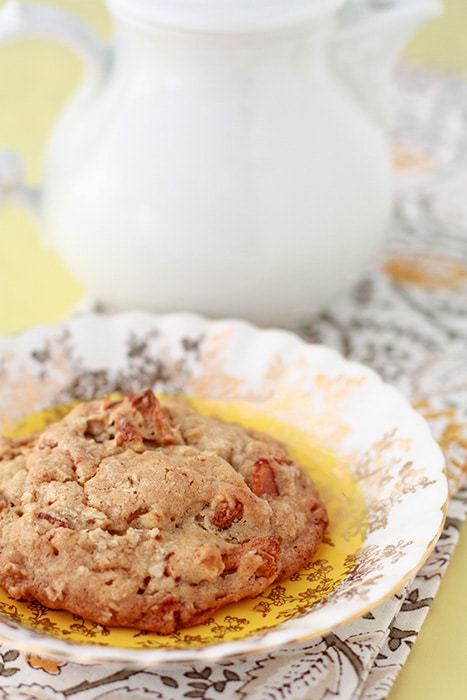 There was a bacon oatmeal raisin cookie recipe published in the March 2012 issue of Bon Appétit. I was quite excited about it in March, and I was still excited when I finally made them this week (with whiskey-soaked dried apple pieces in place of the raisins).
Of course, what I didn't expect when I made them was that the recipe was going to need "some" tweaking and further distract me. Unfortunately, the recipe as written in the magazine didn't quite work out for me: instead of chewy cookies, I got hard, crispy cookie pucks. Fixing the texture of these cookies became a challenge and a little experiment.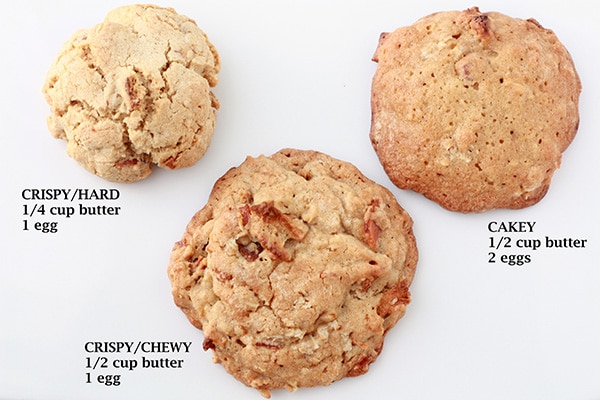 Disclosure: As an Amazon Associate, I earn from qualifying purchases.
The original Bon Appétit recipe had 58 grams (¼ cup) of butter and 1 egg. I tested two modifications to the published recipe:
I tried doubling the butter in the recipe, which yielded cookies that had crispy edges and a chewy centre.
I also did a batch where I doubled the butter and added an extra egg, which led to softer cake-y cookies.
What you might also notice with an extra egg and more butter is that the cookie dough is looser and softer, and the
chemical leaveners
,
baking soda
 to promote browning and
baking powder
to promote rise with less spread, create a more open crumb with more bubbles, quite like a cake.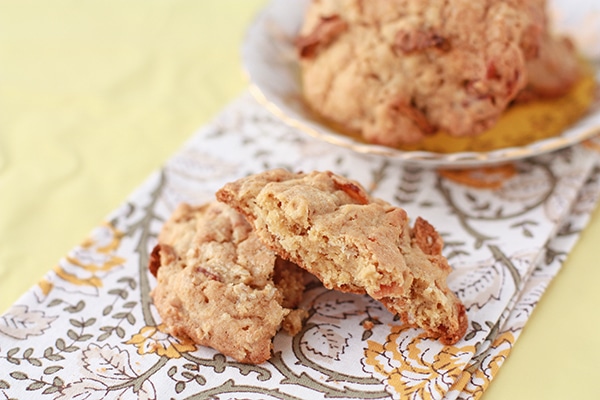 Personally, I preferred the chewier cookies, but in all cases, the cookies were delicious. The smoky/salty bacon was definitely prominent with the help of the sea salt, and I adored the flavor that the whiskey-soaked apple pieces added to the cookie. I'm really happy I finally got around to making this recipe, and I'm glad I didn't give up after the first batch of cookie pucks!
If you are a big fan of thick chewy cookies and brownies, these cookies are for you, an apple and bacon spin on the classic oatmeal cookie. But if you find your cookies are falling flat, spreading too much, or if the texture is off, you should definitely read more about the ins and outs of making the best chocolate chip cookies.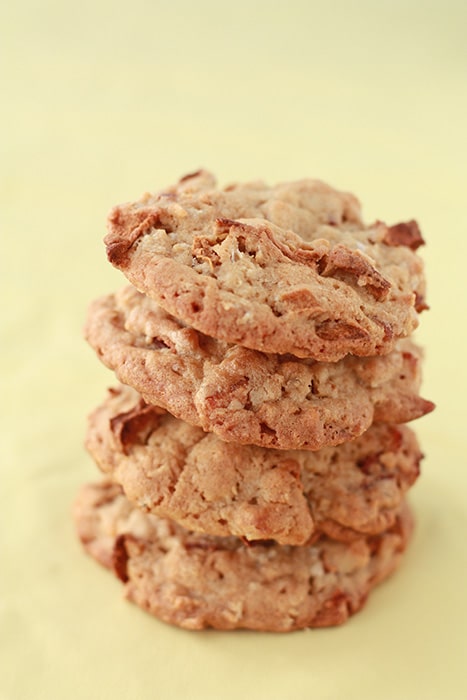 📖 Recipe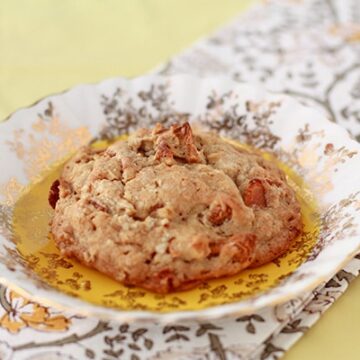 Bacon Whiskey Apple Cookies
Ingredients
30

grams

dried apple

chopped into 0.5 cm (0.2 in) pieces

45

mL

whiskey

I used Jack Daniel's

120

grams

bacon

chopped into 0.5 cm (0.2 in) pieces

146

grams

cake flour

2.5

mL

baking powder

1,25

mL

baking soda

100

grams

dark brown sugar

67

grams

granulated sugar

115

grams

unsalted butter

room temperature

1

large egg(s)

1.25

mL

pure vanilla extract

45

grams

rolled oats (or large flake oats)
Instructions
In a small saucepan, combine the apple slices and the whiskey. Set the saucepan over low heat until the whiskey is steamy. Pull the saucepan off the hit, put the lid over it and let the mixture sit til all the whiskey is absorbed. Drop them on a paper towel to remove any excess liquid just before using them.

Meanwhile in a small frying pan, cook the bacon over medium-low until it is deep golden brown and crisp. Transfer the crispy bacon bits with a slotted spoon to a paper towel-lined plate to cool. Save the leftover bacon fat in a jar in the fridge for future use (in a pie crust, cookies, or even Yorkshire pudding).

In the bowl of an electric mixer fitted with a paddle attachment, cream the butter and the two sugars for 3 minutes.

Add the egg, scraping down the sides of the bowl, and beat until it is incorporated, then add the vanilla and mix again.

Sift the dry ingredients into the mixing bowl, then add the oats and mix until just combined.

Drop the whiskey-soaked apple pieces and the bacon bits to the mixer bowl. Beat for just a few seconds more to mix these in.

Cover the bowl and chill the dough over night.

Preheat the oven to 375°F (190 °C). Prepare two rimmed baking sheets by lining them with parchment.

Scoop the cookies with a large cookie scoop (or a ¼ cup measure), spacing them a couple inches apart on the cookie sheet, and bake them for about 17 or so minutes, or until the edges are golden brown.

Let cool slightly before transferring the baked cookies to a wire rack to cool completely.

These cookies are best enjoyed the day they are baked but can be stored in a plastic container for several days.
Notes
For chewy cookies, use 1 large egg in this recipe, as written
For cake-y, softer cookies, use 2 large eggs in this recipe
Nutrition
Calories:
224
kcal
Carbohydrates:
25
g
Protein:
3
g
Fat:
12
g
Saturated Fat:
6
g
Cholesterol:
38
mg
Sodium:
173
mg
Potassium:
87
mg
Fiber:
1
g
Sugar:
14
g
Vitamin A:
239
IU
Vitamin C:
1
mg
Calcium:
22
mg
Iron:
1
mg
If you are a fan of oatmeal cookies, you should also try these thick chewy oatmeal cookies with milk chocolate and peanuts or for another fruity cookie, try these blueberry oatmeal cookies with white chocolate.