Learn how to make the best date squares with this easy recipe made from pantry staples you probably have already and, of course, a little butter.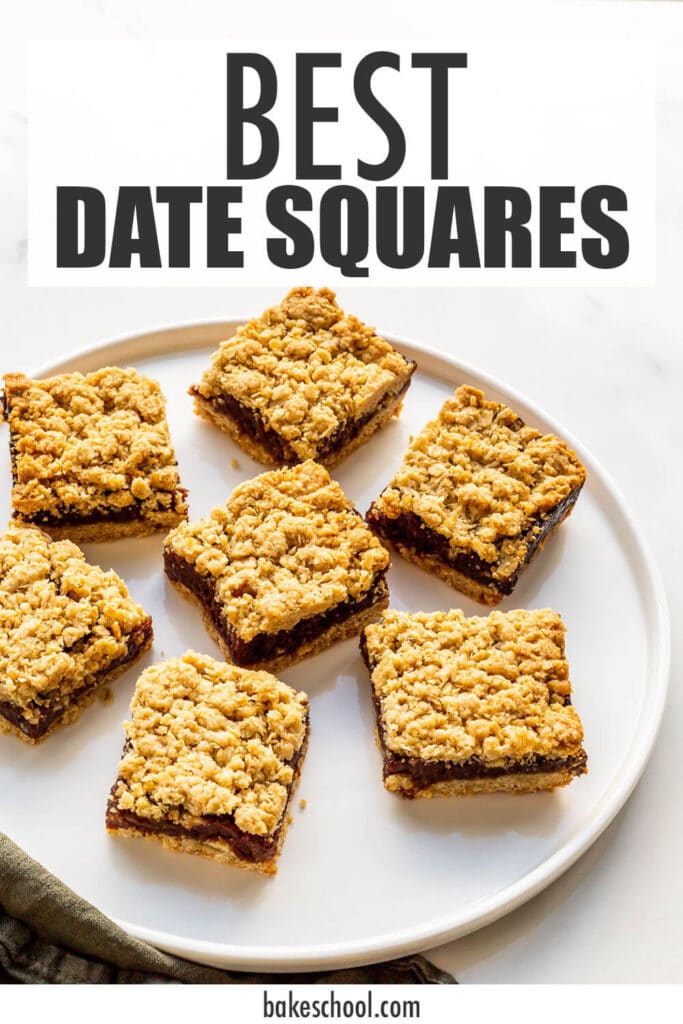 Disclosure: As an Amazon Associate, I earn from qualifying purchases.
It's always a good idea to have a few snack recipes requiring only pantry items that can be stored for those days when you need a quick pick-me-up without having to leave the house. A batch of lightly spiced date squares is the perfect pantry baking recipe.
Jump to: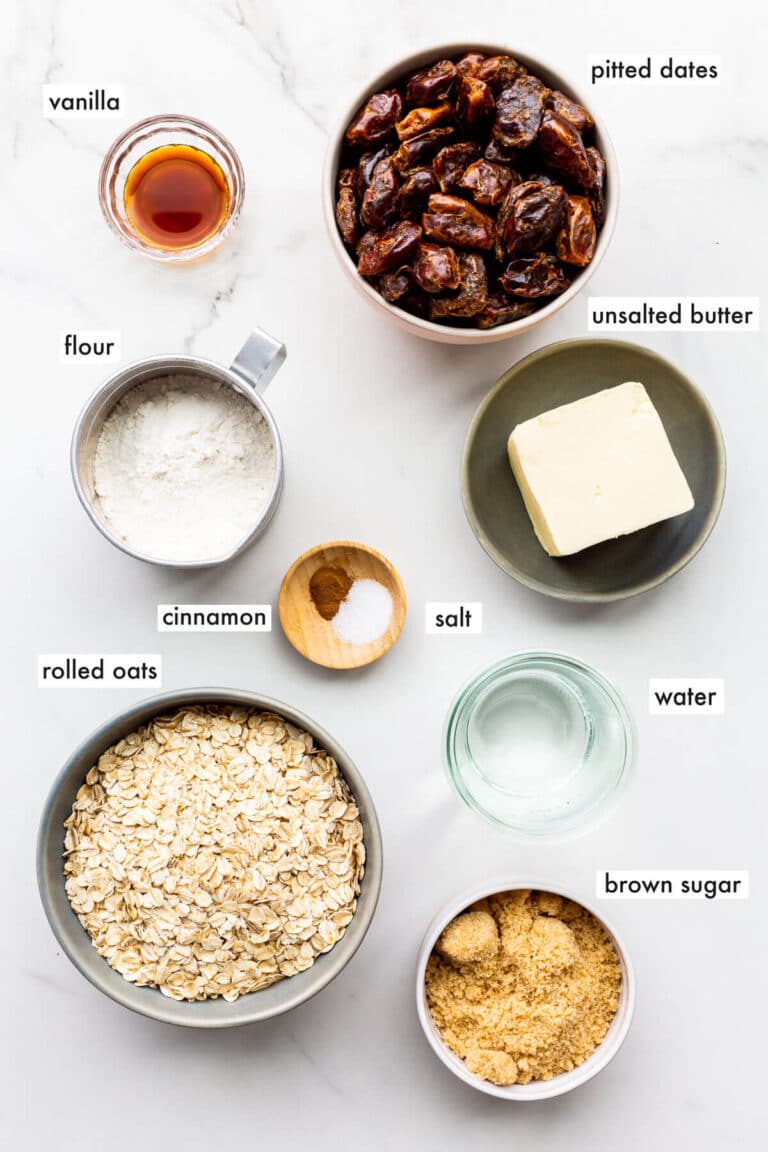 What are date squares made of
If you want to make date squares from scratch, you will need the following ingredients:
dates, pitted dried dates (the cheap kind) are perfect for this recipe. I have also made these with Medjool dates, which are meatier and much more expensive. It's definitely a splurge to use Medjool dates, but I don't think it's necessary here.
water is needed to hydrate the dried dates, which will absorb it all. The dates will soften and break down with the water and heat, so that you can have a thick, sweet purée that is the perfect texture to fill these bars.
large flake oats, also known as rolled oats, provide texture to the crumble layer, which doubles as the bottom crust for these squares. Don't use minute oats or steel-cut oats for this recipe. These are not good substitutions for rolled oats, though the minute oats will likely work if that's all you've got.
all-purpose flour is needed to bind all the ingredients together and give the bars structure. If you don't use enough flour, your bars will be too soft, and too much flour will make the crumble dry and powdery.
brown sugar, light or dark, will add both sweetness and a molasses flavour that pairs nicely with the dates.
butter, preferably unsalted butter because you will add salt to the dough, but if you have salted, it will work. Just adjust the salt in the recipe accordingly, otherwise your bars may be too salty.
cinnamon is optional, but added to the crumble, it adds a lovely warm taste that makes the crumble and base more flavourful.
salt is really important to balance out the sweet molasses flavour. Don't skip it. I like to use Diamond Crystal fine kosher salt, but table salt will work, though the bars will be saltier and you may want to halve the salt in that case.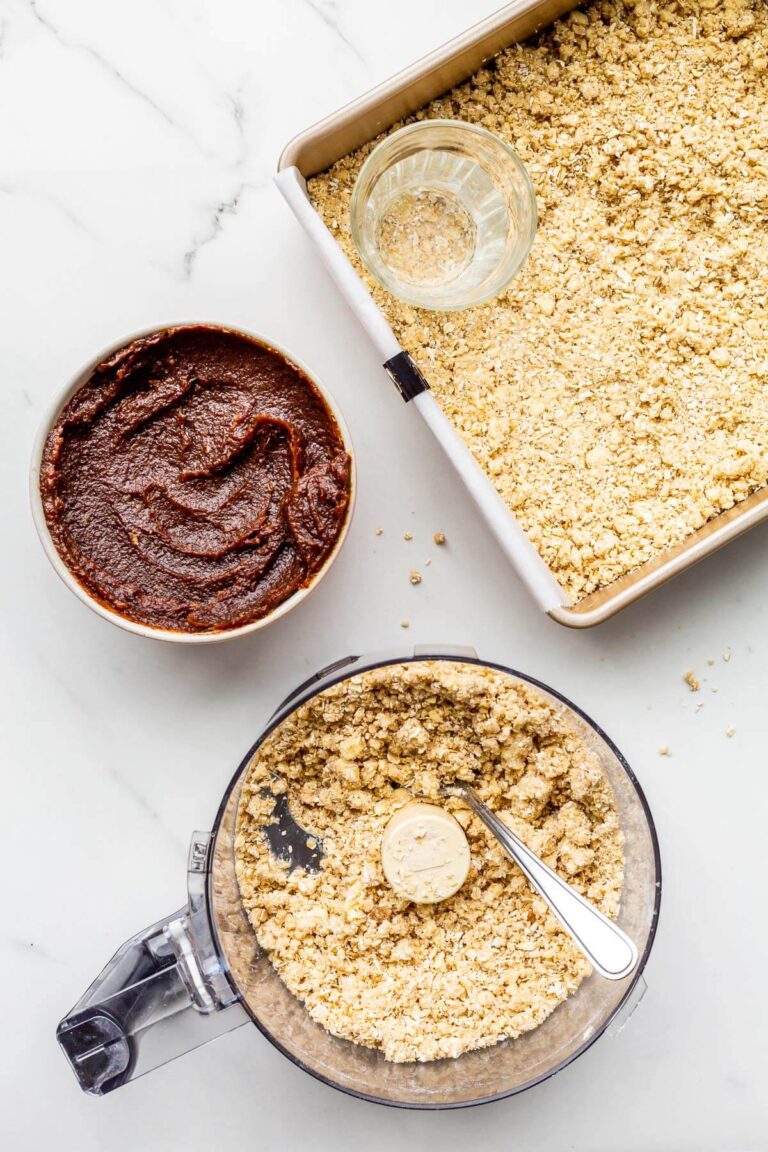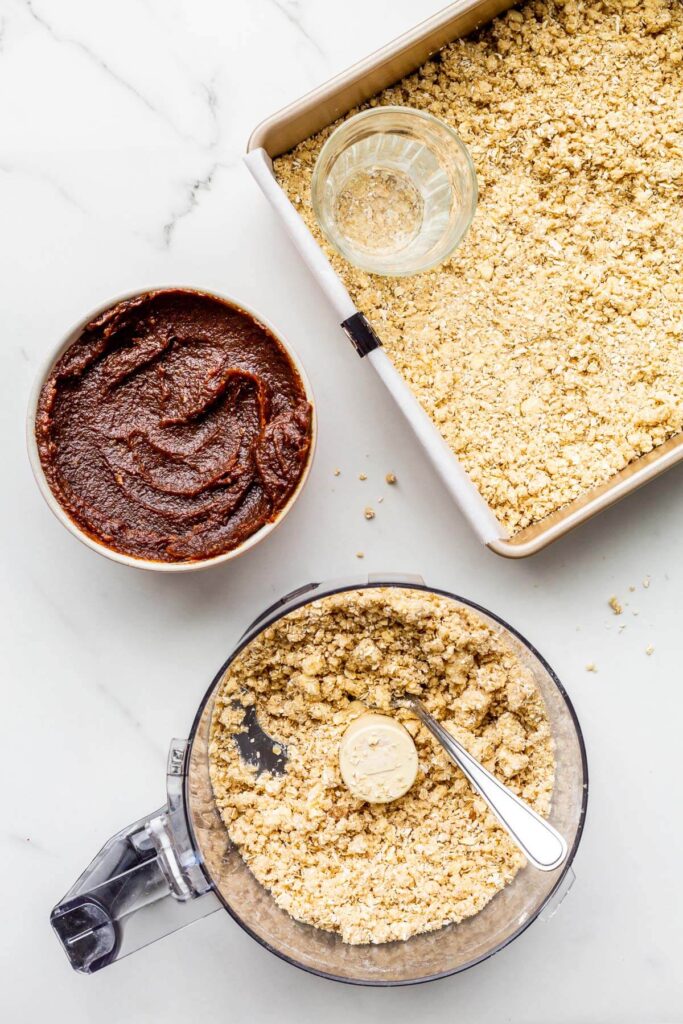 Tricks for making the date bars less crumbly
If you find your date squares are too crumbly or fragile, try pressing the crumble mixture on the bottom into the pan with a little more force to create a tighter, more compact layer. If you don't, your base will be crumbly. It's as easy as that!
Tip: Use a flat-bottomed glass or mug and take the time to press and tighten the crumbly base to lock it in place and create a firm base that you will be able to slice with ease.
For the crumble topping, after scattering it over top, take the time to gently press the crumble into the date paste, very lightly. The date purée will anchor the topping in place, again, making it easier to cut these bars and serve them. This will also make them easier to store and send in lunchboxes for a school snack without making a mess.
Adding baking soda to date filling
The beauty of date squares is that they are made from the cheaper dates at the grocery store, the kind that look the driest (they look like they will never recover). Heating dried dates with a little water transforms them into a sweet, aromatic paste. Initially, when you are rehydrating dry dried pitted dates from the baking aisle, it seems like the dates and the water will never mingle. But then, with some patience, stirring, and a little heat, the dates come together to make a rich filling.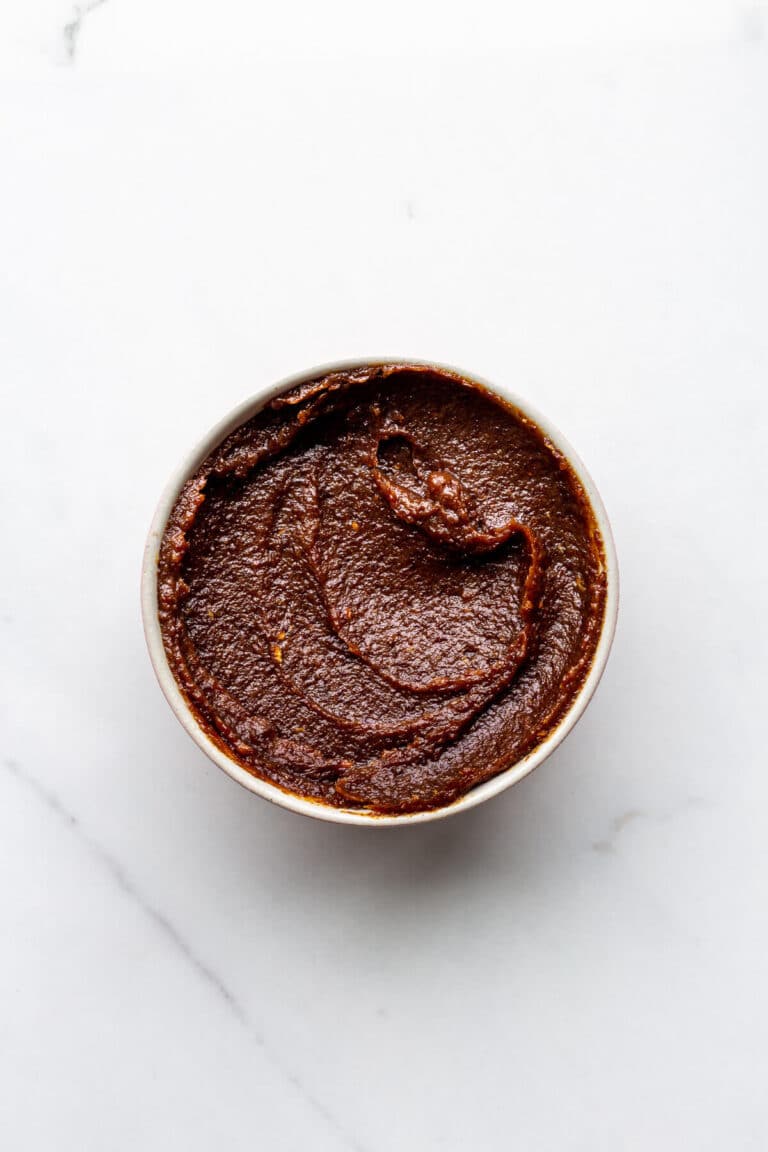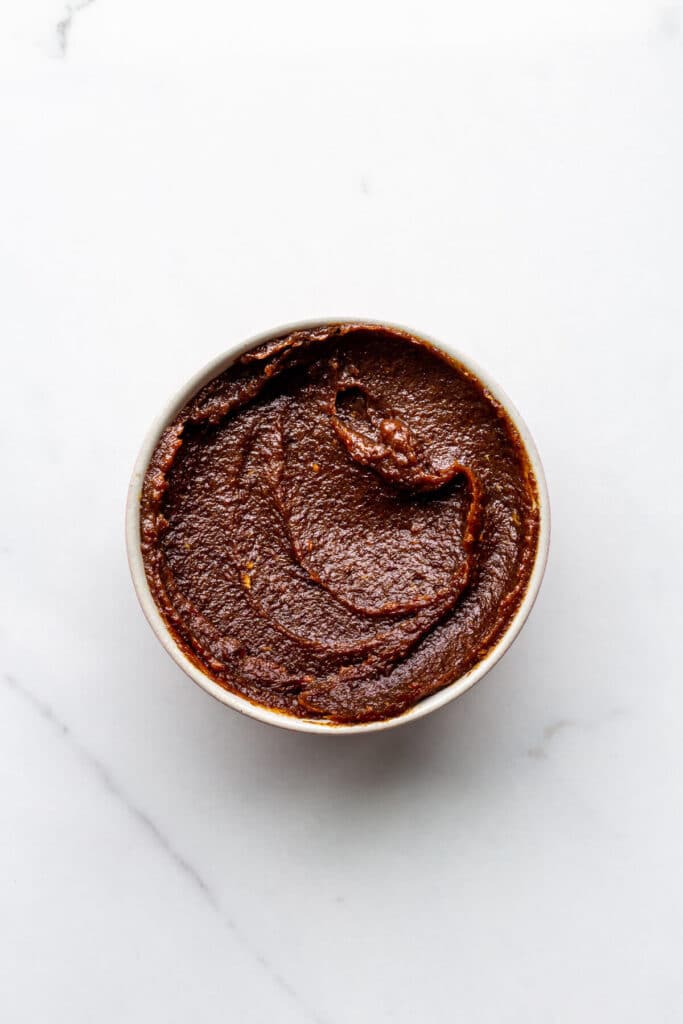 Some will add baking soda to the pan in order to help the dates break down, to soften the skins, and to speed up the process, but I don't think it's necessary. In the end the hydrated date paste can be blended in the food processor to smooth it out if need be. No need for baking soda.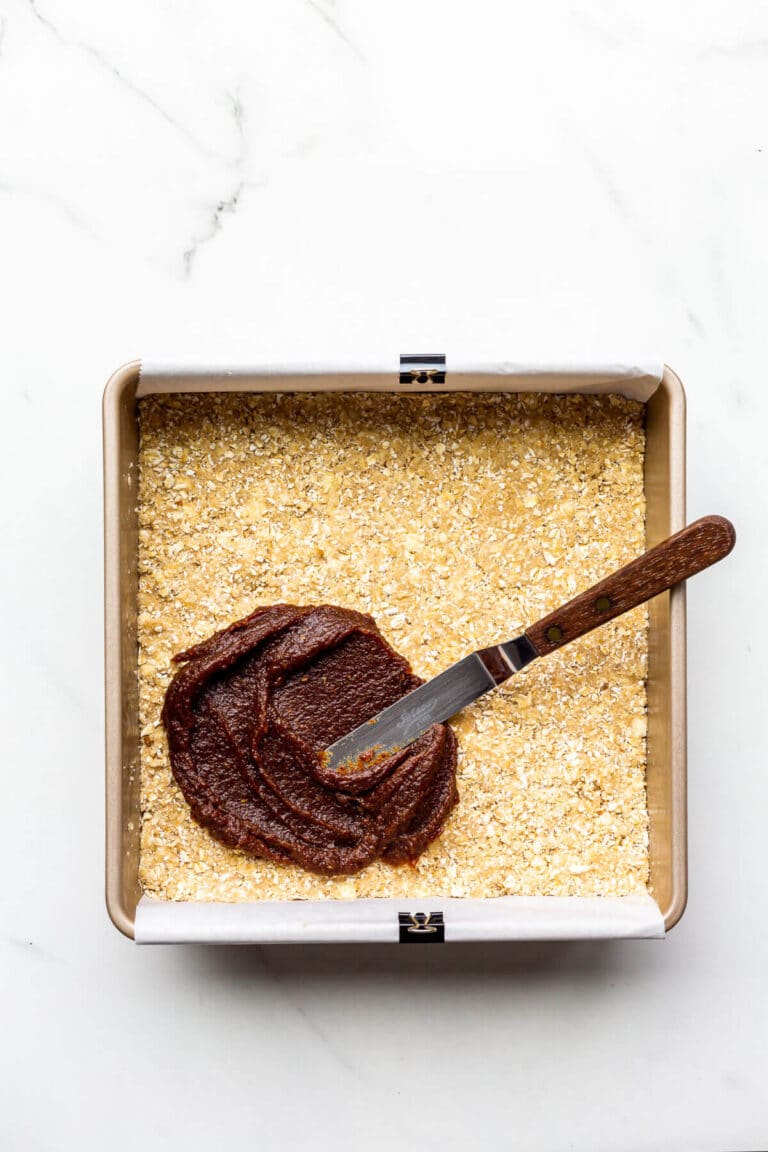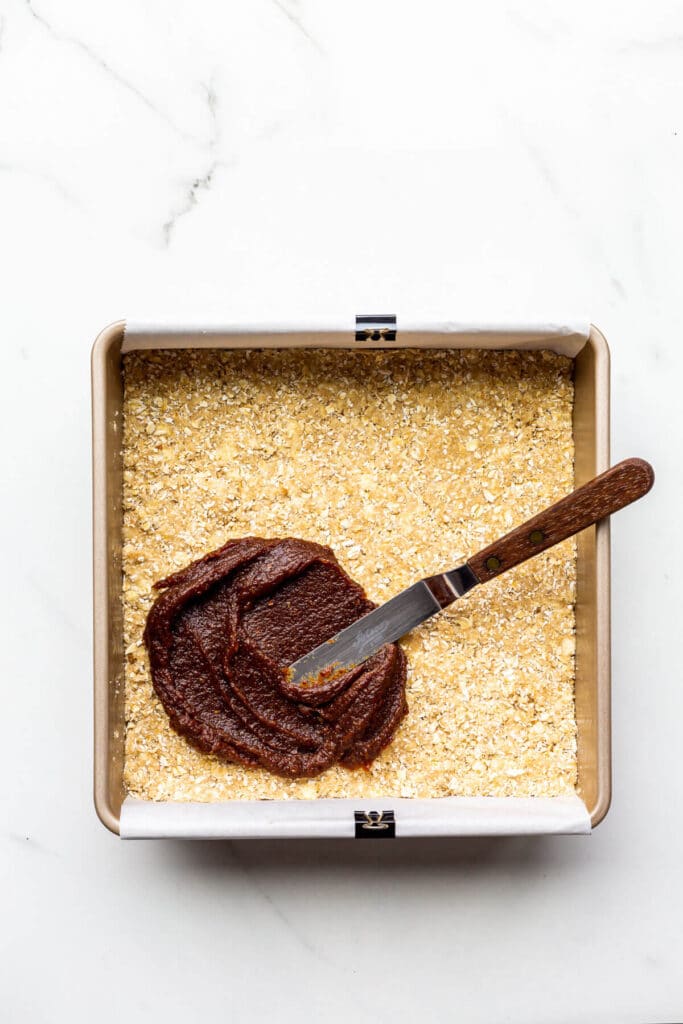 The baking soda may also neutralize some of the tannins which can lead to an astringent taste or mouthfeel. I've honestly never noticed any astringency without the baking soda, so I skip it altogether these days.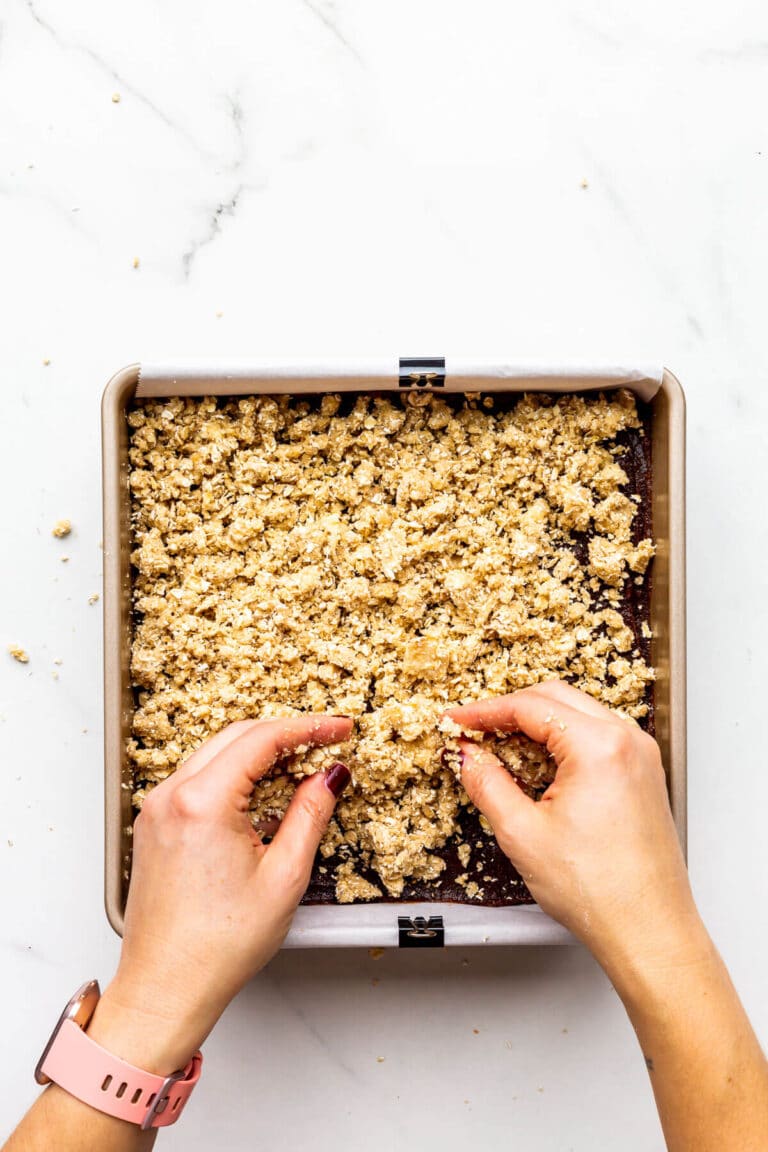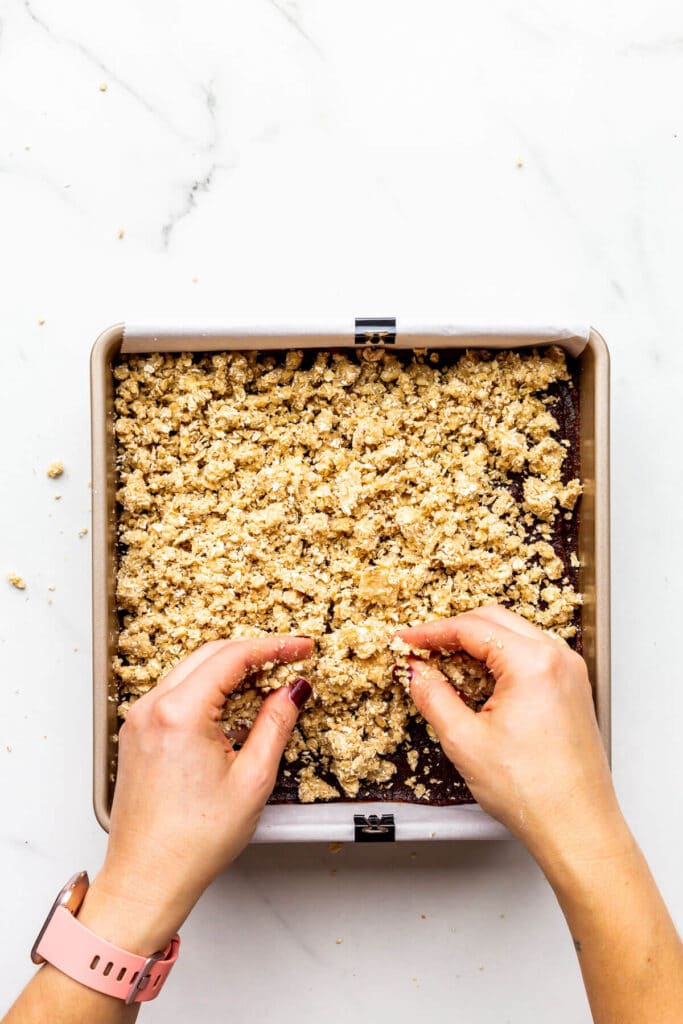 Special equipment to make this recipe
This recipe calls for a food processor for:
puréeing the rehydrated dates to make the date paste
mixing the oat crumble topping which is also used for the crust of the date bars
You will also need a baking pan, like a brownie pan, that is a square pan with 9 inch sides that is about 2 inches tall. I like this OXO pan, which is heavy duty and has a golden non-stick coating.
Whether the pan you use is non-stick or not, I do line the bottom with parchment paper, leaving an overhang on two of the sides. This is extra insurance so your bars unmould clean without sticking or breaking. I also recommend buttering any of the pan where the parchment doesn't cover, just in case.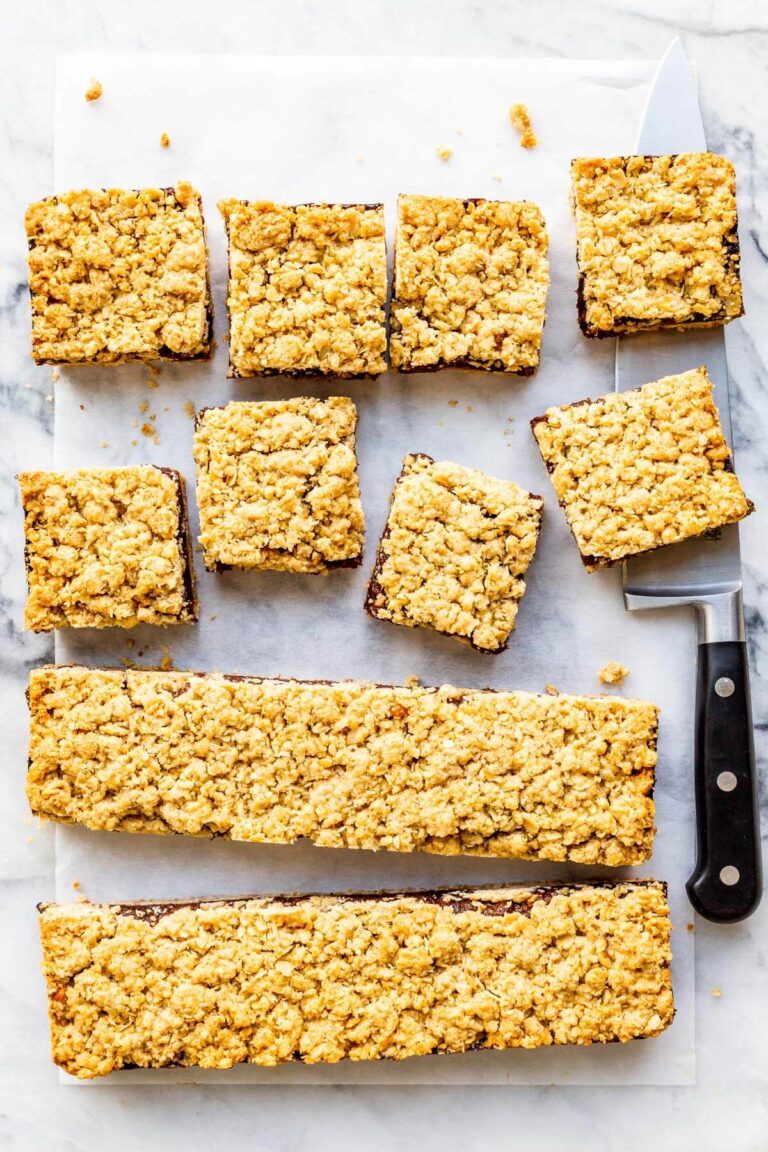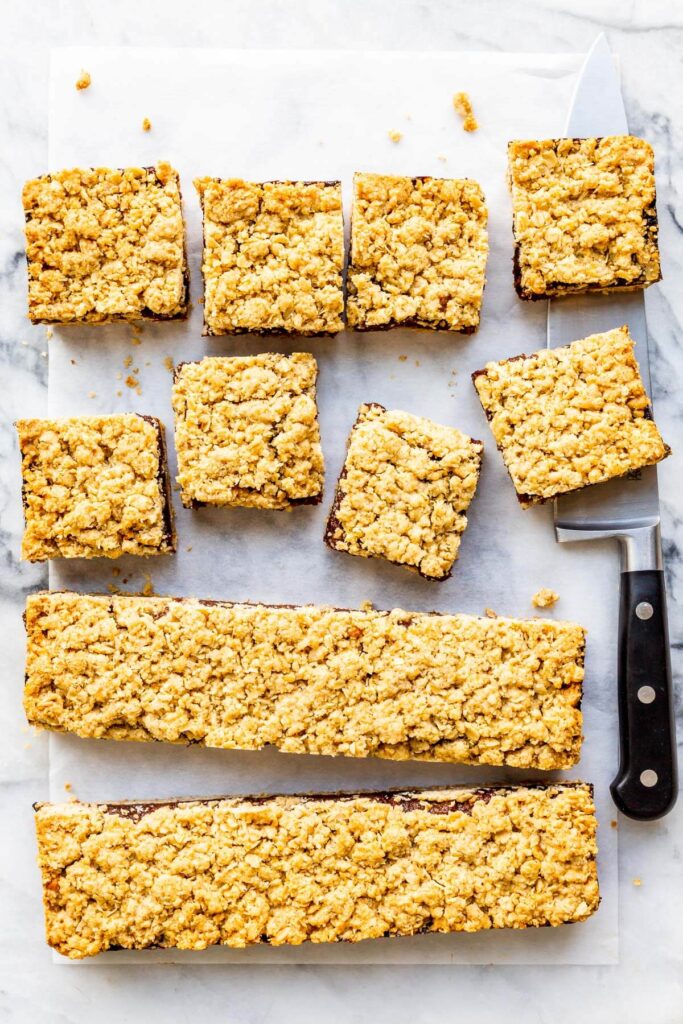 Making date squares without a food processor
Though this recipe does call for a food processor, it's not essential. If you don't have one:
use your fingers to make the crumble as you would a pie dough or any other fruit crisp, working the cold butter into the dry ingredients in a big bowl until you get the right texture.
use a fork to mash the dates really well as they heat up with the water. Also try adding a little baking soda to them to help them break down.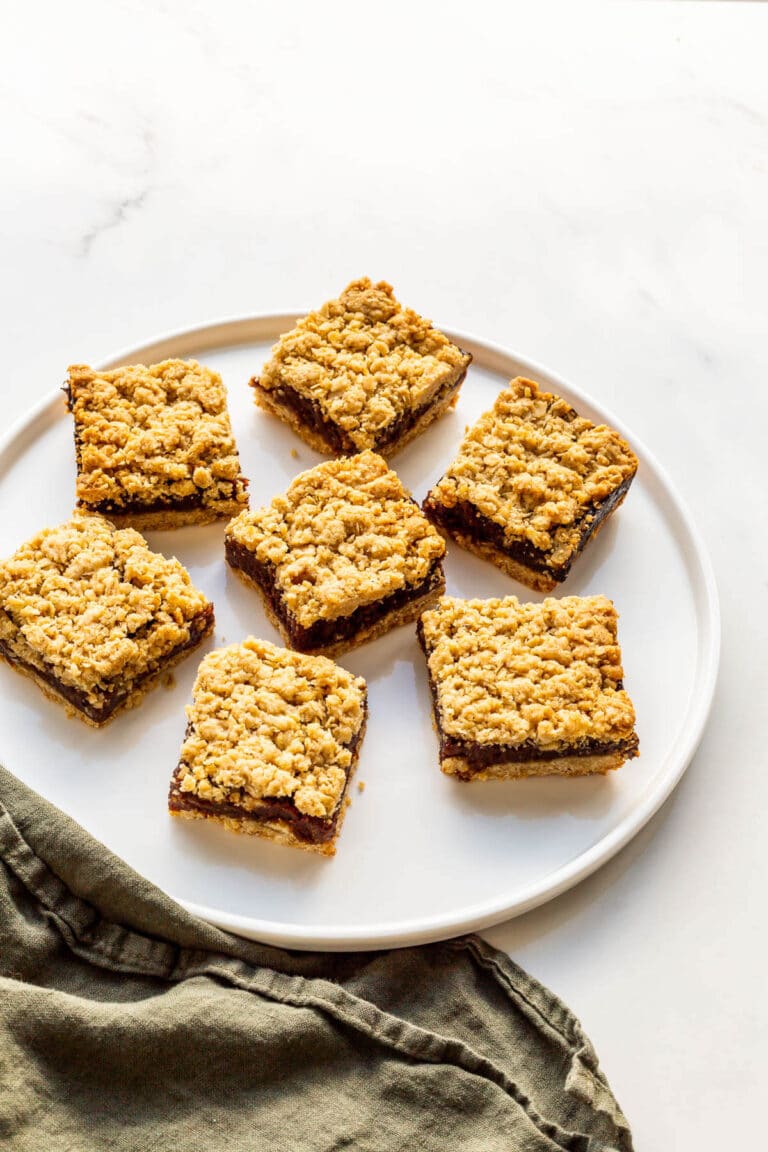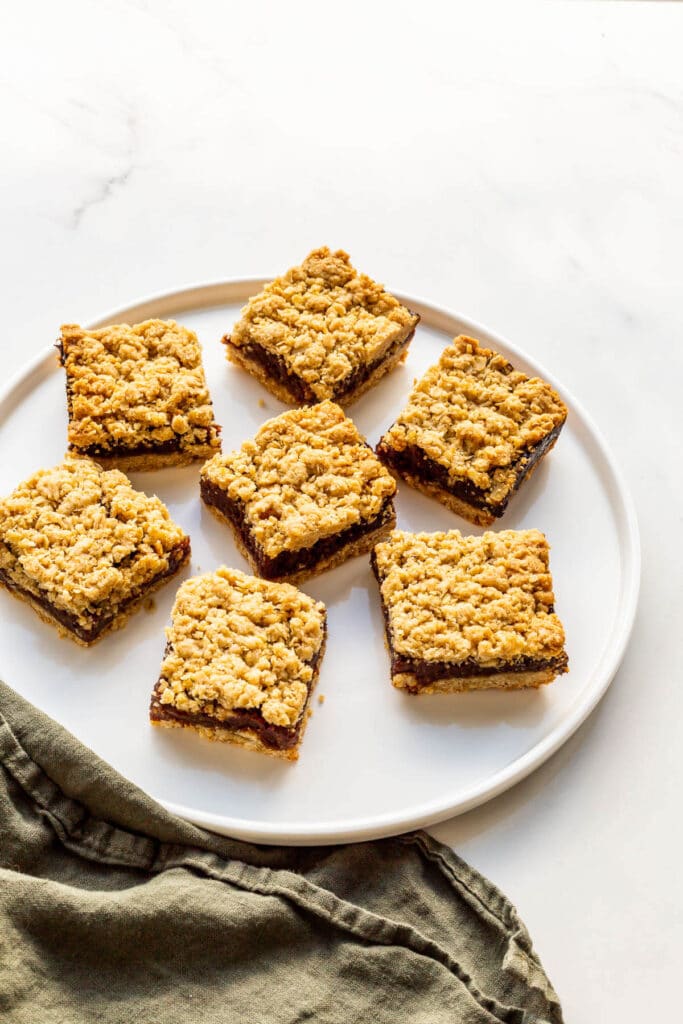 The resulting date squares made without a food processor will definitely have a more "rustic" look and feel to them, but they will be just as yummy to eat!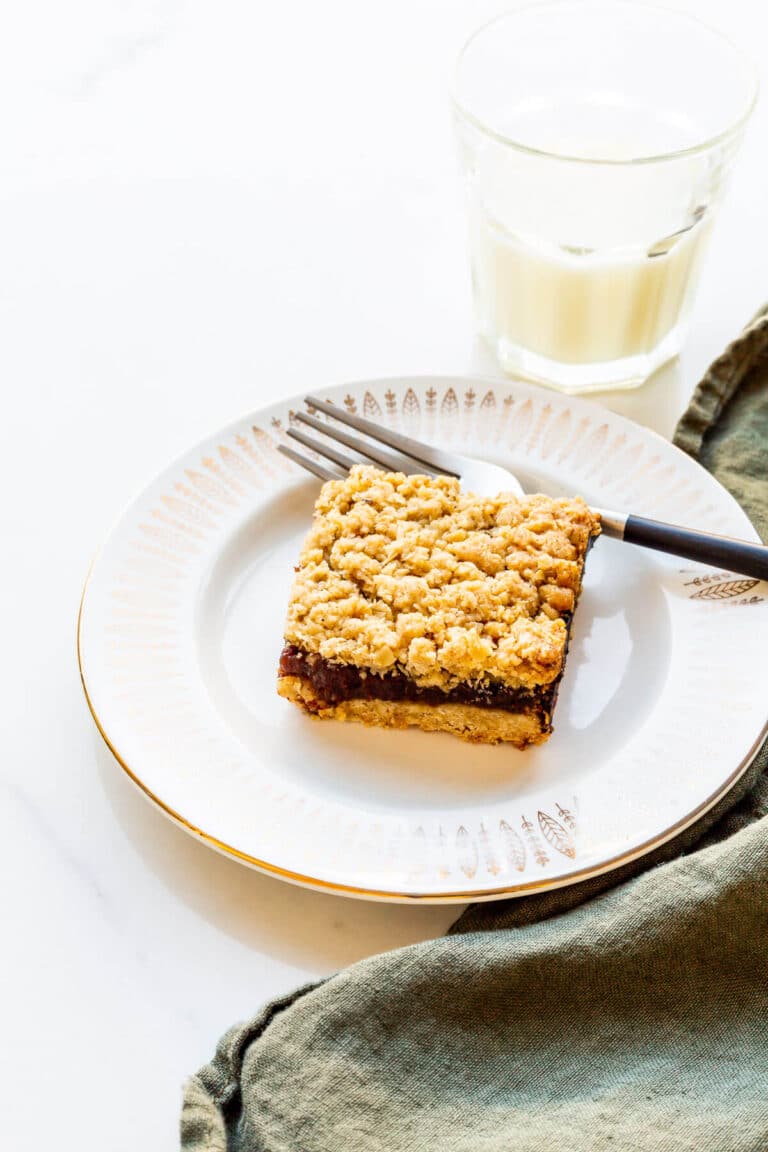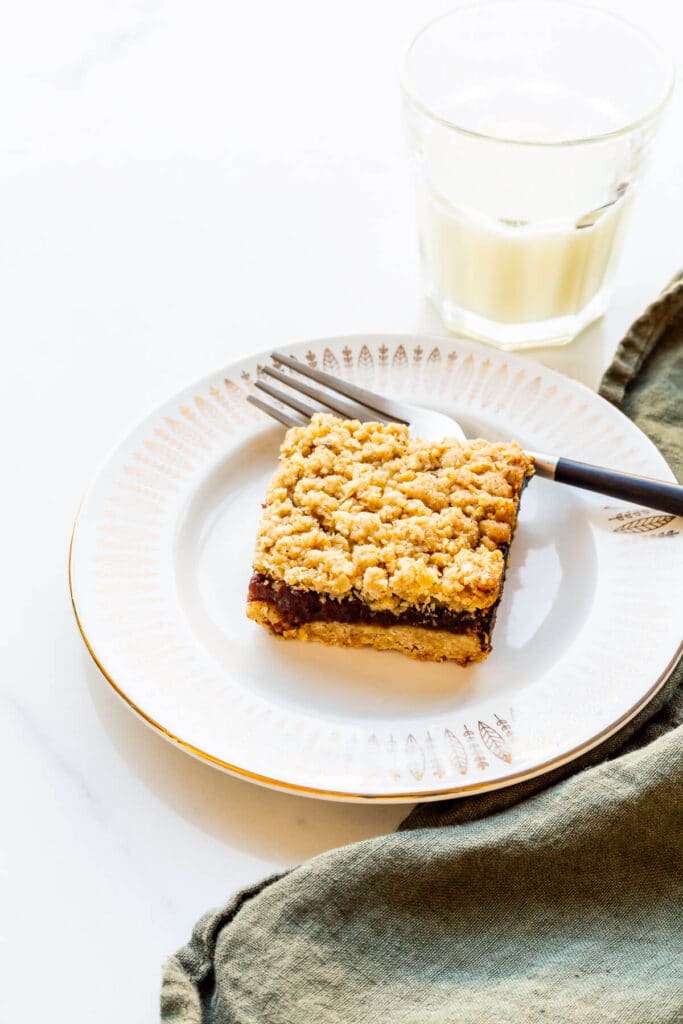 This is my go-to recipe for the best date squares because they are all about the dates: there is no lemon or orange zest here to interfere with the floral, earthy character of the dates. These bars cut perfectly, store well, and they are sturdy enough that you can wrap them and eat them without creating a crumbly mess!
Storage
Store date squares in the pan, covered, for up to one week. For long-term storage, cut the bars into squares and freeze them on a parchment-lined sheet pan until frozen solid, then slide them into a freezer bag to store in the freezer for up to 6 months.
To defrost these, you can take them out of the bag and set them on a sheet pan to defrost overnight in the fridge. I like to keep a stash in the freezer and take one bar out at a time when I'm craving them. I defrost the date bar in the microwave on a small plate at power level 5 for up to 1 minute. They get nice and soft and warm!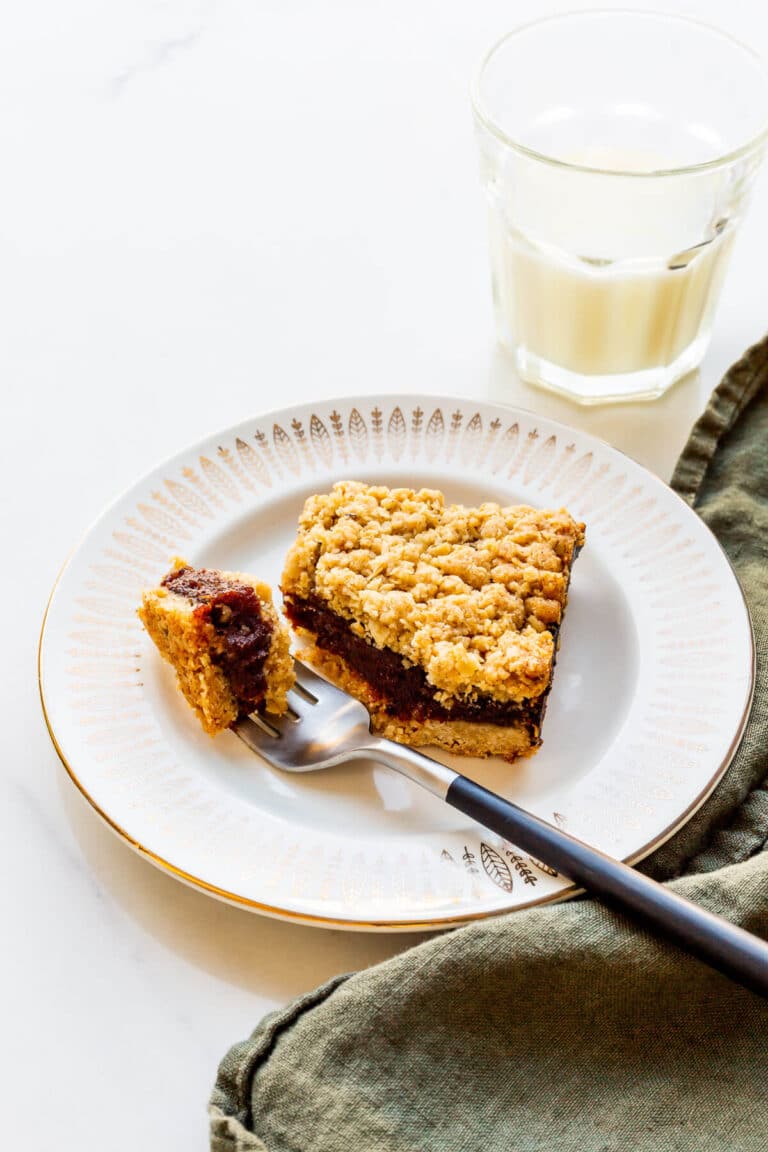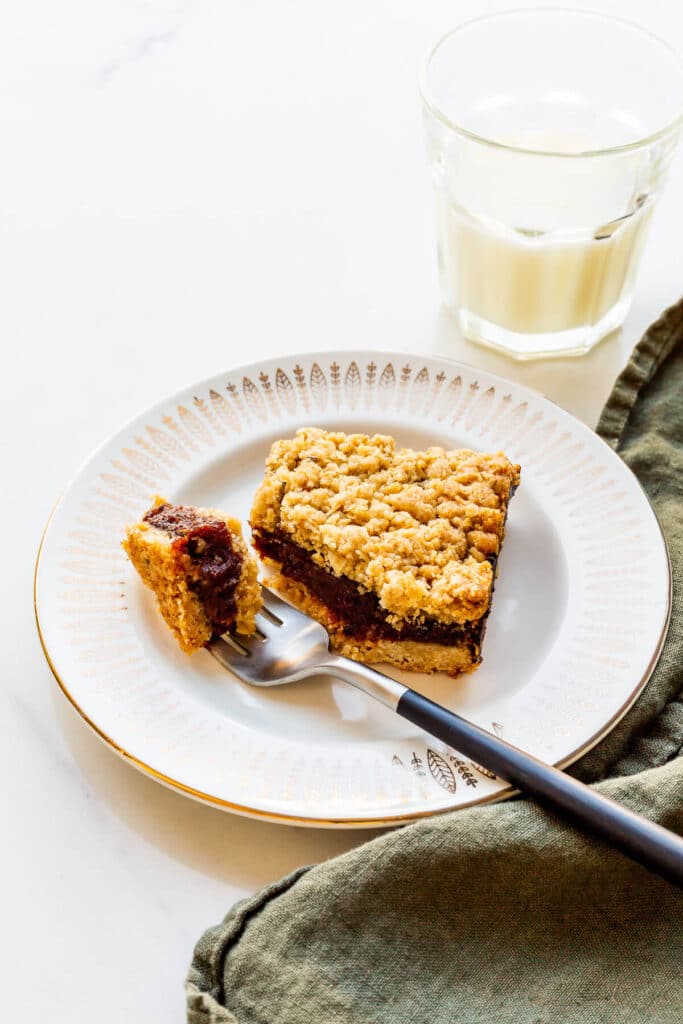 This recipe for date squares also makes a great no-fuss weeknight dessert and you can make it fancy by serving these à la mode, with vanilla bean ice cream, for example!
📖 Recipe
Date squares
Date squares are easy with an oat crumble topping that doubles as the base for these bars.
Ingredients
Date filling
550

grams

(

4

cups

)

dates

,

such as Jaffa brand

250

mL

(

1

cup

)

water

5

mL

(

1

teaspoon

) pure vanilla extract
Oat crust and crumble topping
225

grams

(

2½

cups

)

rolled oats (or large flake oats)

150

grams

(

¾

cup

) light brown sugar

125

grams

(

1

cup

)

bleached all-purpose flour

2.5

mL

(

½

teaspoon

) Diamond Crystal fine kosher salt

0.625

mL

(

⅛

teaspoon

)

ground cinnamon

230

grams

(

1

cup

)

unsalted butter

,

cubed, very cold
Instructions
Preheat the oven to 350°F.

Prepare a 9×9-inch brownie pan (I use a metal pan) by greasing it and fitting a square of parchment at the bottom.
To make the date filling
Place the dates with the water in a saucepan. Stir over medium–low heat. After 5–10 minutes, the dates will absorb all the water, soften, break open, and form a paste. Transfer the paste to a food processor, and blend until smooth (this is not absolutely necessary, but this will chop up the dates skins nicely giving a more even texture to the paste). Add the vanilla and blend for a few seconds more. Transfer to a bowl and refrigerate to cool it down fast.
To make the oat crust and crumble topping
In the bowl of a food processor, pulse together the oats, sugar, flour, salt, and cinnamon. Add in the cold butter and pulse it with the flour/oat mixture to form a crumble. You can also do this by hand like the topping for a fruit crisp.

Pour half of the mixture into the prepared pan. Press it down (with your fingers or the flat bottom of a glass). Be sure to get into the corners. You want a good tight base for your squares.

Top the base with the date paste, smearing it carefully to coat the base evenly with a small offset spatula.

Top with the rest of the crumble, scattering it evenly over the date filling with your hands. You can gently press the crumble very lightly into the date paste to anchor it in place.

Bake the squares for 45 to 55 minutes, until the edges begin to turn golden brown. Colour is flavour and the longer baking time ensures the bottom crust is properly baked.

Remove the pan from the oven and set on a rack to cool completely. Once the bars are room temperature, refrigerate them for at least 1 hour until really cold so that cutting them is easier. Cut into 16 squares and serve.
Give back
If you enjoy the free content on this website, say thank you!
Nutrition
Calories:
318
kcal
|
Carbohydrates:
51
g
|
Protein:
4
g
|
Fat:
13
g
|
Saturated Fat:
8
g
|
Polyunsaturated Fat:
1
g
|
Monounsaturated Fat:
3
g
|
Trans Fat:
1
g
|
Cholesterol:
31
mg
|
Sodium:
67
mg
|
Potassium:
301
mg
|
Fiber:
4
g
|
Sugar:
31
g
|
Vitamin A:
363
IU
|
Vitamin C:
1
mg
|
Calcium:
34
mg
|
Iron:
1
mg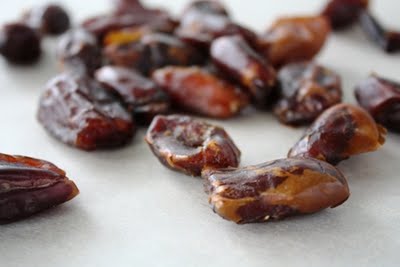 Other recipes to bake with dried dates
If you love dates as much as I do, here's a list of other recipes you can bake with dates: