These date bran muffins made with All Bran cereal and buttermilk so that they are moist and fluffy on the day they are baked, and they firm up by the next day so they taste great toasted and slathered with salted butter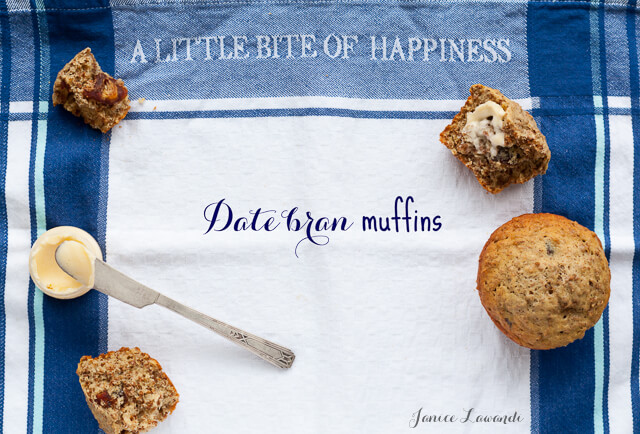 Bran muffins don't have the best reputation. It's too bad because date bran muffins are actually a favourite of mine. Served warm with lots of salted butter, there's nothing better!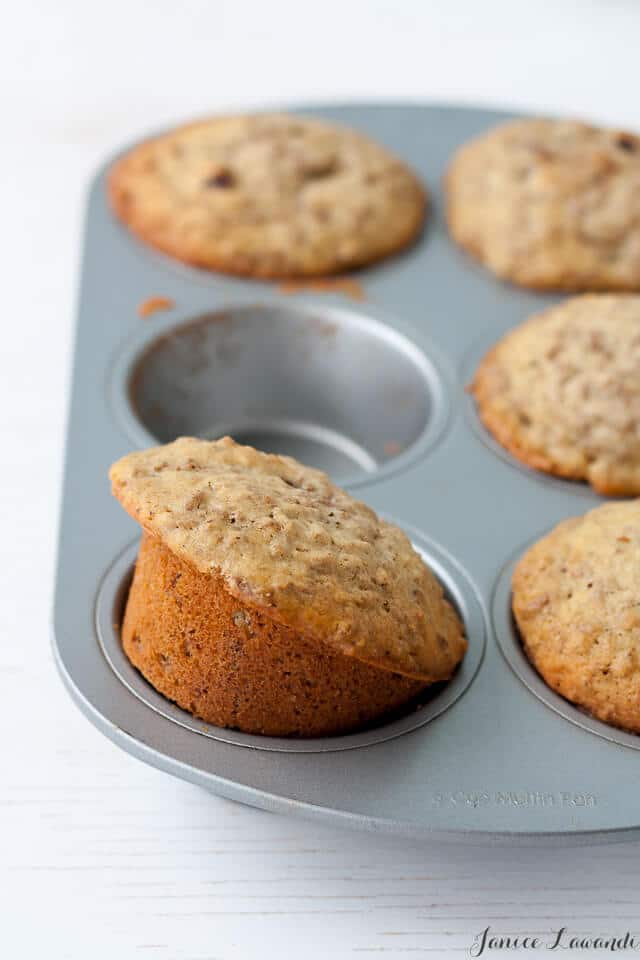 My mom was (and still is) the type of mom who would make us bran muffins as a snack. Sure, she made other kinds of muffins too, but the bran muffins were different. See, my little brother likes his bran muffins with raisins. Yuck. Raisins have no place in my bran muffins. I love dates in my bran muffins, and I don't think I ever want to deviate or be forced into eating a bran muffin with some "other" dried fruit. So on days when my mom made us bran muffins, rather than favour one child over another and to avoid having to force one child to eat a bran muffin made with something they didn't like (raisins? yuck!), she made a batch of bran muffins with raisins, and a batch of muffins with dates. Clearly, we were very lucky because we each got the bran muffin we wanted.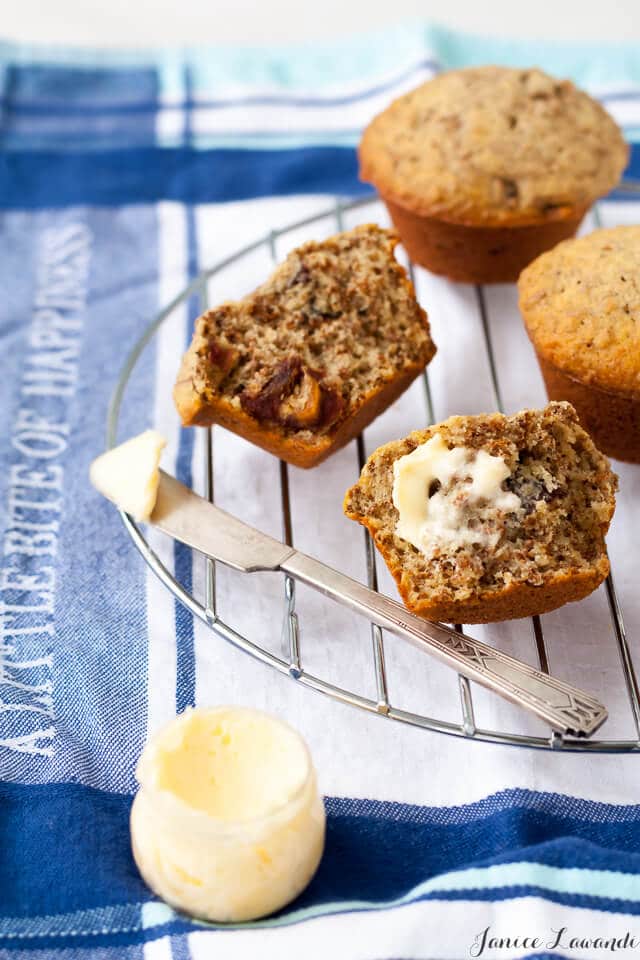 This is not the recipe my mom used to make because she used to follow "the recipe on the box of the All-Bran cereal." Unfortunately, the box of All-Bran I picked up came without a recipe. So I googled a bunch of recipes and put together this version. These are made with All Bran cereal, just like my mom used to make. If you would prefer a muffin with wheat bran, check out this recipe for blueberry bran muffins.
These muffins are not too sweet and made with Medjool dates, and not raisins, just like I like them. Fresh from the oven, these muffins are tender and airy, but as they cool, they firm up into the perfect muffin to slice in half and slather with an obscenely thick layer of Stirling Creamery salted butter. I even add a little sprinkling of salt over the thick layer of butter. I don't think it can get any better than this.
By the way, I am not a complete raisin hater (I've put them in crispy oatmeal raisin cookies), just don't put them anywhere near my bran muffin. OK? And if date bran muffins are not your thing (what?), You've got other options, like:
Date bran muffins made with All Bran
Date bran muffins made with All Bran are light and moist fresh from the oven, but they also taste great toasted with salted butter
Ingredients
115

grams

(

½

cup

)

Stirling Creamery unsalted butter

2

large egg(s)

1

teaspoon

(

1

teaspoon

) pure vanilla extract

315

mL

(

1¼

cups

)

buttermilk (1 % fat)

or 300 mL milk + 1 tablespoon cider vinegar

100

grams

(

½

cup

)

granulated sugar

100

grams

(

⅓

cup

)

pure maple syrup

144

grams

(

2

cups

)

All-Bran Original cereal

250

grams

(

2

cups

)

bleached all-purpose flour

1 ½

teaspoon

(

1 ½

teaspoon

)

baking soda

200

grams

(

1½

cups

)

medjool dates

about 15 dates, pitted and chopped
Instructions
Preheat the oven to 350ºF. Grease two 6-muffin pans and set aside.

Put the butter in a small saucepan and heat on high to brown the butter. Transfer to a bowl and let cool.

In a large bowl, whisk together the eggs, vanilla extract, buttermilk, sugar, and maple syrup. When the wet ingredients are really well mixed, add in the All-Bran and stir.

Switch to a wooden spoon. Pour the flour and baking soda over the wet mixture, but before you stir, take a spoonful of the flour out to mix with the chopped dates.

Mix the dry ingredients until they are almost gone, then add in the browned butter and the dates, and stir til the batter is just mixed (don't overwork it!).

Divide the muffin batter between the two pans and bake for about 22 minutes or until they have puffed and the edges are beginning to brown.

Let cool in the pan for 5 or so minutes before twisting each of the muffins to release them onto a wire rack to cool. Serve warm with lots of butter and salt.
Give back
If you enjoy the free content on this website, say thank you!
Nutrition
Calories:
304
kcal
|
Carbohydrates:
53
g
|
Protein:
6
g
|
Fat:
10
g
|
Saturated Fat:
6
g
|
Cholesterol:
51
mg
|
Sodium:
229
mg
|
Potassium:
325
mg
|
Fiber:
5
g
|
Sugar:
28
g
|
Vitamin A:
557
IU
|
Vitamin C:
2
mg
|
Calcium:
106
mg
|
Iron:
3
mg
I do my best to bake with the finest ingredients. Stirling Creamery, a Canadian company, has provided the butter for this post.