These date bran muffins are made with All Bran cereal and buttermilk so that they are moist and fluffy on the day they are baked, and they firm up by the next day so they taste great toasted and slathered with salted butter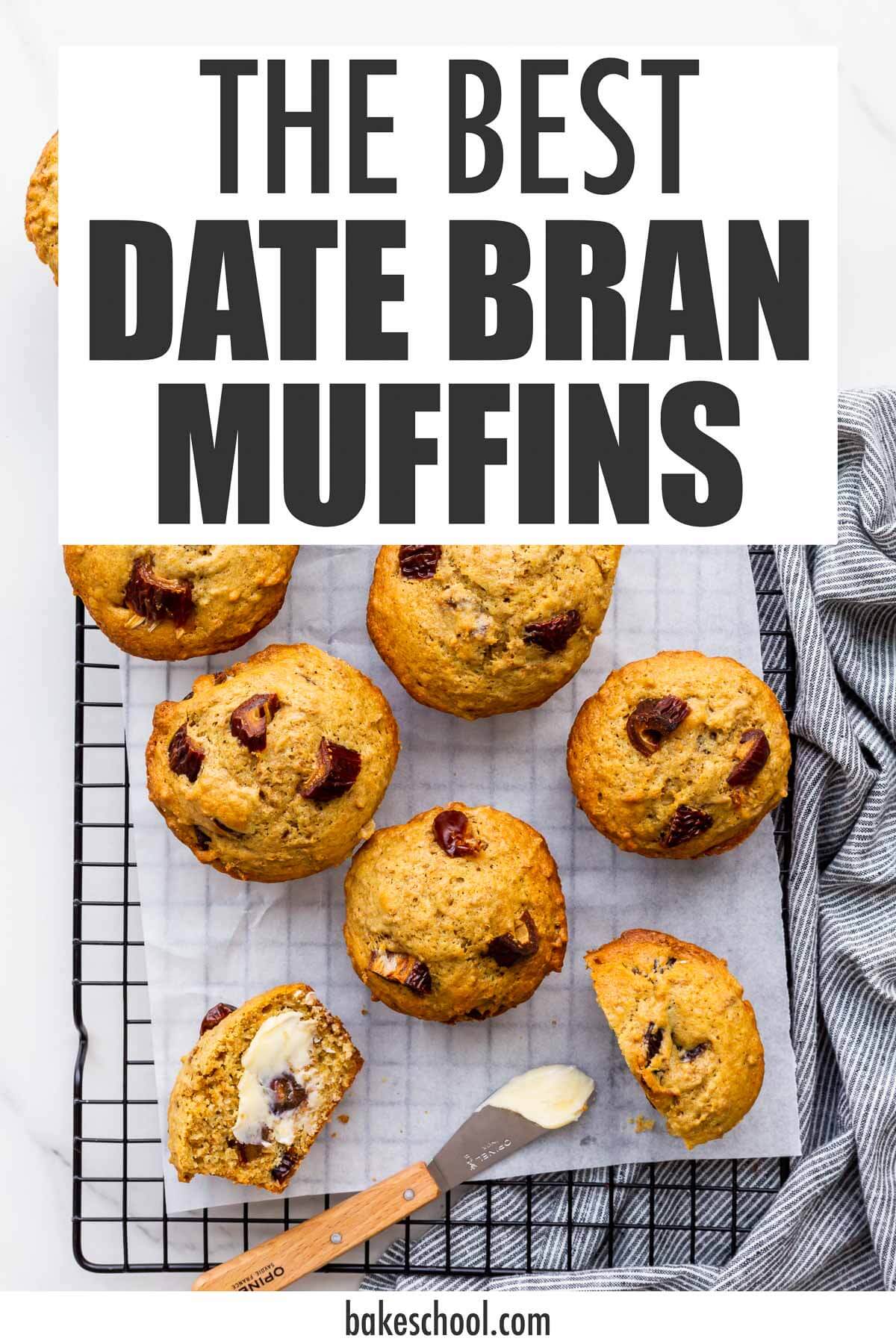 Disclosure: As an Amazon Associate, I earn from qualifying purchases.
Bran muffins don't have the best reputation. It's too bad because date bran muffins are actually a favourite of mine. Served warm with lots of salted butter, there's nothing better!
These muffins are not too sweet and made with Medjool dates, and not raisins, just like I like them. Fresh from the oven, these muffins are tender and airy, but as they cool, they firm up into the perfect muffin to slice in half and slather with an obscenely thick layer of salted butter. I even add a little sprinkling of salt over the thick layer of butter. I don't think it can get any better than this.
These are made with All Bran cereal, just like my mom used to make. If you are a fan of dates, you should also try these date scones! If you would prefer a muffin with wheat bran, check out this recipe for blueberry bran muffins.
Jump to: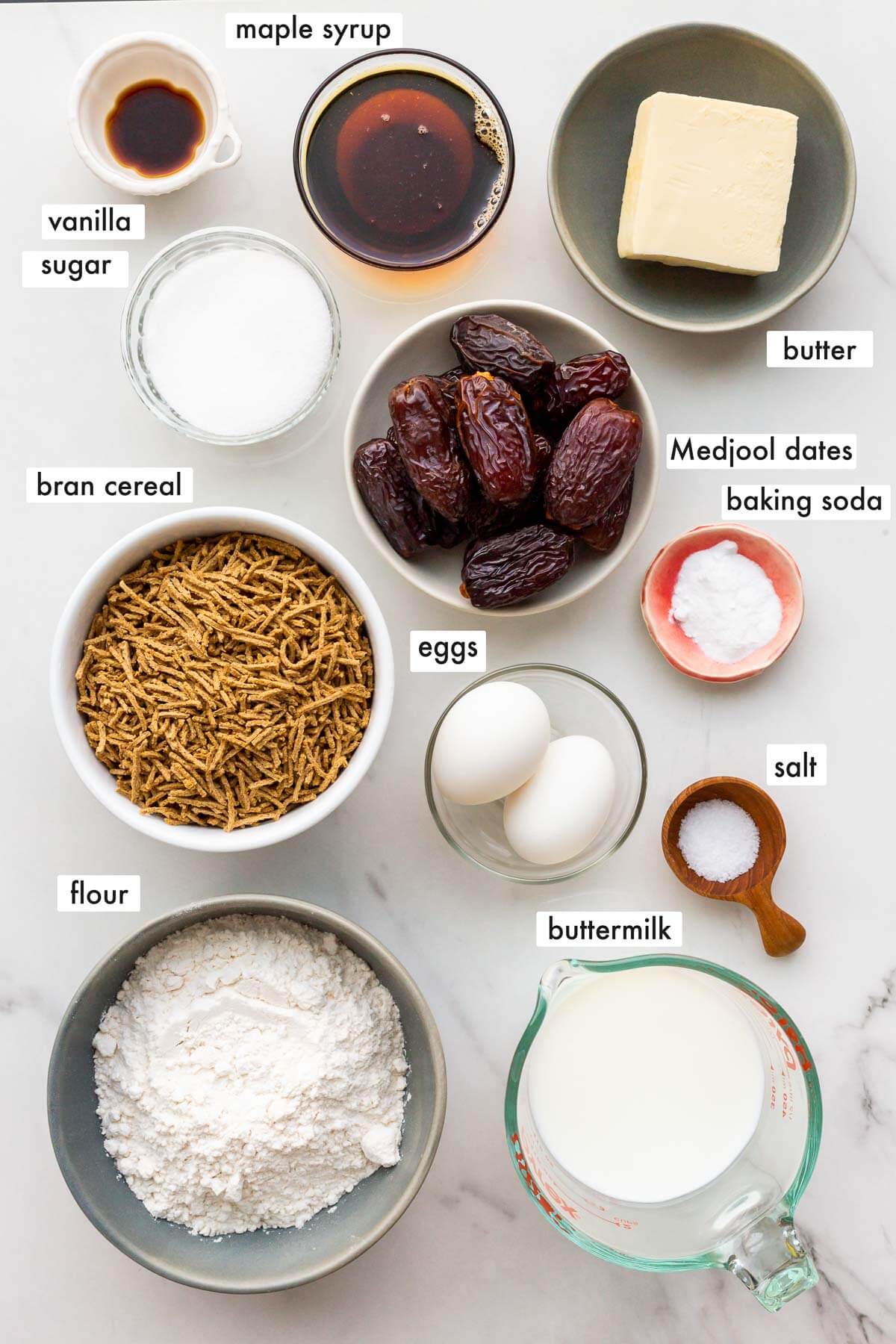 What you need to make date muffins
The good thing about making muffins is that you just need a few fridge and pantry staples and you likely won't need to make a trip to the grocery store to make these!
butter, preferably unsalted butter, but if you have salted, it will work. Just adjust the salt in the recipe accordingly, otherwise, your muffins may be too salty
granulated sugar is used though either light or dark brown sugar will also work and the flavour will be great!
maple syrup is used to add more flavour to the muffins
large eggs, don't use smaller eggs because your batter may be too dry and the muffins won't be tender
buttermilk is included with the wet ingredients to make sure these muffins are tender but also to add flavour
vanilla extract is added because otherwise they can be pretty bland and you need the flavour of vanilla to perk them up
all-purpose flour is needed to bind all the ingredients together and give the muffins structure
baking soda is the leavening agent used here. Baking soda contributes to the tenderness of these muffins, as well as the rise. Read up on baking soda vs baking powder if you are unsure about the difference between them
salt is really important to bring out the flavour which can be very bland. Don't skip it. I like to use Diamond Crystal fine kosher salt, but table salt will work, though the muffins will be saltier and you may want to halve the salt in that case
dried dates—either pitted Medjool dates or regular pitted dates, though I prefer Medjool dates that are so flavourful and more tender and moist.
Substitutions
I really love dates in muffins and all baked goods, really. But not everybody does and that's okay! If you don't like dates, feel free to replace them with other dried fruit or chocolate, like the same volume of:
raisins

dried cranberries
dried apricots, chopped
chocolate chips
Other substitutions you may want to consider:
Buttermilk substitution: replace with acidified milk (made by mixing 1–2 % fat milk with white vinegar)
Granulated sugar: replace with the same weight of brown sugar
Butter: I used brown butter but you can also just use melted butter if you are short on time. Or replace it with the same volume of neutral oil like canola oil.
Variations
Nuts—you can't go wrong combining dates and nuts, like chopped walnuts or pecans, which would make a great addition to the muffin batter
Spices—feel free to add a teaspoon of cinnamon to the dry ingredients
Tip: if you'd prefer to top these muffins with streusel topping, use the streusel topping recipe from this pumpkin muffins recipe! Alternatively, you could also sprinkle the tops of the muffins with cinnamon sugar before baking.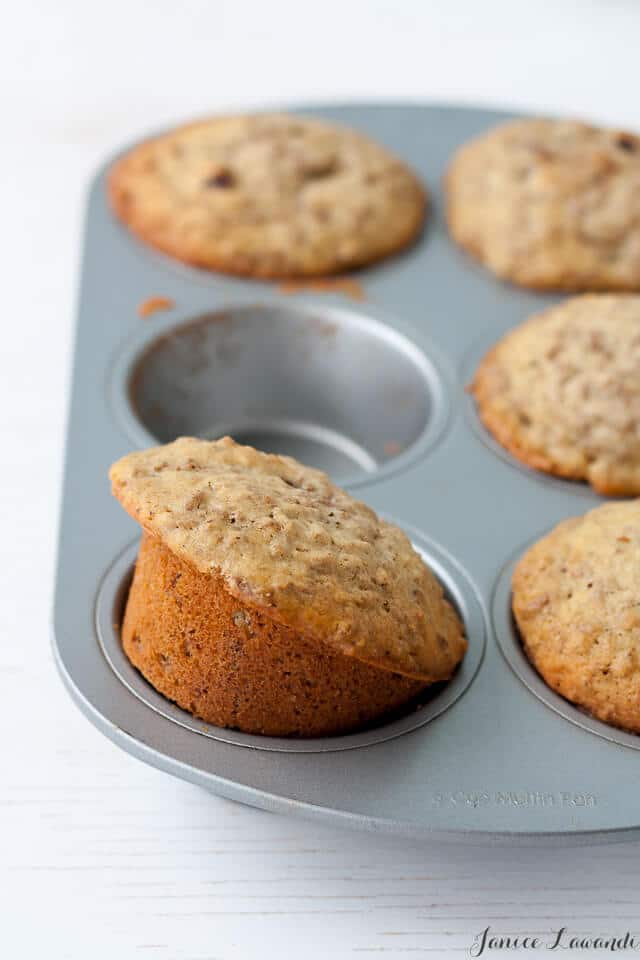 Special equipment
How to make them
Muffins are easy to make and this date muffin recipe is no exception! Remember that to make most muffins, you will use the two-bowl mixing method, also called the muffin method, where the wet ingredients are whisked separately from the dry ingredients.
For these muffins, we brown the butter to bring out a more nutty flavour. If you've never done this before, read about how to make brown butter.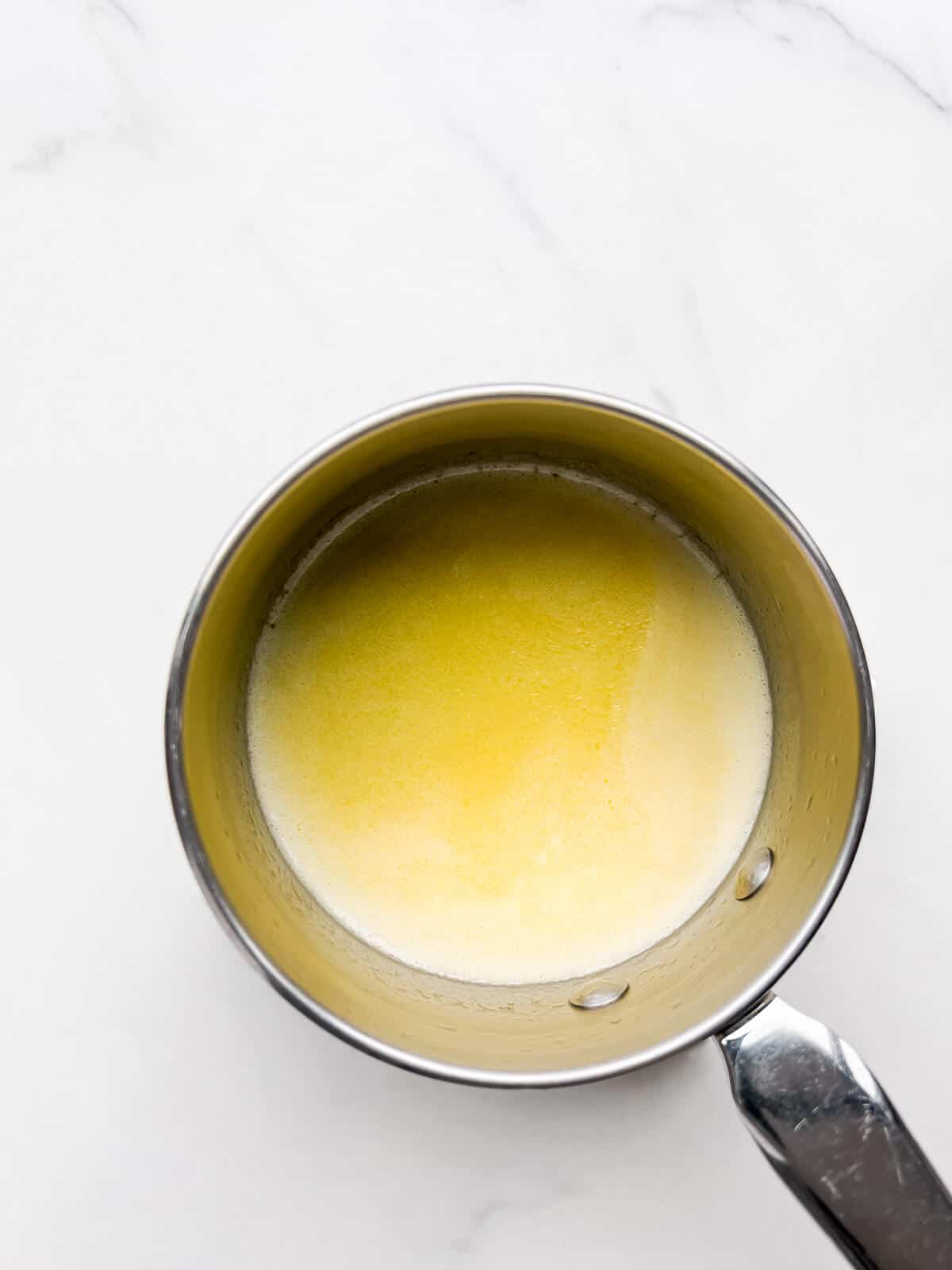 Place the butter in a small saucepan to melt it.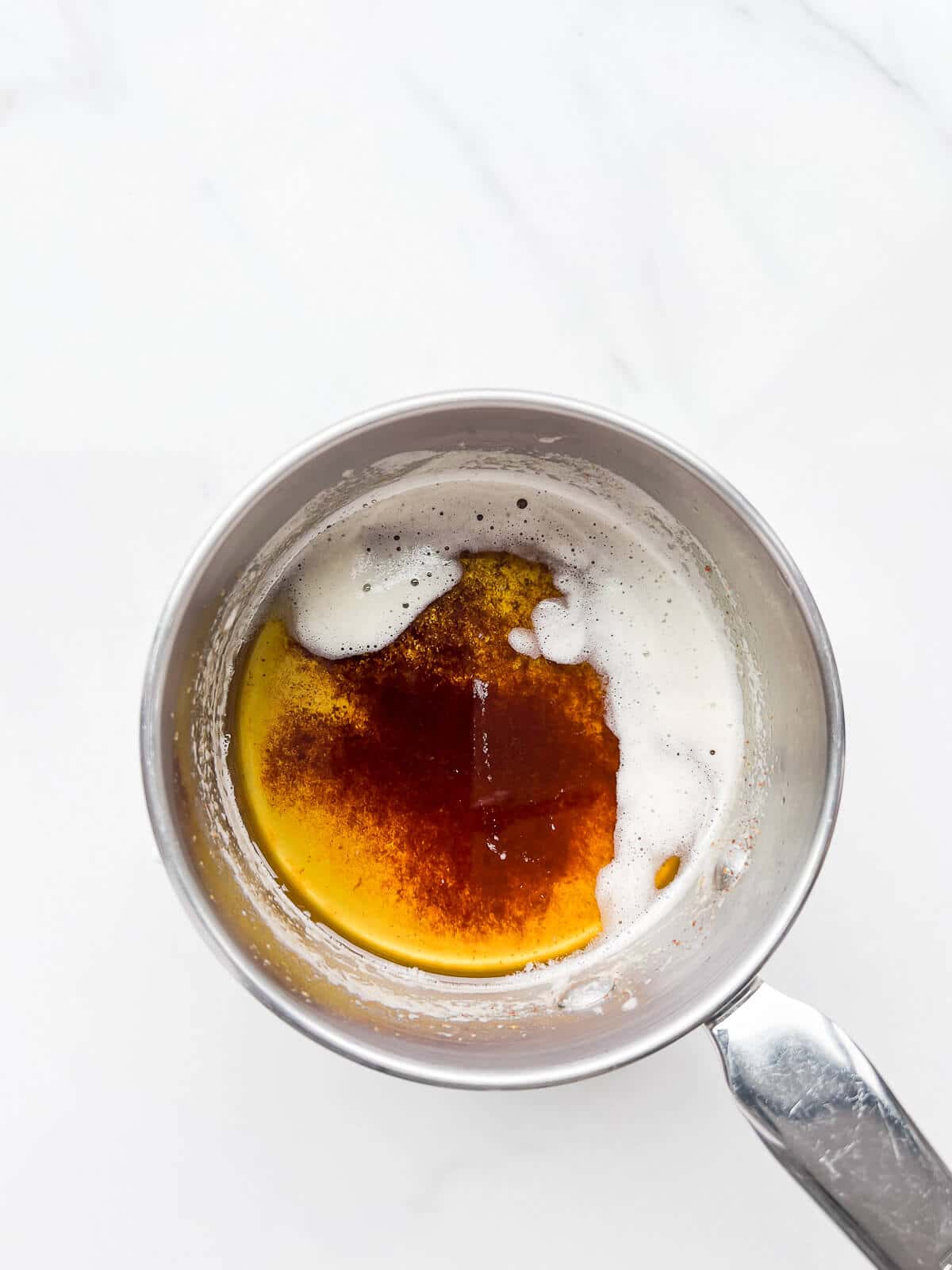 Continue to heat the butter until the milk solids brown and the mixture releases a pleasant, nutty aroma.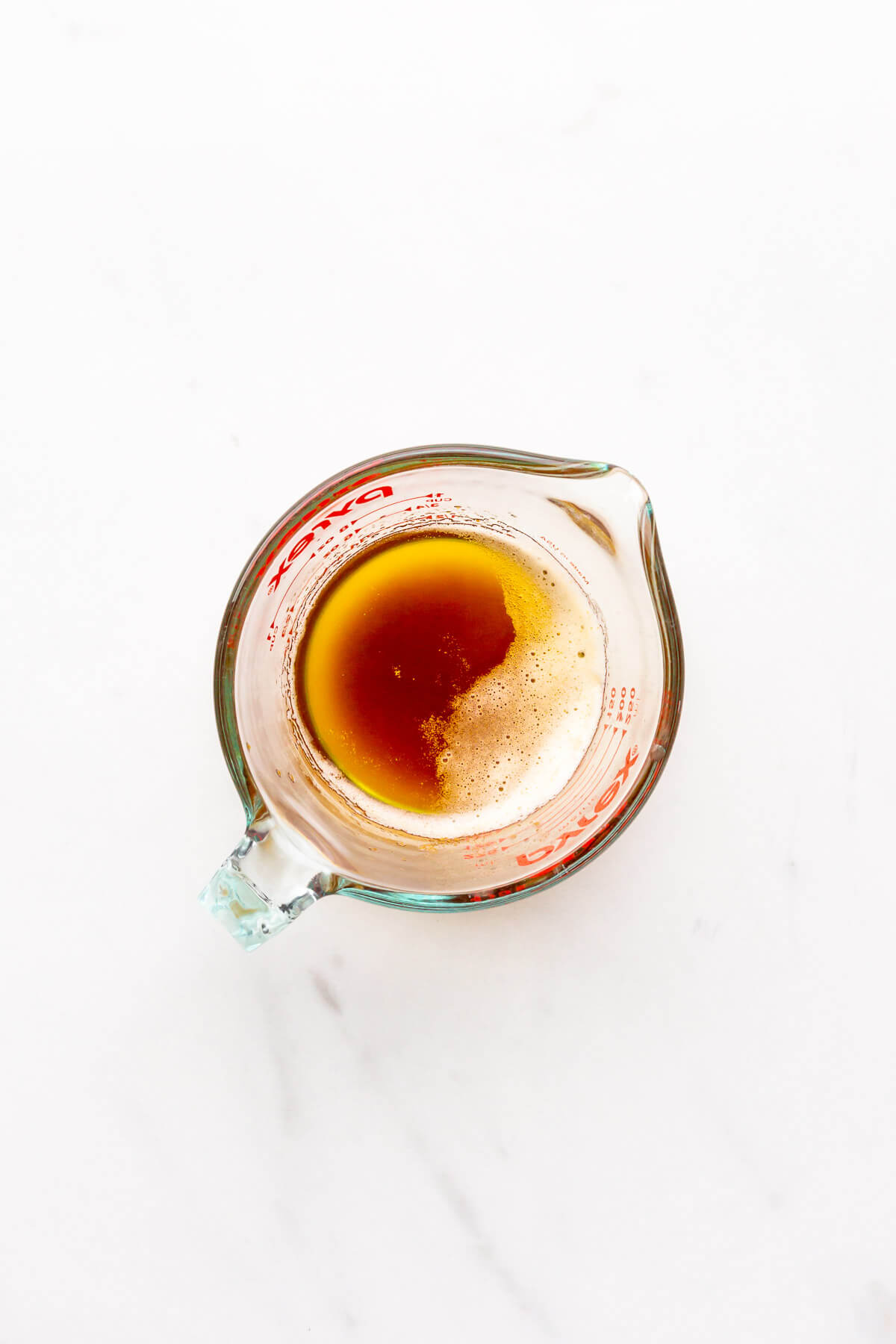 Transfer the brown butter to a bowl with a pouring spout or a measuring cup to cool down slightly while you prep the rest.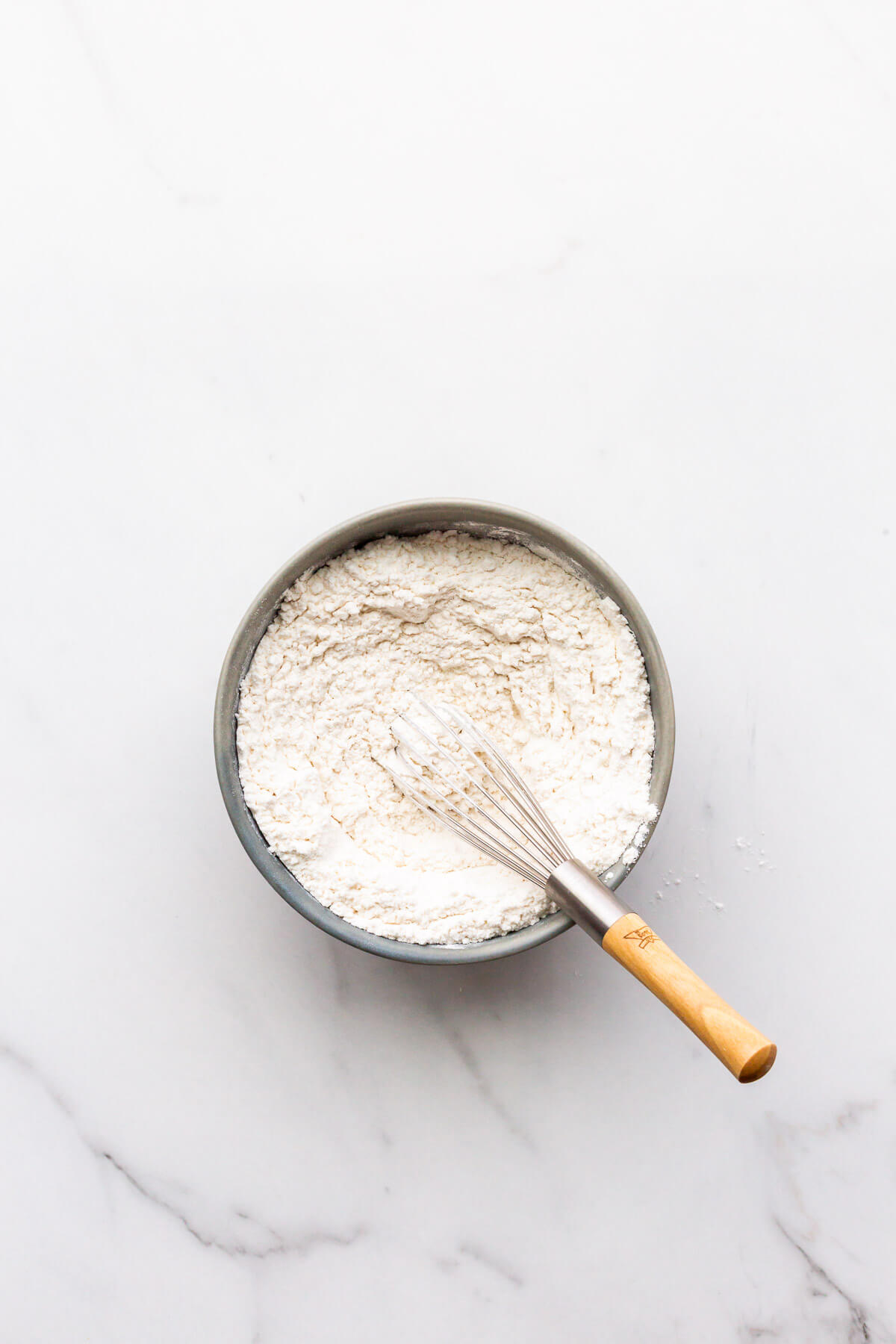 Whisk together the dry ingredients in a medium bowl (flour, baking soda, and salt).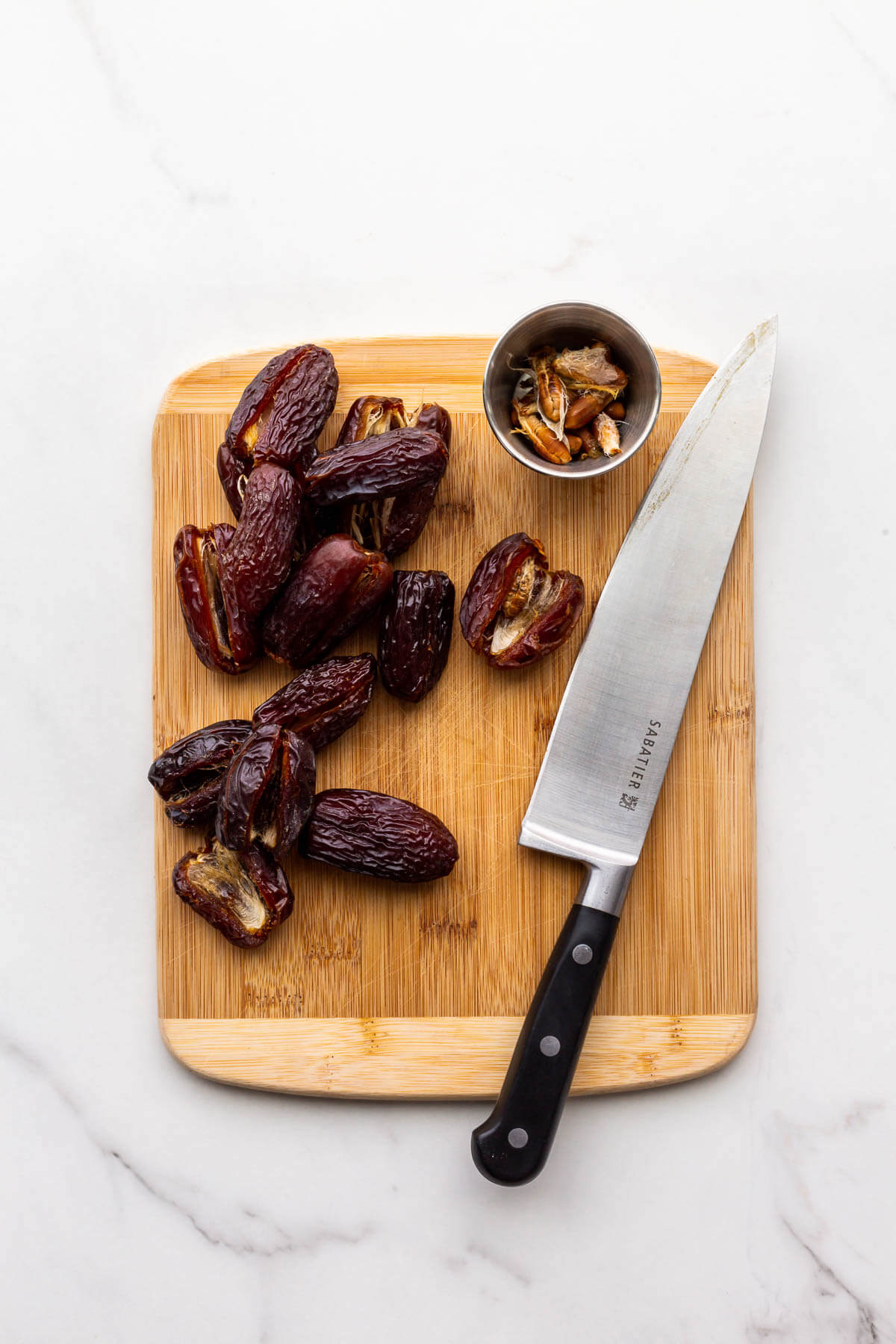 Prepare the dates by removing the pits and chopping them into smaller pieces on a cutting board.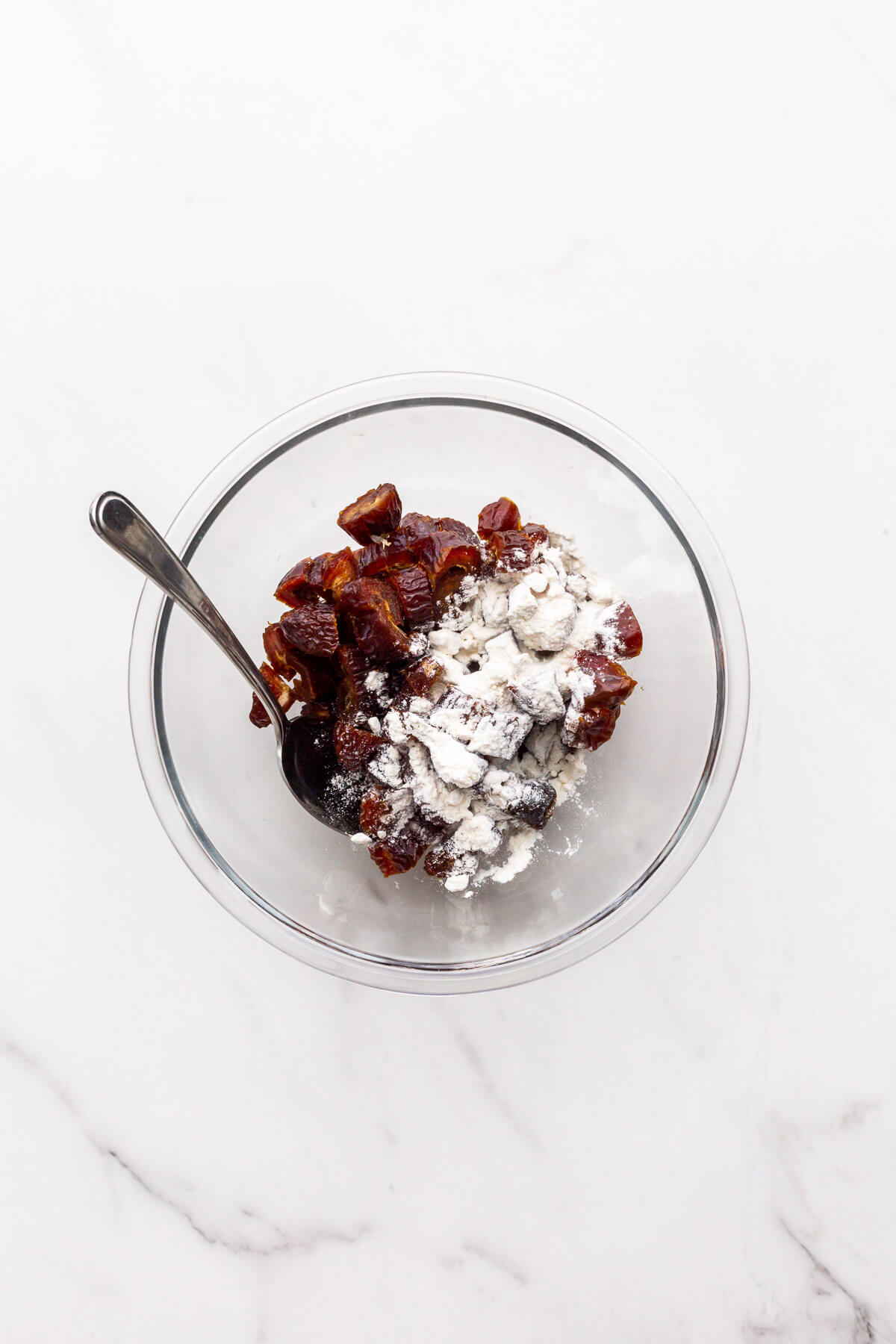 Toss the chopped dates in a spoonful of the flour mixture.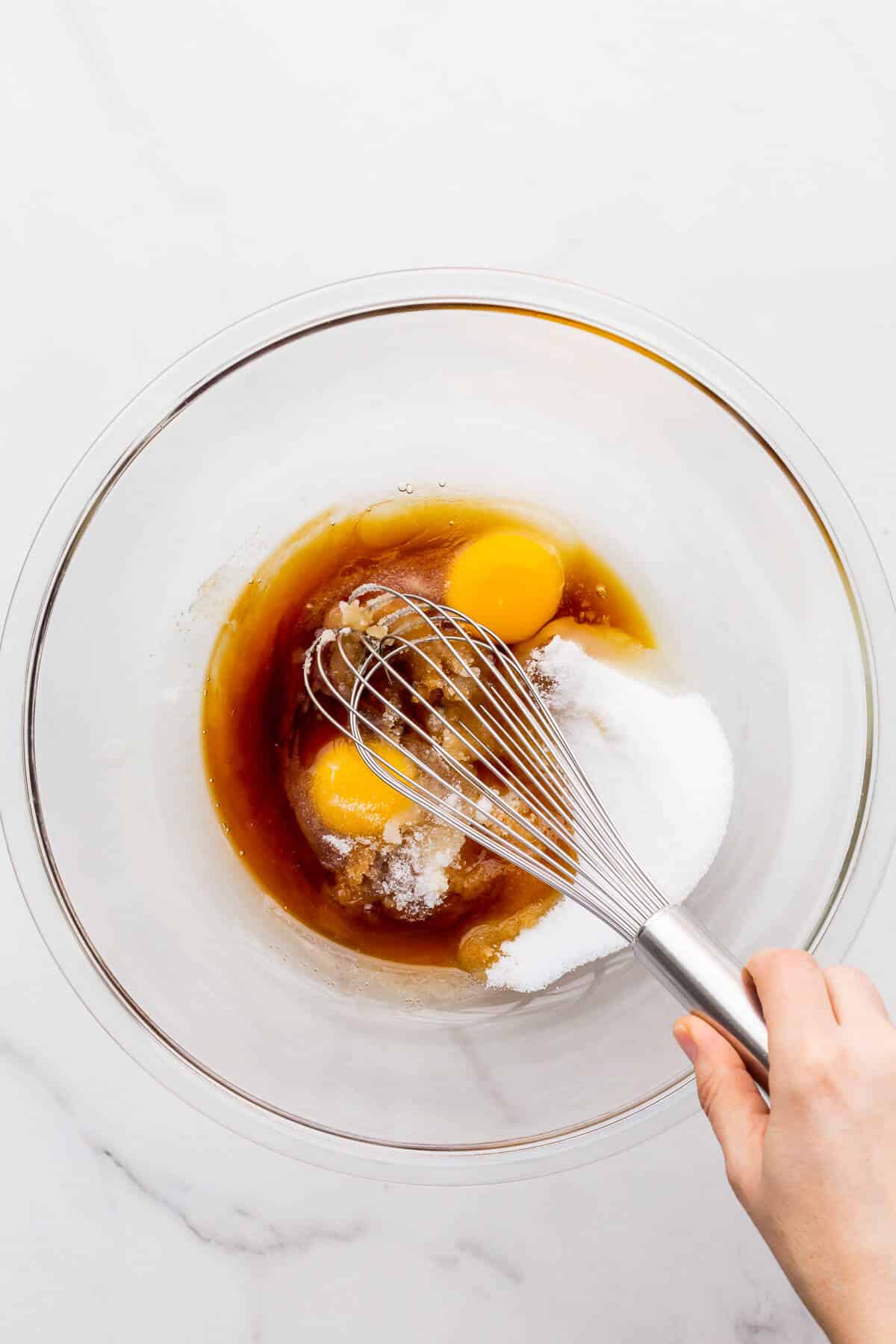 Whisk the wet ingredients in a glass bowl, starting with the eggs, sugar, maple syrup, and vanilla.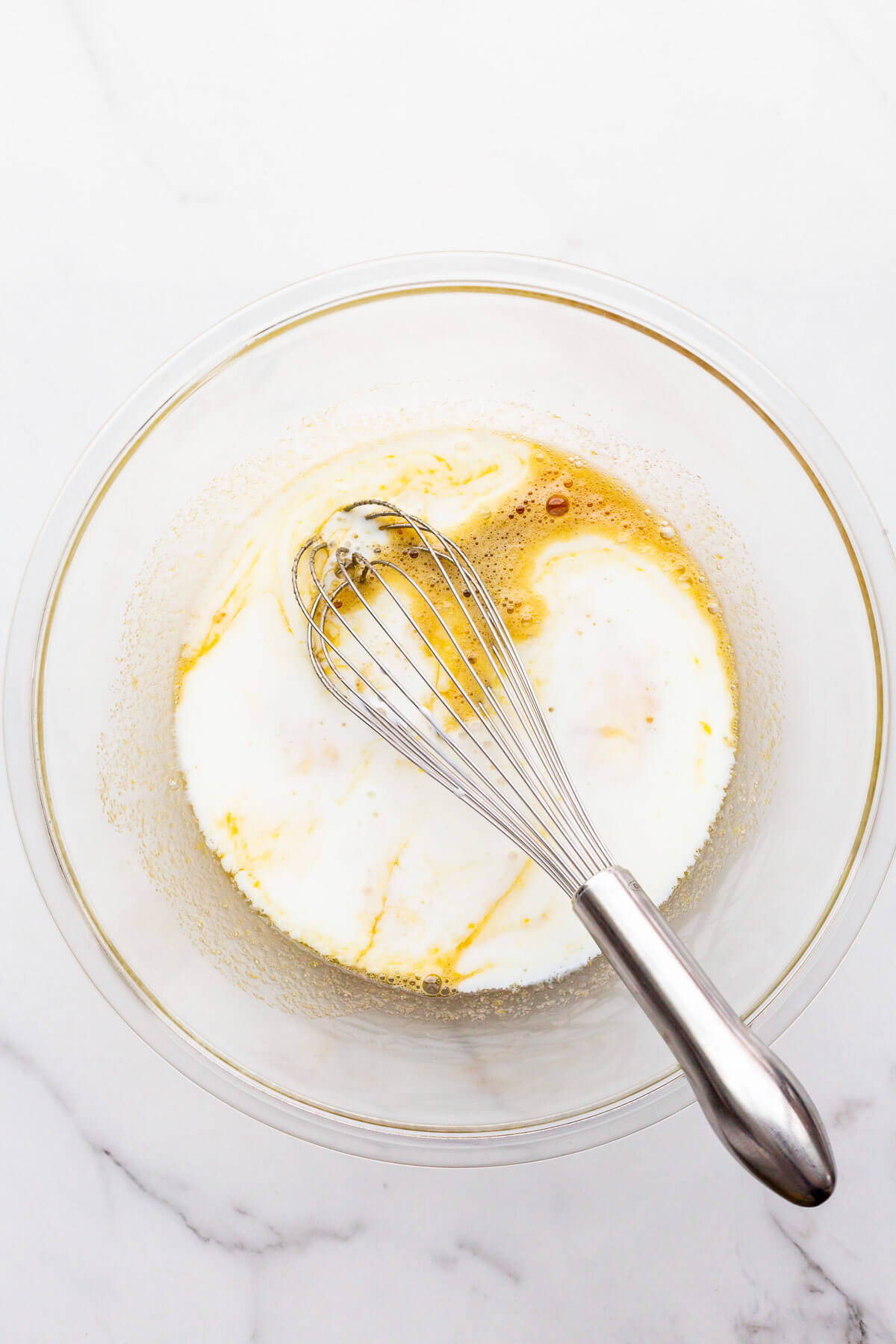 Whisk in the buttermilk.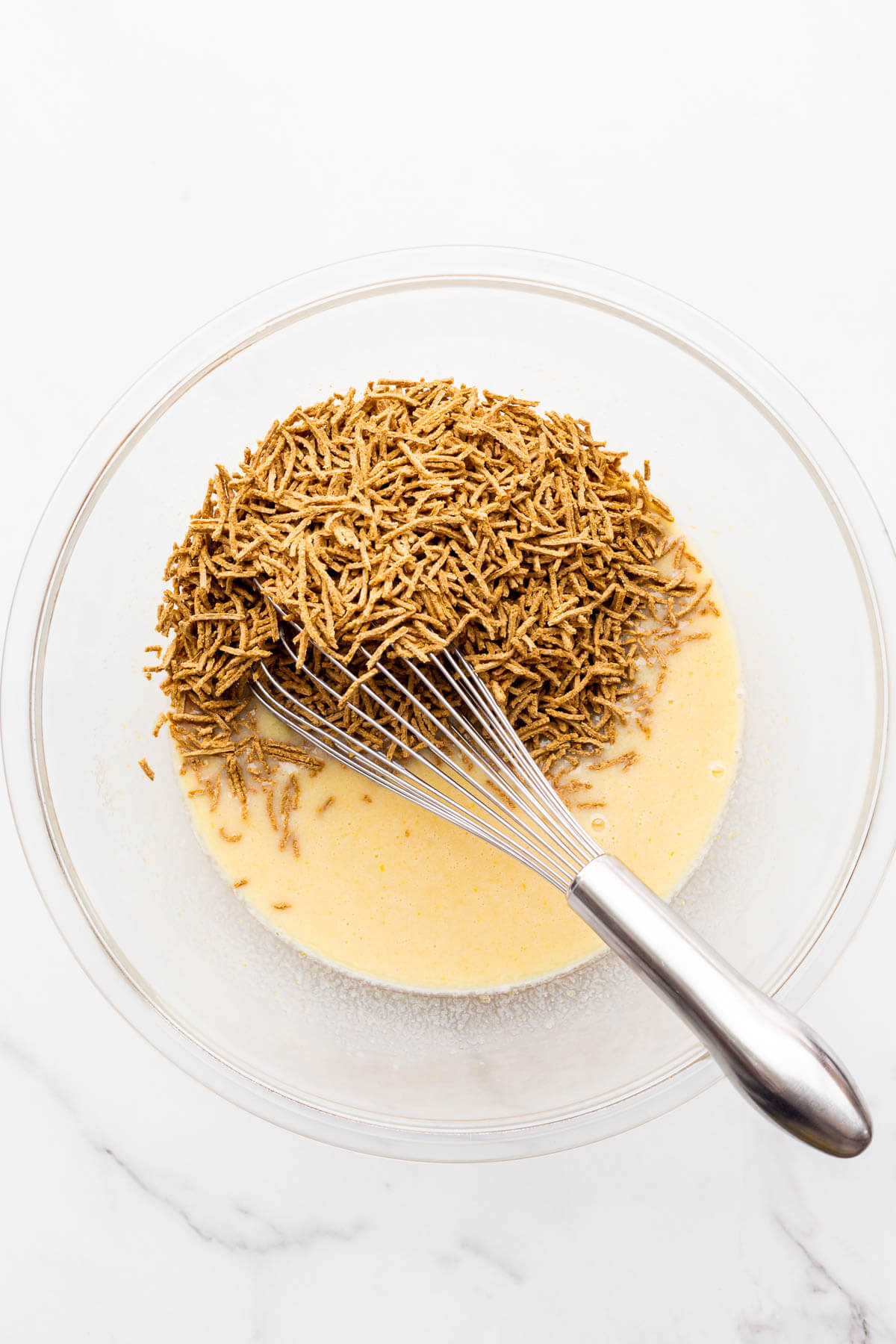 Add the All Bran cereal to the bowl of wet ingredients. We are using the original cereal, not the flakes.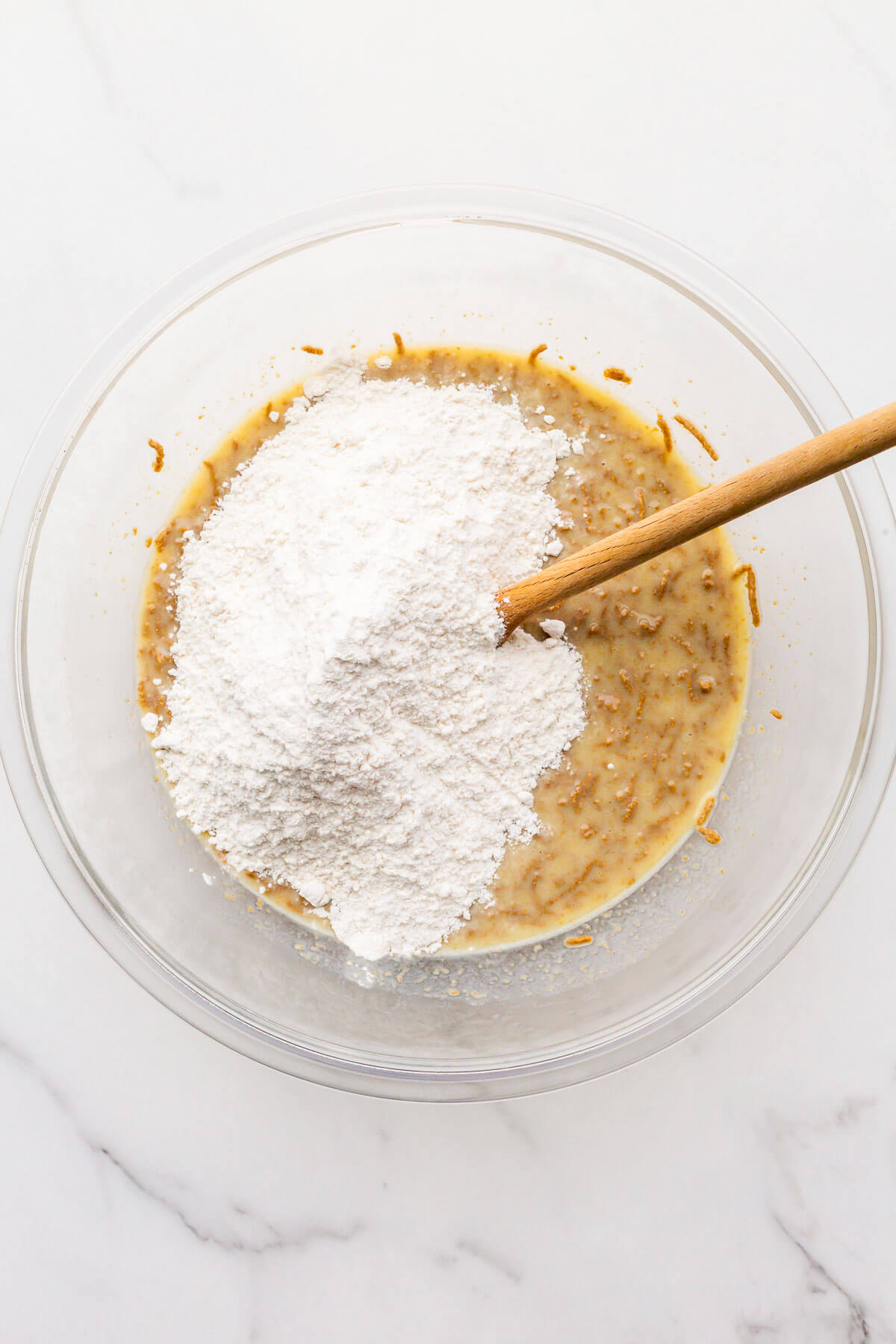 Stir in the flour mixture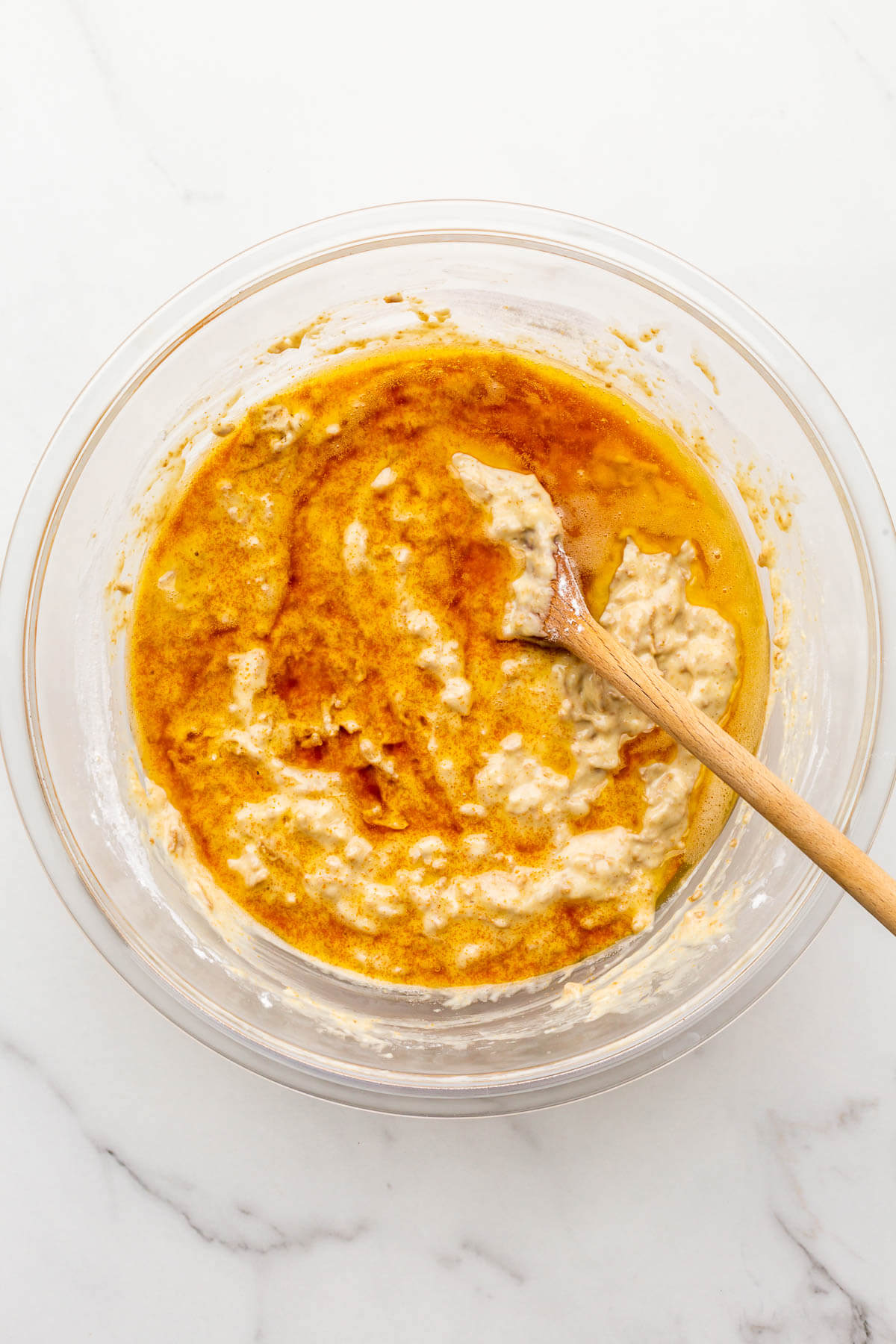 Stir in the cooled brown butter to form a thick batter.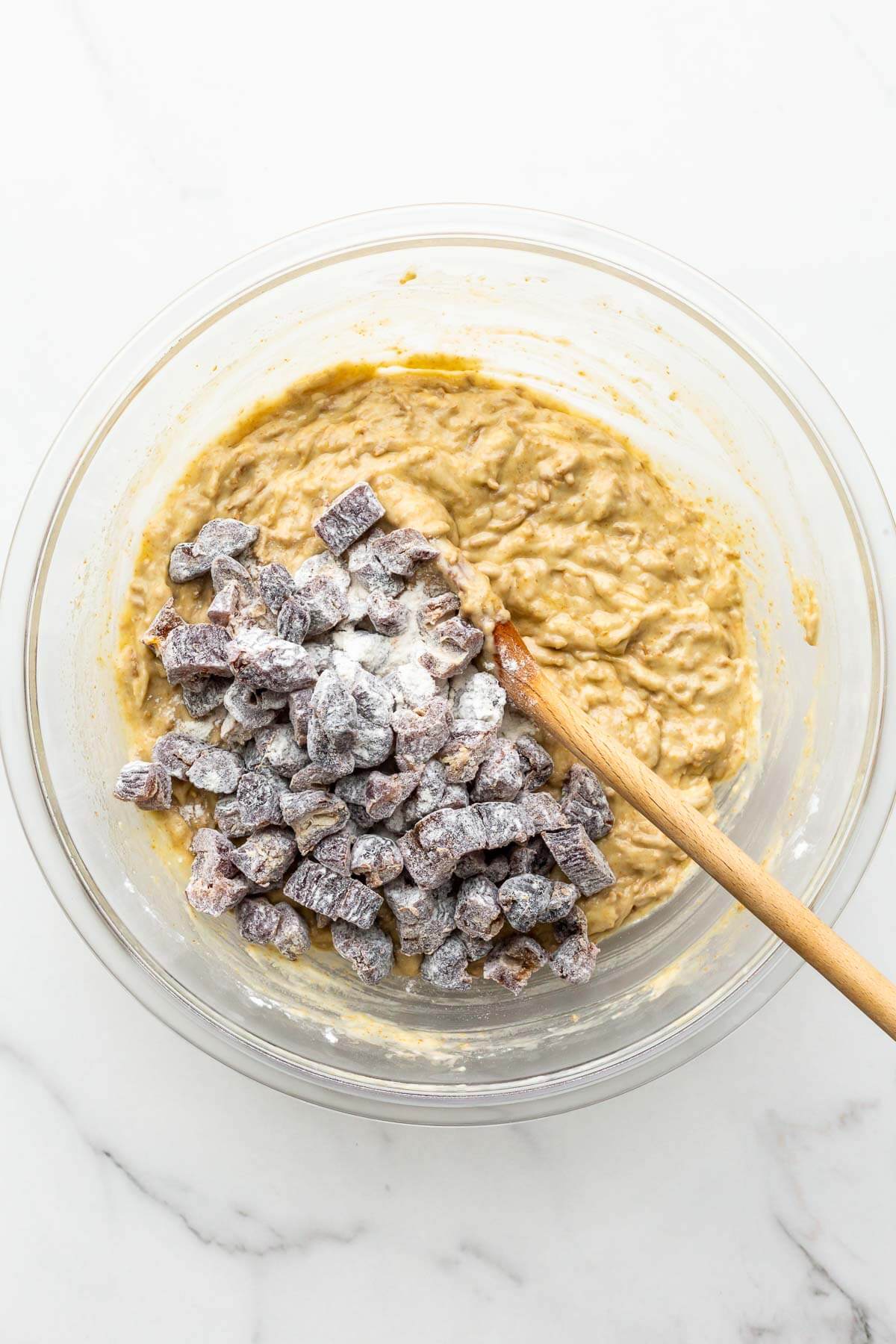 Fold in the floured dates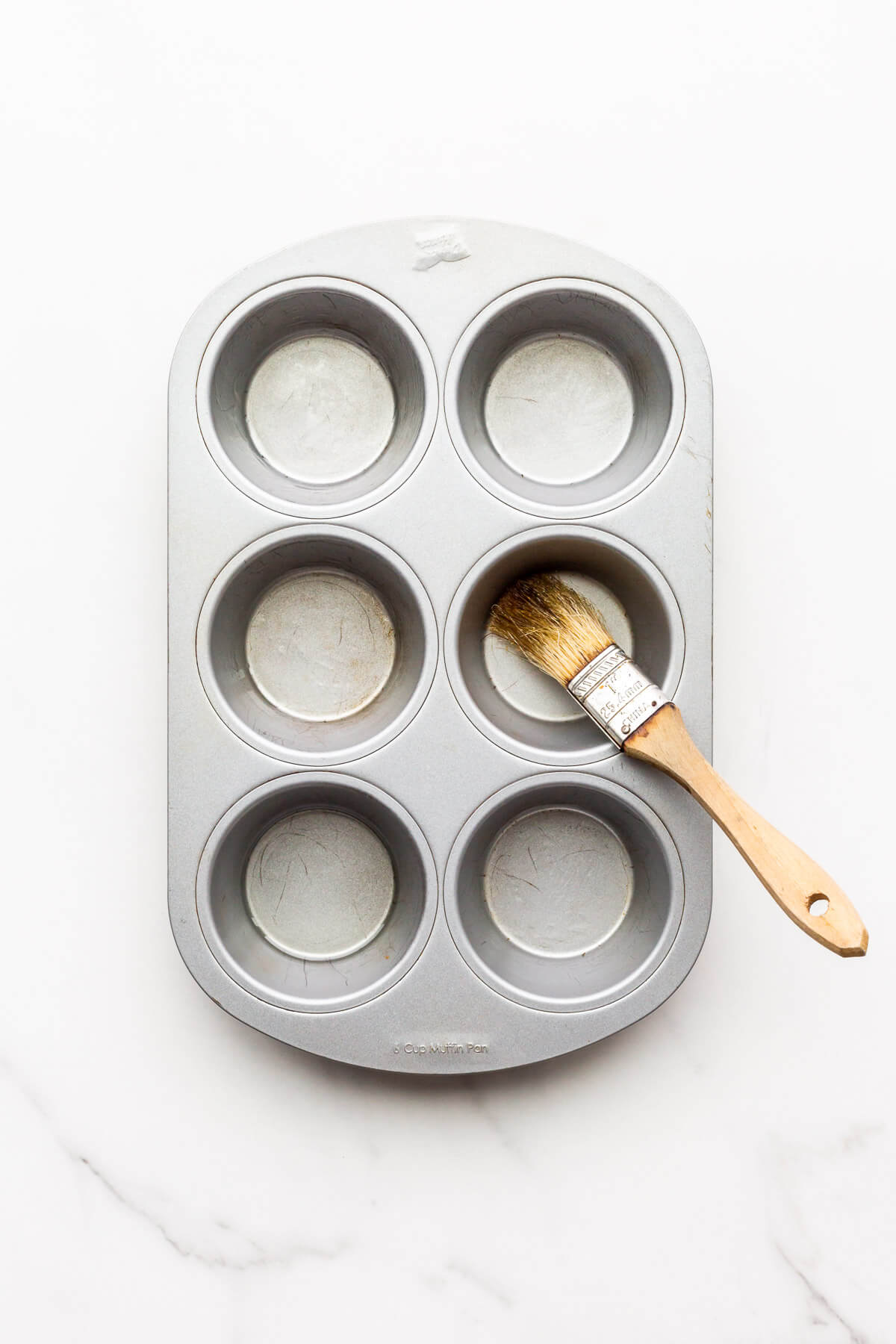 Grease two muffin pans by brushing with a little canola oil or spraying evenly with cooking spray.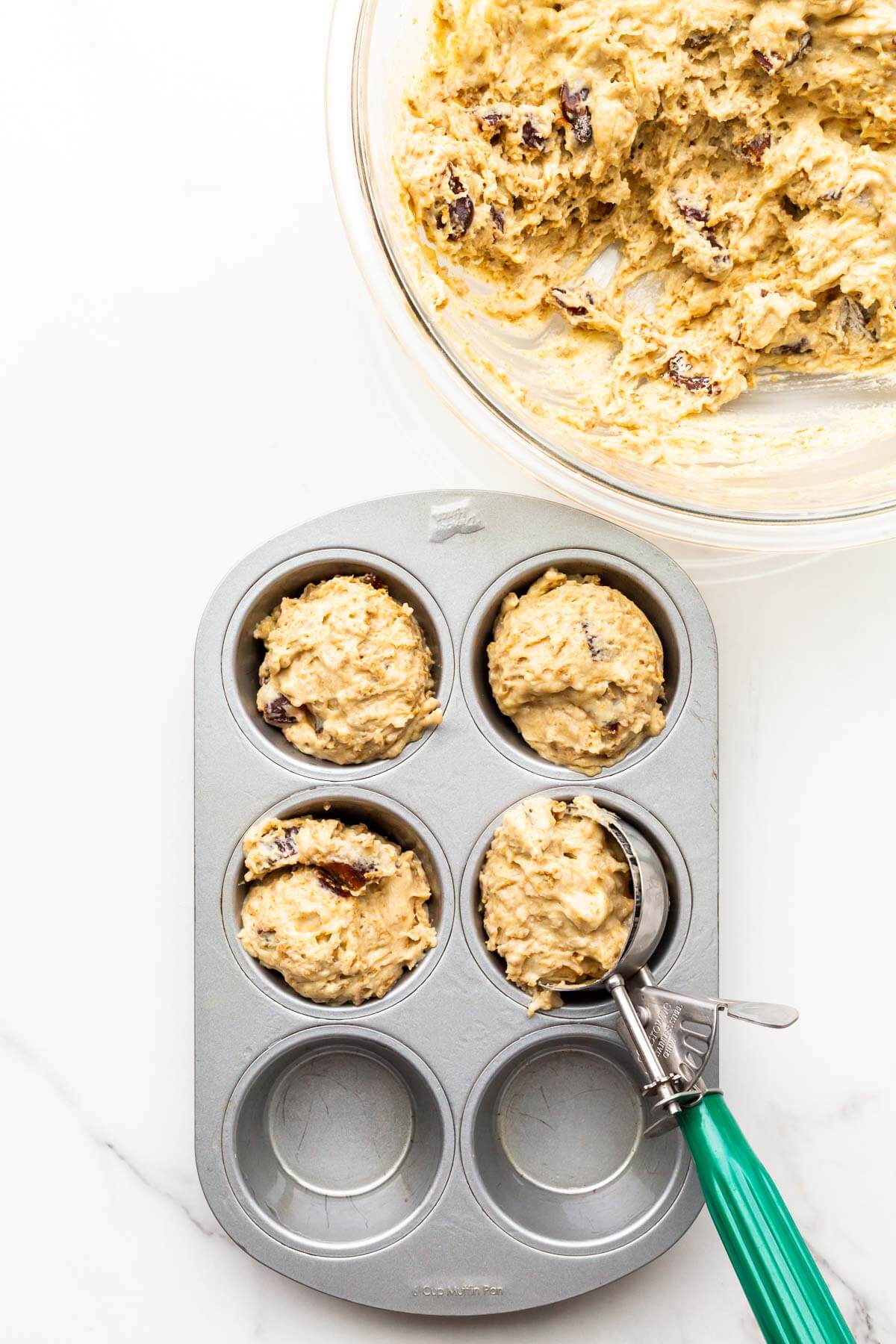 Divide the muffin batter evenly between 12 muffin cups. Use a disher to make sure it's even.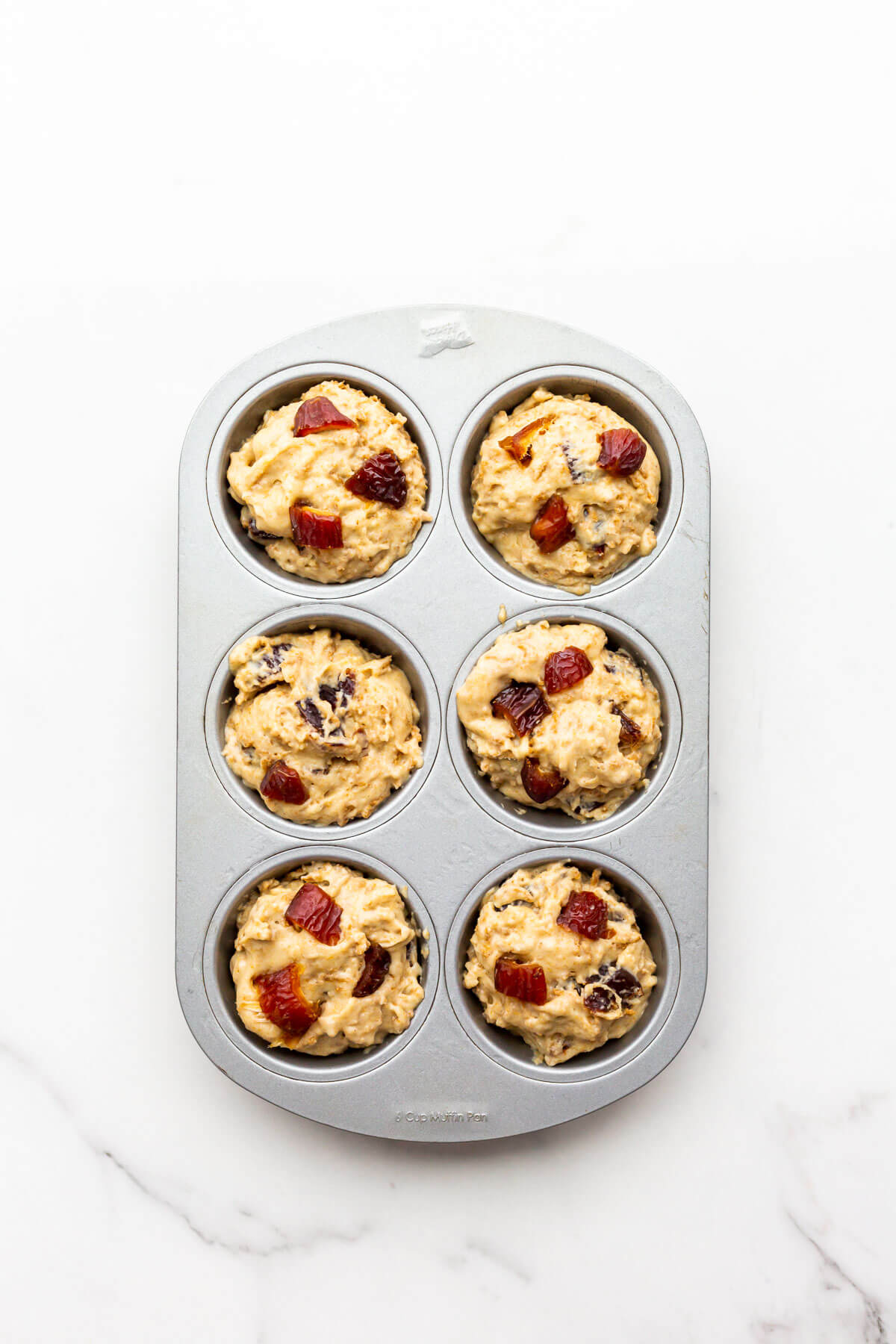 You can garnish the tops of each muffin with a few small pieces of pitted date if you have extra!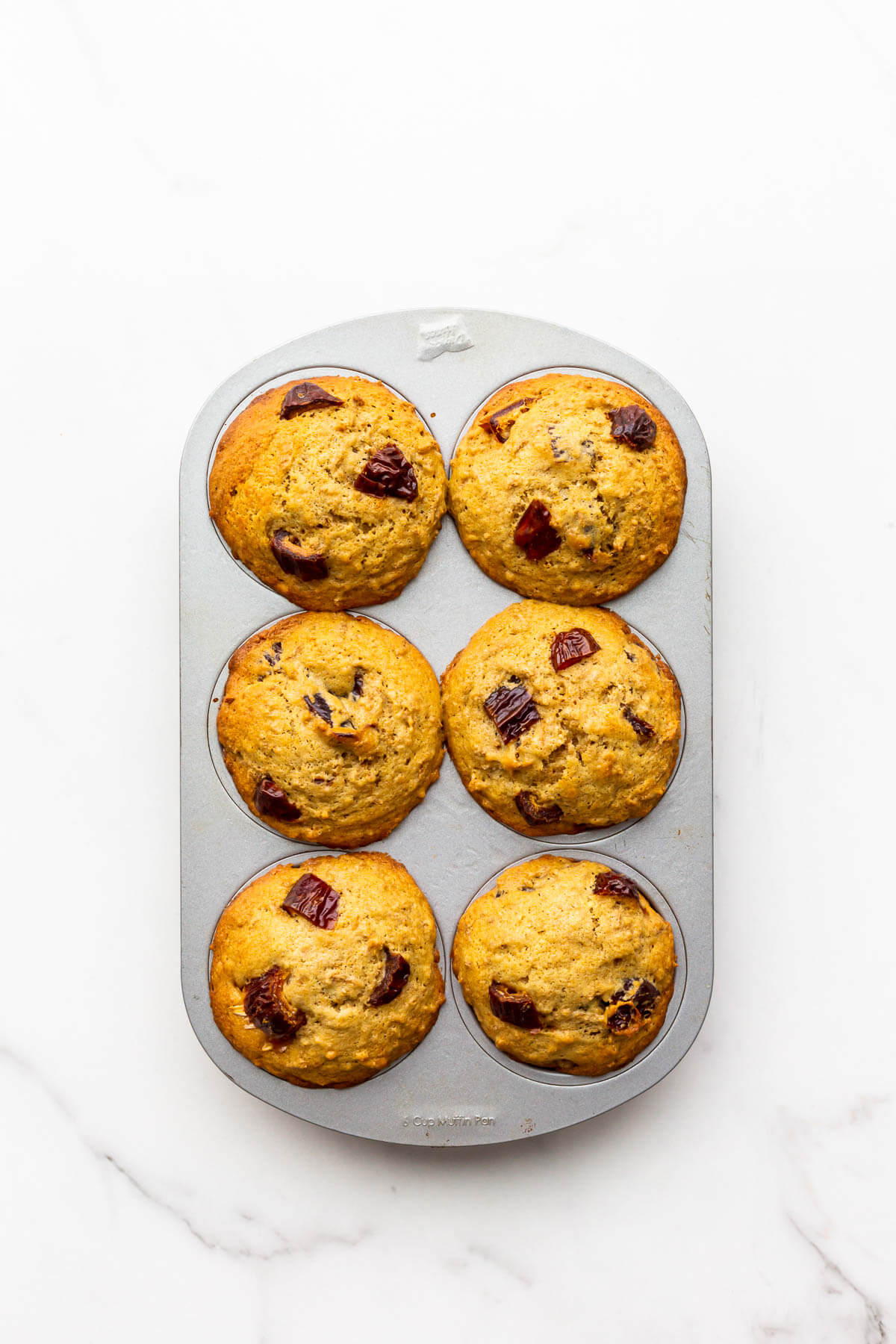 Bake until golden brown. This takes about 20–25 minutes at 350 °F.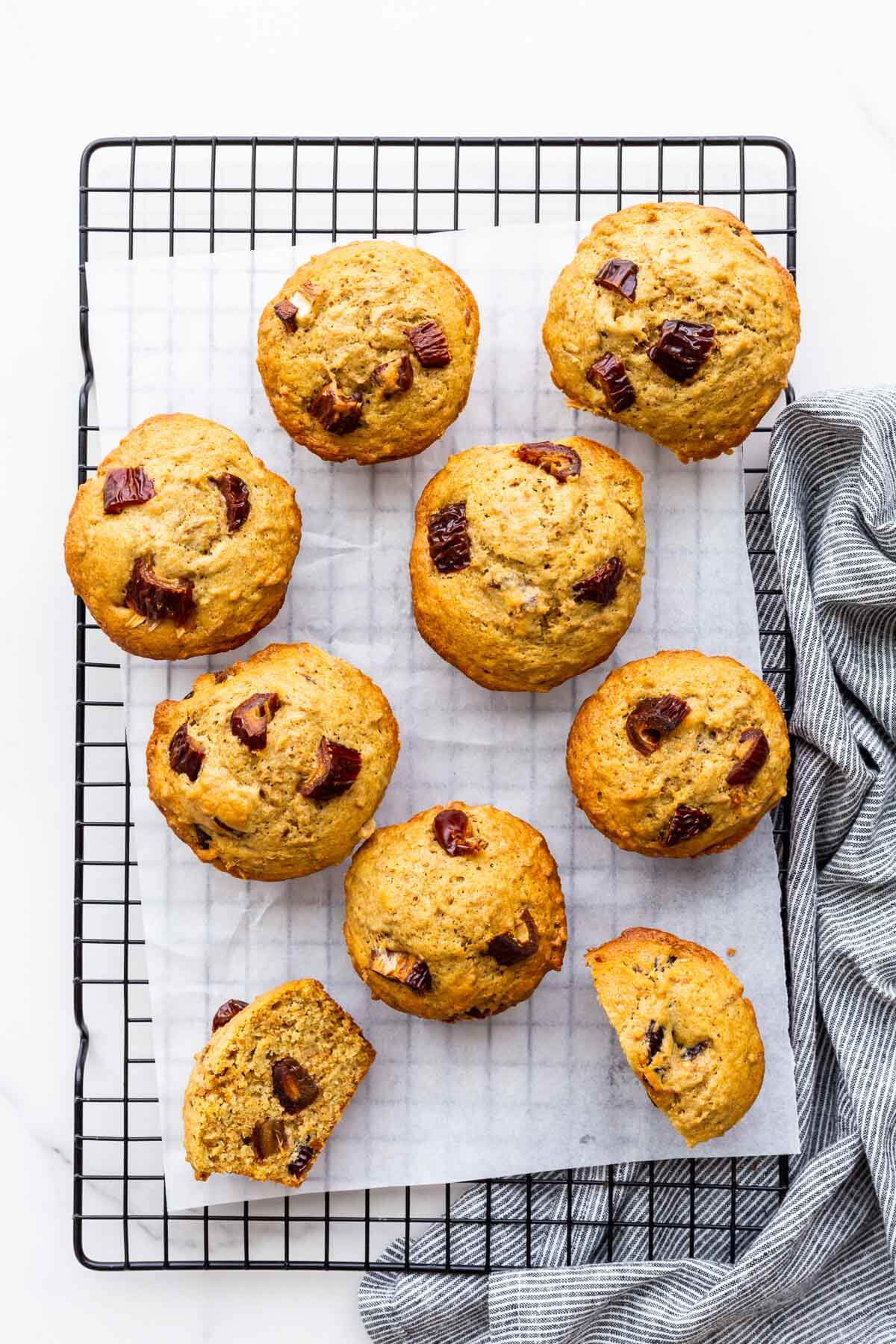 Storage
You can store these moist bran muffins for 3–4 days in an airtight container, but I prefer to freeze them.
Remember to fully cool the date muffins to room temperature (for 3–4 hours) before transferring them to an airtight container or freezer bag for long-term storage (1–2 months).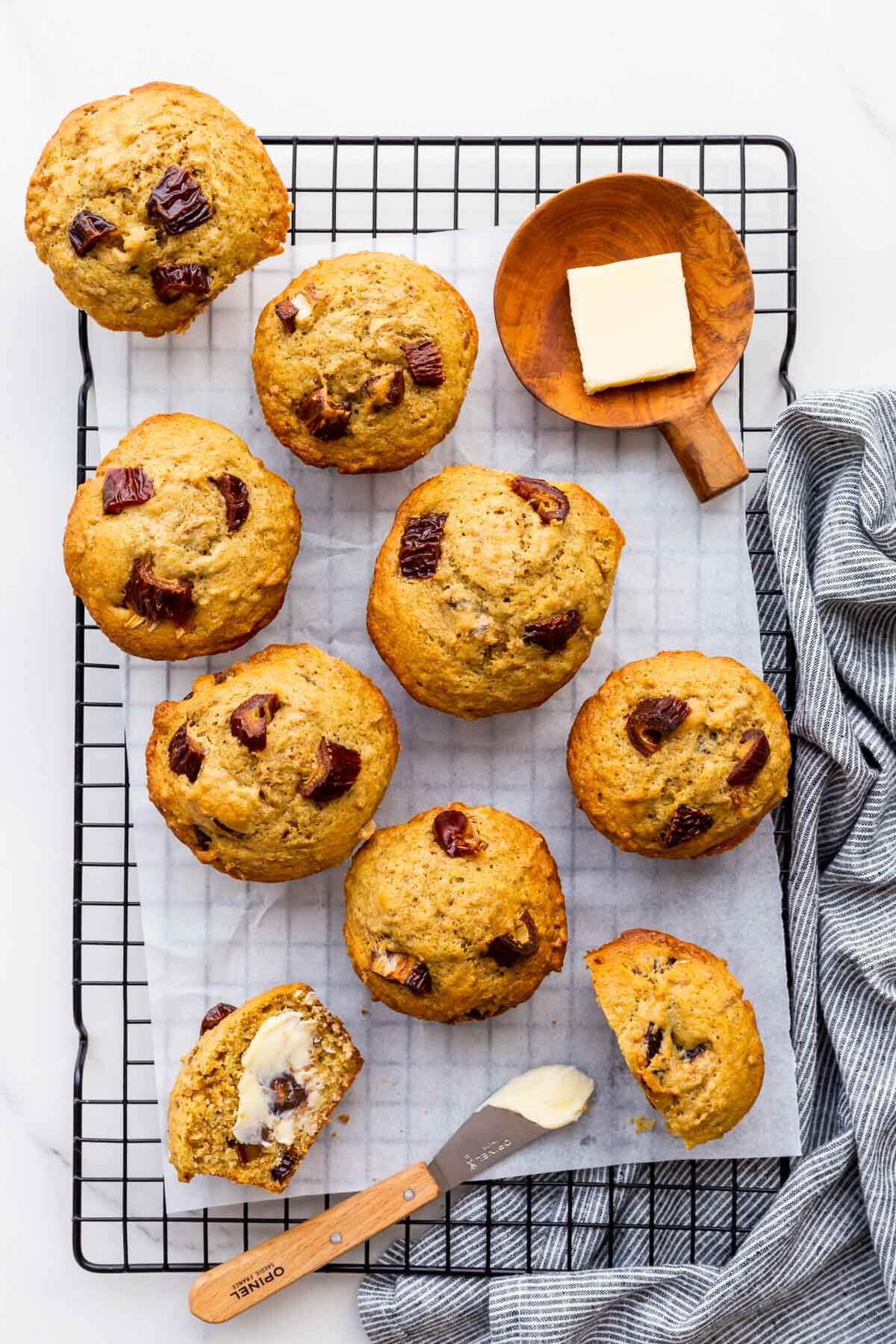 Serving suggestions
My favourite way to enjoy bran muffins is slathered in salted butter. Sometimes I even sprinkle coarse sea salt on the butter to give it an extra salty kick to contrast with the sweet dates.
Date muffins are also great served with homemade marmalade, specifically orange marmalade or three-fruit marmalade!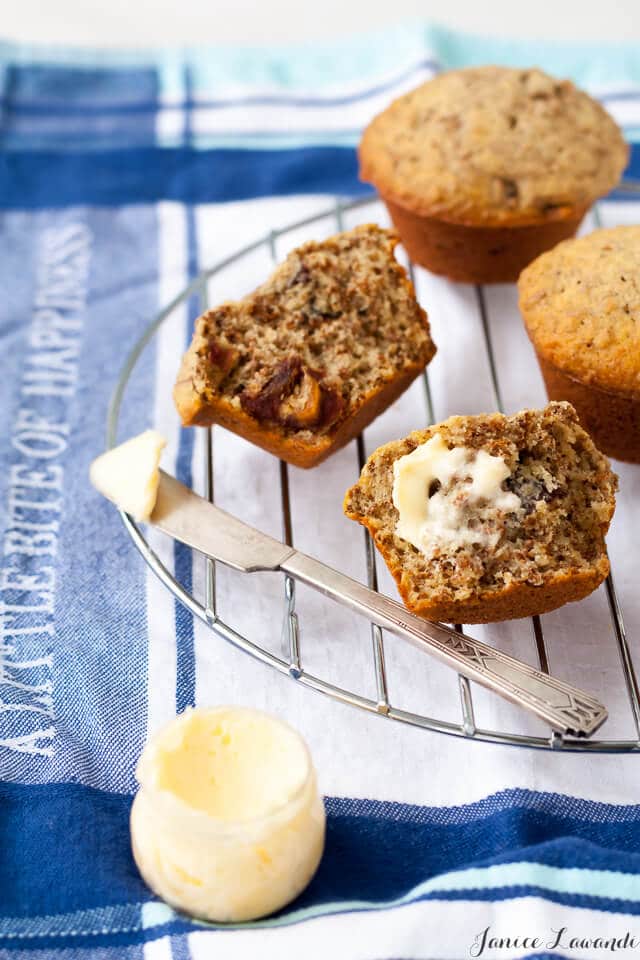 How to defrost muffins
If you want to defrost frozen muffins, you have a few options depending on how much time you have:
longest method—in the fridge overnight, unwrapped to avoid moisture buildup on the surface of the muffin tops
at room temperature, unwrapped to avoid moisture buildup on the surface of the muffin tops—this will take a few hours
fastest method—in the microwave oven: place the unwrapped muffin on a napkin or a microwave-safe plate. Microwave on HIGH for about 30 seconds for each muffin. The time and results will vary according to the power of your microwave.
Other muffin recipes to try
Muffins make a great snack and are a lunchbox stable for many. Here are a few other easy recipes to try:
By the way, I am not a complete raisin hater (I've put them in crispy oatmeal raisin cookies), just don't put them anywhere near my bran muffin. OK? And if date bran muffins are not your thing (what?), You've got other options, like:
📖 Recipe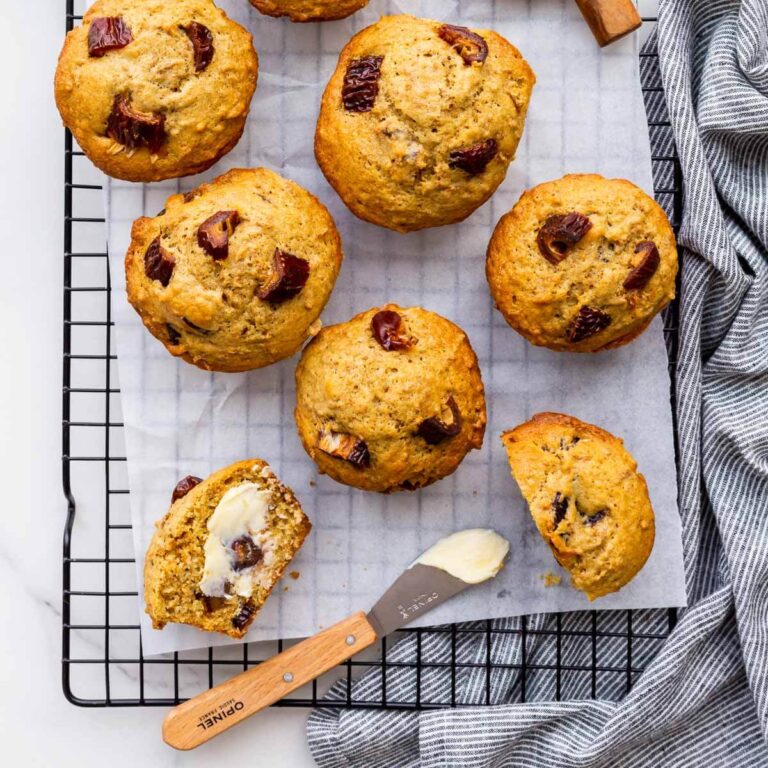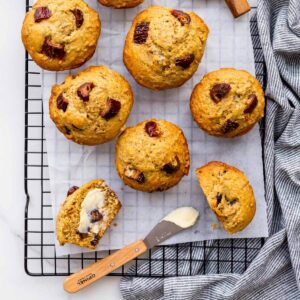 Date Bran Muffins with All Bran
Date bran muffins made with All Bran are light and moist fresh from the oven, but they also taste great toasted with salted butter
Ingredients
115

grams

unsalted butter

2

large egg(s)

100

grams

granulated sugar

100

grams

pure maple syrup

5

mL

pure vanilla extract

315

mL

buttermilk (1 % fat)

or 300 mL milk + 1 tablespoon white vinegar

144

grams

All-Bran Original cereal

250

grams

bleached all-purpose flour

7.5

mL

baking soda

200

grams

Medjool dates

about 15 dates, pitted and chopped
Instructions
Preheat the oven to 350 °F (175 °C). Grease two 6-muffin pans and set aside.

Put the butter in a small saucepan and heat on high to brown the butter. Transfer to a bowl and let cool.

In a large bowl, whisk together the eggs, vanilla extract, buttermilk, sugar, and maple syrup. When the wet ingredients are really well mixed, add in the All-Bran and stir. Set aside.

In a separate medium bowl, whisk the flour, baking soda, and salt.

Remove one tablespoon of the flour mixture and add it to a small bowl with the chopped dates. Toss them to coat them in flour and break apart any clumps of dates.

Add the rest of the dry ingredients to the bowl with the wet mixture. Mix everything together to form a thick batter. It's okay if you still see a little flour at this stage.

Stir in the browned butter and then the floured dates, and stir until the batter is just mixed (don't overwork it!).

Divide the muffin batter between the two pans. You may garnish the tops with a few extra pieces of chopped pitted dates if you have extra dates.

Bake for about 22 minutes or until they have puffed and the edges are beginning to brown.

Let cool in the pan for 5 or so minutes before twisting each of the muffins to release them onto a wire rack to cool. Serve warm with lots of butter and salt.
Nutrition
Calories:
304
kcal
Carbohydrates:
53
g
Protein:
6
g
Fat:
10
g
Saturated Fat:
6
g
Cholesterol:
51
mg
Sodium:
229
mg
Potassium:
325
mg
Fiber:
5
g
Sugar:
28
g
Vitamin A:
557
IU
Vitamin C:
2
mg
Calcium:
106
mg
Iron:
3
mg
Other recipes to bake with dried dates
If you love dates as much as I do, here's a list of other recipes you can bake with dates: