This recipe for strawberry rhubarb muffins with streusel topping crumbled on top is made with sour cream making these muffins super moist! Feel free to double the rhubarb and omit the strawberry if you prefer to make rhubarb crumble muffins.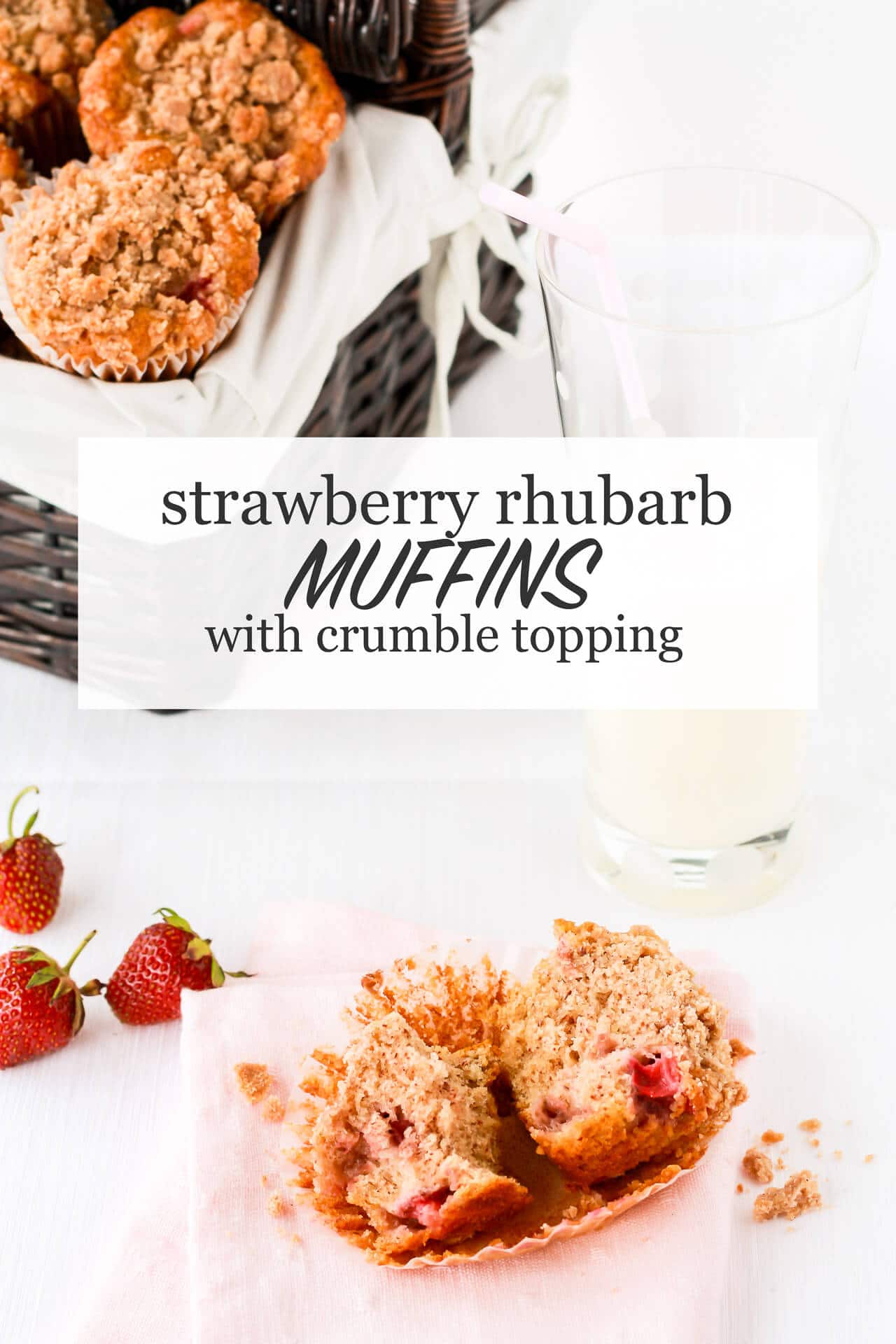 Disclosure: As an Amazon Associate, I earn from qualifying purchases.
When you make a batch of muffins, more often than not, you will use the muffin mixing method, also known as the two-bowl method. You mix your wet ingredients in one bowl, and your dry ingredients in a separate bowl. Then both are combined to form a thick batter.
This works especially well when you are making muffins with a liquid fat like canola oil. But when you are using butter, combining the melted butter with the wet ingredients (which are often fridge-cold), the butter can solidify, and the butter isn't evenly distributed in the batter at that point.
I now mix my muffin batters a little differently, using the reverse creaming method, which is close to the two bowl method above, but with one difference: use room temperature butter (softened) and incorporate it into the dry until you form a coarse sand-like mixture. This way, you can ensure your butter is evenly distributed throughout the final muffin batter.
The bonus with the reversed creaming method is that by mixing the butter with the dry ingredients, the fat will ensure less gluten development once the wet ingredients are introduced. Less gluten means a more tender muffin. One little change in a mixing method can have amazing results!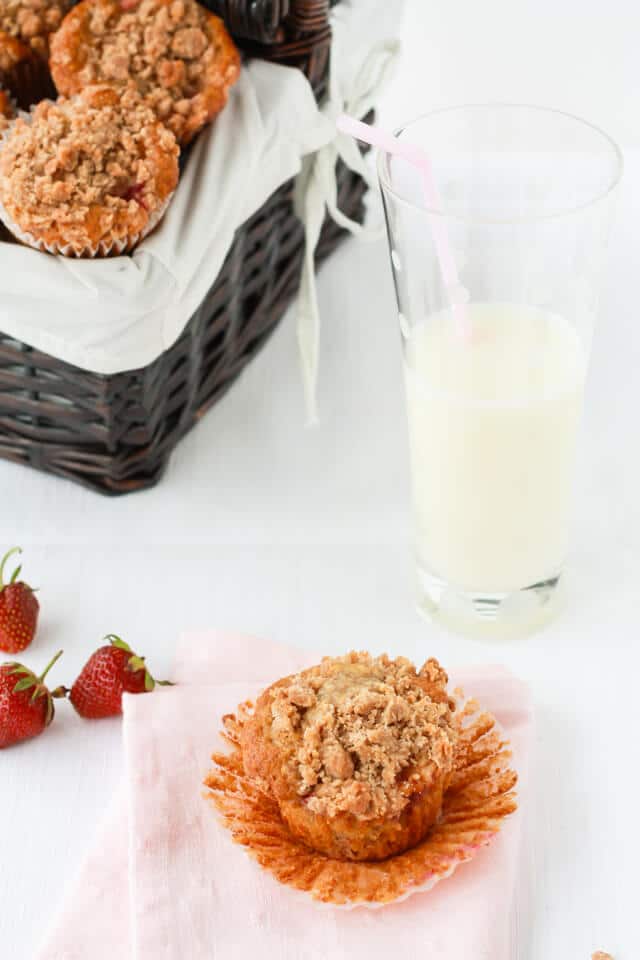 I now use the reverse creaming method for most of my muffins. It's easy and it works well.
For making streusel and crumble toppings, you can also mix the butter into the dry ingredients when it's cold, at room temperature, or melted. For this recipe, I use melted butter. It's very easy to incorporate with the dry ingredients of the streusel and form a coarse crumble that makes a great muffin topping.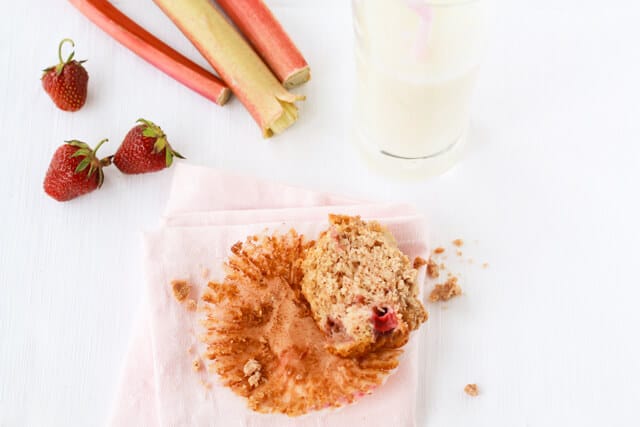 It's very important to chill the crumble topping before sprinkling it on top of the muffins and baking. If the streusel is too warm, it will melt on top of the muffins and completely lose its shape, which gives the topping a completely different look and doesn't contribute the same crumbly, crispy texture to the muffin tops. I used the same method to make the crumble topping on these honey blueberry muffins.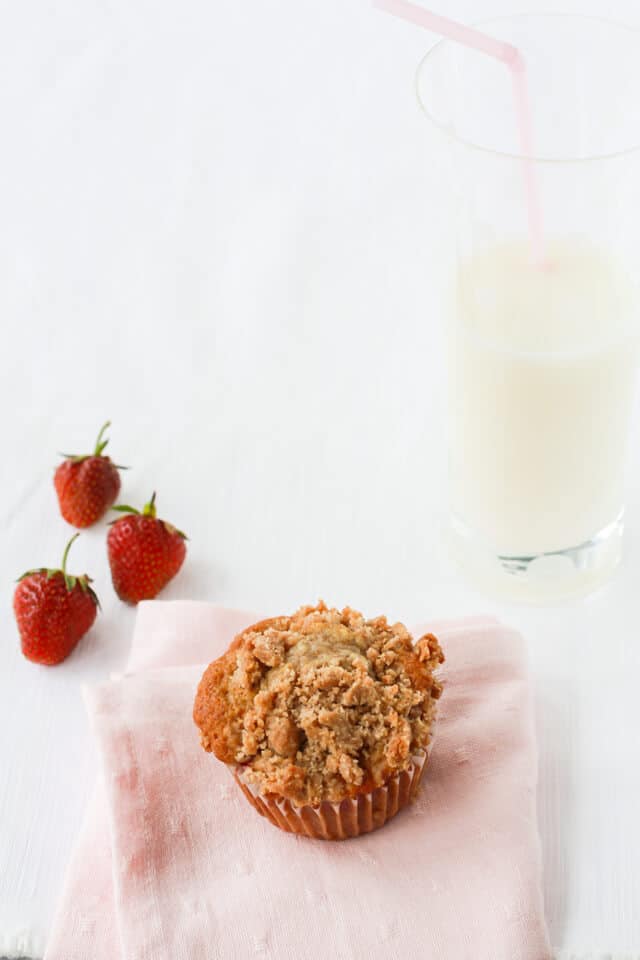 These muffins are incredibly moist and flavourful. I ground almonds with their skin on for this recipe and they bring golden colour to the crumb as well as a nutty flavour but feel free to use ground blanched almonds from the baking aisle that are skinless (just note you're muffins will have a more vanilla cake colour than a golden brown colour). Incorporating ground nuts in the cake batter also lightens up the crumb, allowing you to bake muffins with less flour. This is the same method used for the rhubarb cake, made with ground pumpkin seeds.
You can't go wrong with the combination of rhubarb and strawberries (remember those honey-sweetened strawberry rhubarb crumbles) and combined with a little cinnamon makes it even better. These muffins are a lovely ode to the spring fruits that are in season in Quebec, and one of the best rhubarb recipes on this blog. They're not exactly gold stars or mint licorice, but I'll work hard for them just the same.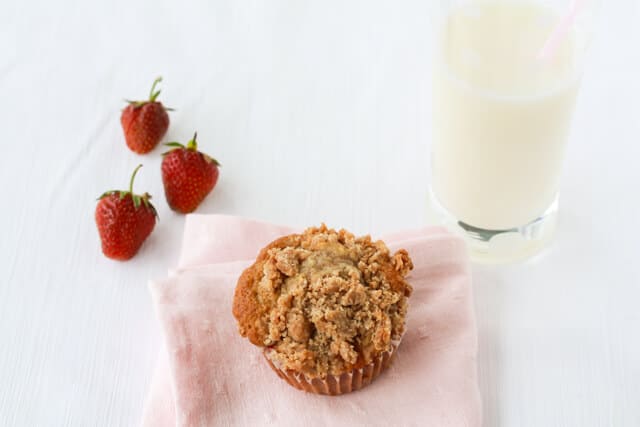 One of the baking substitutions you might want to make, if you don't have sour cream, which is an acidic dairy product, you can replace it with the same volume of full-fat plain Greek yogurt. I don't recommend replacing the sour cream with low-fat Greek yogurt because you'll be adding a lot less fat to the recipe, which could make the muffins a little dryer or tougher.
As for the ground almonds, you can replace them with any ground nuts, like ground hazelnuts or ground walnuts, if you prefer. Pistachio would work too, but that would be expensive.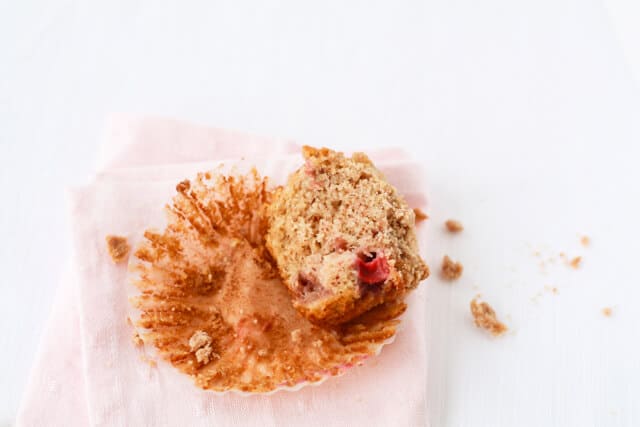 If you want to make plain rhubarb muffins with a streusel topping, feel free to replace the weight of strawberries with more chopped rhubarb, bringing the total amount of rhubarb to 275 grams. Or you can replace the strawberries with blueberries because, based on this blueberry rhubarb crisp, we know the combination of blueberries and rhubarb is unusual but pretty spectacular.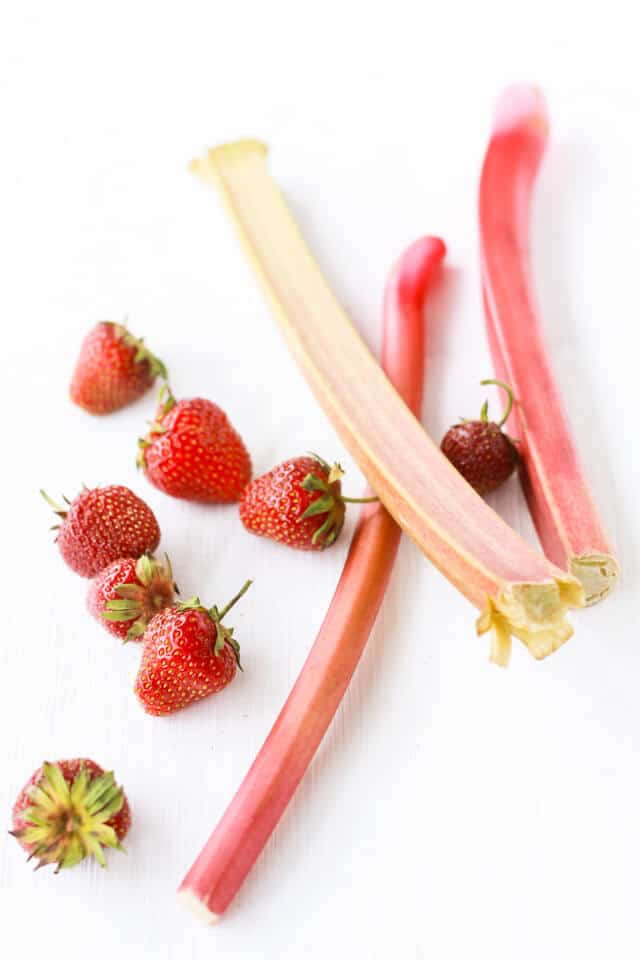 📖 Recipe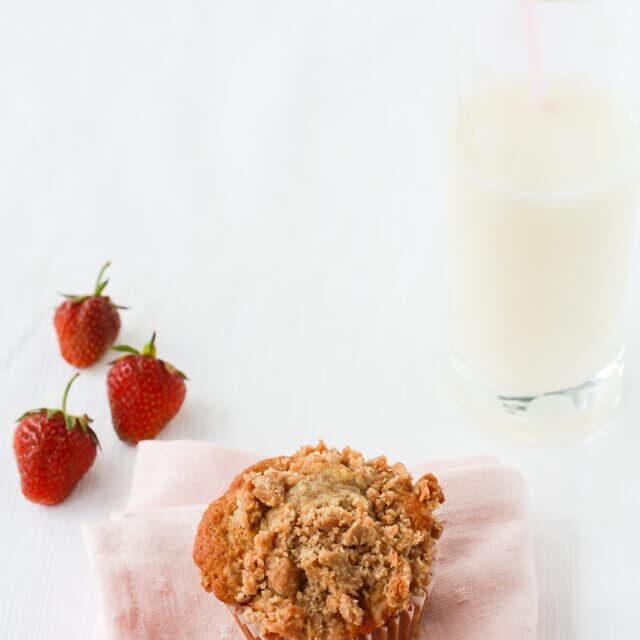 Strawberry Rhubarb Muffins with Streusel Topping
These strawberry rhubarb muffins have a sweet streusel crumbled on top for the perfect spring-summer muffin. This strawberry rhubarb muffin recipe is soft, light, and have a cake-like texture.
Ingredients
For the muffin batter
200

grams

granulated sugar

190

grams

bleached all-purpose flour

50

grams

ground almonds

2.5

mL

baking soda

2.5

mL

baking powder

115

grams

unsalted butter

room temperature, cut into small pieces

125

mL

sour cream (14% fat)

2

large egg(s)

5

mL

pure vanilla extract

110

grams

fresh rhubarb

washed and trimmed, and cut into ½-inch pieces, or you can use frozen!

110

grams

fresh strawberries

washed and trimmed, and cut into ½-inch pieces, or you can use frozen! OR replace with more rhubarb

8

grams

bleached all-purpose flour
Instructions
Preheat the oven to 425 ºF. Line two muffin pans with 8 to 10 muffin paper liners being sure to space them out between the two pans to allow better air flow.
Make the streusel topping
In a small bowl, whisk together the flour, ground almond, sugar, salt, and cinnamon (if using).

Add the melted butter and stir it in with a fork until the mixture forms a crumble.

Cover and store in the refrigerator until you are ready to use it.
Make the muffin batter
In a large bowl, whisk together the flour, sugar, ground almond, baking powder, baking soda, and salt.

Add the softened butter and work it in with your hands, rubbing it in until the mixture resembles coarse sand.

In a separate bowl, whisk together the sour cream, eggs, and vanilla.

Add the wet ingredients to the flour mixture and stir it in (takes about 20 stirs to get the batter mixed).

When the batter is ready, in a medium bowl, toss the rhubarb (and the strawberries, if using) with the 8 grams (1 tbsp) of flour. Stir so that the the fruits are evenly coated with flour.

Fold them into the batter gently with a wooden spoon or spatula to evenly distribute them.

Divide the batter between 8 to 10 paper-lined wells of two muffin pans. If you want big muffins, you'll need 8, if you want regular-sized muffins, you'll need 10. Sprinkle with streusel.

Bake at 425°F for 20 minutes, then use a cake tester inserted into the middle of a muffin to check if the muffins are baked. If you are baking 8 muffins, they probably aren't baked through, so rotate the pans and drop the temperature setting to 350°F for the last 5 to 10 minutes or as much as necessary.
Notes
For a "regular" muffin top:
bake at 350°F for 25 to 30 minutes.
For a "domed" muffin top:
bake at 425°F for 20 minutes, then rotate the pans and drop the temperature setting to 350°F for the last 5 to 10 minutes.
For a "puffy" muffin top:
refrigerate the batter overnight, then scoop the batter into 8 to 10 muffin paper-lined wells of a muffin pan, sprinkle with streusel topping, and bake them at 350°F for about 30 minutes.
Nutrition
Calories:
431
kcal
Carbohydrates:
52
g
Protein:
7
g
Fat:
22
g
Saturated Fat:
11
g
Cholesterol:
85
mg
Sodium:
244
mg
Potassium:
175
mg
Fiber:
2
g
Sugar:
29
g
Vitamin A:
607
IU
Vitamin C:
2
mg
Calcium:
90
mg
Iron:
2
mg
If you'd prefer another type of fruit muffin, try these:
Or if you want something savoury, try these muffins:
This muffin recipe was inspired by a cake recipe in Delicious (UK) magazine.