These jalapeño cheddar cornbread muffins are made with fine cornmeal, cheddar cheese, and jalapeño peppers for a spicy savoury muffin that makes a great snack or side dish!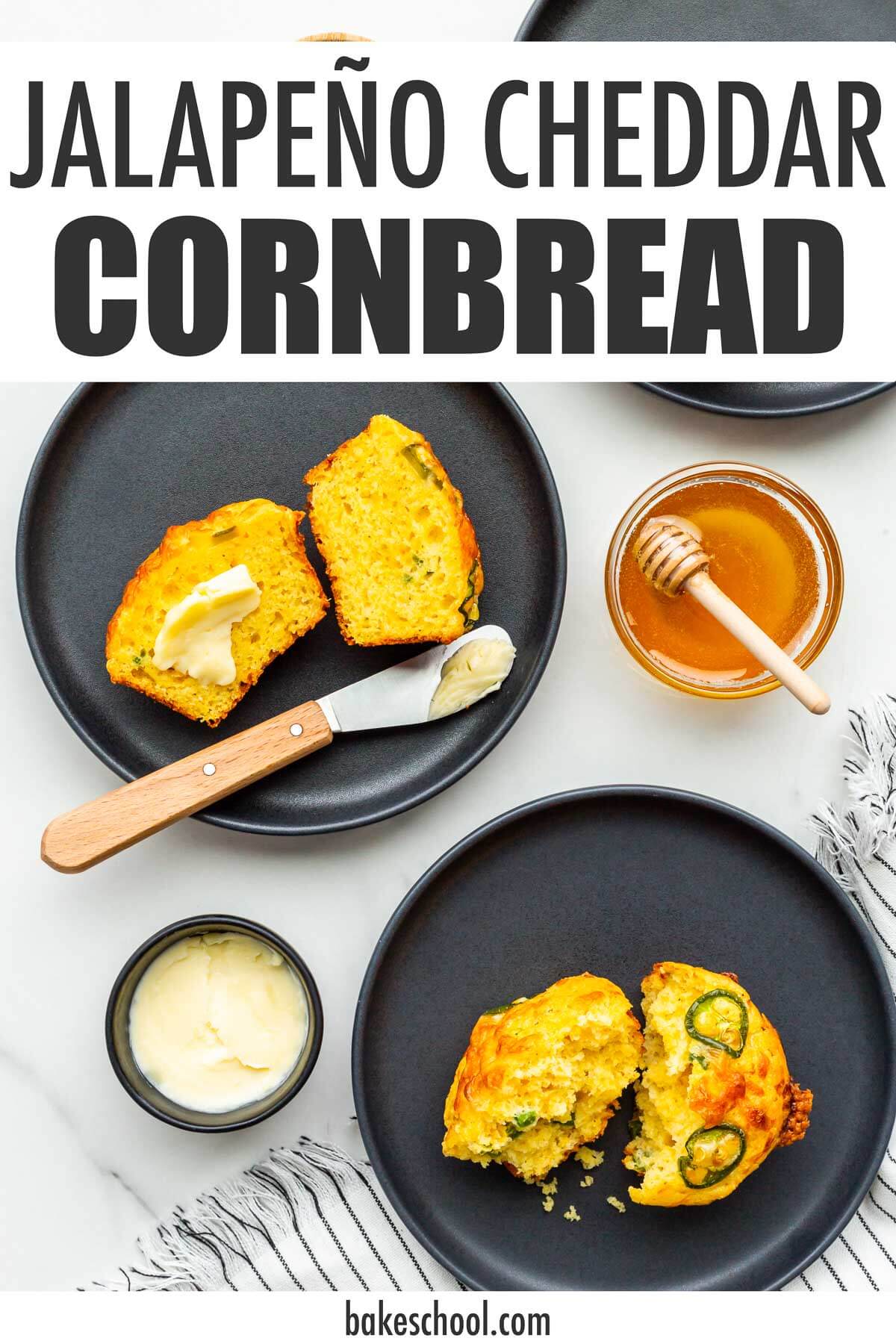 Disclosure: As an Amazon Associate, I earn from qualifying purchases.
These savoury cornbread muffins are excellent, if I may say so myself. Seriously though, they are moist, full of corn flavour, cheddar cheese and spicy hits of red chilli. Plus they are easy.
Savoury muffins are a staple in my house. They make fun snacks and can serve as breakfast or even a side dish at dinner, instead of a bread bun! If you like savoury muffins, be sure to check out these pizza muffins and these olive muffins.
Jump to: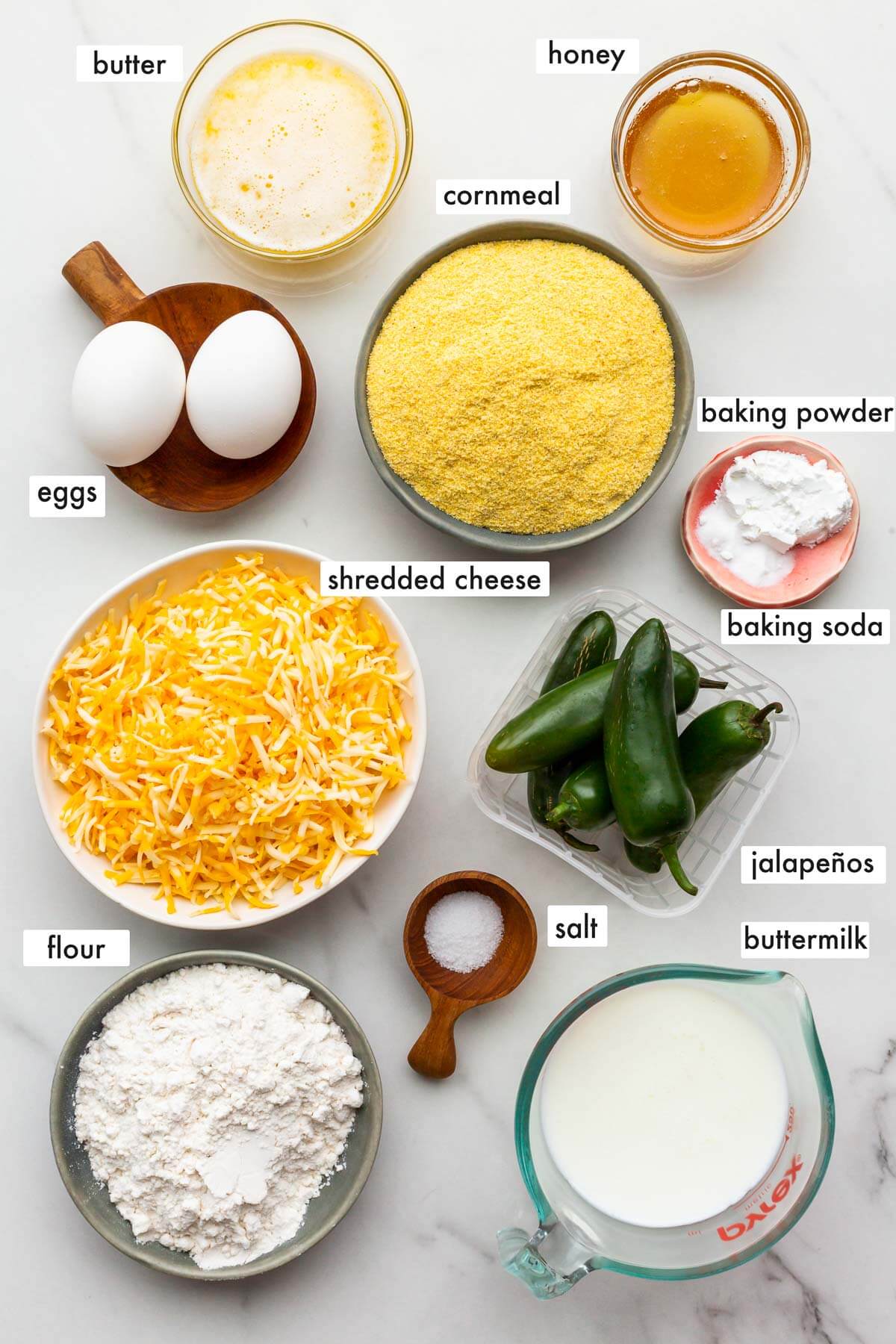 What's in them
I like to make cornbread muffins with a combination of cornmeal (polenta) and all-purpose flour. This way, the flour provides a little extra structure for the cornbread so that they are less prone to crumbling or falling apart.
buttermilk (1 % fat)—providing acidity for the baking soda to react, but also tenderness and moisture so the muffins aren't dry
butter—either unsalted or salted butter will work here and these muffins can handle the extra salt that salted butter will provide
eggs—use large eggs. Small or medium eggs may lead to a dryer muffin.
honey—I like to add honey to cornbread to add a little sweetness
bleached all-purpose flour—unbleached should also work here. The flour holds the muffins together better, improving texture
fine cornmeal—don't use cornmeal that is too coarse or gritty because the texture will be crunchier
chemical leaveners, both baking powder and baking soda. Read up on baking powder versus baking soda if you aren't sure about the difference.
salt to enhance the flavour but also because these are savoury muffins! I use Diamond Crystal fine kosher salt, which is less salty than table salt. You may use less salt if using regular table salt
jalapeño peppers, green or red, or red chilli peppers
shredded cheddar cheese or an equivalent, like Monterey Jack. I've also done a combination of cheddar and parmesan to add more flavour.
See recipe card for quantities.
Substitutions
There are a few places in this savoury muffin recipe where you can make some substitutions:
buttermilk—to replace the buttermilk, use the same volume of milk, adding in 15 mL (1 tablespoon) of vinegar (white or cider vinegar), or you can dilute some full-fat sour cream or plain unsweetened yogurt with milk. Replace cup-for-cup
butter—I prefer the taste of butter, but you can replace it with the same amount of canola oil or mild olive oil, cup-for-cup
jalapeño peppers—if you can't find jalapeños, use another hot pepper, like serrano peppers or red chilli peppers. Remember the spicier the pepper, the spicier the muffin will be! You could also replace the fresh jalapeño with dried red pepper flakes. Use less though! Another option could be to use pickled jalapeño peppers (sold in cans or jars). Just drain them and pat dry before using.
cheddar cheese—I have made these muffins with aged cheddar, mild cheddar (like marble cheddar), and even a combination of parmesan and cheddar to add more flavour. You can use Monterey jack or even shredded smoked gouda would be great!
Tricks for making moist cornbread
Use buttermilk, which makes cornbread more moist and tender, and adds a subtle tangy flavour. The acidity of buttermilk can reduce the browning of your cornbread, leading to pale-looking muffins. I like mine to have golden brown edges, so I added a little baking soda to increase the browning on the edges of these cornbread muffins. The cheese also contributes to browning and tenderness.
Types of cheese
The cheese you add to these spicy cornbread muffins is a matter of personal preference and feel free to use whatever you have on hand. I opted for cheddar cheese, but sometimes I use a combination of cheeses, like cheddar which melts well, and parmesan, which adds a lot of salty flavour.
Monterey Jack or pepper jack would be perfect in these muffins too, but where I live, it's not as common to find either of these cheeses, unfortunately.
Special equipment
How to make cheesy cornbread muffins
For most muffins, you use the two-bowl mixing method, meaning the wet ingredients are stirred in one bowl and the dry ingredients are stirred in another bowl, then the two components are mixed together. It's the easiest way to make batter, and a very similar process to cake mix recipes.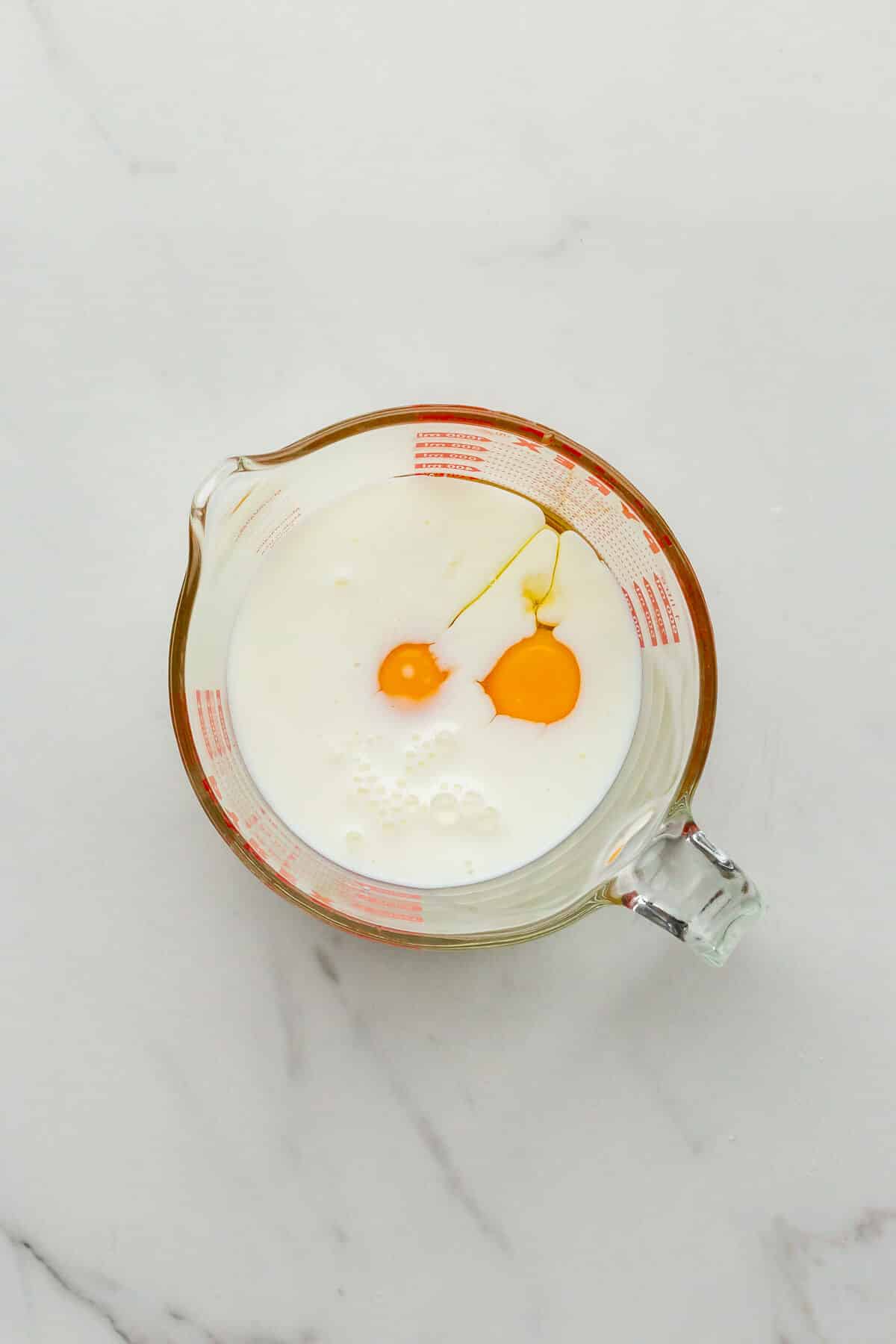 Combine the wet ingredients in a medium bowl or a large measuring cup with a pouring spout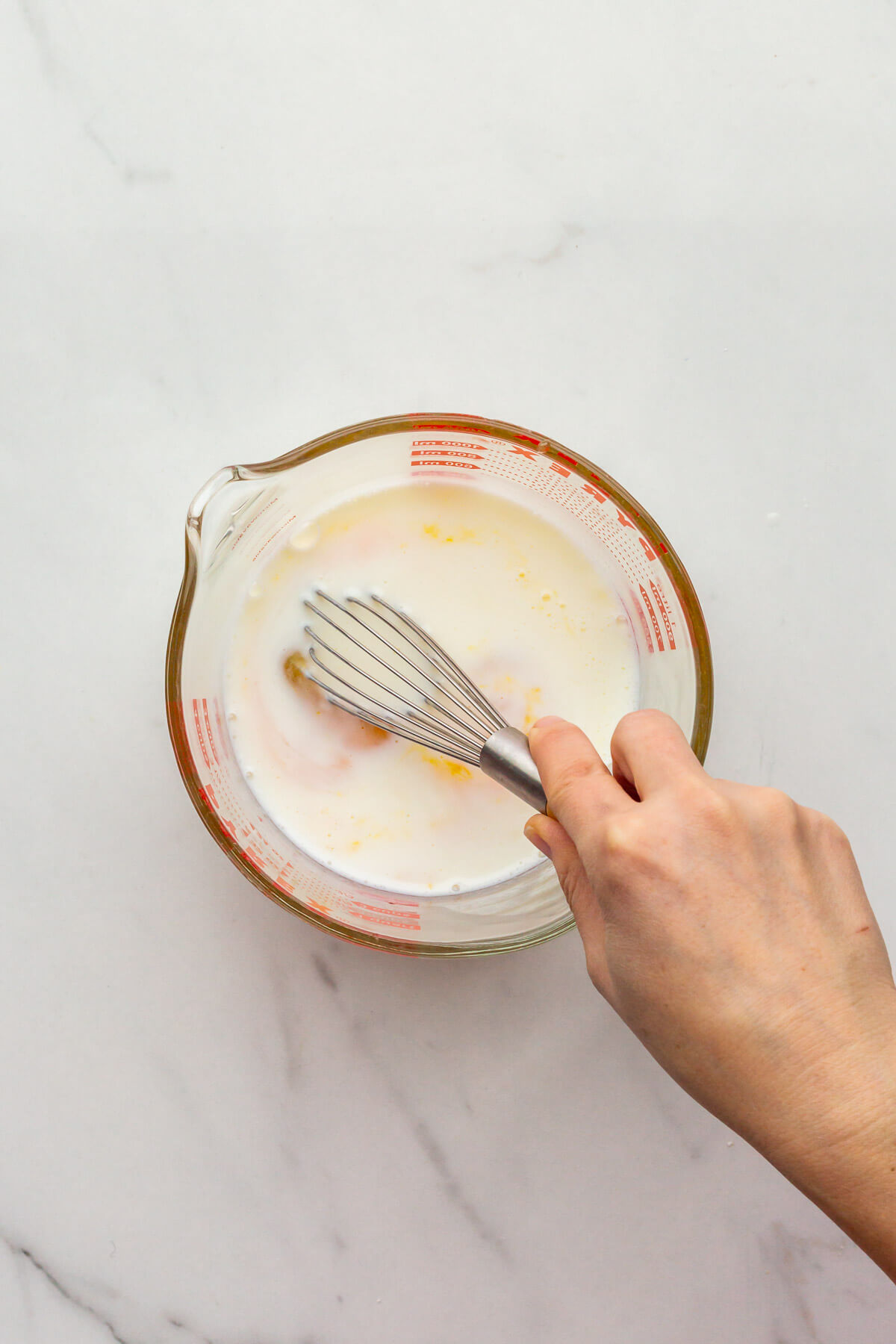 Use a whisk to break up the eggs to make sure the buttermilk mixture is well-mixed.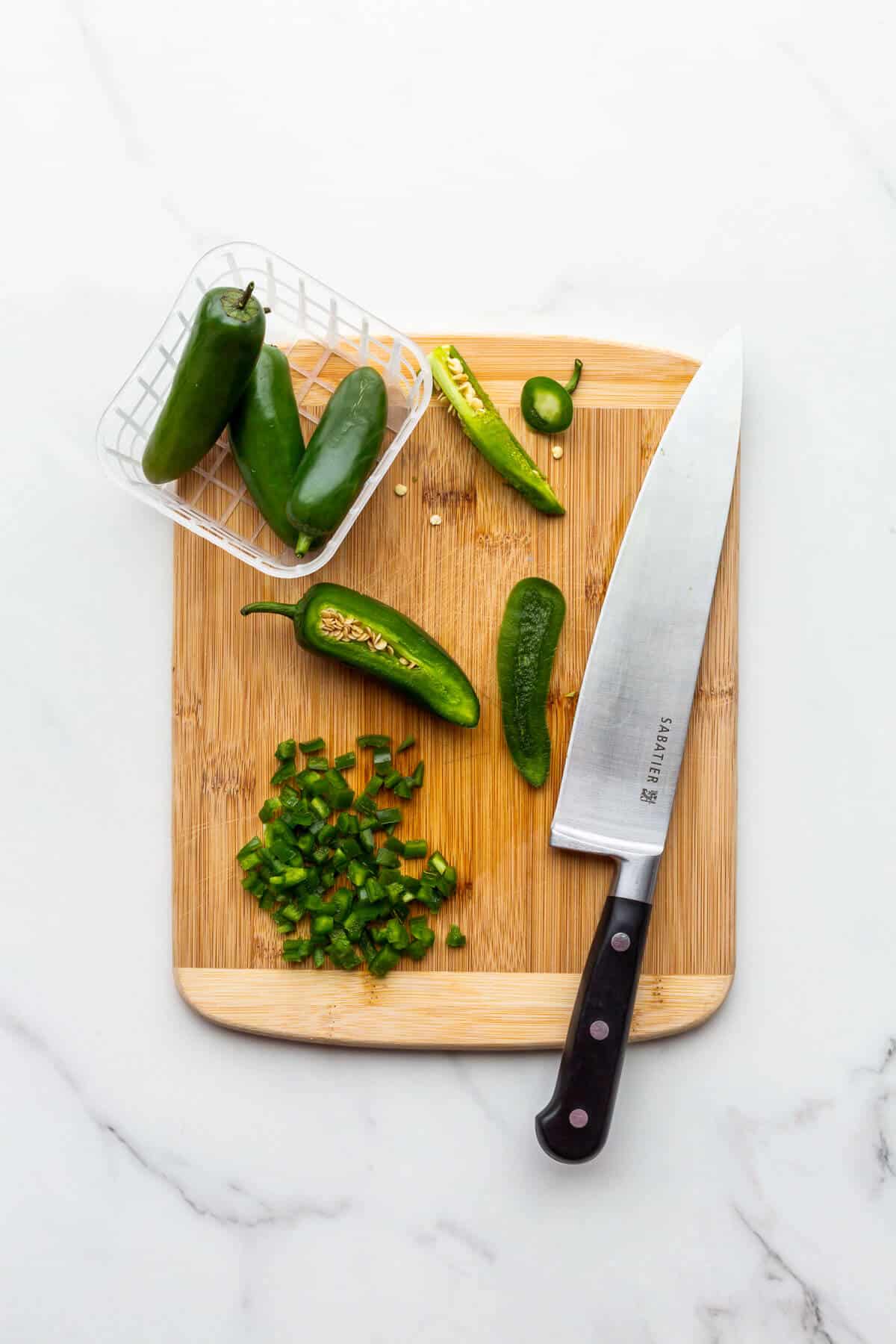 Prepare the jalapeños by seeding and dicing two of them to incorporate in the batter, slicing the other two into thin rounds for garnishing.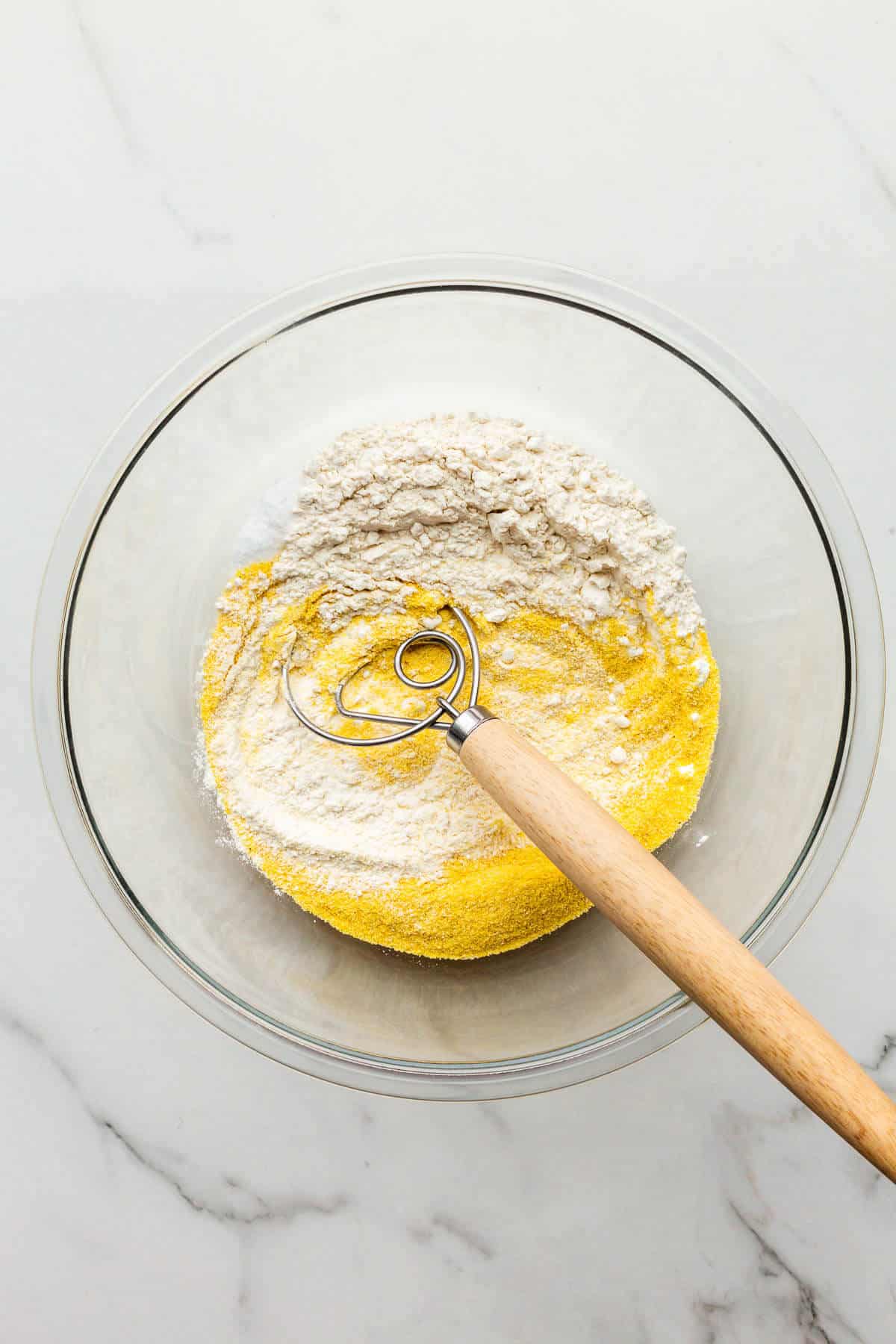 Use a Danish dough whisk to whisk the dry ingredients in a large bowl.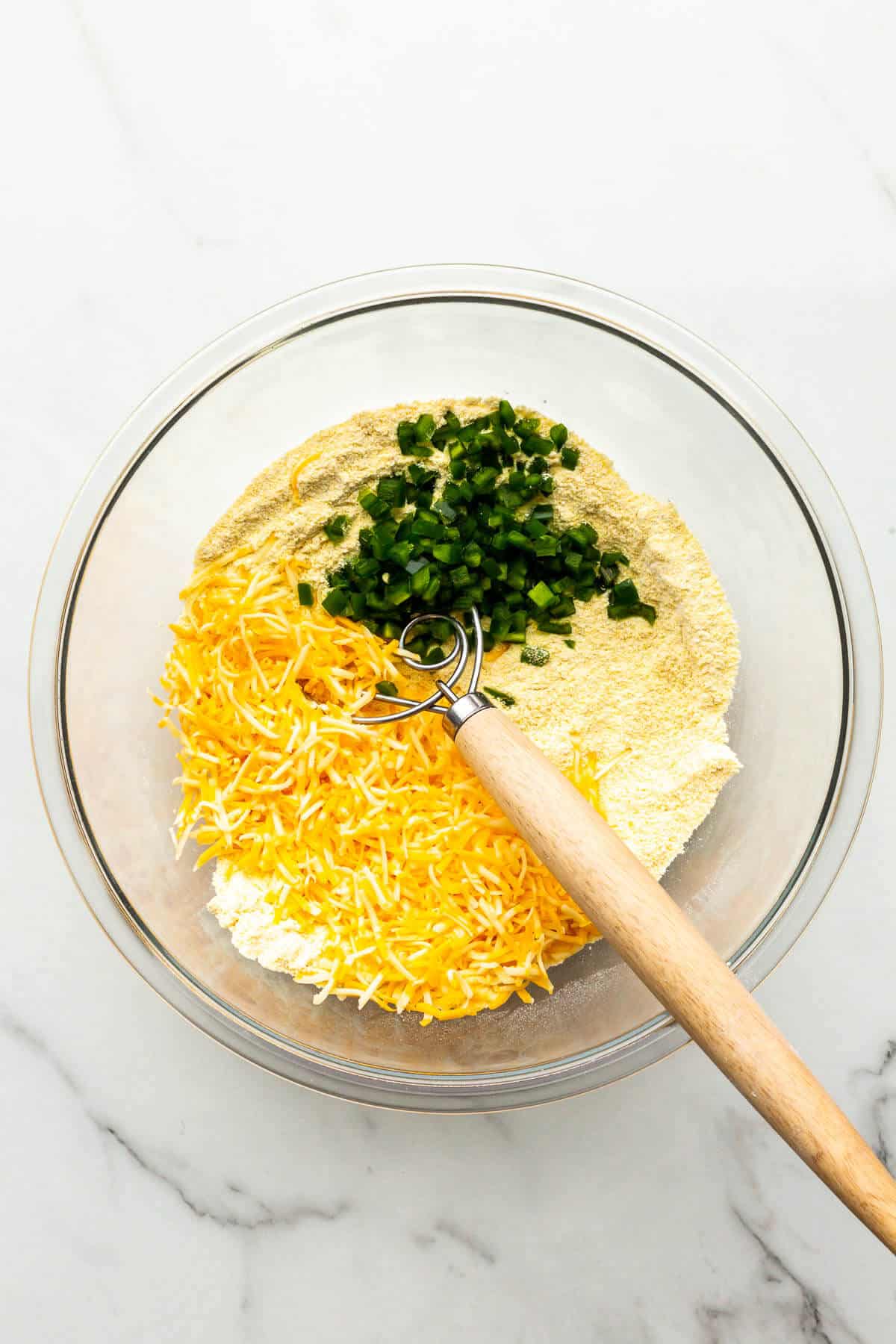 Mix the shredded cheese and diced jalapeños with the dry ingredients.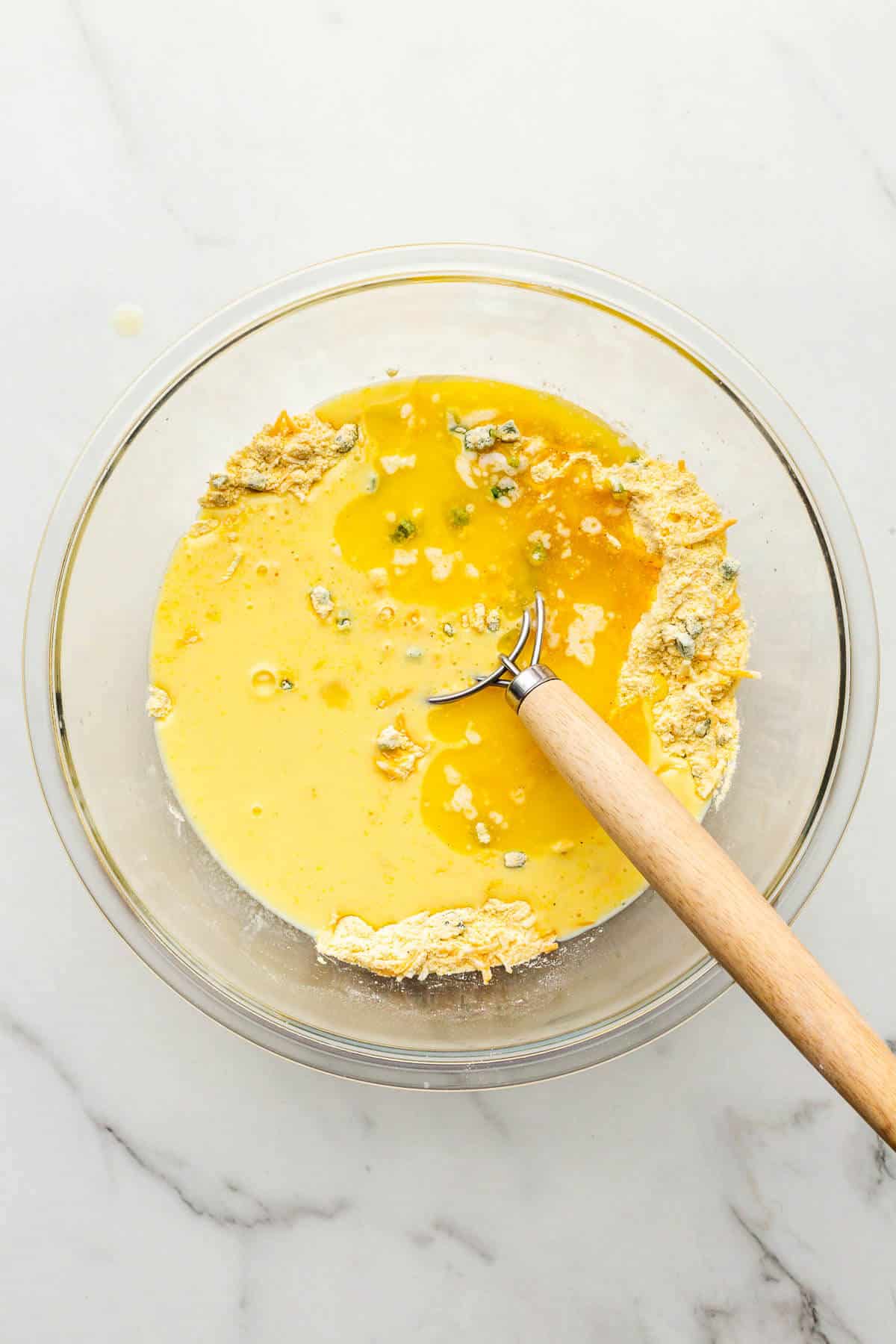 Pour the wet ingredients over the dry ingredients and the cooled melted butter.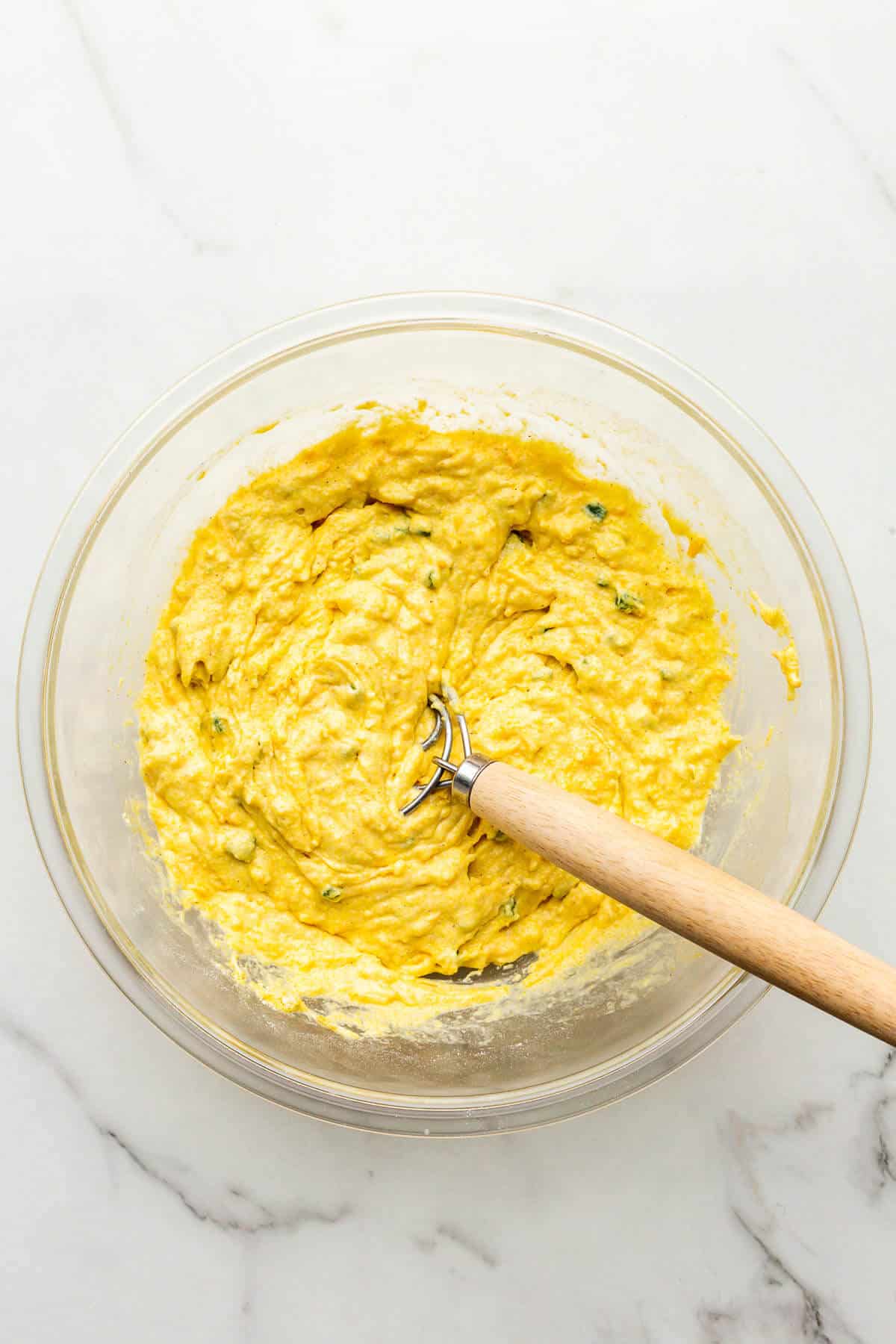 Stir to form a thick batter.
Scoop the muffin batter into greased muffin pans. I like to use a large disher for this task.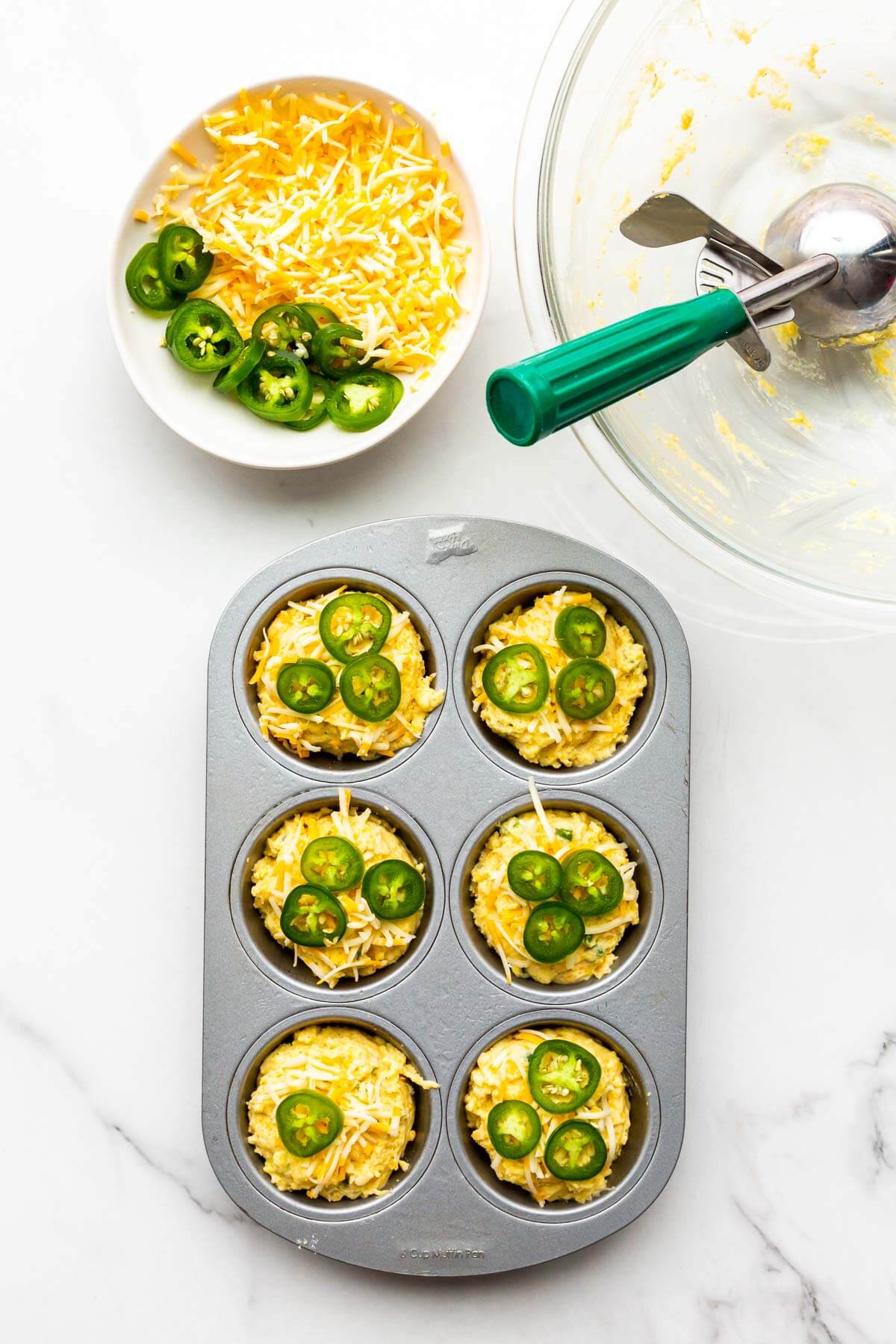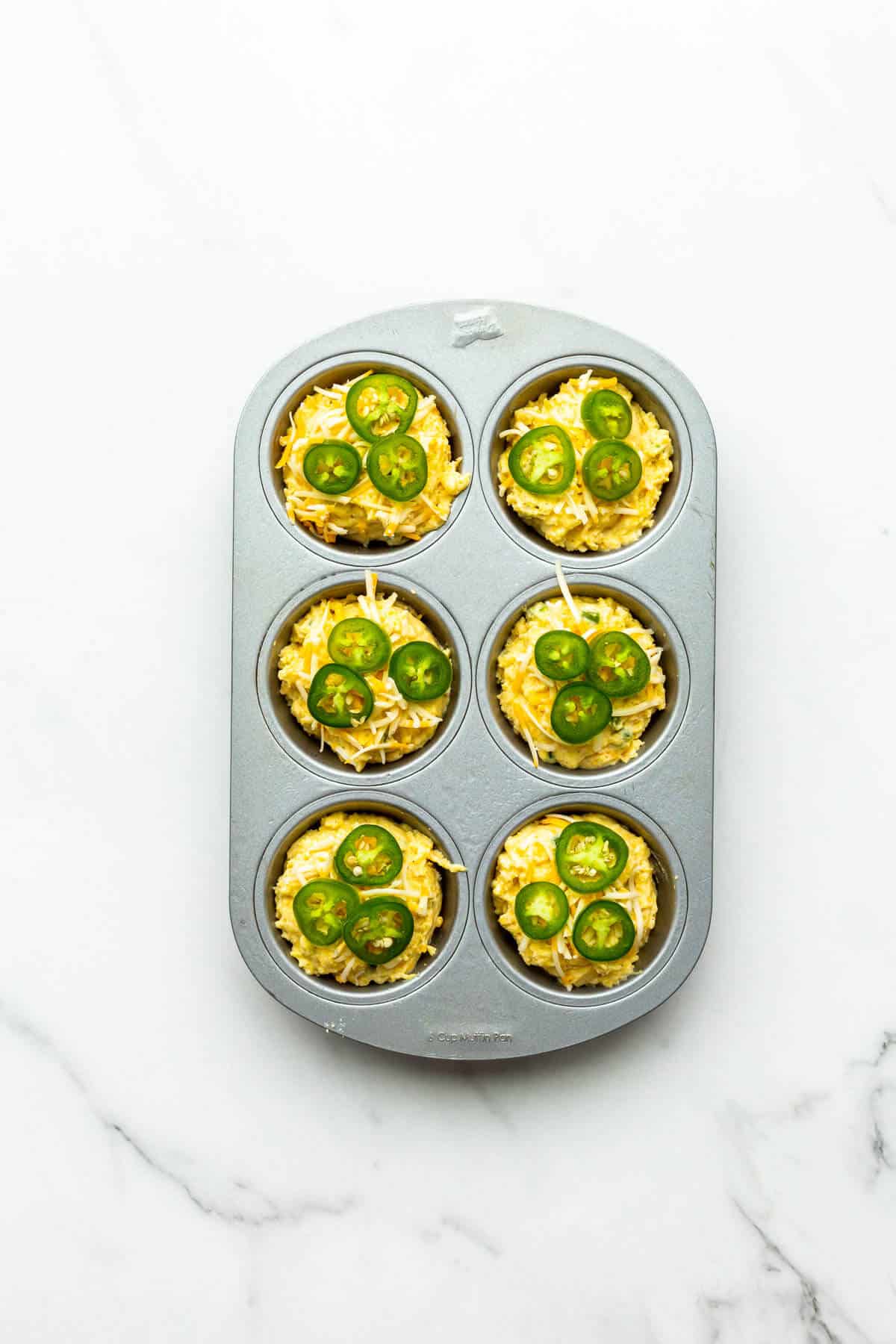 Garnished cornbread muffins before baking.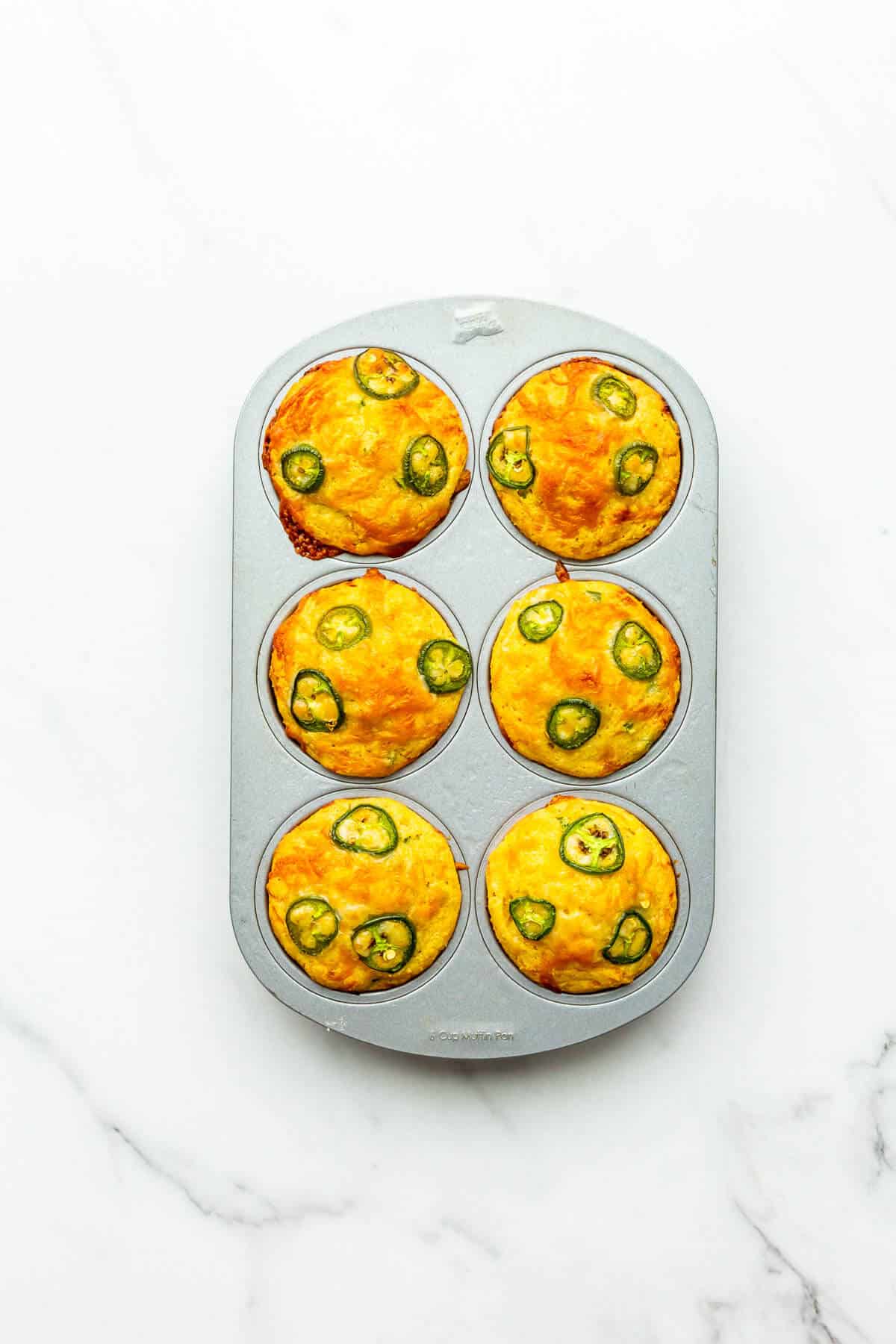 Bake the buttermilk cornbread muffins in a 350 °F until golden brown and set.
Variations
These buttermilk cornbread muffins are very versatile. If you don't like cheese and jalapeño, don't add them. You can instead incorporate and feature other flavours and ingredients:
Salty-sweet—incorporate diced Bell pepper and goat cheese
Corn—incorporate corn kernels (either cut off of leftover BBQ corn on the cob, canned, or defrosted corn, being sure to blot away and remove as much moisture as possible before incorporating)
Bacon or chorizo—add chopped cooked bacon or chorizo or even cooked sausage
What to serve these with
I love to eat these muffins smeared with butter and drizzled in honey for a salty-sweet snack. They also make a great side dish to serve with chilli or stews in the fall and winter months.
You can also serve these buttermilk cornbread muffins with grilled meats and BBQ in the summertime.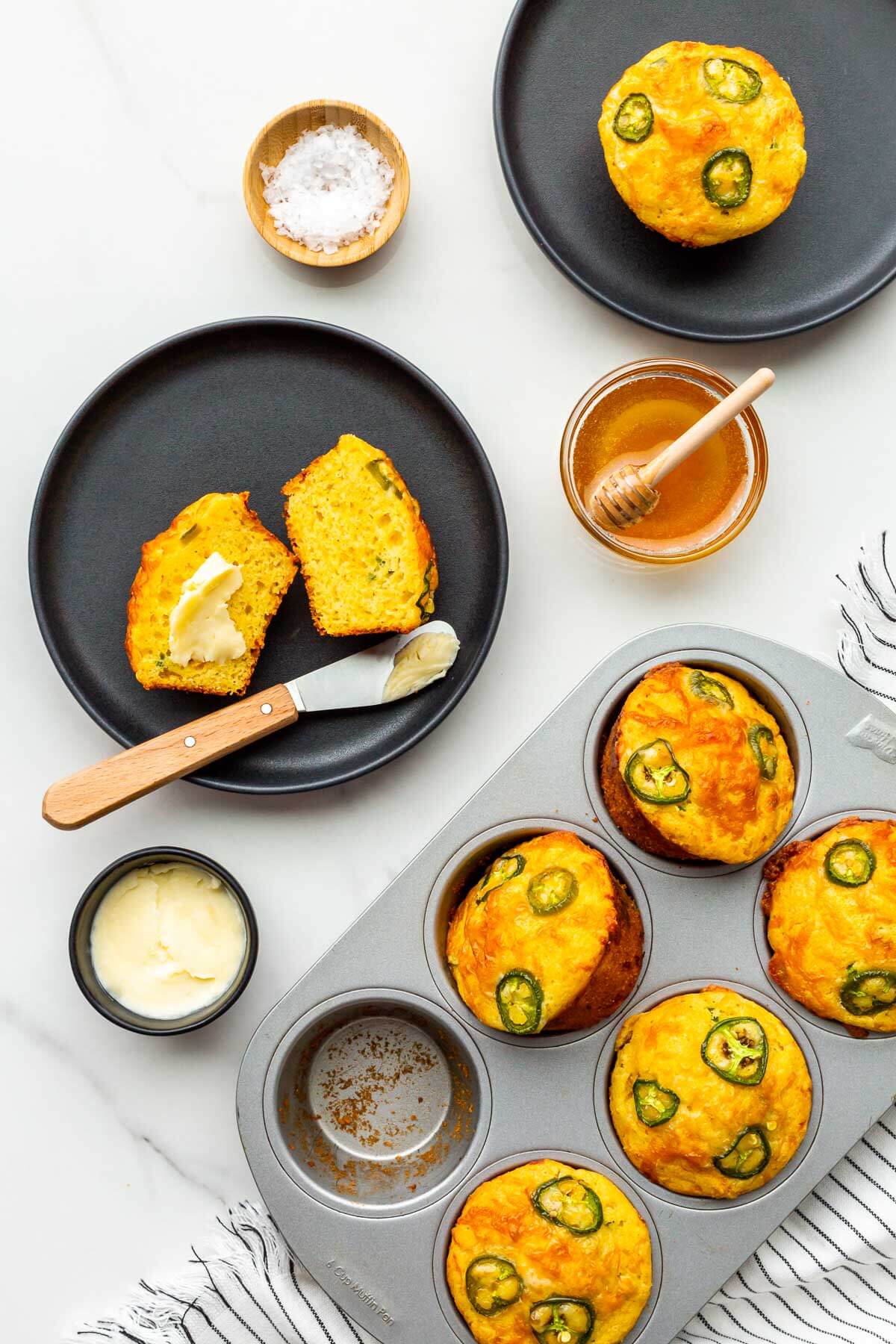 Storage
You can store these cornbread muffins for 1–2 days in an airtight container. Savoury muffins are more prone to drying out because they don't have the sugar in them to retain/absorb moisture. For this reason, I prefer to freeze them when they are freshly baked and cooled.
Remember to fully cool the muffins to room temperature (for 3–4 hours) before transferring them to an airtight container or freezer bag for long-term storage (1–2 months). To defrost one muffin, simply microwave for 30 seconds from frozen. This works well and makes a fluffy, hot muffin that's as good as when they were freshly baked, if not better!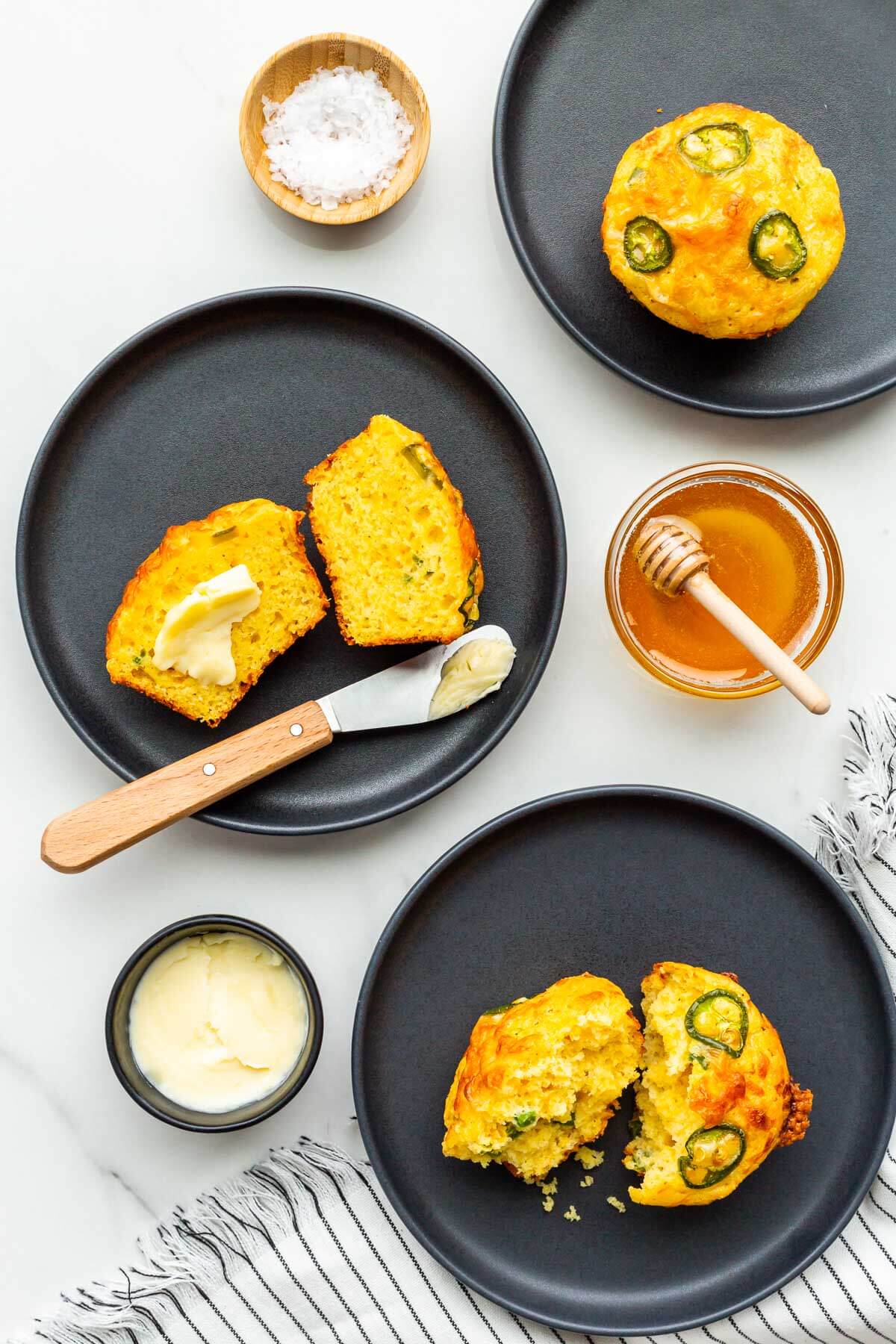 Other savoury baking recipes to try
If you like savoury baking, try these pizza muffins, cheesy cheddar biscuits or savoury olive muffins.
Frequently asked questions
What's the difference between cornbread and cornbread muffins?
Cornbread is usually baked in a skillet or a baking dish and cut into squares or pieces, while the batter can be divided between muffin cups to make cornbread muffins. The two batters are the same and interchangeable, but cornbread muffins may be easier to serve because you don't have to slice them to serve.
Why do my cornbread muffins stick to the pan?
Be sure to grease the cups of your muffin pans well, brushing with a neutral oil like canola oil or spraying with non-stick spray. Use a mini offset spatula to help lift the muffins out of the pan. Toppings like cheese may cause the muffins to stick and you may need to use a little more force to unstick the edges close to the tops of the muffins because of this. Try to sprinkle the garnishes closer to the centre of the muffin tops and away from the sides.
If all else fails, consider dusting greased muffin cups with flour before spooning the batter. This will help ensure they don't stick.
📖 Recipe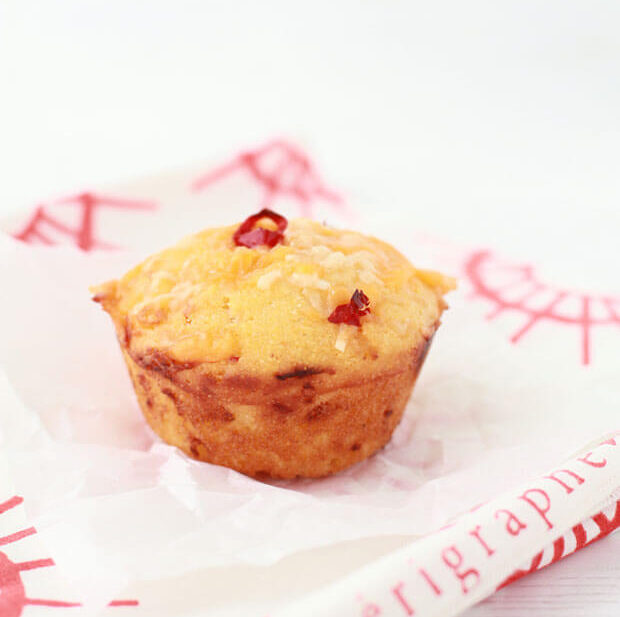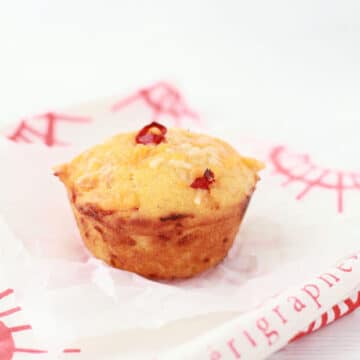 Jalapeño Cheddar Cornbread Muffins
Spicy jalapeño cheddar cornbread muffins make a great snack but also make a great option if you are looking for what to serve with chilli 
Ingredients
250

mL

buttermilk (1 % fat)

room temperature

2

large egg(s)

room temperature

40

grams

honey

125

grams

bleached all-purpose flour

160

grams

fine cornmeal

10

mL

baking powder

1.25

mL

baking soda

2

jalapeño peppers

finely chopped

120

grams

shredded cheddar cheese

plus extra for garnishing

57

grams

unsalted butter

melted

1

jalapeño peppers

cut into little rings for garnish
Instructions
Preheat the oven to 350°F (175 °C) and grease a 12-cup muffin pan. Set aside.

In a medium bowl with a spout (or large liquid cup measurer), whisk together the buttermilk, eggs, and honey. Set aside.

In a large bowl, whisk together the flour, cornmeal, baking powder/soda, and salt.

Add the diced jalapeño peppers and the shredded cheese to the bowl with the dry ingredient and stir them together.

Pour the wet ingredients and the melted butter into the bowl with the dry ingredients and stir (or whisk) them together til the batter is smooth.

Divide the batter among the greased muffin pans and top with a sprinkling of grated cheese and a ring or two of hot pepper.

Bake for about 20 minutes.
Nutrition
Calories:
244
kcal
Carbohydrates:
28
g
Protein:
8
g
Fat:
12
g
Saturated Fat:
6
g
Polyunsaturated Fat:
1
g
Monounsaturated Fat:
3
g
Trans Fat:
0.2
g
Cholesterol:
60
mg
Sodium:
258
mg
Potassium:
268
mg
Fiber:
2
g
Sugar:
6
g
Vitamin A:
481
IU
Vitamin C:
19
mg
Calcium:
169
mg
Iron:
1
mg