These chilli cheese cornbread muffins are made with fine cornmeal, cheddar cheese, and spicy red chilli peppers for a spicy savoury muffin that makes a great snack or side dish.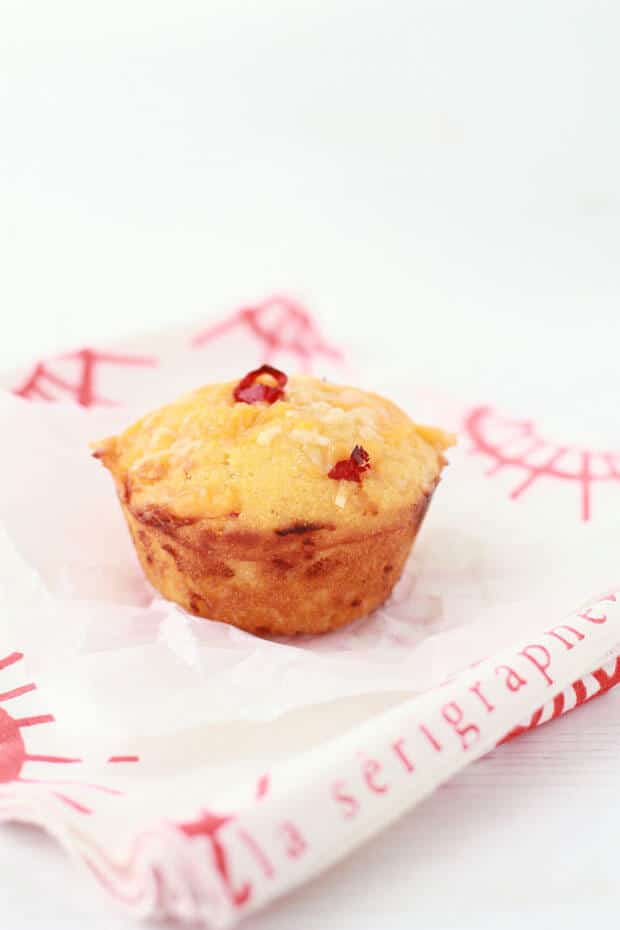 I like to make cornbread muffins with a combination of cornmeal (polenta) and all-purpose flour. This way, the flour provides a little extra structure for the cornbread so that they are less prone to crumbling or falling apart. Some prefer to make cornbread with only cornmeal, making it gluten-free, but in this case, I prefer to work in a little flour.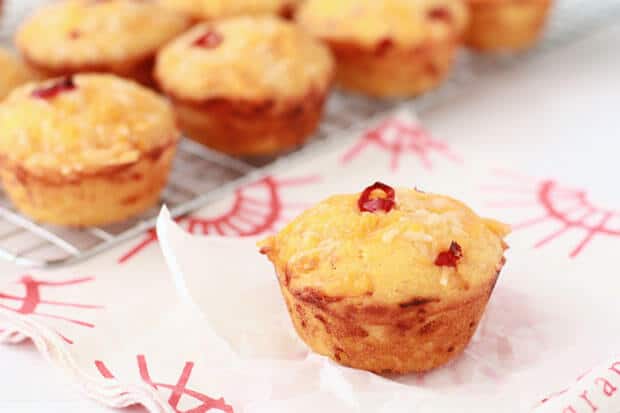 I also like to add buttermilk, which makes cornbread more moist and tender, and it adds a lot of tangy flavour. The acidity of buttermilk can reduce the browning of your cornbread, leading to anemic looking cornbread. I like mine to have golden brown edges, so I added a little baking soda to increase the browning on the edges of these cornbread muffins. The cheese also contributes to the browning.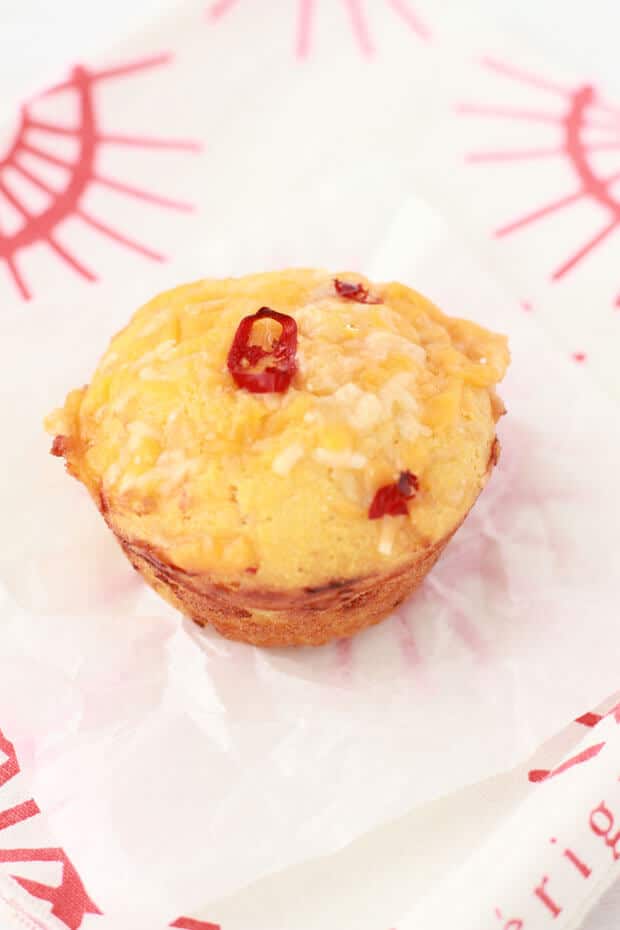 The cheese you add to these spicy cornbread muffins is a matter of personal preference and feel free to use whatever you have on hand. I opted for a combination of cheddar cheese, which melts well, and parmesan, which adds a lot of flavour and also has a lovely flavour when it toasts in the oven.
Monterey Jack or pepper jack would be perfect in these muffins too, but where I live, it's not as common to find either of these cheeses unfortunately.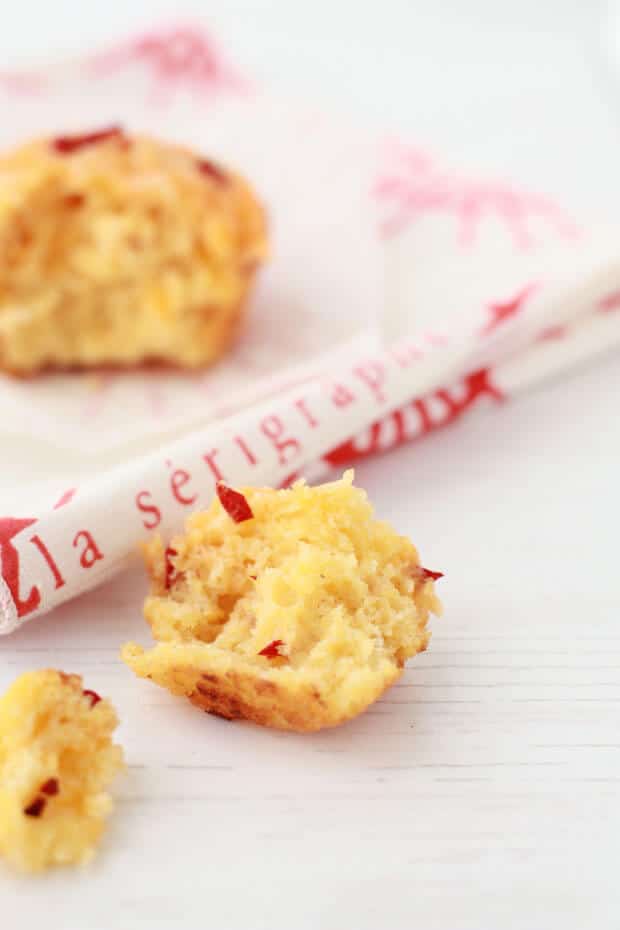 These savoury cornbread muffins are excellent, if I may say so myself. Seriously though, they are moist, full of corn flavour, cheddar cheese and spicy hits of red chilli. Plus they are easy. I ate three almost immediately after they were done baking. Enough said. Now go make these.
For more savoury options, try these savoury muffins or these cheesy cheddar biscuits.

Chilli cheese cornbread muffins
Spicy chilli cheese cornbread muffins make a great snack but also make a great option if you are looking for what to serve with chilli 
Ingredients
250

mL

(

1

cup

)

buttermilk (1 % fat)

room temperature

57

grams

(

¼

cup

)

unsalted butter

melted

2

(

2

)

large egg(s)

room temperature

2

tablespoon

(

2

tablespoon

)

honey

125

grams

(

1

cup

)

bleached all-purpose flour

160

grams

(

1

cup

)

fine cornmeal

2

teaspoon

(

2

teaspoon

)

baking powder

¼

teaspoon

(

¼

teaspoon

)

baking soda

½

teaspoon

(

½

teaspoon

) Diamond Crystal fine kosher salt

2

(

2

)

red chilli pepper(s)

finely chopped

40

grams

(

⅓

cup

)

shredded cheddar cheese

45

grams

(

½

cup

)

freshly grated Parmesan cheese

50

grams

(

½

cup

)

freshly grated mixture of cheddar and Parmesan

for topping the muffins

1

(

1

)

red chilli pepper(s)

cut into little rings for garnish
Instructions
Preheat the oven to 350°F and grease a 12-cup muffin pan. Set aside.

In a medium spouted bowl (or cup measure), whisk together the buttermilk, melted butter, eggs, and honey (if using). Set aside.

In a large bowl, whisk together the flour, cornmeal, baking powder/soda, and salt.

Pour the wet ingredients into the bowl with the dry ingredients and stir (or whisk) them together til the batter is smooth.

Toss in the 40 grams of grated cheddar and 45 grams of Parmesan and stir it into the batter, along with the finely chopped chilli pepper.

Divide the batter among the greased muffin pans and top with a sprinkling of mixed grated cheese and a ring or two of chilli pepper.

Bake for about 20 minutes.
Give back
If you enjoy the free content on this website, say thank you!
Nutrition