You just need a few ingredients to make these easy savoury cheese shortbread cookies. They are basically like cheese biscuits, tender, yet flaky and airy, and the dough is easy to make in the food processor with just a few ingredients in under 1 minute. These savoury cookies make an excellent addition to cheese boards and charcuterie platters, as well as an accompaniment for chilli or stew.
This recipe is sponsored by Président.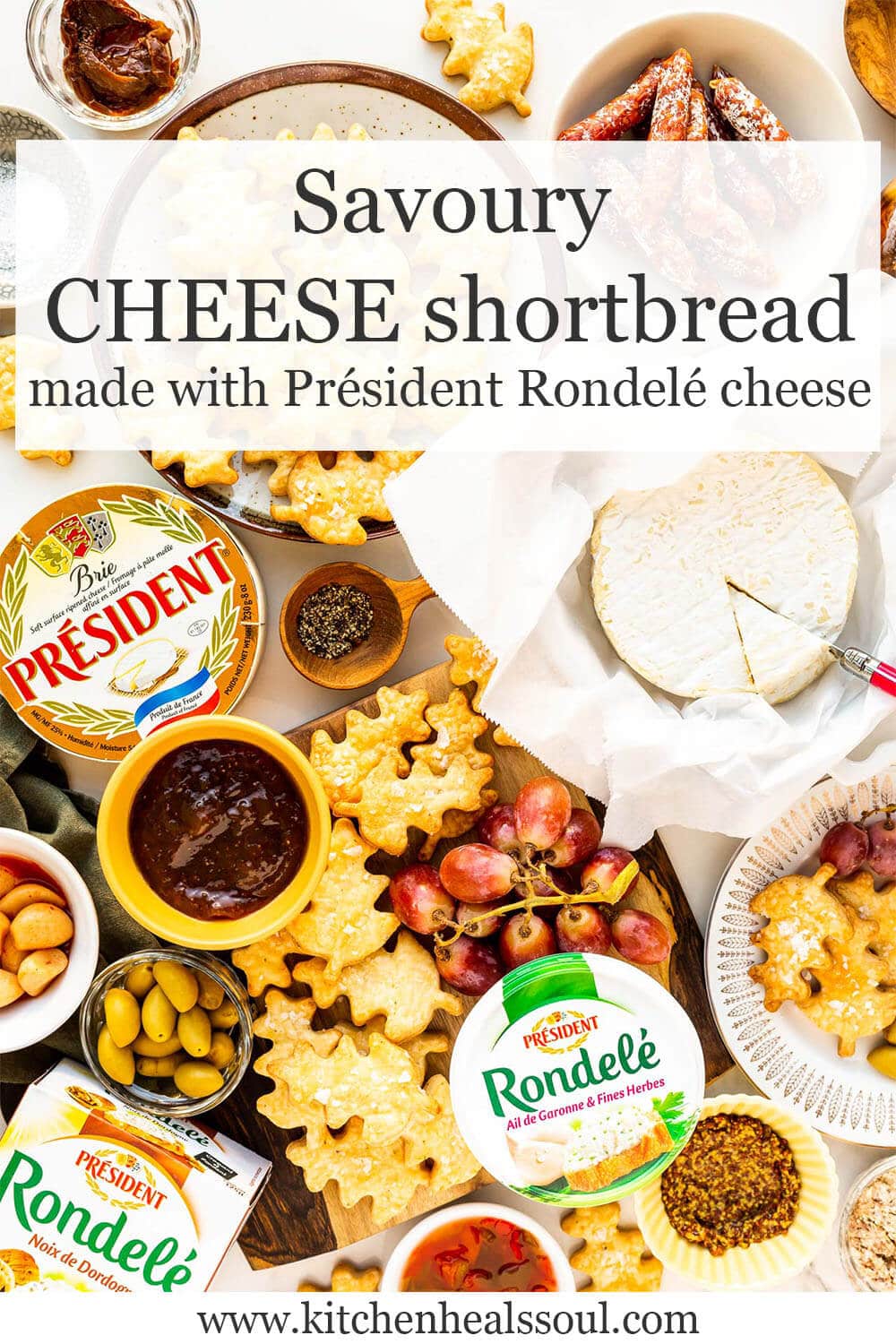 Disclosure: As an Amazon Associate, I earn from qualifying purchases.
Use your food processor to make flaky shortbread biscuits
The beauty of this savoury shortbread recipe is that it takes just a few simple ingredients to make, the cheese and the butter can be used straight from the fridge to make this dough, and it takes 1 minute to form the dough in the food processor. LITERALLY just 1 minute to make the dough for these cheese shortbread biscuits! Can you believe it?
I think part of the secret to making flaky biscuits and pie crusts is in the combination of
cold ingredients, specifically the fat and the moisture should be fridge-cold
minimally handling the ingredients so that they stay cold
using the food processor to combine the ingredients to form the dough. This way your hot hands don't warm up the ingredients or melt the butter
adding enough liquid to both bind the ingredients together and also create flaky layers from water evaporation and steam in the oven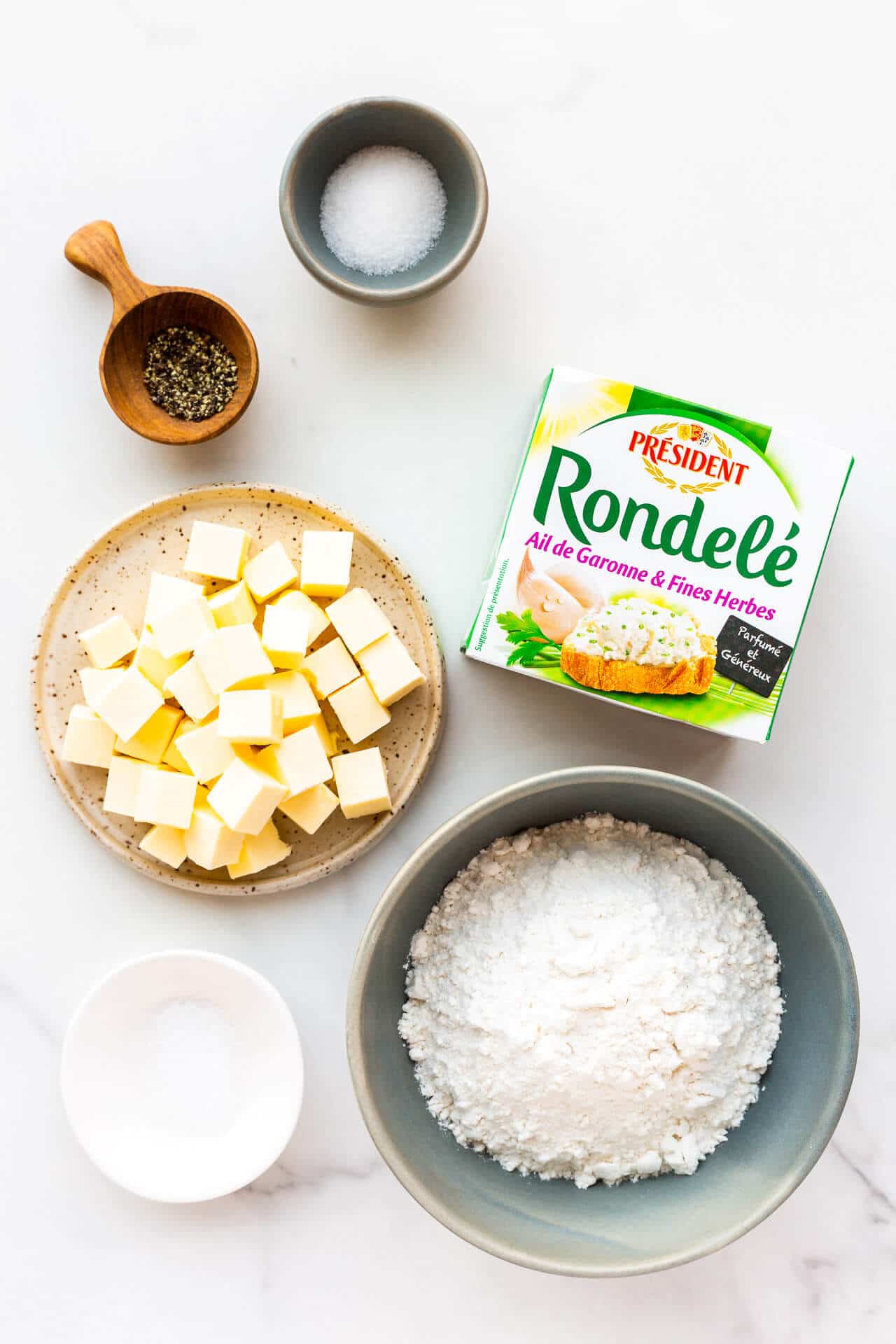 Incorporating cheese into crusts and biscuit recipes
Many bakers swear by replacing a portion of the butter in pie crusts with cream cheese. The spreadable cheese adds some fat but also moisture, yielding a pie crust that is both tender and flaky, and that has a ton of flavour. These cinnamon rugelachs are rolled cookies made with a cream cheese dough that is a little tangy with a slightly flaky texture. I've incorporated cheddar into spicy cheddar cheese biscuits.
Rondelé cheese by Président is a spreadable cheese that comes in a variety of flavours, including Garlic and Herbs (or in French "Ail de Garonne et Fines Herbes") and walnut (or in French Noix de Dordogne). These flavourful cheeses are soft and creamy and so are great for spreading on crackers, toast, and bagels as a substitute for cream cheese. And you can also bake with Rondelé cheese, just like with cream cheese, incorporating it into pie crusts and biscuits, and also savoury shortbread cookie recipes, like the one below.
In this recipe, the Rondelé cheese not only provides the necessary moisture to bind the dough and to create a flaky texture, it also provides a ton of flavour. All you need, besides the flour, butter, and a small amount of sugar, is a little salt and pepper, and some flaky sea salt to garnish it.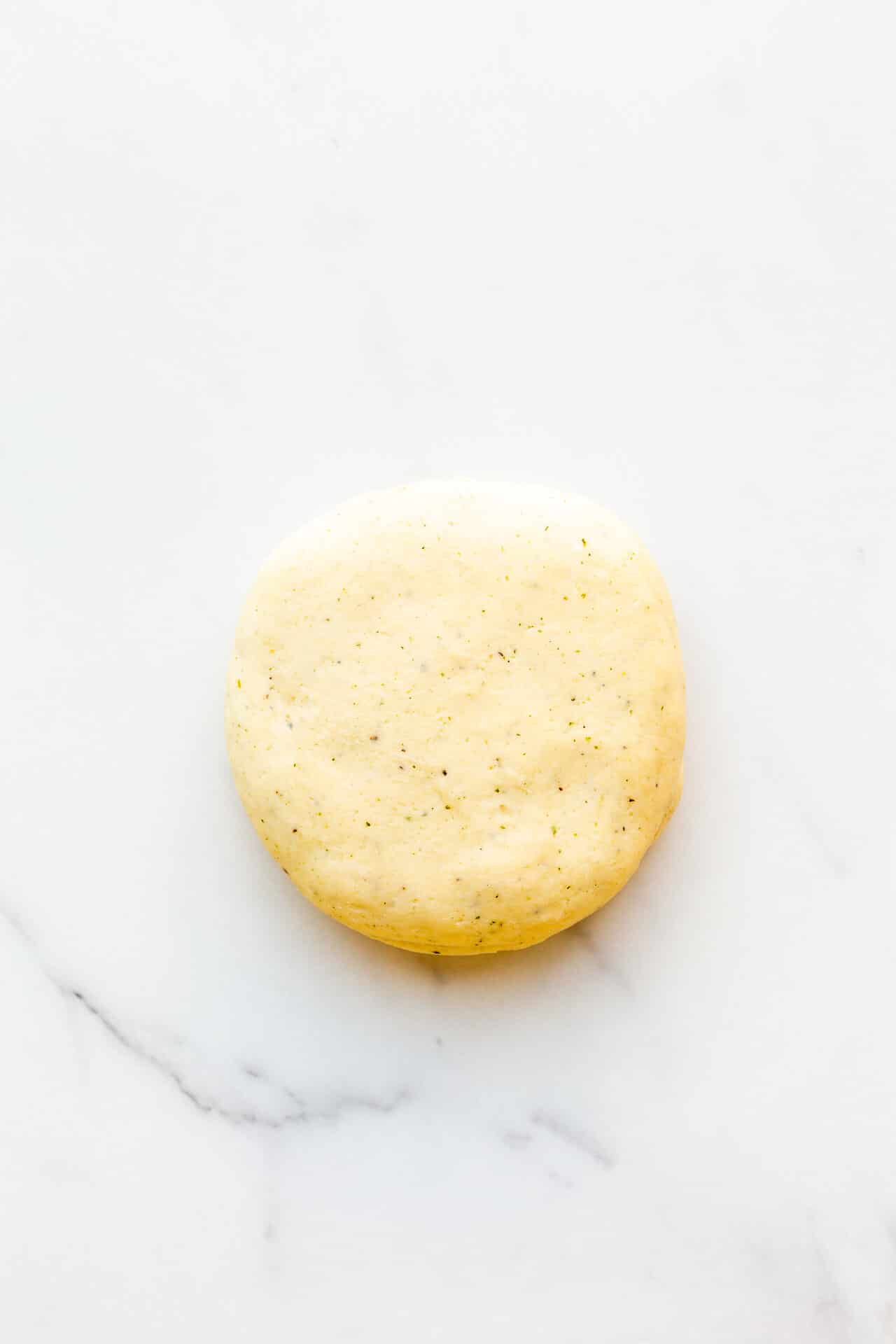 Chill the dough
The key to perfect shortbread cookies that are cutout, whether savoury or sweet, is to keep the dough cold:
start with cold ingredients straight from the fridge
refrigerate the dough once it's made to cool it down so that you can use less flour when it's time to roll it out
freeze the cutout cookies after cutting them out to harden the fats before baking
Chilling the dough and the cut-out cookies before baking means that the fats will take a longer time to heat up in the oven and melt. Slowing the melting allows the cut-out to set in the oven, locking in the shape. This is the secret to perfect cutout cookies, even savoury cheese shortbread like these.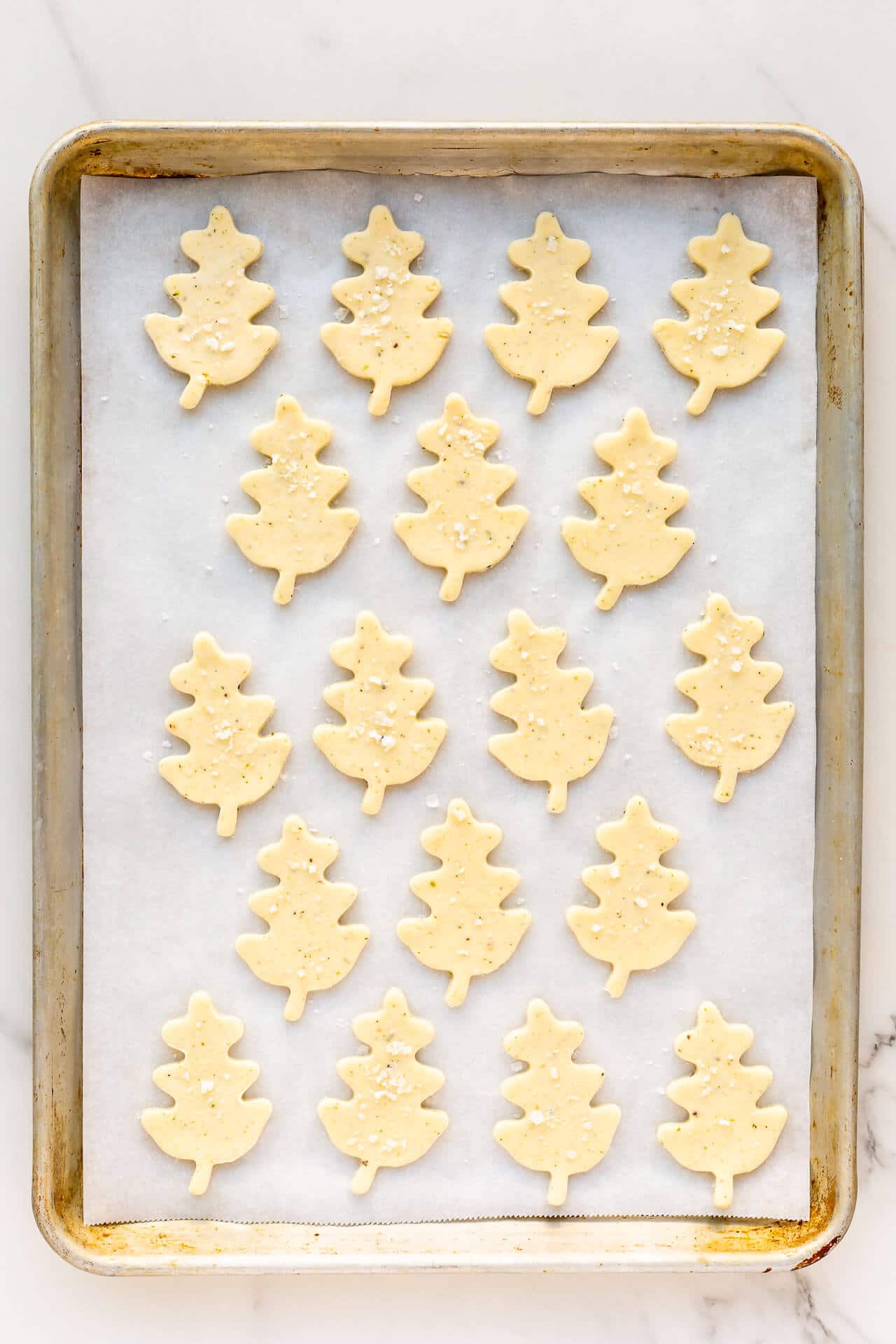 📖 Recipe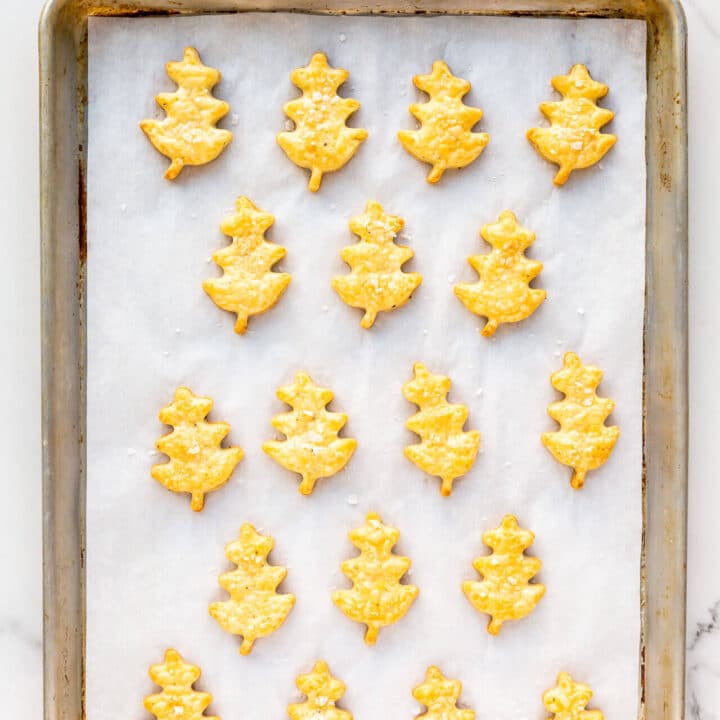 Savoury Cheese Shortbread Cookies
These savoury cheese shortbread cookies are easy to make in the food processor, yielding a tender, yet flaky and airy biscuit that is full of flavour from the Rondelé cheese.
Ingredients
188

grams

bleached all-purpose flour

125

grams

Rondelé cheese

cold

115

grams

unsalted butter

cold, cut into cubes

10

mL

granulated sugar

1.25

mL

freshly ground black pepper

Flaky sea salt

for garnishing cookies before baking
Instructions
Place the flour, Rondelé cheese, butter, sugar, kosher salt, and ground pepper into the bowl of a food processor fitted with the blade.

Pulse the mixture until it forms a sandy texture, then process until a ball of dough forms.

Carefully remove the blade from the food processor.

Remove the dough from the bowl and flatten into a disk. Wrap in plastic wrap and refrigerate for 30 minutes.

While the dough is chilling, preheat the oven to 400 ºF (200 °C). Line a sheet pan with parchment paper. Set aside.

Roll out the chilled dough on a lightly floured surface to between ⅛" and ¼". Cut out as many cookies as possible. Be sure to re-roll the scraps to cut out even more biscuits. You should have about 36 in the end, more or less ( the number depends on the size of the cookie cutter and the thickness).

Place the cookies on your parchment lined baking sheets, spacing them out. Sprinkle very generously with flaky sea salt.

Freeze the cookies for 10 to 15 minutes until frozen solid, then bake until golden brown, about 16 minutes.

Let cool completely then store in an air-tight container.
Nutrition
Calories:
57
kcal
Carbohydrates:
4
g
Protein:
1
g
Fat:
4
g
Saturated Fat:
3
g
Cholesterol:
10
mg
Sodium:
49
mg
Potassium:
6
mg
Fiber:
1
g
Sugar:
1
g
Vitamin A:
116
IU
Calcium:
4
mg
Iron:
1
mg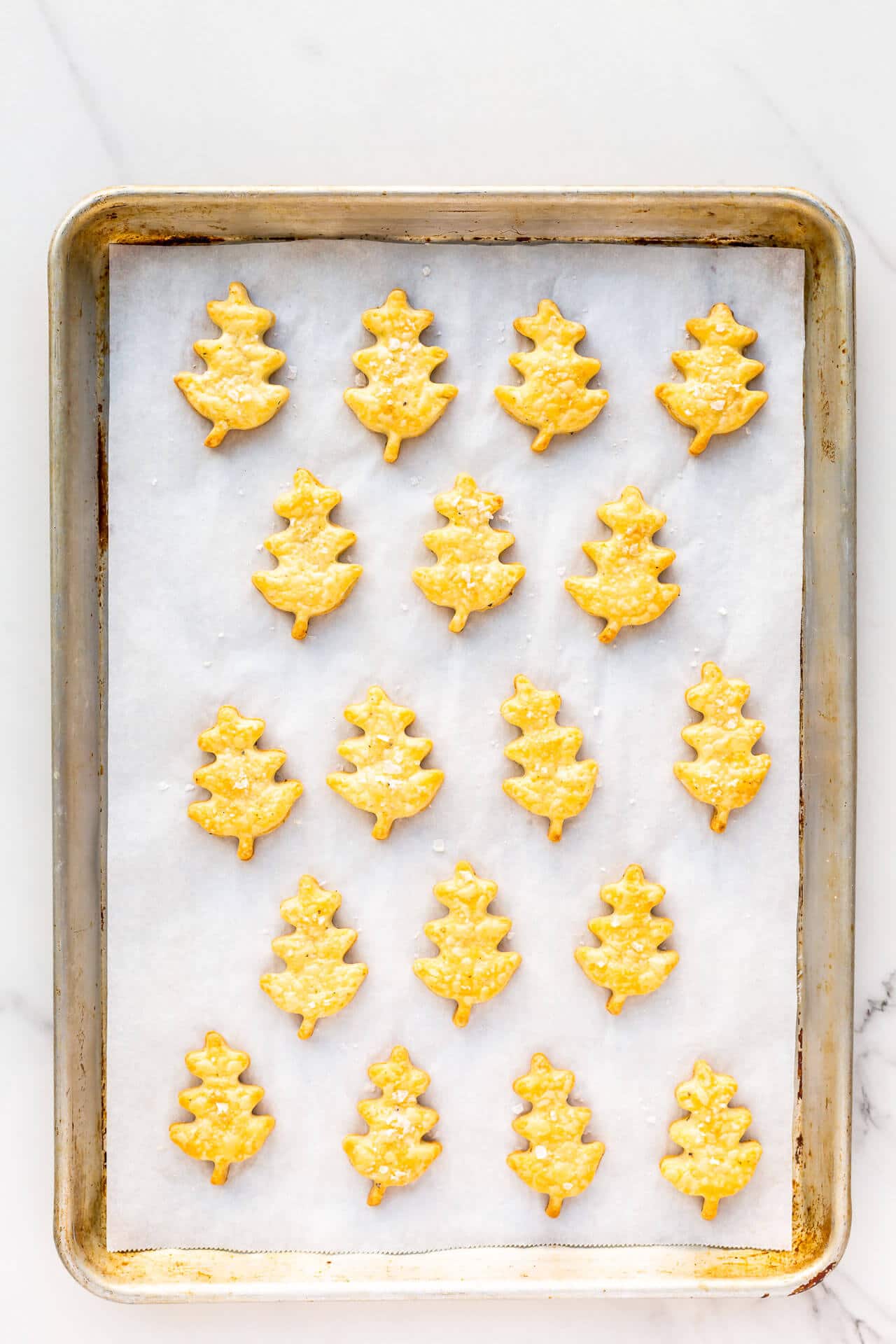 Ways of flavouring savoury cookies
With this base recipe, you can vary the flavour by varying the Rondelé cheese you use. In North America, Rondelé is sold in two flavours: Garlic and fine herbs (in French it's called Ail et Fines Herbes) and Walnut (in French it's called Noix de Dordogne). Both these flavours work beautifully in this recipe, the Garlic and Fine Herbs flavour adds a lot of kick, while the Walnut flavour is more mild and nutty. The generous sprinkling of flaky sea salt on these biscuits enhances the flavour and really makes these special.
If you want to go beyond this recipe, feel free to add finely chopped herbs, fine lemon zest, chopped nuts, chopped dried fruit, etc. Just make sure the ingredients you add aren't wet because that will throw off the shortbread ratio!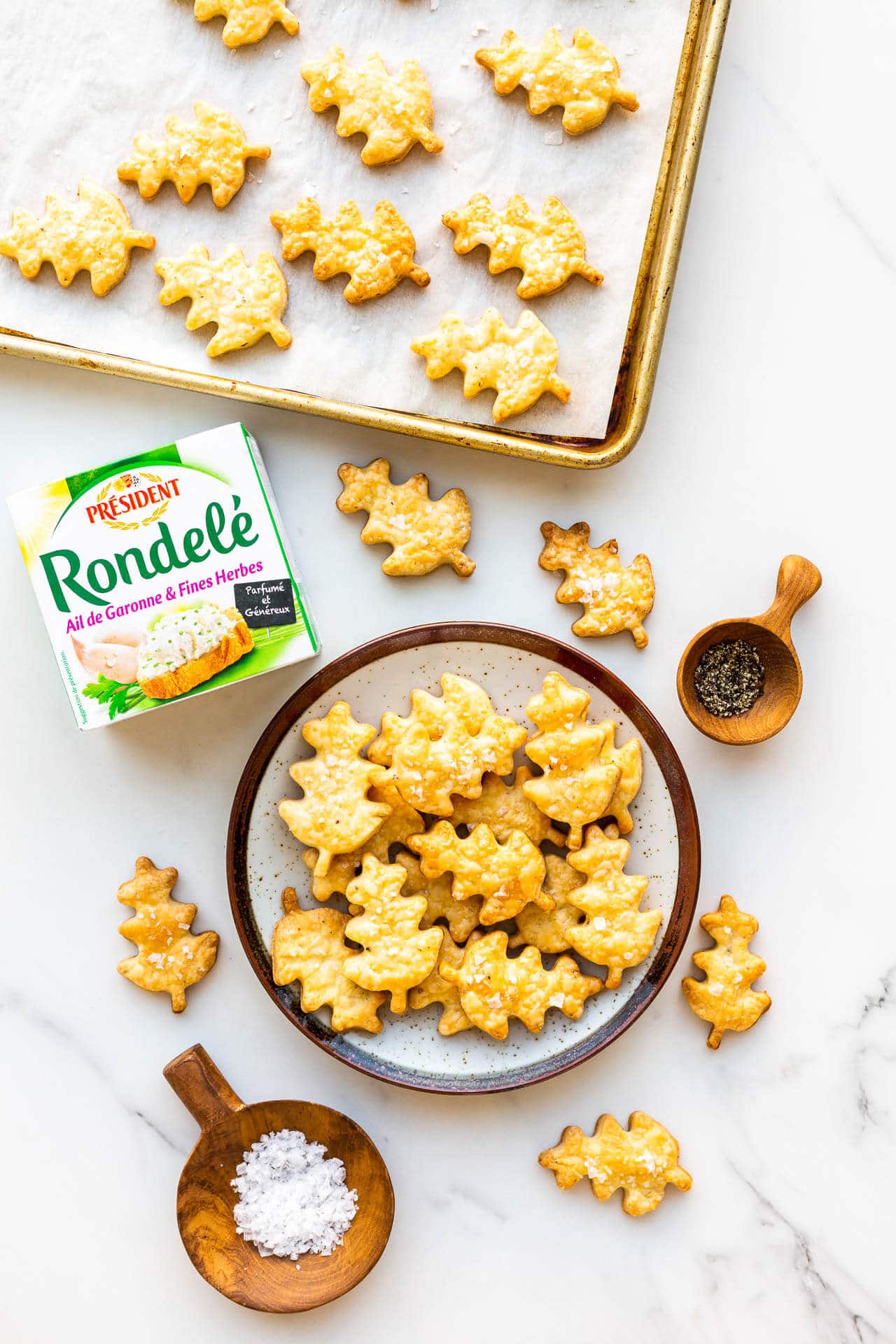 What to do with savoury cookies and biscuits?
Savoury shortbread biscuits are perfect for snacking on as is, but they also make a great accompaniment to soups and stews, instead of bread, for example. You can also incorporate them into cheese and charcuterie boards and appetizer platters, as you would cheese straws. You can use different cookie cutters according to the seasons or if you would like to cut out festive shapes to represent a holiday you are celebrating. The possibilities are endless with this base recipe and you can easily customize them to make your own.
To build a cheese board, start with a large platter (or use a cookie sheet), and use a wide variety of cheeses of different textures and characteristics. Build a platter around a wheel of Président Brie (a cheese that you can slice or cut into wedges with a creamy taste) and serve it alongside a spreadable Président Spicy Red Pepper Brie or Rondelé with Garlic and Fine Herbs, both of which will add a kick to your board. Layer on mini saucissons (like little cured salami), grainy mustard, pickles and olives, and don't forget sweet elements like, fresh grapes, apricots, figs, dried fruit or even honey or jam. Fill the platter so it's practically overflowing and you can use the homemade savoury biscuits to fill all the gaps on the platter to make it look plentiful.
Combining high quality Président cheeses with charcuteries, preserves, and pickles from your grocery store, and then adding these homemade savoury shortbread will make your holiday appetizer platters really special, and nobody will believe you when you tell them the dough took only 1 minute to make in the food processor!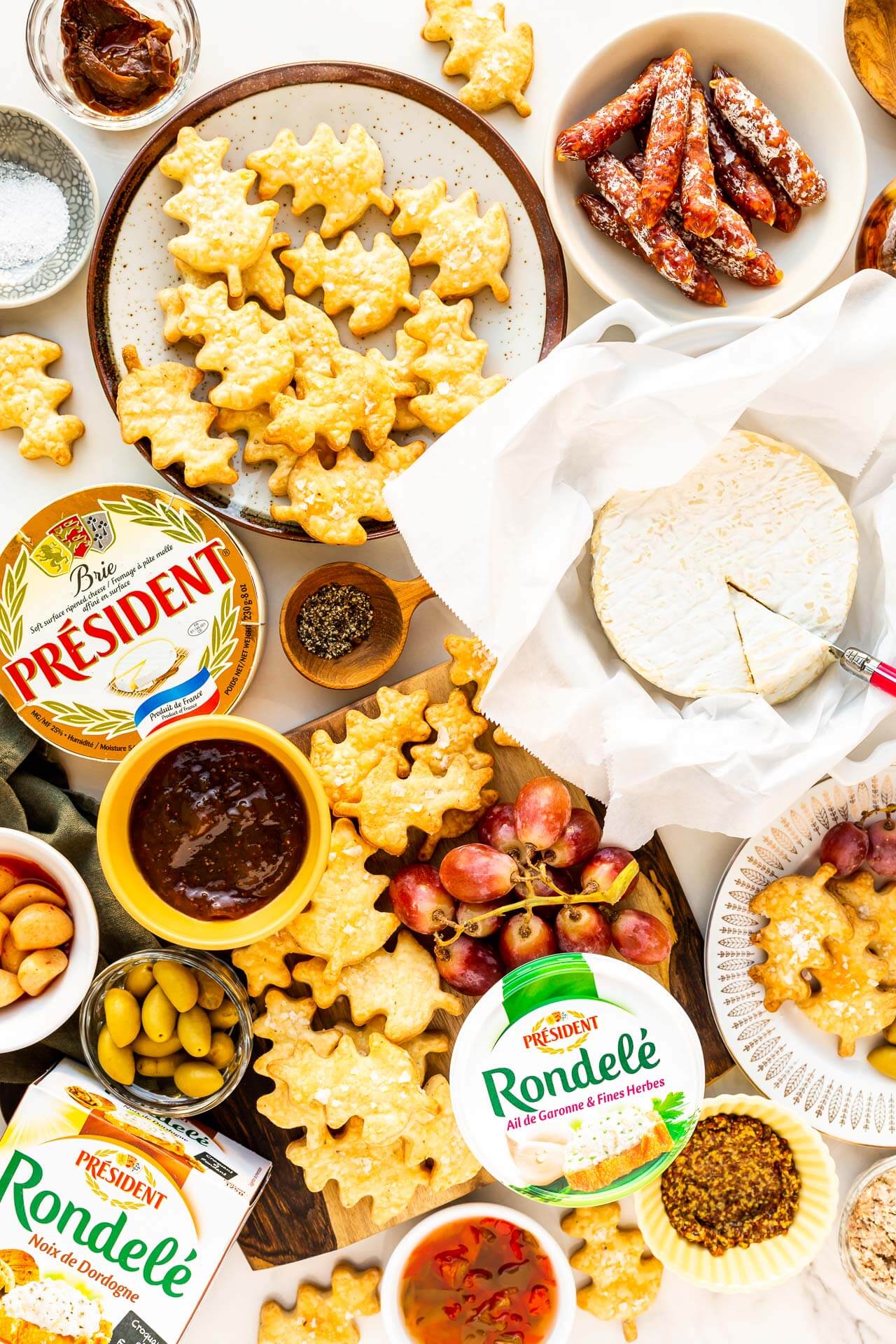 This post is sponsored by Président Canada. I was compensated monetarily and with product. Thanks for supporting the companies that allow me to create content for Kitchen Heals Soul. As always, please know that I wouldn't work with a sponsor nor recommend a product if it wasn't worth it.