Learn how to make savoury scones with cheese with this easy recipe. This savoury scone recipe will work with any kind of semi-soft or hard cheese that you can grate to easily incorporate it into a buttery scone dough. You can get creative and incorporate spices, herbs, sun-dried tomatoes, pickled jalapeños, olives, and so much more!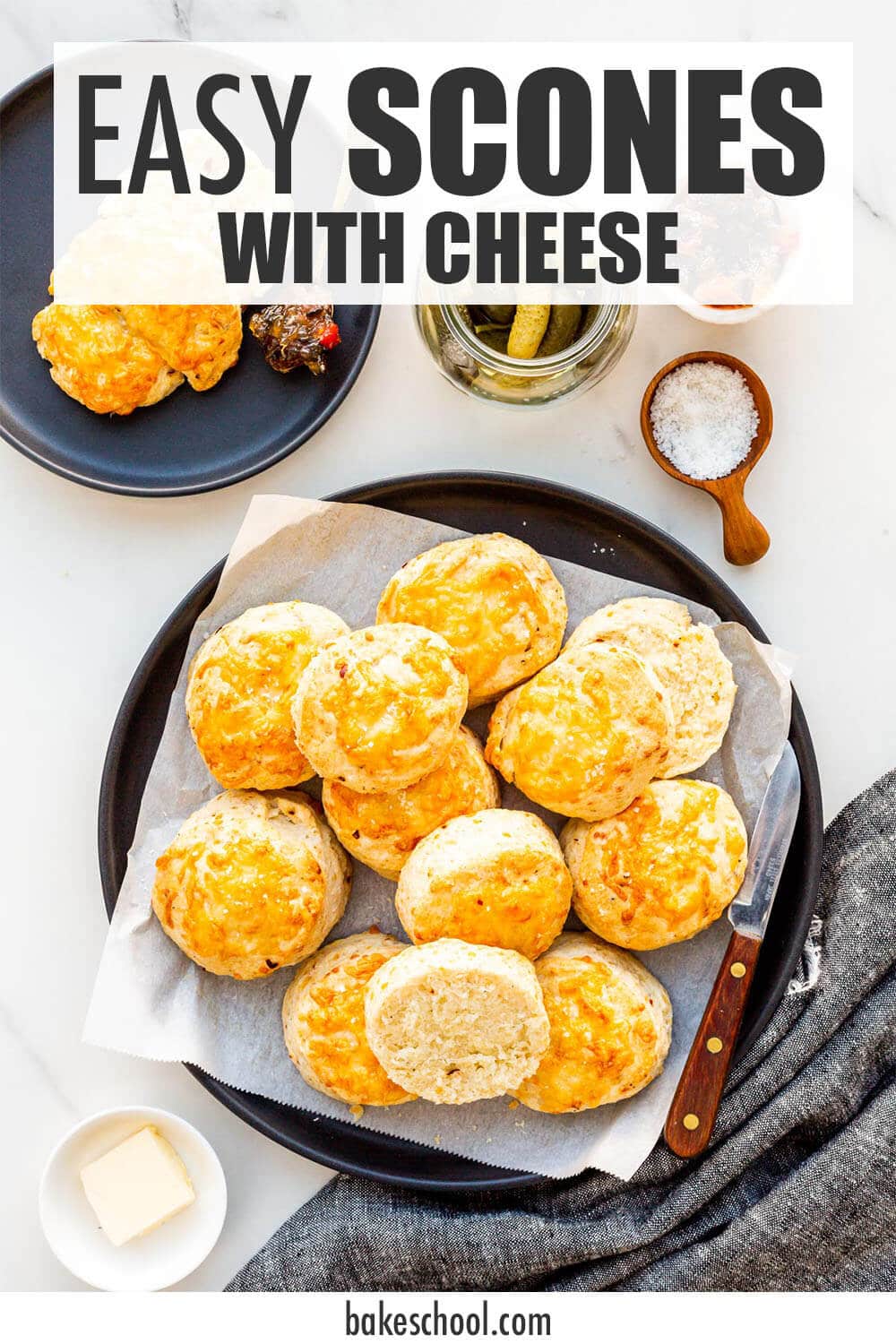 Disclosure: As an Amazon Associate, I earn from qualifying purchases.
Scones don't have to be sweet. It's a common misconception and actually, exploring savoury scone recipes allows you to get even more creative with them!
Everybody loves savoury baking recipes, and this recipe is especially welcome by those who prefer savoury snacks and treats.
Jump to: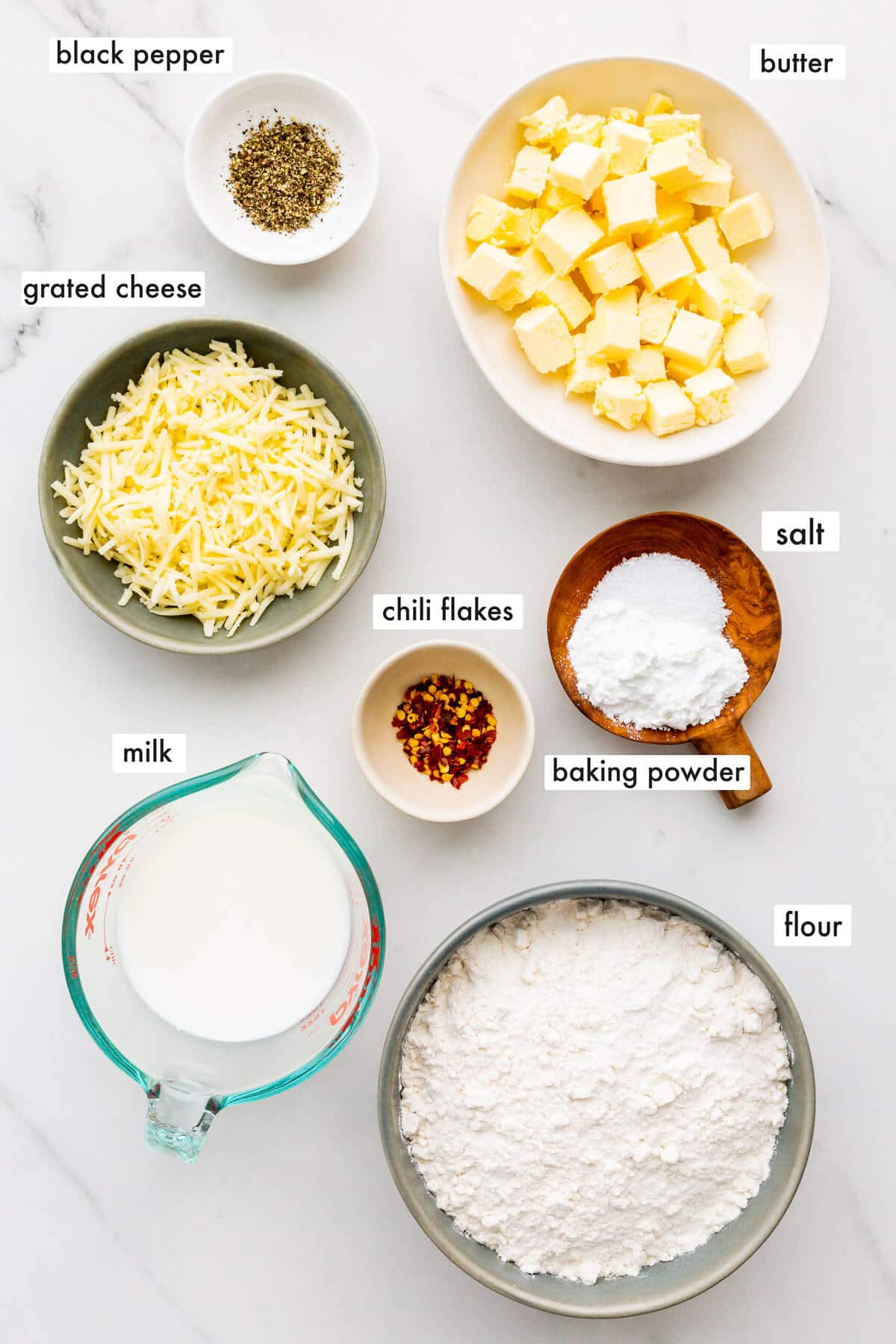 What you need to make these
Making scones with cheese is so easy and you likely already have all the ingredients you need in your fridge and pantry. Here's what you will need to make this recipe:
flour is needed to bind all the ingredients together and give the scones structure, contributing to the rise as well. If you don't use enough flour, your scones may spread too much as they bake, and end up flat, but also gummy or wet
baking powder—you need a hefty amount of baking powder, which is a chemical leavener. We aren't using baking soda because this scone recipe is made with regular milk. Read up on baking soda vs baking powder if you are unsure, which is which
freshly ground black pepper adds a little kick to the scones and enhances their savoury quality without being spicy
salt is really important to balance out the flavours and also to help the cheese flavour pop. Don't skip it. I like to use Diamond Crystal fine kosher salt, but table salt will work, though the scones will be saltier and you may want to halve the salt in that case
shredded cheese—as you would imagine, you will need quite a bit of cheese to make scones with cheese since it's incorporated in the dough and on top of the scones too. Opt for a semi-firm or hard cheese. You can try anything from Gruyère and aged cheddar to parmesan or pecorino. You can also try a combination too!
spices or dried herbs—I like to add chili flakes (also called hot pepper flakes or red pepper flakes) but you can also incorporate dried oregano or dried thyme, or spice blends like Italian seasoning or even zaa'tar
butter, preferably unsalted butter because we are adding salt to the dough and the cheese also brings a lot of salt too
milk, preferably whole fat or 2 % fat milk, binds the ingredients together—the fat helps ensure tender scones that aren't too dry and that store well without going stale too quickly.
See recipe card for quantities.
Substitutions
You can get really creative when you are making savoury scones. Here are a few ideas:
Cheese: you can use any type of semi-firm or hard cheese, but make sure to choose a cheese that is flavourful and that you like to eat. My personal preferences are aged cheddar, Gruyère, and parmesan
Spices: use any savoury dried herbs, seeds, or spice mixes that go with cheese, like sesame seeds, poppy seeds, thyme, basil, oregano, or even Italian seasoning mix or za'atar
Milk: you can use whole milk or 2 % milk. Lower fat or fat-free milk isn't ideal here and the scones may seem dry. You can also try cream in this recipe or higher fat dairy. The results will be great!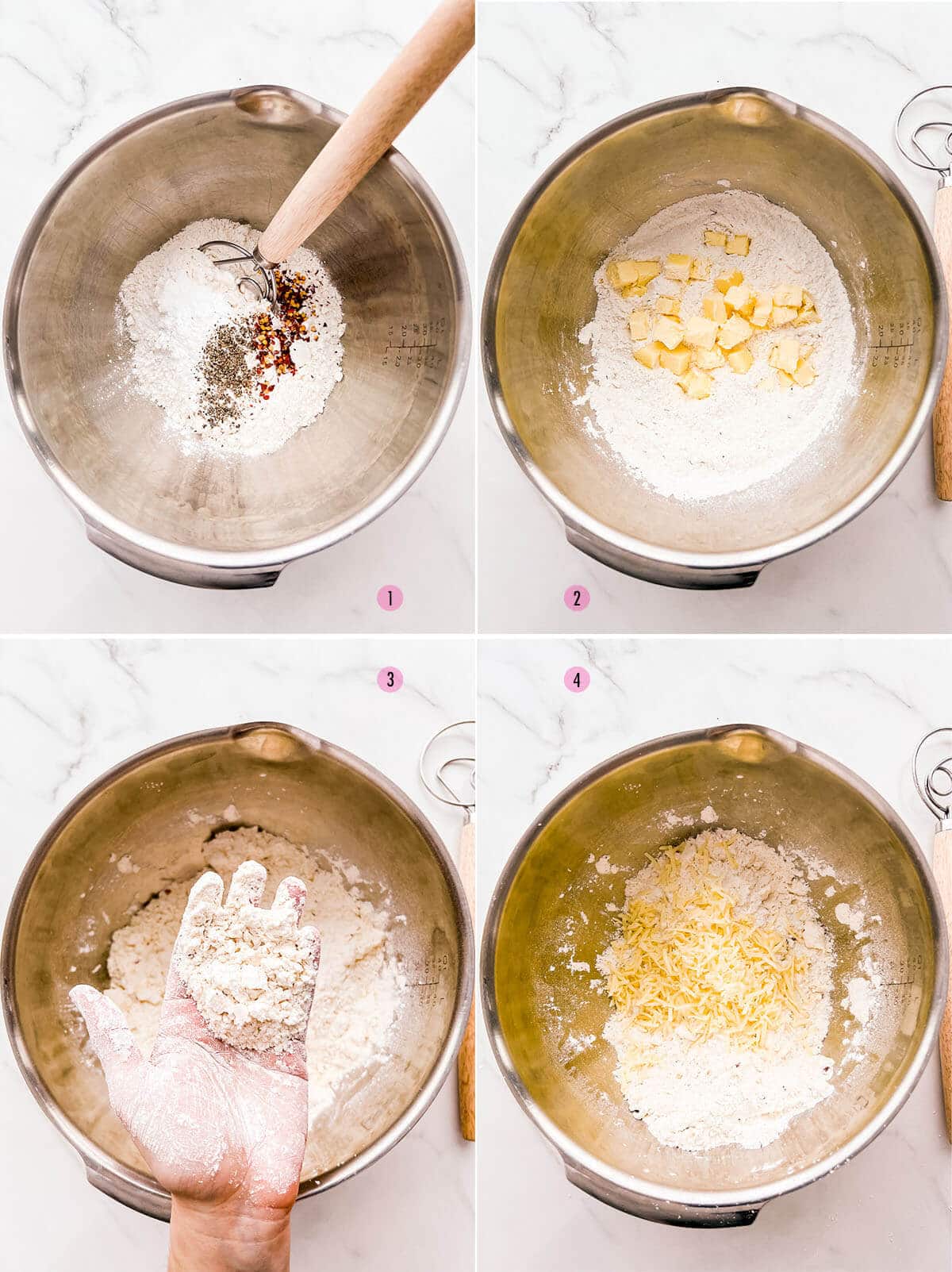 Incorporating cheese in scones
The basic steps to make scones with cheese are the same as for regular scones, in that you combine the dry ingredients in a big bowl, and then work in the butter to form a sandy mixture with clumps of butter. At this stage, you add the cheese.
Once you've mixed in the shredded cheese so that it's evenly dispersed, you can work in the liquid `(in this case milk) to form the dough.
You can use a rolling pin to roll out the dough or just pat it with your hands before cutting into rounds. Patch the scraps together to cut out a total of 12 scones.
I like to brush the surface of the scones with a little milk and then sprinkle on more cheese.
Hint: Use a round cookie cutter to cut out scones evenly. I like this set of round cutters, which gives you all the size options you need to tackle any baking project!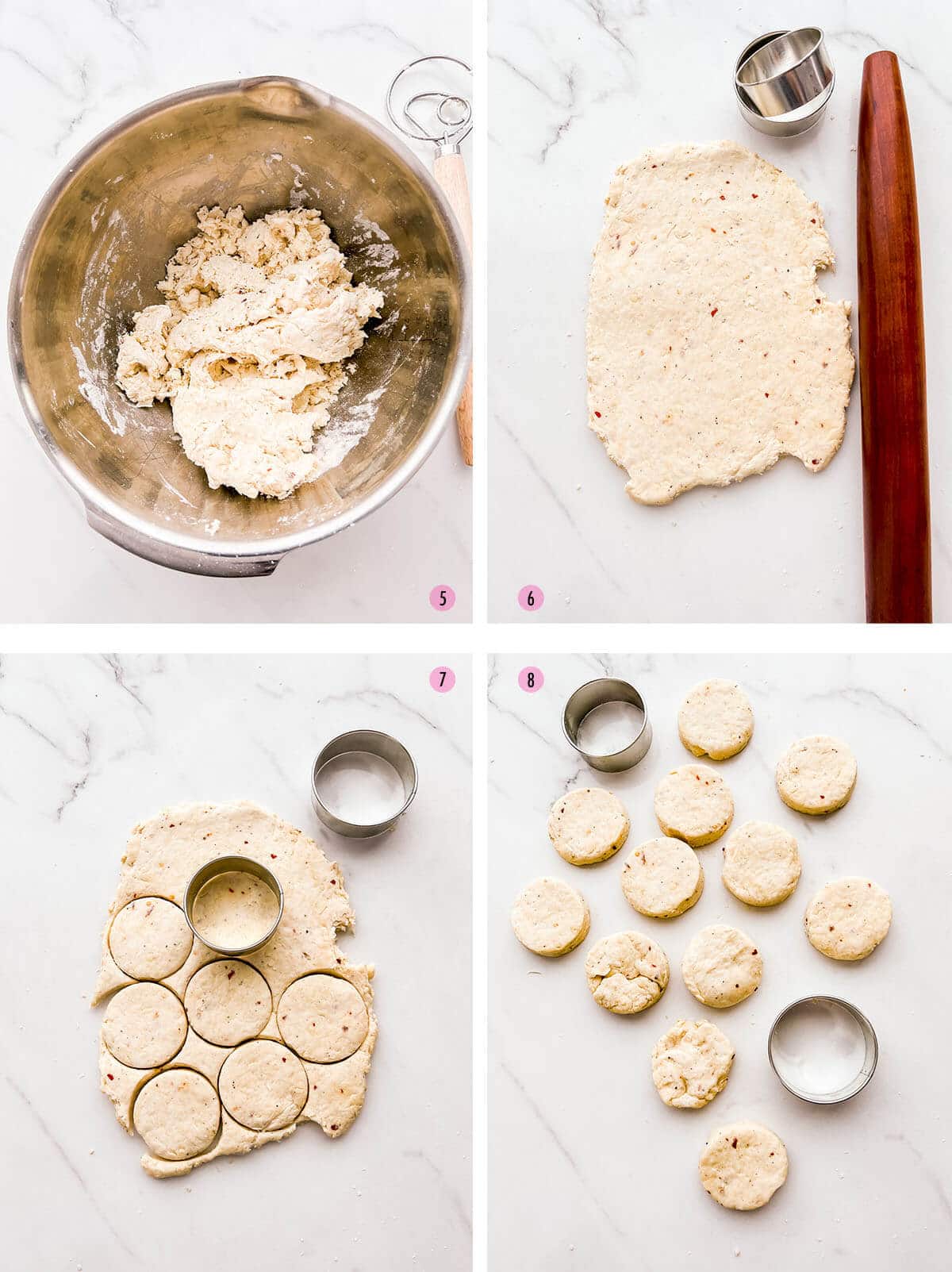 Variations
Once you have mastered making scones with cheese, you can start to get creative:
try chopped sun dried tomatoes and parmesan along with Italian seasoning (or dried oregano)
incorporate sautéed green onions or roasted garlic for a sweet, but zesty flavour, along with Fontina
add chopped ham and chopped canned pineapple (blotted dry on a paper towel) along with gouda or Gruyère
mix in bacon bits and aged cheddar or even a beer-flavoured cheddar
add za'atar and Jarlsberg or a mild cheddar
The possibilities are endless. Use your favourite dishes or flavour pairings as inspiration!
Special tools or equipment
To make scones, you don't need a mixer, but rather a bowl and a whisk, and some measuring tools. Here's a rundown of the tools I use to make scones, whether sweet or savoury: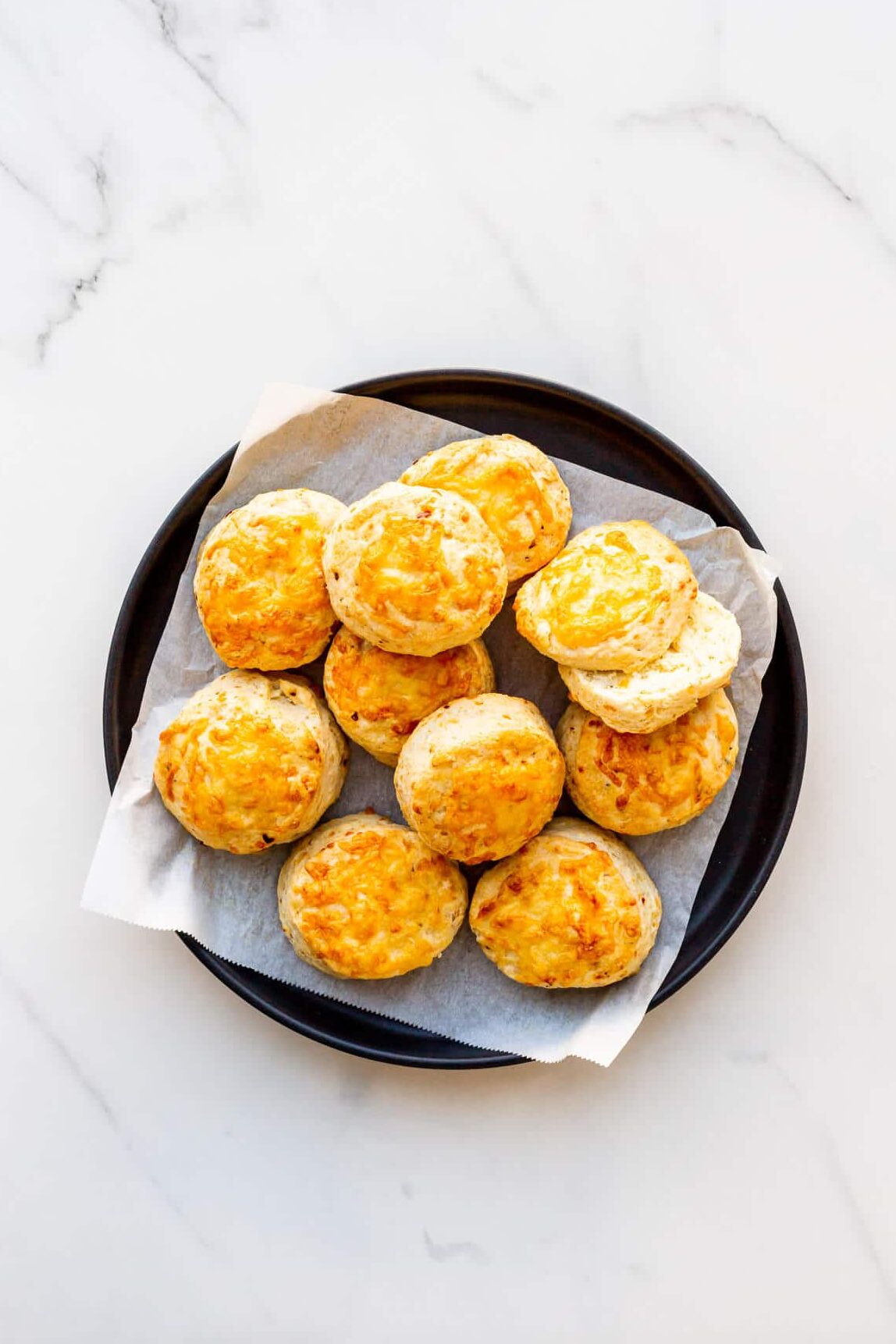 Storage
Scones are best eaten the day they are baking, or at most the following day. If you won't be eating them right away, I suggest freezing them after baking, or better yet freezing them before baking.
In both cases, to freeze scones whether baked or unbaked, place them on a parchment-lined baking sheet and place them in the freezer until frozen solid, and then transfer them to a freezer bag to store them frozen.
To defrost them:
You can bake frozen unbaked scones directly from the freezer, just note that they will take a few minutes longer in the oven.
You can reheat frozen baked scones in a low oven to warm them (around 300 ºF). The goal is to defrost and warm them, as opposed to baking them so you don't need to crank the oven up for this task.
Top tip
Keep the dough cold. If the butter gets too warm, it will melt into the dough and result in heavier scones. If at any point you feel like it's too warm, wrap the dough and place it in the fridge to chill for 20 minutes.
You can also chill the dough before cutting it, and even after cutting the scones. Baking cold scones will result in taller scones that don't spread out as much!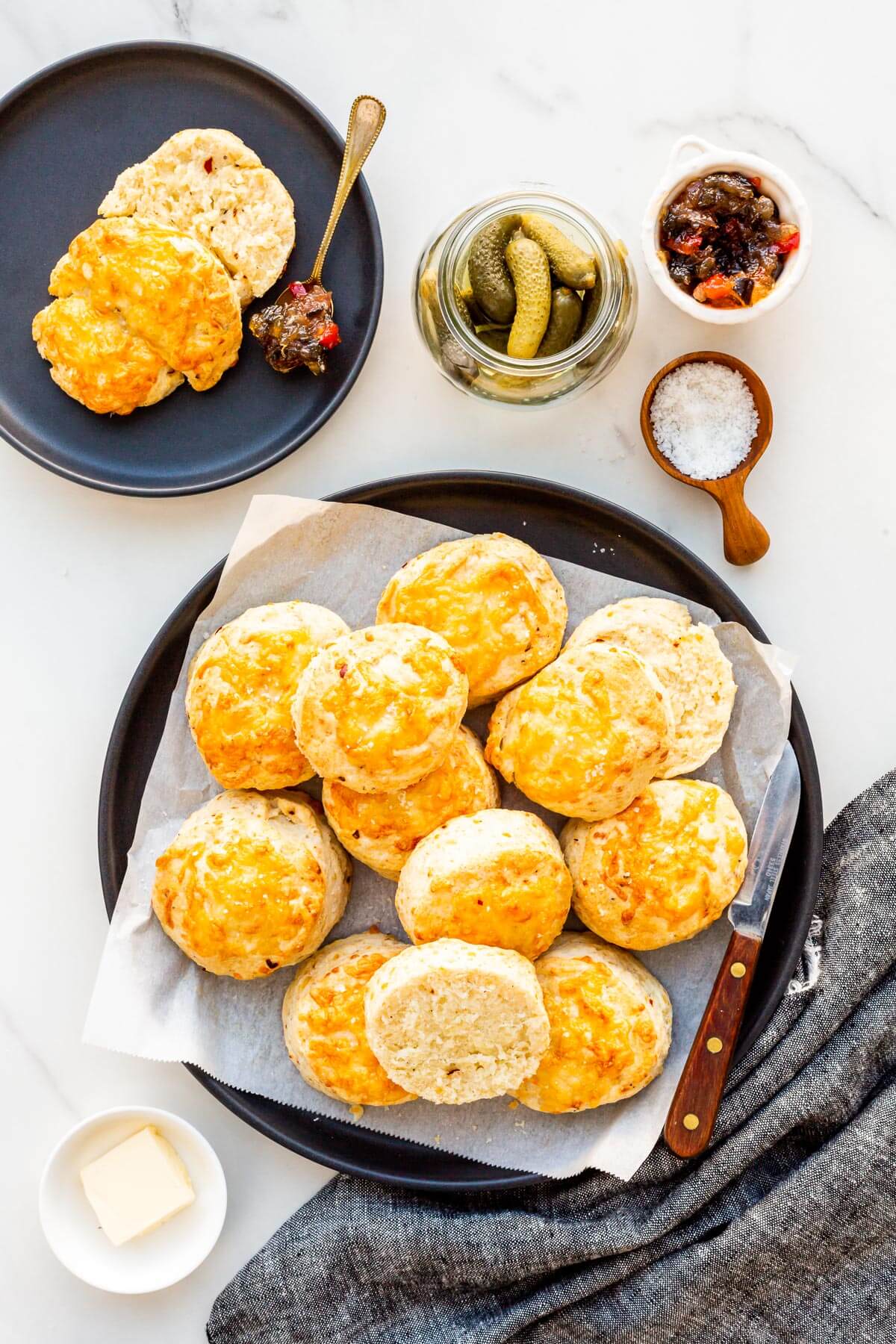 Serving suggestions
Now that you know how to make scones with cheese, you may be wondering what to serve them with. You can eat them just like you would a scone or biscuit
Serve them with a soup or stew in the winter
Slice them open and serve with eggs for breakfast, perhaps as a breakfast sandwich
Incorporate them in a charcuterie platter or cheese board, with pickles and savoury jams like this jalapeño jam
Other savoury baking ideas
You can transform many sweet recipes into savoury ones and incorporate cheese into many classic recipes, not just scones. Here are a few examples:
cheese waffles, where we incorporate grated cheese into a savoury waffle batter, which is great served with eggs and bacon for breakfast, or topped with greens
pizza muffins, where we incorporate cheese and other pizza toppings to make a savoury muffin
savoury cheese shortbread cookies made with crumbled Président cheese or Boursin
📖 Recipe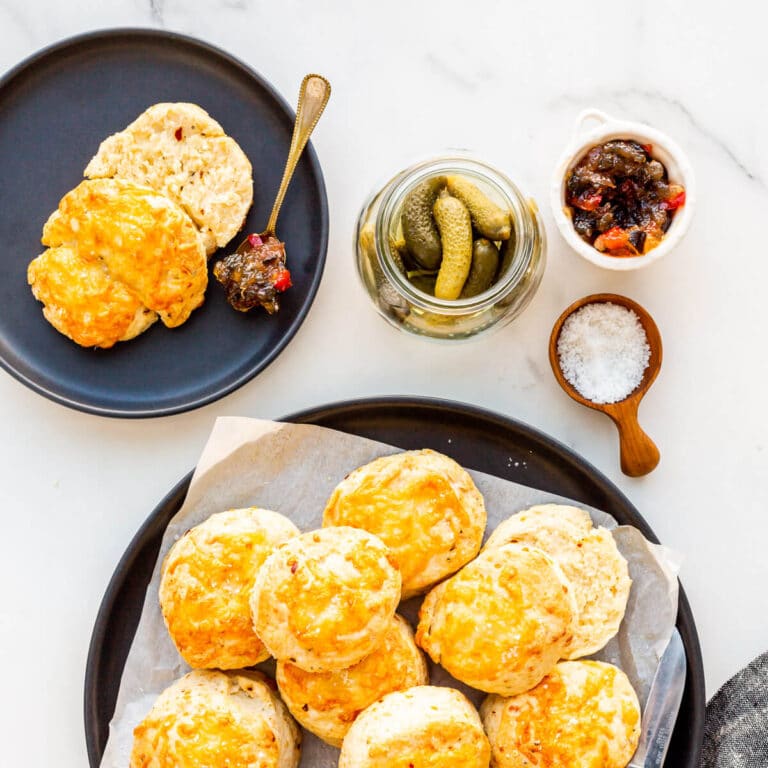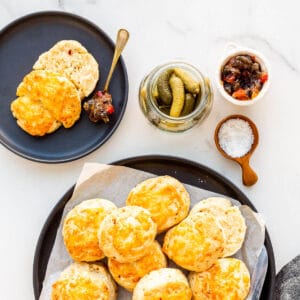 Scones With Cheese
These tender cream scones are a traditional scones recipe made with butter and cream. It's a great jumping off point and you can easily customize it!
Ingredients
375

grams

bleached all-purpose flour

15

mL

baking powder

5

mL

crushed hot pepper flakes

optional

5

mL

freshly ground black pepper

optional

115

grams

unsalted butter

very cold, cut into small pieces

140

grams

shredded cheese

plus extra for garnish

190

mL

whole milk (3.25 % fat)

plus a little extra for brushing on the scones before baking
Instructions
In a large bowl, whisk together the flour, baking powder, salt, hot pepper flakes, and ground pepper.

Drop the cold butter cubes into the dry ingredients, and press the cubes of butter into the flour with your fingertips to get large flour-covered flakes (approximately the size of corn flakes).

With your whisk, incorporate the shredded cheese.

Stir in the cold milk until the dough clumps (don't over-mix it!). The dough should be a clumpy, floury mess at this point.

Using your hands, press and gently squeeze the dough together, working it just enough to be able to gather the dough into a fat disk.

Roll or pat out the dough to a 2.5 cm (1¼ inch) thickness.

Cut the dough into circles using a 2¾ inch round cutter.

Repeat with the scraps of dough, pressing them together to cut out more scones. You will have 12 scones in total using all the dough.

Place the scones on a parchment lined half sheet pan. Freeze for 15 minutes.

Preheat the oven to 400°F (200 °C) while the scones are freezing.

Just before baking, you can brush the tops of the scones with a little milk and sprinkle with extra cheese.

Bake the scones until the edges, bottoms, and tops are golden brown. This takes about 20 to 25 minutes.
Notes
This scones recipe is made with all-purpose flour, also known as plain flour, which is why we have to add baking powder and salt to the dry ingredients. If you are in the UK or other countries that regularly use self-rising flour:
use 375 grams self-rising flour and do not add the baking powder and the salt
Nutrition
Calories:
229
kcal
Carbohydrates:
26
g
Protein:
6
g
Fat:
11
g
Saturated Fat:
7
g
Polyunsaturated Fat:
1
g
Monounsaturated Fat:
3
g
Trans Fat:
1
g
Cholesterol:
31
mg
Sodium:
244
mg
Potassium:
197
mg
Fiber:
1
g
Sugar:
1
g
Vitamin A:
346
IU
Calcium:
140
mg
Iron:
2
mg