This cheese waffles recipe post is sponsored by Burnbrae Farms.
As an Amazon Associate I earn from qualifying purchases.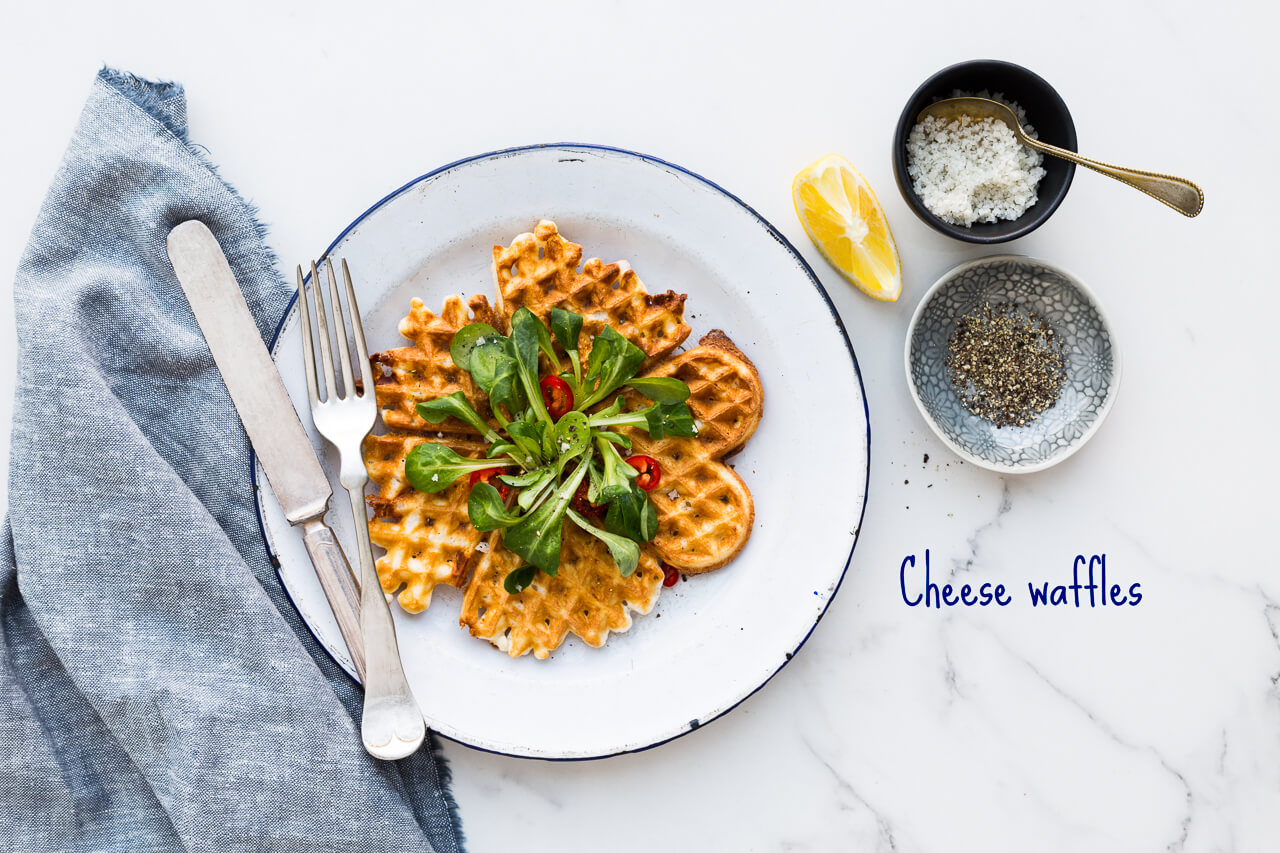 Disclosure: As an Amazon Associate, I earn from qualifying purchases.
Waffle recipes are usually sweet ( for example these springtime multigrain waffles topped with roasted rhubarb), but after all the overindulging that may or may not have happened over the last few months, it's time for something savory! That's what these savory cheese waffles are for, made with cheddar cheese and egg whites, specifically Burnbrae's Naturegg Simply Egg Whites.
Make waffles with egg whites
You can make waffles with whole eggs, obviously. Did you know you can also lighten up your waffle recipe a little by making waffle batter with egg whites only. And to make it easier, Burnbrae's Naturegg Simply Egg Whites come in a carton and are real, pasteurized egg whites, making it simpler to bake and cook with egg whites every day. Now you can enjoy your egg whites and make all the recipes you want with egg whites without having to crack and separate a single egg.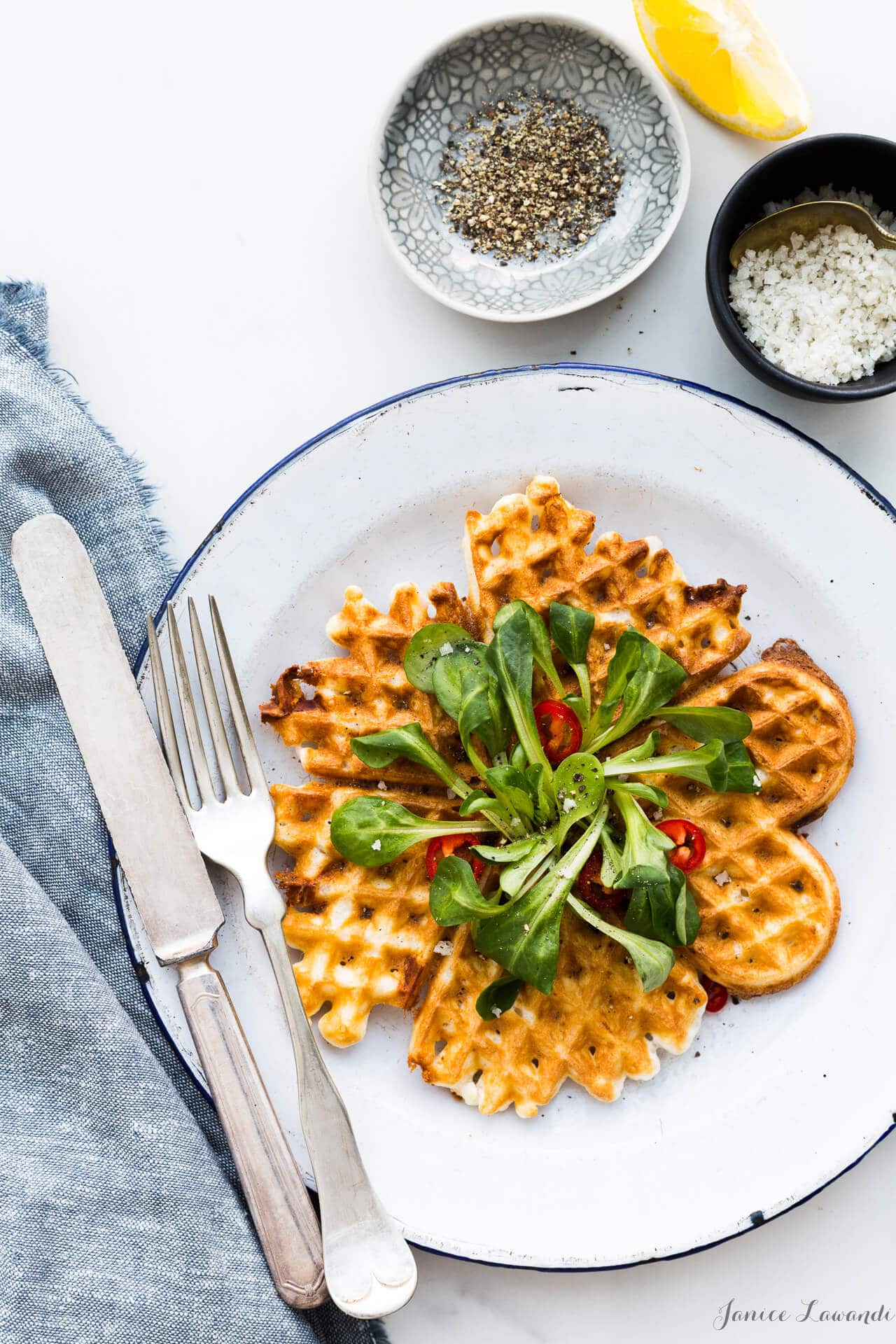 Waffles for dinner? Yes you can!
Waffles are typically served for breakfast or brunch, but who says we can't have waffles for dinner? I like to serve these savory cheese waffles for breakfast, brunch, or even lunch and dinner. We are adults, which means that we can have waffles for dinner if we want to.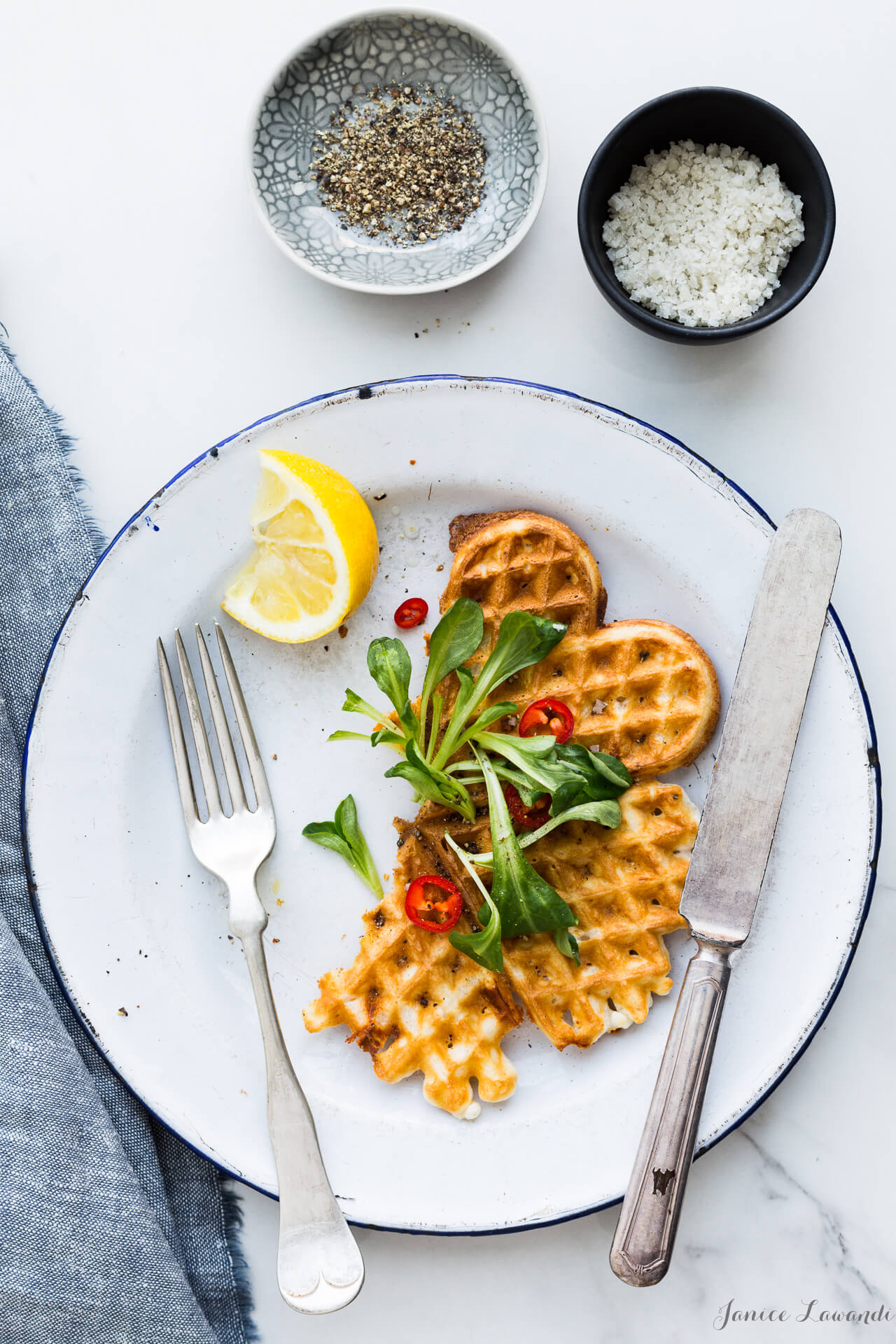 What goes well with waffles other than syrup?
Savory cheese waffles call for savory toppings. I like to serve these waffles with a big salad on top, drizzled with lemon juice and a little olive oil. You can also add a protein, like slices of cooked chicken to make it a more complete meal, or canned chickpeas. Smoked salmon and a little caviar would make an excellent topping for these cheese waffles and salad. The possibilities are endless, really. This recipe makes a very simple dinner that is a fun change from the usual.
Savory cheese waffles recipe
📖 Recipe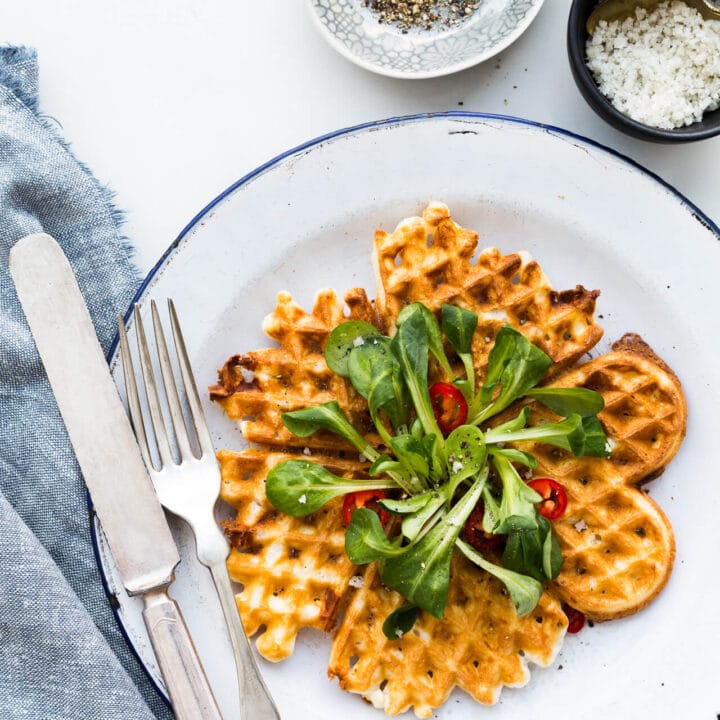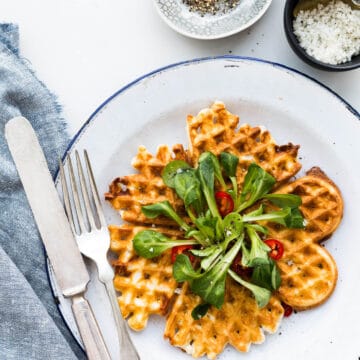 Savoury Cheese Waffles
Here's an easy recipe for savory cheddar waffles made with egg whites instead of whole eggs. These savory waffles make a great lunch or light dinner served with a salad on top
Ingredients
250

grams

bleached all-purpose flour

2

teaspoon

baking powder

½

teaspoon

Diamond Crystal fine kosher salt

75

grams

shredded cheddar cheese

½

teaspoon

freshly ground black pepper

375

mL

whole milk (3.25 % fat)

60

grams

Burnbrae Naturegg Simply Egg Whites

60

grams

unsalted butter

melted

Canola oil

to grease the waffle iron

100

grams

mâche

or your favorite salad

1

lemon

juiced

Coarse salt

freshly ground black pepper

1

red chilli pepper(s)

sliced
Instructions
In a large bowl, whisk together the flour, baking powder, salt, cheese, and pepper.

In a separate bowl, combine the milk, egg whites, and melted butter. Pour the mixture over the dry ingredients and stir to combine into a batter.

Preheat the waffle iron. Brush a little canola oil on both sides of the waffle iron and cook the waffles according to the manufacturer's instructions. Cook the waffles until they are a light golden. Do not let the waffles brown too much as the cheese will burn.

Serve the waffles with a salad of mâche, chili pepper, salt, pepper, lemon juice and olive oil.
Notes
Burnbrae Naturegg Simply Egg Whites are found in the dairy fridge case at most grocery stores in Canada, usually on a shelf next to the cartons of eggs.
To make these waffles, I used a very basic waffle iron that makes heart shaped waffles, similar to this one on Amazon.
Nutrition
What else can you make with egg whites in a carton?
You can make all kinds of egg-based recipes with these Burnbrae Naturegg Simply Egg Whites. We used egg whites in a carton in pastry school quite a bit for meringues and meringue-based buttercreams, so you can bake with them quite successfully. They are convenient because you can store the carton of egg whites and just shake and pour as needed without making a mess. Use what you need for your recipe. Store the rest for later. For more recipe inspiration, visit the Burnbrae recipe page.
This post is sponsored by Burnbrae Farms. I was compensated monetarily and with product coupons. Thanks for supporting the companies that allow me to create content for Kitchen Heals Soul. As always, please know that I wouldn't work with a sponsor nor recommend a product if it wasn't worth it.
Please note this post contains affiliate links to Amazon. If you buy a product I recommend, I will get a small commission, and the price you have to pay will not change in any way.