These cardamom date scones are made with butter and cream for a very tender rich scone that's great served plain, but even better topped with an orange blossom icing!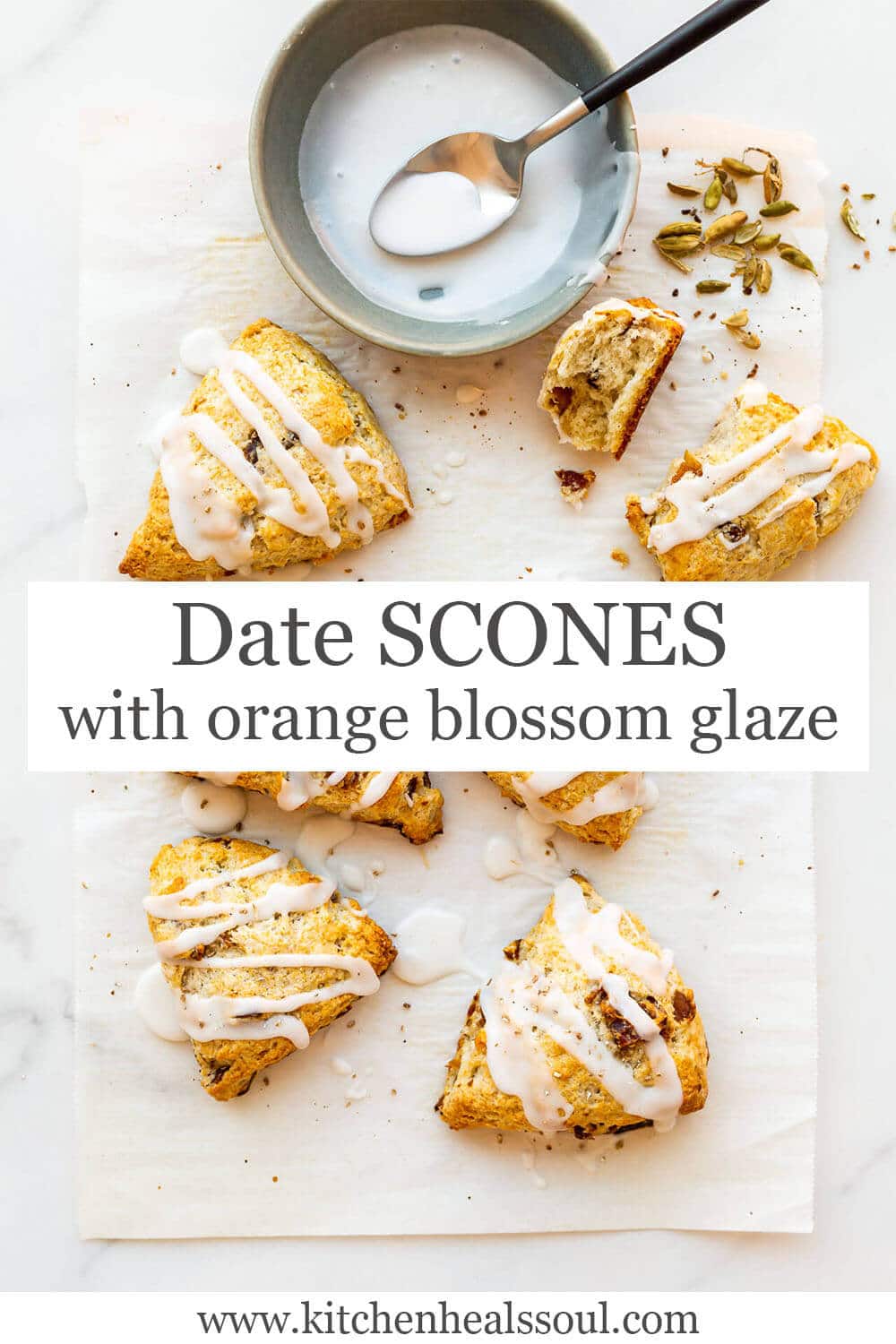 Disclosure: As an Amazon Associate, I earn from qualifying purchases.
Growing up, my parents used to buy me these fluffy bread buns from the Lebanese bakery: the buns were stuffed with date purée and flavoured with orange blossom water. I was the only person in my family who ate them, and boy did I love them.
I grew up with the flavours of orange blossom water, rose water, pistachios, and dates. And to this day, these flavours still make me smile. The orange blossom glaze combined with the chopped dates in this fruit scone recipe makes these date scones taste exactly like those buns I grew up eating.
You have a few choices when it comes to the types of dates you can use in this recipe:
medjool dates are the plumpest, most tender
Noor deglet dates, which are also a great option here
the dried pitted dates that are sold in the baking aisle. Those dried dates for baking are quite a bit drier than Medjool or Noor deglet dates, but they also work well in this recipe, surprisingly! Those dried pitted dates are also suited for a date filling where you have the opportunity to rehydrate them with water, like in date squares.
These date scones are a variation on a fruit scone, which is a scone made with dried fruit, not fresh fruit, traditionally. If you want to make a fresh fruit scone, try these mini rhubarb scones or these apple pie scones (which are a stuffed scone!). You can also use canned fruit to make scones like for these pear and chocolate scones.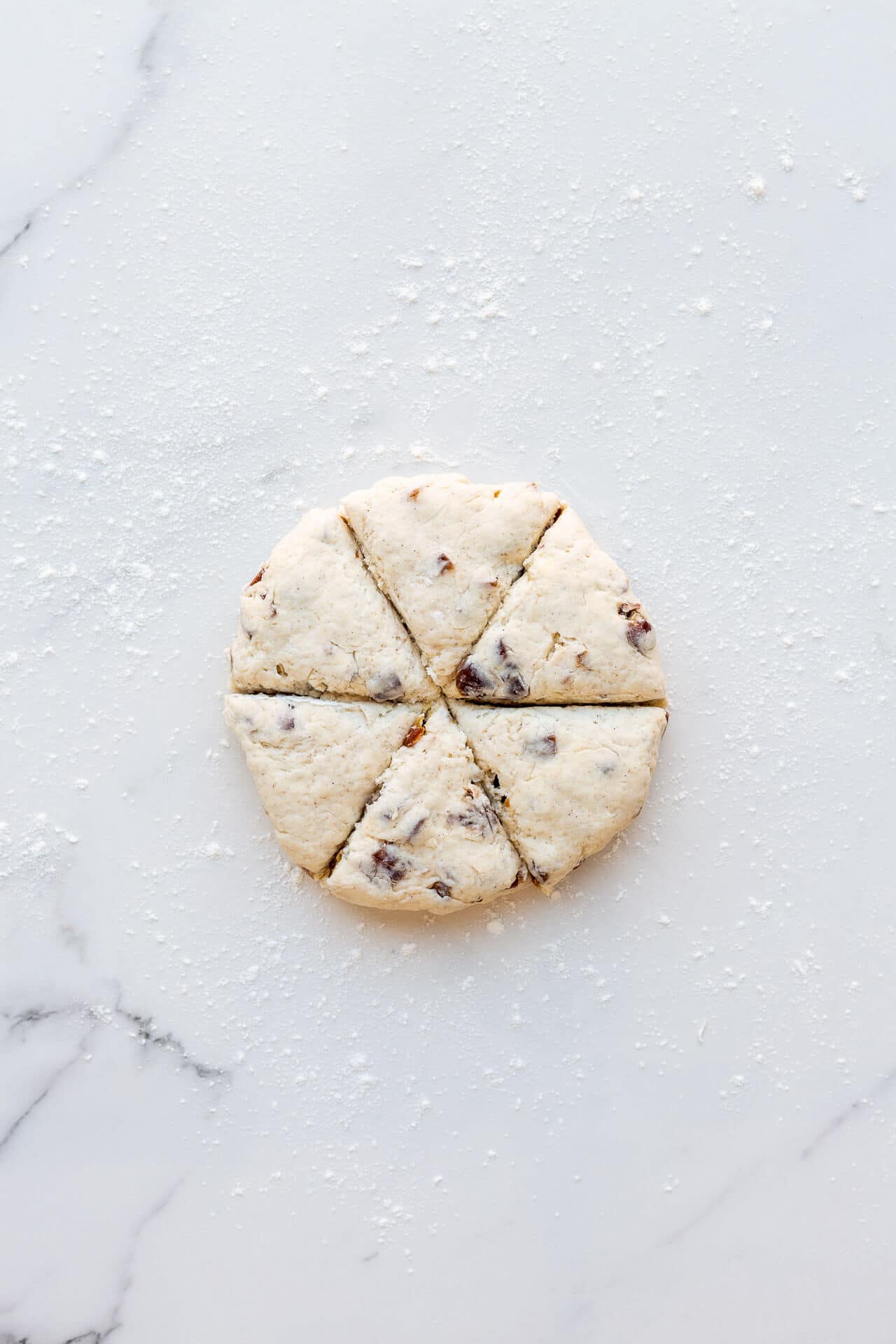 I wanted to incorporate orange blossom water in this recipe to go with the dates and cardamom, but I worried that the delicate floral flavour would get lost if I added it to the dough before baking the scones. A better way to work with delicate rose water and orange blossom water is to add them to syrups (like when you are making pistachio baklava) or in an icing, like the glaze in this recipe.
Usually, I don't glaze scones, like these lavender scones didn't need a glaze because the scones themselves had so much flavour from the lavender baked within. And though they tasted great plain, these date scones were even better glazed with the orange blossom icing.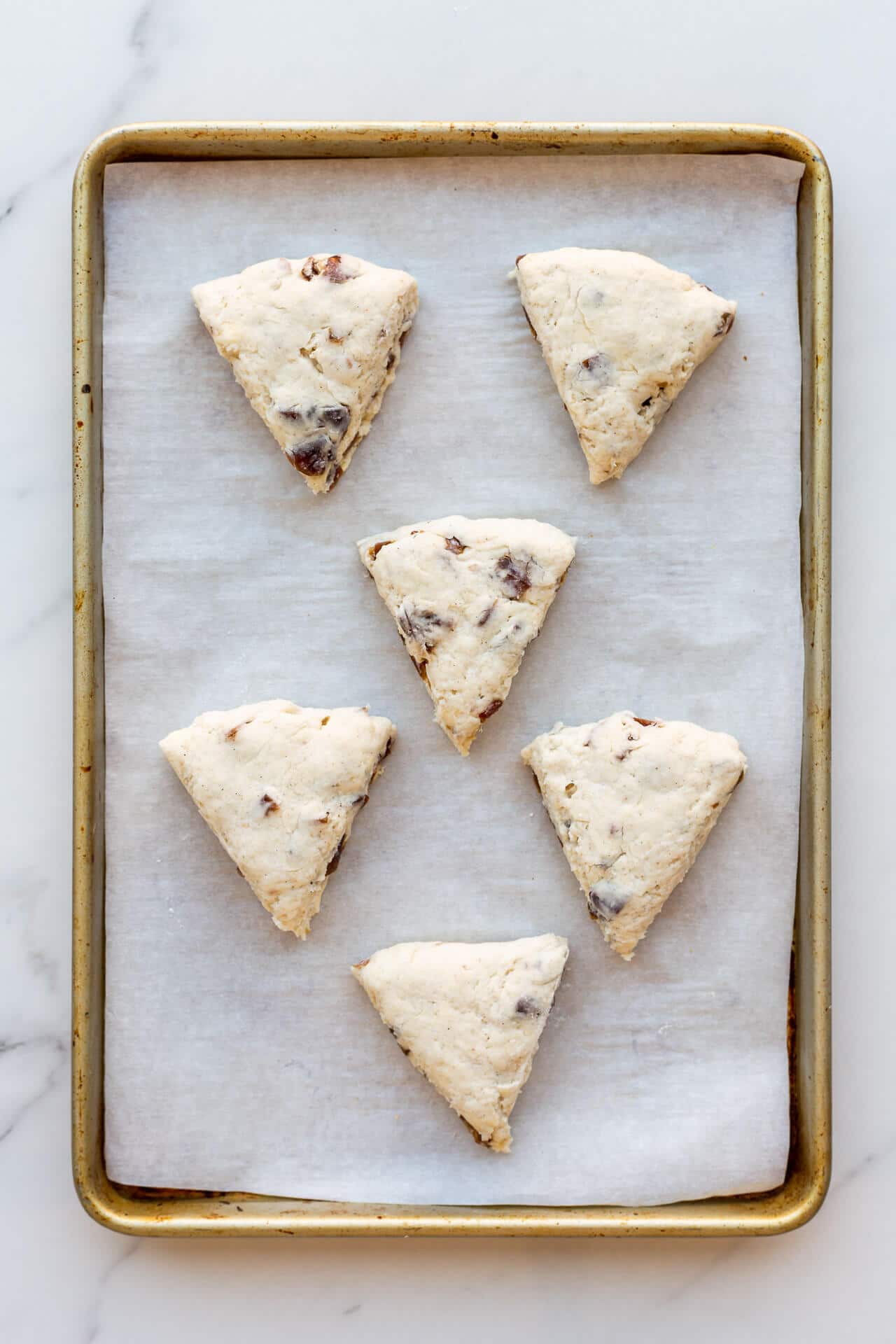 You can easily halve this recipe, which I did for the photos, which is why you only see 6 instead of 12. And to make the glaze, I went with a very thick glaze, the kind that is just thin enough that you can drizzle it, but not so thin that it flows off the scones. This thick glaze doesn't coat the scones completely, though I suppose if you want that, you could thin it out with a little more milk.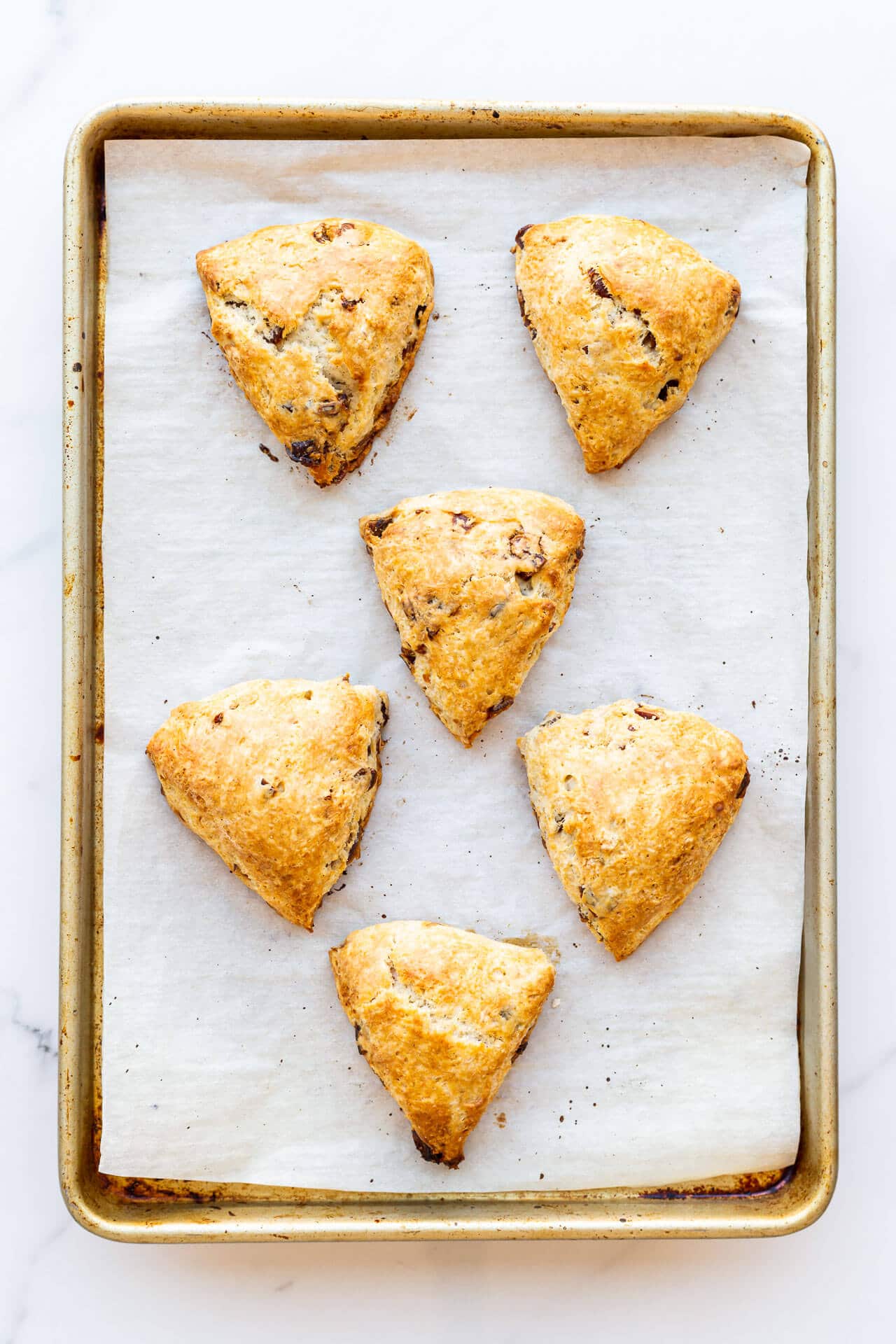 To make the best scones, I like to use butter and cream. For these scones, I did a few tests, just to make sure, comparing buttermilk, whole milk, and 35 % cream to make the scones. I much preferred the texture of the scones made with 35 % cream. If you prefer to use milk or buttermilk for your scones, here's what you have to do:
add more fat so use more butter: add an extra 58 grams (¼ cup) of cold butter, so that the total amount of butter in the recipe is 175 grams (¾ cup)
add a little less liquid: reduce the liquid by 60 mL (¼ cup) so use 250 mL (1 cup) of whole milk or buttermilk, or if you don't, you will either have to scoop the dough onto your prepared baking sheet OR you will need to flour generously your hands and your work surface to be able to handle the scone dough. Be warned!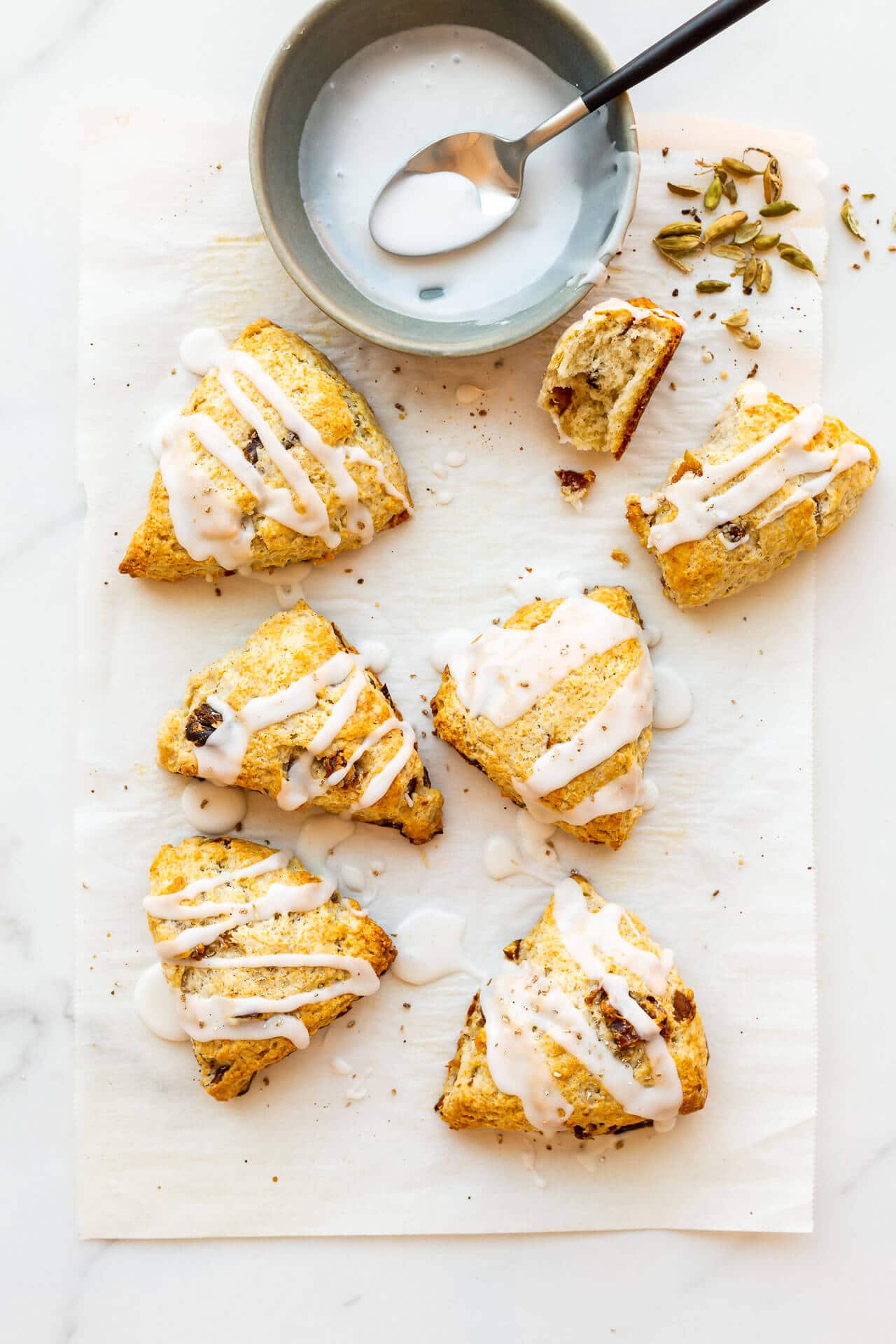 📖 Recipe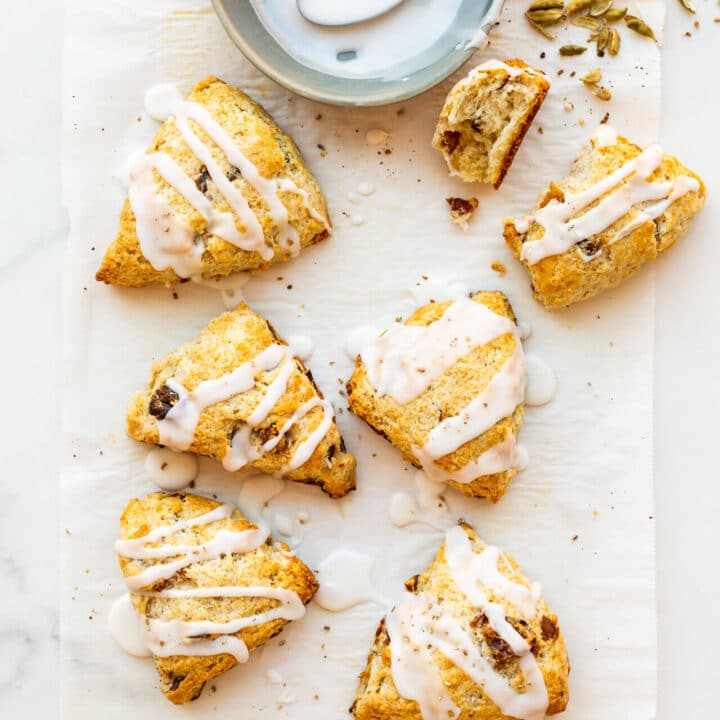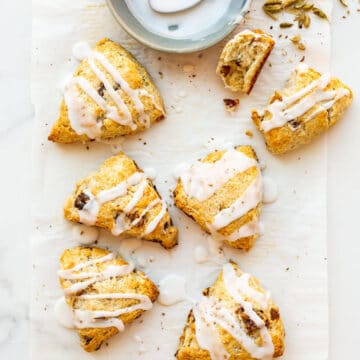 Date Scones
These tender date scones are a traditional fruit scone, made with chopped dried dates instead of raisins, and topped with a delightfully floral orange blossom water glaze
Ingredients
375

grams

bleached all-purpose flour

100

grams

granulated sugar

15

mL

baking powder

10

mL

ground cardamom

115

grams

unsalted butter

very cold, cut into small pieces

240

grams

pitted dates

chopped

310

mL

whipping cream (35 % fat)

plus a little extra for brushing on the scones before baking
Orange blossom water glaze
160

grams

icing sugar

45

mL

whole milk (3.25 % fat)

2.5

mL

orange blossom water

or rose water

cardamom seeds

freshly crushed (optional for garnish)
Instructions
In a large bowl, whisk together the flour, granulated sugar, baking powder, cardamom, and salt.

Drop the cold butter cubes into the dry ingredients, and press the cubes of butter into the flour with your fingertips to get large flour-covered flakes (approximately the size of corn flakes).

Mix in the chopped chopped dates.

With a big fork, stir in the cold cream until the dough clumps (don't over-mix it!). The dough should be a clumpy, floury mess at this point.

Using your hands, press and gently squeeze the dough together, working it just enough to be able to gather the dough into a fat disk.

Divide the dough into two.

Working with one disk at a time, pat out the disk to a 15 cm (6 inch) diameter. The thickness should be a little around 2 cm ( 1 inch).

Cut the dough into 6 wedges.

Repeat with the second half of dough. You will have 12 scones in total.

Place the scones on a parchment lined sheet pan. Freeze for 15 minutes.

Preheat the oven to 400°F (200 °C) while the scones are freezing.

Just before baking, you can brush the tops of the scones with a little cream.

Bake the scones for 25 to 30 minutes, until the edges and tops are golden brown.

Let cool slightly while making the glaze.
Orange blossom water glaze
In a bowl, whisk together the icing sugar, milk, and orange blossom water. The glaze will be thick, but still drizzle-able. Taste and add a little more orange blossom water to your liking.

Drizzle the glaze generously over the warm scones. Serve warm or at room temperature.
Notes
This scones recipe is made with all-purpose flour, also known as plain flour, which is why we have to add baking powder and salt to the dry ingredients. If you are in the UK or other countries that regularly use self-rising flour:
use 375 grams self-rising flour and do not add the baking powder and the salt.
Want to make this scone with whole milk instead of cream? This is how to do it:
Add 58 grams (¼ cup) extra butter for a total of 173 grams (¾ cup) cold butter
Replace the 35 % cream in the scones dough with the slightly less 3.25 % whole milk, so use 250 mL (1 cup) milk. 
Nutrition
Calories:
418
kcal
Carbohydrates:
63
g
Protein:
5
g
Fat:
18
g
Saturated Fat:
11
g
Cholesterol:
56
mg
Sodium:
96
mg
Potassium:
325
mg
Fiber:
3
g
Sugar:
34
g
Vitamin A:
625
IU
Vitamin C:
1
mg
Calcium:
93
mg
Iron:
2
mg
Other recipes to bake with dried dates
If you love dates as much as I do, here's a list of other recipes you can bake with dates: