This easy recipe for rugelach filled with cinnamon, walnuts, and cranberries is my favourite. We make these cookies every year for the holidays and everybody loves them. The rolling and filling method is simplified so that this recipe is faster and easier to follow.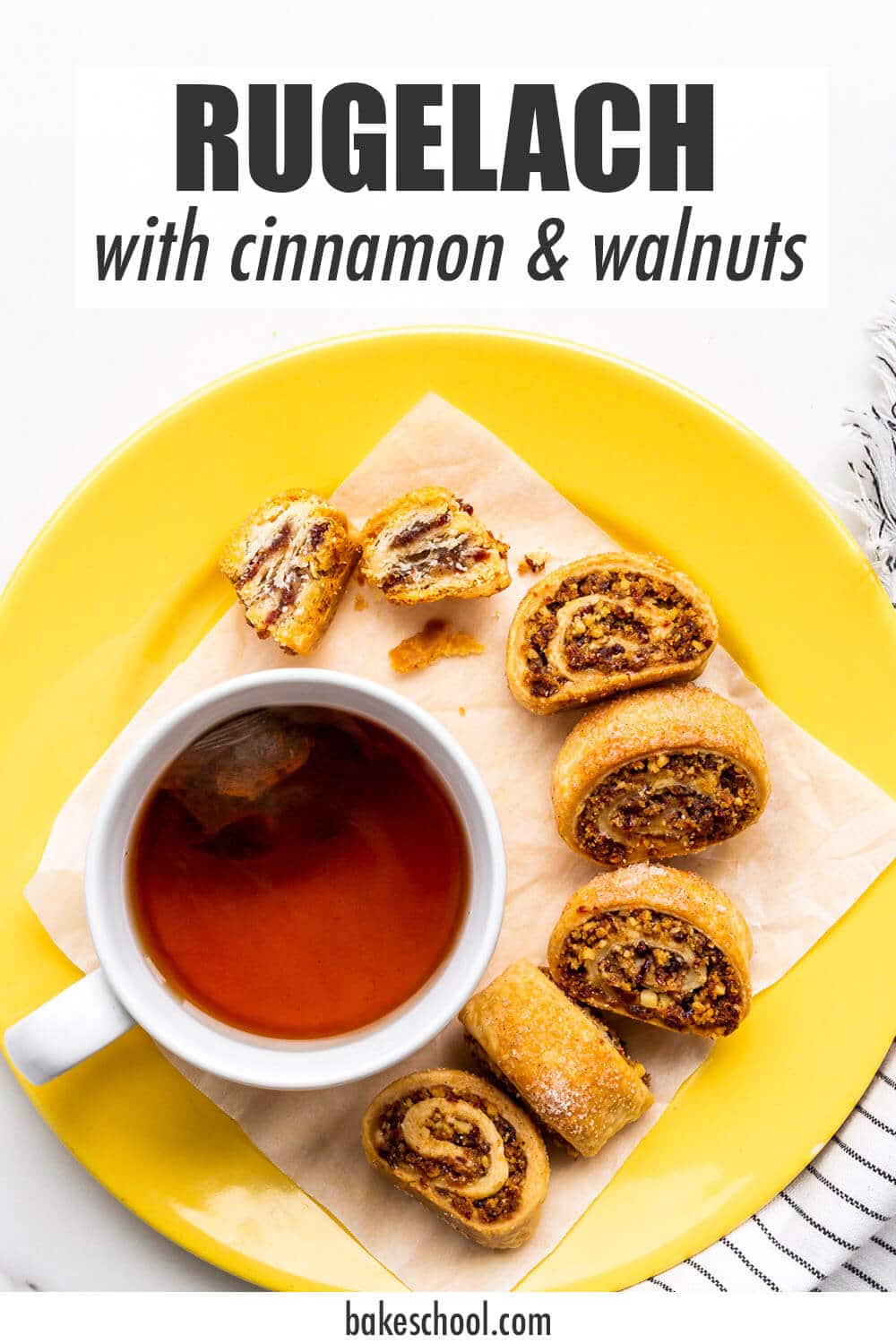 Disclosure: As an Amazon Associate, I earn from qualifying purchases.
These cinnamon rugelach with dried cranberries and walnuts are extremely popular around the holidays. The cream cheese dough is easy to work with and so forgiving. And the filling with cinnamon and dried cranberries is downright festive without being fussy or overthought.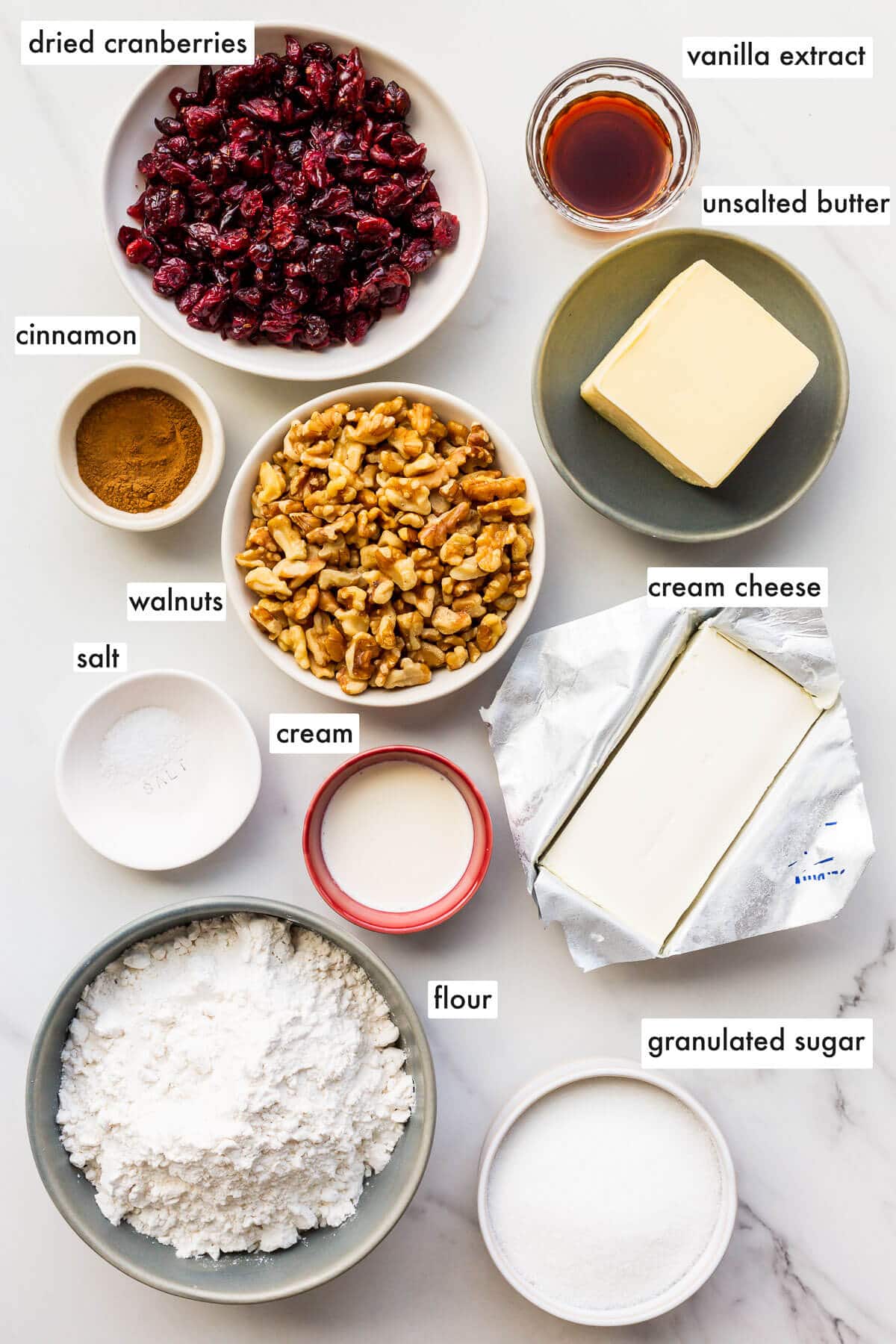 What are rugelach cookies made of
Rugelach cookies have two key components: an easy cream cheese dough and a filling. The dough is always the same, made of cream cheese, butter, flour, and salt, but the filling varies depending on the recipe.
You will need the following ingredients to make the best rugelach:
For the cream cheese dough:

butter, preferably unsalted butter because you will add a lot of salt to the dough, from both fine kosher salt and cream cheese. If you have salted, it will work. Just adjust the salt in the recipe accordingly, otherwise your cookies may be too salty...
cream cheese, preferably the Philadelphia brand regular cream cheese sold in a block of 250 grams. This recipe uses the entire block.
all-purpose flour is needed to bind all the ingredients of the cream cheese dough together and give the cookies structure. If you don't use enough flour, your cookies may spread too much as they bake
salt is really important to balance out the sweet filling and enhance the savoury nature of the cream cheese dough. Don't skip it. I like to use Diamond Crystal fine kosher salt, but table salt will work, though the cookies will be saltier and you may want to halve the salt in that case.

For the rugelach filling:

walnuts but you could use pecans or almonds if you prefer
dried cranberries but dried cherries will also work or dried apricots too would be lovely in this recipe
granulated sugar though brown sugar would also work here and would add to the molasses flavour. Brown sugar may also lead to a slightly thicker cookie
ground cinnamon is added to the filling to make these cookies very flavourful
cream is needed to bind the filling ingredients together but also to help the tops of the cookies brown and to help glue the cinnamon sugar coating on the surface of the cookies
vanilla extract adds a ton of flavour to the filling and I highly suggest using the full amount. If you are using an artificial vanilla extract, that will work too, but you may have to use less because it tends to be more potent than the real extract.

For the topping and to make the cookies sparkle:

cinnamon sugar is the secret to to make the cookies sparkle on top and also to add a little more flavour since the dough is plain and unsweetened.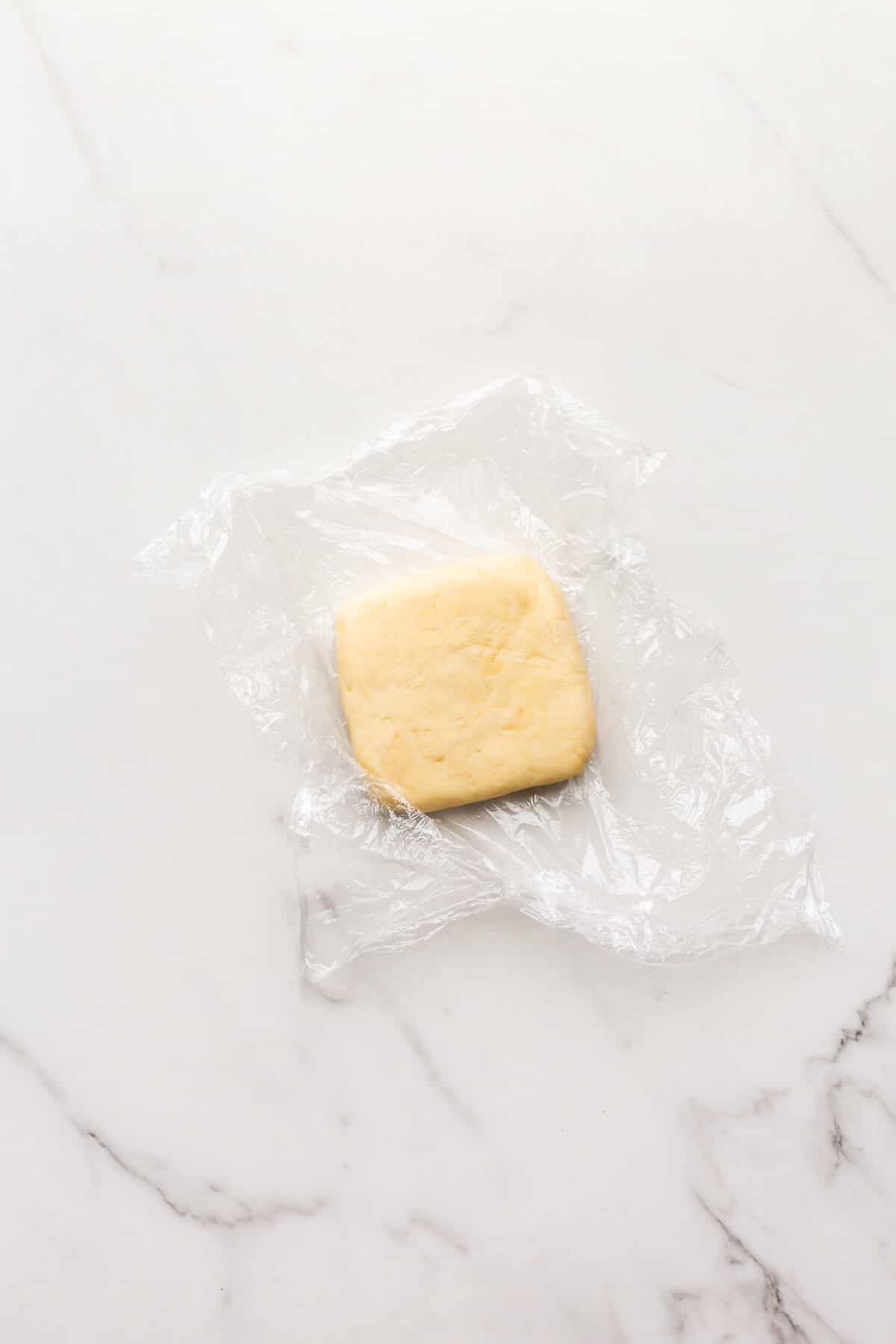 Cream cheese dough
Rugelach are always made with the same cream cheese dough. It is a savoury dough, made without sugar, that has a slightly tangy flavour from the cream cheese.
The dough is mixed using the creaming method using softened butter and cream cheese. Once the dough comes together, you divide it into 4 equal pieces, shaping each into a square and wrapping in plastic wrap to chill in the refrigerator at least 1 hour.
Chilling the dough is important to give the flour time to hydrate, the gluten to relax, and to cool down the butter so that you can roll the dough easily. Cold doughs also help ensure the cookies don't spread.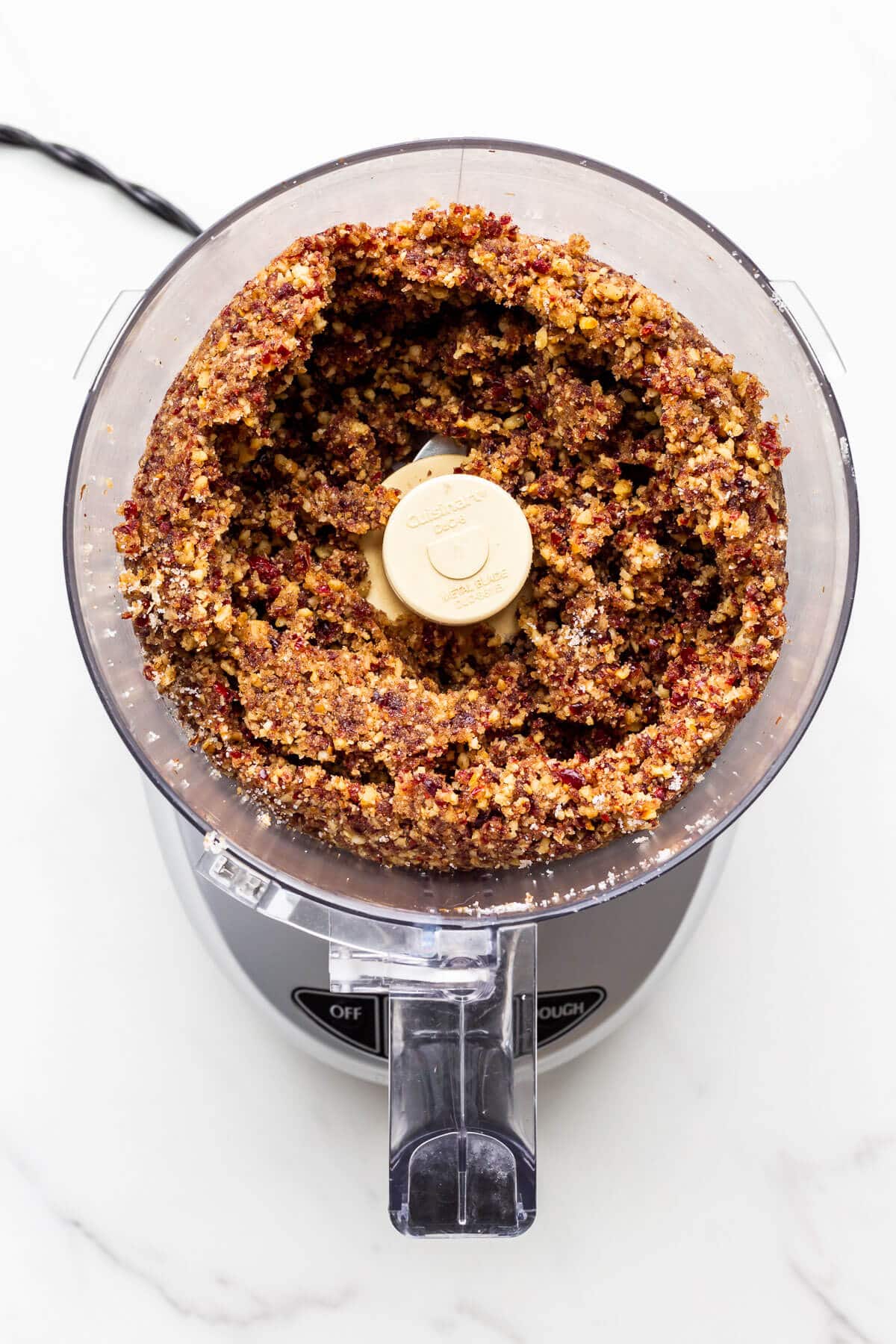 Fillings for rugelach cookies
Traditional rugelach cookies are filled with jam or a cinnamon sugar or cinnamon sugar with nuts filling. The ingredients are ground together in the bowl of a food processor to make a coarse filling that ressembles wet sand.
Other fillings you can try:
chocolate filling made from chopped chocolate, sugar, and cinnamon,
nutella or your homemade nutella without hazelnuts if you prefer
An easier way to make rugelach at home
My mom and I have made this recipe every Christmas for the last decade. We've changed many things over the years, including the way we roll and shape the cookies so that we can make the cookies faster and stuff them with more fillng.
We no longer make crescent-shaped rugelach cookies, and instead, we roll the cookies like cinnamon buns. This method makes it much easier and faster to make these cookies. And the shape and size are more consistent too.
These rugelach are rolled and cut the way you would sticky buns or these Crock-Pot cinnamon rolls. The longest part of this recipe is the hands-off time for chilling and baking
Baking rugelach so that they don't burn
The fillings for rugelach tend to be heavy on the sugar, dried fruit (or jam), spices, and nuts. The trouble with rugelach is that these tasty fillings can burn in the oven if you aren't careful.
You'll notice from the photos that I bake the rugelach standing upright. I don't lay them on their side. There are a few reasons for this:
to make sure the cranberries and nuts don't burn
to make sure the cookies keep their shape and that the swirl of dough and filling doesn't unravel
If you choose to shape these rugelach the way I've outlined, make sure to bake the cookies standing up, with the seam hidden underneath. The weight of the cookie ensures that the seam doesn't unravel. Do not lay the cookies down flat to bake them!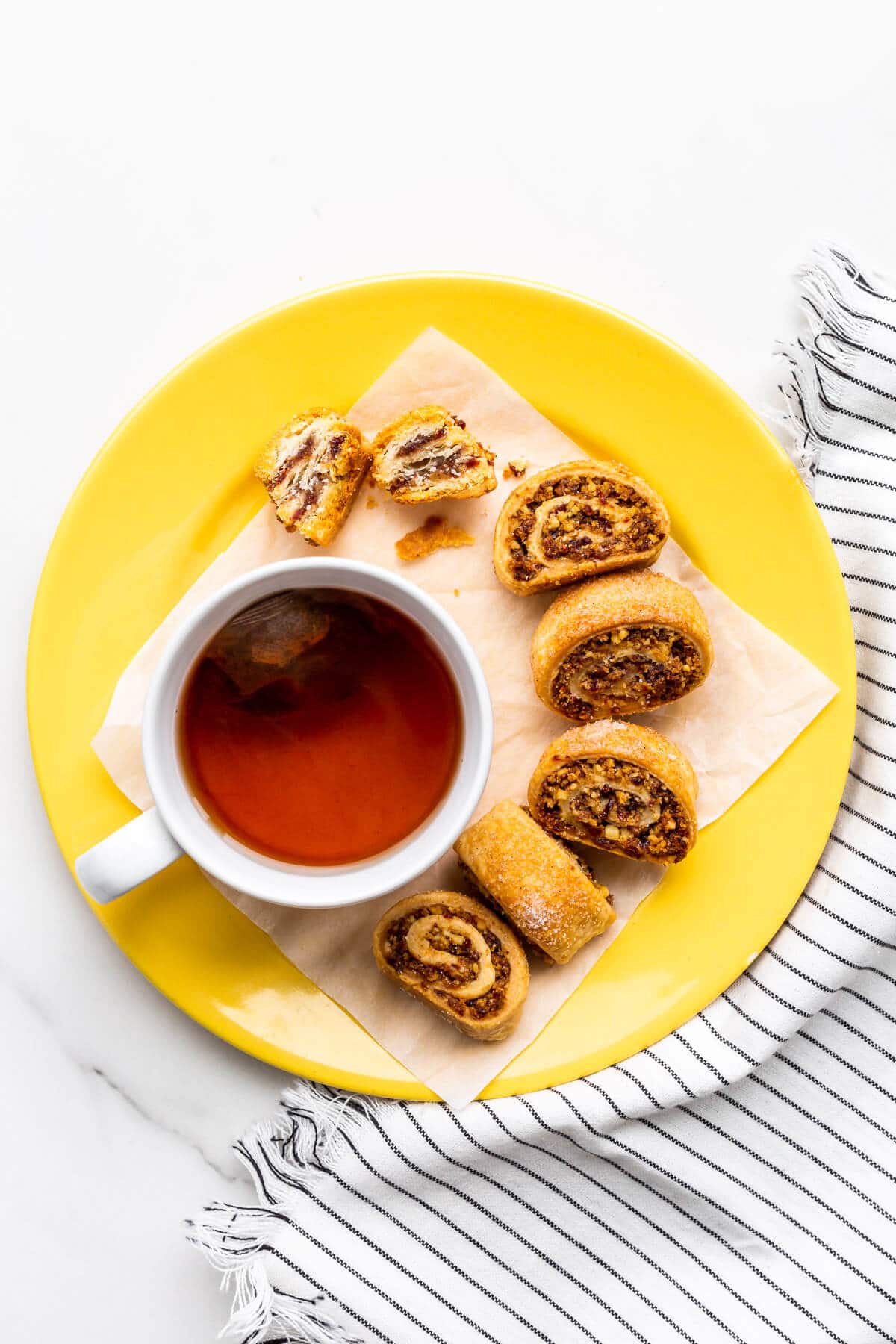 📖 Recipe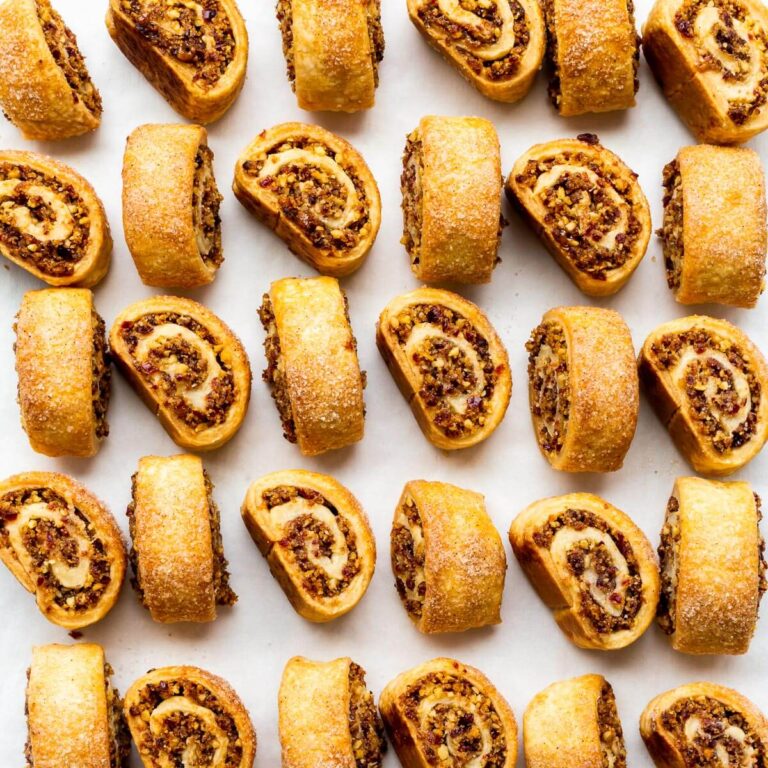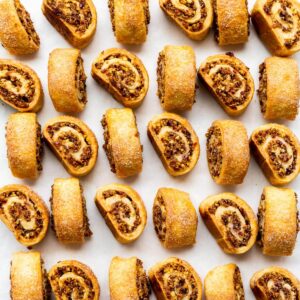 Cinnamon rugelach with dried cranberries and walnots
These cinnamon rugelach are made with a cream cheese dough that is very easy to work with. They are filled with cinnamon, dried cranberry, vanilla, and walnuts. They are very popular on Christmas cookie trays!
Ingredients
Cream cheese dough
230

grams

unsalted butter

room temperature

250

grams

Philadelphia cream cheese (full fat, regular)

1 block

375

grams

bleached all-purpose flour

1.25

mL

Diamond Crystal fine kosher salt
Cinnamon rugelach filling with dried cranberries
Cinnamon sugar topping
30

mL

granulated sugar

1.25

mL

ground cinnamon

30

mL

whipping cream (35 % fat)
Instructions
Cream cheese dough
In the bowl of an electric stand mixer fitted with the paddle attachment, cream together the butter and cream cheese until smooth. Add flour and salt and mix until the dough comes together. Divide the dough into 4 equal pieces. Shape each piece of dough into a square. Wrap and chill dough for at least 2 hours.
Cinnamon rugelach filling with dried cranberries
In a food processor, combine walnuts with dried cranberries, sugar, cinnamon, cream, and vanilla extract. Pulse mixture until it is ground fairly fine and evenly mixed. The filling will ressemble coarse, wet sand.
How to shape & bake cinnamon rugelach
Preheat oven to 350 F. Line a couple of sheet pans with parchment paper.

Working with one piece of dough at a time, roll dough into a rectangle that is approximately 13 x 7 inches on a lightly floured surface.

Sprinkle one quarter of the cranberry filling mixture generously over surface of dough and press lightly. Roll fairly tightly into a 13 inch log, seam-side down.

In a small bowl, mix together the granulated sugar and the cinnamon to make the topping. Brush the log with cream and sprinkle top generously with the cinnamon sugar mixture. Cut into 12 or 13 pieces (a cut every inch or so). Transfer rugelach to a parchment-lined baking sheet, spacing them about an inch, keeping the seam-side of each cookie down and placing each cookie standing upright on the cookie sheets.

Bake cookies until they are golden brown (this takes at least 25–30 minutes). You want the cream cheese dough to bake completely, the seam side and tops of the cookies should be golden brown.
Nutrition
Calories:
137
kcal
Carbohydrates:
14
g
Protein:
2
g
Fat:
8
g
Saturated Fat:
4
g
Polyunsaturated Fat:
2
g
Monounsaturated Fat:
2
g
Trans Fat:
1
g
Cholesterol:
17
mg
Sodium:
28
mg
Potassium:
36
mg
Fiber:
1
g
Sugar:
7
g
Vitamin A:
206
IU
Vitamin C:
1
mg
Calcium:
14
mg
Iron:
1
mg