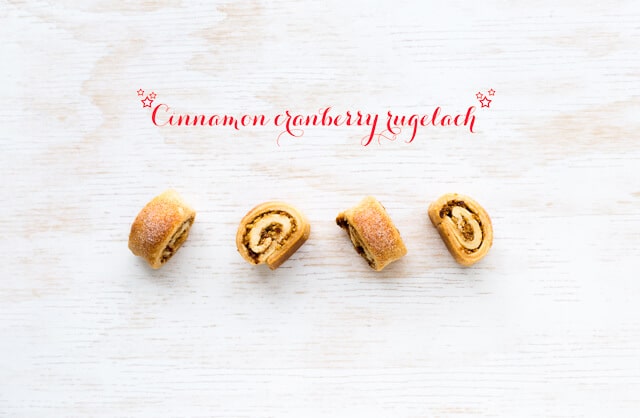 These cinnamon rugelach with dried cranberries and walnuts are extremely popular around the holidays. The cream cheese dough is easy to work with and so forgiving. And the filling with cinnamon and dried cranberries is downright festive without being fussy or overthought.
An easier way to make rugelach at home
My mom and I have made this recipe (from Anna Olson) a lot of times (like for the last 10 years) and we used to follow her directions exactly. We'd take the time to divide the dough into 8 pieces, and then roll each piece into 8 discs, and then cut each disk into 8 triangles, and then roll each of the 8 triangles into 8 crescent cookies, just like Anna Olson suggests. It was A LOT OF WORK and to be quite honest, half of the crescents would come out of the oven looking not-so-crescent-like and pretty darn ugly!
Then one year, it dawned on me that there is an easier way to make all these cookies. We finally abandoned the crescent shape a few years ago because it just wasn't very user-friendly and we simplified the rolling and cutting significantly.
Now these cookies can be shaped much faster. They're rolled and cut the way you would sticky buns or cinnamon rolls, like for these cinnamon raisin buns. And you won't break your back rolling and shaping 64 crescents. The new version of the recipe makes slightly less, which means bigger rugelach. That's a good thing, if you ask me. The longest part of this recipe is the chilling and the baking, instead of the hard labour.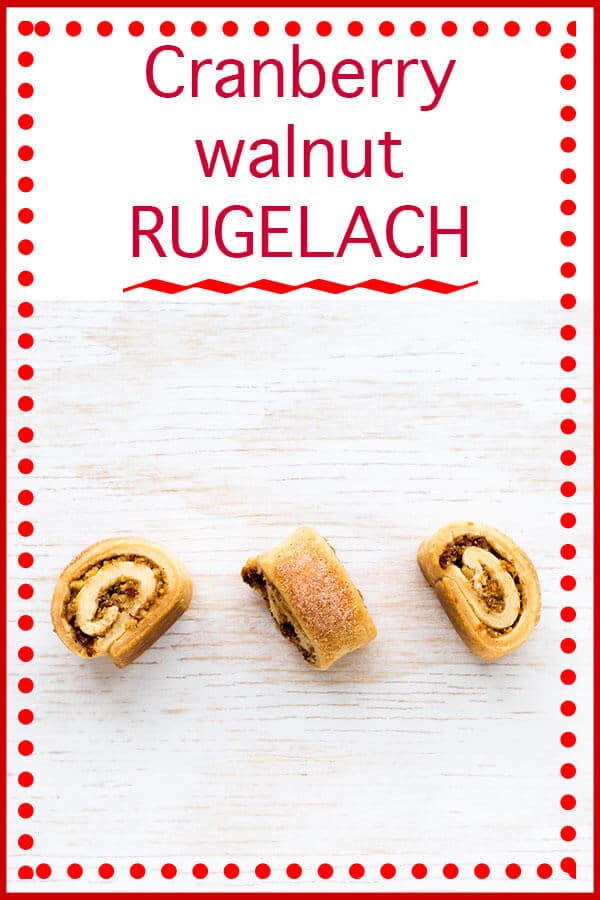 Cinnamon rugelach with dried cranberries and walnots
These cinnamon rugelach are made with a cream cheese dough that is very easy to work with. They are filled with cinnamon, dried cranberry, vanilla, and walnuts. They are very popular on Christmas cookie trays!
Ingredients
Cream cheese dough
230

grams

(

1

cup

)

unsalted butter

room temperature

250

grams

(

½

lb

)

Philadelphia cream cheese (full fat, regular)

1 block

375

grams

(

3

cups

)

all purpose flour

1.25

mL

(

¼

tsp

) Diamond Crystal fine kosher salt
Cinnamon rugelach filling with dried cranberries
Cinnamon sugar topping
30

mL

(

2

tbsp

)

granulated sugar

1.25

mL

(

¼

tsp

)

ground cinnamon

30

mL

(

2

tbsp

)

whipping cream (35 % fat)
Instructions
Cream cheese dough
In the bowl of an electric stand mixer fitted with the paddle attachment, cream together the butter and cream cheese until smooth. Add flour and salt and mix until the dough comes together. Wrap and chill dough for at least 2 hours.
Cinnamon rugelach filling with dried cranberries
In a food processor, combine walnuts with dried cranberries, sugar, cinnamon, cream, and vanilla extract . Pulse mixture until it is ground fairly fine and evenly mixed.
How to shape & bake cinnamon rugelach
Preheat oven to 350 F.

Cut dough into 4, and shape each into a square. Working with one piece of dough at a time, roll dough into a rectangle that is approximately 13 x 7 inches on a lightly floured surface.

Sprinkle cranberry filling mixture generously over surface of dough and press lightly. Roll fairly tightly into a 13 inch log, seam-side down.

In a small bowl, mix together the granulated sugar and the cinnamon to make the topping. Brush the log with cream and sprinkle top generously with the cinnamon sugar mixture. Cut into 12 or 13 pieces (a cut every inch or so). Transfer rugelach to a parchment-lined baking sheet, spacing them about an inch, keeping the seam-side of each cookie down.

Bake cookies until they are golden brown (this takes at least 20 minutes and even more depending on the size of your cookies).
Nutrition
Calories:
120
kcal
|
Carbohydrates:
14
g
|
Protein:
1
g
|
Fat:
7
g
|
Saturated Fat:
3
g
|
Cholesterol:
12
mg
|
Sodium:
11
mg
|
Potassium:
27
mg
|
Fiber:
1
g
|
Sugar:
7
g
|
Vitamin A:
135
IU
|
Vitamin C:
1
mg
|
Calcium:
9
mg
|
Iron:
1
mg
This recipe is adapted from an Anna Olson recipe (note that the original recipe makes 64, that's SIXTY FOUR, rugelach, and not the 24 the recipe on the Food Network Canada site claims! What a typo!).