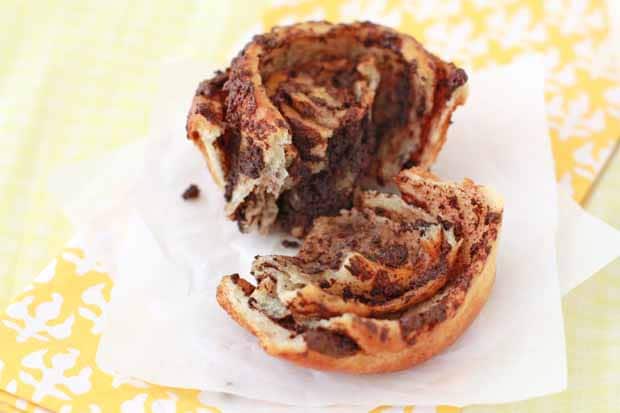 In honour of spring and Easter, instead of hot cross buns, I decided to try something new: chocolate babka. Babka is basically a buttery brioche bread with layers of cinnamon chocolate or cinnamon sugar. It's delicious and actually pretty easy to make if you have a mixer to do your kneading for you.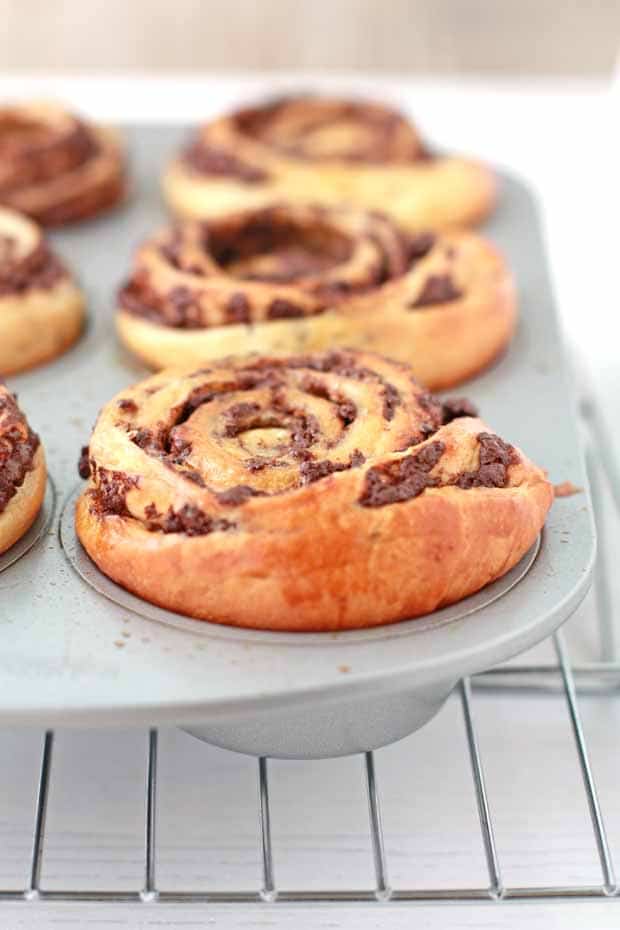 Disclosure: As an Amazon Associate, I earn from qualifying purchases.
Instead of baking a large loaf of babka, I opted to make buns of babka by baking the dough in muffin tins (an idea I stole from Smitten Kitchen). The only problem I had was in the baking time. I honestly think they are a little underbaked, though I followed the directions carefully. I would say mine were a little doughier in the middle than I think they should be (though I'm no babka expert!). Also, as you can see from my photos, they sank in the middle as they cooled, which they probably shouldn't have. Sinking is usually a sign of undercooking in baking.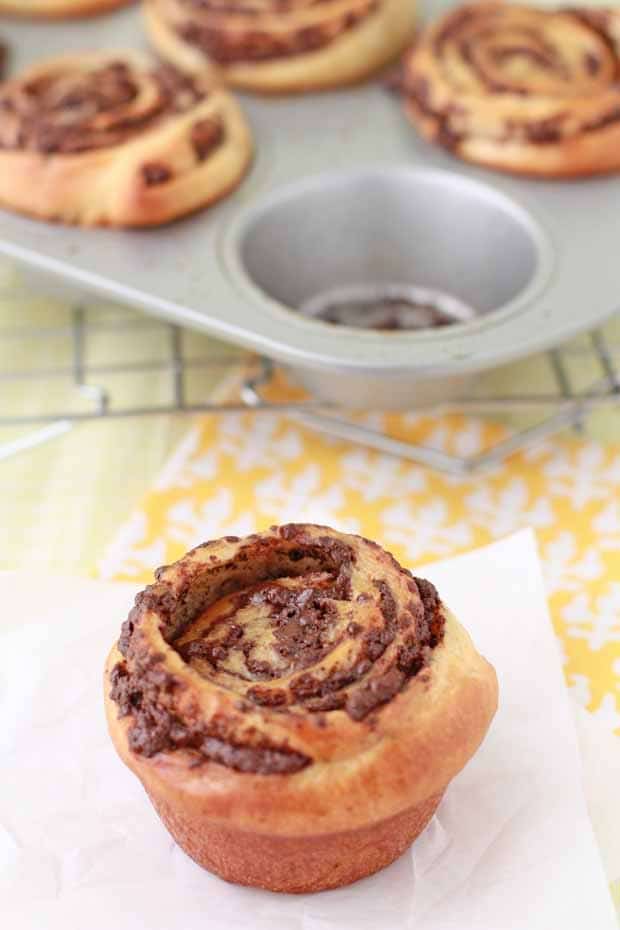 To verify this, I took the leftover babka dough ends and baked them in mini loaf pans for almost 30 minutes, or basically, until they were a deeper brown. The mini loaves are definitely better cooked in the middle than the buns, and they didn't sink as they cooled. Now I know for next time, and so do you!
These chocolate babka are absolutely delicious, and I will definitely be making them again and again. But, please be sure to bake them for a solid 25 to 30 minutes (and not 20 minutes like I did). You will end up with deep brown edges with layers and layers of cinnamon-y chocolate and soft buttery bread tucked inside. These are a real treat!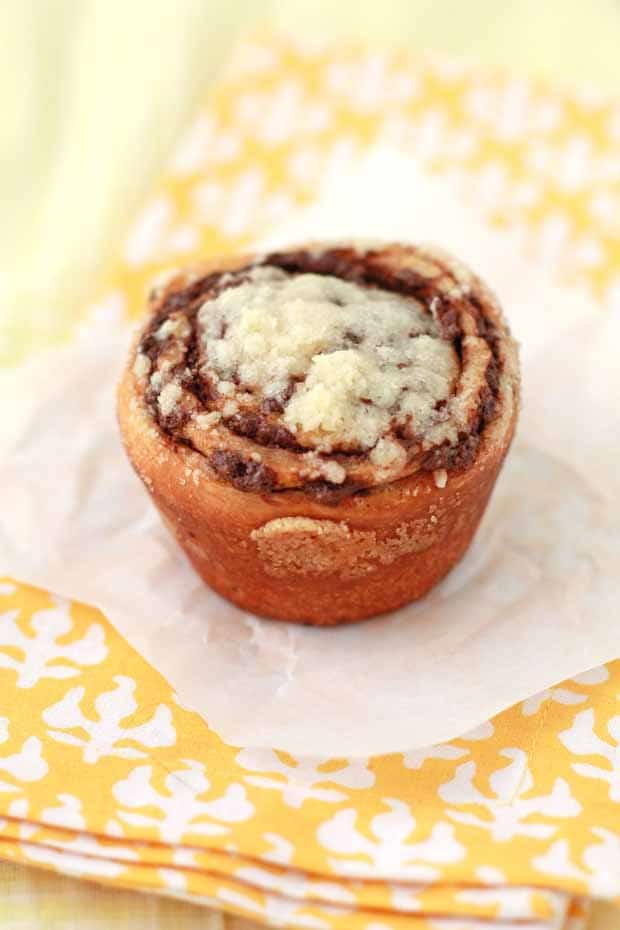 This recipe is adapted from Martha Stewart (I scaled it down, worked in grams instead of cups, changed the sugar amount, and played around with the butter content)
P.S. I also put some streusel topping on half the babkas I baked, and I can't say that the streusel really enhanced the taste much, but if you are a sucker for crumble topping,  then by all means, go for it.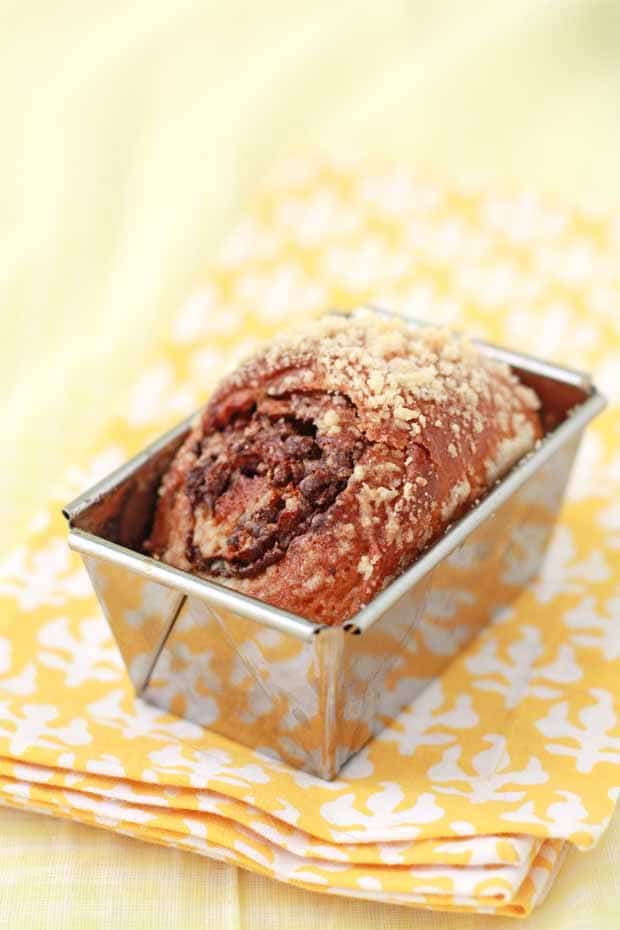 📖 Recipe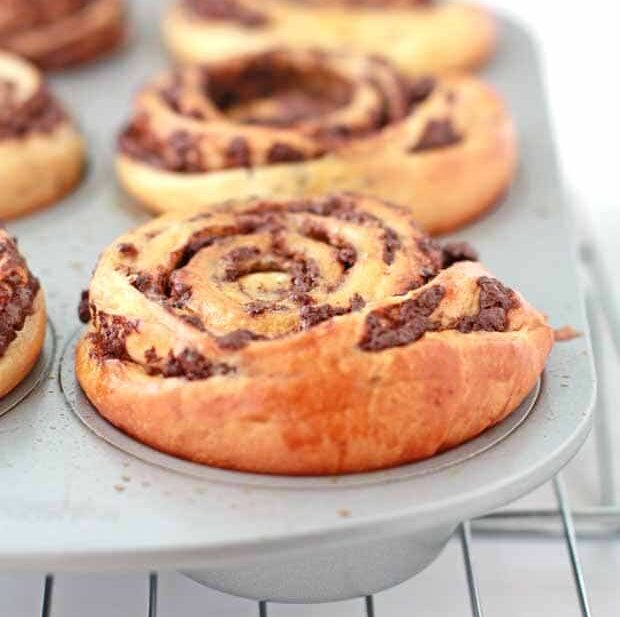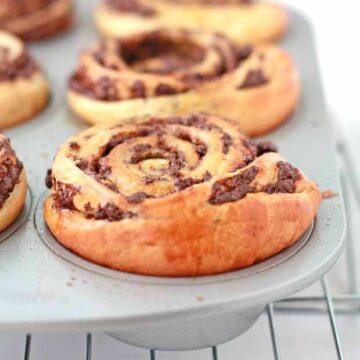 Mini Chocolate Babkas
Ingredients
For the dough
125

mL

whole milk (3.25 % fat)

heated to 110°F

1.5

teaspoon

instant yeast

50

grams

granulated sugar

plus a pinch to activate the yeast

1

large egg(s)

250

grams

bleached all-purpose flour

¼

teaspoon

Diamond Crystal fine kosher salt

75

grams

unsalted butter

room temperature
For the chocolate filling
250

grams

dark chocolate

I used Cacao Barry 58%

1

teaspoon

ground cinnamon

75

grams

unsalted butter

room temperature
For the streusel topping (optional)
25

grams

bleached all-purpose flour

25

grams

granulated sugar

25

grams

unsalted butter

cold and chopped into little pieces

1

pinch

Diamond Crystal fine kosher salt
For the egg wash
1

large egg(s)

1

teaspoon

whole milk (3.25 % fat)
Instructions
Prepare the dough: In a small cup, stir together the yeast and the warmed milk. Set aside for 5 minutes (it should become a little frothy. If it doesn't, your yeast might be dead).

In a small bowl, whisk together the egg and the sugar, then add the yeast mixture and stir it in well. Set aside.

In the bowl of an electric mixer fitted with the paddle attachment, stir together the flour and the salt.

Add the egg mixture to the mixer bowl and beat it in until it is almost completely incorporated, then switch to the dough hook.

Add the butter to the bowl, and knead it in with the dough hook for about 6 minutes or so. The dough should feel slightly tacky when touched but the mixer bowl should be clean with no dry bits.

Transfer the dough to a greased bowl and cover with plastic wrap and let rise til doubled in size (this take about an hour to 1.5 hours).
Roll the dough and prepare the filling:
When the dough has doubled, punch it down then transfer it to a floured surface and roll it to a 13×22 inch rectangle. Let it rest while you prepare the filling.

Make the filling: use a mini food processor to pulse the chocolate and cinnamon until it is powdery with small chunks (the size of mini chocolate chips). Transfer it to a bowl and work in the butter with your hands.

Dump the chocolate filling onto the dough and spread it out thinly and evenly so every inch is pretty much covered.

Roll the dough into a 12-inch long, as tightly as possible, then trim the ends off (you don't have to but I think it's neater this way) and cut the log into 12 pieces.

Grease two muffin pans (or one 12-muffin cup pan) and place the rounds of dough in the greased pans. Cover loosely with plastic wrap and let rise again for about 45 minutes until the buns puff a bit.
Prepare the egg wash & streusel (if using).
Prepare the egg wash by mixing the egg with the tablespoon of milk. Brush the buns lightly with the egg wash.

If you want streusel topping, combine the flour, sugar and salt in a bowl and work in the butter with your fingertips. Then top each egg washed bun with a mound of streusel before baking.

Bake the buns in an oven preheated to 350°F (175 °C) for about 30 minutes, until they are a deep brown and spring back when touched.

Let cool before serving (if you can wait that long).
Nutrition
Calories:
359
kcal
Carbohydrates:
35
g
Protein:
6
g
Fat:
22
g
Saturated Fat:
13
g
Cholesterol:
60
mg
Sodium:
71
mg
Potassium:
209
mg
Fiber:
3
g
Sugar:
12
g
Vitamin A:
429
IU
Calcium:
39
mg
Iron:
4
mg