Learn how to make homemade traditional hot cross buns for Easter weekend with this easy recipe. The bread dough is flavoured with raisins, candied citrus peel, cinnamon, nutmeg, and cloves. This dough is kneaded in the mixer making this hot cross buns recipe easy because you don't have to knead the dough by hand.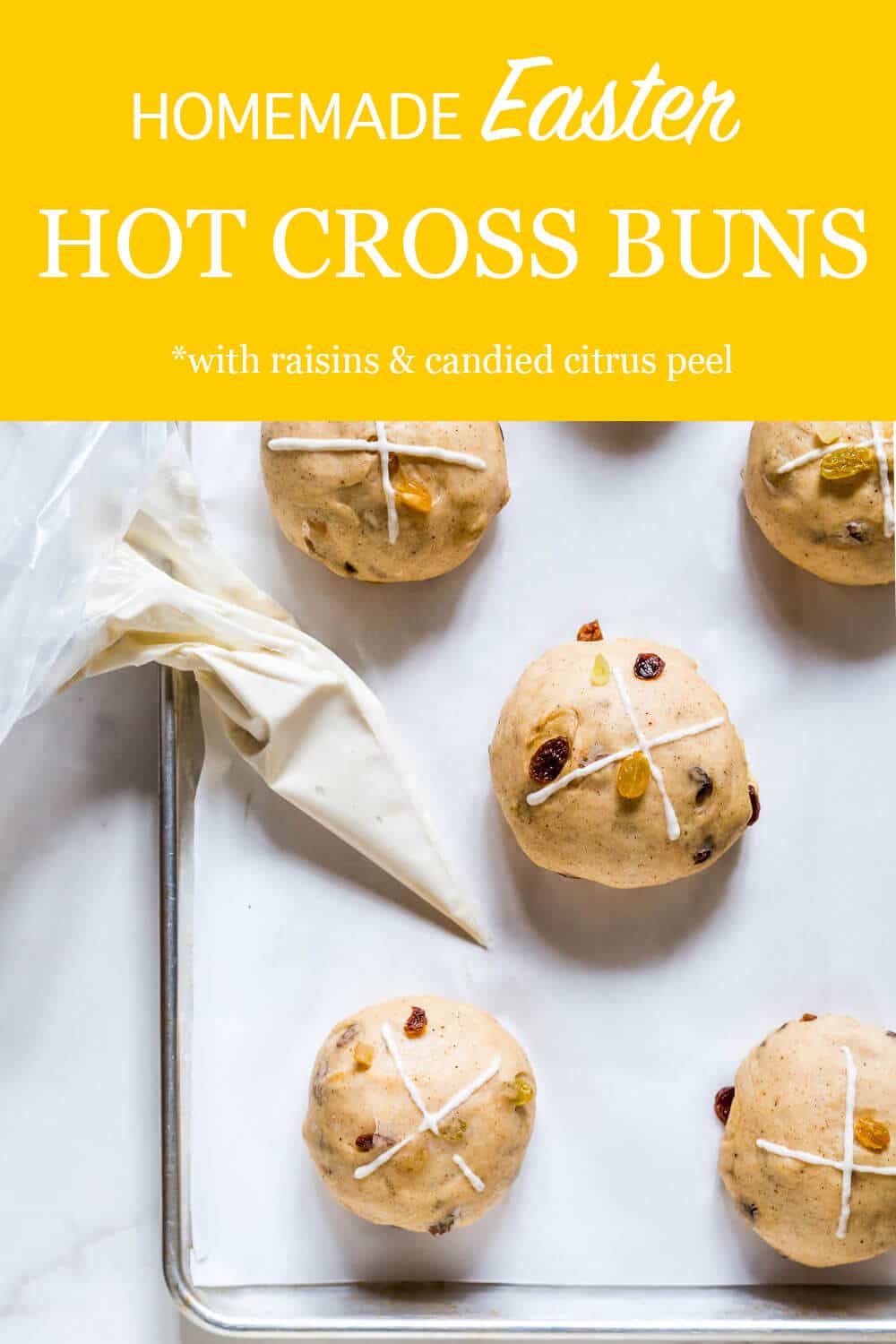 Disclosure: As an Amazon Associate, I earn from qualifying purchases.
Jump to:
What are they?
Hot cross buns are a sweet, spiced fruit bread made from an enriched yeast dough. That means the bread dough is enhanced with rich ingredients like eggs, milk, sugar, and butter. You will also find in this bread category, brioche, maple brioche buns, stollen bread, stollen buns, chocolate babka bread, chocolate babka buns, and even Turkish coffee cardamom buns).
Why they call them hot cross buns
Apparently hot cross buns are an old Anglican tradition. The buns have a cross piped onto them in reference to Good Friday. Hot cross buns are served to mark the end of Lent, specifically on Good Friday, though these days, they are enjoyed Easter weekend, and in some parts of the world, bakeries sell them at other holidays, like Christmas.
I always spend Easter weekend with my family, and we always have hot cross buns and tea in the afternoons. I try to make these hot cross buns from scratch every spring because they are a favourite. As they bake, the scent of cinnamon, nutmeg, and cloves fills the house.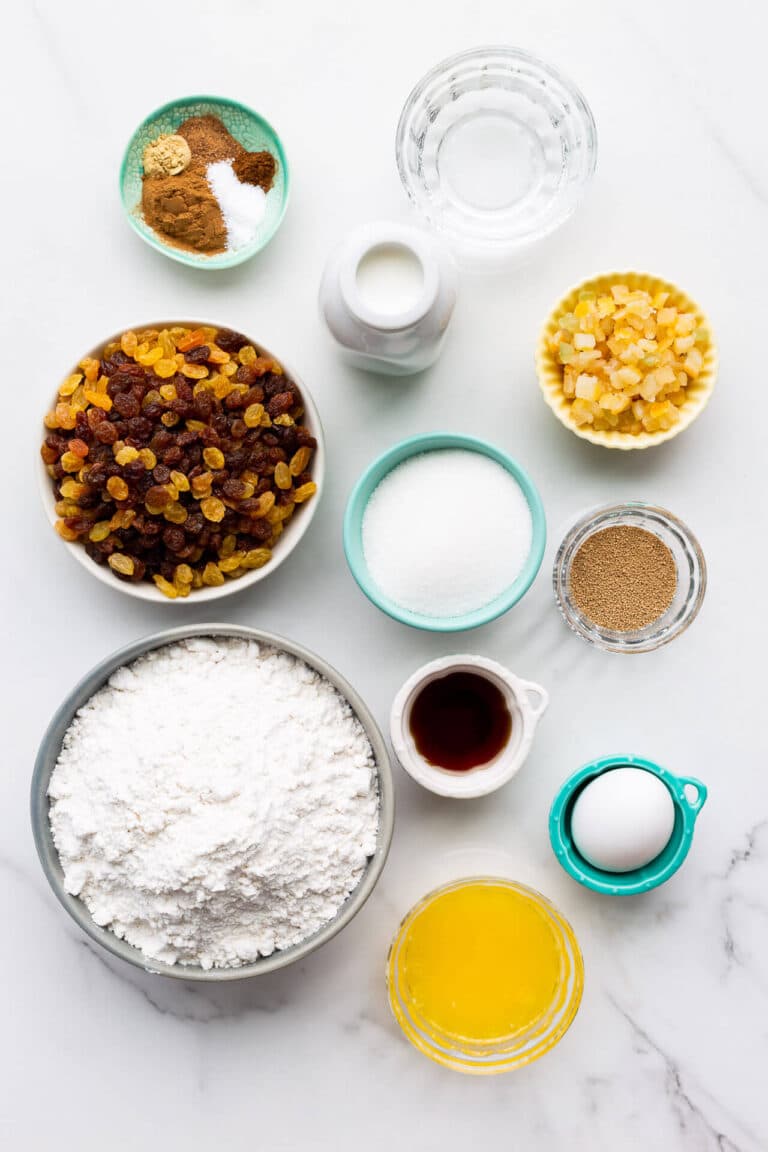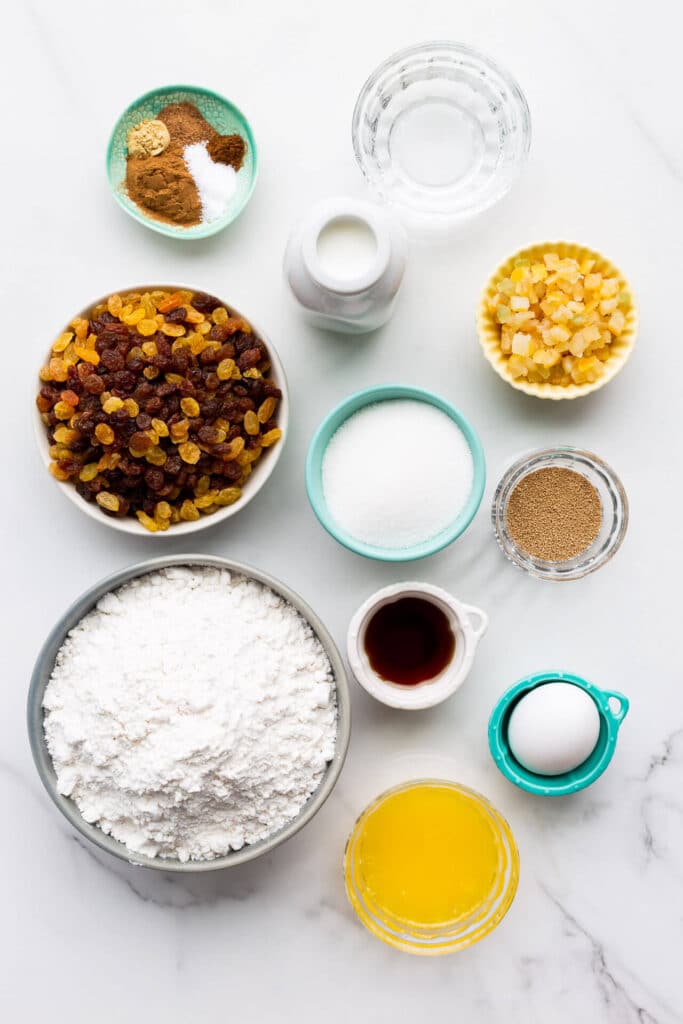 Ingredients
Traditional hot cross buns are made from an enriched dough and has a few characteristics:
enriched bread dough: made from all-purpose flour, sugar, salt, yeast, milk, melted butter, and eggs
inclusions: dried fruit, and/or candied citrus peel, like sultana raisins, golden raisins, currants, candied orange peel, candied lemon peel, or citron peel. These add-ins are mixed into the dough before the first rise
sweet spices, like cinnamon, nutmeg, cloves, and ginger. Hot cross buns would taste great with cardamom too!
a cross, which can be piped on at two different stages:

to add the cross before baking, make a simple flour and water paste and pipe it on BEFORE baking the hot cross buns. Personally, I tend to pipe on a flour paste mark before baking because I like to toast my hot cross buns and I don't think toasters and icing sugar paste go well together.
to add the cross after baking, make a sweet white glaze from icing sugar and water and pipe on AFTER baking the hot cross buns, when they have cooled.

glaze: I use maple syrup, but any melted apricot jam or apple jelly would work too!
The combination of candied citrus peel and raisins, alongside the mixture of spices, is what makes hot cross buns so special. I truly believe that these are better than any bun that you buy in a store. Trust me.
Please see recipe card for exact quantities.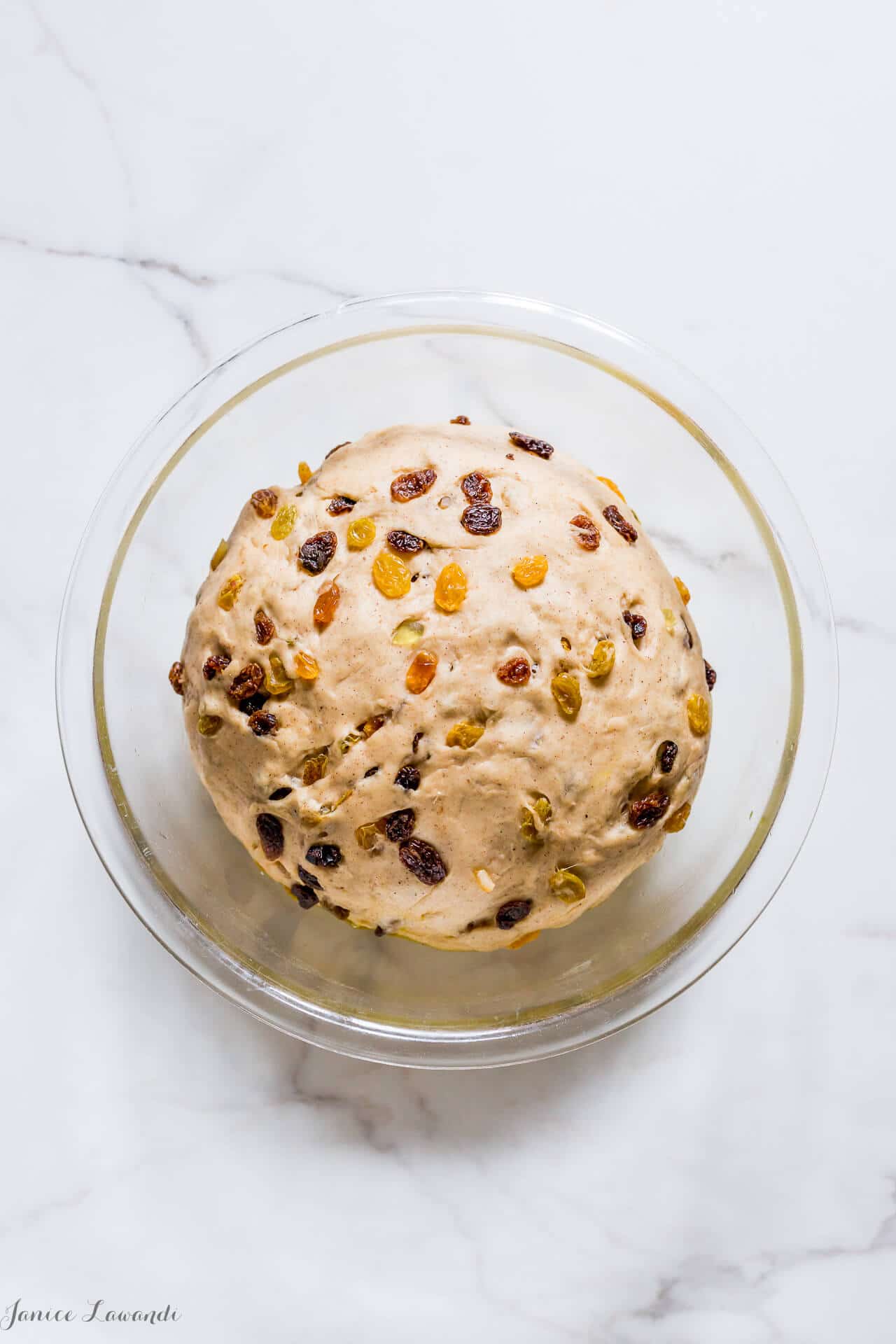 Use your stand mixer to knead the dough
The secret to stress-free bread baking is to use the dough hook of your stand mixer. This is what I do for the easy brioche bread recipe too. This hot cross buns recipe is easy because I made the dough with a KitchenAid mixer (the big 6-quart pro model or the smaller Artisan mixer works too—I've tested this recipe in both!). Sure, you could knead hot cross buns dough by hand. Works like a charm! I guess I'm a little lazy, but I've had a lot of success kneading dough with a mixer, so I don't do that by hand anymore.
Special tools
Besides needing a stand mixer with a dough hook to knead the bread dough, you will also need: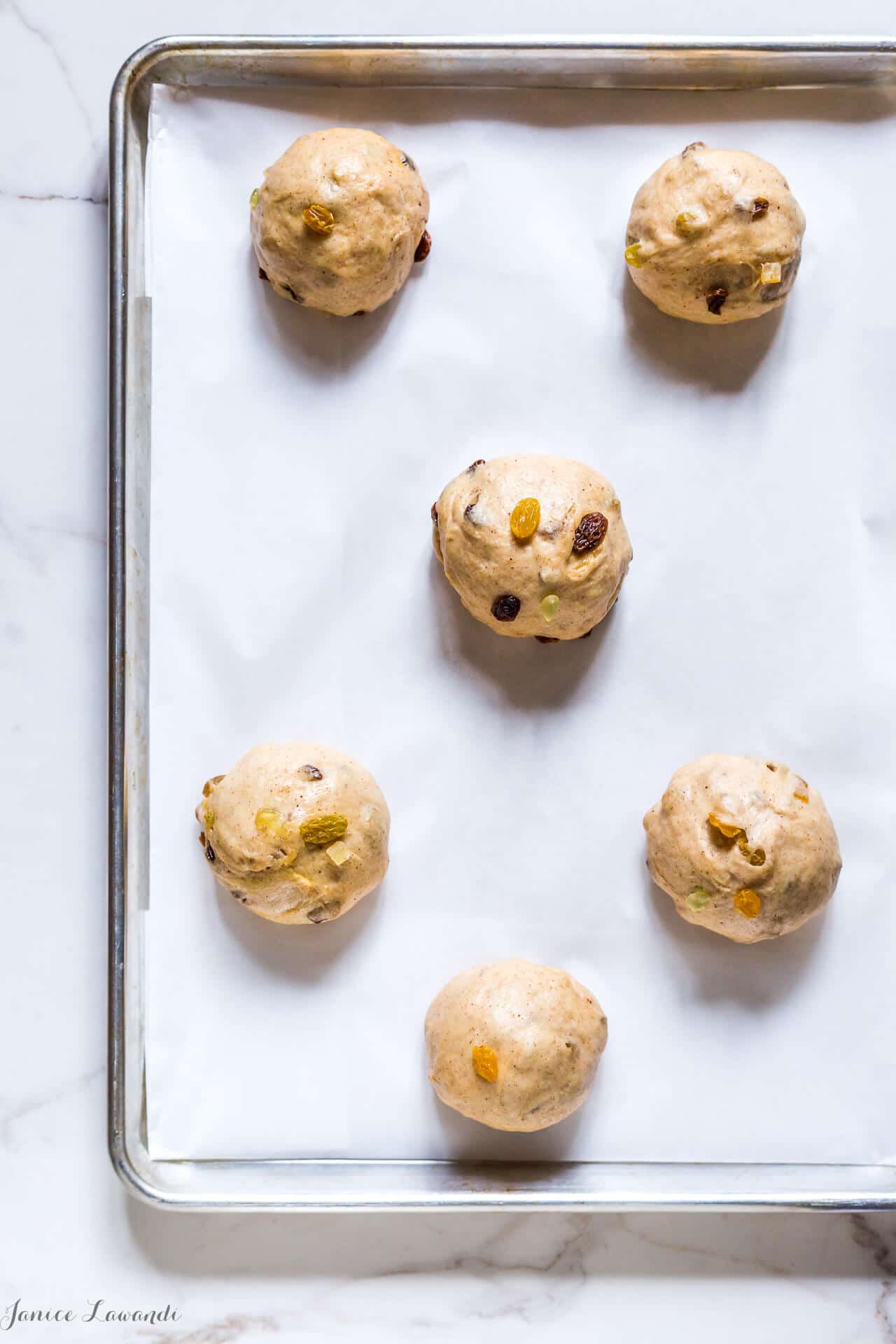 Baking temperature
I baked the buns at 350ºF, as recommended by the original recipe, but I think next year, I might try 325ºF because some of the raisins were a little overdone at that high a temperature.
Substitutions & making this recipe without raisins
Hot cross buns are a must every year for Easter weekend. They are also a great way to use up the leftover raisins and candied peel from Christmas past so that you can start fresh around the holiday season. That being said, if you don't like raisins, make this recipe without them, and replace the raisins with the same volume of dried cranberries or dried cherries!
If you don't have any candied citrus peel, feel free to skip it and replace it with the same volume of raisins (if you like raisins) or use something else, like chopped crystallized ginger.
Another great idea: replace the raisins with dark chocolate chips for chocolate hot cross buns.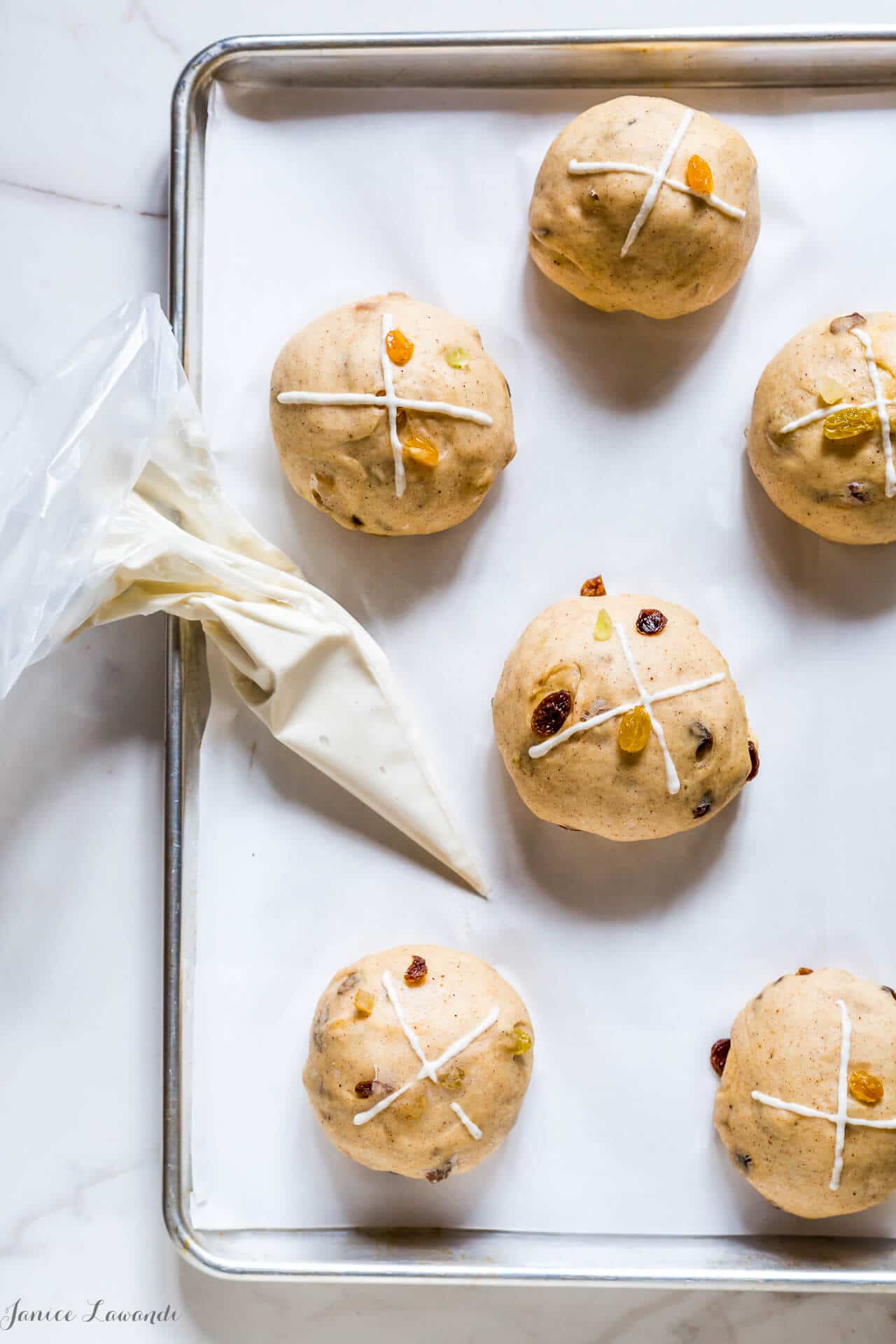 Variations
Glaze options:

Maple syrup. It coats the buns in a sticky, flavourful, shiny glaze.
Donna Hay uses a gelatin glaze (a mixture of powdered gelatin hydrated in cold water) brushed onto the hot buns which melts the gelatin. This works extremely well, but it's bland and doesn't do anything for the buns except making them shine
Neutral glaze is what bakeries would use. It's a flavourless sweet commercial glaze that comes in a tub
Melted apricot jam or apple jelly will also work here, but again, the finish will be a little sticky
Simple syrup is another great glaze option for you to try and a traditional glaze for babka, actually!
How to store hot cross buns
This recipe makes 12 hot cross buns which can seem like a lot or even too much for some families. Personally, I live alone, so I use my freezer to store these when I make this recipe and if I don't have the opportunity to share them with others:
slice open half the buns they have cooled
freeze them in a single layer on a parchment-lined sheet pan
transfer to a freezer bag to store long-term
If you follow these steps, you should be able to store your hot cross buns for several months. When you want to have a bun, take one out of the freezer and toast it in a toaster, a toaster oven, or in a preheated oven. Slathered with lots of salted butter, nobody will realize the buns were frozen!
Serving suggestions
Serve hot cross buns split in half, with salted butter, orange marmalade, or even maple butter or dulce de leche.
Toast leftovers in a toaster oven or in a regular oven to warm them up.
More Easter baking recipes
The Easter baking season is short but sweet. It's a great opportunity to explore baking with carrots and also leftover Easter chocolate, incorporating Mini Eggs into Easter brownies and blondies!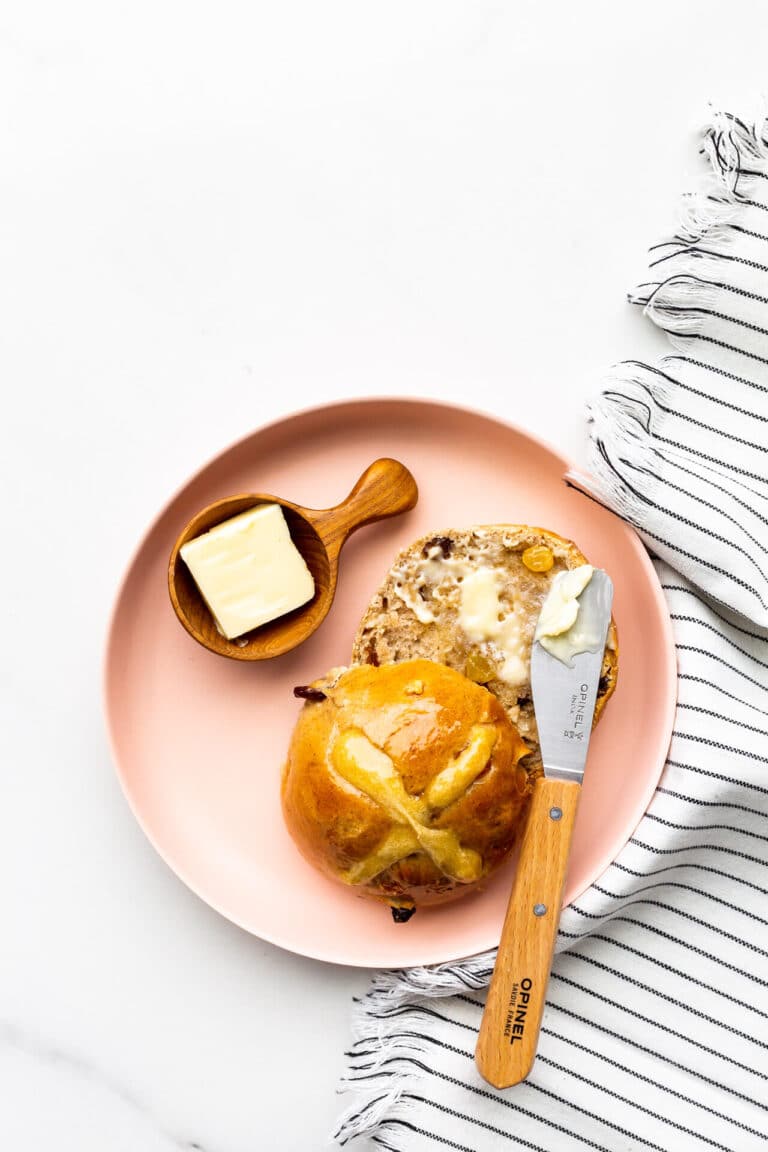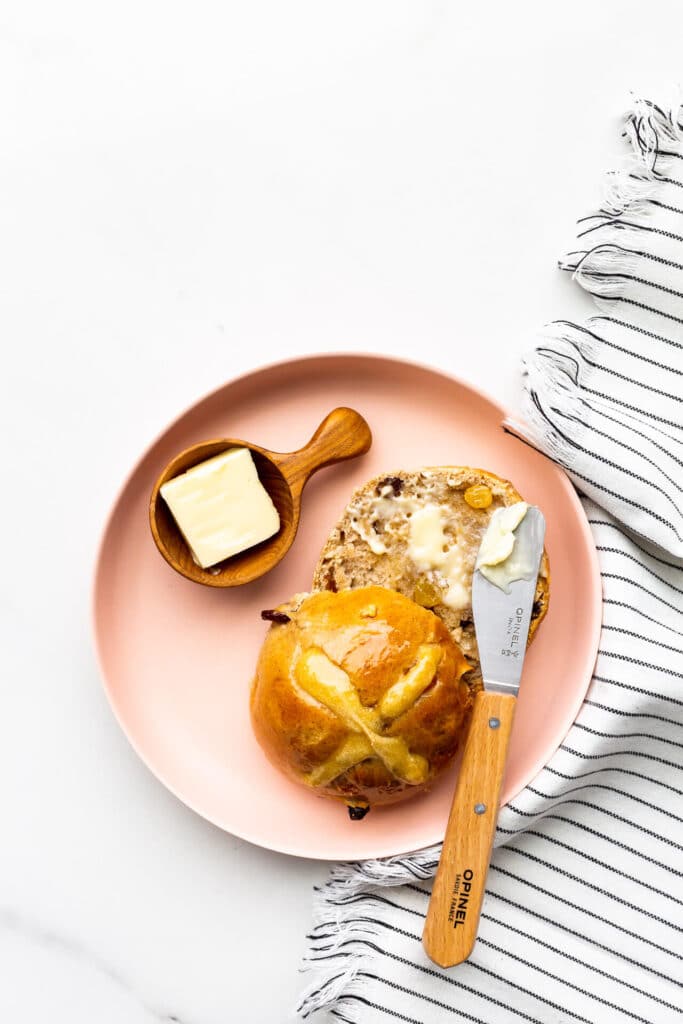 Frequently asked questions
What if my dough is too slack or wet?
Add more flour and knead it in. Add up to 60 grams (½ cup) at a time to avoid adding too much flour. Too much flour will lead to dense, tough buns.
How do I know when hot cross buns are baked in the middle?
Your best bet for determining if your buns are properly baked is to use a digital instant-read thermometer. For buns made with eggs, milk, and butter, meaning enriched bread, the internal temperature should be 180–190°F (82–88°C) when baked.
The buns will be golden brown, but not dark when baked. The glaze is brushed on when the buns come out of the oven and it will make the colour pop and make the buns shine.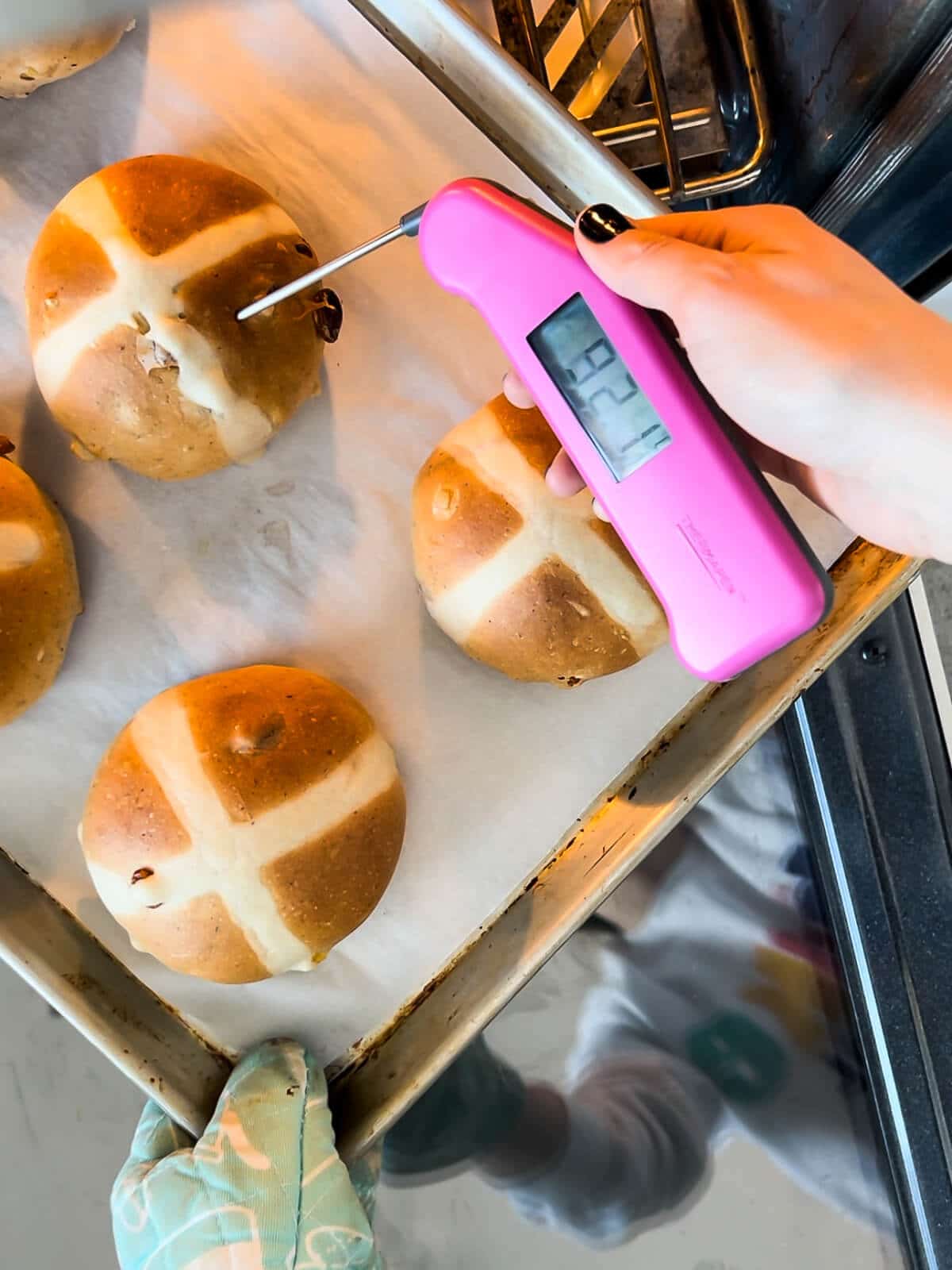 📖 Recipe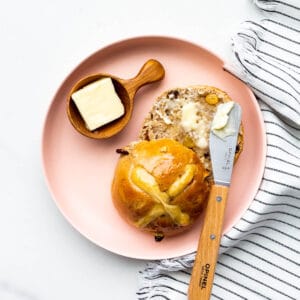 Easter Hot Cross Buns
This Easter recipe for homemade hot cross buns makes 12 big beautiful buns flavoured with a mixture of cinnamon, raisins, and candied peel. The buns are brushed with maple syrup just after baking which gives them a gorgeous shiny, sweet finish.
Ingredients
Bun dough
11.25

mL

instant yeast

1 packet or 8 grams

50

grams

granulated sugar

375

mL

milk (2 %)

warmed to ~95°F

530

grams

bleached all-purpose flour

you may need 60 grams (½ cup) extra flour if the dough is too sticky so have it ready!

50

grams

granulated sugar

13.75

mL

ground cinnamon

2.5

mL

ground nutmeg

2.5

mL

ground ginger

1.25

mL

ground cloves

58

grams

unsalted butter

melted

1

large egg(s)

room temperature

240

grams

sultana raisins

or a mixture of golden raisins and sultanas (or whatever I have in the cupboard)

55

grams

candied citrus peel

mix of orange and lemon
Cross dough
65

grams

bleached all-purpose flour

80

mL

water

5

mL

canola oil

2.5

mL

granulated sugar
Instructions
In a 2 cup measurer (or a small bowl), stir together the first three ingredients (yeast, 50 grams sugar, and milk). Set aside to "bubble and grow" as you measure out the other ingredients.

In the bowl of an electric mixer fitted with the paddle attachment, add the flour, yeast and milk mixture, 50 grams sugar, spices, salt, melted butter, and egg. Mix on low for a minute until the ingredients are well mixed. Add the raisins and candied peel, and mix again to combine everything. Cover the bowl with a towel and let sit for 10 minutes.

Switch to the dough hook attachment and knead the dough in the mixer on low speed (speed 2) for about 10 minutes (this is essential to get a good bun texture). Halfway through kneading the dough, check on it. The dough should not stick too much to the sides of the bowl and should have formed a ball in the bowl, wrapped around the hook. It should feel slightly tacky when you press it with your fingers. If it's too wet and not forming a cohesive ball of dough, you may add up to 60 grams (½ cup) of extra flour. If it's too dry, sprinkle some water, and continue beating.

Form the dough into a ball and place it in a greased, large bowl (rolling it in the bowl to grease the dough). Cover the bowl with saran wrap.

Let rise until the dough has doubled in size, in a warm, draft-free location, like in the oven with just the light turned on.

Line a couple of baking sheets with parchment paper.

Punch the dough down slightly, form a log. Divide the log into 12 pieces (about 120 grams dough per bun). Roll each piece into a ball and place on the prepared pans, staggered.

Cover the pans with saran wrap and let the buns rise until they have doubled (about an hour at room temperature).

Preheat the oven to 350°F.

Prepare the cross dough: To form the crosses, mix the flour, water, oil, and sugar. Using a piping bag fitted with a round piping tip (6 mm tip), pipe thinly onto the top of each bun just before baking. The dough should be thin enough to pipe, but thick enough not to spread too much.

Bake the buns on the middle racks for 25 minutes, or until the buns are deep golden colour. If you are unsure, use a thermometer to check the middle: for buns made with eggs, milk, and butter, meaning enriched breads, the internal temperature should be 180–190°F (82–88°C) when baked. I've gone as high as 212 ºF or 100 ºC without problems.

Remove the buns from the oven and brush with maple syrup a couple of times as they cool (note that as the buns cool, the maple syrup will form a sweet sticky glaze on the buns). Serve the buns when they are slightly warm, with salted butter. You can reheat them in the oven the next day.
Nutrition