This dark chocolate babka recipe post was sponsored by Cacao Barry. Chocolate babka is the perfect Easter bread because it's a sweet rich bread filled with dark chocolate and cinnamon. This is a fantastic recipe for brunch any time of year because the dough rises overnight in the fridge so you can bake it in the morning just before serving!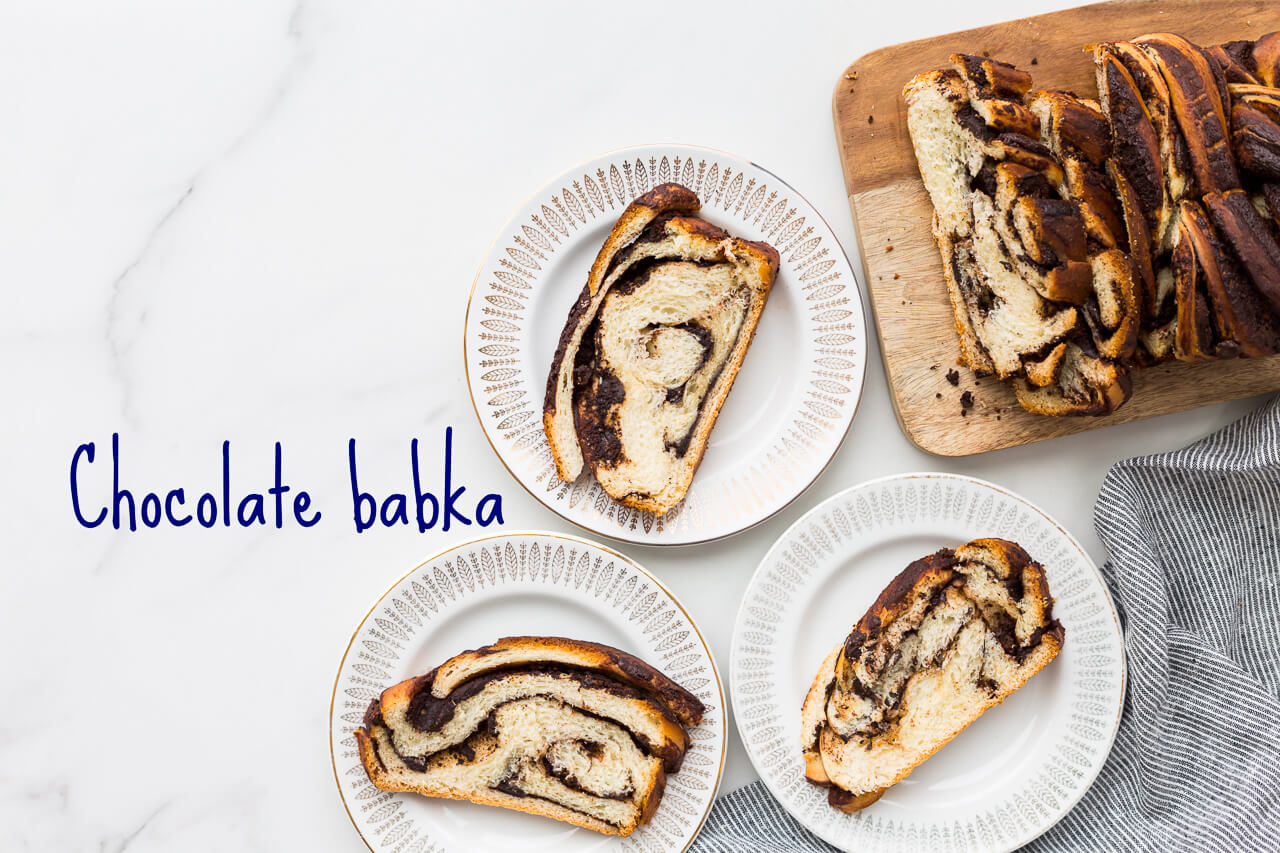 Disclosure: As an Amazon Associate, I earn from qualifying purchases.
Jump to: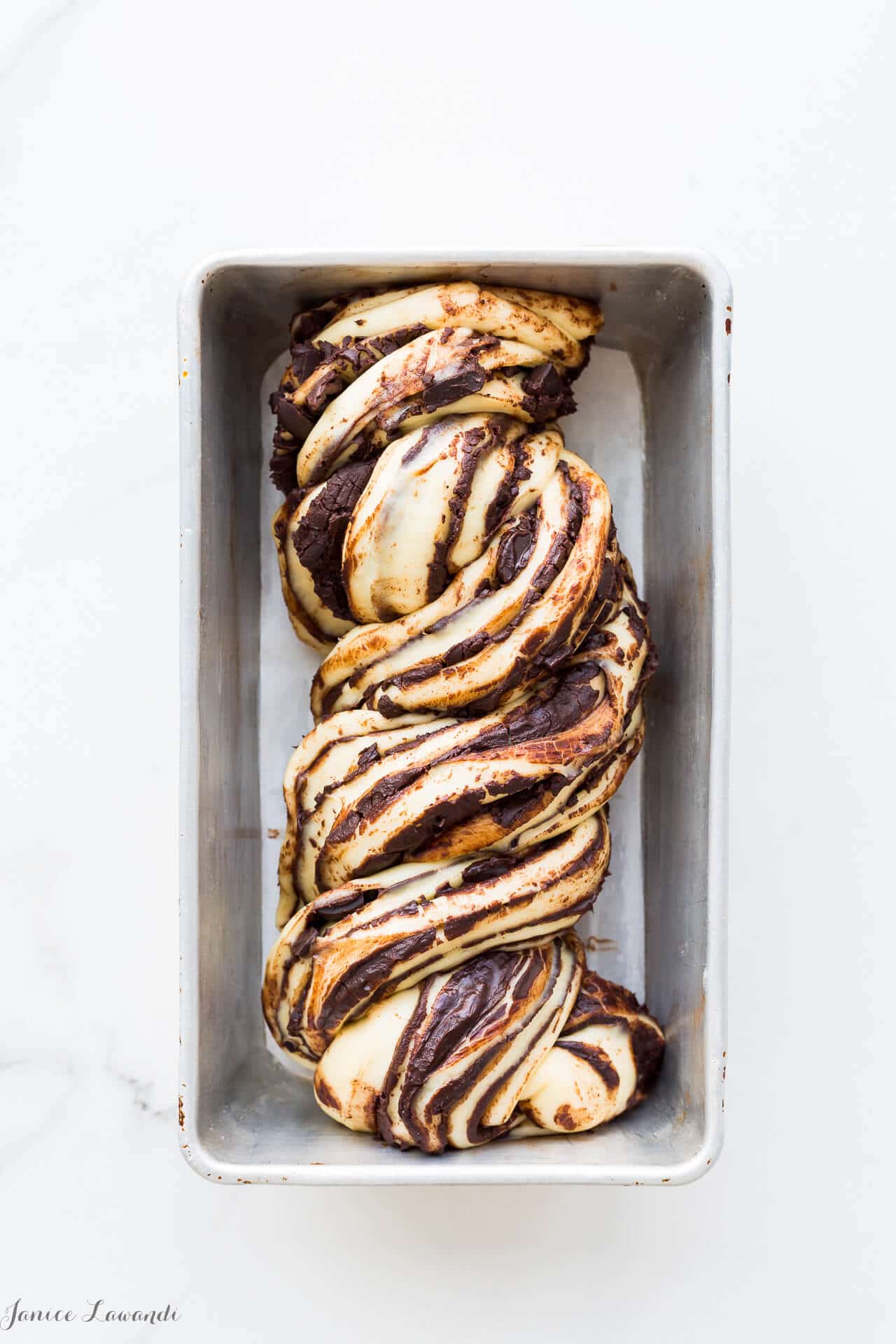 What kind of bread is a babka?
Some consider babka a cake, but I tend to categorize it as bread. It starts with an enriched yeast dough, meaning that babka dough is "enriched" with eggs, milk, and butter and uses yeast as a leavener to make it rise. I'd say that babka dough tends to be less rich than brioche dough, but still on that spectrum. I'd consider hot cross buns and Christmas stollen bread to fall under this category as well, which can be made into stollen buns or a stollen loaf.
Babka dough is rolled out and smeared with a buttery dark chocolate filling or a cinnamon sugar mixture before forming a swirled loaf. We could debate ad nauseum about which is the superior babka, but today is dedicated to the dark chocolate babka. You can mix cinnamon into the chocolate filling, which to me is the best of both worlds. Some babkas are topped with a generous amount of streusel topping, some aren't.

The babka issues I had this week weren't so much a recipe problem, really. The dough recipe worked beautifully and rolled out so easily after chilling in the fridge overnight. It was a real pleasure to make these babka loaves, but the first time 'round, my problem was that I had too much dough for a standard bread loaf pan (which is 9x5"). Overfilling the bread pan meant the babka took much longer to bake, which meant that the chocolate started to burn. It took over an hour to bake what I referred to as the "mega babka." Too long.
The bread was gorgeous and it sliced beautifully, revealing a lovely tight swirl of chocolate. But not quite blog-worthy at that stage. Nobody wants to eat burned chocolate. I had to scale down the recipe to fit the pan better. I needed to determine the right quantity of babka dough needed to properly fill a standard loaf pan, without overfilling it, before I could share this recipe with you. So many people told me I should post the recipe the way it was on Monday because it did make a gorgeous loaf, but I wanted the recipe to be perfect, or at least better and more user-friendly for you. Call me crazy!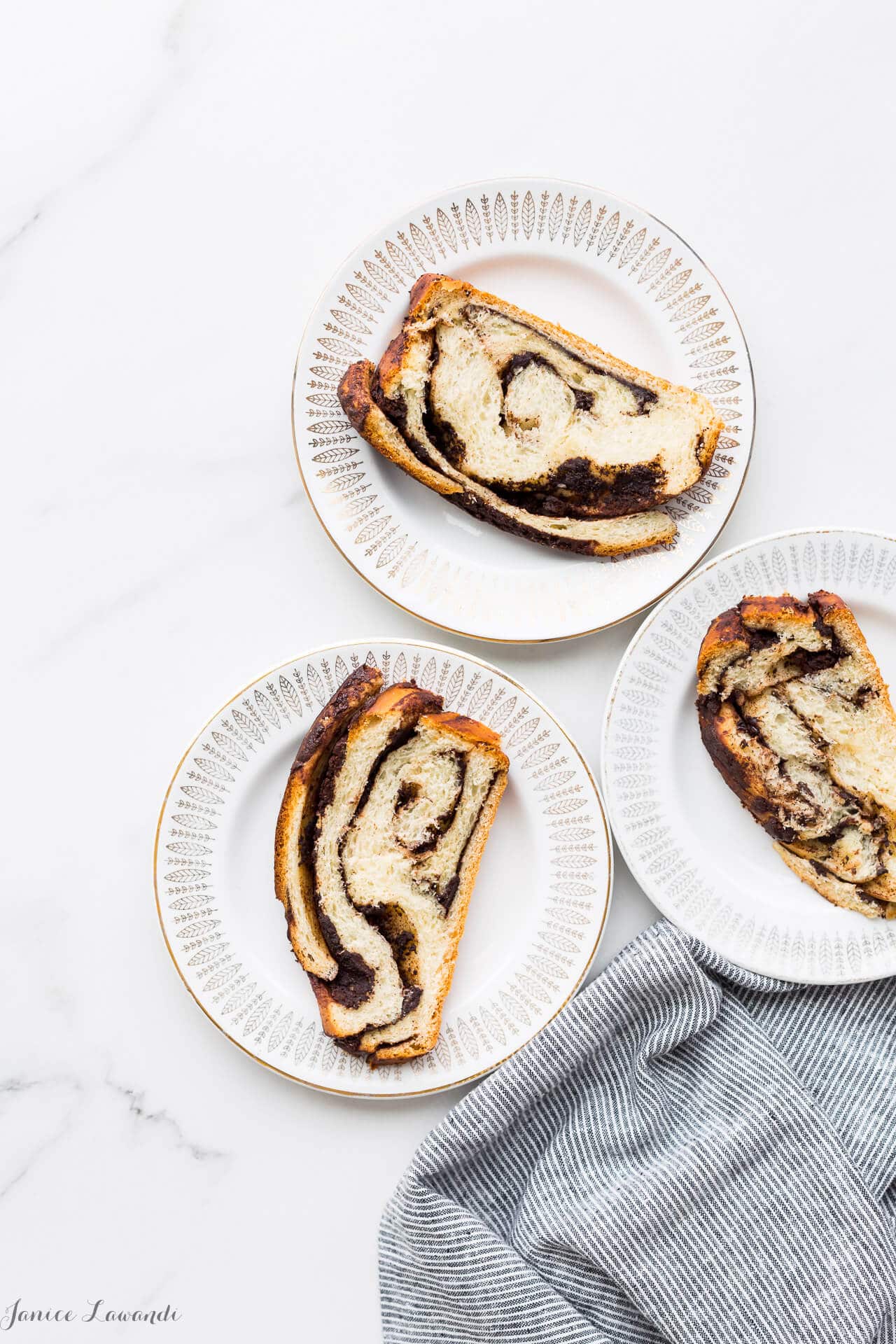 This dark chocolate babka recipe yields a big, impressive version of these mini chocolate babkas. I modified the original recipe to scale it up to fit a 9x5" bread pan and of course, I made a few changes to make the recipe even better. This dark chocolate babka is loaded with chocolate and cinnamon. Babka's are definitely holiday bread, but they also make fantastic bread on brunch menus year-round. If you make one of these, your guests will love you forever. Trust me. Or better yet: make this chocolate babka recipe and see for yourself!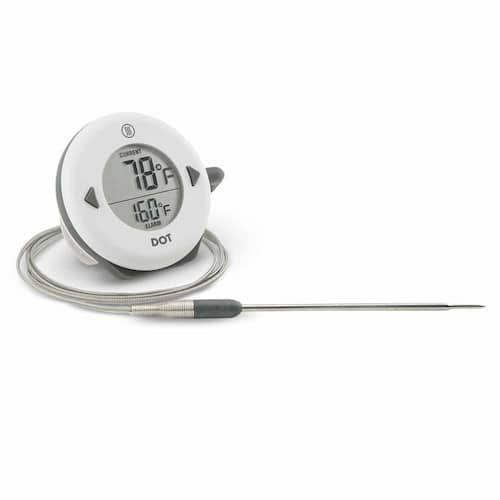 How to check if your babka is baked in the middle
You will know that the babka is baked when it is firm to touch, a deep golden brown on the outside, and also a thermometer inserted into a bready part of the swirl will read 90ºC (194ºF). To measure the internal temperature of the babka, use an instant-read thermometer, like the Thermoworks Thermapen or the Thermoworks ThermoPop. Both of these thermometers are fast-reading and can measure the temperature within 3 seconds, which means you'll quickly know if your bread needs more time in the oven.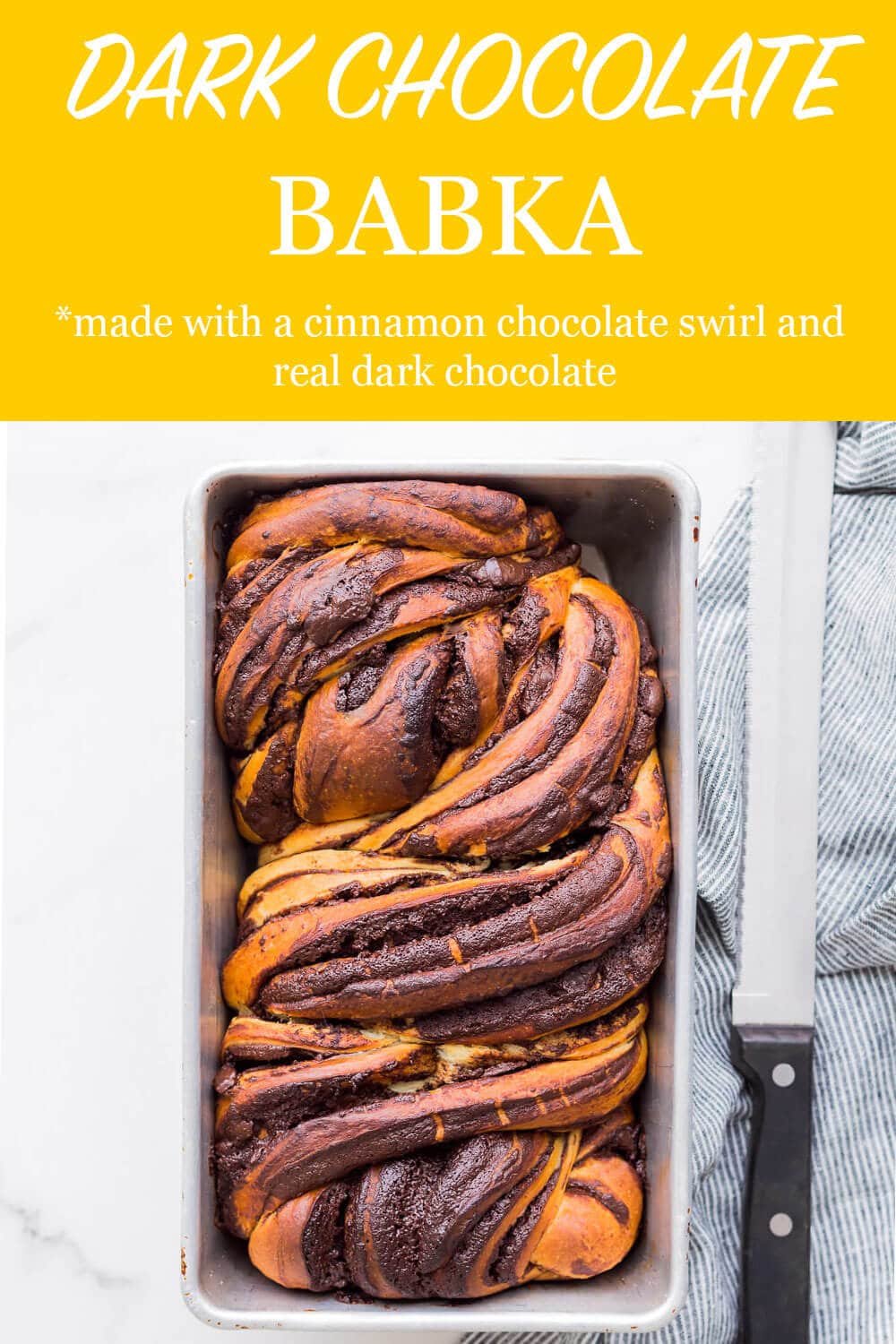 This chocolate babka is all about the chocolate so you have to use the best dark chocolate for baking that has a deep, dark flavour and that isn't overly sweet. To make this chocolate babka, I used Ocoa chocolate from Cacao Barry, which is a 70% cocoa dark chocolate with a rich chocolate flavour. You can find it at IGA grocery stores in Quebec in 1-kilo resealable bags. If you aren't living in Quebec, you can order this chocolate online (and many other Cacao Barry products) via the Vanilla Food Company website. They ship across Canada and to the United States! Vanilla Food Company also carries the Cacao Barry cocoa powder I used for this recipe, which I highly recommend: the Plein Arôme cocoa powder that has a rich flavour.
📖 Recipe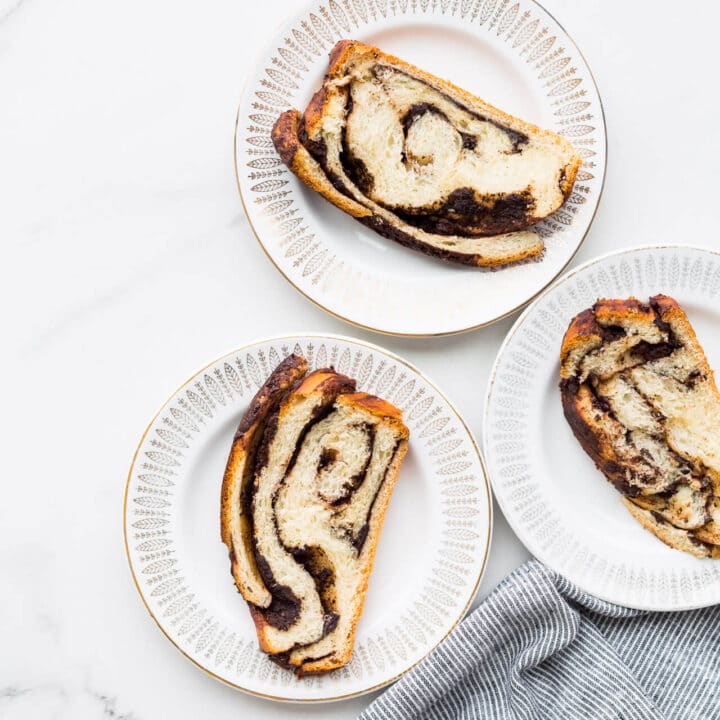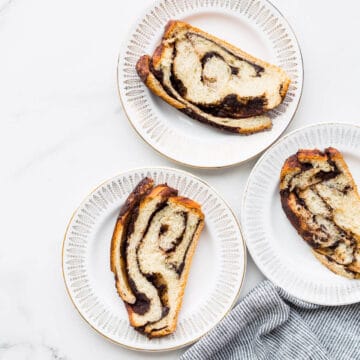 Dark Chocolate Babka
Learn how to make a dark chocolate babka with this recipe, including how to make the enriched dough from scratch, a dark chocolate filling, and rolling and shaping the babka to fit a loaf pan.
Ingredients
Chocolate babka filling
75

grams

Cacao Barry Ocoa 70% dark chocolate

58

grams

unsalted butter

1

teaspoon

icing sugar

½

teaspoon

ground cinnamon

2

teaspoon

Cacao Barry extra brute cocoa powder

sifted

38

grams

Cacao Barry Ocoa 70% dark chocolate

chopped
Instructions
Warm milk to 38–40ºC (100ºF). Stir in ½ teaspoon granulated sugar and the yeast. Let stand 10 minutes. It should be foamy after resting.

In the bowl of an electric mixer fitted with the paddle attachment, stir together the flour, sugar, and salt. Pour in the foamy milk, then add the egg and the vanilla. Beat to incorporate. When the dough is evenly mixed, switch to the dough hook.

Knead the dough for 5 minutes, then add the butter a little piece at a time as the mixer runs on low. Be sure to wait that the first piece of butter gets worked in before adding the next.

Knead the dough again for another 5 minutes. It will be tacky. Turn out the dough onto a floured surface and knead a few more seconds to form the dough into a smooth ball.

Grease a large bowl and transfer the ball of dough to the bowl. Cover with plastic wrap and refrigerate overnight.

When you are ready to shape your babka, make the filling first. Melt the chocolate with the butter in the microwave on power level 5.

Stir in the icing sugar, cinnamon, and cocoa powder. Let cool slightly while you roll out the dough.

Roll out the cold dough into a rectangle of 16x12". Spread the melted chocolate mixture covering the surface almost entirely from edge to edge. Sprinkle the surface with the chopped chocolate.

Roll the babka into a 16" log, tightly. Slice the log lengthwise to reveal the layering.

Cross the two layered pieces to form an X, then continue crossing over the ends to form a long twist.

Carefully transfer the twist to the greased pan. Note you will have to gently squish the twist of dough to tightly fill the pan (see picture). Cover loosely with plastic wrap and let rise 1.5 hours.

Preheat the oven to 350ºF (175 °C). Remove the plastic wrap from the loaf and bake the babka in the center of the oven for about 40–45 minutes. You will know that the babka is baked when it is firm to touch, a deep golden brown on the outside, and also a thermometer inserted into a bready part of the swirl will read 90ºC (194ºF), see notes. 

Remove the babka from the oven and let cool completely before slicing.
Notes
For the 70% dark chocolate, I used Cacao Barry Ocoa.
For the cocoa powder, I used Cacao Barry Plein Arôme.
Both of these products are available online at Vanilla Food Company, while the Ocoa can also be purchased at IGA grocery stores in Quebec. You can find many of Cacao Barry's chocolates at restaurant supply stores as well.
I used a standard light-coloured 9x5" loaf pan like this one on Amazon. If you use a darker pan, you may want to drop the oven temperature by 25ºF to make sure the outside doesn't overbake.
Nutrition
This post is sponsored by Cacao Barry. I was compensated monetarily and with product. Thanks for supporting the companies that allow me to create content for Kitchen Heals Soul. As always, please know that I wouldn't work with a sponsor nor recommend a product if it wasn't worth it.
Please note this post contains affiliate links to Amazon. If you buy a product I recommend, I will get a small commission, and the price you have to pay will not change in any way.